'Fast fashion' is affordable, and it allows people to keep up with the latest trends. The drawback, however, is that it is destroying people's lives and the world we live in. With governments and organisations all over the world declaring climate emergencies, people are becoming more aware of climate change and what they need to do to have a positive impact on the environment such as turning lights off when leaving a room or recycling plastic. Public knowledge on changes that need to be made to fashion, however, seems to be lagging compared to other forms of sustainability and climate change mitigation.   
Sustainable fashion, by definition, is to change the products and fashion system towards greater ecological integrity and social justice. The UK government are in the process of developing plans to change the system to end the throwaway society we currently live in, but it is not just up to them, as individuals we must make conscious decisions about our purchases and where they have come from. Achieving sustainable fashion will be a gradual process but education and cooperation is the main way to push this, websites and apps such as good on you aim to help people do this. 
Environmental and ecological integrity  
To achieve sustainable fashion through environmental and ecological integrity several steps must be taken: 
Avoid c

heap 'fast fashion brands'

as

c

heap clothes are often made

with

a short

lifespan

in order to

keep up business.

 

When you can,

try to buy fashion items made from a high percentage

of recycled materials, if not 100%

. Also try to buy

'sustainable' materials such as sustainable cotton

which is made using less water, energy and is free

from

chemicals.

 

B

uy items

that are

not made from animal

–

based materials.

These are hazardous for the environment

so

PETA

urges people to use vegan alternatives such as

soy-based 'vegetable

cashmere' or

cotton.

 

B

uy

items that have come from as near as possible. A top shipped to the UK from China will generally have a much larger

carbon footprint

than a top from Spain

.

 

I

f you no longer want an item of clothing

, instead of chucking it,

you could pass it on to someone

who would still wear it. Charity shops are

ideal

for this

because you also know a cause is benefiting from your old clothes

. Selling platforms such as

eBay

and

Depop

can be used

to match

old clothes with a new owner directly

.

A

nd

finally, if you're feeling creative then

pick up a needle and thread and try reworking your unwanted garment

s

into something

new!

 

T

ry to o

nly b

u

y fair trade and organic

fashion items

so

that you know the people

producing

the clothes

at the very bottom of the production line

have

been paid fairly and are working in acceptable con

ditions.

Consider who has made the clothing you are about to buy and

question whether they

 
High street sustainability  
Many high street brands are now trying to clear their name surrounding 'fast fashion'. The H&M Group, which previously has a reputation for fast fashion, has pledged to move towards sustainability. Included in the group are names such as Weekday and Monki. Weekday stands out of the group as they plan to use organic or recycled cotton only by 2020, only reusable, recyclable or compostable plastic in their packaging by 2025 and by 2030, they hope to only use 100% recycled or sustainably sourced materials.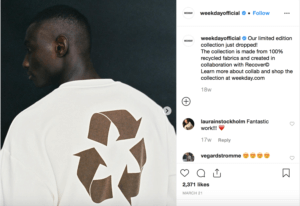 Mango has a 'Take Action' programme with the goal to have 50% of its cotton sustainably sourced by 2022. 
This year, ASOS has decided to ban all products containing cashmere, mohair, silk, feather bone, horn, shell and teeth being sold on their site. ASOS also tag all their sustainable products so it is easier for buyers to locate them on the website, showing that they are willing to make it easier for customers to find sustainable clothes.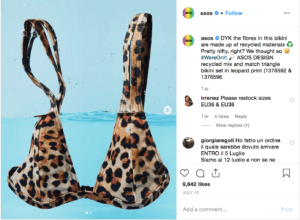 This week, Zara announced its latest sustainability goals. They aim to make all collections from 100% sustainable products by 2025. Furthermore, by the end of 2019, Zara hopes to have 7,500 eco-efficient stores, meaning that no waste from these will go to landfill. 
Luxury brand sustainability  
Environmental and ethical concerns should not only be associated with cheaper brands, but luxury items are also tossed away as fashions change and have also been known to be unethical in their production. Luxury brands currently use far more animal–based materials including fur and leather. However, luxury brands are now also competing in the race to show consumers and regulators their commitment to reducing their environmental and social impact.  
Just this week, LVMH and Stella McCartney announced a new partnership. Stella McCartney has already been a pioneer brand in the industry for movements such as producing eco-friendly glue-free trainers. The partnership aims to accelerate the development of the business while remaining true to its long-lasting commitment to sustainable fashion. More details of this partnership are to be released in September. Tommy Hilfiger, Ralph Lauren, Gucci and Versace are some of the luxury fashion brands now making pledges towards sustainable fashion. Tommy Hilfiger aims to prove that an entirely sustainable denim sourcing and production chain is possible, and Gucci has made sustainable handbags and even biodegradable shoes! 
Prada has just released their pioneering Re-Nylon collection of bags made from ECONYL®, regenerated nylon obtained through the recycling and purification process of plastic waste collected from oceans, fishing nets, and textile fibre waste.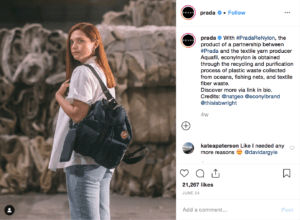 The progress being made currently is mostly described by ethical rating app, good on you, as 'a start'. The 'fast fashion' era is hopefully on the way out as attitudes are changing and people turn their noses up at it, however, we have a long way to go before fashion is fully sustainable and there are closed supply chains. 
You can do your part to help- if everyone follows the guidelines laid out above, then companies without these goals on their radar will fall behind and either go bankrupt or will be forced to produce sustainably. Until companies are fully sustainable, they are not doing enough. 
There will be more on sustainable fashion in our next blog, this time exploring up and coming sustainable fashion brands. 
If you are looking to promote your sustainable fashion brand or would like some recognition for the work you're doing, do not hesitate to contact our award-winning PR team today!