The growth of PPC for recipe box brands 
Whilst, not a new consumer food product, I think it is fair to say that recipe boxes found overnight success in the various lockdowns. While researching this, I expected recipe boxes to be a bit of a one-hit-wonder. However, they are staying the course, and the trends in search are more interesting than you'd expect. Despite seeing volume increase over lockdown, it has not, and did not, abate as much as expected. We're seeing emerging trends in new keywords that, if you're not aware of these, you should be. If you're in this space, what can you do to maintain your coverage against rising impressions, ROAS & consumer loyalty?  
Insights spotted from Google Trends
.
January is an established peak & has been for the last four years. 
There is a trend, and January is the established peak time. When reviewing associated search terms, this falls into the desire to eat more healthily, have less waste & perhaps take part in Veganuary. So whilst you probably have your budget ready for this peak, I suggest your ad copy reflects keyword trends of the time. This copy can include healthy eating, re-setting for the new year or less waste/sustainability (be mindful of greenwashing even with paid search ads). 
Search terms without brand names follow the same pattern as brand-led terms such as Hello Fresh, Gousto & Mindful Chef. 
This trend is interesting and something we often see in fashion eCommerce. The research and purchase intent are closely aligned. You don't have long to capture your potential customer or indeed remind them how great you are. 
This summer has seen a marked increase in searches, with search terms such as 'weekly meal kits' seeing a 1,300% increase compared to the same period last year. 
Using conjecture and the below insight as my basis, the desire to be healthy and cost-effective simultaneously is prevalent.  
Break out search terms with new or substantial increases in impressions this year include: 
Meal kits for 1

 

Low carb / protein / keto-based terms

 

Plant-based terms

 

Cost of / Price per meal

 
Focusing primarily on the last search term, this suggests consumers desire fixed-price deals because they can help plan forward with ever-diminishing budgets. It is hard not to miss the constant reminder of how food is increasing in price. This message seems like an opportunity to maximise your brand's position of fixed costs.  
How to maintain Search real estate whilst gaining and retain consumers
If you are not utilising shopping ads, this is an opportunity to gain potential customers early on in their research: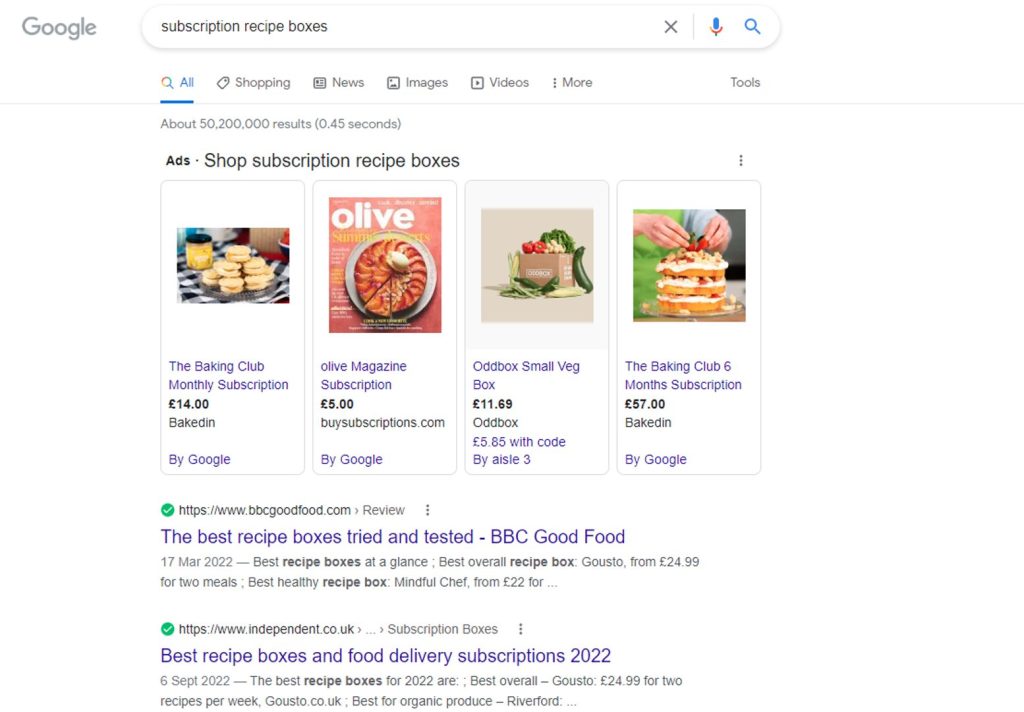 In my research, the leading Brands did not appear in Shopping ads, which would be a simple fix with a full shopping feed. An effective way to take up real estate on the SERPs. Although, as a side note – I love the images on the results page here: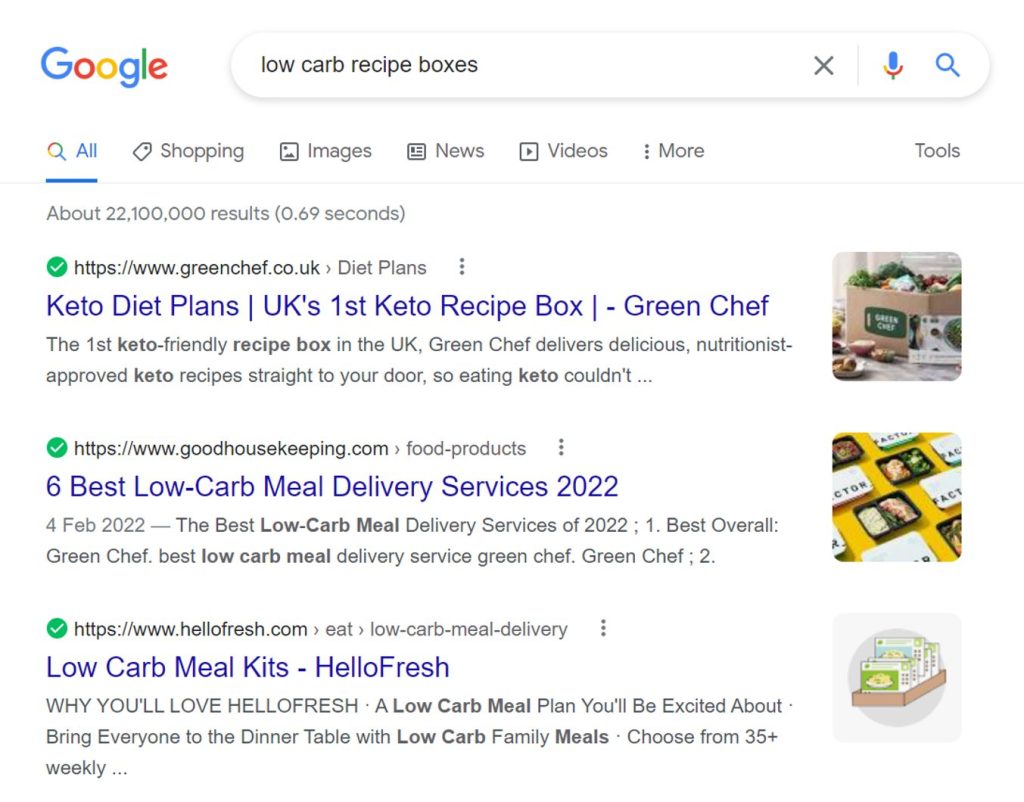 According to the Keyword Planner, competition is low for most breakout keywords. So now is the time to refresh your campaigns to capture these new audiences. I found the focus of the ad copy was on sign-up discounts. Therefore, alongside this, it maybe time to highlight the benefits of having fixed costs in your outgoings. 
The key to retention in search is remarketing, no matter your vertical, and if you know your CLTV – this should be a critical factor in your remarketing strategy.  
Based on anecdotal conversations with peers, colleagues, friends & family, I know the email strategy is strong here. Email invitations are frequently received to come back when you leave a recipe box brand. So what's the plan for Paid Search? You will understand why if you see a timeframe-based trend in how quickly customers cancel their subscriptions. Perhaps they are looking to save money, or maybe they are looking to reduce meat consumption. Either way, be under no illusion that they will be back on the search pages. Your remarketing strategy should encompass the shift in trends and your consumer feedback.  
Finally, Paid search should never remain stagnant, even if your strategy appears to be working from a KPI point of view. The brands that do well also keep on top of search trends where competition seems low and ROAS has the potential to be high. In a world of automation and Performance Max campaigns, it pays to review search trends periodically. Although you still have an element of control to gain new users, and your ad copy still needs you, don't solely on RSAs and automation to do this work for you. 
If you would like to learn more about the work we do at The PHA Group, visit out our PPC page or check out our case studies.