Food Bloggers Are Officially ON the Menu
The art of blogging in general has been on the rise for many years, dominating many different sectors, from the fashionable set that includes Liberty London Girl, Susie Style Bubble and 5 Inch & Up, to beauty gurus Pixie Woo and Tanya Burr, as well as teen sensations Zoella and Jim Chapman. More recent additions to the scene are a flurry of new food-mad bloggers, taking the UK by storm with recipes, 'how to' YouTube videos and even new product launches like the 'The Hemsley + Hemsley Spiralizer' which have achieved a cult-like status.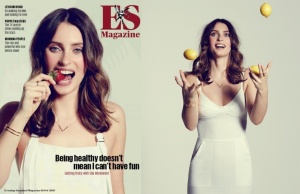 Becoming ever more popular in recent months, key players such as Deliciously Ella and Hemsley & Hemsley have received widespread media attention, with Ella Woodward even appearing on the front cover of popular supplement ES Magazine. With all of this attention surrounding food bloggers, and taking into account their undeniable influence on consumers, it is imperative for food and drink brands to get involved and partner up with the blogging community in order to reach out to their readers and ultimately to secure new customers and drive sales.
However, although it is clear that brands should (and do) want to tap into this invaluable resource, it can be difficult to understand which bloggers are right for your brand; how you should contact them and what sort of relationship you want to build. With this in mind, below we have put together our tried and tested recipe for working with bloggers to create a successful campaign.
When embarking on any blogger campaign, it is important to have the right ingredients in order to make the partnership as successful as possible. This means that if the partnership is to be effective you will need to source a blogger who is right for your brand. To do this it is important to look closely at potential blogs and do your research! This process has been made extremely difficult in recent years due to the steep influx of new food focussed bloggers on the scene, meaning that is often difficult for brands to navigate between them and find the right brand fit. To make this a little easier we've highlighted the key ingredients a brand should ensure they have in their PR kitchen before proceeding with their campaigns:
Aesthetic: Take a look at the overall aesthetic of the blog, being sure to consider their branding and tone of voice. A good blog will have its own clear identity that will be consistent across all their online platforms, the visual content will be of a high quality and their site will have a strong message and focus.
Audience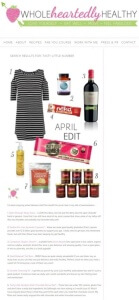 : Where possible, evaluate the demographic that the blog in question reaches out to. For example, if your product is aimed at wine connoisseurs in their 30's but the blog's main readership is tweens and teens, then you won't be reaching out to the right audience through the partnership.
Statistics: Finally you should also look for a strong social media following across a variety of platforms, the most important being Twitter, Instagram, Facebook and Google +. Alongside this a good indicator of reach for any blogger is a high domain authority (DA). However, be warned – statistics are not only thing that should matter. In some instances a blog may have a smaller following, but because they cover a niche topic the audience, although smaller than with other blogs, is likely to be more actively engaged with the content posted. This means the campaign will be more targeted and so more effective.
For example with Tasty Little Numbers, the multi-awarding-winning, portion-controlled brand, PHA regularly works with a variety of bloggers such as Whole Heartedly Healthy who promotes the ideal of a healthy living while still enjoying amazing food. The blog has a strong online presence, a well-designed website, and reaches out to a wide range of potential customers for Tasty Little Numbers.
PREPARATION
Once you have the right ingredients and have chosen your blogger partner, the next key step is preparation and planning. Common mistakes many brands make with this type of relationship is agreeing to a fee or sending samples and gifts out before understanding and agreeing on what they will get in retur
n. With any partnership it is important to discuss all aspects of the campaign or initiative, clearly outlining what activity is expected from both parties before signing on the dotted line, this way you can avoid disappointment in the long run.
As an example, when launching the new 'Breville 2 & 4 Slice Toaster – The Perfect Fit for Warburtons®' PHA worked with a variety of food, lifestyle and parenting bloggers. For the campaign each blogger was fully briefed on the launch and educated on the key USPs of the product before being offered one of the 2 slice variants as a gift. At this stage it was agreed with each blogger partner that they would review their toaster on their blog and social media channels, providing their readers with information on how it worked for them. This initiative led to a variety of online coverage including popular food blog The Crazy Kitchen who posted about the launch on their blog, Instagram, Facebook and Twitter channels.
COOKING TIME
When working with bloggers, it is often extremely tempting for brands to work with a blog once and then move on, securing one piece of coverage and a link back to their website and then never working with the said blog again. Of course, widespread coverage from many different blogs is always something of interest and something that should definitely be pursued however it is also important to develop long term relationships with the view to creating a stable of strong brand advocates in the blogging community.
HOT FROM THE OVEN
Providing advice from the other side of the table, we've quizzed expert food bloggers Russell James Alford and Patrick Hanlon from Gastro Gays on what makes for a good brand/blogger relationship…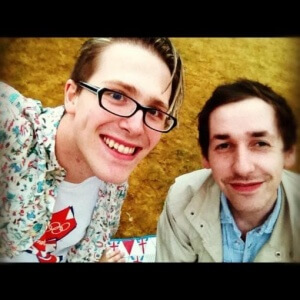 How are you usually approached by brands wishing to collaborate with you?
"Always by email, usually not personalised, very generic, call-out type emails but we've noticed an improvement of brands/PR/marketing teams tailoring their emails to appeal to us on a one-to-one basis. Though it might be only subtle things, it makes a real difference if you can comment on a recent post we put up or exchange a little chatter about what we were tweeting about two weeks ago!
More often than not it's actually US approaching companies/brands (and often don't get a response) as we have a particular vision about our blog and who we want to work with and who our readers would like to see featured, so we naturally want to get on the radar of, and start a dialogue with, companies we choose. It's a two-way street really. We have a specific vision about who or what we want to feature on our blog and more often than not we are paying as regular customers (at restaurants, hotels, buying props) and then basically giving brands FREE exposure, because we are dedicated to what our readers want to see. It fits our style".
What do you look for in brand partnerships for your blog?
"A brand who really understands what we do and don't offer, we want to hear and see that a brand has picked apart our blog and chosen us as the right fit for them for a reason. Likewise, we want to get the impression that they hope we will also be interested in them. I think an initial meeting or casual get-to-know-us session, whether in person or over several emails, is great practice before putting the cards on the table and explaining what you hope to get out of this collaboration. Don't just bombard us with an 'EXCITING OPPORTUNITY' – build a rapport with us, make us feel like it's not a once-off thing, get to know us and get to the bottom of what we really offer – then you will know what we're capable of and it will be more of a long-term relationship, and both us and the brand  can rely on each other when and wherever we need to".
When do you feel partnerships work best e.g. what are the magic ingredients to create a successful relationship?
"Being personable and interested in bloggers. Like we said above, meet them. We want time with you to discuss what we can offer and what you can offer in return. At the end of the day, bloggers are business-minded as they have to fight for everything they get in order to grow. Make us an offer we can't refuse, don't expect us to work for free, no matter what! We haven't got the time or patience to put our talents to use for your benefit only – exposure does not pay our bills in the short term".
What is the biggest faux pas a brand can make when discussing a potential collaboration with you?
"Getting our name wrong. Golden rule, you have instantly put a sour taste in our mouths before we've gotten past line one. Be open, honest and brutally clear with bloggers. The negotiation process between blogger and brand via PR executives can often be long-winded and wishy-washy, with one side promising this and the other side offering that, and usually there's lots of stretched truths and little white lies. Be completely clear and very visible. Cards on the table – that's one of our favourite sayings! Another faux pas is expecting us to work for free. We work in the media as our day jobs, so we are just like you and just as skilled. Don't belittle us saying you can't pay; reimburse or offer something of value to us, we need a return on our investment too".
What key piece of advice would you give to a new/upcoming brand who are looking to work with bloggers?
"What we want brands to know is that we are passionate about our business and, just like you would with your own child, we're choosy about who gets associated with our blog. Believe us, our readers are as savvy as we are and they will see through (and ignore) anything that has a whiff of press release or generic marketing to it, so you always need to work with a blogger in order to offer something unique and content or product that they can tailor, interpret and work their magic on to appeal to their specific demographic. The world of blogging is fit to bursting and we don't want the exact same content, competition or collaboration as those other 10 bloggers down the street, because what's the point? We want to know we are important to your brand aligning and we want to help both you and ourselves by delivering your product into our customers' hands in a way that helps us as well".