Internships
If you want to gain experience and work with some of the best PRs and Social Media experts in the business, help to deliver exciting campaigns for the world's biggest brands and brightest start-ups, then our internship programme is for you.
Internships
PHA Internships are available throughout the year in each of our specialist teams: Corporate, Consumer, Reputation, Sport, Fitness, Social Media, Third Sector, Healthcare, Personal, Technology and Sales & Marketing.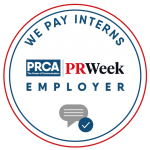 During your time with us, you will gain exposure to many operational aspects of a PR and social media agency and should expect to get involved with some of the following:
Writing press releases
Selling in client stories to newspapers and magazines
Attending meetings and inclusion on conference calls, where possible
Research and preparing presentations
Monitoring the media
Creating and posting content for social media channels
Social listening and channel monitoring
Supporting social media campaign management
Assisting with client reports, channel analysis, and competitor analysis
Blog writing for The PHA Group
Scheduling meetings, speaking engagements, appearances, photo shoots, and events
Screening and taking phone calls
Creating interview materials
Compiling contact lists
Searching for press clippings
Creating or updating databases
Greeting guests and clients
Miscellaneous frontline PR and social media work
Who should apply
We welcome applications from enthusiastic, aspiring professionals, with a drive to succeed and a willingness to learn. We actively encourage applications from candidates belonging to groups that are underrepresented in the PR and social media industries. All internships are paid at the London Living Wage and are a minimum of three months.
If you are interested in this opportunity and would like to be considered for an internship, please complete the application form on this page, or contact josieO@thephagroup.com with any questions you may have.
The recruitment process
If your application is of interest to us, we will be in touch inviting you to a telephone call with a member of our People & Culture team. Successful candidates at this stage will then be invited to a video interview with a member of the team they are interested in joining.
Unfortunately, due to the number of applications we receive, we can only get in touch with candidates whose application aligns with what we are looking for. Nonetheless, we will keep the details of unsuccessful candidates on file and get in touch in the future if other relevant opportunities arise.
Please note: This specification relates to the principal purpose and main elements of the Internship. It is a guide to the nature of the Internship, but it is not intended as a wholly comprehensive or permanent schedule.
Our commitment to developing new talent has been at the heart of PHA since we were founded in 2005. We have 12 current members of staff who started with us as interns, read more about their experiences of the PHA internship programme.
Sophie Sylvester
After a career change, I was so excited to begin my internship with The PHA Group and to have the opportunity to try my hand at PR. Based on my own misconceptions of internships, I was concerned I might be stuck on meaningless tasks, but straight away I was given responsibilities and important tasks to complete. I was blown away by the amount of support and training I received – everyone was so open to any questions I had, no matter how small. I woke up each morning excited to start work, and the great news is, that after just 6 weeks, I was offered a permanent role in the Consumer & Lifestyle team at PHA!
Ben Cossor
I joined PHA as an intern in the summer of 2013. From the first day, I was given autonomy and responsibility to come up with new ideas, identify opportunities, and learn what it was like to work in a fast-paced, journalistic PR agency. I was even encouraged to support with new business efforts and managed to bring in my first client as an intern.
I learnt new skills quickly and after six months, I was offered a permanent role. In 2014, I was part of the launch of our Technology division to capitalise on the booming tech sector.
Over the next five years I progressed from Account Executive to Account Director, thanks to clear objectives being set at each level, and progression plans put in place. In November 2019, I was proud to be promoted to Senior Account Director and take over as Head of Technology PR.
Now I am part of our brilliant Senior Leadership Team, I am proud to contribute towards the rapid growth of our agency. Even after an unprecedented 12 months, the culture at PHA remains one of entrepreneurialism, autonomy, integration, trust, and support, and we take pride in developing the careers of the next generation of talent.
Natalie Altman
My three months interning at The PHA Group have by far been the best of my career. Working with such interesting clients in such a lovely environment with such great people is something I am incredibly grateful for, and I am so glad that I was offered a permanent role as a Junior Account Executive. Feeling like an integral part of the company whilst only being an intern is rare but has been expertly executed by my team. From my first day, I have been treated as a valued member of my team. I know first-hand that this is not always the case with juniors, let alone an intern, and I think the culture at PHA is what makes their internship experience so amazing. The training I received and the feedback I got from the start has already started to shape my career, and I couldn't wish for a better company to be working at. My wellness has been looked after since I started and this is something that many companies preach but do not practice… at PHA, they do both.
Joe Toal
I joined PHA as an intern in 2013, where I worked within the Social department and 'learnt the ropes' for a few months. From the off, I was treated as a permanent member of the team and given the opportunity to impress and work on a number of different accounts. It was my first steps into PR and social media, and it was a great experience. From there, I have risen through the ranks to Senior Social Media Manager and am now in my ninth year at PHA. Many of my workmates have also progressed from internships throughout the years. I would certainly recommend a PHA internship to any of those considering it.