'Buy Now, Pay Later' (BNPL) services have rapidly grown in popularity over the past few years. In fact, the BNPL market was valued at 141.8 billion USD in 2021 and is expected to grow at a compound annual growth rate (CAGR) of 33.3% between 2021-2026. More than 900 million people worldwide will use BNPL by 2027, compared to 360 million in 2022. That's more than 150% growth in just five years.
Regulatory bodies are well aware of BNPL and its projected growth. As such, governments are moving to regulate the BNPL to promote better practices.
On Tuesday 14th February 2023, the UK government published its latest draft legislation to bring BNPL products into Financial Conduct Authority (FCA) regulation. This comes after two consultations across two years.
As the government takes the first step towards this, it is useful to look at what this draft legislation means for BNPL firms, and its effects on the future of the industry and its growth.
UK government confirms BNPL regulation
The rules that are being proposed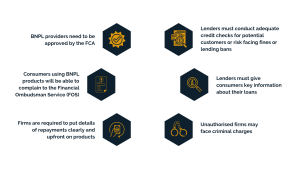 What does this all mean?
The government estimates that the new regulations will affect up to 10 million borrowers in the UK currently engaged with unregulated lending. BNPL lenders will need to be authorised by the FCA and comply with various regulatory requirements and consumer credit rules, or risk facing fines or lending bans.
For consumers, the legislation means enhanced protection when using these products. The shift in rules will enable consumer complaints to go directly to the Financial Ombudsman Service (FOS), which previously was not possible as BNPL firms were not held to the same standards as traditional lenders.
Unauthorised firms will need to obtain approval for any marketing material from an FCA-authorised firm, or risk facing criminal charges. The aim of this is to ensure that adverts are clear, fair and not misleading. Adverts that emphasise the benefits but do not give prominent warning about risks to consumers will be seen as a breach of the rules. These include risks of taking on debt that they cannot pay off, consequences of missed payments, any negative consequences (such as the impact on the customer's credit file) or lack of information about payment terms.
Why is it happening?
Currently with BNPL, consumers can buy goods (often interest-free) without using their credit cards. They can simply make a small contribution to the total cost at the point-of-sale (POS) and agree to pay the rest back in instalments at a later date. The BNPL lender effectively takes on the debt on behalf of the consumer as instalments are made.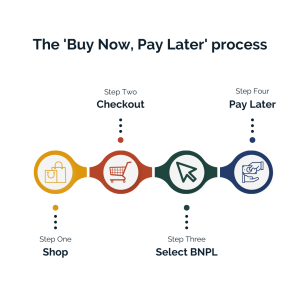 The risk is that consumers take on more debt than they can pay off, leading to significant debt challenges. This includes the debt being turned over to a debt collector which will reflect negatively on the consumer's credit score. Should this occur on a scale, there are significant market implications. We have seen this with Klarna, the shining star of BNPL that rapidly rose to fame, who is now suffering significant challenges after its largest-ever annual loss of 1 billion USD.
The FCA wants to promote the best practice for consumers when using BNPL, particularly given the sudden rise of the sector. This can especially benefit the young consumers that have rapidly adopted this payment method with the reason being that they can get accepted to BNPL without calculating the risk of having multiple debts owed to several lenders. With the new regulation requiring BNPL lenders to be regulated, it is a way to ensure that lenders will perform the proper affordability credit checks and communicate with other firms about any outstanding debt against the consumer on other platforms, ultimately putting the customer first.
What could the future hold for BNPL?
A level playing field
It's hopeful that the FCA's announcement will encourage the acceleration of proportionate regulation to create more of a balance between protecting consumers, supporting innovation and levelling out the competition. Ultimately creating a responsible and financially sustainable lending ecosystem for UK customers.
While this can be supported, there are still concerns that the government is achieving a level playing field at the expense of competition and innovation. This may impact consumer choice and consumer outcomes as fewer providers become available.
Increased transparency and support for consumers
BNPL lenders have been under intense scrutiny in the UK media from being criticized for their aggressive growth tactics, staff cuts, volatile valuations, marketing tactics and ultimately leading people into debt. We've seen this through news stories featuring BNPL giants Klarna and Clearpay. With the FCA's warning to BNPL firms that promotions of its products must be clear, fair and not misleading, lenders will be forced to change the way they advertise as they are placed under greater scrutiny.
"Firms need to ensure consumers, particularly those in vulnerable circumstances, are equipped with the right information at the right time, so they can make effective, timely and properly informed decisions."
We will see more educationally based campaigns that ensure consumers are presented with the right information so they are able to make a properly informed decision based on the circumstance. This is only achievable if firms are fully transparent with their customers. As the cost-of-living crisis continues to pose significant debt challenges, it is vital that firms lay out all the information, risks and consequences linked to their products and services.
A customer-first approach will go a long way
There is no doubt that BNPL will continue to appeal to young shoppers and older generations that steer away from credit cards. As history has shown us, consumers tend to stick to their payment method of choice, so the BNPL generation may soon outweigh traditional credit users. With more innovation and major players such as Visa, Mastercard and Apple Pay incorporating it, it will become more accessible and therefore increase adoption.
The firms that will succeed and distinguish themselves within a crowded and competitive market are the forward-thinking providers that operationally deliver a consumer-first approach. These firms will already be thinking about what steps they can take to support customers before these regulations come into effect. One tactic that many firms are likely to adopt is implementing education initiatives for consumers that provide them with the key information to make smarter financial decisions.
BNPL 2.0
After a period of rapid growth, the BNPL market has now entered a period of consolidation. Regulation will introduce consumer protections while lenders can focus on building their brand foundations and a gradual customer acquisition strategy as opposed to rapid, unsustainable growth.
However, despite these new regulations, it will be months for it to come into effect for consumers. In the meantime, lenders will need to step up and make changes to protect them. It opens a window of opportunity to review their brand perception from a media and consumer perspective and put in place a long-term PR and communications strategy. Such a strategy should comprise of public affairs alongside press office activities and a long-term view for expansion into international markets.  This will build credibility and a positive reputation, ultimately leading to long-term success and sustained growth.
To learn more about how a PR or public affairs approach can help navigate these new regulations, speak with one of our experts today.