Over the last 12 months, "Ultra-rapid" grocery services have arrived in the UK. Prior to this, the main players like Deliveroo and Uber eats owned this space. However, with consumers continually demanding an even quicker service could this new unrivalled convenience threaten the dominance of these two giants? Today, we discuss how PPC could be the perfect platform to help capitalise on the growing appetite for delivery in as little as 10 minutes. 
Gorillas, Jiffy, Beelivery and Getir are just some of the names all vying for a slice of the market, but when you're only charging £1.80-£4.50 for delivery, how much can you afford to really spend acquiring a new customer?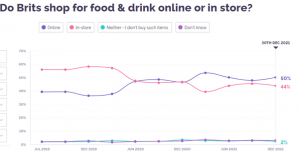 How do I use PPC?
"With 50% of British shoppers stating a preference for buying food & drink online, now is time to capture the intent of these potential customers." 
It seems obvious to state that one of the best places to capture an audience with intent is to do that is online & in search, but this goes beyond focusing on just the keyword to capture your audience. PPC has traditionally been the end of the funnel, the place where consumers are ready to convert after experiencing a full funnel of marketing. However, in this quick-moving market, we will take a look at how you can capture them when there is no time for a funnel, or the intent is already there.  
If people really are that keen to get their avocados at short notice how do you get to them before this crisis point? You must first bear in mind that two immediate conversion points are at stake. Firstly, you must ensure potential customers download your app & secondly, you must position yourself correctly, so they place an order on your app. 
Display first search second?  
Awareness & Interest has long been the foothold of Display, and in a market that is already turning peoples shopping perceptions on its head, so can this funnel. 
Imagine for one moment you are cooking your delicious beetroot risotto and realise that not only have you forgotten the stock, but also the white wine (aka crucial ingredients). Crikey, what now? This dinner is ruined. But wait, what's this in your recipe app – a display advert for delivery for all the ingredients for this dinner to your door in 10-20 minutes? And you might as well throw in some ice cream because what's the point of dinner if there is no pudding? Dinner is no longer ruined. The audience captured at exactly the right time.  
In-App advertising is not new and can absolutely engage your audience at the right time, it can be hyper-local which really fits for what is currently a location-based sector. And, the beauty of being able to place your ads on specific apps and categories of apps reduces the waste of impressions when the KPI is a direct response rather than pure awareness building, here you are ticking two boxes at once. This does not have to be limited to recipe apps, think pregnancy apps for pregnancy cravings, baby apps for nappies & baby accessories, fitness app for healthy snacks. 
Beyond in-app advertising, there are App Campaigns where your goal can be to complete an in-app purchase (like making an order). This campaign runs across almost all the Google platforms including search, Google Play, YouTube & Gmail. It can also be made hyper-local but does require a certain amount of trust from ourselves as advertisers as we will be reliant on Google's machine learning. In short, you may not have the kind of control that in-app or traditional Display marketing allows. The ability to target those crisis moments of toilet roll shortage at precisely the right time may be lost. 
How much do these campaigns cost? Just like search, you only pay for your click and conventionally display has a high impression, low clickthrough rate & lower CPC compared to its Search campaign counterparts (anecdotally in our accounts, up to 27% cheaper & less than £1).  
Sticking with Google's non-search offering, video campaigns can be used in much the same way as traditional Display & in-app, ensuring your ad is in front of the audience you want to engage with. However, if your customers, as many of us do, regular skip off video ads this is not flippant chat when we say these ads need to be engaging from the get-go. Not only because everyone loves a good video ad but because the charging structure is different & varies from cost per impression to cost per view (30 seconds or the full video, whichever is longer). This is unlike other campaigns within Google & they do tend to be more expensive, so these need to count. 
Finally, we return to PPC, and we know search is booming here especially when the brand name is known. An ideal PPC strategy here would include a heavy focus on mobile users, app extensions, promotion extensions and snappy headlines. 
"Missing your avocado's? Get them in 10 minutes with us" 
Think about utilising locations within the copy (whilst fully respecting data), first-party data (whilst fully respecting privacy) as well as in-market audiences. If CRM data exists & behaviours already known, you could harvest the scheduling, copy & keywords from this data using indicators to drive the audience focus – Avocados, Negroni ingredients & sourdough bread on a Friday in Oxford for the 35+ audience, we can be there ready. 
Using the Google forecasting tool, continuing with the Oxford example it is clear to see that during the next quarter the predicted CPC for a sample of keywords such as brand names & generic terms etc. range from £0.90 to £3, with expected clickthrough rates at ~13% & it is believed that impressions are only going to grow.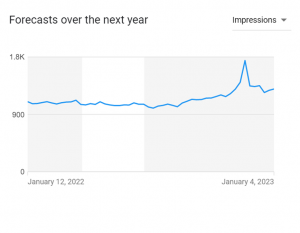 Using the same data & comparing to London, we can already see (as an established market) that CPCs have already calmed down, ranging from £0.35 to £1 with similar growth in impressions. Re-establishing the need for a hyper-local strategy. 
Where do we go from here? PPC is an often-overlooked platform, not as engaging as social or beautiful as influencers, but has its place in picking up your audience when they are ready to turn to you.
PPC goes beyond e-Commerce and B2B, if you are a brand looking for a bespoke strategy that's as individual as you, your customer & your KPI, get in touch today.