Since London has reopened post Covid and post lockdowns, traction for London attractions and days out have grown, and this is a similar trend for the rest of the UK. People are ready to start experiencing their own cities again, as well as discovering new things to do. YoY search volume for keywords such as attraction tickets, best experiences in London, things to do near me, things to do with kids near me and what to do in London have all grown, on average, 33% and compared to the previous 3 months, have grown 41%.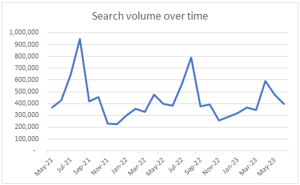 Each year, these trends peak in August due to the summer holidays, with smaller peaks around half terms and Easter. We can see that the run up to summer and other peaks have been higher in 2023 compared to previous months.
Which channels to target?
As tourism is such a wide industry, there are a whole host of touchpoints to outreach and target your audience with. Digital channels pose a lot of opportunity for:
SEO:
Organic is a key channel, particularly people in the research phase, who are looking for things to do, whether with friends, on a date or with family. Being able to target your most relevant audience(s) is key: 
By using search trends and keywords to guide your online strategy, you'll be helping to improve rankings and be more visible in the search engines

 

Local SEO will help target 'near me' queries, such as 'things to do near me'. With attractions, 'near me' queries have high searches ('things to do near me' has 201,000 average monthly search volume, while 'things to do with kids near me' has 40,500) so being able to target these terms is key

 

Google itself takes up a lot of space within the first page of results, with featured snippets, People Also Ask boxes and other elements. Google has also launched additional keywords to click on show casing the importance of longer phrases. We would recommend working to create content targeting broader and more niche terms to ensure we are leveraging the additional filters

Content:
Using the SEO insights, you can ensure your written content is user friendly and can be found by Google (and other Search Engines). There are some key content angles to create topics around: 
Seasonality based content – Putting together a content calendar and creating evergreen seasonal content that builds authority over time in the background is a strong tactic as these pieces can be shown every year when there are search volume peaks around relevant keywords

 

Budget guides – Even before the cost of living crisis, there was high demand for budget related content, such as '10 under £30'. SEO and content insights can see how people are searching for relevant budget-based content for your brand

 

Guides for persona types 'families, couples, friends' to ensure there is relatable content for each target audience. Tourism searches are particularly high for family friendly terms, so knowing which persona is the most relevant for you will help build authority

 

Repurposing existing content to optimise them more effectively for search terms and make use of the existing authority these pages have built

 

There are growing searches in the tourism industry about accessibility – search trend can help you to target the most relevant searches and questions about accessibility in the tourism sector
PPC:
An all-encompassing PPC campaign will help grow your visibility as well as target customers at all stages of the customer journey: 
Adapting your ad copy to capture audiences from the research to consideration to conversion stage. Targeting a variety of keywords from head terms to longer broader terms, adapting the copy appropriately to ensure clicks

 

A YouTube campaign to reach even more users, as well as increase brand awareness

 

Using audience insights to help target your PPC campaigns and identify your customers, whether first party or GA4 data

supported by audience insights – whether first party data, GA4 data and/or relevant in-market and/or affinity audiences

 
For more information on devising a digital strategy for your tourism brand, get in touch with our team today.