The 'Stay Yourself' alcohol awareness campaign, launched by Diageo targeted students in universities across Europe, running on campuses, in colleges and student bars and across social media, with a goal to reach five million students across thirteen countries by the end of 2018. The key message to the campaign was to 'stay yourself' when enjoying alcohol in moderation, including always eating before a night out, spacing out consumption of alcoholic drinks with water or soft drinks and making sure their friends were able to get home safely from a night out.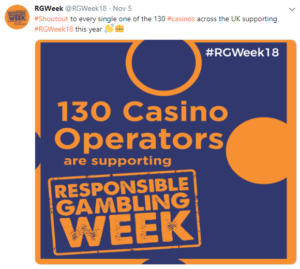 Responsible Gambling Week was held from November 1st – 7th in the UK & Ireland and was a campaign led by the gambling industry that aimed to create a conversation with customers, staff and the wider public about gambling responsibly, driving awareness of responsible gambling. All five of the gambling operators signed up and promoted the week: National Casino Forum, Association of British Bookmakers, the Bingo Association, the Remote Gambling Association and BACTA. During the campaign football clubs across the English Football League and Premier League supported as well as race courses and members of parliament to endorse the initiative.

The pop star Zara Larsson is fronting a new campaign by Durex in association with Aids organisation RED encouraging young people to "have sex and save lives", as she fronts a campaign selling condoms to raise money for HIV projects in South Africa. Profits from the sale of a special edition Durex condom will go towards a programme that aims to reduce HIV infections in girls by keeping them in school. Nearly 37 million people are infected with HIV around the world, and over seven million are in South Africa.
Alcohol education charity Drinkaware and The Racecourse Association launched 'Pace Yourself Plus' in 2018, an enhanced version of their 'Pace Yourself' responsible drinking campaign. It is designed to help the six million people who visit a racecourse every year to enjoy the experience, by encouraging people to 'pace themselves' on their day out at the races. The campaign is to help those race goers enjoy the sport they are watching and to realise that drinking too much can have harmful consequences.

The world of football has finally woken up to the dangers of mental health among players and the pressure that young men and women are under. Alongside its official charity, Everton in the community, Everton Football Club launched its 'People's place' campaign this year looking to raise awareness in the local communities and raise funds to build a mental health clinic near Goodison Park. The club's official charity, Everton in the Community, has already been supporting mental health in Merseyside, Liverpool, for more than 10 years. This time, they'll be teaming up with national mental health charity Chasing the Stigma to promote positive mental health and work to end the stigma attached to mental illness.