NFTs. If I asked you what they were just six months ago, you'd have probably stared blankly and ask me to repeat the question. Now, they've become a household name around the world. From turning heads at Christie's (aptly supported by our client NovaFori, who are transforming analogue to digital B2B marketplaces with data science), to eye-watering IPOs, NFTs have well and truly entered the mainstream in 2021, infiltrating music, film, gaming, fashion, sport and more.
As a prime example, our client Fantastec, a worldwide leader in creating NFTs at scale, have paved the way in football with partnerships with the likes of Arsenal FC, Borussia Dortmund and Real Madrid. Earlier this month, they launched the first-ever NFT collection for the Real Madrid Women's team, and have their eyes set on even bigger things this year.
To truly get a scope of the NFT explosion in 2021, we deployed our social listening software to track all mentions of NFTs within news articles across the UK dating back to January. The results are pretty mind-blowing…
We can pinpoint the exact moment the conversation breaks and NFTs entered mainstream media: Friday 12th March.
Up until that point, there were of course mentions of NFTs within Britain's media landscape – 367 in total between 1st January and 11th March. Since then, that number has sky-rocketed: NFTs featured within 2,690 news articles between 12th March and the start of June, generating over 9.21 million audience impressions. And that's just the UK – around the world, we have tracked over 43,000 news articles revolving around NFTs.

The surge in media interest in NFTs is reflected in the value of the industry, with sales topping $2billion in Q1 of 2021, which represents an increase of over 2,100% from Q4 2020.
The power of the NFT can be seen on social media as well, where weekly audience interactions around the hashtag #NFT is topping 158,000 and average 7-day shares equate to 157,000; huge metrics that equate to millions of monthly impressions being generated each month. If you are an NFT platform or creator, it is essential that you are making the most of this boom with a coherent and objective-focussed social media strategy.
The PHA Social team are experts in crafting and managing such strategies for a range of clients, including within the NFT and blockchain space.
If you already have an effective strategy in place but want to know more about how well you're performing against competitors, social listening should be your first port of call. All of the media and social media stats we've discussed above were captured by our software, which further allows us to chart performance and online stature against several of your closest competitors. It's a solution that can elevate your social media strategy and clarify what audiences, customers, investors and influencers are really saying about your company (and how often).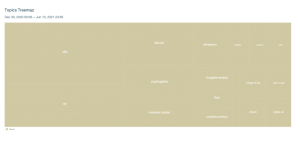 So, what's the main takeaway? Without stating the obvious, NFTs are an absolutely huge topic at the moment and one that does not appear to be fading soon. If you're an NFT platform or in any way involved in the token scene, you need to be involved in the conversation, both online and across social media.
If you would like to speak to one of our social media experts about how we could help elevate your social media strategy get in touch with us today.