Last year, social spend increased by a whopping 92.3% year on year, with advertisers willing to spend more to reach their target audience, build lasting relationships with customers and increase their online sales. While this increase may have been in part due to less business confidence in 2020 due to the pandemic, it means that companies on each social platform must also pay more to reach the relevant people and grow their brand sales – Facebook CPM went up by 89% year on year, rising to £8.10 ($11). 
But how can companies maximise the value that they get out of social channels, avoiding these hikes on costs? Below are five ways brands can cut through the ad noise and maximise performance: 
Social E-commerce  
In September, we wrote an article on the importance of Facebook & Instagram Shops, including case studies from other brands. Social e-commerce is expected to grow significantly over the next few years and will grow exponentially once brands can let users add card details within the app for one-touch purchases (much like Amazon is already doing). Homeware brands should make sure that they have their shop set up to guarantee themselves free sales, but must also make sure they are tracking and optimizing it correctly. 
Integrating organic with paid 
Organic social allows brands to reach their existing audience and build a community, while paid social has powerful targeting options and allows you to reach much bigger numbers. But the two aren't mutually exclusive. Achieving results and successful ROI requires you to integrate both paid and organic social into one social media strategy.  
Tactics include boosting your best organic content. You know it's resonating with your audience, so you should be confident that putting some spend behind it will help it reach a much larger pool of consumers.  
Theoretically, successful organic and paid activity should create a halo effect across your overall social marketing. The Venn diagram below best explains the benefits of an integrated organic and paid social strategy.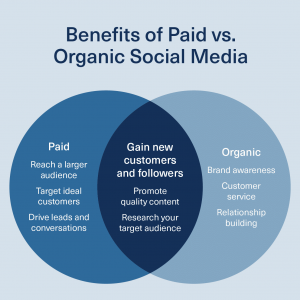 Source: Hootsuite 
Pinterest – why people use it, how they use it and its value 
Facebook, Instagram and TikTok may be the bigger hitters, but with over 300 million active monthly users, Pinterest is one of the most popular platforms for interior inspiration. Home to millions of home and interior pictures, Pinterest is the place to be to inspire and attract new customers.  
With almost three-quarters of all ad spend going to Facebook & Instagram feeds, brands should continue to look at other platforms that can offer them good returns on their ad spend without being too expensive to reach people. Pinterest can easily fill that role. Regardless of whether you plan to spend on the platform, Pinterest is meant for planning – they even make regular updates to their service to help users plan more efficiently. For the homeware sector, people start planning well in advance of their life events, for example, moving house or decorating their living room, and it's important for brands to be front of mind while they do this. Brands should be designing their Pinterest boards to attract users, while also using advertising effectively to encourage users to 'pin' their posts for later down the line. 
 Influencer strategies 
Influencer marketing has become a vital part of the marketing mix – with research showing that over 70% of brands use it or have done so in the past – and the power of the influencer shows no signs of slowing down. An influencer strategy allows you to reach audiences you may not otherwise be able to hit with more traditional advertising methods.  
Growing advertising opt-out numbers, the phasing out of third-party cookies, and ever-evolving data privacy regulations mean traditional marketing tactics are becoming increasingly more expensive. This is where influencer marketing comes in. An influencer's audience is naturally segmented, so theoretically, followers relate to the influencers they follow, and crucially, they pay attention to what an influencer says. 
But relevance and brand fit are key. You wouldn't ask a hairdresser to recommend the best car, so why would you ask a beauty influencer to help sell your new range of sofas. For authenticity, commissioning a lifestyle influencer who recently purchased a new house to use your new range of paint colours, makes more sense and feels like a natural fit. 
Influencers offer brands a unique way to create a good brand feel with their audiences. Brands that invest in an effective influencer strategy have a much easier time achieving cut through in a very crowded market. And the stats to back it up are high – research has shown that 44% of consumers feel more positive about a brand that uses influencers.  
Augmented reality for furniture 
Augmented reality technology is developing more each day and brands need to take advantage of it to showcase their product range as much as possible. For homeware and outdoor furniture, consumers can be wary that their new furniture may not fit into the aesthetic of the room, for example, and will want to see what it looks like before they buy it. Instead of going to the shop, a potential customer could use AR to inform their purchase decision, like Made.com did with Facebook or Snapchat did with IKEA. Importantly, 37% of Gen Z are predicted to use AR before making a purchase by 2025 – brands will need to capitalize on this trend to maximise sales and can experiment with AR using Facebook's Spark Studio or Snapchat's Lens Web Builder. 
Whether you're a brand in the homeware sector or not, applying these social tools will be important for all advertisers looking to cut through the crowded ad space. At the PHA Group, our social media team has extensive experience in all these areas and will be on hand to support you as you take your social strategy to the next level.