Let's start with a definition. 
Queerbaiting, is the act of teasing or hinting at queer representation in order to attract and retain a fanbase and make sales.
Deployed by many during Pride month.
An act that ultimately fails to provide authentic support for the LGBTQIA+ community long term and sadly capitalises on a genuine desire for inclusive storytelling and representation.
From a brand side, it leads to significant criticism and disappointment from the very community you're trying to support – and from the community itself, a grave sense of betrayal, erasure, mockery or exclusion. 
And you would think that brands would have learnt by now?
Quiet rightly, as reported by PR Week, brands have had 'greater apprehension' towards activating Pride campaigns this year.
This has made brands think twice, and harder, but those who get it right are encouraged by the LGBTQIA+ community not to waver.
The North Face, Target and Oxfam are just a few of the high-profile companies that have recently faced calls for boycotts.
But was it deserved? Let's get into it.
The North Face Summer of Pride
Their ad was released on IG and featured the drag queen 'Pattie Gonia'  who declared themselves  a 'real life homosexual!' and told consumers to 'come out… in nature with us!'
The brand ran a similar ad last year where Pattie Gonia said: 'Nature lets you be who you are… even gay! 
Unsurprisingly, the campaign was met with immediate backlash, resulting in the comments section being turned off.
The brand doubled down though,  standing by its Summer of Pride campaign, and as a result received support from LGBTQIA+ activists like GLAAD president and CEO Sarah Kate Ellis, who praised the brand for its unwavering allyship. 
A spokesperson for North Face told Newsweek, "The North Face has always believed the outdoors should be a welcoming, equitable and safe place for all. We are honored and grateful to support partners like Pattie Gonia who help make this vision a reality."
Target's Pride collection
Target pulled its trans products as they felt the collection provoked 'confrontational behavior' and was a threat to staff. We're assured it NOT over Bud Light-style boycott fears.
About the withdrawal, the US retailer said 'We've experienced threats impacting our team members' sense of safety and wellbeing while at work.'
But the conversation continued to explode around age-appropriate clothing. The retailer was challenged on social around tuck-friendly bathing suits for children. Growing outrage also surfaced over its partnership with Eric Cullen, a British transgender man, whose brand Abprallen encourages Satanism.
Oxfam International – TERF wars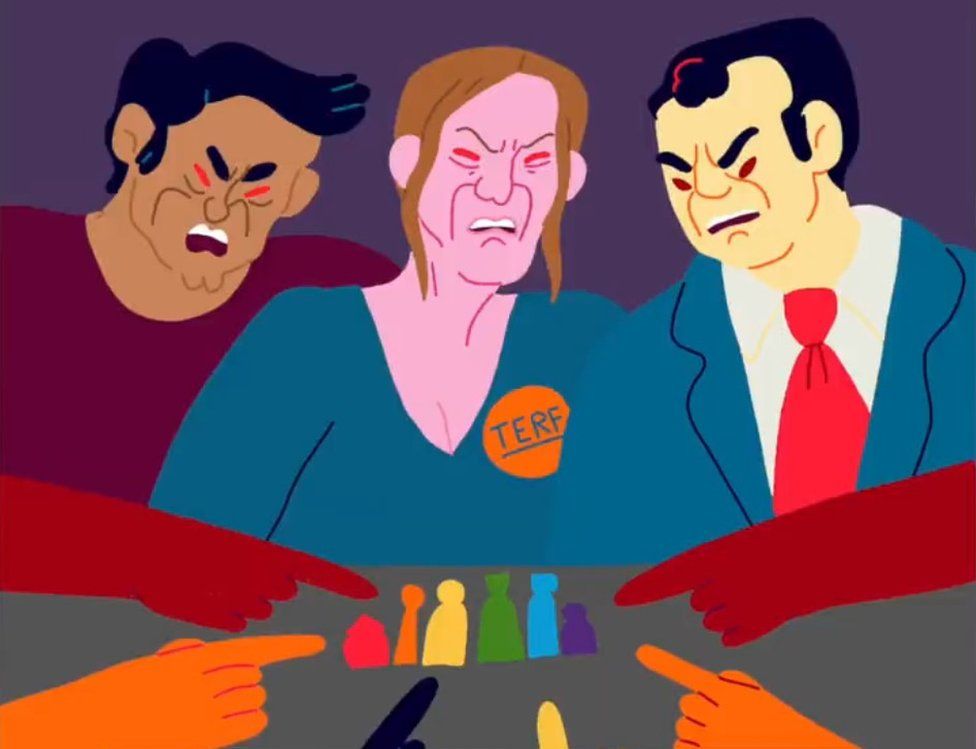 Oxfam posted a Pride cartoon video on its Twitter channel. In it, a voiceover asks, "How are you marking Pride Month this year, while LGBTQIA+ people around the world are deprived of basic safety?
You'd think, an engaging asset with a provocative question was a good thing, but it was removed, edited and reposted. Why? It featured a JK Rowling (cartoon) lookalike wearing a badge saying "terf", a term that stands for trans-exclusionary radical feminist.
On the repost an acknowledgement, "In efforts to make an important point about the real harm caused by transphobia, we made a mistake."
A mistake? Or a glaring offensive oversight? I'll let you decide.
Whether it's a brand jumping on Pride, or Hollywood stars remaining sexually ambiguous for fame, queerbaiting can undermine the integrity of queer narratives but also reinforces harmful stereotypes and stigmatisation by reducing queer identities to mere marketing ploys.
It's crucial when representing any community, it's carefully considered with plenty of inclusion from the people in that community – from inception to activation – and here are some tips.
More than a month: It's not just another seasonal date to piggyback on in your PR calendar, supporting LGBTQIA+ should be ingrained into your culture permanently.
Not just a rainbow: Slapping one on your products or in your shop window is tokenism and looks like you're trying to make a quick buck. Be more inventive!
Be meaningful, not momentary: Use your platform to educate others about LGBTQIA+ issues, promote acceptance, and advocate for equal rights and representation. But do your homework and get your opinion first.
Long-term commitment: Remember that supporting the LGBTQIA+ community is not just limited to Pride Month; it should be an ongoing effort that goes beyond temporary campaigns. 
Inclusive employee experience: Ensure your company is a safe and inclusive workplace for LGBTQIA+ employees, giving them a voice and actively promoting diversity, equity, and inclusion initiatives. 
Be open to feedback: Actively listen to the LGBTQIA+ community and be open to constructive criticism, learning from any missteps, and continuously improving your approach to inclusivity and representation.