Most agencies might put their feet up after collectively walking the distance from the UK to Argentina. But we're not like most agencies…
OK, so we were proud of our Steptember campaign which saw us walk over 15 million steps and raise £670 for Solace. But with a lockdown Christmas approaching not long after, we knew there was more work to be done!
For many women and girls escaping domestic abuse, Christmas can often be a time of isolation and loneliness. So, in December we combined our annual 'Secret Santa' initiative with a 'Solace Santa' one!
With £750 generously donated by the business, we set about buying a range of presents from Solace's recommended gift guide. Everything from clothes, cosmetics, books, candles, bubble bath, cuddly toys, chocolate, gift vouchers and much more was ordered online and taken to Solace's refuge at St Mary's church in Islington.
There, in scenes not dissimilar to Santa's workshop in the movie Elf, a crack team of PHA volunteers (Kam, Ruby, Will, Ino, Rob and Angel) set about sorting and delivering the gifts, whilst of course eating mince pies and listening to festive tunes!
Here's Ruby and Kam (two of our Solace Santas) in action.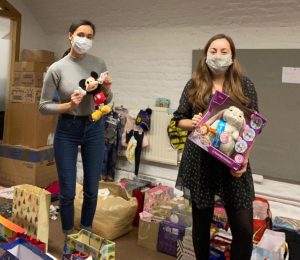 All in all, Solace collected and delivered over 2,000 gifts for women and children escaping abuse for Christmas. We only played a small role in that but even so, were truly honored to have been able to help.
Solace has an extra need for support right now due to the increases in domestic violence reported during lockdown. This puts an increased demand on their caseworkers, advocates and volunteers. If you would like to donate to help fund the vital support they offer then you can do so via our Just Giving page here.
If you're struggling with domestic violence, you can reach out to Solace via their website or by calling 0808 802 5565. They are a wonderful charity making a real difference to the lives of thousands of victims of domestic abuse, and we're incredibly proud to have them as our Charity of the Year.