Social media plays an integral part in contributing to your online reputation. It is often the first stop for consumers looking to learn more about a brand or individual. Your company and personal pages are therefore of utmost importance, and should be consistent in terms of their tone of voice, brand messaging and visual identity. It is also crucial to consider who your existing audience is, and what content resonates with them. Analysing these patterns and details is central to ensuring your social media channels are performing at their peak and are optimised for current trends and best practice.
Similarly, you may be concerned about your company's share of voice. Maybe you've begun to optimise your channels and content already? Or you want to know how effective your content is, not just to engage with your followers, but in the wider world of social media, including comparisons with your competitors. Social Listening tools provide valuable insight allowing a brand to consider how they might increase their share of the market and grow both within their existing segment and into new demographics and groups. At PHA, we use our online monitoring tool, PHA Pulse, to do just this for you.
Our tools allow you to comprehensively measure both your channels individual success, and how your business measures up in the wider marketplace. This picture is built from a number of key metrics, such as share of voice, percentage of target audience engaged and overall reach.

Fig.1: An example of a page's demographic breakdown on Facebook.
Social audit
Audience: understanding your core audience is central to every brand and business. Understanding who follows you, likes or shares your posts on social media, , is an integral part of shaping conversation and increasing engagement and growth. Likewise, the demographic breakdown of your audience, and their interests, will inform the style and tone of your content.
A social audit provides detail informing when and what to post to your page, optimising for your audience. Once you understand your social insights, you can evaluate and adapt your strategy on an ongoing basis to keep you on top form.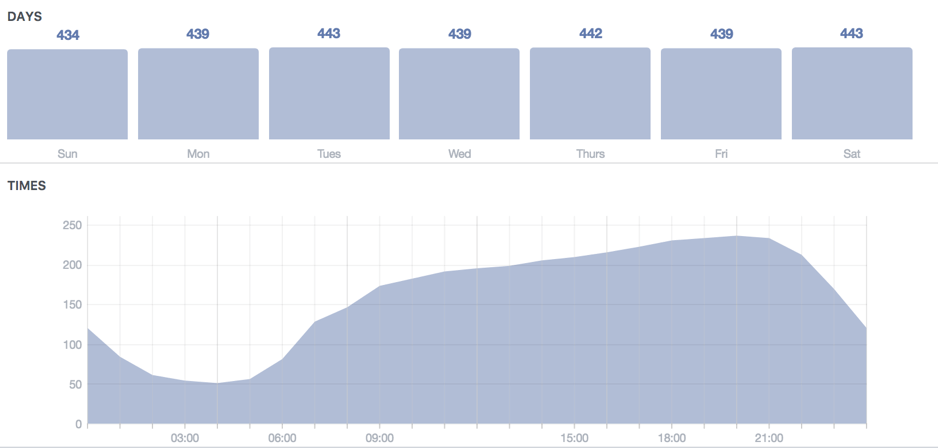 Fig.2: The above is a demonstration of Facebook audience activity times and numbers, crucial information for informing content scheduling.
Content: the evaluation provided by a social audience helps shape your content strategy, developing content strands that speak to and engage your core audience. Developing content which works in harmony with your key follower's requirements and interests can help increase engagement, whilst additional content strands and themes can target new segments to increase reach and share of voice in your industry.
Best practice: a good social audit will always provide a best practice guide for your brand's individual channels and consumers. This will touch on everything from paid for campaigns, to emoji's and hashtags. There are stark differences between each platform, so figuring out how to present your brand on each is of great importance.
Competitor analysis: keeping an eye on your competitors is always worthwhile, and the same process applies to social media. You may select certain pages to evaluate either due to recent appearance and growth in popularity, direct competition, or because of particular offerings they possess. The audit will analyse what techniques these competitors use, how their audience responds, and how it could be applied to your brand or business.
PHA Pulse
 Often, it can be easy to misinterpret the importance of social listening. Having refined your social media strategy with an audit, it is crucial that you possess the tools needed to monitor discussion around your brand in order to paint a picture of what content is working, strands that need to be refined, and overall perception of your company.
PHA Pulse, our in-house online monitoring platform, has the ability to monitor your brand across not just social media, but across the online spectrum, from news content through to blogs, forum discussions and video.
We analyse each entry to determine audience reach, sentiment and emotional rating, plus its impact, in the form of a visibility score.
Using the aforementioned metrics, we can track your online and social media performance alongside those of your biggest competitors and determine a share of voice. This unique metric drills deep into content, be it published press coverage or social media posts, and converts data into a digestible format.
What are the benefits of determining share of voice? Firstly, it lets you visualise your online influence in comparison to your rivals. Coupled with a social media audit, it allows us to track the performance of your rivals' content, and monitor the topics, keywords and conversations that are most lucrative when it comes to generating audience interest and engagement. Moreover, by tracking share of voice over a prolonged period of time, we are able to determine what works best for your social channels, as well as charting the progress of your social influence growth.
What's more, social listening tools possess the ability to go deeper than in-house social media channels when it comes to audience insights. Where Facebook, Twitter and Instagram can provide location insights, gender and age breakdowns, social listening goes one step further: PHA Pulse can determine the social reach of individuals, as well as provide aggregated topic data on social media users. From determining a particular audience's perception to your brand and wider industry, to gaining insight into the other pages they follow and discussions they immerse themselves in, this data can paint a very detailed picture of your audience.
If you're interested in learning more about PHA Pulse and social media audits, get in touch with us today to find out how we can help enhance your business or brand.