Over the past four years we have worked with Jeans for Genes and each time the brief is clear: to raise awareness and drive sign-ups for their annual fundraiser.
Jeans for Genes is a national children's charity, which raises money for the care of children and families who are affected by genetic disorders. The charity also aims to raise awareness and understanding of genetics and what it means to live with a genetic disorder.
The brief in 2018 was no different. The campaign itself was simple: asking people to wear jeans in return for a donation to support children living with genetic disorders.
Each year we create a fresh and strategic campaign that focuses on educating the public on the health implications of genetic disorders. Our team with significant planning, support and drive delivered excellent results with a reach of over 1 billion impressions, 307 pieces of coverage and 15 broadcast interviews.
So how do we go about driving impact year after year? Learn more about our strategies below:
Case studies
Part of our strategy was to include real people in the campaign. We set out to educate people about the impact a genetic disorder can have on a family and the amazing stories of those who live a fulfilling life. We worked closely with over 30 families who were affected by genetic disorders and secured opportunities for them to share their experiences. We placed a series of emotive case studies generating 123 pieces of coverage across the national and regional print and broadcast media.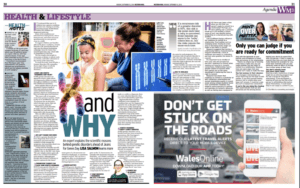 Educational coverage
We set out to educate the public the effects genetic disorders have on those who live with it each day. Deploying a multi-pronged educational strategy, we secured 20 pieces of coverage including publications such as the Western Mail.
Fashion and lifestyle coverage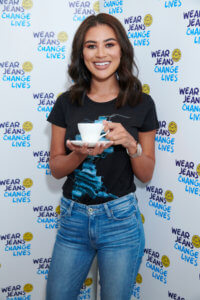 A large part of the Jeans for Genes campaign is the sale of their fashion t-shirt. Each year there is a high demand for the uniquely designed garment, and this year was no different. Our team secured 97 pieces of coverage dedicated to promoting the t-shirt. Jeans for Genes have never sold out but this year due to the increase in engagement was delighted to sell out twice!
Jeans for Genes Ambassador Montana modelling this year's design.
Celebrity influencers and endorsement
Celebrities and influencers as we know can be a very effective way of increasing engagement, building awareness and reaching your target audience. Our expert-led team has significant experience in building partnerships with brands and businesses to ensure results.
As part of the Jeans for Genes campaign, we worked with bloggers; A Model Recommends, Em Sheldon, Carl Thompson, Alice Thorpe and Chloe Pierre to name a few. As well as celebrities Becky Vardy, Danielle Lloyd, Dennis Wise, Ella Wills, Kieran Nicholls, Nicola McLean, Samira Mighty, Vicky Pattison and Love Island's Eyal.
It was a real focus of our team to ensure we made the right partnerships to ensure the success of the campaign.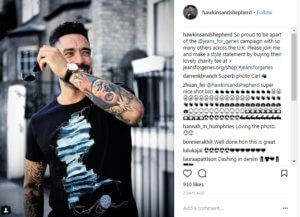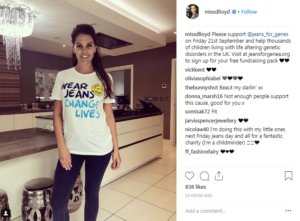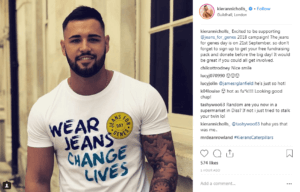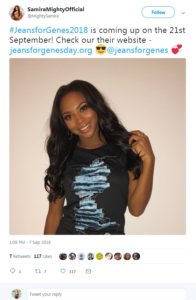 Gifting
To help keep our campaign and messaging at the forefront of journalists minds who may not have been able to attend our events we gifted three Sugar Tits doughnuts to make a real statement, and to promote the Jeans for Gene's campaigns. Our focus was to target 'What's on' guides to help reach a wider audience of potential fundraisers.
Hosting a celebrity event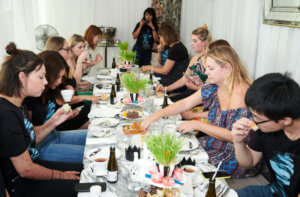 The final element was to host an 'Afternoon Tee' party that would allow us to garner the charities celebrity supporters and ensure widespread coverage of the awareness day, unique t-shirt and drive home the message that wearing jeans saves lives. Hosted by Love Island's Montana Brown and attended by journalists from Reveal, New Magazine, Metro.co.uk. TV Life, Star Magazine and S Magazine the event was a top hit!
If you'd like to speak to a member of our team and find out how we can support your organisation, please get in touch today. Or if you'd like to support this year's Jeans for Gene's campaigns it's not too late, visit their donation page here.