Over the past five years we have worked with Jeans for Genes and each time the brief is clear: to raise awareness and drive sign-ups for their annual fundraiser.
Jeans for Genes is a national children's charity, which raises money for the care of children and families who are affected by genetic disorders. The charity also aims to raise awareness and understanding of genetics and what it means to live with a genetic disorder.
The brief in 2019 was no different. The campaign itself was simple: asking people to wear jeans in return for a donation to support children living with genetic disorders.
Each year we create a fresh and strategic campaign that focuses on educating the public on the health implications of genetic disorders. As we reach the end of this year's Jeans for Genes week, we have so far secured 350 pieces of coverage across print, online and broadcast media and hundreds of social media posts from celebrities and influencers encouraging people to support the campaign.
So how do we go about driving impact year after year? Learn more about our strategies below:
Case studies
A key part of our strategy was to include real people in the campaign. We set out to educate about the impact a genetic disorder can have on a family and the amazing stories of those who live a fulfilling life. We worked closely with over 30 families who were affected by genetic disorders and secured opportunities for them to share their experiences. We placed a series of emotive case studies generating 123 pieces of coverage across the national and regional print and broadcast media.
Educational coverage
We set out to educate the public on what a genetic disorder is and to encourage individuals to learn more about genetics. Deploying a multi-pronged educational strategy utilising Gene Therapy expert Professor Bobby Gaspar, we secured 22 pieces of coverage including publications such as the Manchester Evening News and Yorkshire Post.
Fashion and lifestyle coverage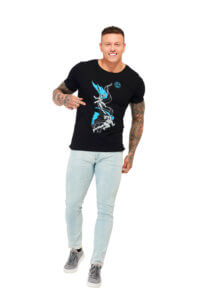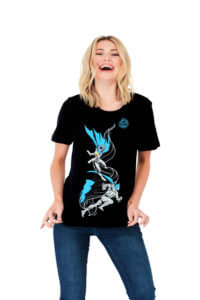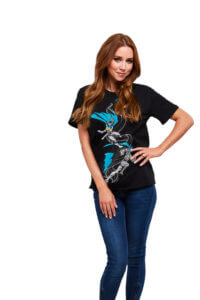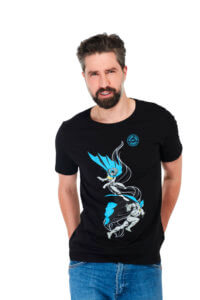 An important element of the fundraising campaign is the sale of their fashion t-shirt. Each year there is a high demand for the uniquely designed garment, and this year was no different, with the t-shirt designed in partnership with Warner Bros and featuring Batman and Batgirl. Our team secured 227 pieces of coverage dedicated to promoting the t-shirt.
Celebrity influencers and endorsement
Celebrities and influencers as we know can be a very effective way of increasing engagement, building awareness and reaching your target audience.
As part of the Jeans for Genes campaign, we worked with; Alice in the looking glass, Christopher Taylor, David Seaman, Emma Barton, Faye Tozer, Nadiya Jamir Hussain, Adam Pearson, Charlotte Hole and many more.
It was a real focus of our team to ensure we made the right partnerships to ensure the success of the campaign.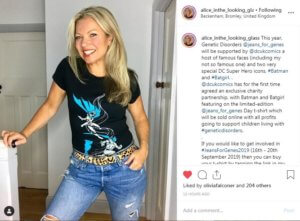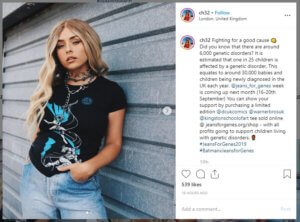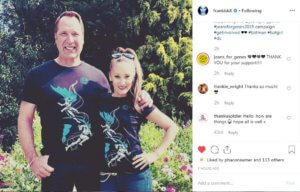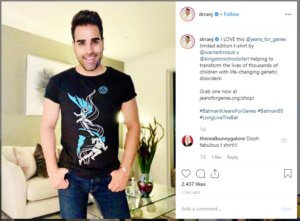 Gifting
To help keep our campaign and messaging at the forefront of journalists minds we activated a series of desk drops with branded Biscuiteer biscuits to a selection of fashion, health and lifestyle media.
Hosting a celebrity event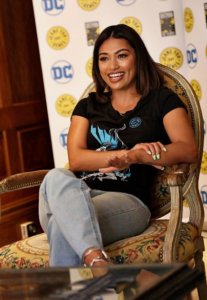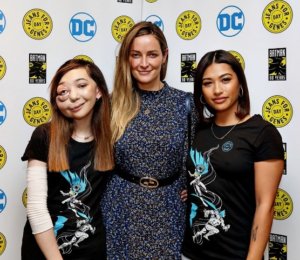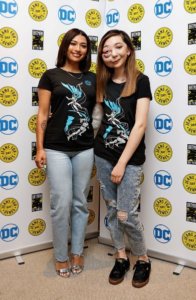 Jeans for Genes Day ambassador and singer-songwriter, Vanessa White hosted an intimate breakfast event at the Covent Garden Hotel to launch the 2019 Jeans for Genes Day campaign and its new charity T-shirt, on sale now.
The breakfast event at the Covent Garden Hotel was also attended by Made In Chelsea star, Francesca Newman-Young, and Jeans for Genes ambassador and emmy winner, Nikki Lily.
Vanessa debuted the limited edition 'Batman and Batgirl' design at the event, created by Kingston School of Art Graphic Design student, Chayanis Jumrus. This year's T-shirt motif was selected by a distinguished fashion panel, including Coleen Rooney, Louise Thompson, the London Evening Standard's Head of Fashion, Maurice Mullen and Fashion Director-at-large at Glamour UK, Alexandra Fullerton.
Vanessa greeted guests with a short introduction to her involvement with Jeans for Genes, upcoming projects, and why she has chosen to support the 2019 Jeans for Genes campaign.
Jeans for Genes Day has such a positive impact on the lives of children and families living with genetic disorders, which is why I am proud to be able to support the campaign. It is estimated that one in 25 children is affected by a genetic disorder, which means 30,000 babies and children are diagnosed in the UK every year. Whereas some disorders are apparent at birth, others are diagnosed at different stages throughout childhood. Vanessa White
If you'd like to speak to a member of our team and find out how we can support your organisation, please get in touch today. Or if you'd like to support this year's Jeans for Gene's campaigns it's not too late, visit their donation page here.