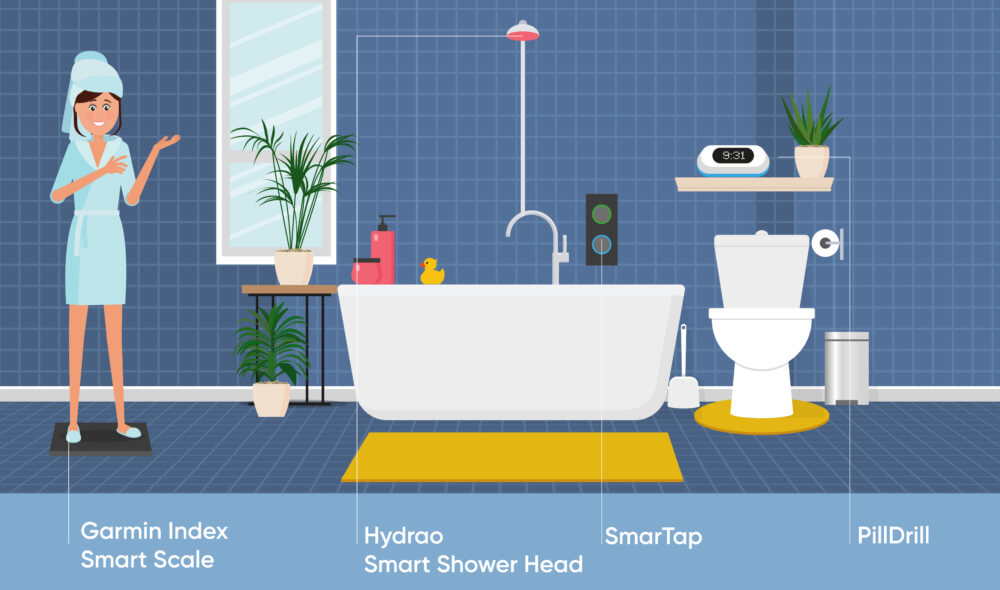 Room two in our connected series and we've moved onto the bathroom. While this might not be a room you would naturally want to have connected gadgets in, bathroom tech was a big trend coming out of CES 2018. From smart toilets (yes that is a real thing) to mirrors that can show you your calendar while you brush your teeth, a connected bathroom allows you to take your healthcare and social life to the next level. Here's a few of our favourite gadgets this year:
Whether you're in training or just trying to maintain a healthy weight, the Garmin Index Smart Scale provides you with the metrics you need and more to track your progress including your Body Mass Index, water percentage and bone mass to name a few. But perhaps the smart scale's best feature is the ability to utilise WiFi, allowing you to effortlessly sync your data from scale to the Garmin connect app. Then from accessing the app on your smart device you can track and review your progress in much more detail.
Using cutting-edge technology Hydrao have developed a smart shower head which will cut your water bill in half and save you vasts amounts of money in the process too. Using an integrated LED multicolour system, the shower head will change colour depending on water consumption during use. The exciting news about the Hydrao smart shower head is that within a few simple clicks on the app, you cannot only decide your water limit but also see how much you've saved from your recent showers.
Once described as a 'showering revolution', the SmarTap powered by both smart and Al technology allows you to have your most reliable shower or bath yet. Using an app or Alexa, SmarTap lets you easily plan your perfect shower and can even prepare a bath on its own, catering to your family's preferences. Control the temperature from the palm of your hand using the app.
If you or your loved one are renowned for forgetting to take medication, PillDrill is the device for you. The easy to use medication tracking system will remind you when to take your medication, and then allows you to track that you have been taking it by scanning the bottle. If it is for a loved one, you can also set up real-time notifications that alert you on their schedule.
If your gadget is set to be the latest addition to the smart bathroom trend, why not get in touch with our award- winning team today to talk about launching in the UK market.