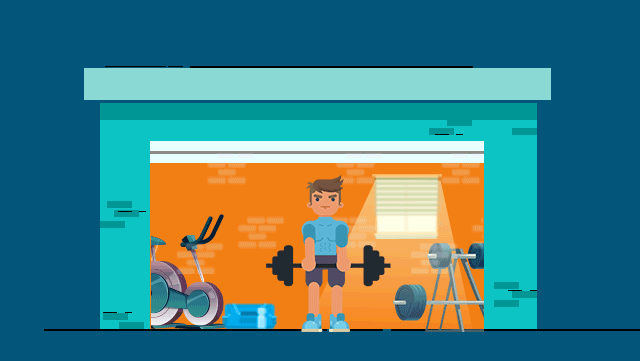 Do you struggle for spare time during the week? Do you regularly have to cancel an exercise class or skip the gym because of other commitments?
Most people would agree that the week sometimes just doesn't seem long enough, so staying in shape and being committed to a frequent exercise plan during the week can prove to be tough.
In recent years more and more people have decided to ditch their gym membership and focus on creating their own gym bubble at home. Whether it's a shed, a spare room, a cleared space in the living room or even a basement that you can use, the benefits of creating a home gym are easy to see.
Wave goodbye to queuing for a machine, and say hello to becoming more flexible with your workouts.
We've taken a look at the gym outlet stores you should be checking out when it comes to creating your home gym.
With almost 40 years of experience in the industry and 11 stores nationwide, Powerhouse Fitness are Europe's leading specialist retailer for home fitness equipment with over 80,000 items in stock and ready to ship.
But we're most impressed with their extensive range of static exercise bikes which includes an Air Bike which is the latest toy for performing high-intensity internal training (HIIT) or even lighter cardiovascular workout. So, if you're looking to become a cardio king or queen then Powerhouse Fitness should be your first port of call.
Also, as luck would have it, Powerhouse Fitness are having a Black Friday discount day coming up at the end of November, where products will be discounted up to 50%.
For Mirafit, fitness is more than just working out. It's about building both physical and mental strength. It's about building the foundations so that you can have the freedom to do the things you want to do, both in and outside of the gym.
Established in 2014, Mirafit was created from a fundamental belief that we all deserve the right to a healthy heart, a strong physique and a clear mind, but to obtain that level of fitness, you need the correct equipment.
Mirafit produce a plethora of strength and conditioning equipment but we're going to focus on their Olympic bars and plates.
Let's face it, you can't create an ultimate home gym that Arnold Schwarzenegger would be proud of if it doesn't include an Olympic bar.
With over 25 years of experience in the industry and over 200,000 products on their stocklist, Fitness Superstore is another go-to provider for kitting out your gym. Why not pop into one of their 11 showrooms in the UK to have a browse.  Be warned though, if you're into your crossfit, you might come out with more items than you bargained for.
From soft foam plyometric box sets, to hammers and tyres, your garage will be looking like an F45 set in no time.
Providing free weights, functional training equipment and strength machines such as power racks and benches is Origin Fitness. Examples of clients Origin Fitness have worked with include Scottish Rugby, David Lloyd Clubs and Xercise4Less.
With a clientele list like that, you can rest easy in the knowledge that you're buying from a top-quality equipment provider. With Origin Fitness there's plenty of toys and gadgets to choose from, but the range of push and pull sleds caught our eye, so if you've got the space available to you, why not give it a go?
Are you looking to raise your profile in the market? Our team of specialists is here to help. Contact us today to find out how we can help you gain cut-through for you and your business.