Align your PR strategy with your business objectives
Always align your PR strategy with short and long-term business objectives, so you are sending out the right messages to the right people at the right time.
As part of this, develop a media relations approach with specific areas of focus that contribute to you achieving these business objectives. For example, you're an EdTech company and you've been featured in a tech round-up on Forbes – great for broader brand awareness – but your focus right now is to sell your tech to schools. So really, the place to be is in the education trade press which is read by schools and educational institutions.
It's great to have a one, two- or five-year business plan, but when it comes to communications don't try to run before you can walk, and focus on the business' priorities rather than something you hope to achieve in a number of years.
Build relationships with journalists
One of the most overlooked elements of a successful communications plan. If you're a new tech start-up, coverage isn't something that happens overnight. The saturated tech news agenda might seem flooded with new entrants and exciting stories, but in reality, good quality press coverage is a result of disciplined relationship building and respect for the way journalists like to work. This requires a 3-6-month commitment to the PR process, not expecting coverage in week one.
Start-ups should focus on building relationships with journalists early on. One approach is to identify a 'top 5' and do all you can to educate each of them on who you are and why they should write about you. Keep it punchy – if they scroll your email it is probably too long – and don't skip on details like investment, YoY growth, company milestones, etc. Invite them to lunch and take the time to understand what they're looking for in a start-up story, rather than assuming all tech journalists are the same.
Think of pitching as 'How do I not get deleted?'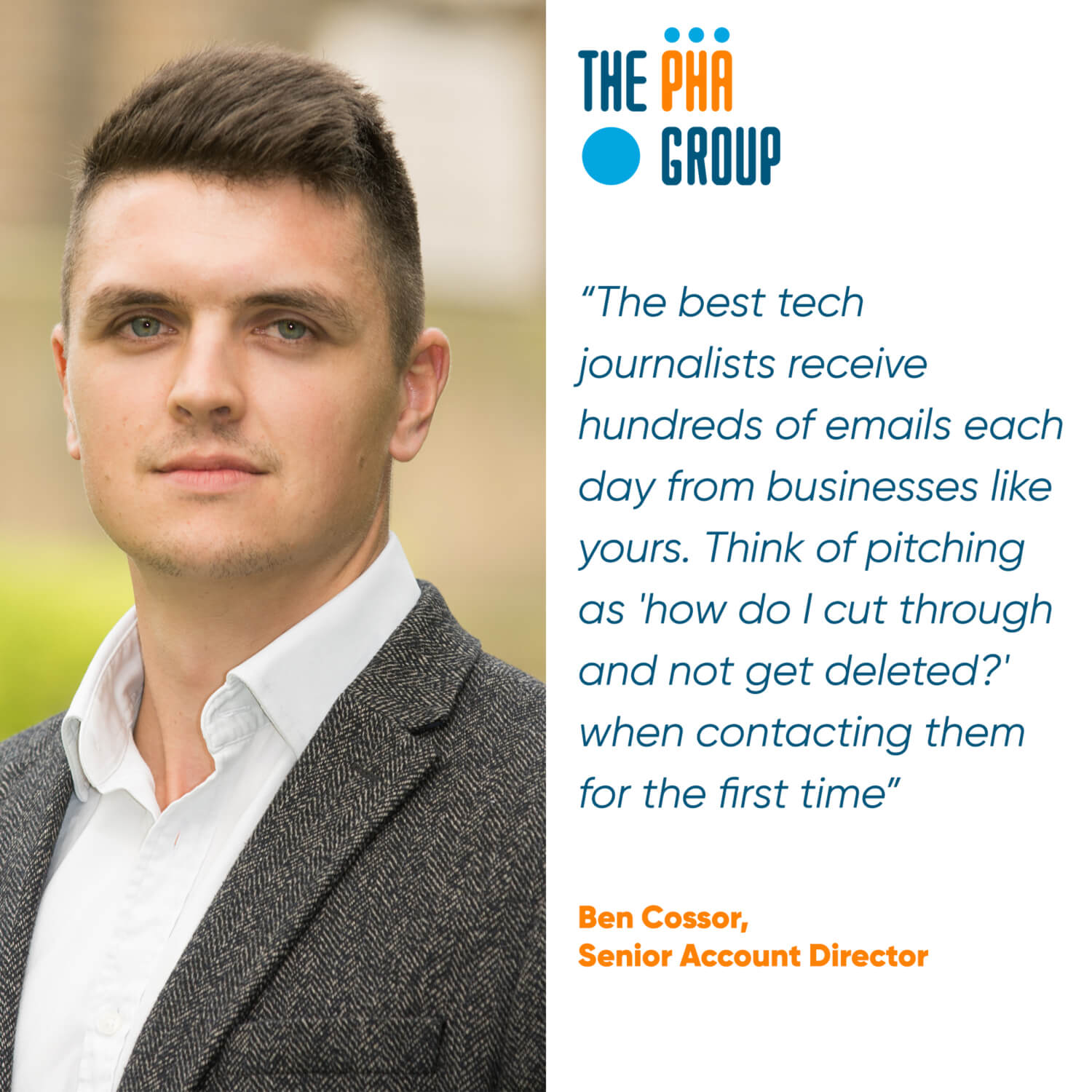 The best tech journalists receive hundreds of emails each day from – or on behalf of – businesses like yours. Consider the question 'how do I cut through and not get deleted?' when pitching to them for the first time. Something that's often overlooked is the importance of high-quality image and video, which can often be the difference between a journalist choosing one story over another. Think about your email subject line, or if you're calling them, what's the first thing that's going to come out of your mouth. First impressions are everything and if you make a hash of the first pitch, it could be hard to come back from that.
If you have taken the time to build a relationship with a journalist, the next time you have news to share with them, you'll be one of a small number that stands out in their crowded inbox.
Are you story-led or people-led (or both)?
An article about a tech start-up usually focuses on either the product or service itself (a launch or news story), or the founder(s) at the heart of the company (an interview). What would your story be? Ideally, it's both and you have a compelling narrative to really interest a journalist.
Decide what your strongest selling point is and focus on that in your PR strategy and the way you sell your business to busy tech writers.
Quality over quantity on social media
Start-ups can ensure a slick presence on social media by focusing on establishing a really good quality presence on fewer channels, rather than trying to maintain engagement across every single one when you most likely don't have the time and resource to do it properly.
It's better to have no presence at all on one or two channels than an inconsistent one across five, which comes across as amateurish. The same goes for how you manage these channels – focus on creating high quality, engaging content which gives the best possible impression of your business, rather than saturating your followers' news feeds with too many posts for the sake of trying to generate engagement.
Are you interested in hearing about how we might be able to help you promote your offering? Speak to a member of our award-winning technology team today.