After returning to London last week, I've had a little time to reflect on our incredible whirlwind week in New York. Where do I start? Well firstly, I have to say, I am over the moon that I got to experience the big apple with Kaj, Tom and Laurence this December – Christmas in New York really was as magical as everyone told me it would be and I have returned with three new PHA pals! Anyone who knows me knows how much I LOVE Christmas, and this is a city that knows exactly how to celebrate at the most wonderful time of the year.
However, it wasn't just fun, festivities and food (although there was a lot of that involved!) I was there to spend a week learning directly from our partner agency – which is something I most certainly did.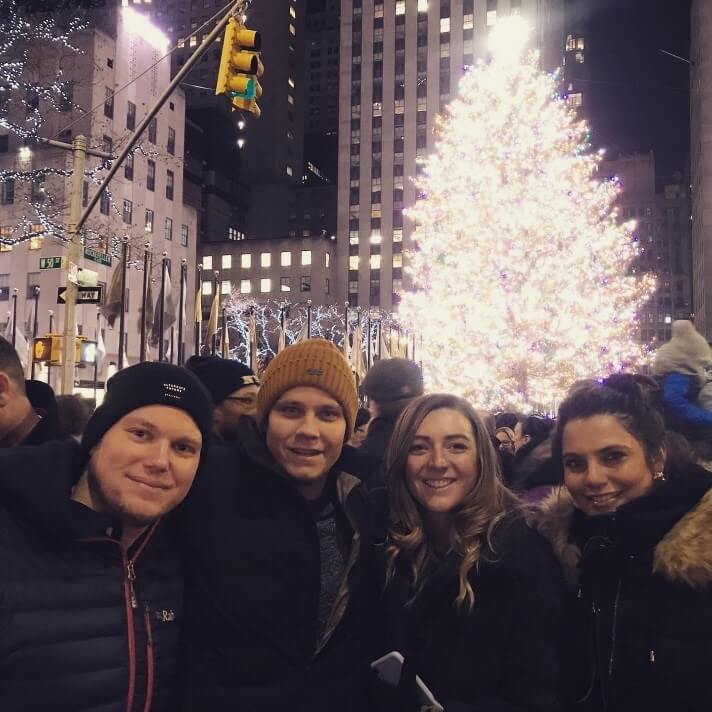 As I started to spend time with some of the 5W employees on our first day, I immediately noticed some similarities between PHA and 5W as an agency. Unfortunately, it wasn't the views from their office (they beat us on that one) – but instead, it was how welcoming and friendly everyone was and the passion and commitment everyone seemed to have for the work they were doing. Something that really makes PHA is the people; from the most senior to the junior, and I would say this was replicated at 5W.
As we got stuck into the jam-packed itinerary, my time at 5W was mostly spent jumping around the teams within the consumer department. 5W are double the size of us, so from my close-knit consumer squad of 18 – I was thrown into the 80-person machine that is the 5W Consumer department! As I work on everything from fashion and beauty to homes and third sector – it was great to spend time with certain teams and individuals that are experts in these areas and have the opportunity to pick their brains for clients of my own.
The schedule I had was filled with internal brainstorms, client calls, team catch-ups, agency-wide training sessions, a client event in Central Park, various Q&A's and even a team outing to Bryant Park. These all helped me gain an insight into how 5W operate and how they manage their relationships with journalists, clients and each other. I'm looking forward to sharing all my findings with PHA in the New Year.
On a personal note, one thing I couldn't help but notice, was how confident everyone was – whether this was internally, with clients or with journalists. And in particular the confidence levels of the more junior positions – so as an Account Executive, it really has inspired me speak up and be the most confident version of myself as we go into 2020.
Away from the office, we got to spend our evenings and the weekend as the tourists I secretly wanted us to be.  We spent the weekend taking in the views of the city from the Freedom Tower, walking over Brooklyn Bridge at sunset, shopping in Macy's and popping in to a couple more Christmas themed bars! As reluctant as I was to get on the plane back to London, it was time for us to sadly depart. I truly couldn't have had a better experience on the #PHAx5WExchange and I'm so grateful I got to be a part of it!