Valentine's Day is nearly here, meaning many brands will be planning their PR campaign launches to maximise impact. It's always a competitive day in the media, and companies whose products or services match this calendar hook need to ensure they plan early to cut through the noise. This is all too important for those in the dating industry be it online platforms or applications. Having worked with several dating apps, we've found some press office tactics work better than others, so here are our top tips on how you can help your dating app stand out ahead of Valentine's Day.
Case studies
A great love story always works well in the press, and any dating app should be looking to engage keen consumers wherever possible to tell their stories of finding love. While great marketing tools on your website and social media platforms, these stories also act as third party endorsements of your brand and will encourage other people to download your app for themselves. Case studies can be hard to come by, so if you do have a lead with one of your users, prepare questions in advance to try and get all the information you require for marketing and PR purposes in one go, including any relevant imagery.
Data and research
Data stories work well for time-poor journalists who don't always have the resources to do their own digging. While market research is a commonly used and straight forward route, dating apps should also think about what data they already have, and how they could use that to create a press story.
We took this route when working with happn, using its own data to determine what makes a great dating profile, which places are best for finding matches, and more. Through these stories, we secured 200 pieces of coverage including an exclusive in the Evening Standard on London's top five most datable women. Regularly named as one of the top dating apps in the UK, 80% of all coverage was dedicated purely to happn – not its competitors, and ultimately lead to the app attracting over two million British users by the end of our campaign.
For Valentine's Day, think about what unique date you hold that could tell an interesting story or reveal a trend about British singles. Could you suggest the best type of restaurant for a date based on what people most often cite as their favourite food? Could you suggest the best locations to be in the UK to match with a potential Valentine? Or maybe you can reveal the best types of photo to have on your profile to get matches? Of course, it's important to remain GDPR compliant, so ensure all data is anonymised and you cannot reveal personally-identifying information on your users.
Founder profiling
Finally, if the founder or CEO of your company has a great back story, be sure to use it to your PR advantage as well – especially if it's to do with finding love! Compelling founder stories are an excellent way to show how the business has grown, its origins, and summarise your goals too. While a romantic back story could be a great way to encourage user downloads, these founder stories also work well for attracting the interest of investors and other businesses that may want to collaborate with you too.
All in all  – planning is the most important thing you can do to make sure your dating app gets the press it deserves come Valentine's Day. If you need some support in growing your dating app, get in touch with us today.
How to make your PR tactics 'match' with the media
Align your PR strategy with your business objectives
Always align your PR strategy with short and long-term business objectives, so you are sending out the right messages to the right people at the right time.
As part of this, develop a media relations approach with specific areas of focus that contribute to you achieving these business objectives. For example, you're an EdTech company and you've been featured in a tech round-up on Forbes – great for broader brand awareness – but your focus right now is to sell your tech to schools. So really, the place to be is in the education trade press which is read by schools and educational institutions.
It's great to have a one, two- or five-year business plan, but when it comes to communications don't try to run before you can walk, and focus on the business' priorities rather than something you hope to achieve in a number of years.
Build relationships with journalists
One of the most overlooked elements of a successful communications plan. If you're a new tech start-up, coverage isn't something that happens overnight. The saturated tech news agenda might seem flooded with new entrants and exciting stories, but in reality, good quality press coverage is a result of disciplined relationship building and respect for the way journalists like to work. This requires a 3-6-month commitment to the PR process, not expecting coverage in week one.
Start-ups should focus on building relationships with journalists early on. One approach is to identify a 'top 5' and do all you can to educate each of them on who you are and why they should write about you. Keep it punchy – if they scroll your email it is probably too long – and don't skip on details like investment, YoY growth, company milestones, etc. Invite them to lunch and take the time to understand what they're looking for in a start-up story, rather than assuming all tech journalists are the same.
Think of pitching as 'How do I not get deleted?'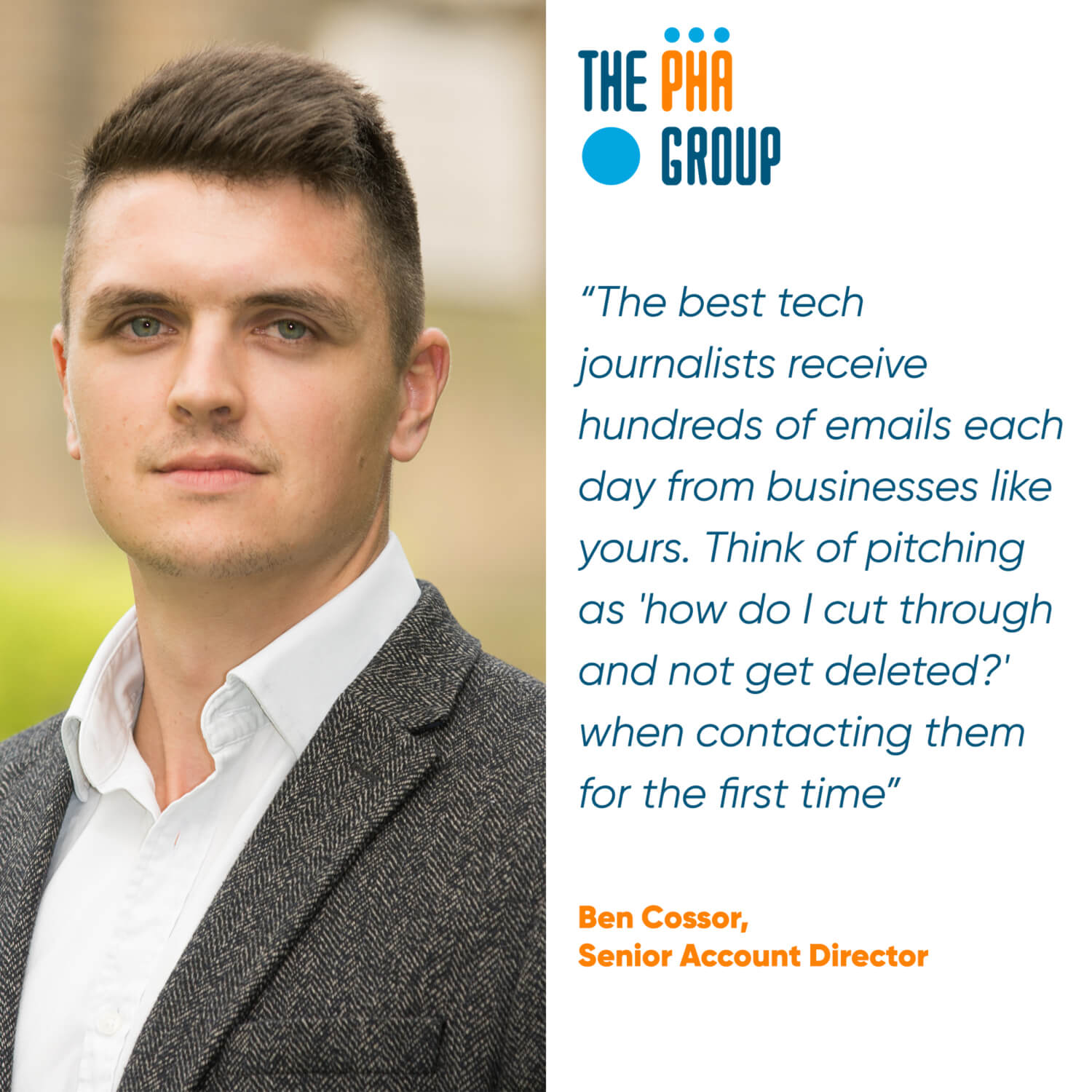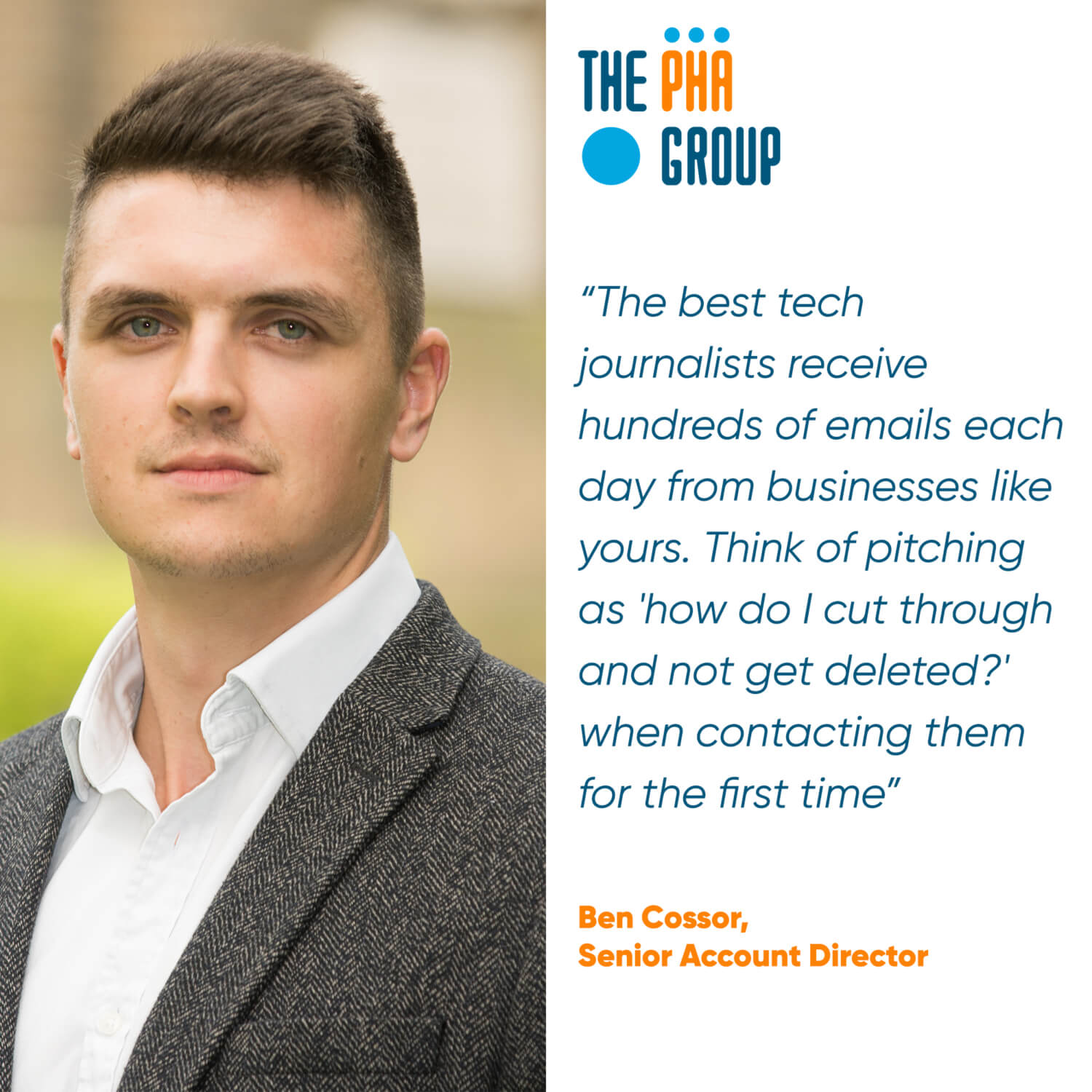 The best tech journalists receive hundreds of emails each day from – or on behalf of – businesses like yours. Consider the question 'how do I cut through and not get deleted?' when pitching to them for the first time. Something that's often overlooked is the importance of high-quality image and video, which can often be the difference between a journalist choosing one story over another. Think about your email subject line, or if you're calling them, what's the first thing that's going to come out of your mouth. First impressions are everything and if you make a hash of the first pitch, it could be hard to come back from that.
If you have taken the time to build a relationship with a journalist, the next time you have news to share with them, you'll be one of a small number that stands out in their crowded inbox.
Are you story-led or people-led (or both)?
An article about a tech start-up usually focuses on either the product or service itself (a launch or news story), or the founder(s) at the heart of the company (an interview). What would your story be? Ideally, it's both and you have a compelling narrative to really interest a journalist.
Decide what your strongest selling point is and focus on that in your PR strategy and the way you sell your business to busy tech writers.
Quality over quantity on social media
Start-ups can ensure a slick presence on social media by focusing on establishing a really good quality presence on fewer channels, rather than trying to maintain engagement across every single one when you most likely don't have the time and resource to do it properly.
It's better to have no presence at all on one or two channels than an inconsistent one across five, which comes across as amateurish. The same goes for how you manage these channels – focus on creating high quality, engaging content which gives the best possible impression of your business, rather than saturating your followers' news feeds with too many posts for the sake of trying to generate engagement.
Are you interested in hearing about how we might be able to help you promote your offering? Speak to a member of our award-winning technology team today.
Five PR tips for technology start-ups
The Business Show this year will see hundreds of exhibitors showing off their products and services, but one company we're most excited to hear from is challenger brand Starling Bank. In just five years it has grown from no more than an idea into a powerhouse of a business, now with 320 employees. It has almost half a million personal current accounts, and since launching its business account last March, has already had a whopping 42,000 signups.
Starling, amongst other digital banks, are now rivalling traditional high-street banks, who are feeling the competition and in turn are having to invest in making improvements to their digital offerings. Whilst the larger legacy banks tend to offer a wider range of services and financial products, app-based challenger banks benefit from lower operational costs as they don't have physical branches. And the concept has obviously worked, with Starling being named Best British Bank and Best Current Account Provider at the 2019 British Bank Awards, and Personal Finance App of the Year at the 2018 Payment Awards.
https://twitter.com/StarlingBank/status/1106857425104240645
We take a look back at the incredible journey of founder Anne Boden and highlight some of the key steps the company has taken since its launch in 2014.
The eureka moment
After thirty-five years in the banking business, Anne Boden had an idea. She had been travelling around the world trying to work out what competitor banks were doing and kept noticing the same challenge – banks wanted to improve their mobile banking service but were held back financially by the money they were spending on renovating their branches. That's when it hit her, and in 2014 Anne quit her job to set up a new kind of bank.
Every other industry had changed: Amazon had changed shopping, iTunes had changed music. Nobody had actually fundamentally changed banking.
– Anne Boden, Founder & CEO
She was approached by billionaire fund manager Harald McPike, who gave her a £48 million investment, and the bank officially launched two years later in May 2017.
Listen to your customers
When developing the concept, Starling asked people what they wanted from a bank. The response was that people didn't like paying fees to use their debit card abroad, so Starling eliminated them. Customers didn't want to pay penalties for going into their overdraft, so Starling decided not to charge. Customers were concerned about security, so Starling made the bank app-only because apps are much more secure than websites.
Partner up
In October 2018, the company launched its Banking-as-a-Service offering for business customers, with online savings marketplace Raisin UK as its first partner. The service enables businesses to use Starling's existing payments technology to power their product behind the scenes. One month later, the Starling Marketplace was launched. The aim was to put its customers at the centre of a wider financial ecosystem, allowing them to choose from a range of products and services.
From a customer perspective, these initiatives give them more control of their money than a traditional bank typically would. The partnerships of course also strengthen Starling's position in the market, allowing it to reach a larger demographic and to continue to expand its offering into new territories. So far, partners include online accounting software providers Xero and FreeAgent, gig economy insurance provider Zego, phone insurance provider So-Sure and life insurance provider Anorak.
Innovate
Starling is constantly improving its offering and continuing to add more and more value to customers. As well as introducing business accounts, last year also saw the roll out of its Young Person account, joint accounts, and a vertical debit card, which was created out of the ethos of questioning old logic and making banking more instinctive and intuitive. Customers can also now pay with Starling via Apple Pay, Google Pay, Samsung Pay, Fitbit Pay, and Garmin Pay.
The latest innovations, which are due to launch this year, include credit cards and EU accounts for UK customers, and creating a web portal to address the needs of SMEs who want to manage their banking online as well as through mobile apps.
Dream big
Anne's vision for Starling is to build the best bank account in the world. She hopes to stand out from other digital banks by pitching Starling as a mainstream bank for customers across the UK, but her long-term goals reach even further – she wants Starling to become a major player across Europe with millions of customers in at least 10 countries.
This is no small feat, but with the £175 million in funding the company has just secured and its 165 new recruits, it doesn't seem out of reach.
Are you a looking to build your exposure, or reach a new audience? Perhaps you have an app you're looking to launch and want to secure cut-through in the national and broadcast media? Speak to our team today to find out how we can help you achieve your long-term goals.
Starling Bank: How they did it
A PR campaign can be a really effective way of raising awareness of your growth plans and attracting interest from VCs. But your strategy has to be spot on to maximise the opportunity. Here are 5 top tips, with examples from our own work, to bear in mind.
Key messages
Potential investors ultimately want to know why your business is worth their money. And they don't have time to try and work it out themselves.
You must have clear messages at the heart of your PR campaign. What is your USP? How are you disrupting your industry? Why should someone part with their money to be part of your journey?
These messages should be consistent across all PR stories and come through whether it's via a written interview, TV appearance or by-lined article.
There is always an opportunity to portray these messages but knowing how to weave them in without simply plugging your service is key.
A PR strategy and calendar over a number of months will enable you to ensure these messages are clear across all channels; print, online and broadcast.
Perceived value
Attracting investment is all about the perception of your business and the value you can bring to investors. Often you want to seem bigger than you are.
Investors want to know that they will see a return on their investment.
You need prominence in the most well-respected business press and national business pages to reach your target audience of key decision makers; this can be achieved through a combination of interviews, company news (such as new hires) and thought leadership opinion pieces to position you as a leading authority for the sector.
When talking about your business, you can heighten its perceived value by explaining how you are disrupting the industry and being clear on figures such as turnover and profit.
We worked with Purplebricks.com from launch (April 2015) until November 2015 with a key objective of attracting investment. Through interviews with CEO Michael Bruce and regular industry commentary in the right titles, we achieved our ultimate goal. 18 months after launching, Purplebricks announced its intention to float with an IPO valuing the business at circa £250m. The consistent coverage we achieved for the company across the national and business press had a hugely positive impact on their corporate profile and reputation as one the UK's fastest-growing businesses, revolutionising the property market as we know it.
Growth potential
Part of a company's perceived value is growth over time – both previous and projected.
It's important to demonstrate, through correct messaging in the right set piece interviews, tangible evidence of how your business has grown since birth and how it's projected to grow even further.
You can actually choose certain publications and interview slots within these – which give you the opportunity to talk about these figures – through the right contacts.
Our work with Jordan Daykin, founder of GripIt Fixings and the youngest ever entrepreneur to receive Dragons' Den investment, focused around telling the story of his rapid rise to success since the age of 18 and ambitious crowdfunding plans to help expand internationally.
By securing coverage across the national, business trade and regional press, we oversaw GripIt's successful CrowdCube campaign which overfunded and raised £1.5m in just five days.
Success stories
Potential investors want to see that you are delivering on the real everyday problems you claim to be solving. Does your offering have the longevity they're looking for?
A great way of demonstrating this is through success stories in the mainstream media. These can range from money-saving examples to life-changing stories, and everything in between.
For instance, for Purplebricks.com we sourced, interviewed and placed case studies of satisfied customers in the national press to demonstrate the value added to the house buying and selling process by the Purplebricks.com brand.
Multi-channel approach
Getting your key messages across – USP, company value, potential growth and success stories – is at the heart of a successful PR campaign, but how can you ensure they are seen by the right audience and ultimately help to attract investment?
Knowing the media landscape and the right publications and set pieces which allow you to portray these key messages is vital. This includes securing coverage across print, online, broadcast and even maximising this across your social channels.
For example, we secured prominent coverage for child internet safety platform, Azoomee, ahead of their crowdfunding campaign in October 2016. Coverage in the business press and tech industry titles put them on the radars of savvy investors who quickly got on board with the crowdfunding campaign.
Ultimately, building a portfolio of targeted press coverage in the right publications over time will build your brand's credibility and make you an attractive proposition for potential investors.
How to use press coverage to attract investment
As an agency with 14 years' experience of launching start-ups and growing with them, we are well versed in demonstrating the impact on our work in line with clients' business objectives.
Value for money and a sound return on investment have never been more important for growing businesses, and a key element of this for many start-ups, scale-ups and SMEs is the relationship with their PR agency.
The best agencies have emerged from the dark ages of measuring the success of a PR campaign against Equivalent Advertising Value or audience impressions – challenged to find more tangible, realistic and accurate ways of measuring coverage for their clients. From share of voice, to website traffic, to sentiment, there are various metrics to show the impact of our work. But underpinning all of this is a willingness on agency side to be transparent and understanding, qualities which are the foundation of a long and successful client-agency relationship.
Transparency from the start
The first pitch or introductory meeting often sets a precedent for rest of the contract, so an open, honest approach from the off – from both sides – is important. As the client, what are your primary objectives and ultimately what do you want to get out of the PR campaign? As the agency, do you fully understand the client's brief and are you clear on how they view success? These are two key questions to get out in the open early on.
Just as it's the client's responsibility to be clear with the brief, the agency must be crystal clear on how realistic and achievable these objectives are – and in what timeframe – from the moment the contract kicks off, to avoid any ambiguity on either side later on. Kicking off a campaign and media strategy without agreed objectives is, in a PR sense, the definition of madness.
Agree a target audience
What use is an interview, news announcement, by-line or case study if it won't be read by your brand's target audience? This is a key factor for an agency and client to establish early on, in order for the agency to deliver a PR campaign that will add true value, rather than coverage for coverage's sake.
As the client, feel free to tell your agency what your dream piece of coverage would be, and why. We'll often ask our clients this question the first time we meet, as it helps us understand a) the audience they wish to communicate with, and b) their expectations – it's then our job to manage these expectations and advise on a strategy to suit.
Within the Technology team we work with a fascinating variety of businesses – from start-ups to larger, international brands, operating in the B2B, B2C and Fintech space. It's unsurprising, therefore, that such a variety of companies have such different priorities when it comes to press coverage. Some would like a few, less frequent stand-out features in the national press, whereas others see more value in a regular stream of thought leadership in the key industry press. If both parties are clear from the beginning, delivery will ultimately benefit.
Data-driven insights
PR analytics tools, such as our own online & social listening service, PHA Pulse, are able to quantify the impact of PR – and inform strategy – in a way that the agency and client can understand, therefore allowing us to optimise our PR strategy accordingly to drive business objectives for the client.
Through taking a data-driven approach to measurement, we have been able to analyse the for clients in recent months, such as communications software company PowWowNow:
Their share of voice versus competitors; comparing the number of unique mentions the brand name receives in online news sources compared to its main competitors. We can take this information and tell the client where they sit in the market, and set an objective to increase this share of voice as part of our agreed KPIs (over 3 or 6 months, for example)
Who is engaging with / mentioning the brand on social media; identify the most common demographic engaging with the brand and what their interests are. We can take this knowledge and, as a result, target this specific demographic with our PR strategy
An analysis of relevant conversations online and across social media. This tells us the most used topics and key terms which featured within conversations about topics relevant to the client online. We can tell the client how prominent they are within these conversations and the related topics & key words we should be looking to engage with in order to increase this prominence
The most popular content about a specific topic (measured by engagement or audience impressions). This tells us which online news articles or social media posts about topics relevant to the client received the most engagement. We can a) identify journalists/influencers (and contact them) or b) learn about specific content relevant to the client that proves popular online (and replicate it)
Online sentiment towards a brand and the mindsets behind brand conversations. We can inform the client of overall sentiment and seek to improve it over time.
Speak up
Underpinning all of this is clear communication between the agency and the client. It's so important that either party makes it clear at any point if they're not happy with how things are going. The majority of qualms are easily put right on a call or meeting, and with openness and honesty, a successful long-term agency-client relationship will come naturally.
Are you interested in hearing about how we might be able to help you promote your offering? Speak to a member of our award-winning technology team today.
How a PR agency can demonstrate ROI
The future is here. Ten years ago, if you had the bravery to claim that "cash will soon be worthless", you'd have been laughed out of the room, whereas now it seems to be a very real possibility. But, before you dust off that anarcho-economics book that you bought to impress your friends in university – we aren't witnessing the end of money, simply the decline of physical cash.
We've seen nothing short of a collapse in the usage of physical cash in the last decade – so much so, that the recent Access to Cash Review asserted that the entire cash system was at significant risk of "falling apart". In 2007, roughly sixty-one percent of all payments were made using cash, but by 2017, this number had plunged to just thirty-four percent. Debit cards overtook cash as the utilised method of payment for the first time in June 2018, and forecasts suggest that cash could be used in as few as one in ten transactions fifteen years from now.
If you're like me, then you've clearly focused on the big questions – for example, will Scrooge McDuck have to fill his vault with AMEX black cards? But if you aren't, then you wouldn't be alone in wondering what effect a move towards being cashless might have on society.
Why businesses and consumers are choosing to go cashless
Fun fact, the UK's first credit card – the Barclaycard – was launched in 1966, and by 1972, all the UK's major retail banks had followed suit. So, considering that cashless methods of payment aren't a new phenomenon, why are we only just waking up to their benefits?
The development of technology plays into this greatly. The development and subsequent uptake of contactless technology has made it incredibly efficient to use cards for payments. Furthermore, with the vast majority of us now carrying a contactless-enabled device linked to our bank account – smartphones, smartwatches, wearable technology – we now don't even need our cards to pay!
It's the same story for vendors too – with the improvement in broadband infrastructure now meaning that it's viable to process cashless transactions on a large scale.
The argument for going cashless
Going cashless could lead to a reduction in certain forms of crime. Cash plays a huge role in the facilitation of crime, due to the associated difficulty of tracing its origins. Cashless transactions are easily tracked, and this makes it much more difficult to both launder money, or avoid tax. In Sweden, where eighty-one percent of transactions are made digitally, VAT receipts have increased by thirty percent. Through going cashless, businesses and consumers drastically reduce their chances of being mugged or burgled.
Cashless money is also easier to store. It's incredibly easy to shut down a digital wallet if stolen, and access to your money is unaffected by your physical location. Electronic money is also near impossible to lose or damage and isn't plagued by the hygiene issues suffered by paper money. Commercial organisations also save, as they are no longer required to pay for the protection or transport of physical cash.
Finally, digital money is much easier to carry around – whether you have £1 or £1 million in your account, it takes up no more space in your pocket than the size of the card itself – something which isn't true when carrying physical money.
 Cons of dropping cash
The Access to Cash Review revealed that seventeen percent of people believed that they would struggle to cope without cash – when extrapolated to the nation, this leaves eight million people in difficulty.
Making up this seventeen percent are a number of vulnerable groups; elderly people – who may not have the technological know-how to adapt to cashless transactions, those struggling with debt – for who cash is much easier to manage, those in rural communities – for whom poor broadband and mobile connectivity makes cashless transactions highly inefficient, and the homeless – for whom opening a bank account would be impossible, as they lack fixed premises.
Cashless transactions are also reliant upon digital infrastructure. If for whatever reason this infrastructure fails – as happened last year to both the Visa and Mastercard networks – users will be left without access to their money, something which is very unlikely to happen with physical cash.
What we need to see for a truly cashless society
Whilst the affluent and technologically enabled may already be living a cashless society, any move away from the usage of cash would isolate and marginalise vulnerable members of our society. This is as unfortunately, we still haven't solved the issue of providing access.
We need to rethink what is truly a 'necessity' society. Access to basic financial products should be considered as a right, rather than a privilege. While we may need legislative action to truly change this, there are a number of exciting companies out there extending the benefits of cashless finance to those who need it most.
Leaders in the space
Pockit – Pockit was founded with the aim of bringing financial products to the UK's unbanked population. A Pockit account offers all the services of a traditional current account, without any of the issues related to inaccessibility. Anyone can open a Pockit account within 2 minutes, and they receive a contactless card and access to the Pockit app.
PiPiT – PiPiT allows expats to pay for bills and services in their home country from their host country. Not only does this provide a cheaper option – cash transfer fees can be up to 12% in some cases – it also provides a peace of mind that the money remitted will arrive where intended.
Monese – Britain's first mobile bank, Monese allows users to open an account in under three minutes, without needing a UK address – enabling immigrants and expats, who may find it difficult otherwise to open a bank account, to access banking services
WorldRemit – WorldRemit was founded due to a dissatisfaction with the pre-existing money transfer services. WorldRemit's mobile app allows users to send money to a mobile money account, bank account, cash collection point, or enjoy mobile airtime anywhere in the world.
Curve – Curve lets you connect all of your bank cards into a single Curve card (and adjoining app) – turning your mobile phone into a complete financial control centre. Curve also allows its users to make purchases and withdraw money whilst abroad with 0% foreign exchange fees.
Are you interested in hearing about how we might be able to help you promote your offering? Speak to a member of our award-winning technology team today.
An analysis of the UK's shift to a cashless society
Every year at MIPIM there is a start-up claiming to be the next best thing for the property industry, and when you are looking to break into this industry, it can be daunting trying to cut through the noise and be heard. From residential property management platforms through to apps empowering the renter, the spectrum of offerings out there is growing daily.
For many starting out in the proptech space, it can be difficult knowing which tactics to use, and this is a speciality we have developed over the years, starting out with the launch of Purplebricks all the way through to today.
One of our key case studies in this space is Movebubble, the London property rental app putting renters needs first, who we have worked closely with since they launched 3 years ago. The property space is full of rental platforms, but none put the renter first, and we worked with the Movebubble team to devise a PR strategy which would raise awareness of the platform's key offerings and empower generation rent.
Launch
To kick off our work with the rental app, and to promote their launch, we secured an exclusive with TechCrunch- the leading tech publication which was read by their key target audiences – around their recent investment. This one piece in TechCrunch alone generated significant buzz and interest, and following its success, we were able to seed the story to other publications.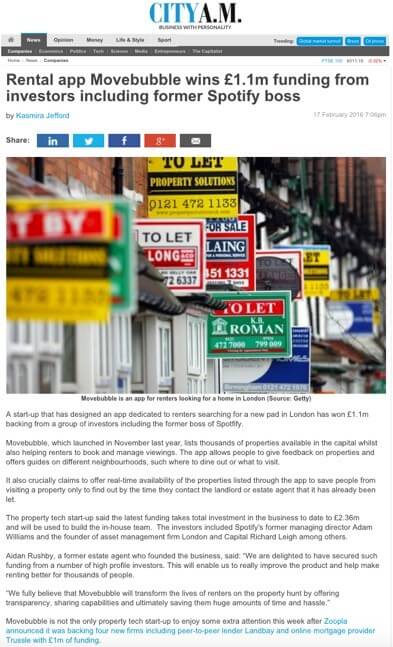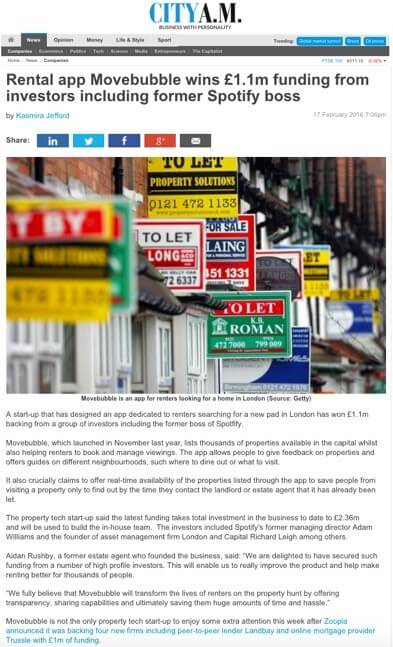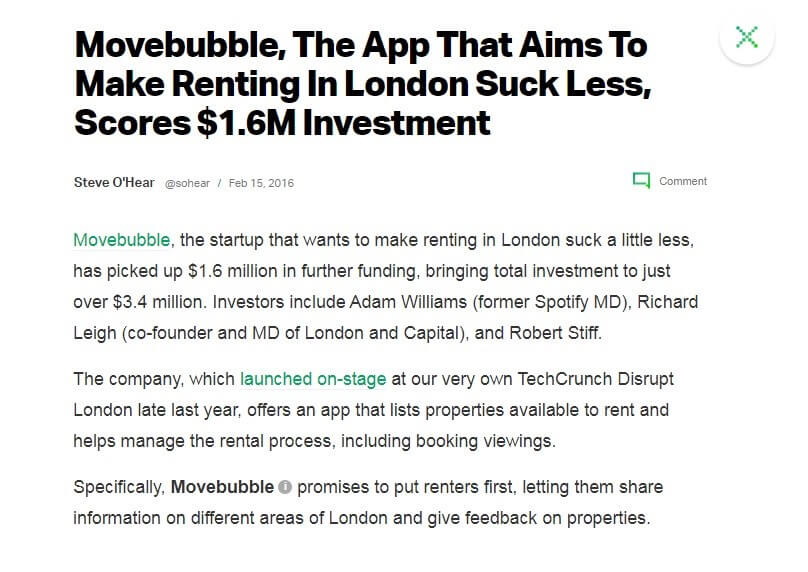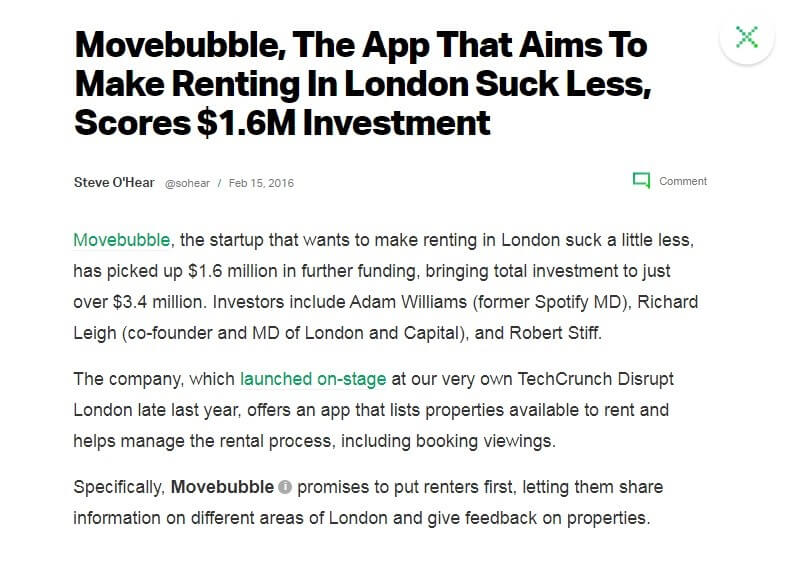 Creative Features
A great way of raising awareness of a brand and standing out is through a creative campaign. A key element Movebubble wanted to highlight about their platform was their ease of use for renters, who they knew were already batting a mirage of obstacles. We worked with them to provide a virtual estate agent service for renters which allowed them to view the flat from the comfort of their home. The service consisted of an assistant visiting several flats and showing every inch of the property across an hour. If a viewer liked the property, they could put an offer in straight away. This offering went down fantastically with the press, with an exclusive trial covered by the London Evening Standard, followed by mentions in Time Out and the Sunday Times, to name a few.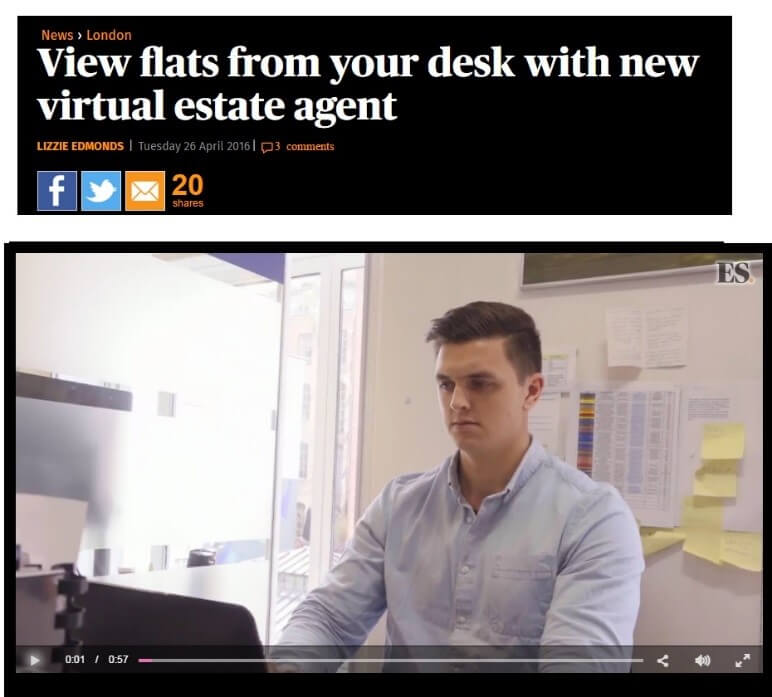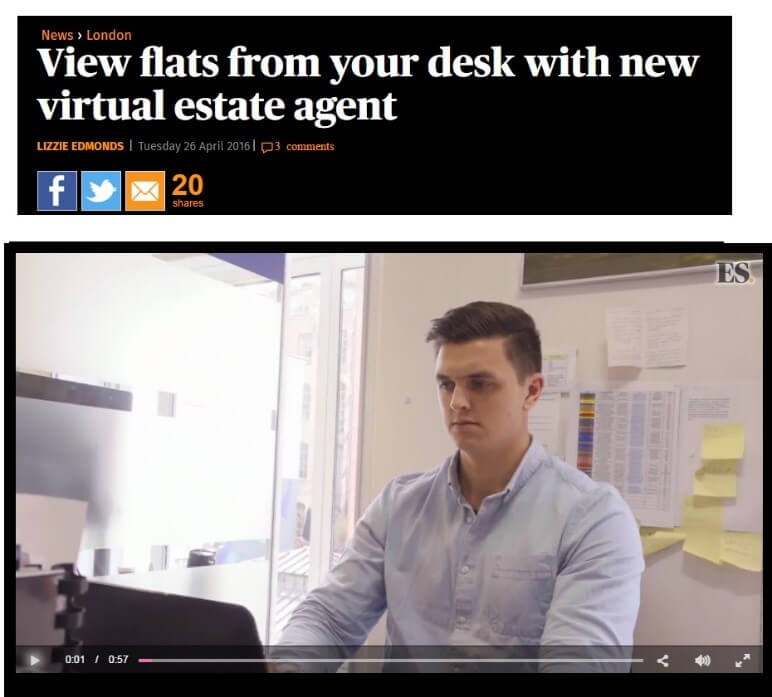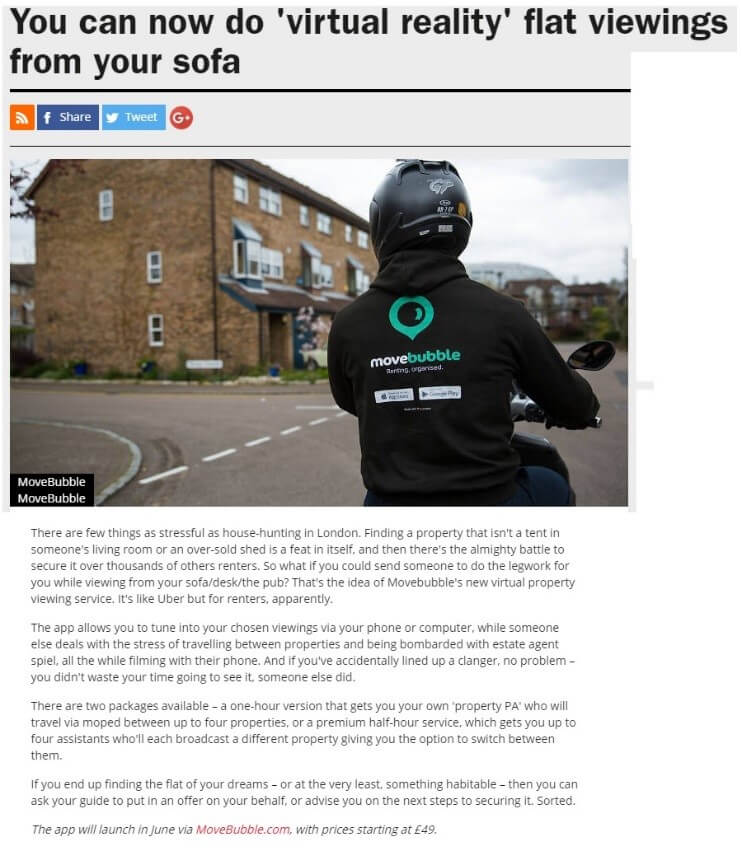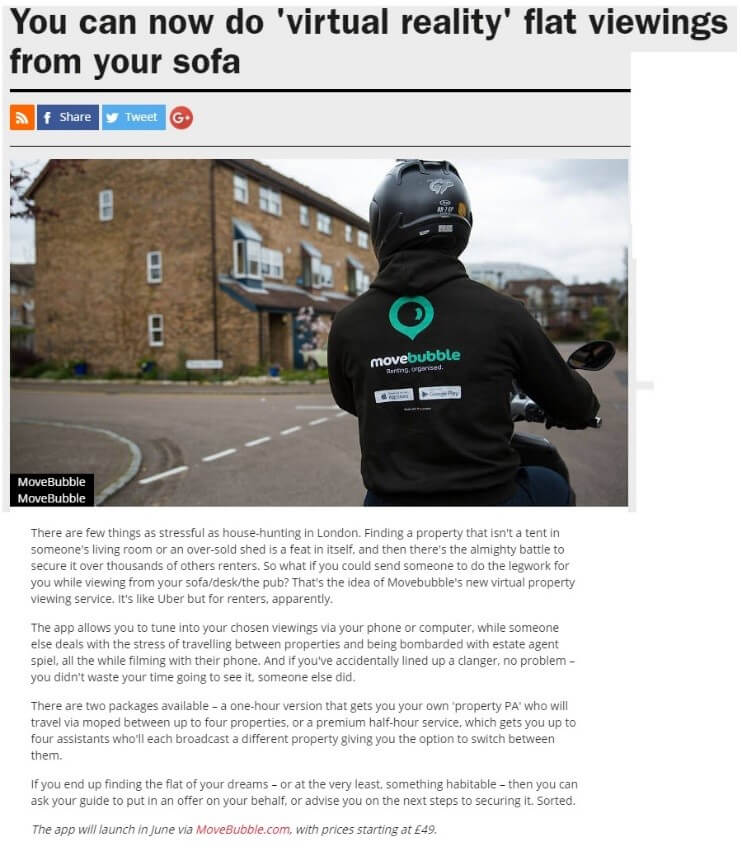 Interviews
When launching a new company, it is important to build trust and credibility around it in the media, and the best way of achieving this is through interviews with the company founder and case studies (where available). Utilising Movebubble's CEO Aidan Rushby experience as an estate agent, we were able to position him as a voice of the renter and an expert in the proptech space through a number of high-profile interviews.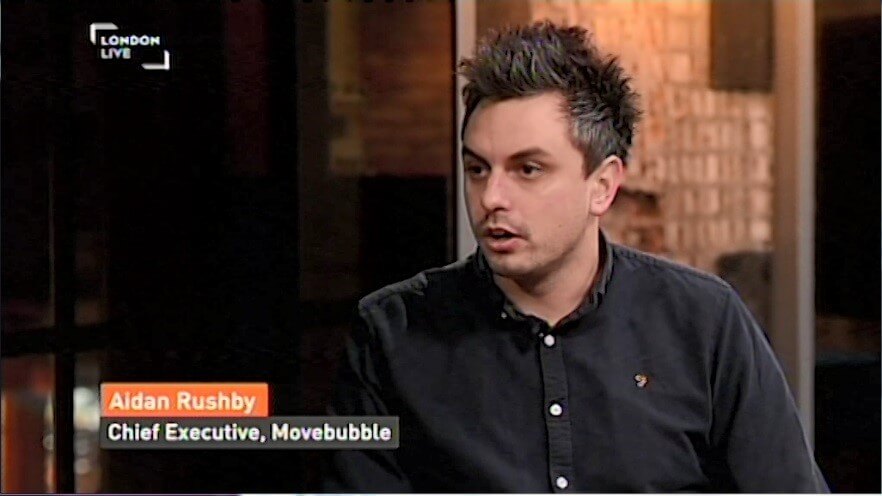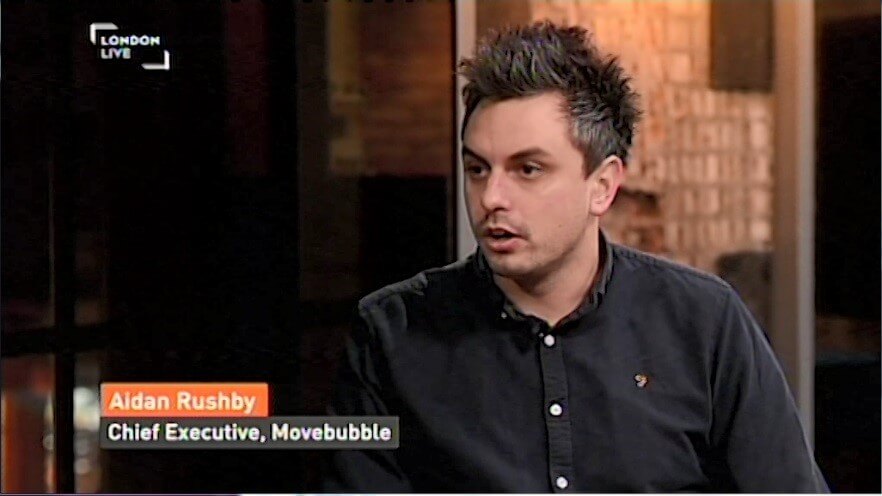 Are you interested in hearing about how we might be able to help you promote your business or platform? Speak to a member of our award-winning technology team today.
How to launch your proptech company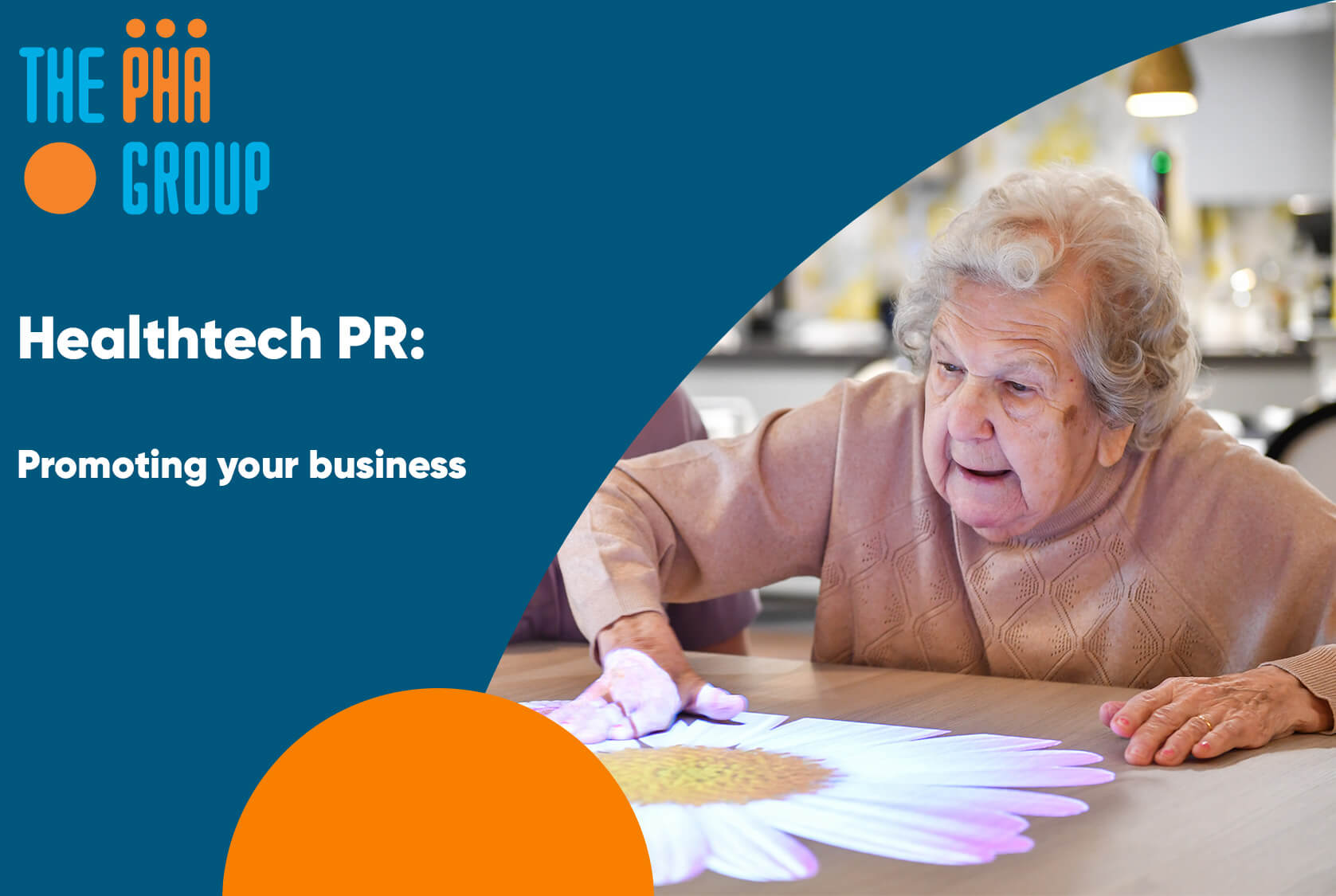 Over the past decade, the notion that health and technology doesn't mix has been widely challenged. Healthtech is now a booming industry, set to continue its rapid expansion due to our ageing population. In fact, research by Deloitte has shown the UK market for digital health is expected to grow to almost £3bn this year alone.
With healthtech on the rise, a key aim for us at PHA has been helping our clients get in front of the right audience – be it care homes, hospitals, or everyday consumers.
One of our key clients in the healthtech space is Shift8*, the company bringing the Tovertafel™, or 'The Magic Table™' as it is commonly known, to the UK and Ireland. Tovertafel™ is a series of award-winning games from the Netherlands, aimed at those living with mid-to-late stage dementia. Working in tandem with Tovertafel™'s business goals, we devised a PR strategy which would ensure the product was at the forefront of healthtech debates, and ultimately, in front of the right audience.
Personal story
Working with the co-founder, John Ramsay, who had left his career at a corporate law firm to pursue this social enterprise, we were able to share his story across the mainstream press, using his personal story as a way to hook in key audiences and raise awareness of the amazing work they are doing.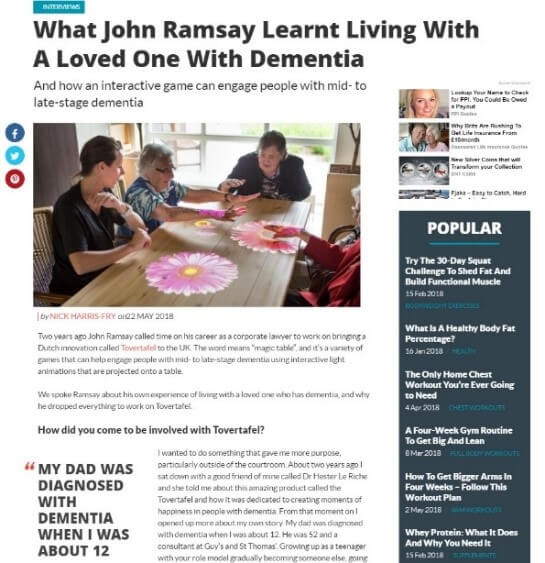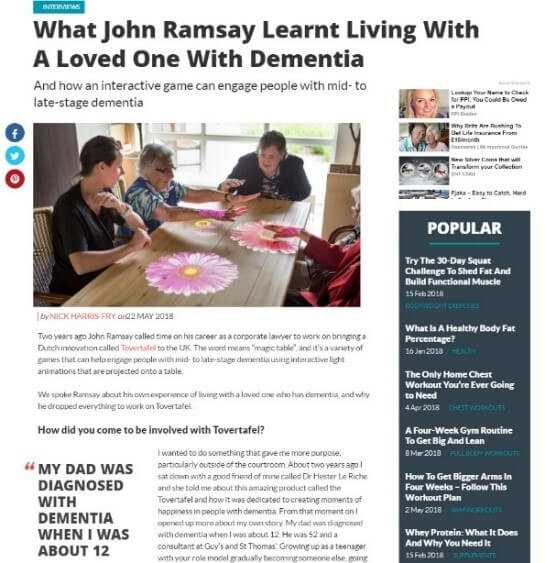 Hijacking the news
Using key awareness dates, such as World Alzheimer's Day in September, we hijacked the news agenda, raising awareness of the Tovertafel™ technology and putting its impact at the forefront of media conversations.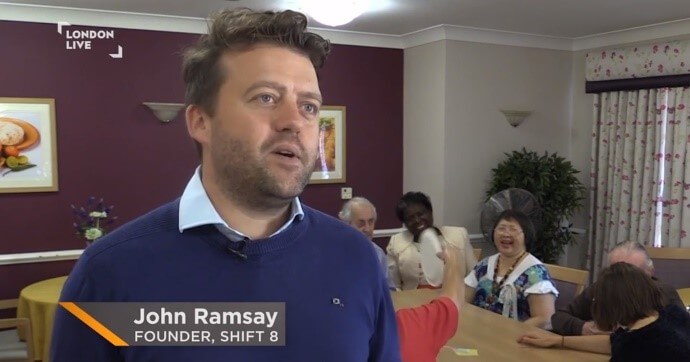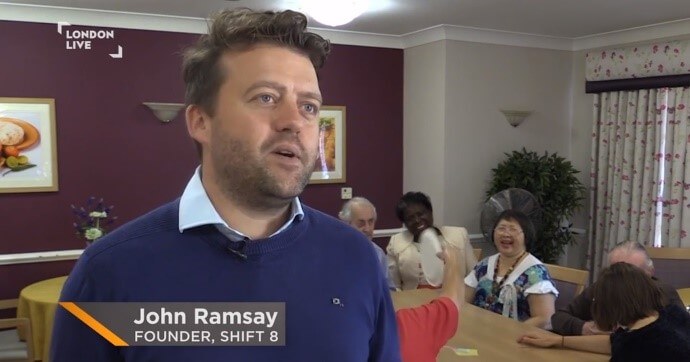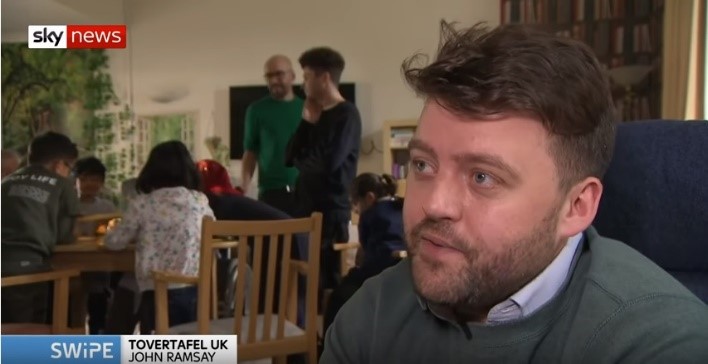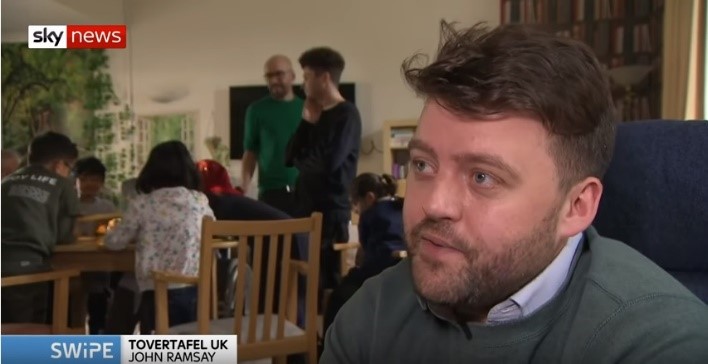 The impact of visuals
As Tovertafel™ is an extremely visual product, we wanted to showcase this through the coverage we secured. We worked with the team to secure a bank of photography to ensure our coverage was bringing this to life.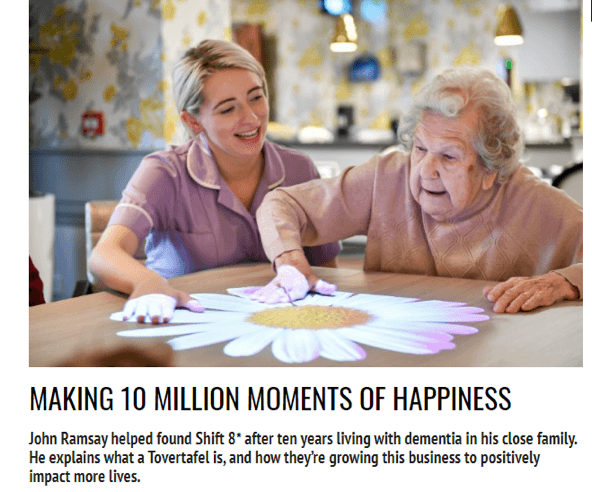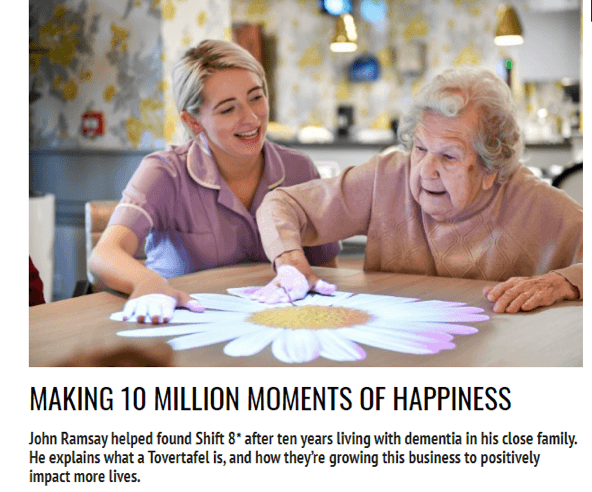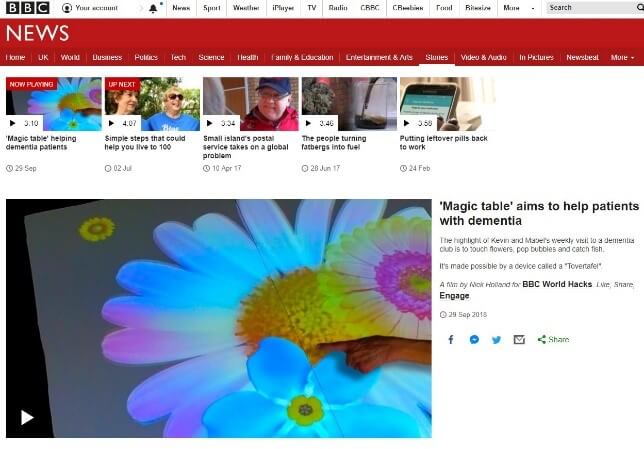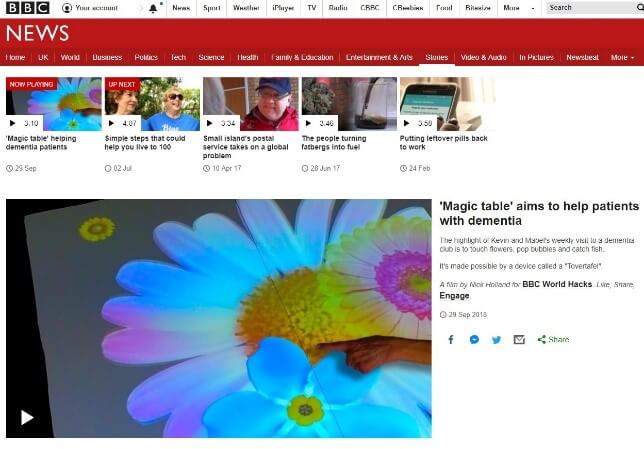 Media engagement
Inviting key journalists along to see the technology in action was also a key strand of activity, particularly as it is such a visual product, and one which sparks an emotional reaction for both the users and those who witness it in action.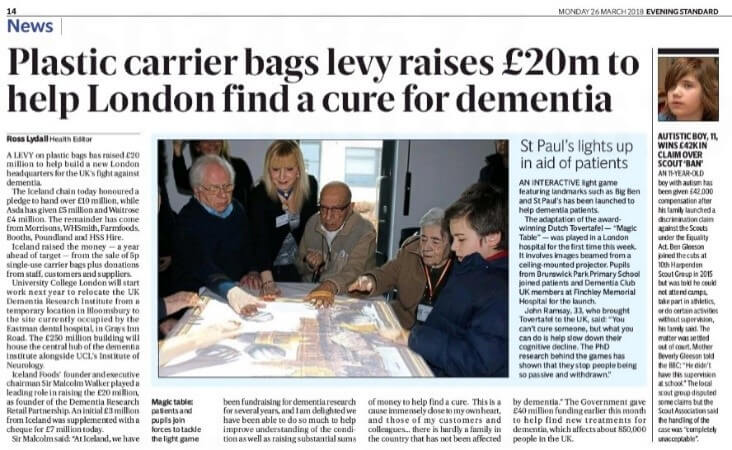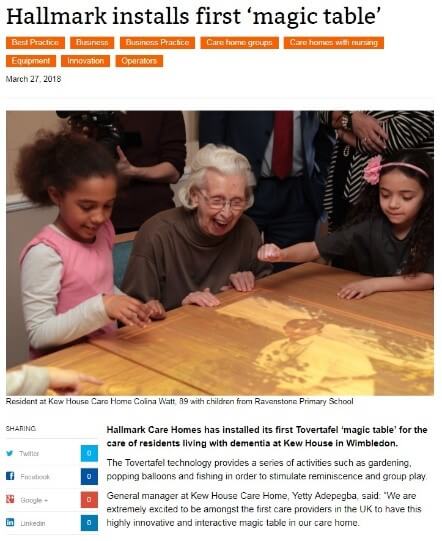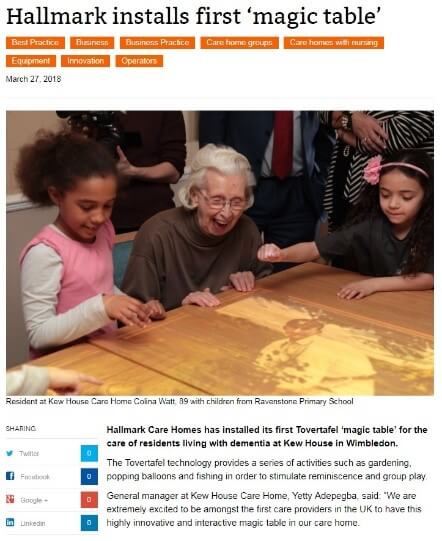 In almost a year, we've secured 65 pieces of coverage in the national, regional and trade press. Top national coverage included filming opportunities with BBC News, Sky News and London Live, as well as articles featured in The Daily Mail, The Spectator, HuffPost and GQ. A few pieces of top trade coverage included Saga, Care and Nursing Essentials and Retirement Matters.
Interested in hearing about how we might be able to help you promote your healthtech product or service? Speak to a member of our award-winning technology team today.
Promoting your healthtech product
In today's society, sport has arguably become more important to national pride and goodwill than anything else.
The feeling of euphoria across England while the football team excelled during this summer's World Cup in Russia was reminiscent of London in 2012 during the Olympic Games. An atmosphere not matched by any political vote, business success or new reality show heartthrob…
With as much influence as our sporting prowess processes, it is unsurprising that the pressures on the athletes are increasing, striving for that extra half a per cent, which often is the difference between wholescale success and failure.
This increased focus in the past decade has coincided with the dramatic surge in technology innovation and investment. Over 1,000 apps are launched every day across the world, with even more gadgets and the next "must have" items flying off the shelves.
We at The PHA Group see first-hand the sheer amount of incredible tech developments and their new applications being produced by businesses across the globe. From PropTech to MedTech, a new dawn is upon us, FitTech.
It's natural that the worlds of sport & fitness and technology have crossed paths to create the landscape we see today where innovation dramatically influences the way we watch, play, train and enjoy sport, with developments such as goal-line technology creating both front and back-page news.
From wearable tracking devices (leading brands include Garmin and Fitbit), personal-trainer-in-your-pocket apps (LDN Muscle & Madbarz are two of our favourites) to revolutionary injury prevention and curing accessories (Normatec & HyperIce's Vyper 2 are both well worth checking out for those aches and pains), these gadgets and many others can dramatically affect the way we live our sport and fitness lives.
Each creation has the ability to give someone that little extra they need to achieve a new goal – whether it's starting to exercise once a week, completing your eighth Ironman Triathlon or winning that first Olympic Gold; the insight and expertise provided by combining the great minds of fitness pioneers with technology developers can, has and will continue to transform the fitness landscape for the better.
With so many new tools and devices across each discipline, it is important that your brand receives the right media awareness and visibility it deserves. We are experts in putting your product or service in front of the right audience through a consistent and quality media campaign to help achieve your aims of helping athletes achieve theirs.
The race is on and FitTech is already strides ahead of the competition
How can you stand out as a challenger brand as UK fintech investment hits $16 billion?
Global fintech investment hit $57.9 billion in the first half of 2018, according to KPMG (up 34% on the $38.1 billion in the whole of 2017). The UK has driven this growth, attracting $16.1 billion in investment, making up more than half of the European total and more than 20 per cent of global funding.
This rapidly growing industry, which has sky-rocketed since the 2007 financial crisis, is now, unsurprisingly, saturated by start-ups all competing for the media spotlight.
To stand out, your company needs a comprehensive communications strategy to cut through the noise and navigate the media landscape, which itself is evolving all the time.
So, how can you get your fintech company noticed and sustain ongoing awareness in the mainstream media?
Know your target audience
Depending on whether you're a B2B or B2C company, you'll have a specific audience you're trying to reach and influence. Financial technology companies, by their very nature, often tick both boxes – they want to onboard corporate partners (to buy or implement the technology) while at the same time appeal to consumers to grow their userbase.
Your target audience, and the stage your business is at should be the first thing which determines your PR strategy. If you need to sign up corporate partners – be it a bank or a retailer for example – before consumers are able to use your service themselves, then you need to generate awareness of your brand in the business and industry media to reach decision-makers at these corporates. Getting consumer press coverage too soon could backfire if your product isn't ready for use, and could be hard to recover from.
Put simply, consider which audience you need to appeal to first, before choosing your target media.
Nail your brand positioning
To cut through the noise and have true media impact, you want to avoid being seen as "just another fintech start-up". How do you avoid this? By being crystal clear with a) a clear brand message for each market you operate in, b) clearly defined USPs and c) a value proposition that appeals to key stakeholders.
Too many start-ups rush to market and try to emulate the tech unicorns in terms of PR and brand awareness, but slow and steady will always win the race when it comes to taking time to fine-tune your brand position and key messages. Even your tone of voice needs to be nailed down before you break into the media – this needs to remain consistent over time, and shouldn't change, so getting it right the first time is key. PR agencies can help with this process, even before a media relations strategy begins, with the creation of messaging houses and tone of voice documents common practice at the start of any campaign.
Become an expert commentator
To be considered a market leader, you need credibility and authority. A great way of building both is to become an expert commentator in the media. Breaking news emerges from the financial technology sector on a daily basis, and every respected top-tier media outlet wants to lead the national coverage of each issue. One way they achieve this is to extend their coverage of these stories by featuring informed opinions from industry experts, whether that's a CEO or CTO interview on Sky News, or a written commentary piece in City AM.
You can get ahead of the competition by securing commentary opportunities for your in-house experts – the key: a well-informed, educated and interesting opinion that ensures your brand owns the conversation. You won't get coverage unless you can add something new to the debate, so consider your stance and how it will positively impact your reputation among stakeholders. If you can provide the opinion, your PR agency can secure you top-tier media coverage while at the same time developing your media relations for future commentary opportunities.
Educate your audience
As above, content is key here. Your fintech company might be challenging a traditional industry (most of the best ones are), such as banking, payments, or mortgages. In which case, one of your most challenging tasks might be to win over potential corporate partners (e.g. a bank or a mortgage broker).
Avoiding the hard sell, a more tactical approach would be to begin to educate this specific audience about, for example, how their industry is changing for the better, or how they can embrace technology to make themselves more efficient and win new customers.
This can be achieved through educational thought leadership, again by-lined to your CEO or another in-house expert. By securing press coverage for your thought leadership across a range of vertical media, you can educate your audience over time while building brand (and individual) credibility.
Above all, make sure you have a story to tell
You've identified your target audience(s), you've nailed your brand positioning, you've educated your audience and you're now an expert media commentator. You're now in a position to tell your own story, and the best way of doing this is via interviews in the business, tech and finance press to establish a base in the mainstream media. A credible success story about an entrepreneur that has overcome the odds, or a start-up that was born out of a sudden lightbulb moment or epiphany, are typical examples of stories that do well.
But, just as there are thousands of start-ups, journalists receive hundreds of pitches each day from companies vying for attention. Crucially, you need a stand-out story in order for a journalist to write about you. You need to be clear on the problem you're solving, a timeline for how you got where you are, some interesting anecdotes and clear growth potential (and don't hold back on the nitty-gritty details like financials and investment).
Do your research – read up on the journalist you'd like to speak to, to better understand the type of businesses they are interested in judging by what they've written about before. There's nothing that turns off a journalist more than an ill-informed pitch about something irrelevant.
The great thing about an interesting interview is they appeal to a range of readers – from consumers who may be potential customers, to corporate partners and future investors. If you are fortunate to have the opportunity to speak to a well-respected fintech journalist, be sure to make the most of it!
How to promote your fintech company