Thought leadership is a term that you hear a lot in the world of personal PR – but what role does this play in establishing someone as a media authority? And what does 'thought leadership' actually mean?
To dispel all the myths, thought leadership is not brainwashing with 1984-style connotations. It's the opposite. Thought leadership is a phrase to describe someone sharing their opinion via long-form written articles in the media. There are, unfortunately, no prizes awarded to the 'best thoughts' – but there is a position of press authority and public trust to be won.
At PHA, we are fortunate enough to work with business people at the top of their game, and we work to position them at the forefront of the issues that matter to them, and that are making headlines.
At The PHA Group, our clients (and their expertise) run across a  full range of sectors, from energy suppliers to energy bars, law firms to luggage delivery specialists. It follows that a lawyer doesn't necessarily want to speak to the same audience as a logistics expert, so we make sure each client's voice, knowledge and unique take on things is heard, read and seen by the right people. Increasingly, that means thought leadership is changing.
Thought leadership was traditionally long-form articles but there are a host of ways we can position your opinion, with authority, in the press:
Have an opinion:
There are some amazing opportunities to get an opinion out there across print and online media – from long-form bylines that give you the freedom to discuss your thoughts in detail, to short and snappy letters to editors that we can turn around within hours. The key thing to remember is that you need to offer something interesting and authentic – grounded in your experience – and it must be relevant.
When an opinion piece works, it really works. One of our legal clients was the talk of an industry event this year when she appeared in City AM and then on Sky and TalkRadio to discuss GDPR before the legislation was enforced.
Hot off the press:
Reacting to the news agenda is another fantastic way to build your personal profile and establish yourself as an authority in the media. It all hinges on how quickly you can respond to something – breaking stories must be responded to within the hour. If these quick timeframes are honoured, it can lead to your comment being covered widely across all mediums – broadcast, print, online – and effectively 'hijacking' the news to support a personal or business agenda. We've had fantastic success reacting to breaking stories in this way, and the rapid response time pays off.
There are also things you can prepare for; spring and autumn budgets, competitor company results and so on, and we make sure we're always looking out for relevant topics for our clients.
Be social:
Thought leadership isn't the exclusive reserve of the so-called traditional media, and increasingly, experts take to digital platforms to share their insight. A huge benefit of LinkedIn and Twitter is that you can put paid spend behind posts to target the most relevant audiences and measure the impact and reach of your content.
James Reed, Chairman of Reed.co.uk, the UK's leading job site, has a weekly Monday Message on his LinkedIn page that attracts thousands of engagements every week. It gives James the opportunity to comment on stories that he finds interesting; from lessons learned from Gareth Southgate's management style to how to recover from the back-to-work blues. The blogs provide an unedited look into what interests James. Jobseekers take note!
As well as social being a platform to share unique content, it's also a platform we use to amplify great coverage – ensuring that there's a 'second wave' of attention paid to the headlines and opinions that contain core messages of the businesses and people we represent.
Events and awards:
Events and awards are excellent ways of bolstering your credentials, and shortlistings and wins also provide us with a great news story to issue to the media. One of our wonderful clients was awarded a Queen's Award for Enterprise earlier this year, which serves as an undeniable proof-point when talking to journalists about the business' astonishing growth. The content of the entry has been invaluable for drafting content – and vice versa, the opinion articles we placed, and PR successes formed part of the business' entry, bringing the cycle of establishing a personal profile full-circle.
Thought leadership isn't something that you can tick off a to-do list, it's an ongoing activity that takes many forms across multiple channels. In supporting a client's personal profile, we can authentically raise awareness of the company or organisation they represent.
If you'd like to speak to us about personal PR, please contact us today to find out more.
How to become a 'thought leader'
Written by Simerhan Hunjunt & Miranda Drew
In a time of Twitter, trolls and clickbait, headline fodder is no longer confined to the life and times of celebrities, CEOs and companies. Social media statuses can be front page news and what was once an opinion expressed in a private post can now cost you your job, your reputation – and can even be grounds for a libel lawsuit.
Exhibit A: Elon Musk, billionaire, founder of Tesla and SpaceX and all-round Twitter-fanatic, faced criticism earlier this month for his attempt to assist in the Thai cave rescue with a custom-built submarine.  After one of the leaders of the rescue mission said the submarine was "not practical", the general consensus on Twitter was that Musk's invention and subsequent Twitter posts were all one big PR stunt – something we discussed on our blog last week.
In an attempt to set the record straight, Musk turned to social media again – this time, sharing an email exchange with Dick Stanton, one of the British caving experts called in for the rescue. Musk vied to 'prove' he was encouraged by officials to build the submarine, while simultaneously aiming to discredit the Thai provincial governor, describing him as "not [being] the subject matter expert." The tweets made national headlines, as did Musk's less-than-gracious behaviour.
Unfortunately, last weekend Musk took to social media yet again and faced a fresh wave of criticism – and a potential lawsuit.
This time, Musk came under fire for lashing out at one of the divers involved in the rescue, dubbing him a "pedo guy." The remark came after the diver in question, Vern Unsworth, said in an interview with CNN that Musk should "stick his submarine where it hurts" and labelled it a "PR stunt" that "had absolutely no chance of working" because the billionaire, "had no conception of what the cave passage was like".
As the heated exchange made international headlines, Musk was questioned by his followers about the evidence he had for the uncomfortable notion of a "pedo guy" rescuing 12 young boys from a secluded cave in Thailand. He responded with an insensitive "bet ya a signed dollar it's true."
Musk yesterday issued an apology and said his now-deleted Tweets were "spoken in anger" and "the fault is mine and mine alone". However, he gave no insight into why he made such damaging claims and given that the screenshots and online articles live on, a court case may still have legs.
But Musk is not the only influential figurehead whose use of social media has left many shocked and offended. President Trump, fellow billionaire and notorious Twitter-addict is another well-known example of how social media platform have a powerful impact on reputation.
While the examples are many and varied, one memorable Tweet that caused significant condemnation of the United States' President contained an attack on US news anchor, Mika Brzezinski's appearance back in June 2017.
After Brzezinski and her fellow host Joe Scarborough criticised President Trump on a segment, saying that he was "destroying the country," Trump retaliated with two tweets that referred to Scarborough as "Psycho Joe" and Brzezinski as having a "low I.Q" and "was bleeding badly from a face-lift." The tweets led to uproar about the objectification of women and did nothing to further Trump's already dented reputation – the link between personal and professional is inextricable.
Just last week, Trump's feud with Sadiq Khan made headlines as he visited the United Kingdom. The resentment was initially sparked by a Tweet from the President in June 2017 after London terrorist attacks in which he took Khan's comments out of context. "At least 7 dead and 48 wounded in terror attack and Mayor of London says there is 'no reason to be alarmed!'"
Fuel was added to the fire when The Sun interviewed President Trump ahead of his visit to London. "Take a look at the terrorism that is taking place. Look at what is going on in London. I think he [Mr Khan] has done a very bad job on terrorism," Trump has been reported as saying. Fellow politician David Lammy took to Twitter to defend Khan, and the whole story ended up leading the news yet again.
Trump's use of social media has been widely criticised by the public, by media in America and abroad, and even by a member of his own party. But despite the backlash, the American President has expressed no intention of stopping, describing his use of social media as that of a "modern-day presidential."
As social media commentaries continue to fuel headlines from America to Australia, causing scandals and resulting in resignations, it's important for people in positions of influence to tread – and Tweet – carefully. One misguided tweet can tarnish a carefully-built reputation faster than you can hit delete – screenshots are forever.  So, remember, think before you press 'send' – social media may be accessible, but it is a public communications channel just like any other.
If you would like to know how PR can help to protect your reputation then please get in touch with us today.
Think before you Tweet: A word of advice to Musk
In 2013, The PHA Group started working with actress Rachel Shenton.
When Rachel joined the agency, she had recently stepped down from playing the character of wannabe glamour model Mitzee Minniver in Hollyoaks for three years, in which she quickly established herself as the scene-stealing fan favourite.
At the time, British talent was proving to be hugely successful on the American small screen, with actors like Andy Lincoln, Hugh Laurie, Damian Lewis and Charlie Hunnam winning rave reviews and industry plaudits, and pulling in massive audiences for their work on an American network and cable television. Game of Thrones was establishing itself as a runaway success, but there still wasn't a huge proliferation of British actresses landing such prominent and regularly recurring roles.
Furthermore, the transition from UK soap star to Hollywood Heavyweight? Not exactly the typical career trajectory one sees very often. Teetering on the melodramatic, soap operas aren't always renowned for their high quality of acting and I would definitely say that casting directors are – or perhaps, were – a little apprehensive and cynical about hiring talent from that world. If your background is in theatre or arthouse / independent cinema, there's greater credibility there. But avoiding typecast and establishing yourself as a serious player after inhabiting a soap character for years doesn't come without its challenges.
Hopefully, however, these attitudes will now become a thing of the past because Rachel Shenton has come along and completely re-written the playbook.
When we first met Rachel in 2013, she was immediately likeable: charming, humble, graceful and classy. But the character trait that struck us the most was just how seriously she took her craft. Her work ethic was second to none. She wanted to challenge and push herself, to grow as an actress and to work with some of the best writers, directors and producers in the business. She had big dreams and she wasn't afraid to work hard and put in the time and the graft.
More relevantly, Rachel was involved in a great deal of charity work as the patron for the National Deaf Children's Society (NDCS). After going through her backstory, we learned that her dad became deaf when she was just 12 years old, following the chemotherapy treatment he underwent for cancer. The need to communicate with her father encouraged her to learn sign language and it was clear at that moment that acting was never about the fame or the celebrity for Rachel – she had big dreams of shining a light on the lives of other people who don't have the voice that we do. To empower them by giving them that voice. To bring to life the struggles of others that are massively under-represented in mainstream film and TV.
Essentially, Rachel wanted to keep her media profile alive whilst she concentrated on landing her next television role and our job was to raise and maintain that profile and keep her on the radar of casting agents, directors, producers and writers during her temporary absence from TV.
Her fluency in sign language clearly separated her from the competition and gave her a unique edge, a remarkable skill set and a compelling origin story. Many of the interviews we set up for Rachel touched upon this element of her story and there was a great deal of media interest in her personal campaigns and charity work.
The PHA Group prides itself on going the extra mile. First-class publicists, we are, but commercial agents by trade, we are not. But from day one, we saw and recognised the promise and the potential in Rachel and absolutely believed in her. So, further to raising and maintaining her profile in the media, we wanted to go one step further and bring Rachel directly to the attention of the people in the television industry who had real power to change her career. So, we got proactive.
The Media Management department at The PHA Group has promoted and protected a wealth of TV talent over the years. We're therefore constantly attuned to the international entertainment landscape – the talent and the programming that are capturing the zeitgeist of the moment, what's hot and what's not.
We had been avidly following the success of a relatively new TV show at the time called Switched At Birth – an American scripted drama that broke new ground as the first mainstream television series to feature numerous deaf and hard-of-hearing characters appearing in a series regular capacity, filming some scenes shot entirely in sign language.
We introduced Rachel to the show and insisted she check out the previous two series that had aired to familiarise herself with the storylines and the tone of the programme. We then encouraged her to commission a show-reel of her work. Once this was ready, we strategically identified and targeted the creators of Switched At Birth and established an ongoing dialogue with them. The differences between American and British sign language aren't vast and we made a strong, persuasive case – we handled the PR for an extremely talented British actress who emotionally connects with the material of the show on a profound level because of her own life experience. Moreover, she quite literally speaks the very language of the programme and could master the sign language scenes with ease. We knew Rachel would be an asset to the show and we deliberately timed our approach to coincide with the pilot season in America.
We didn't expect to get such positive feedback so quickly. The show's creators invited Rachel to audition during pilot season and as we suspected, they immediately saw what we saw. They loved her so much that they ended up creating the role of Lily Summers especially for her, a role that she immortalised until the show's Season 5 finale.
The very last episode was broadcast in April 2017. During her time filming Switched At Birth, Rachel, with her filmmaker fiancé Chris Overton directing, somehow managed to find the time to write and star in a short film entitled The Silent Child. The 20-minute long film was largely based on Rachel's personal experience as the child of a parent who became deaf.
Come awards season, The Silent Child well and truly swept the board, winning Best Short Film at the Rhode Island International Film Festival. This allowed the film to qualify for entry to the 90th Academy Awards. On 23rd January 2018, it was announced that The Silent Child had received an Academy Award nomination in the Best Live Action Short Film category, and on Sunday 4th March 2018, Rachel's film won the Oscar for Best Live Action Short Film. On collecting the award, Rachel upheld the promise that she had made to The Silent Child's deaf lead actress, six-year-old Maisie Sly, and accepted her trophy in sign language. It was a momentous, inspiring, electrifying moment to watch and we could not be prouder.
So, whether you're an aspiring actor, a breakthrough performer or a well-established name: work with creative teams that believe in you, that recognise your potential, that encourage you to test the limits of what you believe to be achievable. We believe that it doesn't ultimately matter whether you're a RADA bred performer or if you started off in a teen soap. Talent is talent, so dream big and work with the best! Because anything is possible!
Speak to a member of our award-winning team today or visit our Personal PR page to find out how we can help you.
Rachel Shenton – from Hollyoaks to Hollywood Oscar Winner
Charlie Mullins sparked a media frenzy when he announced his intention to run as an independent candidate for London Mayor in 2020.
The charismatic Pimlico Plumbers founder – and long-time PHA Group client – is a past master at weaving together his ambitions with increasing in his public profile.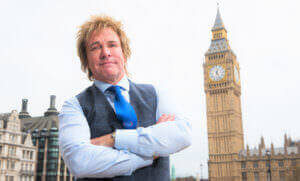 PHA has helped establish him as a leading voice of British business, apprenticeships and as the one of the dominant figures among Remainers in the Brexit debate.
Having previously been a supporter of and donor to the Conservatives, he caused a stir when he announced that he has been banned from the party's prestigious Black and White Ball because he had criticised Theresa May.
But his announcement that he plans to take on Sadiq Khan in the next mayoral race elevated his media coverage to a new level.
With PHA Group's assistance, he launched the campaign during an interview with Michael Hayman on London Live. The broadcast was trailed in the Sunday Times.
His reasons for standing were classic straight-talking Charlie:
"I'll give it a bash. I think I could do a better job than this guy for businesses."
In a more expansive interview with Square Mile bible City AM, Londoner Charlie went on to explain that he didn't believe the PM and the Mayor were "drinking from the same teapot" as him.
He revealed that as mayor, he would make travel for all apprentices free, saying:
"Getting people into work resolves most of the problems. And when I've been trying to explain this to the government before, they're not getting it."
In an environment of apathy towards politicians against the backdrop of Brexit and a vacuum where real political leadership should exist, Mullins for Mayor does have quite the ring to it.
Watch this space…
Mullins for Mayor – the power of personal PR