After months of back and forth with your CEO and persuading them it's time to bring your outdated website into the 21st century, the project has finally been signed off. You're eager to get going, so you spend some time clarifying what you want and then send out your brief to a list of potential web development teams. You get a stack of proposals back but are left scratching your head how to decide who would be the best fit for your project.
Below is a list of what to look out for when choosing a reliable, high-end web development team and be confident that they will create you a website to be proud of.
A stickler for detail
During the research, design and build stages the devil is in the detail. As such, a team with great communication is necessary. Find someone who asks questions and strives to understand your vision and what you are trying to achieve as the better their understanding is, the smoother the project will be.
For our most recent build, our client Morgan Dairy required some complicated functionality, namely a delivery postcode checker and a product ordering form. We had to ensure that each of these were working exactly as expected which we achieved by sending prototypes for them to test and confirm it was what they envisioned.
Astute
Before choosing a development team, try to establish how astute they are. Do they show an ability to accurately assess situations and projects? Are they saying no to everything you are suggesting? Or maybe they say yes to everything? The truth is, it's not possible to create an all singing all dancing website, within record speed timing and at an insanely low price. Anyone who says it is, likely doesn't understand the project or is just trying to get their hands on your hard-earned money. As such, it's always worth using your own common sense to think whether they will be able to deliver on exactly what they've promised. If it sounds too good to be true, it probably is.
One such client that we were keen to help was Helen and Douglas charity whom we created two bespoke stages for their project timeline. The first being a website with events booking, custom campaign pages, a blog and more. The second being the website with donation functionality. This helped to ensure that realistic expectations were set at the start of the project and that a polished, quality product was delivered.
An eye for design
A crucial element when deciding between web development teams is to ensure they have a keen eye for design. The best way to ensure this is to go through their previous design work with a fine-toothed comb. If they can demonstrate skill and provide insight into the type of work you can expect from them, you're off to a good start.
One such project where we were keen to ensure that the latest in design patterns were utilized was with our client Patientory. We implemented a clean, modern design with appropriately placed user interactions for an added element of fun ensuring to stay on brand and engage the potential clients.
Coding skills
As a client, these ones can be slightly harder to foresee but you can generally get an idea by looking at the existing portfolio. Alternatively, you could ask them about the technology stack they'll be using and why they use it. You could even get in touch with some of their previous clients to help form your opinion on this.  Generally, if their portfolio examples websites work as you would expect them to, you should be in good hands
Willingness to learn
Does the web development team show a willingness to learn and try new things? Are they suggesting adding exciting features to your site, or maybe that it would be a great time to implement new cutting-edge technology? If so, it's likely you have a team of passionate web developers on your hands who will strive to create you a website to be proud of.
If you would like to talk to our Studio team about website design or build, then please get in touch with a member of our award-winning team today. We'd love to start bringing your idea to life.
Website development – what to look out for
Believe it or not, some of us are old enough to remember when the hashtag was a rather innocuous button on your keypad, reserved only for early internet users and developers, who used the symbol to label groups and topics. When Chris Messina tweeted to suggest that the platform introduce the hashtag to group topics and conversations, little did he know he was launching a cultural phenomenon.
Hashtags make your content more discoverable, but is your brand using them correctly? Regulations and techniques vary across Facebook, Instagram and Twitter; here is our quick guide on how to use hashtags most effectively.
Twitter
With its 280-character limit per tweet, every character counts when posting on Twitter. The great thing about twitter is that any word can be discoverable from the search bar even if it is hashtagged or not.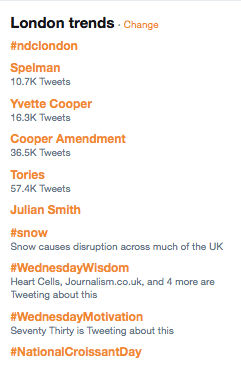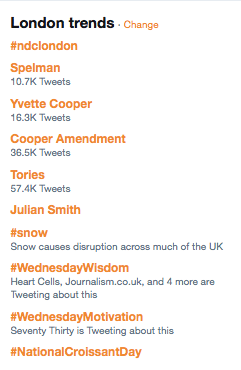 Nonetheless, hashtags are still a useful tool to use when tweeting, but in most instances, one or two hashtags per tweet is more than enough. Make those hashtags the theme of what you are tweeting about, such as the example above of #NationalCroissantDay. Creating light-hearted content that is relevant to your business will generate a wider audience reach; #WorldCroissantDay would be great for a bakery business for example. It can be tempting to join in on all trending topics, but it is best to keep your content on-brand, as you don't want your followers to become confused. There are many micro-holidays throughout the year that often trend on Twitter, there is bound to be at least one that is relevant to your industry. You can find out about any upcoming dates using calendar websites such as Days of the Year. As well as keeping an eye on upcoming holidays, check the trending hashtags on Twitter's homepage daily.
There can be times of the year where it can be difficult to find relevant topics, but there are daily themed hashtags that you could consider using:
#MondayMotivation
#TravelTuesday
#WednesdayWisdom
#ThrowbackThursday
#FridayFeeling
#SelfieSunday
These hashtags trend week-on-week so if you have a post ready in your content plan that is scheduled for Tuesday, consider rescheduling for #WednesdayWisdom. Hashtags such as these are broad and can be used for a variety of subjects.
Instagram
We can all agree that Instagram is the 'vainest' of all of the platforms, which means maximum engagement is always the goal with every Instagram post. Instagram allows up to thirty hashtags to be included in one post, but using the maximum amount is not always necessary. A handful of well-chosen hashtags can work just as well.
Choosing which hashtags to include in your posts can be daunting as there are so many options, but you should always keep the tags relevant. For example, although #fashion has over six-hundred-million posts on Instagram, if you are a chocolate brand it's best you stick to #chocolatelover hashtags instead.
There are many websites that can source hashtags for you such as http://best-hashtags.com. Type in a subject matter and the website suggests a selection of relevant tags for you to simply copy and paste.
Another way to source hashtags is to look at your competitors and see what hashtags they are using. This will tell you what your target audience is searching for. There is also the old-fashioned manual search. Instagram's search tab will tell you how many times a hashtag has been used, which will indicate if it is worthwhile using in your post. Search a relevant word to your business and a drop-down list of options that include the word you searched for will appear.
Although it may seem a good idea to choose hashtags that are the most popular on Instagram such as #love, a tag that can almost apply to anything, it is best to vary the hashtags you use. Pick some that are less popular with around 15,000 hashtag mentions and your post is more likely to be seen for longer. This is because when a 'top hashtag' is used, there are potentially hundreds of people tagging the same word as you are at the same time, which moves your post further down the page and therefore it is less likely to be seen. If you choose a more niche term your post will be discoverable for much longer and therefore have better reach instead of a short-lived burst of engagements.
After choosing your hashtags, you now need to decide where you are going to put them. As Instagram is all about aesthetics, we would recommend hiding them as much as possible.
Instead of including a hashtag in the middle of a caption, there are two options that look a lot sleeker:
Include the hashtags in the comments of your post. This way they will only be seen in the app when users actively select 'View Comments'.
Include the hashtags in the copy (shown below). Instagram favours shorter copy overall which means if a long caption is included with a post only the first two lines of the caption appear. Users have to select 'See More' to view the entire caption. However, Instagram does not allow users to include line breaks. An easy way to get around this is to include a character of some sort, a full stop is the most popular option, on 5 of the lines.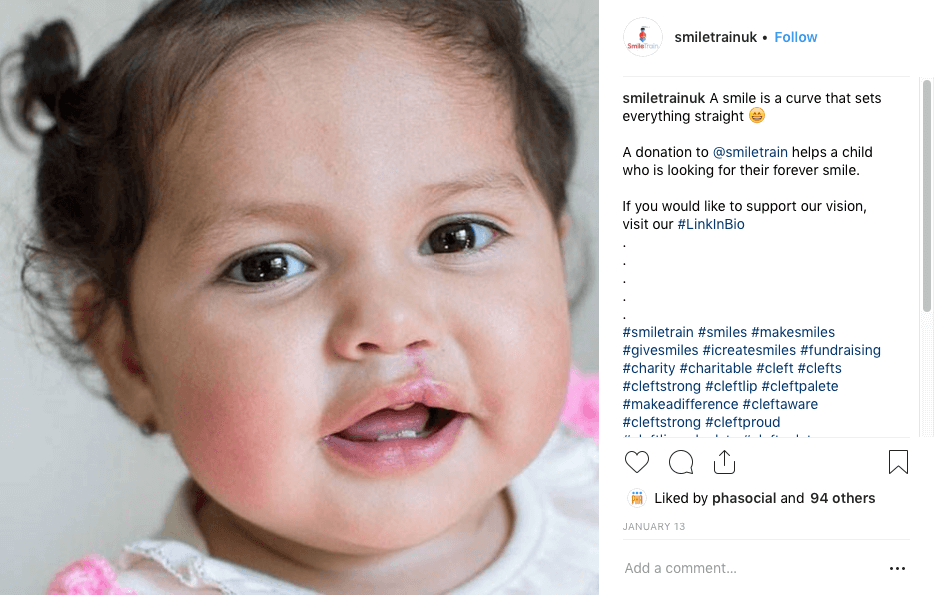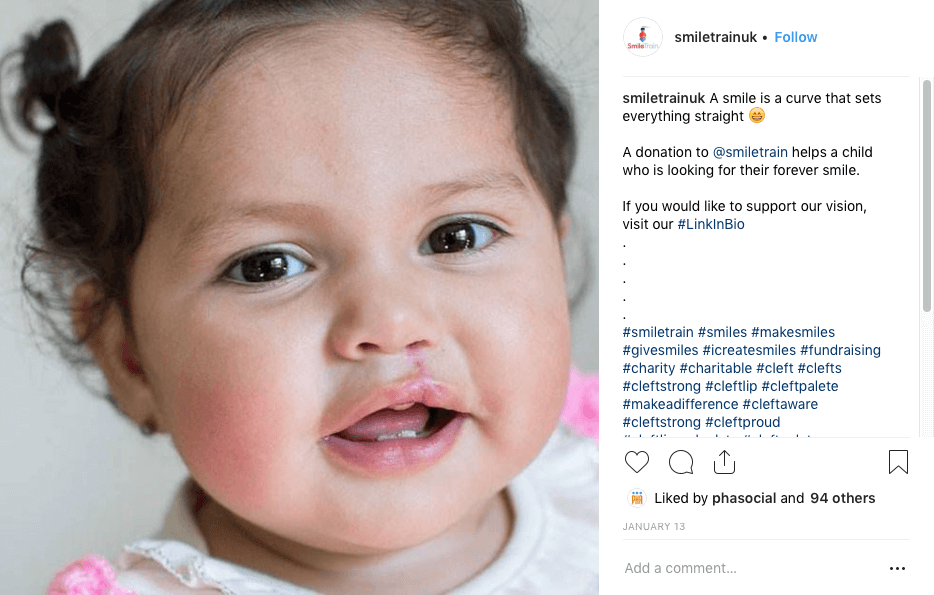 We have tested both methods across different clients and have noticed no difference in engagement. It is purely preference for each individual.
Facebook
Facebook introduced hashtags in 2013, which is surprising considering they are still rarely used. There is even research to suggest that posts that include hashtags get less engagement compared to those without hashtags. Facebook started as a community for friends which contribute to why hashtags don't translate well on this platform. Facebook is a more authentic and honest platform compared to Instagram, which can cause an audience to lose interest and trust if a brand floods their posts with hashtags. They simply don't want to interact with the post when #every other #word is a #hashtag. Distracting, isn't it?
Another reason hashtags don't work on Facebook is because often brands cross-post from Twitter and Instagram to Facebook, which exposes a brand to be, essentially, lazy. If you are not making original content for each platform, your audience will often choose to not interact with your content. Tones vary across platforms and therefore every brand should be taking the time to tailor what they post. It's a time-consuming process but with much better results.
There are certain circumstances where hashtags can work well for engagement and reach on Facebook such as competitions. Starting your post with '#WIN' will ensure more entries as users who often enter competitions will search for this tag. However, if you want your competition to grow your audience authentically and engage with users who are in line with your target consumer, this may not be the right technique. People who are not interested in your brand will now be entering purely because there is something free up for grabs.
Despite all the negativity around using hashtags in Facebook posts, it's not a complete faux pas. One hashtag in a post, two at a maximum, would not be detrimental to your post. Perhaps steer clear from including the hashtag in the middle of the sentence and instead include the hashtag at the end of a post to enclose the overriding theme of the post.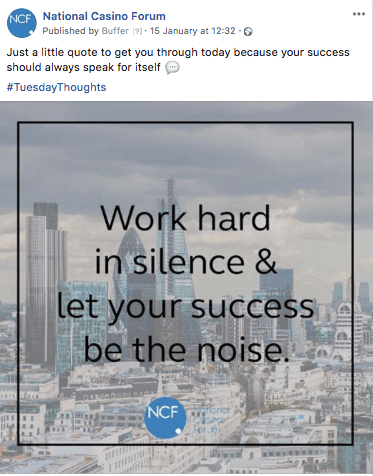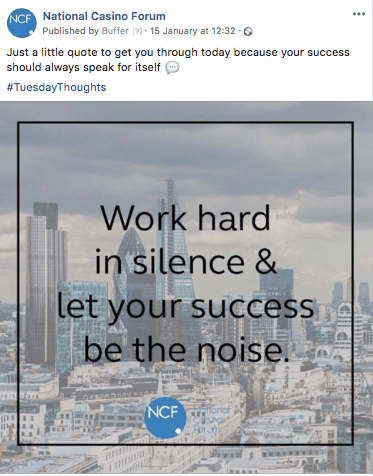 In conclusion, the world of hashtags may seem a minefield, one thing is for sure – it is always wise to stay relevant to what you are posting. You should also remember to choose quality over quantity when it comes to hashtags; one or two is more than enough for Twitter and Facebook. Instagram is the only platform where it is wise to use a handful but be considerate to how these affect the aesthetics of your post. Overall, there are many trending hashtags that you can jump on as a brand that are within your field as well as broader hashtags that will allow you to reach a wider audience.
Here at PHA Social we pride ourselves on keeping up-to-date with social media trends and we are experts in a wide range of areas. We are able to give insight to our clients and save them the leg work of having to source their own strategy. If you would like to hear more, contact us.
How to make the most of #hashtags
Music, video, gaming and translation. We take a look at the developments and features rocking the social media scene.
Release your inner music mogul as Instagram announce adding soundtracks to your Instagram story. With thousands of tracks offered inside the application, and new songs being added daily. Instagram stories is now used by over 400 million people each day and is expected to generate $5.48 billion in U.S ad revenue in 2018 according to EMarketer. Only last week did they announce the launch of IGTV with early numbers indicating it is helping Instagram retain users. SimilarWeb research indicated the average user time hit 55 minutes per day, up from 29 minutes recorded in September.
So, will recent changes make a significant impact on the types of content we create? If Instagram were to extend their music functionality to their new IGTV function could this be a direct impact on social platform Musical.ly? If so, the latter could do great things for tapping into the Gen Z market, which currently shows a strong affinity and loyalty to apps like Snapchat and Musical.ly. Similarly, IGTV has worked as a draw for existing content creators to move over to Instagram entirely, where previously they used YouTube to hold their longer-form content. Even within this first week of its launch, we have seen an increase in the number of influencers tapping into the power of mobile-optimised video.
Hayley Coleby, Senior Social Media Director says "Video is superseding all forms of creative content. The recent investments in stories from Instagram and Facebook has shown increases in engagement, time spent on the platform and advert revenue. As a team we are creating more video content than ever before. We also understand that music plays an important role in the way we share memories and express ourselves with friends and family, so we will certainly look to incorporate it into our creative campaigns".
The race to announce the next 'big' feature is certainly on with Snapchat and Youtube no doubt feeling the pressure, but it's not just video and music that's become a focus. Business networking platform LinkedIn has just added the ability to translate content in more than 60 languages, with more coming soon, as well as QR codes designed to allow people to share their contacts quicker. Both functionalities are a no-brainer for the platform but have already generated higher engagement and usage.
It's not all fun and games, or is it? Google is of course keeping up with the pace of the social industry and is reportedly planning to launch a gaming platform to rival big players Playstation and Xbox. Snapchat is also getting in on the action rumouring to launch a new gaming interface. But we've seen before platforms experimenting with short, shareable mini-games so our guess is it could incorporate some AI features, which would certainly be a unique proposition.
The next big thing in social
Social media plays an integral part in contributing to your online reputation. It is often the first stop for consumers looking to learn more about a brand or individual. Your company and personal pages are therefore of utmost importance, and should be consistent in terms of their tone of voice, brand messaging and visual identity. It is also crucial to consider who your existing audience is, and what content resonates with them. Analysing these patterns and details is central to ensuring your social media channels are performing at their peak and are optimised for current trends and best practice.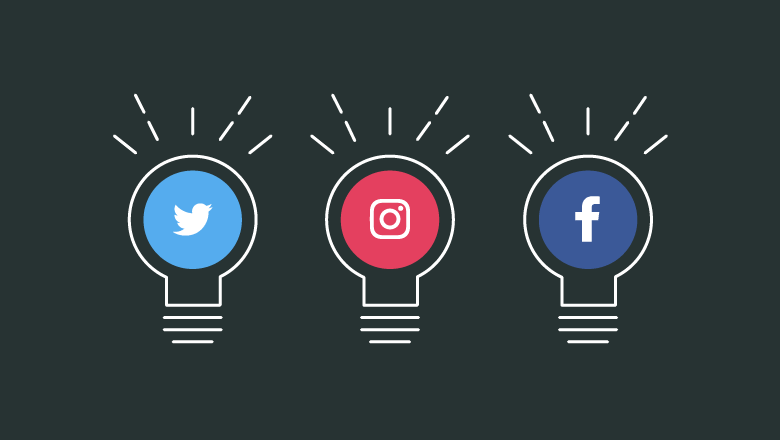 Similarly, you may be concerned about your company's share of voice. Maybe you've begun to optimise your channels and content already? Or you want to know how effective your content is, not just to engage with your followers, but in the wider world of social media, including comparisons with your competitors. Social Listening tools provide valuable insight allowing a brand to consider how they might increase their share of the market and grow both within their existing segment and into new demographics and groups. At PHA, we use our online monitoring tool, PHA Pulse, to do just this for you.
Our tools allow you to comprehensively measure both your channels individual success, and how your business measures up in the wider marketplace. This picture is built from a number of key metrics, such as share of voice, percentage of target audience engaged and overall reach.

Fig.1: An example of a page's demographic breakdown on Facebook.
Social audit
Audience: understanding your core audience is central to every brand and business. Understanding who follows you, likes or shares your posts on social media, , is an integral part of shaping conversation and increasing engagement and growth. Likewise, the demographic breakdown of your audience, and their interests, will inform the style and tone of your content.
A social audit provides detail informing when and what to post to your page, optimising for your audience. Once you understand your social insights, you can evaluate and adapt your strategy on an ongoing basis to keep you on top form.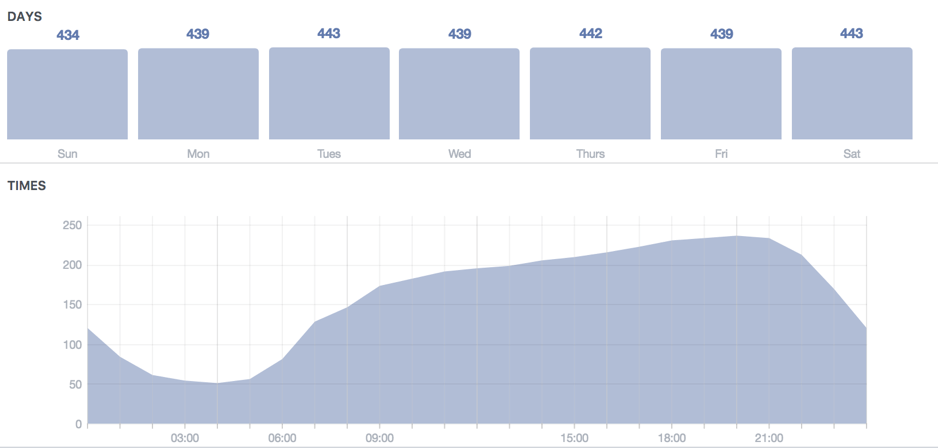 Fig.2: The above is a demonstration of Facebook audience activity times and numbers, crucial information for informing content scheduling.
Content: the evaluation provided by a social audience helps shape your content strategy, developing content strands that speak to and engage your core audience. Developing content which works in harmony with your key follower's requirements and interests can help increase engagement, whilst additional content strands and themes can target new segments to increase reach and share of voice in your industry.
Best practice: a good social audit will always provide a best practice guide for your brand's individual channels and consumers. This will touch on everything from paid for campaigns, to emoji's and hashtags. There are stark differences between each platform, so figuring out how to present your brand on each is of great importance.
Competitor analysis: keeping an eye on your competitors is always worthwhile, and the same process applies to social media. You may select certain pages to evaluate either due to recent appearance and growth in popularity, direct competition, or because of particular offerings they possess. The audit will analyse what techniques these competitors use, how their audience responds, and how it could be applied to your brand or business.
PHA Pulse
 Often, it can be easy to misinterpret the importance of social listening. Having refined your social media strategy with an audit, it is crucial that you possess the tools needed to monitor discussion around your brand in order to paint a picture of what content is working, strands that need to be refined, and overall perception of your company.
PHA Pulse, our in-house online monitoring platform, has the ability to monitor your brand across not just social media, but across the online spectrum, from news content through to blogs, forum discussions and video.
We analyse each entry to determine audience reach, sentiment and emotional rating, plus its impact, in the form of a visibility score.
Using the aforementioned metrics, we can track your online and social media performance alongside those of your biggest competitors and determine a share of voice. This unique metric drills deep into content, be it published press coverage or social media posts, and converts data into a digestible format.
What are the benefits of determining share of voice? Firstly, it lets you visualise your online influence in comparison to your rivals. Coupled with a social media audit, it allows us to track the performance of your rivals' content, and monitor the topics, keywords and conversations that are most lucrative when it comes to generating audience interest and engagement. Moreover, by tracking share of voice over a prolonged period of time, we are able to determine what works best for your social channels, as well as charting the progress of your social influence growth.
What's more, social listening tools possess the ability to go deeper than in-house social media channels when it comes to audience insights. Where Facebook, Twitter and Instagram can provide location insights, gender and age breakdowns, social listening goes one step further: PHA Pulse can determine the social reach of individuals, as well as provide aggregated topic data on social media users. From determining a particular audience's perception to your brand and wider industry, to gaining insight into the other pages they follow and discussions they immerse themselves in, this data can paint a very detailed picture of your audience.
If you're interested in learning more about PHA Pulse and social media audits, get in touch with us today to find out how we can help enhance your business or brand.
Social Media Audits and Social Listening
Frequently termed 'The King of Social', Instagram started as a simple picture sharing app, used mainly between close friends and some carefully-selected family, to display the 'best' snapshots of your life. It was a refreshing alternative to the swathes of imagery that confronted you on Facebook, each one only slightly different to the last. It's single-picture format enforced a kind of self-control not seen elsewhere. Of course, this wouldn't last forever. Years later we have video, galleries and stories, and Instagram has expanded far beyond your own social circle. It has, however, kept its highly-polished aesthetic and fetish for 'authenticity'.
Now the app is one of the biggest Social Media sites in the world, with over 700 million users, 400 million of which are active daily! It's impressive to say the least and the potential audience reach on this platform is ever growing. It took only four months to gain the last 100 million followers, whereas the previous took six months.
So, what makes it such a great platform? It's seen as considerably cooler than Facebook, more interesting than Twitter, and more useful than Snapchat. Instagram has become incredibly sophisticated in storytelling and doing so in an artistic manner. The ability to fluently and diversely communicate a brand or individual's story has become indispensable. Authenticity is key to modern marketing, and Instagram is the platform that allows this 'intimate' insight into a brand. And what better brand to apply it to than a Start-Up? A company that is rooted in individuality, ingenuity and passion. One that is already trying to tell its own story, and express its personality, unlike many conglomerates that churn out an all-encompassing 'brand' worldwide.
Engage your audience
So, we know Instagram has the audience and the tools to effectively tell your story, but what techniques can you employ to make Instagram work for you? As a Start-Up, it's important not only to put out great content, but to actively engage with your following, and users who you feel would be interested in your brand. This engagement, or 'community managing', is what will help you grow your channel, awareness, and ultimately your brand. It may seem like a lot of work, but just taking the time to reply to comments and reach out to users and brands can make all the difference.
Hashtag it
Building this community can be done in several ways, but the most immediate is through hashtags. By putting up to 30 relevant hashtags underneath your post you can make yourself visible to the potentially millions of daily users who are engaging with account and brands like yours. Engaging with other users in these hashtags is the next step to generating conversation, and this is worth remembering. Social Media is not a one-way street, you need ask questions, respond authentically, get people interested and keep them talking with you and about you.
If you are a local business, such as a restaurant, boutique or event, then you can utilise these hashtags to target a specific audience. Likewise, you may also use geo-tagging to involve the local community in a location-targeted campaign. These techniques allow you to build a community both offline and online.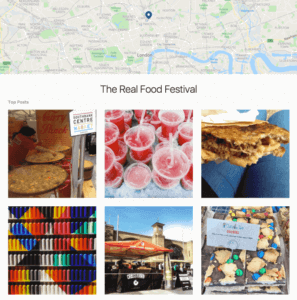 Collaborate and listen
Many brands have taken to cross-posting and collaborations to bolster their online presence. This is a mutually beneficial process that sees both brands raise awareness, and is particularly applicable in a Start-Up environment, where both have a chance to establish themselves in an industry. It's not just other brands that you might consider this tactic with; featuring your customers is an increasingly valuable tool in promoting your brand's merit. Not only will this provide potential customers with authentic, positive feedback for your brand, but it also rewards fans for being fans. In doing this, you encourage them to continue to share their interactions with your brand on Social Media. It's a win-win, they get to interact with the brands they love in an authentic way, and you get exposure and great content for your own channels. Just make sure you always credit them!
For me?! @chapabouttown is ready to chow down on some Turkey and Duck Dinner!

Do what works for you

There are a plethora of techniques to employ on this ever-expanding channel. To do it perfectly, you would be using a variation of careful curated daily posts and stories to provide the most artistic storytelling experience you can. You could run competitions, and cross-post and promote other brands. You could shout about your brand down every relevant avenue, and target it perfectly with paid posts and influencer marketing. This is a lot to take on, especially as a Start-Up. It can seem overwhelming, but it is also wholly unnecessary to try to do all of them at once, and to sustain them. Our advice would be to cherry pick what works for your brand, and remember that creativity and authenticity are at the heart of successful Social Media marketing.

Get Creative

If you want to champion your brand on Instagram effectively, the main thing to consider in this whirlwind of possibilities is creativity. Instagram is a platform that welcomes creativity more than any other. This is the point of difference needed to stop users endlessly scrolling through their feeds and focus on your post. This is the first point of engagement with a consumer, and one of the hardest things to engineer. You want to disrupt and simultaneously engage; having a creative edge here is key.

Of course, this is perhaps easier said than done. But with a proper strategy and some practice, you should quickly find yourself building your brands presence and identity online. Building and maintaining this presence is of huge value to brands and businesses, after all, 32% of all internet users are on Instagram. That's a big slice of the pie to be missing out on!

If you would like to talk about how our digital services could help grow your Instagram following, why not get in touch with us today.

How to grow instagram for your start-up

Can we be held accountable for our social media musings?

Will Tait

On the day of the 2016 Presidential election, Twitter was the largest source of breaking news worldwide, with 40 million election-related tweets sent before 10pm ET. Its significance in the outcome of that day cannot be underestimated either. Ever since Donald Trump announced his candidacy, the relationship of Twitter and Trump has become almost interdependent in the march towards the top of their respective fields.

For Trump, the social networking service became the window by which his followers could tap into his inner-dialogue. It allowed him to bypass a media that he realised early on would be hostile to him by setting up a direct line to potential voters.

It might therefore not come as a surprise to know that in early March, the National Archives and Records administration informed the White House that POTUS's tweets do actually fall under the remit of the Presidential Records Act.

As part of a letter sent to the White House Staff, it concluded: "Many of the messages sent from [President Trump's twitter] accounts are likely to be presidential records and therefore must be preserved. It has been reported, however, that President Trump has deleted tweets, and if those tweets were not archived it could pose a violation of the Presidential Records Act."

So, while Trump can no longer hide behind his delete button, his previous tweets have kindly been preserved by websites looking to remind him of some of his most outspoken remarks. This might be the place to start for Trump when looking to review the potential damage, knowing that they will soon sit alongside the Gettysburg Address, the Bill of Rights and the Declaration of Independence in the National Archives.

Some highlights include:

In the context of Twitter, Donald Trump is by far its greatest success story. Seemingly unfaillible in the eyes of his adoring audience meanwhile baffling the rest of the world as to how he gets away with it. He goes from accusing previous presidents of wire-tapping him to attacking popular celebrities, such as Arnold Schwarznegger, in one afternoon. Operating entirely with impunity. It catapulted him to the most powerful position in the world.

For others however, twitter has become the architect by which they manafacture their own self-destruction. One ill thought out tweet, permanently etched into the world wide web stratosphere, can carry serious consequences.

Take Justine Sacco. A PR Executive who probably should've known better. Before boarding an 11 hour flight to South Africa she tweeted what she thought would be a hilarious tweet. Upon landing, she had become an international media sensation. Not however for the reasons she hoped.

Justine's tweet was deliberately controversial. This was her humour and the tweet by no means an aberration in form. The joke itself is playing on white ignorance. But when Justine was called before Twitter court, the judgement was severe. From a few hundred followers Justine was now at the centre of a public shaming. It cost the 30 year old her dream job, and she claims it destroyed her life.

Alfie Barker, a non-league footballer, tweeted during a football match to fellow professional Harry Arter an incredibly offensive 'joke' about his daughter Renee who had been born stillborn on December 10, 2015.

The reaction to this tweet was understandably venemous. Barker received death threats. He was sacked from his club and his carpentry firm. The 18-year-old deleted the tweet and apologised but it was too late. He had ruined his life and everything he had worked for with one tweet. His career in football almost certainly over, he claims he is now too nervous to leave the house.

His apology too late to save his career or reputation.

Barker, for the record, suffers from  ADHD and autism. His parents claim he has always struggled to understand social constructs. He himself  stated  "I have no social skills. I have no filter between my mouth and my brain. I work every day and I have spent the whole day trying to understand why I did what I did." Did Twitter stop to consider the roles these complex diseases might have played. That he had mixed his new medication with alcohol that evening while highly emotional. Barker's parents who had long protected him could not save him from one lapse in judgement on Twitter. His sentence was exile.

At other times, it's hard to have any sympathy. Corporations have struggled on Twitter ever since its inception. The reasons for this are complex. However, the reasons the Twitterverse was offended by Kenneth Cole's tweet when protests in Egypt broke out certainly weren't.

Kenneth Cole has since removed the tweet and apologised. The damage to the brand will be irreversible however. Using a people's struggle for freedom to promote a product isn't good PR. Pepsi will tell you that better than anyone. Others persist however…

Lena Dunham, of Girls fame, is a proactive feminist. In the Twittersphere this makes you rather vulnerable to attacks. Frustratingly, these tweets, dug up from her timeline from years before, did the hard work for her detractors.

https://twitter.com/lenadunham/status/90660103879016448?lang=en

Dunham eventually left Twitter. "Jokes" like this damage a reputation that many feminists previously found inspirational. Racist undertones in a few tweets meant that a feminist position became increasingly weakened by the role of white privilege.

It just goes to show that if even media savvy celebrities or corporations with their PR departments and media lawyers can still make these mistakes, the potential for ordinary people to do so is vast. Amy Schumer too was vilified for a tweet defending Dunham.

Immediately deleted, but not forgotten. The fate of all of these tweets goes to show how pointless the exercise of archiving Trumps tweets will be. Twitter self-polices. Tweets are never really gone. Deleting tweets only serves as an admission of guilt and guilt attracts the Twitter court. People are more accountable for their tweets than they realise. With this in mind, those 140 characters are becoming increasingly dangerous, especially to the person using them.  Just ask Justine Sacco…

Think before you Tweet

This year's big Twitter story revolved around actress Leslie Jones and conservative journalist Milo Yiannopoulos. After inciting his followers to direct hate and abuse towards Jones on the platform, twitter permanently deactivated self proclaimed troll Milo Yiannopoulos' account, and barred him for life. This resulted in the #FreeMilo movement, with users outraged that this decision was an infringement of the controversial personality's freedom of expression. Subsequently, CEO Jack Dorsey's decision to remove the account has snowballed into a raging debate questioning the difference between an opinion and hate speech.

In observing this debate, it is important to understand Twitter's historically hard lined stance on censorship, and that the debate of controversial speech is not a new one for the company.

Since its creation, Twitter has prided itself on being a vehicle of free speech, spreading news and opinions which might not be available elsewhere, and giving a voice to otherwise silenced or marginalised groups. Twitter has always been adamant that it is a means of communication that will not censor it's content, but rather be used as a tool to deliver it, with Twitter executives allegedly preaching very early on that "Twitter is the free speech wing of the free speech party"

One only has to look at twitter's role during the Arab Spring, whereby the platform was used by civilians, journalists and activists to break through the highly censored media to spread truths and rally support to see the positive impact that the platform has had. Twitter was lauded as a revolutionary tool in a sea of oppressive and silencing governments.

Twitter's steadfast approach to allowing users to tweet whatever their opinions, not matter how controversial or unpopular, has rapidly and unsurprisingly spiralled into a seemingly uncontrollable wave of abuse for many of it's users. Unlike Facebook and Instagram, twitter does not moderate user posts, resulting in an estimated 88% of internet trolls operate on the platform – that number alone tells us there's a problem. The platform has become rife with death threats, threats of sexual violence, racism, sexism, xenophobia, homophobia, extremism… the list goes on. It's obvious that what was once a social media platform that allowed for users to post even sensitive content with the idea that news should not be censored, Twitter is fast becoming a hot bed of negative, hateful and sometimes criminal activity, and whether or not they wanted to, Twitter were backed into a corner.

After calls from many leading activist organisations and individuals for Twitter to being taking responsibility for the hateful and in many cases harmful vitriol, the platform has made amendments and steps from within to start fighting back against online abuse. In May 2016, Twitter, alongside Facebook, Microsoft and YouTube, agreed to a new code of conduct set out by the European Union in an attempt to clamp down on illegal hate speech and, in particular, terrorist propaganda. This move has come at the right time, with activists  and governments speaking up more and more prominently about their disappointment in Twitter's lack of action in deactivating ISIS propaganda accounts. Moves are, however, being made on Twitter's part to help eliminate the presence of this propaganda on their channel. Reports suggested that Twitter was swift in shutting down accounts celebrating the Bastille attack in Nice, to much praise from the media.

After the infamous memo leak from former CEO Dick Costolo in 2015 ("We suck at dealing with abuse and trolls on the platform, and we've sucked at it for years,") Twitter have also set out their own tougher regulations in order to combat abuse, as well as making it easier for users to report abusing tweets and content. Whilst it appears that Twitter is moving in the right direction with it's policies and actions, many are left wondering what it takes to have a troll taken down. On the surface, we have seen that twitter can actually be very quick to take action against accounts that it deems to be unacceptable, but there seems to be more and more erratic censorship from twitter. The lines in Twitter's regulations are blurry, allowing for the company to pick and chose who and when an account gets suspended. Yiannopoulos is not the first prominent user to have been banned. Azealia Banks was banned after a series of racist tweets directed at Zayn Malik, however since old tweets made by country singer Blake Shelton resurfaced recently, containing misogynistic, homophobic and racist content, no action seems to have been taken. Many women have tried to report rape threats, death threats and more to twitter, to no avail, however a parody account of Vladimir Putin was shut down by the platform after the Russian government complained.

It is undoubtedly right for twitter to police its users posts, and remove hateful, violent, threatening vitriol, however it seems to have waded into a grey area from which it cannot win. Either it is perceived as being reluctant to take action, or it is overzealous in it's attempts to silence 'opinions'. Now that certain accounts have been shut down it has created a precedent from which it cannot backtrack, opening a Pandora's Box of regulation and will have a difficult time trying to decipher free speech from hate speech.

The Rise of Influencer Advertising…

For the first time ever the FTC has personally reached out to influencers and celebrities to remind them of their duty to disclose their "material connection" with the brands of products promoted across their social media. So what does this mean for apps such as Instagram? 

***

"OMG loving the results of my brand new whitening toothpaste. I've been using it for weeks now and nothing works better. Get it here! #toothpaste #shopping #spon #ad"

Sound familiar?

There's nothing new about brands using Instagram and their influencers to promote their products. Arguably, when done properly, it's one of the most effective marketing tools in a brands arsenal.

I've been meaning to share these with you for ages as since I started taking them I've had so much more energy and been less lethargic so seems a good time when I'm recovering from my Disney half marathon! Their good seeds and fibre sachets are also incredible, I'm sprinkling them on all my salads! (To avoid confusion this is an #ad but for the record I genuinely having been using and trailing the products and mean what I say, plus I only work with brands I genuinely like.

Pick the right influencer with the perfect target audience and a brand can increase their sales exponentially; after all, what's more powerful than someone you respect and trust not even just endorsing a product but emploring you to use it? It's real time, you can see the 'results' and the implication is by using this product you can become more like your favourite actress/model/singer.

You're just one protein shake/whitening toothpaste/detox tea away. Promise.

For the brands that were first on the scene this has been an incredibly successful tactic.

A study by TapInfluence found that social media influence marketing is 11 times more effective than banner ads. Add to that eMarketer's findings that Instagram's global mobile ad revenues are expected to close in on nearly $3 billion by 2017 and it's easy to see how brands are on to a winner.

Read our guide on how to work with online influencers here! 

So far so good right?

Certain brands certainly seem to think so, jumping on the trend by giving influencers specialised discount codes to give to their followers, gifting them free product in return for a coveted space on their feed, and implementing Instagram takeovers. The sky's the limit as far as this type of promotion goes and its fairly versatile too.

Even attempts by the FTC haven't made much of an impact. The introduction of #spon and #ad tags as a call for more explicit disclosure from bloggers did little to dampen the enthusiasm for these brand – influencer relationships. More recently the FTC has reached out directly to influencers to remind them of their duty to clearly disclose their relationships to brands when promoting products on social media.

Whether this will do more to control unlabelled advertising remains to be seen. There is still no set way to label paid posts and it seems that this form of advertising has yet to reach its peak.

And yet, there's a rumbling of discontent.

In all the excitement over rising sales and increased brand awareness something appears to have been overlooked. When you market directly to your customers, the reaction is pretty immediate too. And that reaction can change in an instant.

Uhoh.

"You can never have too much of a good thing" so the saying goes, however the reactions above might well suggest otherwise.

Put it this way. Imagine your favourite health blogger endorses a spiralizer. They make an impassioned case for that piece of kitchen equipment. You also then see that same bit of equipment popping up in various posts as they continue to use it to create their recipes. Sure, you suspect they may have been given it for free but it seems like they'd have bought it anyway.

This feels genuine. You trust that blogger and you can see them using this product consistently. Furthermore, this is their area of expertise. It makes sense to buy it.

Now imagine the same blogger suddenly endorses a watch from a brand you haven't heard of. Plus, they offer you a discount code. Interesting, perhaps? But then, what does this blogger know about watches? They've never expressed an interest before. You suspect they got this for free, but maybe that's ok. It's just the odd post in a sea of engaging content. After all, everyone likes a nice watch.

Finally imagine that this blogger suddenly endorses a watch, a detox tea and a whitening toothpaste all in the space of three days. Plus, they name drop a couple of clothing brands that they just 'happen' to be wearing. It seems quite obvious that these things have been given to them. There's no passion behind the endorsement. You've never seen them use these things or wear these things before. It all feels a bit staged.Do you go out and buy those things? Probably not.

Do you remain an avid follower of an account that has become something akin to a shopping channel? Probably not.

Herein lies the problem. Not just for brands but for Instagram in general.

"Instagram is the home for visual storytelling for everyone from celebrities, newsrooms and brands, to teens, musicians and anyone with a creative passion."

Instagram – about us statement

If Instagram at its conception was intended as a hub of creativity and storytelling as its mission statement claims, they'd better be wary of the rise in this undercover advertising. If our feeds become crowded with influencers pushing out brands for the sake of a pay out, you can bet that their audience will lose interest pretty quickly.

Scrolling through a feed full of repetitive #spon and #ad posts is boring at best and highly irritating at worst. You need only examine the comments on the feeds of the worst offenders to see that their audience is wise to what they are doing and not particularly pleased. In fact, they're pretty irritated.

Somethings got to give but who knows what the breaking point will be. What is clear at this point is that Instagram is running the risk of becoming a glorified string of adverts with influencers posts, at times, barely distinguishable from their paid promotion slots.

It's overkill, death by promotion and I'm doubtful that it can continue.

Now if you'll excuse me I have some whitening toothpaste to order. #spon

The Walking Advert

Spring/Summer fashion week and Autumn/Winter fashion week are two  of the biggest events in the fashion and beauty industry calendar. With a plethora of celebrities and press attending the shows and parties, it is the perfect time of year to boost your brand's profile and get noticed.

A common misconception is you have to be 'in it to win it', but in actual fact you don't need to have a collection at the shows to get your brand talked about.

Fashion Week presents numerous opportunities for brands to get involved either on a small or big scale, through partnerships, gifting, social media campaigns and out of show partnerships. So don't believe the Fashion Week season is just for the major brands, utilise it and get your brand noticed using the following avenues next year:

Official partnerships

Showcase brands and Fashion Week organisers are always keen to explore partnerships for backstage activity, whether that is in the form of food, drinks, or beauty products.

Getting your brand backstage and into the hands of designers, models and VIPs can be a great way to increase brand exposure and get people talking. In addition, VIP celebrities are often inclined to share anything fun or quirky on social media, which can act as additional exposure for your brand.

Example: We arranged for The Pure Package to associate with London Fashion Week and supply food – both backstage and front-of-house – for an array of high profile shows at London Fashion Week such as Mulberry, Alice Temperley, Matthew Williamson, Julien Macdonald, Mark Fast and Mary Katrantzou. We also arranged for The Pure Package to submit material into the front-row goody bags which went out to VIPS and celebrities, providing an excellent opportunity for raising brand awareness and targeting a new audience. From this we secured coverage which appeared in publications including Harper's Bazaar, Cosmopolitan, OK! and YOU Magazine.

Gifting

Fashion Week is a magnet for all types of influencers, from journalists, to celebrities and bloggers. These influencers regularly publicise their experiences at Fashion Week using social media and across their blogs. Therefore being able to get your product into the hands of these influencers could be a hugely beneficial for your brand.

You can do this through numerous avenues, but an effective way for a fashion brand to get its products in the right hands is to work with its audience's key influencers and journalists and gift them product from your collection to wear to the shows in exchange for an Instagram post. Influencers do what they say on the tin, 'influence', and therefore having your product on the right person can lead it to sell out within seconds.

Example: We gifted key journalists and bloggers an item of clothing from our fashion client, Hervia, to wear to London Fashion Week, in exchange for an Instagram post. This included Fashion Editor of Sunday Times Style, Flossie Saunders and popular blogger, Polishing Colours.

This led to Hervia being featured in The Sunday Times Style on numerous occasions, one of their key publications, in addition the top gifted to the journalist Flossie, sold out.

Final day of LFW. Thank you @smartcaruk for the

Instagram Takeovers

Instagram is such an important social media tool at Fashion Week, and as a brand you can take things to the next level by carrying out an Instagram takeover campaign. This can work particularly well if you are not attending the shows, as you can give your followers an exciting glimpse into the world of Fashion Week, alongside presenting yourself as a credible and engaging brand. By working with fashion journalists and bloggers and asking them to pre-promote the show on their personal channels, you can gain interest from their followers who may have not engaged with your brand before, alongside producing exciting and different content for your existing followers.

Example: We arranged for Hervia to carry out an 'Instagram' takeover with two key fashion journalists over the course of Fashion Week. We worked with YOU magazine and TEETH magazine to provide street style shots, front row action and top picks for the Hervia Instagram channel. The fashion editor of TEETH, Camilla Sverdrup-Thygeson's posts received nearly 3000 likes and increased followers on the Hervia Instagram.

How great is this custom handpainted leather jacket

Layered up for a grey second day at #LFW ☔️ #LondonFashionWeek (

Outside of the shows

Partnerships at Fashion Week don't have to remain backstage or at the shows themselves. The hub of London Fashion Week is now based in Soho Square and therefore the whole of Soho is buzzing with opportunities away from the catwalk. At Fashion Week you are guaranteed a high footfall of fashionistas, journalists and the general public who are out in force at Fashion Week, it therefore offers a perfect opportunity to engage these influencers with your brand. This can include sampling (a cold drink is gratefully received when rushing between shows), setting up a stand in Soho Square to hand out goodies, providing pop-up blow dry bars and offering rooms for VIP influencers to stay overnight.

Example:  Advertising opportunities are limited at Fashion Week, yet the footfall is massive. Therefore, what better way to get your brand visually out there, alongside providing a service, than branding a taxi?! Make-up brand MAC capitalised on the fact that beauty journalists need to get from show A to show B and they have little time to do it. As well as making the streets look stylish with their bright look, MAC taxis provided a VIP service chaffering the FROW members around.

Social buzz

If you can't get physically involved in Fashion Week, fear not, there are ample opportunities for you to tap into the buzz remotely on social. Re-gram street style, choose your top picks from the shows and explore competition opportunities.

Example: Snog Frozen yoghurt capitalised on Fashion Week by running a social media campaign competition playing on the commonly used hashtag #StreetStyle and changed it to #SnogStyle.  Snog encouraged entrants to snap their most stylish Snog pot with a chance of winning Snog vouchers and treats.

Using Fashion Week to Get Noticed

Eight reasons why your website isn't as profitable as it could be

After building hundreds of websites and sitting through thousand of meetings with a multitude of clients we thought it would be helpful to write this article which breaks down some of the reason why you might be having issue with your website conversions.

1. Is your company or personal website fully mobile optimized?

These days a huge portion of websites are accessed through a mobile device. Statistics show that 33% of internet users would think to use their mobile device first over a desktop, and that figure is only growing with the introduction of low cost smart phones and faster wireless internet.

This means you need a home page that makes the most of the mobile space. An easy to read, clear and clutter free interface is essential to get the most out of your home page.

Mobile has now become 65% of all digital media time. Desktop usage on the web has dropped 12% since 2013

Mobile users have a shorter attention span then desktop user, so getting the right content to them quickly is important. A single call to action button and an easy to navigate mobile site is just the start to get your site ready for the mobile world.

2. Does your customer really understand what you do or offer?

You know the company or your offering inside and out. You have lived and breathed it, but people visiting your site for the first time need a helping hand. Write out your company description in one line and that can be the key message for the home page.

It can be easy to want everything you do up front and centre on the home page but this can overwhelm your audience, think about your brand messaging and who you are targeting, this will keep your homepage clutter free and easily understood.

3. Does your website take a long time to load?

Speed has a huge impact on not only user experience but also SEO. The internet is competitive, there are thousands of articles and websites that will load in an instant to give the user what they want quickly. If a homepage takes a long time to load your audience is more likely to go elsewhere.

Google can detect if your website loads slowly, this has a huge impact on your ranking on the Google search engine. It could determine if your site is shown on page one or on page six.

4. When was the last time you redesigned your website?

Often, business owner's setup a website as soon as they have a company presence or launch a product or idea. Normally this is an afterthought and can result in bad user experience, and unfocused messaging.

If the messaging is unfocused and there is too much old content, then this can mislead customers. Studies have shown that user scan pages rather than reading them fully when coming to a website for the first time.

You should be looking to update your website every two years to keep on top of website trends and styles.

Check out our slideshare or simply continue on for our next 4 tips!

6. There Are Too Many Distractions

This is where User Experience (UX) comes in. It is very easy to overload a website with too much information from the start. This clutter of information can not only distract a user to finalize their conversion process but also take them down the wrong path and as a result end up leaving the site for a more engaging website.

You will need to minimize your design and focus your messaging to keep the user engaged and on the right path.

7. No SEO plan

A strong SEO plan can make or break a website. A few years ago it uses to be all about spamming websites, these days its more about strategic planning and content creation. Search engines are more advanced and look at content, design, layout, loading speed, functionality and rankings.

There are many factors that contribute to a good SEO functioning website. A couple of examples are; page errors, sitemaps, regular & creative content creation (including mixed formats) link backs, and even design.

If all these elements are checked, reviewed, and implemented it allows Google to search and index your site correctly resulting in more people being able to find it.

8. Getting a website is domain and hosting is just the first step.

To fully make use of the domain and hosting you have bought, a website plan should be implemented to look at all elements of the business and the offerings you want to portray.

Your website is most likely the first thing a potential client/customer will go to and it is something you will be immediately judged on. This plan doesn't have to cost a huge amount, and can always be done in stages, but it's something to be invested in to maximize the potential source for revenue and conversions.

Save

Save

Save

Save

Save

Save

Save

Save

Save

Save

Why isn't my website profitable?