For many reasons, Gillette deserve some well-earned praise for this latest marketing attempt. The advert, which challenges men and boys to be better and call out sexually inappropriate behaviour, deserves both praise for bravery and for getting the go-ahead. Tackling social issues always carries an inherent risk of backfire.
Millionaire Kendall Jenner's poorly judged peace offering involving Pepsi at a protest already served as a significant warning to the industry of what can go wrong if issues aren't handled sensitively. Yet, more recently Nike has seen booming sales after standing with Quarterback Colin Kaepernick in their "Believe in Something" campaign.
It's continuing a strange phenomenon where the marketing teams of the world's biggest companies seem more capable of touching the right cord with consumers than politicians do with their voters.  A lot of these decisions are calculated. Companies like Nike know which side their bread is buttered on. As University of Michigan Business Professor Jerry Davis put it on ABC news, "it turns out Democrats buy a lot more sneakers than Republicans."
This comment was referring to the legendary adage often attributed to Michael Jordan that "Republicans buy shoes, too." Yet, the increasingly important divide that age is playing in politics now means many of the world's biggest companies are quite happy to hedge their bets on the next generation. Nike know the average customer who walks through its door is a teenage male, far more likely to sympathise with the political messaging that Kaepernick "sacrificed everything" to support. That risk has for the time being paid off.
Marketers ultimately report to the bottom line. Unlike Gillette, Nike has seen year on year growth for a decade. Gillette has instead seen year-on-year falling sales in a market where men have increasingly more choice and fewer people choose shaving. Gillette will have been sitting on ideas of how to revitalise their iconic "The Best A Man Can Get" slogan for a while now and how to target it at the next generation of men. This advert, however, certainly doesn't naturally feel like it is driven directly by sales. There are no razors. The demographic it is most likely to impress, women, aren't even potential customers. It fits into something bigger.
Gillette wrote on their website of how they plan to include this as part of a wider campaign: "From today on, we pledge to actively challenge the stereotypes and expectations of what it means to be a man everywhere you see Gillette. In the ads we run, the images we publish to social media, the words we choose, and so much more."
The advert has so far only been paid for on digital channels in America, with no known plans to run it in the UK. So, when Piers Morgan reacted, himself fast becoming an effective medium through which all successful marketing campaigns must pass, Gillette had achieved huge global organic growth with a relatively modest budget. But you wouldn't clap just yet…
When it comes to marketing, the opposite of bravery isn't cowardice but conformity. Standing still isn't so bad compared to losing ground. The launch of Gillette's new campaign has achieved both widespread coverage and supported an excellent cause. Yet, for a company with more than half the market share in the US and far more than that in the UK (roughly 65%), we might be left asking what Gillette is set to achieve from this.
When Nike launched their campaign, they weren't operating with anything close to a 50% share in any of the markets they compete in. When Nike isolated a certain part of America, they knew they were already experiencing declining sales due to a negative price elasticity those consumers were having with its products. They expected to recoup those sales elsewhere. It isn't clear if this is going to be the case for Gillette.
Where Nike's campaign was positive and inspirational, Gillette's message feels negative. Nike told its key customers they behave better than the rest, Gillette has told its customers the opposite. At writing, Gillette's video has received nearly 10 million views but the reaction to it has been overwhelmingly negative. The dislike to like ratio stands at 577k to 217k. On Sunday, the ratio was 10:1 with most comments saying they would abandon the brand. Make no mistake, those who found the advert first were Gillette's actual customers.
In comparison, Nike's campaign ran at the complete opposite. With ten positive reactions for every one negative. In the four long months of media coverage, the "Believe in Something" commercial still hadn't amassed the number of dislikes Gillette has run up in the first 24 hours. Online sales grew for Nike by a massive 31% in the bank holiday weekend after the ad launched and the company has grown by $6 billion since. Opponents couldn't boycott the company because they already didn't shop there.
It's of course too early to know how this will affect sales, but whether you agree with the message or not, it's obvious Gillette have risked marginalising the actual people who buy their products. If they don't end up attracting that next generation of customers, Gillette may be left wondering if their marketing strategy really is the best they can get.
Gillette: Is social posturing the best marketing you can get?
As the obesity problem grows, so too does the weight loss market. From protein shakes and snacks to fitness regimes, weight loss retreats and calorie counting, the choices are endless. The industry has seen huge changes in recent years and there is now a multitude of choice for people wanting to lose weight and lead a healthier lifestyle.
Changes don't just include the diet itself, it's also about the way companies can advertise their products and the channels they're using. Brands now have to take into consideration an important target market, Millennials. An audience who is far more demanding and harder to capture and it's not just about the before/after imagery anymore.
We look at some of the digital tools that will help your brand stand out.
Youtube
You might have noticed that food videos on Youtube are very popular. Take Tasty for example, Buzzfeed's popular cooking brand, who deliver both comforting and healthy weeknight dinners for meat-lovers, vegetarians, and vegans alike. The videos are short and very easy to reproduce at home, with 10 million subscribers, and an average of 1M views per video. As a brand, it's important to use channels and influencers to make sure you are recognised by a wider audience. Why not try and create some short and easy food recipe videos as well to showcase your products and give people some meal-spiration?
If you don't know how to produce videos yourself, you can always partner with a YouTube influencer to show how to use your products. Take for example Joe Wicks, the famous Body Coach, who works with famous chefs to create some healthy foods or showcase his healthy snacks using different brands. Partnering with influencers like Joe, will help promote your products and show that healthy Gurus trust your brand.
Thought Leadership
There are some amazing opportunities to get an opinion out there across print and online media – from long-form bylines that give you the freedom to discuss your thoughts in detail, to short and snappy letters to editors that we can turn around within hours. The key thing to remember is to offer something interesting and authentic – grounded in your experience – and it must be relevant.
Before you begin producing content ask yourself these questions: who's your target audience? What's your place within the market? And where does your company's skills sit? Once you answer all of these  questions, you will be able to start your campaign. Your thought leadership content could then be hosted on your website if you have a blog section, as well as LinkedIn using their blog platform, LinkedIn Pulse.
Podcast
Think about where your audience is and don't be scared to try things that you've never done before. Podcasts can be a great way to approach those interested in wellness and weight loss as well as food. From creating your own podcast about wellness or diets to becoming a guest on a specialised show – the choice is all yours.
Remember this form of content is attracting a great audience. Be true to yourself. A podcast will help drive loyalty as it communicates how passionate you and the brand is. Podcasts are all about learning, it might take you a while to get it right. Don't be scared to try new things, it isn't a polished medium, but it is a truthful one and people really engage with that spontaneous feeling.
There are plenty of weight loss podcasts around, but a great example is "Smile there's food" interviewed a Slimming World member called Emma. In this podcast you can hear about her reasons for joining Slimming World and how it's helped her self-confidence. She also gives tips, recipes and how you too can become motivated to eat healthily. A great example of how brands can use podcasts to get a little bit of fame. Having some real feedback from someone could help people take the plunge and decide to join a program or start living a healthier life.
Pinterest:
With 200 million monthly users, Pinterest may not be a social media behemoth like Facebook, but it's an important social platform with deep penetration in valuable demographics. Half of U.S. millennials use Pinterest, for instance. Behind those snazzy pics are everything including killer healthy recipes, fitness tips, motivational quotes, and workout ideas. All you need to do is create eye-catching assets such as infographics, food photos or short videos to get people to save your pin and visit your website to learn more. Pinterest has proven very efficient in converting people. Below are some examples that we think work well: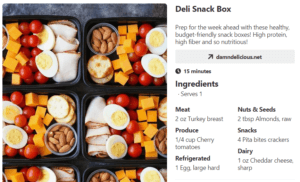 Using attractive visuals as well as ingredients lists is a great way to show how to easily get your snack box ready in just one image.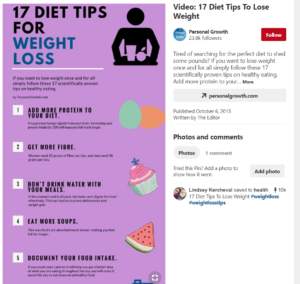 Mixing simple tips and catchy designs.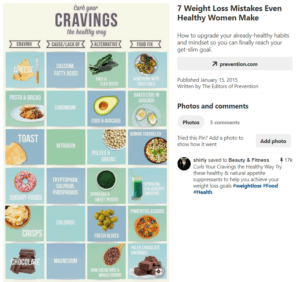 Food tips, using good looking food as well as interesting content will make you ready to click on the link to know more
An important thing to remember is to always make sure the mediums you're using are aligned with your strategy. Make sure you create some interesting content to help promote your brand and its values
Do you need help building your PR strategy? Make sure you get in touch with our team of experts who will be happy to discuss your strategy further
Weight loss: Surfing on the digital wave
How to present your company, and your communications is crucial. Nowadays, being healthy is more than just how much you weigh. It's a way of life, and we're beginning to see more and more companies embracing this idea.
People are far more concerned about what they feel like, what they're eating, where they're exercising and what kind of exercise they're doing than ever before. Arguably, this comes hand in hand with the rise of social media, people's lives being more publicly accessible where we feel obliged to show everyone what we're up to. Influencers also play a huge role in people's desires to lead a healthy active lifestyle.
According to a survey by Havas in 2017, 75% of consumers expect brands to make more of a contribution to our wellbeing and quality of life, yet only 40% believe brands are doing so.
Subsequently, perhaps it comes as no surprise that brands are beginning to adopt this focus. Look at Weight Watchers for example, who last week, announced a massive rebrand to swap their weight loss image for a wellness image.
The brand is now called 'WW' with the strapline "Wellness that Works". WW said it will now focus on a new programme called Wellness Wins which rewards members for "small, everyday behaviours" that lead to healthier habits. They're partnering with Headspace, a mindfulness app, to provide personalised programmes for WW members. They will also start offering members more food products containing no artificial sweeteners, flavours, colours or preservatives.
Another key aspect of WW's rebrand is the incorporation of technology which is vital to broaden the audience they attract. As well as partnering with Headspace, they're also looking to refresh their own app in the next month, which will use voice integration giving members the ability to check the nutritional value of their food and track their progress. This element of the rebrand is an excellent way to attract a new demographic to the brand, as it makes it both more manageable and accessible.
On the flip side yes, this is a good way to encourage women away from the brutal bikini diets, however, what is wrong with people just wanting to lose weight? Helen Sorrell, BBC Radio 4 journalist and former Weight Watchers member, rightly pointed out that "people don't go to Weight Watchers because they want to feel well, they go because they want to lose weight."
We're becoming a society who won't openly speak about dieting because we're worried about the effect it's going to have on people. Where magazine covers used to be about how to 'lose a stone in 6 weeks', cover lines about dwindling dress sizes are now starting to seem outdated. However, to put it bluntly, diet may have become a very negative word, but it's one that, because of our increasing obesity levels, we can't really afford to ignore.
The new name 'WW' has been mocked, with one post noticing that the title is made up of the words "double you". Mindy Grossman (CEO) has also been criticised for not being able to explain what the letters stood for, instead they were simply a "marque" that represents their heritage, history and their future.
The bottom line is, what wellness influencers are talking about on their social media pages, means the same thing as what Weight Watchers and other slimming groups talk about; watching what you eat and exercising.
Whilst many people may take some time to adjust to WW's rebrand, at the end of the day, they still stand for the same principles, they're simply extending their services to enable a wider audience to get involved. Grossman wants to make it clear that "No matter what your goal is – to lose weight, eat healthier, move more, develop a positive mindset, or all of the above – we will deliver science-based solutions that fit into people's lives". The rebrand is ultimately an attempt to broaden the appeal of the company beyond its traditional 35-plus female representative and present itself as a "technology experience" for millennials. A campaign focusing on their social media activity and social pages with a community feel.
If your company is looking to rebrand and would like PR or creative insight advice, please get in touch today.
From weight loss to wellness: The Weight Watchers rebrand
We have all heard about Nike using the athlete-turned-social activist Colin Kaepernick in their recent advertising campaign, "Believe in something. Even if it means sacrificing everything."
Shortly after their launch, the brand published figures of online sales increasing by 31% in just four days, media exposure to be in excess of $100 million.
Whilst their stock might have taken an initial hit of 2.7% that certainly did not stop them. Now usually for a brand that's a big deal to take such a hit but you need to look closer at the detail to understand the outcomes achieved.
In the following week, Nike stock investment from under 35's grew by 45%, that's 15,000 investments. Why? Because a recent study found that 86% of consumers believe companies should take a stand for social issues. Brands including Airbnb for their campaign #weaccept, Ben & Jerry's taking a stand against climate change and Nike standing for #BlackLivesMatter made consumers sit up and listen.
Now you may have angered a few NFL fans along the way but were they really your local customer base anyway?
Nike has created a clever opportunity to reposition themselves in the market and attract a new demographic where social responsibility is at the forefront of their purchasing mind. And if you haven't noticed, young people buy a lot of trainers.
So, the question is: Should we, as communications experts in this world, consider a similar effort for our brands? And what are the tactics we need to consider for success?
Buying a belief
Who in the world of communications wouldn't want to master the art of cult branding? As humans, we often have an incessant need to be a part of something. To appear to have a fundamental need to be together or 'belong' and to find a common ground in this world we live in.
We must understand the concept of the term 'cult' as simply a collection of people who are devoted, committed and worship the same thing – usually a religion or belief system.
Brands can be harder to define as a 'cult' with a slightly more complex structure to define. For argument sake let's say a brand is a 'something' (product, service, individual) that establishes them as 'real', 'authentic' and 'different'.
The emotive Nike advert establishes a ground where you can be part of a change, part of something that is different. A movement of people all fighting for a relatable topic. This emotive drive has resulted in their outstanding sales growth and a brand messaging strategy that everyone is talking about. And not just because they're turning 30.
Authenticity
Over the past few decades, consumer behaviour has evolved. The traditional marketing methods just aren't enough anymore. Brands are having to shift their messaging and rethink what they communicate to their customers.
It is no surprise millennials and generation Z shop differently to their predecessors. For Millennials, brand authenticity is second only to loyalty discounts in importance when choosing companies to support.
Building brand authenticity is all about giving people a reason to care and well Nike, just knocked it out of the park.
Social conscious
For a global brand like Nike to make such a bold move and hire former NFL star Kaepernick who famously took 'the knee' during the national anthem in support of #BlackLivesMatter was a powerful statement.
The concept that a brand believing in something and being brave enough to stand up for that belief is setting waves in the consumer world for a new generation of social-conscious customers. It isn't enough for a brand just to claim they support something they have to demonstrate their commitment, breathe it as an organisation and display their commitment.
Brands such as Pepsi have been slaughtered for claiming their support for social-political campaigns so we all what not to do.
It is simple to say Nike has just changed the landscape of communications and we are all ready to fall in line and follow suit.
Just do it? They did it.
Disrupting the communications landscape, the Nike way
Over the past four years we have worked with Jeans for Genes and each time the brief is clear: to raise awareness and drive sign-ups for their annual fundraiser.
Jeans for Genes is a national children's charity, which raises money for the care of children and families who are affected by genetic disorders. The charity also aims to raise awareness and understanding of genetics and what it means to live with a genetic disorder.
The brief in 2018 was no different. The campaign itself was simple: asking people to wear jeans in return for a donation to support children living with genetic disorders.
Each year we create a fresh and strategic campaign that focuses on educating the public on the health implications of genetic disorders. Our team with significant planning, support and drive delivered excellent results with a reach of over 1 billion impressions, 307 pieces of coverage and 15 broadcast interviews.
So how do we go about driving impact year after year? Learn more about our strategies below:
Case studies
Part of our strategy was to include real people in the campaign. We set out to educate people about the impact a genetic disorder can have on a family and the amazing stories of those who live a fulfilling life. We worked closely with over 30 families who were affected by genetic disorders and secured opportunities for them to share their experiences. We placed a series of emotive case studies generating 123 pieces of coverage across the national and regional print and broadcast media.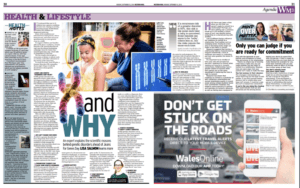 Educational coverage
We set out to educate the public the effects genetic disorders have on those who live with it each day. Deploying a multi-pronged educational strategy, we secured 20 pieces of coverage including publications such as the Western Mail.
Fashion and lifestyle coverage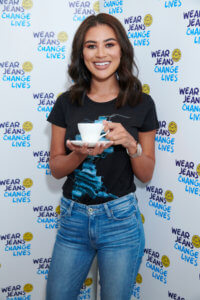 A large part of the Jeans for Genes campaign is the sale of their fashion t-shirt. Each year there is a high demand for the uniquely designed garment, and this year was no different. Our team secured 97 pieces of coverage dedicated to promoting the t-shirt. Jeans for Genes have never sold out but this year due to the increase in engagement was delighted to sell out twice!
Jeans for Genes Ambassador Montana modelling this year's design.
Celebrity influencers and endorsement
Celebrities and influencers as we know can be a very effective way of increasing engagement, building awareness and reaching your target audience. Our expert-led team has significant experience in building partnerships with brands and businesses to ensure results.
As part of the Jeans for Genes campaign, we worked with bloggers; A Model Recommends, Em Sheldon, Carl Thompson, Alice Thorpe and Chloe Pierre to name a few. As well as celebrities Becky Vardy, Danielle Lloyd, Dennis Wise, Ella Wills, Kieran Nicholls, Nicola McLean, Samira Mighty, Vicky Pattison and Love Island's Eyal.
It was a real focus of our team to ensure we made the right partnerships to ensure the success of the campaign.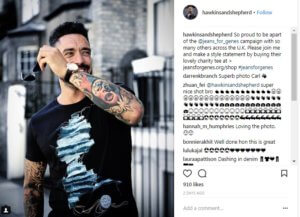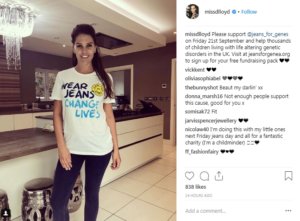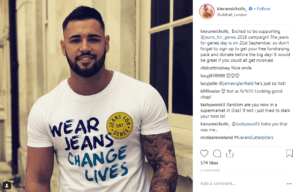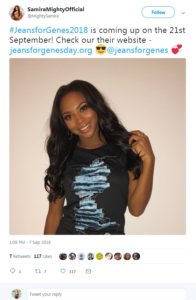 Gifting
To help keep our campaign and messaging at the forefront of journalists minds who may not have been able to attend our events we gifted three Sugar Tits doughnuts to make a real statement, and to promote the Jeans for Gene's campaigns. Our focus was to target 'What's on' guides to help reach a wider audience of potential fundraisers.
Hosting a celebrity event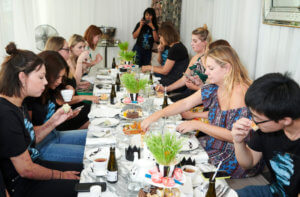 The final element was to host an 'Afternoon Tee' party that would allow us to garner the charities celebrity supporters and ensure widespread coverage of the awareness day, unique t-shirt and drive home the message that wearing jeans saves lives. Hosted by Love Island's Montana Brown and attended by journalists from Reveal, New Magazine, Metro.co.uk. TV Life, Star Magazine and S Magazine the event was a top hit!
If you'd like to speak to a member of our team and find out how we can support your organisation, please get in touch today. Or if you'd like to support this year's Jeans for Gene's campaigns it's not too late, visit their donation page here.
Making it count: Jeans for Genes
The market is particularly saturated with both well established and newly emerging brands and products, especially during the festive period. To get your product and voice standing out amongst the rest it is imperative you have set in place a strong integrated communications strategy that speaks directly to your target audience.
The following tips and advice provide an overview of the ways in which you can raise your brand's profile within the media and amongst consumers.
Tip 1 – Product placement and journalist reviews
One of the most effective ways of elevating a brand or product in the media during this busy time of year is through successful product placement and journalist reviews.
Being named in a "Ten best of" or "Five hot new products" style feature can give your brand huge credibility and exposure and can have a big impact on sales.
JML: "Everyday Easier": cutting through the noise to make JML the number one household brand
Product placement was vital, and we achieved regular, targeted placement across the media spectrum, with several pieces featuring in specific seasonal gift guides. To further support the launches, we negotiated media partnerships to secure competitions and reader offers for the products. With a total reach of 726,824,645, our work ensured JML took prime-position as the number one household brand in the UK.
Tip 2 – Social media
Another fundamental part of making your product a must have is through engaging social media content.
A great way to engage followers is to establish regular content creation, for example 'Christmas inspiration' or 'fun fact Friday'. Using new digital tools such as IGTV or Instagram stories will get your product noticed, especially if you use it in an unusual way. Make sure you use your community to promote your products and give positive reviews.
Creating a three-month calendar will also help ensure all social channels are kept up-to-date and in line with the PR plan. It is vital that the tone of voice across all platforms is in-sync, our social media team can help you ensure your content is always going out at the same time of the day as well as consistent.
Tip 3 – Celebrity or influencer endorsement
Celebrities and now influencers are an extremely powerful commodity when it comes to selling products.
When looking to work with a celebrity it is important to first think about the difference between a celebrity ambassadorial role and celebrity endorsement. A celebrity ambassador will become the face of the brand and will usually be contracted to doing several interviews, photoshoots and events. This is normally the costliest option, but it does offer a brand a lot more scope than targeted celebrity endorsement.
Example: Lapland
We approached A-list celebrities who have children between the ages of 2-12 and arranged for them to book a trip with their family to LaplandUK in exchange for a quote or social media post. We secured visits from the Beckhams, David Furnish, Emma Bunton, Simon Peg, Emilia Fox and Katie Piper to name a few. The campaign was extremely successful with the experience selling out within two-and-a-half-weeks of being open.
Tip 4 – Celebrity and influencer gifting
Targeted celebrity and influencer gifting can be a much cheaper, way of generating celebrity endorsement.
To get an influencer to talk about or endorse a product, it must be either beneficial for them or something they believe in. Therefore, brands must think about the right influencer for their product.
Examples: The British Library
We were tasked with generating widespread press coverage for The British Library to showcase their membership scheme as the Christmas gift for the imagination. To promote the new membership, we worked with a range of high-profile digital influencers, based in London, providing them with complimentary memberships in exchange for reviews across their online channels.
We partnered with a number of influencers such as Liberty London Girl, Not such a Model Mum and Boo & Maddie to produce impactful online content for The British Library Membership.
Tip 5 – Press Event
Press events allow you to interact with journalists, develop relationships and ultimately create brand ambassadors who could become hugely valuable. Press launch events for a product, allow brand representatives to discuss the idea, the ingredients and components and also gives journalists the opportunity to try the product out first hand.
There are four main components to planning an event: planning, timing, theme and follow up. For more information about how to run the perfect PR event get in touch here.
Example: positioning JD Women as a leading athleisure brand.
To educate the press on JD Women's unique offering we created themed press events, a first for the brand. The events focused on their fitness and fashion offerings and created excitement amongst our media targets, resulting in key relationships being built between the fashion press and JD Women. Strong journalist relationships were built with over 230 attendees across two seasonal press days, resulting in a real understanding of the brand amongst the fitness and fashion media.
A PR agency can help you engage with the right audience helping you to create and implement a communications strategy for your business and brand ahead of Christmas. Get in touch now to see how we can help you.
Make your product this year's must have
Why Christmas Coverage is Made in Summer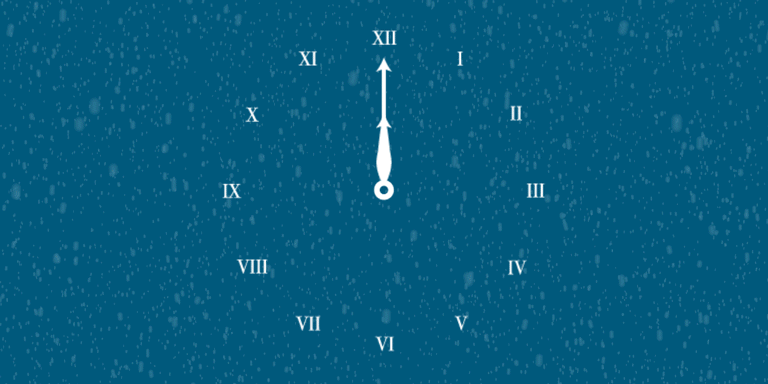 With the typical British Summer barely arriving on our doorsteps, Christmas is probably the last thing on your mind. However for savvy brands, now is the time to look ahead.
It goes without saying that Christmas is one of the busiest times of year for consumer brands and that a high presence in the media is crucial. Especially if you want your product to be top of your target market's Christmas wish list.
And how do you guarantee that your product is the go-to gift over the festive period? How do you stand out from your competition?
Getting placed in a coveted Christmas Gift Guide is a start!
These 'Christmas Gift Guide' features celebrating the best of the 'must have' gifts for the gifting season dominate the media over November and December. As such, they are the Holy Grail of coverage.
Whilst this may all seem extremely premature, now is the time to start planning your Christmas strategy or you run the risk of missing that all important slot!
Why do I need to start thinking about this now? Christmas is months away!
Magazines, especially those with larger audiences, work three to six months in advance of the issue's publication date, so editors are actively searching for products to feature in their Christmas issues from July through September. National and online titles have a much shorter lead-in time, however, it is still a good idea to start pitching your brand/product now so they become familiar with what you are offering.
Is being featured in a Christmas Gift Guide all its cracked up to be?
Christmas gift guides – whether print or online – are eagerly anticipated by consumers, looking for gifts to buy friends and family, and often brands who have enjoyed placement in a gift guide can see a huge return in terms of an increase in website traffic and sales of the product in question. The benefits of appearing in a Christmas gift guide are widespread awareness and the chance to have your product under the eyes of consumers at the time of the year when they are most happy to spend money. Additionally, inclusion in a gift guide can also increase your brand's credibility with other press outlets, leading to additional media interest and requests.
How do I get my brand into a Christmas gift guide?
The process for your brand appearing in a Christmas gift guide really begins a number of months before the big day. The first stage is research: 
Which publications run Christmas gift guides?
Who is the journalist responsible for putting them together?
Which titles are right for your brand?
These are all questions which you need to consider, prior to introducing your brand, product or service to journalists.
The next stage is the pitch:
A carefully crafted email which explains your brand, product or service to a journalist and details why they and their readers are likely to be interested.
The third stage is the follow-up: 
Journalists and bloggers receive hundreds of emails a day, so being persistent really is key when it comes to receiving a positive response. This is where working with a PR agency can really help as they will have a little black book of good contacts who listen to what they have to say which will allow you to side-step the process.
What is your top tip for standing out from the crowd in the busy Christmas period?
Be creative – Don't be afraid to send journalists/bloggers a sample of your brand/product presented in a creative way. This will allow them to experience your brand/product first-hand and understand why it is likely to be of interest to their readers/followers.
Start early! – There is a lot of competition amongst companies and brands to feature in Christmas gift guides, so start your outreach early and be proactive and persistent to give yourself the best chance of being featured.
How to get Christmas Coverage
Standing out from the crowd is not an easy thing to do for companies especially in this digital era where consumers have knowledge at the touch of a button. If you're attempting to position your company or product as a category leader, you'll need to tell interesting yet believable stories that make your demographic consider a new perspective. Reaching out to the right audience is key to building a successful PR campaign.
When executed successfully, PR can offer a creative, results-driven approach that will help tell your brand's story and generate engaging media placements that talk directly to your target audience. We look at some of the methods and strategies our award-winning teams deploy to gain cut-through and deliver results for our clients.
Influencers
In today's age we are bombarded by choice. So, it's no surprise that influencers hold a lot of power in validating our decisions. These are real people who we trust and respect, a vital tool in marketing a product given that their opinions can, and do, impact the behaviour of their amassed following.
In December, we were briefed to generate widespread press coverage for The British Library to showcase their membership scheme as a must-have Christmas gift for the season. To achieve this, one of the key activities was to work with a range of digital influencers, based in London. Partnering with key influencers including Liberty London Girl, Not such a Model Mum and Boo & Maddie was important to produce impactful content for British Library Membership and supported the campaign to position a membership as the Christmas gift for the imagination.
The British Library said:
The PHA Group supported us with our British Library Membership Christmas campaign. They were a delight to work with – super organised and results driven!  We gained some great coverage in a short period of time.
Events
Product launches
Organising an event to launch a new product or range can be daunting. PR agencies can effectively promote your event encouraging media to cover or attend it through excellent relationships and contacts, as well as creating a buzz of excitement by generating awareness and increase the number of attendees.
JML came to us with a clear goal in mind: to become the 'go-to' brand for household products. As this was a crowded market, we needed to ensure that each new product was launched to the press as the number one product of its type showcasing their unique selling points. To do so, we planned and implemented a series of events to launch their products to a UK market. These events were a perfect opportunity to educate the media on the functionality and superiority of the products and build relationships with key journalists and influencers. The events attracted over 150 journalists and the subsequent coverage saw the products featured in publications such as the Metro, Daily Express, OK, Style at Home, New!, Best and many more.
Press conferences
Not too sure if a press conference is required for your brand? A press conference is a meeting, organised for the purposes of officially distributing information to the media and answering questions from reporters. The advantage of a press conference for your brand or business is that the announcement made during the event will have a maximum impact by being in all the media at the same time. From organising the press conference, to practicing speaking in public or answering journalists' questions, we help our clients make sure they are as prepared as possible for the big day.
We worked with American based AIDS Health Foundation to help it stage a London press conference as part of its on-going campaign to bring about change with the UN agency focussed AIDS worldwide, UNAIDs. This conference in London was crucial as it was calling on the UK government to act in its role as chair of the committee which oversees UNAIDS' work. PHA had a week to first research, secure a venue as well as constructing the format of the press conference, issue notices to main media outlets, and commission the creation of banners and other materials for the press conference. The press conference featured four speakers and saw a great panel of attendees including The Guardian, The Sun, The Daily Mail, The Independent and the Associated Press. This resulted in strong coverage in those four main titles, each of them reporting AHF's call on Theresa May and International Development Penny Morduant to act over the scandal.
Pop- ups
Pop-up stores are fast becoming a familiar feature of the modern cityscape across the UK and businesses are embracing the concept. The UK's pop-up industry is estimated to be worth £2.3 billion, accounting for around 0.76 per cent of total retail turnover, according to EE's Britain's Pop-Up Retail Economy report. In 2016, 3000 pop-up spaces were counted in London alone. When opening a pop-up store, you can maximise your brand awareness. You'll face your customers and therefore will be able to test your products or services directly in front of your key customers.
Disney wanted to launch a new video game called Epic Mickey 2. Celebrating the forgotten characters of Disney, this game had the potential to appeal to both older and younger generations. To capture the imagination of our audience, we decided to bring the Disney magic to life through a once in a lifetime event. Taking ownership of a coveted space at Westfield, Stratford, we planned an event designed to cut through the noise of our competition. We brought an official Disney illustrator to draw the iconic characters and a virtual graffiti wall to complete the two-day event which was hosted by TV presenters Dick and Dom, ensuring entertainment for adults and children alike. With over 2,000 attendees, many of which were young families, the pop-up event was a huge success.
Digital
Social media and digital assets
Whatever your industry, segment and audience, a big portion of your customers and leads have a digital footprint. Whether it's to re-enforce your image, create a stunt or promote a new product, social media should always be part of your strategy. From animated GIFs to cinemagraphs and motion graphics, we provide a complete digital solution to create impactful campaigns to engage with your audience.
RED Driving School wanted to be regarded as the leading driving school in the UK but faced poor brand perception and recognition which was limiting their ability to attract both learner drivers and instructors. Our campaign sought to make RED relevant to a younger audience by building a social presence whilst establishing them as an attractive proposition for driving instructors in the media. This resulted in 13 million social impressions in the first few months of our campaign, RED has an online presence that continues to grow with celebrity posts generating tens of thousands of likes, comments and shares across social platforms.
Community management
Our dedicated in-house specialists work with you to develop your strategy, and then manage every aspect of all your channels, from weekly content plans and content creation, to daily posting and scheduling through to news agenda or event reaction.
We worked with Cauli Rice, to manage their online presence. We used social media as a way of gaining exposure for the brand whilst competing in Virgin Media's Business Start-up competition, hosted by Richard Branson. From paid advertising on social media to follower growth and animated GIFs, we looked after their entire strategy. As a result, they received 685,000 votes and 2,500 entries! Cauli Rice was one of three start-up businesses to be crowned and receive a 50k marketing budget from Branson.
Thought-leadership
Establishing yourself as an expert in your domain can be vital to gain potential clients and customers who will inherently trust you more – and equally beneficial, bloggers and reporters will also respond to you more warmly if you're seen as an industry leader. Thought leadership is a great way to achieve that cut-through, by sharing high-quality content that will help your audience understand you and your business.
We recently worked with Down's Syndrome Association (DSA), the only organisation in the country that focuses solely on all aspects of living successfully with Down's Syndrome. Their goal was to claim their rightful place as the leading charity for individuals and families living with DS. To do so, we created a structured, hard-hitting campaign that incorporated the charity's ethos and utilised their existing assets. To help them we created thought leadership opportunities to bring focus to the organisation. Our media coverage had a combined reach of over 6 million with 68 pieces of coverage generated and DSA were cemented as an authority on the condition.
A PR agency can help you engage with the right audience helping you to create and implement a communications strategy for your business and brand. Get in touch now to see how we can help you.
How can PR help with your consumer campaign?
The concept of a brand hiring an influencer to promote a product, service, event or wider campaign isn't new. In fact, with many brands reporting that traditional advertising and marketing such as television, print media and digital are becoming less effective, it is no surprise that more and more brands are including permanent influencer marketing spend in their budgets.
No longer can we afford to think of influencer marketing as a novel strategy, when by the year 2020 influencer marketing global spend is set to become a billion-dollar industry.
One brand that we wanted to highlight in this piece is adidas, whose effective influencer strategy has had tangible effects on both sales and brand awareness and is, without a doubt, a contributing factor in adidas CEO, Kasper Rørsted being able to say that '2017 was a strong year – financially and operationally. We made great progress toward achieving our mission to be the best sports company in the world.'
Below are five notable ways we can learn from adidas' success with influencers over the last two years:
Creative content
In addition to giving influencers creative freedom when it comes to content, adidas also create their own bespoke content that features influencers. As an influencer, this content is something you want to be involved in and want to share across your social channels because it's different, exciting and more often than not, something you would not be able to produce yourself. adidas, therefore, ends up with engaging content for use on their own channels and a group of top fitness influencers sharing the same content with their thousands of followers. This is a tactic that works incredibly well when spreading campaign messaging or supporting kit launches.
Example 1: Back in January adidas worked with many of the UK's leading fitness influencers to create content that featured each influencer encouraging their followers to set goals for 2018 and show the year 'what they are made of':
Example 2: Just this month adidas turned their ambassador, model and businesswoman Karlie Kloss, into a hologram, along with many other UK fitness influencers, to launch the new Stella McCartney collection for adidas:

Well hello Sunny Saturday! Whats everyone up to today?

Worldwide community

adidas have successfully built a community of influencers worldwide which allows them to tap into an international audience of millions.

By building an influencer network, adidas have increased the momentum to be able to promote and grow the brand in a long-lasting way, creating brand awareness with different audience groups which ultimately means better brand visibility.

Example 1: adidas ambassadors/influencers from different countries often link up and create content to share across their platforms. They tag each other and adidas in their respective posts allowing both influencer and adidas to reach a new market.

Here, London based fitness influencer Bradley Simmonds linked up with Australia's Steph Smith whilst she was on a trip in London:

Last session with @stephclairesmith before she heads back to @adidasau, ending with a strong one

BACK IN THE GAME with @adidasau @stephclairesmith

Here, two adidas global ambassadors – Adrienne LDN (London) and Julie Nelson (New York) – met up at the adidas Studio ahead of an adidas event:

Example 2: Whether it's a kit launch or fitness event, the support of their influencer community often means that adidas have hundreds and sometimes thousands of pieces of social coverage to amplify their reach.

This worked exceptionally well when influencers from across the globe touched down in London town for the launch of adidas Athletics Z.N.E. Pulse Collection:

What an extraordinary feeling it is to be a part of the @AdidasMENA ambassador team for the global launch of the @Adidas #ZNE #PulseCollection. Inspired by heartbeats of athletes from around the world

Had a really good yoga session today with these lovely girls ☺️ unfortunately I am not as flexible as them, but I tried my best

I can't even begin to put in words how magical this trip has been for me. Meeting inspiring people from every part of the world, making new friends, and the most amazing part of it all, experiencing the world of @adidas has been so eye opening for me. It's incredible how much you can learn in so little time of you believe in yourself and get out of your comfort zone. Friends, if there's anything you're hesitating to do today because you're scared, nervous or unsure- TAKE THE LEAP. You're stronger than you think

Good morning my friends! Today I was meeting the amazing @adidas ambassadors from all over the world, and we are so excited for the big release of the PULSE collection tonight! @adidas @adidasisrael #zne #ThePulseOf ✌

Influencer campaigns

adidas often run influencer campaigns using their global hashtag, #heretocreate, that aim to inspire and to get eyes on new product launches. These campaigns are extremely valuable because they allow influencers to tell adidas' story for them and let's face it, what better way to show off new kit or trainers than with multiple fitness influencers posting athletic pictures of themselves all wearing the same kit, alongside inspirational messaging.

Example 1: adidas Women's Training wanted to inspire to help kick-start New Year fitness regimes with a New Year campaign. UK based fitness influencers shared their goals for 2017 on New Year's Day in the hopes of inspiring and encouraging their followers to set and achieve their own goals. Each influencer involved in this campaign shared a post on Instagram and created in Instagram story to go alongside it:

{{ 2017 • L O O K I N G • U P }} So for many the new year brings many new goals, new dreams, new starts and new resolutions… I'm setting myself the goal to create STRENGTH through BALANCE in 2017. Strength to train hard, laugh often, explore more, forgive easily, practice fearlessness, do yoga every day and be kind to myself. In hope of finding continued balance in my work, family and social life … and of course in side plank

{{ 2017 • L O O K I N G • U P }} So for many the new year brings many new goals, new dreams, new starts and new resolutions… I'm setting myself the goal to create STRENGTH through BALANCE in 2017. Strength to train hard, laugh often, explore more, forgive easily, practice fearlessness, do yoga every day and be kind to myself. In hope of finding continued balance in my work, family and social life … and of course in side plank

Example 2: Once again utilising their relationships with fitness influencers, adidas gifted each influencer with the latest kit from the adidas Women's Training collection and asked them to post a creative and inspiring image on their Instagram channels:

Just wanted to give you guys a #BestMe update. In 10 days, I have honestly gone from feeling so frustrated with my physical & mental progress to feeling like a whole new woman. Just by making some simple and effective tweaks to my training and nutrition I truly feel like I am getting back to my best. And it turn it gave me the confidence to rock this super cute @adidasuk crop top & leggings, that I wouldn't have felt too comfortable in a few weeks back. I put it down to nourishing my body, moderating my portions and becoming in tune with my hunger cues. I also put it down to consistency in the gym, smashing my workouts and in turn already noticing progress in my strength & fitness. And this is only the beginning….in the coming weeks & months I am #heretocreate my best self. My fittest self. My strongest self. My happiest self. If you're looking for the same then come and do this with me! I'll be sharing the changes I've made & little tips and tricks that I believe can help you to feel your best. Already so excited to have so many of you on board! The support you guys give is like nothing else I have experienced, so let's support each other on this journey.

When I started my role as an @adidas global ambassador I was asked what my ultimate goal is. The answer? I am #heretocreate an army of strong women. Women who look after their bodies because they love them. Women who want to better themselves. Women who support each other. Women who empower each other. Women who lift each other up. Women who radiate good vibes ✌

Create the things you wish existed. Feeling super excited about some upcoming projects and events and getting creative again!

Free classes and run clubs

adidas host a variety of free influencer led fitness classes and run clubs that allows them to broaden their influencer activity and further engage with their audience, ultimately driving brand awareness.

This activity allows adidas to create an experience around their brand, both for the influencer and for the audience, and so brings the brand to life.

Furthermore, through adidas, consumers are able to meet and be trained by the influencers who inspire them, building brand trust and loyalty.

Example 1: 152 Brick Lane is adidas' woman's studio. Here, adidas film a lot of their influencer fitness content, book inspirational guest speakers, and offer influencer led classes:

Thanks for having me @adidasuk had a blast teaching the runners and can't wait to be back!

Example 2: Back in July 2016, adidas launched 'adidas Runners', a community of runners who use the city of London as their training ground. The Facebook group has amassed thousands of followers and the runs themselves are not only led by influencers but they also attract influencer and journalist participation:

Influencer collaboration to create original products

adidas know that growing and evolving an influencer partnership keeps the relationship fresh and exciting. It helps grow the brand and, if done well, can establish a brand as leading and relevant.

One great way adidas have achieved this is by collaborating with influencers to create original products that appeal to the influencers followers and also to their target audience.

Example: adidas collaborated with London based fitness influencer and adidas global ambassador, Zanna Van Dijk, to highlight the miadidas functionality on the adidas website which effectively allows consumers to customise their own footwear, choosing styles, fabrics, colours and writing.

Zanna created a trainer collection inspired by the things that she identified as making her the person she is. Things like the city of London, physical challenges and a desire to empower women.

adidas also created a slick campaign video to share on the site and across social announcing the collaboration:

To download our ebook on choosing the right ambassador for your sports brand, simply click on the image below.

Or alternatively, if you're looking to make the perfect collab or influencer campaign speak to our award-winning team.

Influencer marketing: adidas

Written by the dubl team

We now live in a world where everyone seems to be struggling for time. Outsourcing to specialists has become essential for success. Where you once received the roll of an eye if you had a nutritionist or personal trainer, it's becoming increasingly common!

Whether you are a business or an individual, everyone has a niche. We've started to work smarter, and we pride ourselves on our efficiency. So, when it comes to doing something that's outside your specialist area, or something you simply don't enjoy doing, why waste your time doing it?

Outsourcing allows you the time for you to do what you actually want to do, not just need to do. You can use the time to spend the hard-earned cash you've never had time to spend before!

Businesses like TaskRabbit and Handy have taken off in recent years. People think nothing of hiring someone to fix odd jobs in their place or to do laundry and ironing. What was once seen as a luxury, is now a part of everyday life. Although it's nothing new to have a cleaner, more and more of us are outsourcing everyday household chores that we historically did ourselves…

Similarly, the novelty of restaurants offering delivery via Deliveroo was immense. Now it's not a weekend unless you see the countless Deliveroo bikes delivering high-end restaurant food to people's doorsteps.

The success of door-to-door food delivery has led to companies such as HelloFresh and Balance Box to deliver fresh ingredients to your door. With each box containing the exact amount of measured ingredients and a step-by-step recipe, you can avoid the effort of meal planning and food shopping whilst still being able to cook impressive dishes.

Outsourcing allows you to focus your time and energy on the things that will make you successful and allows you to concentrate on what you truly are a specialist in.

Now, the recruitment industry is also offering you the chance to outsource. Let us introduce dubl…

dubl allows you to outsource your job search by connecting you with Agents who specialise in finding the exact roles you're looking for. Your Agent will know how to pitch you and your best qualities. You can leverage their contacts and land your dream job with a simple connection. You also save yourself time not having to think about going after a new role, because your Agent will do the hard work for you. dubl's aim is for you to build a long-term relationship with your Agent and never have to look for another recruiter again.

We think time is precious, so make the most of it and outsource. You'll become a less stressed individual for it. We believe that letting someone take after your long-term career prospects will become the norm and dubl is leading the way for this.

Outsourcing isn't the future, it's already here, so join the revolution.

Outsourcing your life