Over 350,000 people took part in Veganuary in the UK in 2020. The charity inspires and encourages people to adopt the vegan lifestyle for January and hopefully convince consumers to adapt their lifestyle throughout the rest of the year.
With conversation continuously increasing and more brands adopting vegan products, it is clear veganism is no short-term fad.
Leon restaurants have reported that their vegan burgers now outsell their meat counterparts, and with one in four food launches this year being vegan, consumers are now aware of the impact their food choices have, and choices are abundant! So how can you ensure your brand stands out and has a clear share of voice in the online vegan conversation? Here are three of my favourite launches from 2020.
Change your brand aesthetic
Changing your font or colour scheme is risky as it can be alienating, but it will certainly spark curiosity in your core audience. Greggs changed their profile picture and consequential posts to black and white on December 30th, moving away from their traditional blue and yellow. The first post using this style had sharp, techno music, with tagline: 'Believe the Hype. Greggs X Vegan. Dropping January 2020'.
The style is similar to that of a video game or clothing line launch, providing new connotations to the brand of innovation and modernity that they haven't pushed for themselves in the past. Posting before January allowed them to be at the centre of the vegan conversation, resulting in triple the amount of comments compared to their previous profile picture on Facebook.
Utilise video
While Facebook has started to give prominence to video on feeds, this isn't the case for Instagram. Instagram will only serve more video posts if that user has engaged with video in the past. This means that if you want to spend the time and energy creating video content in the one-minute frame Instagram allows, it must be truly eye-catching.
Kettle Chips launched 'Sheese® and Red Onion crisps' this month, and their taste test with Bosh TV presenters resulted in the predictable shocks and happy exclamations when they revealed the product was vegan. In November, the brand also created video content with Jamie Laing, reinforcing product values on one of their farms. Yet, this collection of four videos were all outperformed by the one taste-test video for active engagements.
The conversational tone of Jamie Laing's videos compared to the quick-reactions of the taste-test could be one explanation for its success, or the use of presenters who are genuinely engaged in the subject matter. Regardless, this proves video as an important tool to consider for national conversation moments.
https://www.instagram.com/p/B7G7qoKDdLP/
React to cultural phenomena
Who is the biggest ambassador for Veganuary in the UK? Piers Morgan of course! Pizza Hut decided to test their luck with a thread of posts implying that he was eating their new Vegan 'Pepperphoni' Pizza in secret, as he couldn't resist the delicious taste. Both positive and negative reactions from Piers would have increased awareness of the new range, and so there really was little to lose. Sadly, Piers didn't bite this time, despite doing so many times before. Brands are certainly going to need to be particularly grating to get his attention next year.
Average reviews of vegan restaurant, pub and bar options have reduced from 4.5 out of 5 to 4.3, highlighting that our expectations of vegan options has risen. Launching with a bang on social media in a unique way, before users can get their hands on the product, ensures that you will receive the most hype and attention for your brand.
This man ordered the Vegan Pepperphoni Pizza… Piers Morgan can you confirm this isn't you?

Posted by Pizza Hut Restaurants UK on Monday, 6 January 2020
Contact the social team at The PHA Group today to discuss how we can create awareness for your vegan brand.
How to launch your vegan product on social media
Over the past five years we have worked with Jeans for Genes and each time the brief is clear: to raise awareness and drive sign-ups for their annual fundraiser.
Jeans for Genes is a national children's charity, which raises money for the care of children and families who are affected by genetic disorders. The charity also aims to raise awareness and understanding of genetics and what it means to live with a genetic disorder.
The brief in 2019 was no different. The campaign itself was simple: asking people to wear jeans in return for a donation to support children living with genetic disorders.
Each year we create a fresh and strategic campaign that focuses on educating the public on the health implications of genetic disorders. As we reach the end of this year's Jeans for Genes week, we have so far secured 350 pieces of coverage across print, online and broadcast media and hundreds of social media posts from celebrities and influencers encouraging people to support the campaign.
So how do we go about driving impact year after year? Learn more about our strategies below:
Case studies
A key part of our strategy was to include real people in the campaign. We set out to educate about the impact a genetic disorder can have on a family and the amazing stories of those who live a fulfilling life. We worked closely with over 30 families who were affected by genetic disorders and secured opportunities for them to share their experiences. We placed a series of emotive case studies generating 123 pieces of coverage across the national and regional print and broadcast media.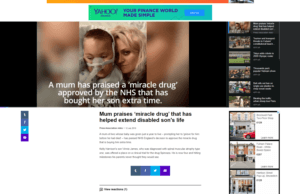 Educational coverage
We set out to educate the public on what a genetic disorder is and to encourage individuals to learn more about genetics. Deploying a multi-pronged educational strategy utilising Gene Therapy expert Professor Bobby Gaspar, we secured 22 pieces of coverage including publications such as the Manchester Evening News and Yorkshire Post.
Fashion and lifestyle coverage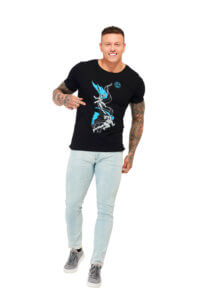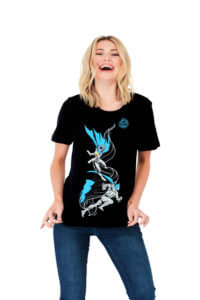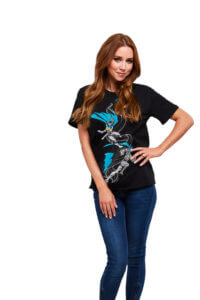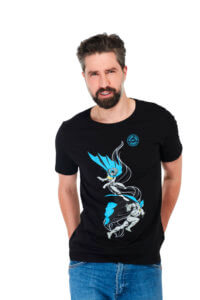 An important element of the fundraising campaign is the sale of their fashion t-shirt. Each year there is a high demand for the uniquely designed garment, and this year was no different, with the t-shirt designed in partnership with Warner Bros and featuring Batman and Batgirl. Our team secured 227 pieces of coverage dedicated to promoting the t-shirt.
Celebrity influencers and endorsement
Celebrities and influencers as we know can be a very effective way of increasing engagement, building awareness and reaching your target audience.
As part of the Jeans for Genes campaign, we worked with; Alice in the looking glass, Christopher Taylor, David Seaman, Emma Barton, Faye Tozer, Nadiya Jamir Hussain, Adam Pearson, Charlotte Hole and many more.
It was a real focus of our team to ensure we made the right partnerships to ensure the success of the campaign.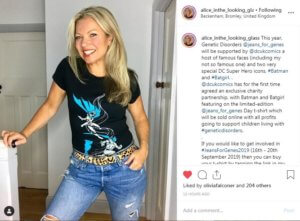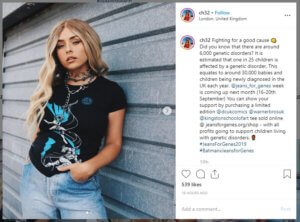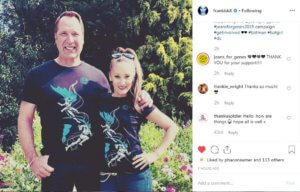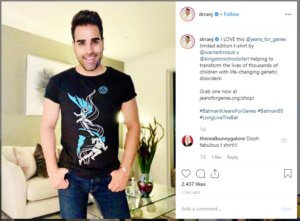 Gifting
To help keep our campaign and messaging at the forefront of journalists minds we activated a series of desk drops with branded Biscuiteer biscuits to a selection of fashion, health and lifestyle media.
Hosting a celebrity event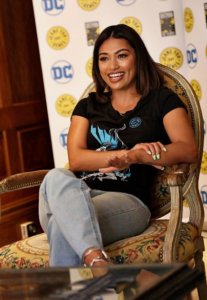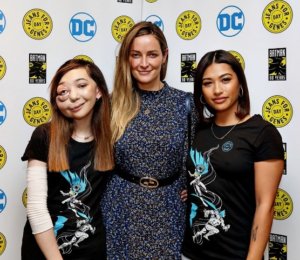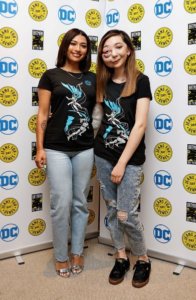 Jeans for Genes Day ambassador and singer-songwriter, Vanessa White hosted an intimate breakfast event at the Covent Garden Hotel to launch the 2019 Jeans for Genes Day campaign and its new charity T-shirt, on sale now.
The breakfast event at the Covent Garden Hotel was also attended by Made In Chelsea star, Francesca Newman-Young, and Jeans for Genes ambassador and emmy winner, Nikki Lily.
Vanessa debuted the limited edition 'Batman and Batgirl' design at the event, created by Kingston School of Art Graphic Design student, Chayanis Jumrus. This year's T-shirt motif was selected by a distinguished fashion panel, including Coleen Rooney, Louise Thompson, the London Evening Standard's Head of Fashion, Maurice Mullen and Fashion Director-at-large at Glamour UK, Alexandra Fullerton.
Vanessa greeted guests with a short introduction to her involvement with Jeans for Genes, upcoming projects, and why she has chosen to support the 2019 Jeans for Genes campaign.
Jeans for Genes Day has such a positive impact on the lives of children and families living with genetic disorders, which is why I am proud to be able to support the campaign. It is estimated that one in 25 children is affected by a genetic disorder, which means 30,000 babies and children are diagnosed in the UK every year. Whereas some disorders are apparent at birth, others are diagnosed at different stages throughout childhood. Vanessa White
If you'd like to speak to a member of our team and find out how we can support your organisation, please get in touch today. Or if you'd like to support this year's Jeans for Gene's campaigns it's not too late, visit their donation page here.
Making it count: Jeans for Genes
The word "sustainability" is everywhere. It was a major topic at the recent G7 meeting in Biarritz, David Attenborough made a famous intervention at Glastonbury this year about cutting plastic, and more and more brands are making a statement about becoming greener. We see new sustainable brands emerging every week from beauty to fashion and food, so how can a brand stand out?
One important thing to remember is that it's not because it's sustainable that people will buy your product. People will buy your product because it is useful to them and sustainability is a nice addition. Consumers are also very interested in a brand's story, they need to understand why you've come up with the product idea, and what it means to you. The notion of authenticity is vital when talking about sustainability. And this is how a PR agency can help you, it'll give you the power to tell your brand's story to the world.
PR firms are sometimes seen as the advocate of the devil helping brands make false claims and glossing up reputations. But PR could also be an agent for change. Show the world the great brands that are around and trying to make a difference in our world. Hopefully, PR companies can have the power to generate positive future change and accelerate progress.
As we become more aware of the impact our lifestyles and practices have on the environment, it is up to every area of a business to become more carbon-neutral and finding sustainable solutions. Brands now need to align themselves with the environmentally-conscious mindset of modern-day consumers and show that they have a genuine interest in our plant. This is where we can help.
News hijacking:
The world of PR is all about finding the perfect time to send your press release to journalists. It might seem simple, but it's not. It's about seeing the perfect opportunity to link a client story when a hot news story has just come out. Once you've spotted your opportunity, then all journalists will happily talk about your side of a story and link it to the brand or agenda that was mentioned. This is a chance for a company to comment on the news or join the discussion and make sure that your brand's name is mentioned in national media.
As an example, we worked with online affordable renewable energy, Octopus Energy, to support their media relations and creative campaigns. We established the CEO as a go-to industry commentator on all things energy and sustainability-related by hijacking the news. This resulted in 140 pieces of coverage, 48 national articles and 5 broadcast appearances.
Awareness days:
If you're on Twitter or Instagram, you'll be aware of all those awareness days going on daily. This can help PR and brands build together their content calendar in advance. If you're a sustainable brand you might want to participate in Zero Waste Week (September) and show how you can join the debate. It's always a good idea to coincide product launches with relevant news-worthy occasions, which gives a journalist two topics in one.
As an example, we worked with a collective of engineers and scientists, called Epicuro, that have spent years researching and developing a device that can separate salt from oceanic water. They invented the Epicuro Desalinator, a battery-less technology that can yield 40 litres of clean water a day using a free power source that's abundant in the developing the world: the sun. With World Water Day 2019 around the corner, we helped them create different assets and videos and started our outreach with the mainstream media on that day.
Finding the right journalist:
Good news is, editors and journalists are happy to engage with the topic of sustainability because for them it's something that's new and interesting and an ever-evolving discussion, but you must have your own view and unique point on it. They're understanding that as an editor they must engage in sustainability because it's the future; it's not a trend that's going to go away. So, finding the right journalist who is happy to cover a sustainable and ethical story is crucial. At The PHA Group, we have great relationships with journalists across print, broadcast, online and influencers. We'll always push the story to the right journalist, knowing what will pique their interest.
Thought leadership:
Thought leadership is great for showing that your leadership team or even you care about your work or business and show your commitment by explaining your goal to a wide audience. It's a great opportunity to show that you're an expert in your field and why you want to pioneer a sustainable message for your business and show the media that you have a genuine interest in the environment.
There's so much to educate yourself on in order to be able to talk authentically about a sustainable project. Make sure you are media trained to ensure you know how to talk about your brand in a confident manner and that you're ready for any questions propositioned by a journalist. If you're watching Dragon's Den, for example, you'll see that investors are asking a lot of questions regarding business models and how sustainable their business really is, there's no room for errors. Our team of experts can help you get ready for any questions and show you how to speak in front of the camera or whilst being recorded. We have former journalists running workshops with brands to help them with any issue they might face.
Use the right influencers:
Finding the right influencers to represent your business or brand is key. We know that influencer marketing can be extremely effective to a business, but we also know that you can't just go to any influencers, you need to do a lot of research before you approach them to understand who their audience is and what type of content they produce. It's just about finding the right individuals that will support and engage with your ethics. Remember it is all about authenticity!
We have a wide network of influencers we work with on a regular basis, where we incorporate a stringent vetting process. We recently worked with PHA client Ethique, the world's first zero-waste beauty brand, to launch in the UK. One of our tactics was to engage with relevant influencers in the beauty, vegan and sustainable space to tap into their online communities. This, in turn, helped raise brand awareness and generate interest in the product range. More than 16 influencers endorsed the brand on their social media channels, raving about the company's eco-credentials and zero-waste promise, with a combined reach of 1.5 million.
Create your own event
If you live and breathe sustainability and your goal is to help others to become more sustainable, then why not organise your own event? This could include a fun event where you can invite journalists to come and participate in something like making a sustainable dinner for example or learning how to knit. But you could also organise a summit if you're a bigger brand, like Lush for example which ran a Lush summit two years in a row. The purpose was to give people the chance to learn more and join in on topics spanning human rights, animal rights, and the environment. This summit gives Lush the chance to show their audience how engaged they are as a brand and also to educate people on what other brands should be doing.
If you're a sustainable brand in need of PR, please get in touch today to see how our team of experts can help you achieve your goals.
How can PR help your sustainable business?
According to Bill Gates, the future of meat is vegan. There's no denying the surge of plant-based products entering the market, and last year the total value of the UK plant-based market reached a whopping £443m. The UK launched more vegan products in 2018 than any other nation – in fact, one in six products launched in the UK carried a vegan claim.
While this is great news for those long-term vegans who can finally enjoy being spoilt for choice at the supermarket, businesses are having to fight harder and harder to win customers and loyalty. Brands are no longer guaranteed high sales simply because they have a meat-free product on the shelves, and several ranges have been discontinued across even some of the big players in the market, including Linda McCartney's, Nestle's Garden Gourmet, and Flora.
So, what should businesses watch out for when launching a new vegan product? We explore how important language can be in marketing your product or service, some great examples of product messaging, and how to avoid common pit-falls.
Know your audience
There is no single category of vegan – people following a plant-based diet can't be put into a box, and as such there's no one correct way to advertise to them. Defining your target demographic is crucial; knowing who you're selling to will enable you to create the right content for the right people, and better understand what your product and marketing strategy should look like. While a blanket approach may have worked in the past, followers of a vegan diet are much more discerning now (not least because of the increasingly competitive market) and will be looking for a brand that speaks to them as an individual, instead of just as a vegan. Furthermore, with the rise in flexitarianism and the growing awareness of environmental and health concerns with meat, your audience is unlikely to be 100% vegan – many of your target consumers will be meat-eaters who are choosing alternative options.
Considerations when defining your audience: Imagine your ideal customer. Pick a name for them. What's their age, income, gender? Where do they live? What's their newspaper of choice? Where do they shop? What are their hobbies, spending habits and values (known as psychographics)? Once you've got a clear understanding of who the consumer is, place yourself in their shoes and ask yourself what would make you choose one product over another.
Take Nike as an example. The company is known for its provocative and disruptive marketing, which goes to show it understands its target audience and the issues that matter to them. Drawing on Nike's Twitter audience insights and analysis by Zoomph, we know that for a long time the company's core customer was a 14-35 year old man, living in a big city, with an affinity to The Economist and a political lean to the left. However, this isn't Nike's only audience, and in recent campaigns there has been a clear shift. Brands need to adapt their marketing strategy over time, and nowadays Nike has an increasing emphasis on tweens and teens. Its gender focus has become a lot more equal, with females making up 45% of its customer base. In terms of psychographics, Nike's target is unwavering: individuals who enjoy playing, watching, or talking about sports.
Don't overdo the health claims
"If a product is presented as delicious, it's more likely someone will consider it on shelf and take the time to read through health and sustainability claims." – Erin Ransom, VP of Marketing at Tofurky.
Brands should be wary of shouting too loud about how healthy a product is – for many people, a product labelled 'healthy' might be seen to lack flavour. Additionally, phrases like 'meat-free' or 'reduced meat' can turn customers off, giving them the impression that they're being short-changed. According to Daniel Vennard, who heads up the Better Buying Lab at the World Resources Institute, we need to get much better at describing sustainable food. Using the right language can make all the difference, and marketing specialists should be spending the time and money required to carefully select words that evoke emotions and shape customers' tastes.
A winning alternative could be to dispel the widely-held myth that vegan foods lack protein. Many products in Marks & Spencer's plant-based range, Plant Kitchen, are labelled 'high in plant protein'. This is a great example of a brand showing off nutritional claims without turning customers off by devaluing what the product offers.
A brand's choice of language can be critical, and a simple name change can cause product sales to soar. A Panera Bread store in Los Angeles renamed its "Low Fat Vegetarian Black Bean Soup" to "Cuban Black Bean Soup", resulting in a 13% sales uplift. When the Sainsbury's market café in Truro changed their 'meat-free sausage and mash' to 'Cumberland-spiced veggie sausage and mash', sales spiked a whopping 76%. Vennard summed it up perfectly when he said that "using positive, indulgent language that emphasises taste and flavour seems to be much more effective".
Rethink 'vegan' messaging
Co-founder and executive director of the Good Food Institute, Bruce Friedrich, suggests that companies who sell meat-free products should, perhaps counterintuitively, avoid using the term 'vegan' or 'vegetarian' to describe them, as it can alienate people who don't subscribe to these diets. Labelling a product as vegan or vegetarian, according to Friedrich, is taken to mean that it's only for vegans or vegetarians, and because meat-eaters have an inherent bias against foods that are made for people on different diets to their own, they'll be less likely to choose it. Furthermore, specialists at the John Hopkins University published research last year that showed labelling a product 'vegan' can cause sales to plummet by 70%.
This attitude seems to be supported by a number of brands including Gardein, Tesco's Wicked Kitchen, M&S's Plant Kitchen, and Beyond Meat, who all avoid the 'v' word and instead opt for alternatives like 'meat-free' and 'plant-based'. According to Claire Hughes at M&S, labelling a product as vegan, less meat, or reduced meat is "the worst thing you can do".
But remember, just because it's worked for them, it doesn't necessarily mean it will for you; after all, many companies whose consumer-facing USPs do include 'vegan' are boasting amazing year-on-year growth. Over 50% of shoppers at Pret A Manger's dedicated vegetarian shop in Soho define themselves as meat-eaters, implying that Friedrich's assertions certainly aren't true for everyone. Be aware of what's right for your consumers – more and more people are becoming interested in moving towards a vegan lifestyle for ethical, health or environmental reasons, and will be actively searching for products that are suitably labelled.
Avoid confusing your customer
There has been a growing backlash from the dairy industry that plant-based milk alternatives using soy, almonds, cashews, rice, hemp, and oats should not be allowed to write the word 'milk' on their packaging. Whilst the plea gained little traction and was officially rejected by the US Court of Appeals in December, marketers should take note. Advertising a dairy-free product with words like 'milk' and 'cheese' on the packaging, with the absence of explicit vegan or vegetarian claims, could prove confusing to consumers, who may end up opting for a clearly labelled product instead to ensure they're certain of what's in it. And the same goes for meat-free products with 'chicken' or 'meat' on the label. As mentioned above, know who your audience is, and judge your decisions wisely.
If plant-based marketing feels like navigating through a minefield, you're not alone. Even Erin Ransom of Tofurky admits that the issue of labelling is one that all plant-based food companies are having. Ultimately, brands will need to consider both hard-core vegans and mainstream shoppers when deciding on their marketing strategy, and they should strike a balance when talking about being vegetarian- or vegan-friendly, so as not to alienate either audience.
If you're launching a new product or want to grow your brand's share of voice, our consumer PR team can help take your business to the next level. With extensive experience in FMCG and food and drink industries we know how to get your brand recognised and in front of the right audience. Get in touch here.
How to market your vegan product
The Ideal Home Show is the world's longest running exhibition. Now in its 11th year, the show will be celebrating 'The Best of British', with experts offering insider knowledge on everything from interior design inspiration and landscape gardening, to tech trends and advice on wellbeing.
But with so many innovations in a market already so saturated, it's getting more and more difficult for brands to prove they're worth a second look. In the final part of this series we take a look at how you can utilise social media to engage with new audiences, without letting your focus move away from your existing customer base.
UTILISE THE POWER OF SOCIAL MEDIA
Identify your platform: With so many different social media platforms it is important to identify which your target audience are using regularly. If your chosen demographic is over 40, Facebook is the place to be making an impression. If your sector is bridal or homeware, Pinterest users will be engaged with your offering. And finally, Instagram and Snapchat are great for brands targeting a younger consumer.
Create engaging content: The aim of your content is to encourage your target consumers to like, share, retweet, re-pin, register and download content on your brand. Engaging content can be in the form of:
Competitions
Interesting statuses
Eye-catching imagery
Humorous tweets, and much more
Be on the ball: Remaining aware and knowledgeable of emerging social apps is key when utilising social media. When you are targeting a younger demographic it is important position your brand as current and engaged with social trends.
Social Media in action: Surrey County Cricket Club 
When Surrey County Cricket Club wanted to raise awareness of their home Twenty20 cricket matches with an aim to reach a wider audience to their core demographic we set to work. Our team deployed a multi-pronged approach using public relations techniques to engage female, youth and family audiences to create positive media narrative around Surrey's annual family day match vs Essex.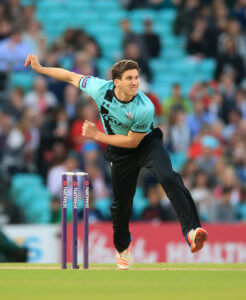 We engaged with press and 'mummy' influencers in the local area to run ticketing competitions and giveaways in the lead up to the match. As an extent we secured extensive coverage and attracted more than 20,000 spectators – double the anticipated crowd.
AND FINALLY…DON'T ISOLATE YOUR EXISTING CUSTOMER BASE
Keep your customers: Engaging a new audience is important, however it is equally important not to alienate your existing base. Many brands successfully manage this through keeping a clear vision of who their customer is and ensuring that the activity for one customer group does not alienate another.
Customer Retention in action: Coca-Cola
This is a great example of a brand who has kept existing customers loyal but also engaged with new audiences is Coca-Cola. Coca-Cola launched 'Diet Coke' as a low-calorie female friendly alternative to the original Coke. Then came 'Coke Zero', a similar product to 'Diet Coke' but targeted specifically at men who wanted an alternative low-calorie option to 'Diet Coke'. Most recently, Coca-Cola launched 'Coke Life', a low-calorie version of Coke sweetened with natural sources for the health-conscious market. The variety of Coca-Cola's products, each with their own brand identity and communication strategy, allows each product to engage with new and existing audiences effectively, ensuring that the Coca-Cola group remain the market leader in carbonated soft drinks.
The tips and advice given above provide an outline of some of the key elements a successful PR strategy will incorporate to engage a new audience, and for more tips check out Part 1 and Part 2 of the series. If you would like to speak to experts regarding a campaign you are looking to launch or ways in which you can engage with a new audience, please get in touch with our Consumer PR team.
Engaging New Audiences: Part 3
The Ideal Home Show is well and truly underway with 600 exhibitors all fighting to stand out from the rest. It's not easy to gain trust, cut-through, and exposure to a new audience, and that's where PR can help. In the second part of our three-part series, we explore how you can utilise celebrities and surveys to reach your ideal audience.
APPOINT A CELEBRITY AMBASSADOR
Where to start: Carefully research which celebrities influence your target demographic the most. When it works, having a celebrity photographed with one of your products or services can be the best form of exposure and in many cases can be much more cost effective than an expensive advertising campaign.
Choosing an ambassador: Social Media is a powerful tool to identify the most influential celebrities for your audience. These are a few key things to consider:
The size of their social following
Interaction on their feed
The demographic of those who are commenting on their posts
Celebrity Brand Ambassadors in action: JML 'Everyday Easier'
JML came to us with a clear goal in mind: to become the 'go-to' brand for household products to make "everyday easy"'. With a wide variety of products under their roof, they wanted to synergise their PR efforts with their in-house marketing for individual product launches.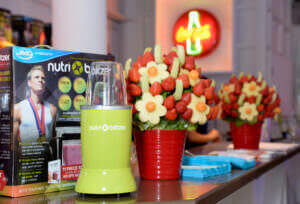 We planned and implemented a series of events to launch the Nutri Blitzer, Lotus Wok and Simply Straight Brush to a UK market. These events were a perfect opportunity to educate the media on the functionality and superiority of the products and build relationships with key journalists and influencers. We worked with celebrities such as James Cracknell, who was the face of Nutri Blitzer and Ching-He Huang, who was the face of Lotus Wok to support the launches and provide commentary to the media.
We generated 165 pieces of coverage across the 3 product launches. The events attracted 150 journalists in total and the subsequent coverage saw the products featured in publications such as Metro, Daily Express, OK, Style at Home, New!, Best and many more. With a total reach of over 700 million, our work ensured JML took prime-position as the number one household brand in the UK.
EXPLORE SURVEYS
Asking the right question: Surveys and statistics are a great way of generating widespread coverage and brand awareness in different segments of the media. Not only can you tap into a wider audience, but you can also present yourself as a credible thought-leader.
Creating your survey: Think about the topics your desired audience would be interested in and appoint a reputable survey company to target your new demographic.
Survey Stories in action: Purplebricks survey story
Purplebricks, the Hybrid estate agent, were looking to raise awareness of their new London Lettings service. The brand wanted to attract a younger London-based consumer looking to rent as their ideal demographic for this service.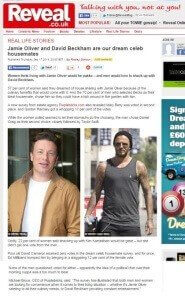 We created a 'Top Celebrity Housemate' survey where we asked men and women between the ages of 20-35 which celebrities would be their ideal housemates. This survey gained Purplebricks coverage in sections of newspapers that they were not accustomed to gaining coverage in. They were also featured on celebrity sites like Reveal.co.uk that had the young demographic they were looking to target which then created conversation amongst that audience about Purplebricks.
The tips and advice given above provide an outline of some of the key elements a successful PR strategy will incorporate to engage a new audience… but stay tuned for Part 3. If you would like to speak to experts regarding a campaign you are looking to launch or ways in which you can engage with a new audience, please get in touch with our Consumer PR team.
Engaging New Audiences: Part 2
Now in its eleventh year, the Ideal Home Show will be celebrating 'The Best of British' in 2019, taking place this week at Olympia London. The event will showcase 600 exhibitors, and their experts will offer insider knowledge on everything from interior design inspiration and landscape gardening, to tech trends and advice on wellbeing.
But with so many innovations in a market already so saturated, it's getting more and more difficult for brands to prove they're worth a second look. Whether you're an established business or a smaller start up, the following consumer PR tips and advice provide an overview of how you can communicate to new audiences, whilst ensuring you don't alienate your existing customer base.
DO YOUR RESEARCH
Defining your target audience: Creating a core customer profile is invaluable in order to establish what grabs your audience's attention. It is important to fully understand your target demographic so the more detailed this profile the better. Try to identify age, gender, habits, hobbies, influencers and motivations.
Market Research: The next step is to investigate the consumer habits of your target audience by asking a few key questions:
Where do they shop?
What do they look for in their chosen brands?
What influences their decision to buy?
What celebrities or trends do they follow?
An effective way of gaining this invaluable market research is through focus groups. Not only can you garner insight into your chosen audience, but you can also gain advice and feedback on your brand.
Once you have collated this research, make sure to keep this as your bible and refer to it throughout the branding, marketing and communication of your product.
Effective Research in action: OPRO
An example of a campaign where The PHA Group engaged a new audience successfully, by utilising research into their target audience, was with OPRO. OPRO recruited PHA Social to overhaul their social media strategy; make in-roads in the North American market by targeting US-based audiences and improving online sales of products.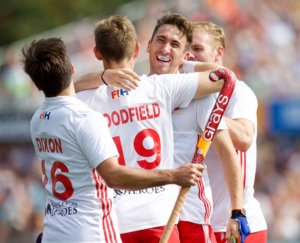 Our findings from our in-house social listening platform, suggested mouthguards are used beyond combat sports such as rugby and MMA and more for everyday activities such as cycling and sleep-grinding. So, we used this research to launch a wider social media strategy that attempted to engage with both a traditional audience of athletes, sporting clubs and organisations, schools and students, as well as a new audience of cycling enthusiasts, sleep grinders and those interested in preserving oral health.
We launched with Mouthguard Day, a national day owned by OPRO that delivered significant spikes in user engagements, user-generated content and ambassador interactions. We oversaw huge spikes in performance across the individual channels, including a 6,000% increase in audience reach on Facebook which amassed over 100 individual mentions on the day from ambassadors and partners on Twitter. In total, we reached a combined total of 4.4m accounts across the social media channels, generating 5.2m impressions in total.
INTERACT WITH INFLUENCERS
Identify your influencers: Journalists and bloggers are hugely influential in the consumer market and placing your product or service on their pages or site can be a great way of targeting a new audience. Research the relevant publications and sites that your target audience interact with to identify who you should be communicating with.
Get some face time: It is important you target the main influencers of your audience and there is no better way to do that than through hosting face-to-face activities such as:
Press days
Events
Desk-side appointments
Activities of this kind will allow you to communicate your brand message succinctly, whilst helping you to build a valuable relationship.
Interacting with Influencers in action: Ninja Coffee Bar
Leading household appliance brand SharkNinja wanted to work with relevant digital influencers to support our UK launch PR campaign for the new Ninja Coffee Bar. Importantly, their core customer is women aged 30-50 and therefore our campaign would need to be relevant for this audience to ensure that it reached the right people.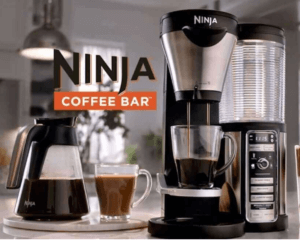 To amplify the launch of the Ninja Coffee Bar in the UK and reach the target customer demographic for the product, The PHA Group decided to recruit high profile parenting vloggers to record themselves making their 'dream cup of coffee' using the Ninja Coffee Bar. The video content would be captured and then posted to coincide with International Coffee Day on 1st October.
We secured partnerships with influential 'mummy' vloggers – Mrs Meldrum and Lived with Love – who both produced video content using the Ninja Coffee Bar to create their 'dream cup of coffee'. These videos saw over 10,000 YouTube views after being posted on International Coffee Day. The content was then also cross promoted via each influencers blog and social media channels as well as all of Ninja's relevant online channels. Each video provided in-depth information about the new product showcasing its innovative technology and range of features. We also worked with a variety of other influencers including Launeden, Rosie Fortescue, Certified Nosh, Liberty London Girl and Sweet Monday to deliver over 35 further pieces of influencer content for the campaign, reaching an audience of over 1.2 million.
The tips and advice given above provide an outline of some of the key elements a successful PR strategy will incorporate to engage a new audience… but stay tuned for more in the next few days. If you would like to speak to experts regarding a campaign you are looking to launch or ways in which you can engage with a new audience, please get in touch with our Consumer PR team.
Engaging New Audiences: Part 1
For many reasons, Gillette deserve some well-earned praise for this latest marketing attempt. The advert, which challenges men and boys to be better and call out sexually inappropriate behaviour, deserves both praise for bravery and for getting the go-ahead. Tackling social issues always carries an inherent risk of backfire.
Millionaire Kendall Jenner's poorly judged peace offering involving Pepsi at a protest already served as a significant warning to the industry of what can go wrong if issues aren't handled sensitively. Yet, more recently Nike has seen booming sales after standing with Quarterback Colin Kaepernick in their "Believe in Something" campaign.
It's continuing a strange phenomenon where the marketing teams of the world's biggest companies seem more capable of touching the right cord with consumers than politicians do with their voters.  A lot of these decisions are calculated. Companies like Nike know which side their bread is buttered on. As University of Michigan Business Professor Jerry Davis put it on ABC news, "it turns out Democrats buy a lot more sneakers than Republicans."
This comment was referring to the legendary adage often attributed to Michael Jordan that "Republicans buy shoes, too." Yet, the increasingly important divide that age is playing in politics now means many of the world's biggest companies are quite happy to hedge their bets on the next generation. Nike know the average customer who walks through its door is a teenage male, far more likely to sympathise with the political messaging that Kaepernick "sacrificed everything" to support. That risk has for the time being paid off.
Marketers ultimately report to the bottom line. Unlike Gillette, Nike has seen year on year growth for a decade. Gillette has instead seen year-on-year falling sales in a market where men have increasingly more choice and fewer people choose shaving. Gillette will have been sitting on ideas of how to revitalise their iconic "The Best A Man Can Get" slogan for a while now and how to target it at the next generation of men. This advert, however, certainly doesn't naturally feel like it is driven directly by sales. There are no razors. The demographic it is most likely to impress, women, aren't even potential customers. It fits into something bigger.
Gillette wrote on their website of how they plan to include this as part of a wider campaign: "From today on, we pledge to actively challenge the stereotypes and expectations of what it means to be a man everywhere you see Gillette. In the ads we run, the images we publish to social media, the words we choose, and so much more."
The advert has so far only been paid for on digital channels in America, with no known plans to run it in the UK. So, when Piers Morgan reacted, himself fast becoming an effective medium through which all successful marketing campaigns must pass, Gillette had achieved huge global organic growth with a relatively modest budget. But you wouldn't clap just yet…
When it comes to marketing, the opposite of bravery isn't cowardice but conformity. Standing still isn't so bad compared to losing ground. The launch of Gillette's new campaign has achieved both widespread coverage and supported an excellent cause. Yet, for a company with more than half the market share in the US and far more than that in the UK (roughly 65%), we might be left asking what Gillette is set to achieve from this.
When Nike launched their campaign, they weren't operating with anything close to a 50% share in any of the markets they compete in. When Nike isolated a certain part of America, they knew they were already experiencing declining sales due to a negative price elasticity those consumers were having with its products. They expected to recoup those sales elsewhere. It isn't clear if this is going to be the case for Gillette.
Where Nike's campaign was positive and inspirational, Gillette's message feels negative. Nike told its key customers they behave better than the rest, Gillette has told its customers the opposite. At writing, Gillette's video has received nearly 10 million views but the reaction to it has been overwhelmingly negative. The dislike to like ratio stands at 577k to 217k. On Sunday, the ratio was 10:1 with most comments saying they would abandon the brand. Make no mistake, those who found the advert first were Gillette's actual customers.
In comparison, Nike's campaign ran at the complete opposite. With ten positive reactions for every one negative. In the four long months of media coverage, the "Believe in Something" commercial still hadn't amassed the number of dislikes Gillette has run up in the first 24 hours. Online sales grew for Nike by a massive 31% in the bank holiday weekend after the ad launched and the company has grown by $6 billion since. Opponents couldn't boycott the company because they already didn't shop there.
It's of course too early to know how this will affect sales, but whether you agree with the message or not, it's obvious Gillette have risked marginalising the actual people who buy their products. If they don't end up attracting that next generation of customers, Gillette may be left wondering if their marketing strategy really is the best they can get.
Gillette: Is social posturing the best marketing you can get?
As the obesity problem grows, so too does the weight loss market. From protein shakes and snacks to fitness regimes, weight loss retreats and calorie counting, the choices are endless. The industry has seen huge changes in recent years and there is now a multitude of choice for people wanting to lose weight and lead a healthier lifestyle.
Changes don't just include the diet itself, it's also about the way companies can advertise their products and the channels they're using. Brands now have to take into consideration an important target market, Millennials. An audience who is far more demanding and harder to capture and it's not just about the before/after imagery anymore.
We look at some of the digital tools that will help your brand stand out.
Youtube
You might have noticed that food videos on Youtube are very popular. Take Tasty for example, Buzzfeed's popular cooking brand, who deliver both comforting and healthy weeknight dinners for meat-lovers, vegetarians, and vegans alike. The videos are short and very easy to reproduce at home, with 10 million subscribers, and an average of 1M views per video. As a brand, it's important to use channels and influencers to make sure you are recognised by a wider audience. Why not try and create some short and easy food recipe videos as well to showcase your products and give people some meal-spiration?
If you don't know how to produce videos yourself, you can always partner with a YouTube influencer to show how to use your products. Take for example Joe Wicks, the famous Body Coach, who works with famous chefs to create some healthy foods or showcase his healthy snacks using different brands. Partnering with influencers like Joe, will help promote your products and show that healthy Gurus trust your brand.
Thought Leadership
There are some amazing opportunities to get an opinion out there across print and online media – from long-form bylines that give you the freedom to discuss your thoughts in detail, to short and snappy letters to editors that we can turn around within hours. The key thing to remember is to offer something interesting and authentic – grounded in your experience – and it must be relevant.
Before you begin producing content ask yourself these questions: who's your target audience? What's your place within the market? And where does your company's skills sit? Once you answer all of these  questions, you will be able to start your campaign. Your thought leadership content could then be hosted on your website if you have a blog section, as well as LinkedIn using their blog platform, LinkedIn Pulse.
Podcast
Think about where your audience is and don't be scared to try things that you've never done before. Podcasts can be a great way to approach those interested in wellness and weight loss as well as food. From creating your own podcast about wellness or diets to becoming a guest on a specialised show – the choice is all yours.
Remember this form of content is attracting a great audience. Be true to yourself. A podcast will help drive loyalty as it communicates how passionate you and the brand is. Podcasts are all about learning, it might take you a while to get it right. Don't be scared to try new things, it isn't a polished medium, but it is a truthful one and people really engage with that spontaneous feeling.
There are plenty of weight loss podcasts around, but a great example is "Smile there's food" interviewed a Slimming World member called Emma. In this podcast you can hear about her reasons for joining Slimming World and how it's helped her self-confidence. She also gives tips, recipes and how you too can become motivated to eat healthily. A great example of how brands can use podcasts to get a little bit of fame. Having some real feedback from someone could help people take the plunge and decide to join a program or start living a healthier life.
Pinterest:
With 200 million monthly users, Pinterest may not be a social media behemoth like Facebook, but it's an important social platform with deep penetration in valuable demographics. Half of U.S. millennials use Pinterest, for instance. Behind those snazzy pics are everything including killer healthy recipes, fitness tips, motivational quotes, and workout ideas. All you need to do is create eye-catching assets such as infographics, food photos or short videos to get people to save your pin and visit your website to learn more. Pinterest has proven very efficient in converting people. Below are some examples that we think work well: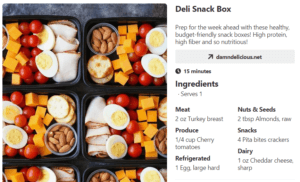 Using attractive visuals as well as ingredients lists is a great way to show how to easily get your snack box ready in just one image.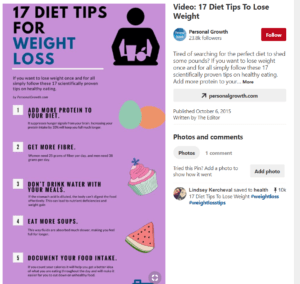 Mixing simple tips and catchy designs.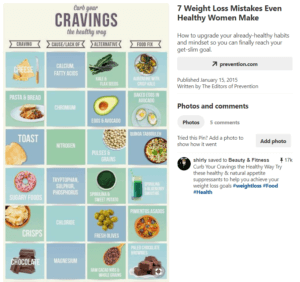 Food tips, using good looking food as well as interesting content will make you ready to click on the link to know more
An important thing to remember is to always make sure the mediums you're using are aligned with your strategy. Make sure you create some interesting content to help promote your brand and its values
Do you need help building your PR strategy? Make sure you get in touch with our team of experts who will be happy to discuss your strategy further
Weight loss: Surfing on the digital wave
How to present your company, and your communications is crucial. Nowadays, being healthy is more than just how much you weigh. It's a way of life, and we're beginning to see more and more companies embracing this idea.
People are far more concerned about what they feel like, what they're eating, where they're exercising and what kind of exercise they're doing than ever before. Arguably, this comes hand in hand with the rise of social media, people's lives being more publicly accessible where we feel obliged to show everyone what we're up to. Influencers also play a huge role in people's desires to lead a healthy active lifestyle.
According to a survey by Havas in 2017, 75% of consumers expect brands to make more of a contribution to our wellbeing and quality of life, yet only 40% believe brands are doing so.
Subsequently, perhaps it comes as no surprise that brands are beginning to adopt this focus. Look at Weight Watchers for example, who last week, announced a massive rebrand to swap their weight loss image for a wellness image.
The brand is now called 'WW' with the strapline "Wellness that Works". WW said it will now focus on a new programme called Wellness Wins which rewards members for "small, everyday behaviours" that lead to healthier habits. They're partnering with Headspace, a mindfulness app, to provide personalised programmes for WW members. They will also start offering members more food products containing no artificial sweeteners, flavours, colours or preservatives.
Another key aspect of WW's rebrand is the incorporation of technology which is vital to broaden the audience they attract. As well as partnering with Headspace, they're also looking to refresh their own app in the next month, which will use voice integration giving members the ability to check the nutritional value of their food and track their progress. This element of the rebrand is an excellent way to attract a new demographic to the brand, as it makes it both more manageable and accessible.
On the flip side yes, this is a good way to encourage women away from the brutal bikini diets, however, what is wrong with people just wanting to lose weight? Helen Sorrell, BBC Radio 4 journalist and former Weight Watchers member, rightly pointed out that "people don't go to Weight Watchers because they want to feel well, they go because they want to lose weight."
We're becoming a society who won't openly speak about dieting because we're worried about the effect it's going to have on people. Where magazine covers used to be about how to 'lose a stone in 6 weeks', cover lines about dwindling dress sizes are now starting to seem outdated. However, to put it bluntly, diet may have become a very negative word, but it's one that, because of our increasing obesity levels, we can't really afford to ignore.
The new name 'WW' has been mocked, with one post noticing that the title is made up of the words "double you". Mindy Grossman (CEO) has also been criticised for not being able to explain what the letters stood for, instead they were simply a "marque" that represents their heritage, history and their future.
The bottom line is, what wellness influencers are talking about on their social media pages, means the same thing as what Weight Watchers and other slimming groups talk about; watching what you eat and exercising.
Whilst many people may take some time to adjust to WW's rebrand, at the end of the day, they still stand for the same principles, they're simply extending their services to enable a wider audience to get involved. Grossman wants to make it clear that "No matter what your goal is – to lose weight, eat healthier, move more, develop a positive mindset, or all of the above – we will deliver science-based solutions that fit into people's lives". The rebrand is ultimately an attempt to broaden the appeal of the company beyond its traditional 35-plus female representative and present itself as a "technology experience" for millennials. A campaign focusing on their social media activity and social pages with a community feel.
If your company is looking to rebrand and would like PR or creative insight advice, please get in touch today.
From weight loss to wellness: The Weight Watchers rebrand