Between the 2008 financial crash and Brexit, the UK suffered a housing crisis with no visible end. The cost of living has soared with rents now taking over half of the average monthly wage and people – not just millennials – have been priced out of the housing market. As a result, Generation Rent has taken centre stage in our cities.
For the SME market, however, this represents opportunity to solve problems. The UK's entrepreneurs have had to pick up the slack and find innovative ways to offer prospective renters and buyers a viable living solution. One such disruptor company presenting answers to this very difficult set of questions is Vivahouse, with whom The PHA Group are fortunate enough to work with.
A London start-up that creates pre-fabricated flatpacks to build popup homes in unused commercial spaces, Vivahouse is a world first. Its thinking is very much outside of the box – in every sense. The company, founded by two exceptional female entrepreneurs, has managed to table possible solutions to two of the UK's biggest issues – the insatiable amount of empty commercial space and the lack of high-quality housing – with one ground-breaking solution. PHA was tasked to help them get the word out – and that's exactly what we did.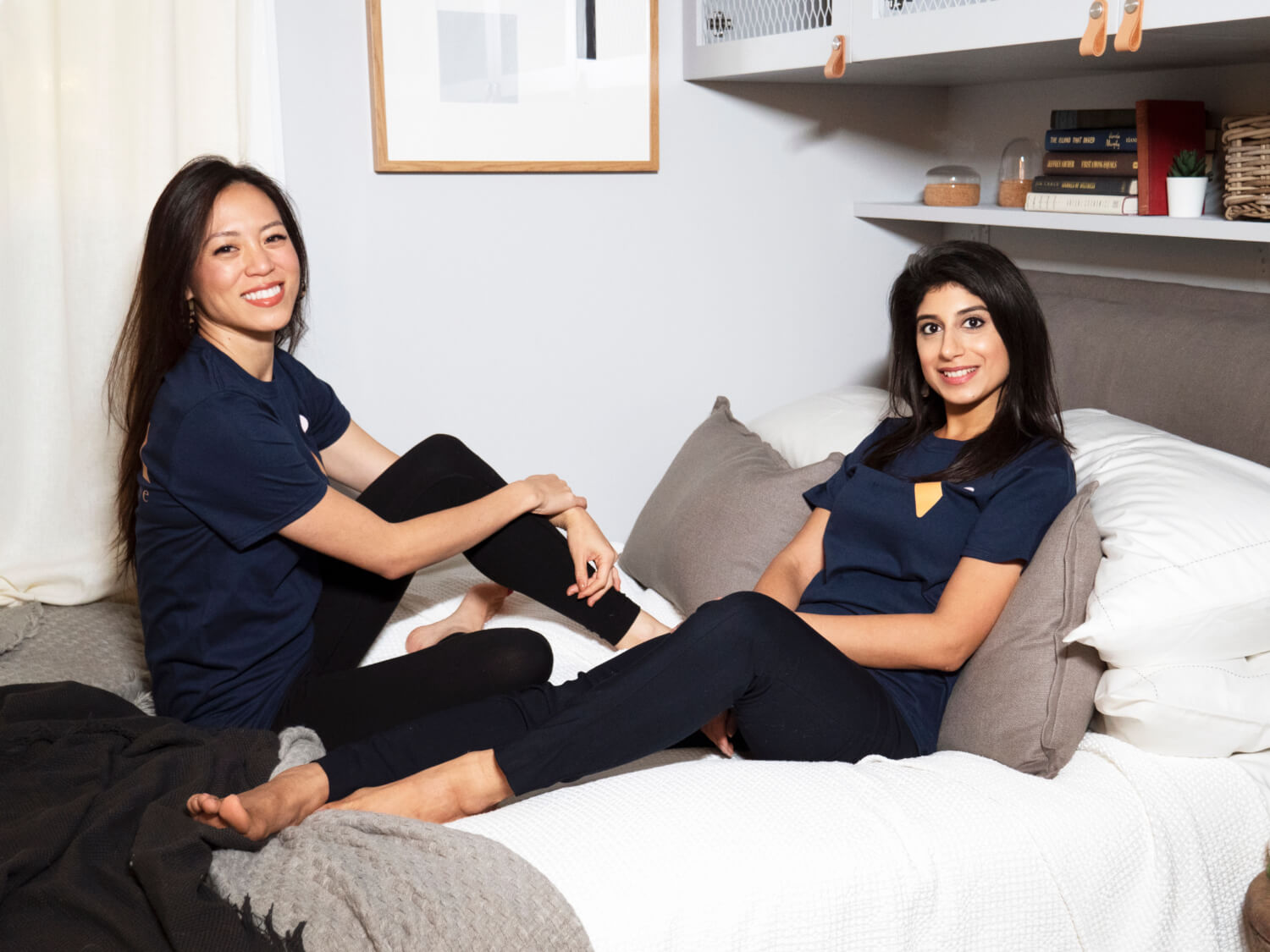 Overview
Vivahouse briefed PHA to help launch their innovative concept in the run-up to their first site launch.
Over the course of four months, PHA generated PR for Vivahouse's concept alongside its pop-up event space in Whiteleys shopping centre, London. We wanted to challenge the property industry with a new disruptor rental brand, help Vivahouse secure investment and to position its founders as experts.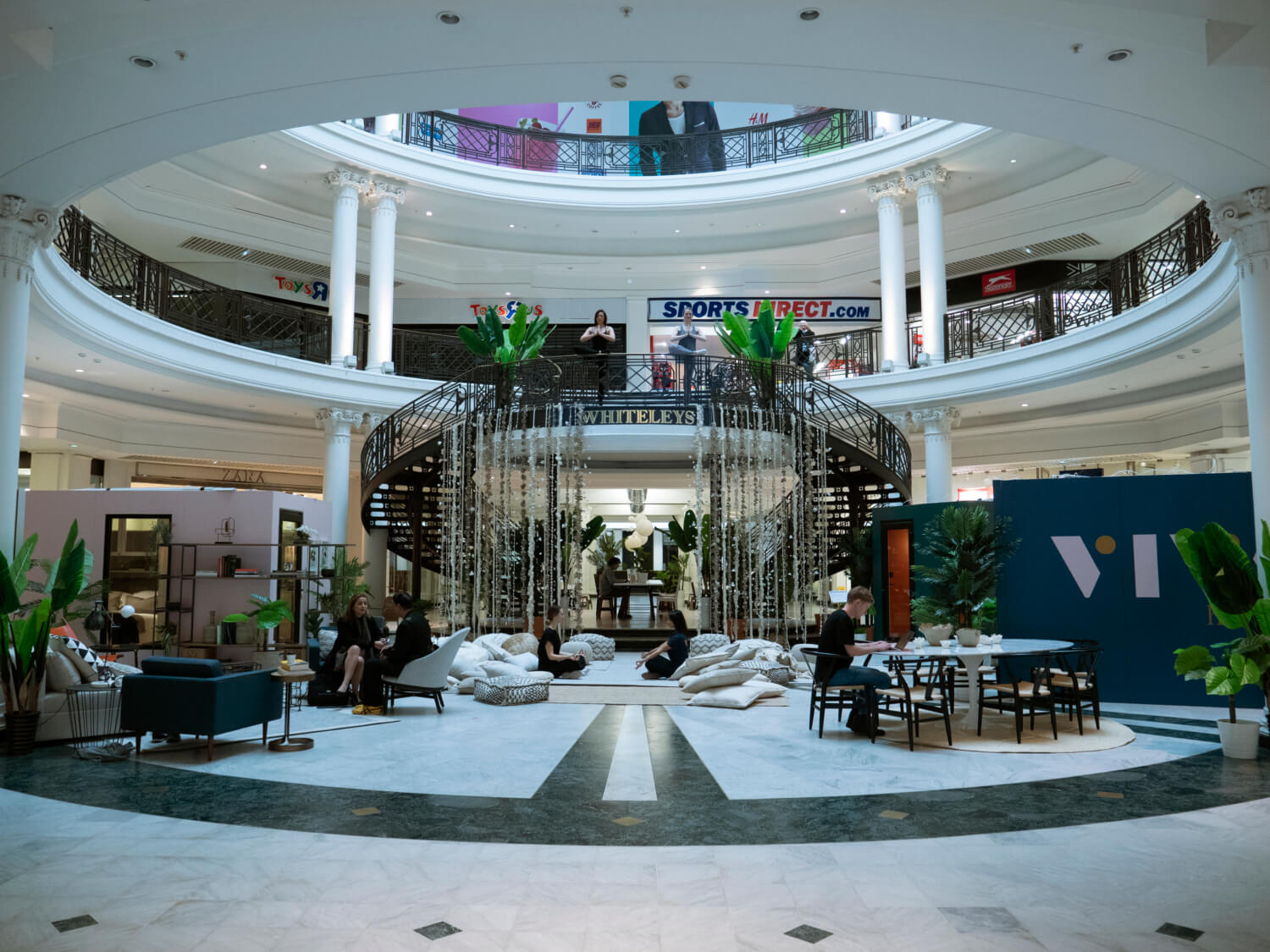 Strategy and Implementation
The four-strong account team took a phased approach to this campaign. After advising on the pop-up space and video to demonstrate the build process of the Vivahouse rooms, our PR strategy for the launch was to entice a selection of key journalists to visit the pop-up event to see the rooms in action. Alongside this, we pitched out thought leadership pieces for the founders, profile interviews and achieved top tier coverage of the launch in key London papers, national newspapers and leading property trades.
Results and Evaluation
From December to March, PHA achieved impactful coverage in the Financial Times including FT Wealth magazine, Metro, Evening Standard, Architecture Today, Telegraph, Property Week, Dezeen, CityAM, CEO Today and Property Reporter, with the Metro, Telegraph and Architecture Today all visiting the pop-up site.
Vivahouse saw an increase in traction and inbound enquiries following press coverage achieved, with the Metro article achieving an ROI of over 70 new signups for future tenants, an inbound for a new site and website traffic spiking with 834 unique visitors on day of publication alone. With the spectacular coverage then achieved in the FT, the company also saw a number of inbound leads from promising investors.
PHA has helped transform the public perception of Vivahouse into an established voice and innovator in the property sector, positioned the founders as thought leaders on fixing the broken rental model and Vivahouse as the future of living in our cities.
If you would like to find out what PR could deliver for your business why not get in touch with our award-winning team today.
Launching innovation into the property sector
As a response to the supply and demand issue in housing leaving a majority of the nation's millennials unable to buy a home, both established industry players and PropTech start-ups have stepped up to offer the house hunter and tenant a better way to deal with the perils of the lingering UK Housing Crisis.
In the world of property PR, this is as an opportunity.
Whether it is Brexit, Trump or a snap general election in the spotlight, your company's voice should be one of the first heard in the market. A quick-fire reaction to the news agenda is the epitome of great coverage in the property sphere and is something the property press particularly favour. After all, the property landscape is something that will endure the test of time and will forever be a discussion needed to be had.
To elevate a company's profile, whether it is a tech realtor like Square Feet, a flatmate matchmaking site like Ideal Flatmate or rental search service like MoveBubble, the end goal is to have your brand seen as an authority on the topic. Why? Well, if your CEO is seen as a thought leader in your target media, your potential demographic will grow to trust your brand. Association is a powerful thing in business.
This doesn't mean relentlessly forcing your product offering or new start-up into the inboxes of randomly selected journalists claiming that your company can solve the housing crisis – that will get no meaningful coverage for your brand. It means you have to construct a reactive comment that reflects the issue at hand, show you understand the implication it will have on the sector and offer any predictions you may have for the future. Whilst doing so, try your absolute hardest to not turn it into a sales pitch.
There are three long term goals that property companies search for when they look to potentially source PR; to receive investment, boost user numbers in current or new territories, and to see more deals through the door. It is crucial that before you set out to pitch your brand that you clearly identify what you want to see happen to your company following the PR campaign:
If it is to receive investment: Target outlets that are watched, read or listened to by key investors and decision-makers in the property avenue. Fine-tune your messaging in each pitch to show why your company is worth their money.
If it is to boost user numbers and get more people to your site or app: Make sure you target media with a high consumer outreach in circulation and by rule of thumb, always aim to get a link back to your site to boost both your SEO on Google whilst simultaneously increasing the number of users landing on your homepage.
If it is to get more deals through the door: Say for example you work in real estate as an investor or lender, you need to target trade publications, associations and you shouldn't underestimate the power of specialist publications with lower readerships, in both the UK and abroad. You will find these magazines go by the quality over quantity rule. It is often that these pieces of coverage are the ones that result in the direct closing of deals – because your voice was the one behind the article outlining how Brexit will stagger global real estate investor attention on the UK, not the voice reading it.
Let the overcrowded market know you fully understand and acknowledge a geopolitical shift's impact on your industry, and let your potential customers and investors know that the company you run is part of a change that needs to happen.
Don't be afraid to be a thought leader. Compile your opinions into a compelling argument and the media will listen.
If you would like to learn how Property PR could help benefit your business or brand then please get in touch.
Opening the door on property PR: How to engage with the media
Why personal PR matters in the professional services sector
Warren Buffet's famous saying, "It takes 20 years to build a reputation and five minutes to ruin it", has been rolled out almost ad nauseum over the past decade by public relations firms. It may be tired but it's true – it's essential to have an effective communications strategy.
At a corporate level, professional service firms tend to heed this advice, having learnt the hard way that technical expertise isn't the only ingredient to ensure survival in a cut-throat world. From the implosion of accounting giant Arthur Anderson's financial reputation as a result of its negligent auditing of U.S. energy firm Enron, to the public shaming of law firms' perceived lack of action on sexual harassment post #MeToo, it's become all too clear that agile messaging must be a key component of their business strategy.
However, individual high-flying accountants and lawyers have so far been less willing to embrace PR for themselves. Undoubtedly, perceptions of cost and time efficiency play a role in this reticence. A partner at a Big Four accounting firm may well ask themselves why they personally need PR when surely all that matters is their client-handling and financial skills?
The reality is far more nuanced than they perhaps realise. Certainly, knowledge is crucial for professional service career advancement – but so is the ability to demonstrate that knowledge. The Big Four partner seeking to move up to global sector leader or transition to a senior job in-house will have their print and online presence closely scrutinised. Have they been commenting on major recent financial stories? Have they been attending industry events? Is their social media presence current and prominent? Concerns you wouldn't typically expect professional service high-fliers to be evaluated on, but, as they climb up the ladder and become ever more public facing, their profile must meet the expectations of the job. If not, they won't get the role – no matter how technically competent they are.
PR-ing the professional
As with public relations more broadly, the activity required to raise the profile of a professional service leader will depend on their sector, risk appetite and current media standing. There is one constant, though: thought leadership – a programme of activities designed to build the personal profile of the professional in a specific field.
There's two sides to thought leadership. The proactive: landing new opportunities, such as comments in relevant trade media which will be read by peers and seniors (Accountancy World et al. for accountants; the Lawyer and the like for lawyers). The key is highlighting the professional's expertise and becoming a go-to for their specialism in what is a broad and crowded sector – be it Islamic accounting or Monegasque law.
From here, press activity can move to more ambitious plains: pieces in national papers, speaking slots at major trade events and even airtime on national radio and television. Since you're dealing with the public at this stage, technical details matter less than the broad message – what's the big idea the professional is pushing? Media training can help enormously here since a smooth television or radio interview may catch the attention of producers elsewhere and potentially create a virtuous circle of media invitations.
The reactive angle is more defensive. It could range from responding to inbound requests for expert commentary on wider industry news, to offering counsel on sensitive issues that impact their professional standing (such as the collapse of a former employer).
The result
The right personal PR over a sustained period can support a professional's career at the highest level. It can help them stand out from a crowded field, give them an extra string to their bow (how much more valuable is a managing partner who can confidently do a TV interview and perfectly represent the values of the firm than one who can't?) and build them a powerful personal brand which could be particularly useful if they ever decide to set up their own company.
With over a decade of experience raising the personal profile of some of business's biggest names – from James Reed of Reed Recruitment to Duncan Bannatyne – we've got an award-winning team which can help you navigate a rapidly evolving professional world.
The professional capital of personal PR
Regardless of whether you support or are against Brexit, it's coming, and businesses are having to deal with the consequences come what may. For some, it presents serious operational concerns and threats which have been widely reported and recognised: job losses, supply chain issues and dwindling investment. For others, Brexit presents an opportunity. Since the result of the 2016 referendum, some existing businesses have resurged, and new ones have emerged.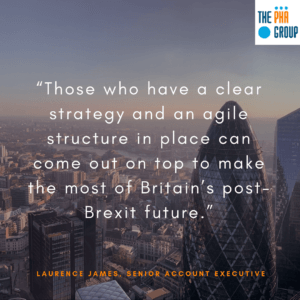 Luxury property
Following the referendum result, sales of luxury properties (valued between £5m and £10m) fell by 51% year-on-year, and new-builds in London priced at more than £5m saw an 83% drop in value. Tax changes and uncertainty around Brexit seemingly deterred buyers from investing in residential property.
Almost three years on, and the dark clouds continue to loom over a housing market which is populated by cautious buyers and sellers awaiting a government announcement on a deal with the EU. However, the luxury homes market has bounced back to weather the Brexit storm and come out the other side with a rather sunnier disposition.
Sales of homes worth over £15 million have risen more than 40% since the referendum. This is due to a rush of overseas buyers snapping up vintage English real estate. A combination of a fall in the value of house prices by roughly 25%, coupled with a drop in the pound of about 15% means foreign buyers can purchase luxury real estate for values around 40% less than they would have paid three years ago. As a result, over half of prime houses sold in London over the last six months of 2018 went to overseas buyers.
UK property is a particularly lucrative investment for buyers trading in euros and dollars. One such example is the FirethornTrust, a property investment firm run by two US billionaire families, which is investing heavily in London property amid the volatile economic conditions, including their purchase of Quay House in London's Canary Wharf.
As such, luxury property investment firms and estate agents such as London Central Portfolio have experienced success since the 2016 referendum result, when its CEO Naomi Heaton predicted an upturn in fortunes saying that: "prime central London real estate is expected to benefit from a flight to quality, against a background of highly volatile financial markets." She was right.
Gold investment
Brexit has led to a modern-day gold rush as British investors seek alternative financial assets that won't depreciate in value amid the uncertainty.
Earlier this year, Chris Howard, director of precious metals at The Royal Mint said "We have seen a significant increase in demand for gold, a trend which we have no doubt is largely attributed to Brexit and subsequent market volatility." He cited a 73% increase in demand year-on-year during the first half of January.
Speaking to Channel 4, Josh Saul, CEO of The Pure Gold Company, claimed that this increase is driven not just by a rise in demand from those with an existing interest in gold, but most importantly from first time investors. Josh has seen a 219% increase in demand from such customers over a 12-month period since the vote on EU membership. New investors are also turning to other online gold investment services such as BullionVault and Gold.co.uk.
At times when the pound and stock markets look vulnerable, gold represents a financial insurance policy for many wealthy investors. Its value remains resilient and has even appreciated in value, particularly at the most politically chaotic moments of the Brexit saga – when demand for gold is at its highest.
Management consultancy
As businesses and individuals seek to derive meaning amid the economic uncertainty arising from Brexit, expertise has also grown in demand. Numerous businesses offering expert management consultancy on Brexit have emerged following the referendum.
In the long term, potentially complicated border tariffs, a possible economic downturn, and a shortage of talented employees from the continent could ultimately have a negative impact on the industry, but for now Brexit has ensured the expertise of professional services businesses remain highly sought after.
In February, the BBC reported that the government had agreed contracts worth over £100m with management consultancy firms such as Boston Consulting Group, PwC and Deloitte to help smooth the transition from the EU and minimise any possible economic side effects.
But it's not just the government that needs this kind of professional advice, businesses small and large can benefit too. Even if a business is not directly affected by Brexit, it is almost certain that one of the other businesses in its supply chain or network of partners and clients will be affected. Therefore, many businesses already have or are considering incorporating a Brexit strategy as part of their core strategy.
Management consultancy firms such as the McWhinnie Consultancy and P2 consulting offer all types of businesses consultation within areas including legislation, finance, restructuring, strategy, corporate communications and technology, to help 'Brexit-proof' businesses.
Out of all the uncertainty created by Brexit, one thing is for sure: there are some winners and some losers. Those who have a clear strategy and an agile structure in place, can come out on top to make the most of Britain's post-Brexit future.
If you would like to find out what PR could deliver for your business, why not get in touch with our award-winning team today. Look at our B2B credentials here.
Businesses making the most of Brexit
The online media landscape has seen an incredible evolution across the past decade. The 24-hour news cycle means there is a constant churn of news, opinions and hot takes. On top of this, social media provides everyone with a platform to share their thoughts. There is an increased need for businesses to adapt to this always-on, commentary-heavy environment and understand the right and most appropriate time for official reaction.
Trade associations sit in a unique position when it comes to presenting a unified opinion in the media, as they must represent and accommodate a host of differing views and voices. Trying to gauge when there is a story that requires – or could benefit from – a response is a communications challenge that needs constant analysis, teamwork and understanding.
If a membership association puts out a response which is poorly timed or unnecessary, it can lead to unhappy members, public dissatisfaction and discredited authority. Knowing when to react is vital, while knowing when to remain silent can be just as important to the success of any trade association's media strategy.
Have clear goals
Associations must have a clear response strategy to protect against knee-jerk, damaging reactions to crises or the press. Associations should only respond if there's a clear understanding of each of the following criteria: What is the most important message to convey? What are you adding to the story? Will it add value to members and/ or the public? How are members and stakeholders affected by this issue?
If trade associations are unable to fully answer any of these questions, there is a real risk of commenting for a comment's sake and opening the door to widespread criticism.
There are hourly examples of associations adding excellent value to public debate through their media interactions, from the Wine and Spirits Association commenting on the rise of flavoured gin sales, to ABTA (Association of British Travel Agents) adding valuable guidance on new alcohol consumption laws in Tenerife.
The juggling act of keeping members and stakeholders happy (and represented) but also keeping public opinion on your side is difficult. However, in having clear goals and criteria for responses, you offset any potential future issues in deciding whether you should react to certain stories.
Be wary of overreaction
It's all too easy to be swept up by the news agenda if it affects your sector. A poorly informed columnist taking a pop at an industry issue or a competitor making bold and unsubstantiated claims are unfortunately commonplace – and it's essential to understand that there are differing opinions everywhere. However, there can be internal pressure from members and management to issue a response, or media directly requesting an association's input. It can be very difficult to know the parameters of a well-thought-out comment.
This is not to say associations should remain silent on most issues. Over the course of the past two years many trade groups have successfully voiced opinions against certain Brexit measures. Industries spanning the gamut of sectors are anticipating various changes; comments and media appearances to back up the concerns of their membership is not seen as an overreaction, but instead a necessary step.
The importance of steering clear of overreaction isn't exclusive to associations – any individual or business needs to be wary of how a response can inform public and stakeholder perception. In cases that seem contentious and controversial within your association, or where there is no clear need to comment, it may be better to remain outwardly silent and instead focus on internal communications.
Don't become the story
The worst-case scenario is when a trade association's poorly placed comments turn into a negative story.
Dairy UK's response to a vegan cheesemonger, La Fauxmangerie, in Brixton is a clear example of when an association has not properly assessed the situation and potential reactions. Despite the shop's repeated references to its produce being totally animal and animal-derivative free, the dairy trade body stated the so-called 'cheesemonger' was misleading customers. It claimed it would be planning legal action.
Dairy UK's comment was not well-received by the press, and its mention of the law and EU regulations highlighted an overly heavy-handed response to a local enterprise. Although the association was trying to reactively voice the opinions of members who are operating in a particularly tough market, this example was not the right news to rail against, and it led to Dairy UK appearing somewhat foolish as the legal threats issue showed they weren't on board with the joke.
Ultimately, La Fauxmangerie benefited from Dairy UK's comments, as it received additional press, and was painted as the small, innocent, independent shop berated by an association that was venting frustrations about the vegan movement in the wrong tone – and through the wrong medium.
This is an example for other trade associations: measure the situation and the perceived threat (including whether it truly is a threat) and consider potential backlash before responding.
Trade associations receive constant internal and external pressure to push a certain point of view, but if the response comes across as petty then this can have a highly negative impact on the association. It may be perceived as silly, insensitive, or non-representative of its members opinions; there is a potential minefield of critical reactions. Risk assessments should be done to alleviate potential damage control.
As 24-hour comment culture continues to thrive, there are increasing opportunities for trade associations to comment on stories and industry matters. It is more important than ever to take time to consider responses to any reaction, and only issue measured responses. An entire industry's reputation is at stake.
If you would like to find out what PR could deliver for your business or trade association, why not get in touch with our award-winning team today. Look at our B2B credentials here.
Trade Associations: When to react
Successful corporate communications are everything that a company says or does to create a positive image and reputation both internally and externally. It is the foundation that supports the company's growth goals and conveys the attitudes, beliefs, goals and culture of an organisation in order to gain visibility, credibility and name recognition in the marketplace.
As MIPIM celebrates its 30th edition, developers, asset managers, architects and landowners across the property industry recognise the importance of their corporate profile and engagement with the communities and networks in which they operate. It has been a tough year for real estate players given the widespread macroeconomic disruptions and political uncertainty that will continue to present cyclical changes and challenges for the real estate industry.
Firms will be looking to seize opportunities to articulate their brand and stake a competitive position.  There are many real estate companies that can design a high spec house or build an efficient building, but it's the way people connect with the brand that makes all the difference. And in order to make that connection, the brands need to tell their stories. Through storytelling, a brand can differentiate, educate, resonate – it becomes more human, more relatable, more memorable. This is where a strategic PR plan comes in. Key events like MIPIM provide a platform for companies to think and apply their communications at a strategic level, understand the implications at a very local level and help build brand authenticity in a world of distrust.
PHA Strategic Communications team share the 10 key components that firms should consider when developing succinct and successful corporate communications:
 1.) Firstly, understand your market and where you fit within it – Acknowledge the challenges being faced and start thinking about an approach to overcoming them.
 2.) Make a self-diagnosis- How is your organisation perceived and how do you want it to be perceived in the future? There is a much greater level of scrutiny of the purpose, vision and value aspects of a company so vital to establish this.
 3.) Identify your goals – These should be measurable and attainable goals and strategies. Any corporate communications plan should also indicate immediate, short, and long-term goals. This will help the team determine how to prioritise and roll out various communication components, strategies, and tactics.
You should be asking questions like:
Why are you doing this?
What are you trying to achieve?
What problem are you trying to solve for your audience?
Why is your service/product the only one capable of solving that problem?
 4.) Outline your communication objectives and the audience you are trying to reach and influence. Remember to think about what preferred communication channels they use.
 5.) Define tactics and communication channels needed to accomplish your stated goals. Then develop a tactical planning calendar that will guide how the tactics will be developed throughout the duration of a corporate communications campaign.
Remember to not just use one sole source of communications.  Instead, use a mix of email, social media, corporate intranet (if you have one), face-to-face meetings, media briefings, articles and conferences.
 6.) Develop well-structured and engaging content without the jargon and complex propositions – adapt the content and messaging accordingly. Think about using infographics, multimedia, stats and surveys to present your stories in addition to written pieces.
 7.) Build your media relations and remember to be agile and flexible– You may spot opportunities and threats that cause you to have to adjust your plan or activities.
 8.) Make sure there is a budget, schedule and method of assessing the success of communications initiatives. Without these three components, corporate communication plans are likely to fall through the cracks. Sometimes they are sacrificed to competing priorities or shuffled from one person to another. It's an irony of modern corporate communications that investment in reputation will always get cut short term in favour of maximising shareholder value.
  9.) Be consistent in your communications – carve out your voice and share insight and knowledge.
10.) Evaluate results – Build into your plan a method for measuring results.
Strategy, not just in PR but in any discipline, is not about today or tomorrow but about the long term i.e. "if A happens, then what does B look like?". An effective communications strategy can help deepen brand awareness, create a personality, monitor sentiment and engage media to amplify messages that align with your company's business goals.
Are you looking to build your exposure, or perhaps reach a new audience? Speak to our team today to find out how we can help you achieve your goals.
10 steps to effective corporate communications
Thought leadership is a term that you hear a lot in the world of personal PR – but what role does this play in establishing someone as a media authority? And what does 'thought leadership' actually mean?
To dispel all the myths, thought leadership is not brainwashing with 1984-style connotations. It's the opposite. Thought leadership is a phrase to describe someone sharing their opinion via long-form written articles in the media. There are, unfortunately, no prizes awarded to the 'best thoughts' – but there is a position of press authority and public trust to be won.
At PHA, we are fortunate enough to work with business people at the top of their game, and we work to position them at the forefront of the issues that matter to them, and that are making headlines.
At The PHA Group, our clients (and their expertise) run across a  full range of sectors, from energy suppliers to energy bars, law firms to luggage delivery specialists. It follows that a lawyer doesn't necessarily want to speak to the same audience as a logistics expert, so we make sure each client's voice, knowledge and unique take on things is heard, read and seen by the right people. Increasingly, that means thought leadership is changing.
Thought leadership was traditionally long-form articles but there are a host of ways we can position your opinion, with authority, in the press:
Have an opinion:
There are some amazing opportunities to get an opinion out there across print and online media – from long-form bylines that give you the freedom to discuss your thoughts in detail, to short and snappy letters to editors that we can turn around within hours. The key thing to remember is that you need to offer something interesting and authentic – grounded in your experience – and it must be relevant.
When an opinion piece works, it really works. One of our legal clients was the talk of an industry event this year when she appeared in City AM and then on Sky and TalkRadio to discuss GDPR before the legislation was enforced.
Hot off the press:
Reacting to the news agenda is another fantastic way to build your personal profile and establish yourself as an authority in the media. It all hinges on how quickly you can respond to something – breaking stories must be responded to within the hour. If these quick timeframes are honoured, it can lead to your comment being covered widely across all mediums – broadcast, print, online – and effectively 'hijacking' the news to support a personal or business agenda. We've had fantastic success reacting to breaking stories in this way, and the rapid response time pays off.
There are also things you can prepare for; spring and autumn budgets, competitor company results and so on, and we make sure we're always looking out for relevant topics for our clients.
Be social:
Thought leadership isn't the exclusive reserve of the so-called traditional media, and increasingly, experts take to digital platforms to share their insight. A huge benefit of LinkedIn and Twitter is that you can put paid spend behind posts to target the most relevant audiences and measure the impact and reach of your content.
James Reed, Chairman of Reed.co.uk, the UK's leading job site, has a weekly Monday Message on his LinkedIn page that attracts thousands of engagements every week. It gives James the opportunity to comment on stories that he finds interesting; from lessons learned from Gareth Southgate's management style to how to recover from the back-to-work blues. The blogs provide an unedited look into what interests James. Jobseekers take note!
As well as social being a platform to share unique content, it's also a platform we use to amplify great coverage – ensuring that there's a 'second wave' of attention paid to the headlines and opinions that contain core messages of the businesses and people we represent.
Events and awards:
Events and awards are excellent ways of bolstering your credentials, and shortlistings and wins also provide us with a great news story to issue to the media. One of our wonderful clients was awarded a Queen's Award for Enterprise earlier this year, which serves as an undeniable proof-point when talking to journalists about the business' astonishing growth. The content of the entry has been invaluable for drafting content – and vice versa, the opinion articles we placed, and PR successes formed part of the business' entry, bringing the cycle of establishing a personal profile full-circle.
Thought leadership isn't something that you can tick off a to-do list, it's an ongoing activity that takes many forms across multiple channels. In supporting a client's personal profile, we can authentically raise awareness of the company or organisation they represent.
If you'd like to speak to us about personal PR, please contact us today to find out more.
How to become a 'thought leader'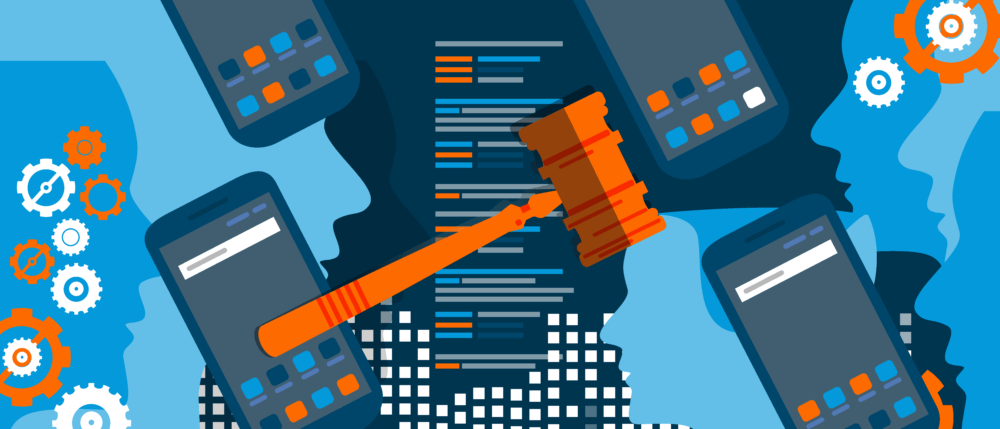 It's little surprise the UK's legal sector hasn't rushed into meeting the latest technology drive. Much like the deregulation of the financial services known as the Big Bang in the 1980's, the rules around the ownership and running of law firms was relaxed in 2011. While the UK's financial services responded quickly to become the world's dominant financial centre, the UK's legal sector has instead reacted to these reforms with a firm yet mild disinterest.
The first belated reaction came in 2015, when Gateley became the first UK law firm to go public originally raising £30 million. Even by the sloth-like standards of the law, this was slow… but not unsuccessful. In the two years since that offering, Gateley's share price has doubled. This may have been what inspired Gordon Dadd and Keystone Law, who both floated on the markets late in 2017.
Despite now being one of the most liberalised and profitable industries in the country (generating around £30billion a year). The sector has a natural resistance to change. Partner models promote short-termism, litigation wreaks havoc on client's budgets and the billable hour persists as an awkward deterrent to efficiency.
Yet a combination of austerity, diminishing budgets, increased competitiveness and growing caseloads has shifted the battleground. Stimulated by a £1.2bn government programme aimed at industry-wide modernisation but that in practice is designed to save costs, law firms are searching more and more for technology partners to improve practice. Not least in the running of the courts, where the UK's are understood to produce a tower of paper the size of The Shard every 4 days. Modernisation is badly needed.
Yet as the power of the lawyer lies in the uncertainty of the law, the type of modernisation law firms are seeking is a specific kind. It's technology that strengthens the lawyer's hand by taking care of mundane tasks. It needs to remove mistakes but not the terrified associates who make them.
In other words, the more boring side of the technology revolution. There will be no Netflix saga on the artificial intelligence upgrades that happen inside law firms. But maybe… just maybe, there might be a few more lawyers finishing work before midnight. And deep down isn't that something we all want?
So, we're after evolution, not revolution in this gig. We're after five steps firms can take to improve their legal tech balance.
I couldn't work out what I liked more. This gentlemen's name or his job title. But Mart van de Kerkhof, Head of 'Know-how' at Magic Circle firm Allen & Overy says Clocktimizer is definitely worth exploring for any law firm that really wants to understand what's going on in its business. Which I estimate is just about everyone who works in a law firm except HR.
Clocktimizer says its algorithms study time card narratives to then provide actionable data on budgeting, pricing, management and firm-wide profitability. It's taken a task that normally takes around six months and has finished it in seconds. I don't 'know-how' they do it.
Imagine if you could assess this article without reading it. Wouldn't that be great? Well, ThoughtRiver have applied that blue sky thinking to contracts. Their contract intelligence software uses machine learning to scan contracts and other legal documents and presents the information in an online dashboard, allowing users to visualise risk.
And while I for one welcome our new overlord GDPR, I don't have to read contracts for a living. Using AI technology to assess contracts for issues and provide actionable insight may become a nothing less than a necessity going forward.
One day the robots will replace us. Or to be more specific, find the people who will replace us. Legal Monitor combines search and analytic technologies with a huge database of legal expertise. It contains 190,000+ lawyers across the world's largest 400+ law firms. Meaning it's the perfect solution for sourcing the best legal candidates, following the industry's hiring trends and conducting your own legal market research.
They say the road to hell is paved with good intentions. This Norwegian start-up was founded by a business lawyer who felt the law was too inaccessible and found the sharing of legal knowledge to be inadequate. Good intention.
But they have built a tool named Lexolve that allows colleagues to share knowledge and details of legal documents, streamlining the process of drawing up legal contracts and other documents. Potentially saving a significant amount of time and resources while protecting client budgets!
When dealing with a lawyer time is always money. So, while these previous additions have been focused on increasing efficiency, so also is this one! This app is created by lawyers, for lawyers. It works like a portal, keeping clients 'in the loop' on the app without the need for back and forth communication or long phone calls, allowing solicitors to increase their productivity across the working day. Simply log into the app on your phone, you spend all day on anyway, and check if everything is in place. Putting clients first like this will only be good news for law firms.
These ideas focus on law as a service industry and set out to improve efficiency and protect client budgets. That's why they will likely be successful in restoring the legal tech balance in a law firm.
Are you a looking to build your exposure, or perhaps reach a new audience? Speak to our team today to find out how we can help you achieve your goals.
Five steps to improving your Legal Tech balance
As is fitting with the nature of the platform, there are two potentially extreme opinions which should be taken when determining if twitter is news.
The first is that it is nothing more than an endless abyss of arguments, abuse and throwaway opinions that collate to paint an entertaining if not slightly terrifying picture of humanity.
The second and far more controversial opinion is that Twitter is now the biggest and best outlet for news in the world – a news outlet fit for the 21st century.
On the day of the presidential election, Twitter star and still president Donald Trump was elected. It was the largest source of breaking news worldwide, with 40 million election-related tweets sent before 10 pm.
From that perspective, Twitter, is the best place to go for news companies who are seeking readers. For breaking news, it's even better, and will usually have a plethora of first-hand witness accounts and theories for you to decipher through once an incident breaks, long before any news network gets hold of the story.
In fact, the obvious likelihood from this is rather than being the ones delivering the news, it's now the case that Twitter is delivering it to the news companies. The Oxford Circus terrorist attack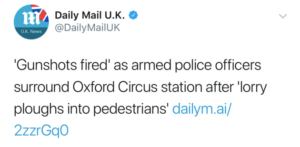 was a perfect example of this.
In hindsight, we now know that a fight breaking out on a tube platform rippled through crowds in one of the most congested and visited parts of London causing widespread panic. Many were following the feed on Twitter as more and more people contributed their 280 character accounts of what they had seen. The Daily Mail was also doing the same, reaching the below conclusion.
They had come across the below tweet about a lorry that had crashed and a combination of tweets that claimed to have heard gunshots. The problem with the tweet was it had been sent 10 days before the incident, the problem with the gunshots were there weren't any.
Twitter was now supplying the Daily Mail's journalists their stories and consequently the nation's largest paper headlines. It is usurping the newspapers most powerful instrument, it was dictating the news cycle. This isn't the only time where the "news" generated on Twitter fooled everyone.
Ben Rothenberg's excellent article on Slate exposed the perils of "Twitter news" in dramatic fashion. After tennis legends Billie Jean Kingand Martin Navratilova condemned comments made by Margaret Court that Tennis is "full of lesbians" and that transgender people were the "children of the devil," a young Macedonian tennis player cut through the controversy and announced on twitter he would refuse to play at Margaret Court Arena should the opportunity arise.
Darko Grncarov, the Macedonian star labelled her views "totally unacceptable and disgusting." The court named in her honour, became the centre of a heated online debate calling for it to be renamed. Grncarov's own story now became one of extreme interest. Not only was he prepared to hinder his career to do what he thought was right, he then got an opportunity to announce on BBC Radio that he had just woken up from a six-month coma and was now, miraculously, going to take the ATP tour by storm.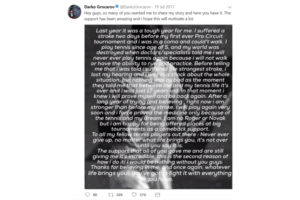 Serena Williams followed him on Twitter, telling him it would be an "honour" for her daughter and her to meet him. Navratilova retweeted his story. James Blake wanted to commentate on his future matches. Adidas tweeted him "Welcome to the family Darko" after he tweeted the company offered him sponsorship.
Grnacarov amassed a huge following through the social network. Macedonia, a country so desperate for a sports star had one it could now adorn with national pride. He was now their biggest star, and nobody had even seen him play. More than 200 Grncarov Twitter accounts appeared devoted to him. Fuelling the fire of his fame, they tweeted about his crush on Nicole Scherzinger and his net worth of $1.5million. The official Twitter accounts of the ATP tour and ITF Tennis joined the fun, pestering Ellen DeGeneres to have him on her show. Rothenberg believes the tweets, which occasionally turned vicious in defence of their star, may have been from Twitter's now infamous troll factories. The synchronised nature of the behaviour and the curious language raised eyebrows. News being generated by the site was causing a racquet in the tennis world.
As you have guessed, Grncarov isn't a tennis player. He is a real person, he has played tennis (albeit poorly, as one of his Twitter videos demonstrated) and he did speak out in defence of transgender people. The problem is, that it was all just the first part of a well-organised ploy to use Twitter to catapult a young Macedonian into the world of fame. Twitter was generating news, but it was fake. Macedonia's rising sun quickly became a false dawn.
It's the effect the social network is having on the industry. Where a journalist would once knock on doors or wait outside houses, for better or worse, they can now open Twitter and peruse first-hand accounts of events, with nothing to corroborate the information, other than an anonymous name. Journalists don't need to even leave their office anymore to report events with reasonable accuracy. Multiple accounts with familiar stories tend to form an impression of legitimacy, although we know they can be coordinated and organised. Some people just know how to use Twitter better than others.
The difference between the main stream media and Twitter aren't vast but they are significant. It has blurred the lines between trained journalist and Joe public, and now both fall readily into each other's traps. Twitter has levelled the playing field and it isn't always pretty, at times it goes beyond the realms of sanity, but it is here to stay, and it may be here to dominate.
67 percent of American adults now rely on social media platforms such as Facebook Inc, Twitter Inc and Snapchat for news. That means a lot of people are now relying on themselves to determine the fake from the real. The Grncarovs from the Rothenbergs.
While newspapers are struggling to successfully monetize their product. Twitter posted $2.1 billion in advertising revenue in 2017.  "We are not the arbiters of truth," said arbiter of truth Nick Pickles, the UK's Twitter executive.
"We are not going to remove content based on the fact this is untrue. The one strength that Twitter has is it's a hive of journalists, of citizens, of activists correcting the record, correcting information."
Twitter is lowering expectations about its role in policing its news and by doing so, enhancing the power of those that use the platform. That's why it is successful and that is why it is dangerous. It's blurred the lines between journalist and citizen, and by doing so became the news outlet fit for the 21st century.
And if threatening nuclear war against North Korea doesn't get your account suspended, let's be honest, nothing will.
If you would like to find out how The PHA Group can help you grow your social media community and engagement speak to a member of our team today. Alternatively, check out our award-winning team Digital Studio.  
Is Twitter news?
With resources often tightly stretched, entering industry awards can often fall low on the priority list. Entries are often a lengthy process and require time and focus that you may feel you can't afford.
However, winning or even being shortlisted for an industry award can be hugely beneficial for your business. Here are our top 4 reasons why you should make industry awards your focus this year.
Built in marketing
The value of business awards to your marketing efforts cannot be overlooked. Even being shortlisted can make a significant improvement to your brand awareness and help you promote your business to new customers. Being recognised by an industry body can open doors to new contacts and help you break into new markets – as long as you maximise this in the right way.
Once you've been shortlisted make sure you:
Update your website: let your customers know about your success!
Add the award logo to your marketing materials: This could include business cards, email signatures and physical marketing collateral.
Let your customers know: Consider dispatching an email marketing campaign announcing your success. It's a great way to let your customers know about how your business is being recognised by trusted bodies.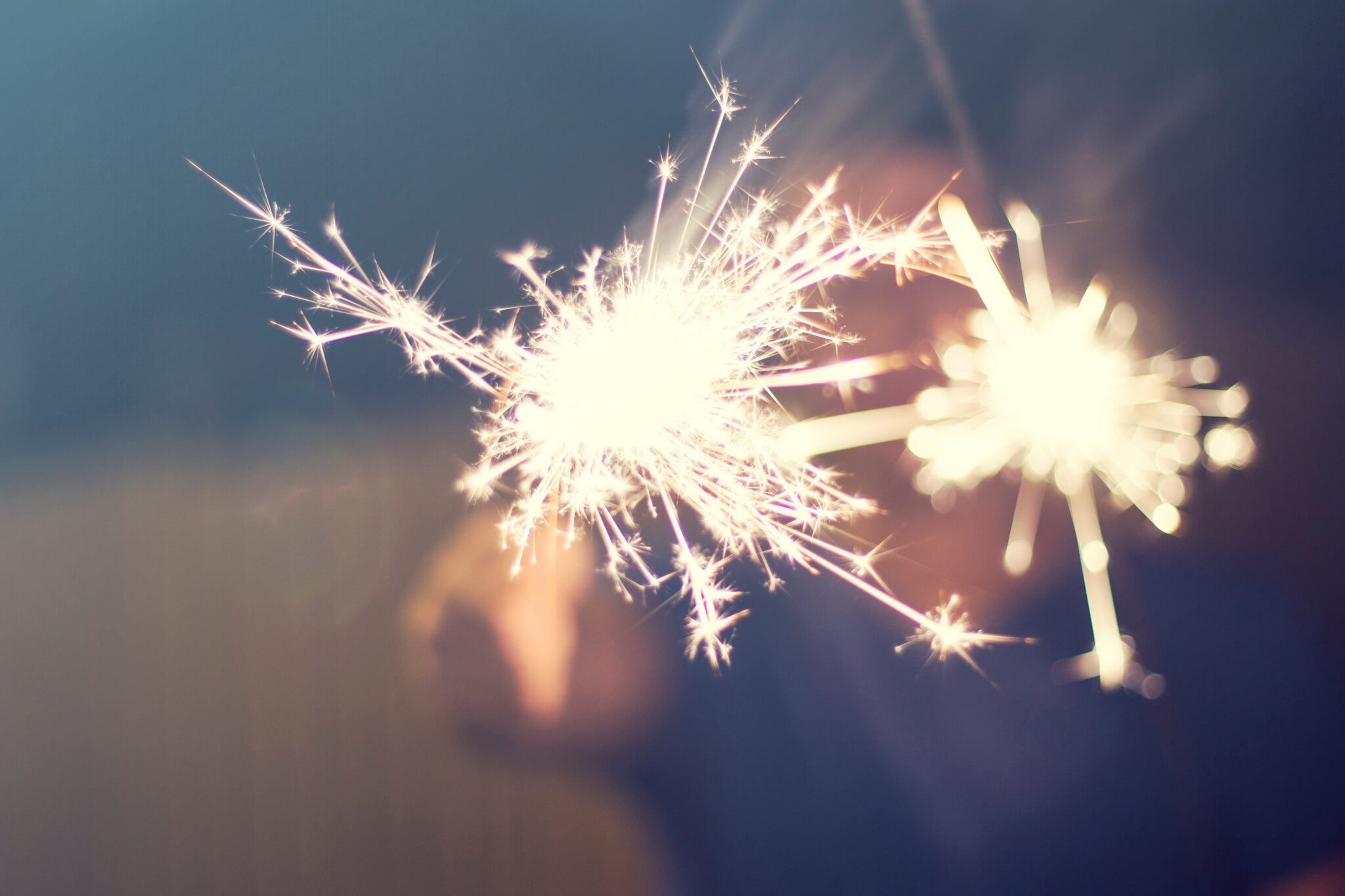 A fresh perspective
Entering industry awards often open the door to you looking at your business in a new light and comparing yourself to your competitors. The process of entry often requires you to think about how you stand out from the competition, why your business deserves recognition and can highlight gaps that, if filled, could elevate your business to an award-winning level.
Reflecting on areas such as innovation, growth, diversity, customer service, people and strategy can help you identify room for improvement which could prove to be more valuable than winning the award altogether.
Celebration and motivation
Whilst the process of entering an award can highlight room for improvement, winning or being shortlisted for an award can be a fantastic source of employee motivation. After all, it is the hard work of your staff that allows your business to perform at an award-winning standard.
Encouraging your staff to feel proud of the company they work for and emphasising that they have actively contributed to this success is a proven way to increase motivation.
Inviting your staff to the ceremony or holding a meeting to celebrate the victory is a great way to say thank you for their hard work and focus your team on the positive aspects of the company they work for.
Valuable Endorsement
Whether you win the award or are shortlisted, this is a fantastic 3rd party endorsement for your business. It's a seal of approval that can signify credibility to potential customers and renew loyalty amongst your existing customer base. In a crowded marketplace, it's hard to set yourself apart from your competitors so an award win could push your company over the edge.
Why Entering Awards is Good for Business