For a number of years, The PHA Group worked with multi-millionaire drinks and property tycoon, Howard Raymond. So, when Raymond decided to invest in Epicuro to tackle the freshwater storage, we agreed to help this honourable cause with our PR services.
Read on to find out how our team of experts supported Epicuro to help them secure investments.
The brief:
With the freshwater shortage currently registering as the world's number one humanitarian crisis, Howard donated £600,000 worth of seed investment to a London-based tech and innovation hub called Epicuro. A collective of engineers and scientists, Epicuro have spent years researching and developing a device that can separate salt from oceanic water. With the Environment Agency recently warning that even the UK could face a water shortage in 25 years' time, a solution is desperately needed. This is where Epicuro's device can make all the difference. The Epicuro Desalinator is a battery-less technology that can yield 40 litres of clean water a day using a free power source that's abundant in the developing world: the sun. Our goal was to help Epicuro find investors willing to see the potential of the Epicuro Desalinator.
Our strategy
To use Epicuro's never seen before technology we needed to hijack the news agenda by showing journalists what the company does and why people should invest in it. We created a clear and concise video highlighting the Epicuro Desalinator assets and how it works.
Our method
With World Water Day 2019 on 22nd March as the calendar hook, the PHA team first cultivated a relationship with an esteemed videographer and seasoned BBC alumna from Violet Productions. To optimise media interest and create content for their website, we introduced the client to the videographer, and, over a period of weeks, helped to story-board and plot all the creatives – which resulted in a polished explanation video, press pack interviews with the inventors and b-roll footage as well. Once the videography had been satisfactorily refined, edited and approved, we then packaged a media kit and commenced our outreach with the mainstream media.
The results
Our efforts resulted in first-class national and regional coverage. We secured hits on BBC News and The Daily Express amongst many others. But the most high-impact and credible hit we secured was undoubtedly in The Guardian newspaper.
The Guardian's reporting on the environment is second to none, it's the only national newspaper to have its own separate environment pod and tapping into its core readership was always top of our wish-list. From the very beginning, coverage in The Guardian was what the client ultimately hoped for and we were delighted to secure a fantastic show on Guardian.com with the headline: "Is there a beautiful, briny solution to the world's clean water crisis?" Esteemed science and environment reporter, Fiona Harvey, conducted the interview, which offered co-inventor David Binns the perfect platform to spotlight his world-first technology and promote "early-stage innovation company Epicuro".
This example shows the importance of creating videos and press packs to help journalists and readers better understand what a complicated project can be about. It also shows that researching important dates related to the business is crucial if you want to get journalists talking about your product or brand. Journalists will be more willing to write about a subject if there's a solid news peg, as they will have it in their agenda and will plan to discuss the subject ahead.
Are you seeking investment for your sustainable business? Do you also need the help of experienced professionals with strong personal relationships, who can help you reach out to the right audience? We offer all of this and more. Contact us today to find out more.
The Epicuro Desalinator
Over the past five years we have worked with Jeans for Genes and each time the brief is clear: to raise awareness and drive sign-ups for their annual fundraiser.
Jeans for Genes is a national children's charity, which raises money for the care of children and families who are affected by genetic disorders. The charity also aims to raise awareness and understanding of genetics and what it means to live with a genetic disorder.
The brief in 2019 was no different. The campaign itself was simple: asking people to wear jeans in return for a donation to support children living with genetic disorders.
Each year we create a fresh and strategic campaign that focuses on educating the public on the health implications of genetic disorders. As we reach the end of this year's Jeans for Genes week, we have so far secured 350 pieces of coverage across print, online and broadcast media and hundreds of social media posts from celebrities and influencers encouraging people to support the campaign.
So how do we go about driving impact year after year? Learn more about our strategies below:
Case studies
A key part of our strategy was to include real people in the campaign. We set out to educate about the impact a genetic disorder can have on a family and the amazing stories of those who live a fulfilling life. We worked closely with over 30 families who were affected by genetic disorders and secured opportunities for them to share their experiences. We placed a series of emotive case studies generating 123 pieces of coverage across the national and regional print and broadcast media.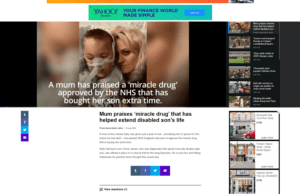 Educational coverage
We set out to educate the public on what a genetic disorder is and to encourage individuals to learn more about genetics. Deploying a multi-pronged educational strategy utilising Gene Therapy expert Professor Bobby Gaspar, we secured 22 pieces of coverage including publications such as the Manchester Evening News and Yorkshire Post.
Fashion and lifestyle coverage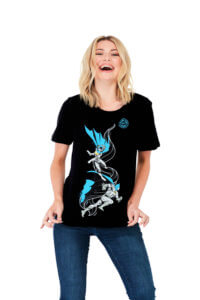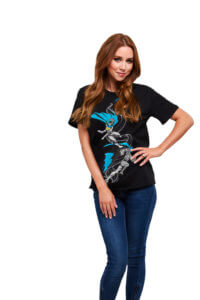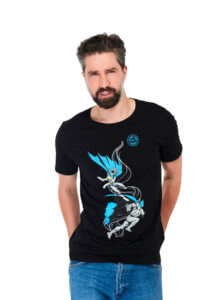 An important element of the fundraising campaign is the sale of their fashion t-shirt. Each year there is a high demand for the uniquely designed garment, and this year was no different, with the t-shirt designed in partnership with Warner Bros and featuring Batman and Batgirl. Our team secured 227 pieces of coverage dedicated to promoting the t-shirt.
Celebrity influencers and endorsement
Celebrities and influencers as we know can be a very effective way of increasing engagement, building awareness and reaching your target audience.
As part of the Jeans for Genes campaign, we worked with; Alice in the looking glass, Christopher Taylor, David Seaman, Emma Barton, Faye Tozer, Nadiya Jamir Hussain, Adam Pearson, Charlotte Hole and many more.
It was a real focus of our team to ensure we made the right partnerships to ensure the success of the campaign.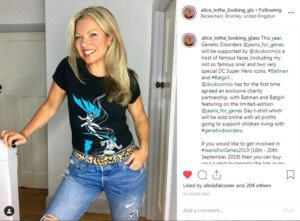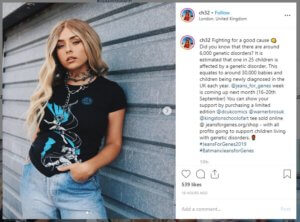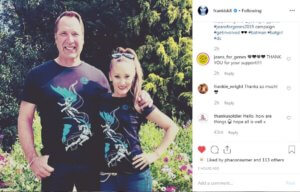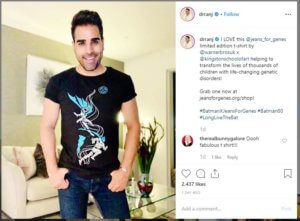 Gifting
To help keep our campaign and messaging at the forefront of journalists minds we activated a series of desk drops with branded Biscuiteer biscuits to a selection of fashion, health and lifestyle media.
Hosting a celebrity event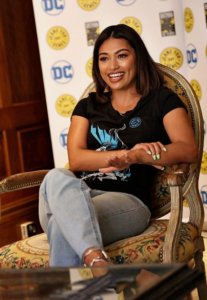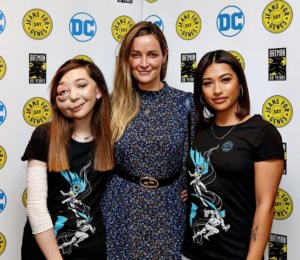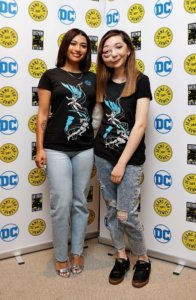 Jeans for Genes Day ambassador and singer-songwriter, Vanessa White hosted an intimate breakfast event at the Covent Garden Hotel to launch the 2019 Jeans for Genes Day campaign and its new charity T-shirt, on sale now.
The breakfast event at the Covent Garden Hotel was also attended by Made In Chelsea star, Francesca Newman-Young, and Jeans for Genes ambassador and emmy winner, Nikki Lily.
Vanessa debuted the limited edition 'Batman and Batgirl' design at the event, created by Kingston School of Art Graphic Design student, Chayanis Jumrus. This year's T-shirt motif was selected by a distinguished fashion panel, including Coleen Rooney, Louise Thompson, the London Evening Standard's Head of Fashion, Maurice Mullen and Fashion Director-at-large at Glamour UK, Alexandra Fullerton.
Vanessa greeted guests with a short introduction to her involvement with Jeans for Genes, upcoming projects, and why she has chosen to support the 2019 Jeans for Genes campaign.
Jeans for Genes Day has such a positive impact on the lives of children and families living with genetic disorders, which is why I am proud to be able to support the campaign. It is estimated that one in 25 children is affected by a genetic disorder, which means 30,000 babies and children are diagnosed in the UK every year. Whereas some disorders are apparent at birth, others are diagnosed at different stages throughout childhood. Vanessa White
If you'd like to speak to a member of our team and find out how we can support your organisation, please get in touch today. Or if you'd like to support this year's Jeans for Gene's campaigns it's not too late, visit their donation page here.
Making it count: Jeans for Genes
With the Ashes wrapped up for another two years, and the little urn unfortunately on its way back to Australia, it's time to switch our attention to the next sporting fixture in the calendar, and it's not a small one either.
The 2019 Rugby World Cup gets underway this week in Japan, and the English will be hoping to follow in the footsteps of their cricketing counterparts who etched themselves into sporting folklore just a few months ago after claiming a first World Cup victory.
But whilst Eddie and the boys are busy taking on the likes of Argentina and France in the group stages. We're going to go on a whistle-stop tour of what you and your business can be doing over the next month to make sure you capitalise on the Rugby World Cup.
Social media content creation
Whether it's a feel-good status in preparation to one of England's games, or a bespoke animation, make sure your social followers know you'll be cheering them on.
Sporting events offer businesses a unique opportunity to show off their personality whilst creating content that they wouldn't usually be able to get involved with.
It's vital for brands to engage with audiences during major sporting events on social media – not least because it presents an opportunity to engage with an online community that they might not necessarily reach with their wider strategy. It's important not to shoehorn your brand into conversation, but to immerse in conversation from a natural and sincere angle.
Joe Toal, Social Media Manager at The PHA Group
Social media has clearly evolved since the 2015 World Cup, community managers now have multiple tools up their sleeves such as creating polls, live streaming or even Instagram stories.
The main points to remember here is to make sure you continue to engage your audience, use hashtags and emojis to keep your posts creative.
CSR
Corporate social responsibility has become one of the standard business practices of our time. Consumers now demand that companies start playing an active role in addressing social, cultural and environmental issues. Global sporting events give businesses a great opportunity to do some good in the world whilst also enhancing their profile in the media spotlight.
For example, during the fifth and final test of the recent Ashes series, lyricist and big-time cricket fan, Sir Tim Rice, decided to donate £15,000 for every hundred scored and every five-wicket haul taken and £5,000 for every fifty and three-wicket haul achieved by England to cricketing charity, Chance to Shine.
Could your businesses offer an hour of charity work for every point that Owen Farrell scores during the World Cup? Or a donation for every try that Jonny May finishes?
Spontaneous moments
Any sporting event inevitably offers drama, excitement and unpredictability if it didn't, we probably wouldn't watch it. So, during this World Cup, we're bound to see a few surprises, scares and maybe even an England win! So, use these moments to direct traffic to your site where possible. If you run an e-commerce site, why not offer a 10% discount code such as ENG10 if they progress through the semi-finals to the final?
Email marketing
Implementing an email marketing strategy around an event can run the risk of losing a potentially willing customer, who unsubscribes from your content as they aren't interested in the event in question.
So why not start small? An idea from email marketing specialists Kickdynamic, is creating live countdown timers for a specific game.
This allows your business to mention that you'll be supporting [insert your favourite team here] during the World Cup, whilst continuing with your normal communication. Like previously mentioned, events allow an opportunity for businesses to get creative and jump on the news agenda, but it's key to remember where the line is.
If you're interested in learning more about how your business can hijack the news agenda most often, get in touch with us today
Are you ready to capitalise on the Rugby World Cup?
The word "sustainability" is everywhere. It was a major topic at the recent G7 meeting in Biarritz, David Attenborough made a famous intervention at Glastonbury this year about cutting plastic, and more and more brands are making a statement about becoming greener. We see new sustainable brands emerging every week from beauty to fashion and food, so how can a brand stand out?
One important thing to remember is that it's not because it's sustainable that people will buy your product. People will buy your product because it is useful to them and sustainability is a nice addition. Consumers are also very interested in a brand's story, they need to understand why you've come up with the product idea, and what it means to you. The notion of authenticity is vital when talking about sustainability. And this is how a PR agency can help you, it'll give you the power to tell your brand's story to the world.
PR firms are sometimes seen as the advocate of the devil helping brands make false claims and glossing up reputations. But PR could also be an agent for change. Show the world the great brands that are around and trying to make a difference in our world. Hopefully, PR companies can have the power to generate positive future change and accelerate progress.
As we become more aware of the impact our lifestyles and practices have on the environment, it is up to every area of a business to become more carbon-neutral and finding sustainable solutions. Brands now need to align themselves with the environmentally-conscious mindset of modern-day consumers and show that they have a genuine interest in our plant. This is where we can help.
New hijacking:
The world of PR is all about finding the perfect time to send your press release to journalists. It might seem simple, but it's not. It's about seeing the perfect opportunity to link a client story when a hot news story has just come out. Once you've spotted your opportunity, then all journalists will happily talk about your side of a story and link it to the brand or agenda that was mentioned. This is a chance for a company to comment on the news or join the discussion and make sure that your brand's name is mentioned in national media.
As an example, we worked with online affordable renewable energy, Octopus Energy, to support their media relations and creative campaigns. We established the CEO as a go-to industry commentator on all things energy and sustainability-related by hijacking the news. This resulted in 140 pieces of coverage, 48 national articles and 5 broadcast appearances.
Awareness days:
If you're on Twitter or Instagram, you'll be aware of all those awareness days going on daily. This can help PR and brands build together their content calendar in advance. If you're a sustainable brand you might want to participate in Zero Waste Week (September) and show how you can join the debate. It's always a good idea to coincide product launches with relevant news-worthy occasions, which gives a journalist two topics in one.
As an example, we worked with a collective of engineers and scientists, called Epicuro, that have spent years researching and developing a device that can separate salt from oceanic water. They invented the Epicuro Desalinator, a battery-less technology that can yield 40 litres of clean water a day using a free power source that's abundant in the developing the world: the sun. With World Water Day 2019 around the corner, we helped them create different assets and videos and started our outreach with the mainstream media on that day.
Finding the right journalist:
Good news is, editors and journalists are happy to engage with the topic of sustainability because for them it's something that's new and interesting and an ever-evolving discussion, but you must have your own view and unique point on it. They're understanding that as an editor they must engage in sustainability because it's the future; it's not a trend that's going to go away. So, finding the right journalist who is happy to cover a sustainable and ethical story is crucial. At The PHA Group, we have great relationships with journalists across print, broadcast, online and influencers. We'll always push the story to the right journalist, knowing what will pique their interest.
Thought leadership:
Thought leadership is great for showing that your leadership team or even you care about your work or business and show your commitment by explaining your goal to a wide audience. It's a great opportunity to show that you're an expert in your field and why you want to pioneer a sustainable message for your business and show the media that you have a genuine interest in the environment.
There's so much to educate yourself on in order to be able to talk authentically about a sustainable project. Make sure you are media trained to ensure you know how to talk about your brand in a confident manner and that you're ready for any questions propositioned by a journalist. If you're watching Dragon's Den, for example, you'll see that investors are asking a lot of questions regarding business models and how sustainable their business really is, there's no room for errors. Our team of experts can help you get ready for any questions and show you how to speak in front of the camera or whilst being recorded. We have former journalists running workshops with brands to help them with any issue they might face.
Use the right influencers:
Finding the right influencers to represent your business or brand is key. We know that influencer marketing can be extremely effective to a business, but we also know that you can't just go to any influencers, you need to do a lot of research before you approach them to understand who their audience is and what type of content they produce. It's just about finding the right individuals that will support and engage with your ethics. Remember it is all about authenticity!
We have a wide network of influencers we work with on a regular basis, where we incorporate a stringent vetting process. We recently worked with PHA client Ethique, the world's first zero-waste beauty brand, to launch in the UK. One of our tactics was to engage with relevant influencers in the beauty, vegan and sustainable space to tap into their online communities. This, in turn, helped raise brand awareness and generate interest in the product range. More than 16 influencers endorsed the brand on their social media channels, raving about the company's eco-credentials and zero-waste promise, with a combined reach of 1.5 million.
Create your own event
If you live and breathe sustainability and your goal is to help others to become more sustainable, then why not organise your own event? This could include a fun event where you can invite journalists to come and participate in something like making a sustainable dinner for example or learning how to knit. But you could also organise a summit if you're a bigger brand, like Lush for example which ran a Lush summit two years in a row. The purpose was to give people the chance to learn more and join in on topics spanning human rights, animal rights, and the environment. This summit gives Lush the chance to show their audience how engaged they are as a brand and also to educate people on what other brands should be doing.
If you're a sustainable brand in need of PR, please get in touch today to see how our team of experts can help you achieve your goals.
How can PR help your sustainable business?
Your privacy and reputation have never been more prized assets. We live in an age where the internet and social media has made finding out information about individuals and businesses easier than it has ever been before. Anyone, including journalists and newspaper editors, can discover background information through a quick online search or look across Facebook, Instagram and LinkedIn. When the press run a story about someone their digital footprint can remain online for everyone to see. We all have the right to a private life but during times of legal action, disputes and open court reporting, it has never been easier for the press to build a story so quickly, no matter if it is entirely accurate or not.
Over the summer, I was asked to provide an initial consultation for a prospective client to see if we could help supplement the instructed legal team and provide adequate communications support with several upcoming court dates. The other side had already engaged with the press ahead of time and the narrative had already been set in a couple of publications with their side of the story. After we came away from the initial meeting, within 48 hours our client already had a handful of journalists from leading national newspapers requesting comments out of the blue. We came on board straight away to help right the conversation and highlight the truth that was to be conveyed in court. The client couldn't believe how quickly these journalists jumped on the story after one piece online had been published, but now all it takes is one tweet, one story and the ball can start rolling, and roll quickly.
It is no longer just the UK where the media can get their teeth into a story. The global media interest in a case can be ferocious as businesses and individuals are increasingly operating and travelling across the globe. As they do so, the demand for international commercial courts to serve them has also grown. The supply of court services has risen to meet this. More and more we see disputes being taken to the courts in London, under English law, as the English common law system has been exported to many countries. Even with the UK exiting the EU, the English court system has never been busier hearing cases with an international element.
Increasingly we are asked to provide discreet, strategic and practical advice to our private clients and business owners who today face ever-more complex digital, media and regulatory challenges. Our team puts together bespoke support for challenging disputes and our international network of media contacts stretches to multi-jurisdictional environments, so our client's messages and stories are portrayed accurately whether it be in the USA, Italy, France or right here in the UK.
The long process of building a legal argument can all be misrepresented by reporting in the public eye that frames the case in a certain light that may hinder the overall strategy and objectives. It is paramount to set the tone and make sure the correct messaging is portrayed to the media as it will undoubtedly remain on the internet for years. The old adage that today's news is tomorrow's fish and chip paper no longer holds true in 2019.
Privacy and Reputation: Today's news is tomorrow's fish and chip paper
Why personal PR matters in the professional services sector
Warren Buffet's famous saying, "It takes 20 years to build a reputation and five minutes to ruin it", has been rolled out almost ad nauseum over the past decade by public relations firms. It may be tired but it's true – it's essential to have an effective communications strategy.
At a corporate level, professional service firms tend to heed this advice, having learnt the hard way that technical expertise isn't the only ingredient to ensure survival in a cut-throat world. From the implosion of accounting giant Arthur Anderson's financial reputation as a result of its negligent auditing of U.S. energy firm Enron, to the public shaming of law firms' perceived lack of action on sexual harassment post #MeToo, it's become all too clear that agile messaging must be a key component of their business strategy.
However, individual high-flying accountants and lawyers have so far been less willing to embrace PR for themselves. Undoubtedly, perceptions of cost and time efficiency play a role in this reticence. A partner at a Big Four accounting firm may well ask themselves why they personally need PR when surely all that matters is their client-handling and financial skills?
The reality is far more nuanced than they perhaps realise. Certainly, knowledge is crucial for professional service career advancement – but so is the ability to demonstrate that knowledge. The Big Four partner seeking to move up to global sector leader or transition to a senior job in-house will have their print and online presence closely scrutinised. Have they been commenting on major recent financial stories? Have they been attending industry events? Is their social media presence current and prominent? Concerns you wouldn't typically expect professional service high-fliers to be evaluated on, but, as they climb up the ladder and become ever more public facing, their profile must meet the expectations of the job. If not, they won't get the role – no matter how technically competent they are.
PR-ing the professional
As with public relations more broadly, the activity required to raise the profile of a professional service leader will depend on their sector, risk appetite and current media standing. There is one constant, though: thought leadership – a programme of activities designed to build the personal profile of the professional in a specific field.
There's two sides to thought leadership. The proactive: landing new opportunities, such as comments in relevant trade media which will be read by peers and seniors (Accountancy World et al. for accountants; the Lawyer and the like for lawyers). The key is highlighting the professional's expertise and becoming a go-to for their specialism in what is a broad and crowded sector – be it Islamic accounting or Monegasque law.
From here, press activity can move to more ambitious plains: pieces in national papers, speaking slots at major trade events and even airtime on national radio and television. Since you're dealing with the public at this stage, technical details matter less than the broad message – what's the big idea the professional is pushing? Media training can help enormously here since a smooth television or radio interview may catch the attention of producers elsewhere and potentially create a virtuous circle of media invitations.
The reactive angle is more defensive. It could range from responding to inbound requests for expert commentary on wider industry news, to offering counsel on sensitive issues that impact their professional standing (such as the collapse of a former employer).
The result
The right personal PR over a sustained period can support a professional's career at the highest level. It can help them stand out from a crowded field, give them an extra string to their bow (how much more valuable is a managing partner who can confidently do a TV interview and perfectly represent the values of the firm than one who can't?) and build them a powerful personal brand which could be particularly useful if they ever decide to set up their own company.
With over a decade of experience raising the personal profile of some of business's biggest names – from James Reed of Reed Recruitment to Duncan Bannatyne – we've got an award-winning team which can help you navigate a rapidly evolving professional world.
The professional capital of personal PR
If a brand can grow its market share within their core sector, fantastic. But it goes without saying that looking beyond those core markets can provide even greater potential for growth.
When we started working with outdoor brand dryrobe, producers of the world's most advanced change robe, they already had a presence second to none across the surfing sector. With their product also catering for a whole host of other outdoor pursuits though, their growth potential was obvious.
For us, it's simply been about unlocking it. Here's how we do it…
Act as an extension of the business
 In the initial instance, it was paramount that we took the time to fully understand not only dryrobe's target audiences for growth, but the technicalities of the product inside out.
By combing over this information to obtain a level of knowledge that you'd expect a member of the dryrobe team itself to have, it placed us in the perfect position to communicate the product to the right sectors, most effectively.
Doing our homework
As much as it pays to know your client it pays to know your media, and the results we've been able to achieve so far for dryrobe are certainly relative to us having a detailed understanding of the various sectors they speak out to.
If a given publication produces content that lends itself to a detailed review of the product, then tailor your approach to mimic that. If the only conceivable way a title may feature the product is through a competition, then likewise be specific.
Passion and enthusiasm
This one is a major contributor to our success…being passionate and genuinely interested in the sector. I come from a running background and would have loved a dryrobe to keep warm after a tough cross-country race back in my competition days. As a team that are all into our sport and fitness, this personal interest is definitely something that helps us achieve the results we do. Passion drives engagement and you'll naturally come across as more genuine.
Don't be one dimensional
Through our work with dryrobe, the product has now been featured across swimming, OCR (obstacle course racing), running, rugby, biking, triathlon, camping, canoeing, kayaking and rowing media. But we also reached out to tech media to communicate the innovation behind the product. As a result, we've secured them pieces in tech outlets, including in leading consumer tech magazine, Stuff (the article that they featured within actually made the front cover).
Having taken the time to invest ourselves in the business too, we saw dryrobe's business story as another opportunity to drive traction for the brand. As a result, they've seen some great pieces of business coverage across the likes of the Daily Express and more recently on Forbes Online.
With each opportunity, it's important to think about the finer details too, with conversion for dryrobe the ultimate goal. We had a competition with Trail Running magazine's online 'Win' section that received close to 60,000 entries, while a similar competition we ran with Cool Camping left us with over two thousand potential customers that opted in to receive newsletter updates from dryrobe.
We maximise assets
 dryrobe are regularly announcing exciting new partnerships, whether that be with brands or individuals, and we use this an opportunity not only to engage sports/activity specific outlets, but respective trade media.
Once we've announced them, the job doesn't stop there though. I'd argue our credentials activating brand ambassadors are second to none and we always ensure we deliver as much value as possible from the relationships.
dryrobe brand ambassador Jonathan Albon won the World Trail Running Championships last month. Within one week, we had several fantastic opportunities confirmed with him across the national health and fitness/lifestyle media.
As well as paying attention to the ambassador's personal schedules to ensure we don't miss opportunities, we also keep in mind the general news and events calendar. For example, we recently secured dryrobe a standout inclusion in the Mail Online's Father's Day gift guide as one of just a handful of products in the over £50 price bracket.
 Through following the above approach, we've been able to deliver our KPIs originally agreed with dryrobe ahead of schedule and open numerous doors of opportunity for them.
If you would like to find out more about what our specialist sport and fitness team public relations team can do for you, speak to one of our award-winning team today.
How PR can be key in unlocking the door to new audiences
Calm before the storm: The Top Five Do's and Don't of Crisis Management
Crises strike in various forms. They can be planned for, but unless you have a crystal ball, predicting the finer points is extremely difficult.
Recent studies have shown that companies with an action plan already in place – and the ability to follow that plan – tend to come out best, their value held and board members in one piece.
Although this sounds an obvious point, still now, in 2015, PR professionals encounter companies large and small with no crisis communications plans.
Now more than ever, companies have to stand up to scrutiny. There are greater regulations. The public demands greater transparency, and rightly so.
The combination of factors makes it ever more important to be able to analyse risks and deal with them accordingly.
Having a crisis plan is one key factor. But what about other Crisis Management Do's, and actions you should definitely not do when cast into the eye of the media storm?
Crisis Management Do's' v Top Five Crisis Management Do Nots
1: DO ensure you have a crisis plan in place. This will include a crisis team, which should be formed of a small core of senior people and advisors. Everyone must be fully aware of what they are doing and when. One or two key people should be in charge of declaring when this team is activated.
DON'T expect it all to blow over if you aren't ready and know how to deal with it. The companies left playing crisis catch-up are often the ones which suffer most.
2: DO make sure your spokespeople are media trained and fully briefed before they speak to any journalist or TV company. Media training is a vital investment to make. Even the most confident CEOs and directors should receive training if they are likely to engage with the media.
DON'T try to wing it. This never works. Journalists are skilled professionals who will maximise the opportunity if they feel the person they are dealing with is the weak link.
3: DO stay calm and pause for thought when a crisis hits. This may be difficult under the circumstances. The best way to start a crisis management process is to show strong leadership. Your staff will be looking for this, not lots of people running around not looking like they are in control.
DON'T rush into decisions. Remember – in the midst of a crisis, every move is monitored. Words cannot be unspoken; each action will have a consequence.
4: DO get the facts as early and as clearly as possible. Ask yourself the question – do you know as much about the situation as the journalist who may be calling to put a story to you? If not, get the right people around you and make sure all the information is to hand. There may be a nugget of info which stops an initial enquiry becoming a full-blown crisis.
DON'T forget about two of your most important assets – the people you do business with, and your workforce. B2B communications and internal communications in a crisis are often overlooked but need to be handled correctly. Imagine your workers or a supplier reading something about your company before being told about the situation by you direct? Communication is key.
5: DO make sure the strategy for dealing with the situation includes social media. Ignore at your peril.
DON'T be afraid to ask for outside help, be it from lawyers, PRs or other advisors. You will have a strong team around you, no doubt, but investing in external help is far more cost-effective than being caught cold by a crisis.
Crisis Management Do's and Don'ts
A public relations (PR) crisis can cause irreparable damage to the reputation of a business. There are many scenarios that can occur, whether you're a large corporation, individual or multi-national organisation. We specialise in mitigating risk for you and your business and providing an on-demand crisis and reputation support solution that's discrete, effective and professional. Our insurance policy means that you and your business are prepared for any eventuality and can continue business as usual.
How can we assist you?
Advice on how to mitigate negative publicity
Preparing, drafting and issuing press releases and handling media enquiries 24/7 on the client's behalf
Guidance documents on how to protect you and your company
Expert media training for both broadcast and newspaper interviews to prepare your key spokespeople for interaction with the media
Not sure a public relations insurance policy is for you? Here are just some examples where our team of experts can support you.
Poorly planned marketing
Marketing and PR are essential requirements to help grow your business. Sometimes your marketing efforts can backfire – even if you had the best intentions and never anticipated it becoming an issue. Whether it is a mis-use of terminology, a Freudian slip over social media or simply an image that has been taken out of context.
For example, high-street fashion store H&M came under fire in January, when the company released an advert featuring a young black boy wearing a hoodie that featured the phrase, "Coolest Monkey in the Jungle." The media covered the issue extensively and quickly found that this wasn't H&M's first incident. The PR and media backlash were extensive and detrimental to the brand's reputation.
In many cases their business reputation did bounce back after an initial plunge in sales and reputation. However, it can take expensive compensation packages and extensive resource to resolve the situation.
Product recalls
Our top tips during a product recall are simple.
Take responsibility: When sending your statement be transparent about what happened
Act immediately: Don't waste time, the situation could potentially escalate so act quickly
Be candid and compassionate: Say sorry to your customers, own up to your mistakes
Cooperate: Work with the people effected and your communications team
Use every means possible to communicate information: Think about this as a marketing campaign, you need to get in touch with every possible customer so use all your channels available to you
Product recalls can be a large drain of resource for your in-house communications teams. Ensuring your crisis and reputation policy and plan is being executed in conjunction with the situation can be a concern as well. Working with a specialist team who can act immediately and action that process for you is imperative to reduce reputational impact, avoid injuries or accidents with customers and ensure you have reached your core demographic and their network instantaneously.
Fashion store Primark had to recall three types of their men's flip-flops containing dangerous levels of a cancer-causing chemical last year. Primark came across really prepared and were quick to make their announcement. The interesting thing about the incident is that neither the information on the corporate website or the media statement says what the issue was. A better approach would have been to be open and clear about what the chemical is and what the risks are to customers. Being transparent and demonstrating action is a key part of responding to a product recall and shows that an organisation is taking the situation seriously.
High-risk territories
Does your brand operate in high-risk territories? When a brand or business must travel to various parts of the world there is always an extensive risk assessment put in place to ensure the safety of employees and guests and what to do if there were an incident. But in those plans have you thought about your media relationships? How would you communicate your side of the story, and how can you showcase to the public and those affected what you are doing to rectify the situation? That's where a clear crisis communications strategy comes into its own and experts on hand to deal with your situation 24/7.
Injuries and accidents
One possible issue that could develop and become a major PR crisis is if your products cause injury or illness to your customers or an employee, or if a contractor has a detrimental accident on your watch.
For example, in these types of scenarios reactions to issues can range from customers complaining to friends and family about your business, taking to social media and forums to raise their concerns to severe reactions, such as seeking legal action to reimburse medical costs or to receive compensation for their discomfort.
In these cases, it is imperative to demonstrate steps are being taken to resolve the situation, prevent any future problems, and of course negate some reputation damage.
Personal information
The introduction of the GDPR legislation in May 2018 has made some businesses across the UK nervous of the impact on their business if there were a breach. Not just monetary issues can occur, but the risk and damage a data breach can cause to the reputation of a business.
That was the case for BT who were fined £77,000 by the ICO. Between December 2015 and November 2016 BT sent 4.9 million emails about its fundraising platform My Donate, Giving Tuesday and Stand up to Cancer.  The ICO said that these communications were marketing, rather than messaging, and BT did not have consent to send them.
Handling customer feedback and inquiries and monitoring the 'noise' of the incident on social and in the media can be difficult. Our specialist crisis social team can work alongside your in-house teams to rectify the situation, whilst our PR specialists help you deal with media inquiries and publishing statements to those effected.
All smart businesses plan, and crisis management is no different; prevention is better than cure. We deploy a suite of services to manage and maintain your crisis and reputation. Contact us today to find out how we can work with you and your business.
Your crisis and reputation 'insurance policy'
Regardless of whether you support or are against Brexit, it's coming, and businesses are having to deal with the consequences come what may. For some, it presents serious operational concerns and threats which have been widely reported and recognised: job losses, supply chain issues and dwindling investment. For others, Brexit presents an opportunity. Since the result of the 2016 referendum, some existing businesses have resurged, and new ones have emerged.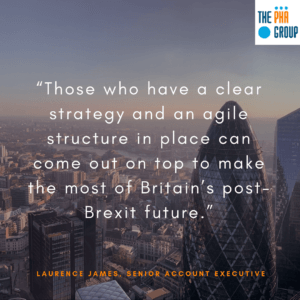 Luxury property
Following the referendum result, sales of luxury properties (valued between £5m and £10m) fell by 51% year-on-year, and new-builds in London priced at more than £5m saw an 83% drop in value. Tax changes and uncertainty around Brexit seemingly deterred buyers from investing in residential property.
Almost three years on, and the dark clouds continue to loom over a housing market which is populated by cautious buyers and sellers awaiting a government announcement on a deal with the EU. However, the luxury homes market has bounced back to weather the Brexit storm and come out the other side with a rather sunnier disposition.
Sales of homes worth over £15 million have risen more than 40% since the referendum. This is due to a rush of overseas buyers snapping up vintage English real estate. A combination of a fall in the value of house prices by roughly 25%, coupled with a drop in the pound of about 15% means foreign buyers can purchase luxury real estate for values around 40% less than they would have paid three years ago. As a result, over half of prime houses sold in London over the last six months of 2018 went to overseas buyers.
UK property is a particularly lucrative investment for buyers trading in euros and dollars. One such example is the FirethornTrust, a property investment firm run by two US billionaire families, which is investing heavily in London property amid the volatile economic conditions, including their purchase of Quay House in London's Canary Wharf.
As such, luxury property investment firms and estate agents such as London Central Portfolio have experienced success since the 2016 referendum result, when its CEO Naomi Heaton predicted an upturn in fortunes saying that: "prime central London real estate is expected to benefit from a flight to quality, against a background of highly volatile financial markets." She was right.
Gold investment
Brexit has led to a modern-day gold rush as British investors seek alternative financial assets that won't depreciate in value amid the uncertainty.
Earlier this year, Chris Howard, director of precious metals at The Royal Mint said "We have seen a significant increase in demand for gold, a trend which we have no doubt is largely attributed to Brexit and subsequent market volatility." He cited a 73% increase in demand year-on-year during the first half of January.
Speaking to Channel 4, Josh Saul, CEO of The Pure Gold Company, claimed that this increase is driven not just by a rise in demand from those with an existing interest in gold, but most importantly from first time investors. Josh has seen a 219% increase in demand from such customers over a 12-month period since the vote on EU membership. New investors are also turning to other online gold investment services such as BullionVault and Gold.co.uk.
At times when the pound and stock markets look vulnerable, gold represents a financial insurance policy for many wealthy investors. Its value remains resilient and has even appreciated in value, particularly at the most politically chaotic moments of the Brexit saga – when demand for gold is at its highest.
Management consultancy
As businesses and individuals seek to derive meaning amid the economic uncertainty arising from Brexit, expertise has also grown in demand. Numerous businesses offering expert management consultancy on Brexit have emerged following the referendum.
In the long term, potentially complicated border tariffs, a possible economic downturn, and a shortage of talented employees from the continent could ultimately have a negative impact on the industry, but for now Brexit has ensured the expertise of professional services businesses remain highly sought after.
In February, the BBC reported that the government had agreed contracts worth over £100m with management consultancy firms such as Boston Consulting Group, PwC and Deloitte to help smooth the transition from the EU and minimise any possible economic side effects.
But it's not just the government that needs this kind of professional advice, businesses small and large can benefit too. Even if a business is not directly affected by Brexit, it is almost certain that one of the other businesses in its supply chain or network of partners and clients will be affected. Therefore, many businesses already have or are considering incorporating a Brexit strategy as part of their core strategy.
Management consultancy firms such as the McWhinnie Consultancy and P2 consulting offer all types of businesses consultation within areas including legislation, finance, restructuring, strategy, corporate communications and technology, to help 'Brexit-proof' businesses.
Out of all the uncertainty created by Brexit, one thing is for sure: there are some winners and some losers. Those who have a clear strategy and an agile structure in place, can come out on top to make the most of Britain's post-Brexit future.
If you would like to find out what PR could deliver for your business, why not get in touch with our award-winning team today. Look at our B2B credentials here.
Businesses making the most of Brexit