Why personal PR matters in the professional services sector
Warren Buffet's famous saying, "It takes 20 years to build a reputation and five minutes to ruin it", has been rolled out almost ad nauseum over the past decade by public relations firms. It may be tired but it's true – it's essential to have an effective communications strategy.
At a corporate level, professional service firms tend to heed this advice, having learnt the hard way that technical expertise isn't the only ingredient to ensure survival in a cut-throat world. From the implosion of accounting giant Arthur Anderson's financial reputation as a result of its negligent auditing of U.S. energy firm Enron, to the public shaming of law firms' perceived lack of action on sexual harassment post #MeToo, it's become all too clear that agile messaging must be a key component of their business strategy.
However, individual high-flying accountants and lawyers have so far been less willing to embrace PR for themselves. Undoubtedly, perceptions of cost and time efficiency play a role in this reticence. A partner at a Big Four accounting firm may well ask themselves why they personally need PR when surely all that matters is their client-handling and financial skills?
The reality is far more nuanced than they perhaps realise. Certainly, knowledge is crucial for professional service career advancement – but so is the ability to demonstrate that knowledge. The Big Four partner seeking to move up to global sector leader or transition to a senior job in-house will have their print and online presence closely scrutinised. Have they been commenting on major recent financial stories? Have they been attending industry events? Is their social media presence current and prominent? Concerns you wouldn't typically expect professional service high-fliers to be evaluated on, but, as they climb up the ladder and become ever more public facing, their profile must meet the expectations of the job. If not, they won't get the role – no matter how technically competent they are.
PR-ing the professional
As with public relations more broadly, the activity required to raise the profile of a professional service leader will depend on their sector, risk appetite and current media standing. There is one constant, though: thought leadership – a programme of activities designed to build the personal profile of the professional in a specific field.
There's two sides to thought leadership. The proactive: landing new opportunities, such as comments in relevant trade media which will be read by peers and seniors (Accountancy World et al. for accountants; the Lawyer and the like for lawyers). The key is highlighting the professional's expertise and becoming a go-to for their specialism in what is a broad and crowded sector – be it Islamic accounting or Monegasque law.
From here, press activity can move to more ambitious plains: pieces in national papers, speaking slots at major trade events and even airtime on national radio and television. Since you're dealing with the public at this stage, technical details matter less than the broad message – what's the big idea the professional is pushing? Media training can help enormously here since a smooth television or radio interview may catch the attention of producers elsewhere and potentially create a virtuous circle of media invitations.
The reactive angle is more defensive. It could range from responding to inbound requests for expert commentary on wider industry news, to offering counsel on sensitive issues that impact their professional standing (such as the collapse of a former employer).
The result
The right personal PR over a sustained period can support a professional's career at the highest level. It can help them stand out from a crowded field, give them an extra string to their bow (how much more valuable is a managing partner who can confidently do a TV interview and perfectly represent the values of the firm than one who can't?) and build them a powerful personal brand which could be particularly useful if they ever decide to set up their own company.
With over a decade of experience raising the personal profile of some of business's biggest names – from James Reed of Reed Recruitment to Duncan Bannatyne – we've got an award-winning team which can help you navigate a rapidly evolving professional world.
The professional capital of personal PR
If a brand can grow its market share within their core sector, fantastic. But it goes without saying that looking beyond those core markets can provide even greater potential for growth.
When we started working with outdoor brand dryrobe, producers of the world's most advanced change robe, they already had a presence second to none across the surfing sector. With their product also catering for a whole host of other outdoor pursuits though, their growth potential was obvious.
For us, it's simply been about unlocking it. Here's how we do it…
Act as an extension of the business
 In the initial instance, it was paramount that we took the time to fully understand not only dryrobe's target audiences for growth, but the technicalities of the product inside out.
By combing over this information to obtain a level of knowledge that you'd expect a member of the dryrobe team itself to have, it placed us in the perfect position to communicate the product to the right sectors, most effectively.
Doing our homework
As much as it pays to know your client it pays to know your media, and the results we've been able to achieve so far for dryrobe are certainly relative to us having a detailed understanding of the various sectors they speak out to.
If a given publication produces content that lends itself to a detailed review of the product, then tailor your approach to mimic that. If the only conceivable way a title may feature the product is through a competition, then likewise be specific.
Passion and enthusiasm
This one is a major contributor to our success…being passionate and genuinely interested in the sector. I come from a running background and would have loved a dryrobe to keep warm after a tough cross-country race back in my competition days. As a team that are all into our sport and fitness, this personal interest is definitely something that helps us achieve the results we do. Passion drives engagement and you'll naturally come across as more genuine.
Don't be one dimensional
Through our work with dryrobe, the product has now been featured across swimming, OCR (obstacle course racing), running, rugby, biking, triathlon, camping, canoeing, kayaking and rowing media. But we also reached out to tech media to communicate the innovation behind the product. As a result, we've secured them pieces in tech outlets, including in leading consumer tech magazine, Stuff (the article that they featured within actually made the front cover).
Having taken the time to invest ourselves in the business too, we saw dryrobe's business story as another opportunity to drive traction for the brand. As a result, they've seen some great pieces of business coverage across the likes of the Daily Express and more recently on Forbes Online.
With each opportunity, it's important to think about the finer details too, with conversion for dryrobe the ultimate goal. We had a competition with Trail Running magazine's online 'Win' section that received close to 60,000 entries, while a similar competition we ran with Cool Camping left us with over two thousand potential customers that opted in to receive newsletter updates from dryrobe.
We maximise assets
 dryrobe are regularly announcing exciting new partnerships, whether that be with brands or individuals, and we use this an opportunity not only to engage sports/activity specific outlets, but respective trade media.
Once we've announced them, the job doesn't stop there though. I'd argue our credentials activating brand ambassadors are second to none and we always ensure we deliver as much value as possible from the relationships.
dryrobe brand ambassador Jonathan Albon won the World Trail Running Championships last month. Within one week, we had several fantastic opportunities confirmed with him across the national health and fitness/lifestyle media.
As well as paying attention to the ambassador's personal schedules to ensure we don't miss opportunities, we also keep in mind the general news and events calendar. For example, we recently secured dryrobe a standout inclusion in the Mail Online's Father's Day gift guide as one of just a handful of products in the over £50 price bracket.
 Through following the above approach, we've been able to deliver our KPIs originally agreed with dryrobe ahead of schedule and open numerous doors of opportunity for them.
If you would like to find out more about what our specialist sport and fitness team public relations team can do for you, speak to one of our award-winning team today.
How PR can be key in unlocking the door to new audiences
Calm before the storm: The Top Five Do's and Don't of Crisis Management
Crises strike in various forms. They can be planned for, but unless you have a crystal ball, predicting the finer points is extremely difficult.
Recent studies have shown that companies with an action plan already in place – and the ability to follow that plan – tend to come out best, their value held and board members in one piece.
Although this sounds an obvious point, still now, in 2015, PR professionals encounter companies large and small with no crisis communications plans.
Now more than ever, companies have to stand up to scrutiny. There are greater regulations. The public demands greater transparency, and rightly so.
The combination of factors makes it ever more important to be able to analyse risks and deal with them accordingly.
Having a crisis plan is one key factor. But what about other Crisis Management Do's, and actions you should definitely not do when cast into the eye of the media storm?
Crisis Management Do's' v Top Five Crisis Management Do Nots
1: DO ensure you have a crisis plan in place. This will include a crisis team, which should be formed of a small core of senior people and advisors. Everyone must be fully aware of what they are doing and when. One or two key people should be in charge of declaring when this team is activated.
DON'T expect it all to blow over if you aren't ready and know how to deal with it. The companies left playing crisis catch-up are often the ones which suffer most.
2: DO make sure your spokespeople are media trained and fully briefed before they speak to any journalist or TV company. Media training is a vital investment to make. Even the most confident CEOs and directors should receive training if they are likely to engage with the media.
DON'T try to wing it. This never works. Journalists are skilled professionals who will maximise the opportunity if they feel the person they are dealing with is the weak link.
3: DO stay calm and pause for thought when a crisis hits. This may be difficult under the circumstances. The best way to start a crisis management process is to show strong leadership. Your staff will be looking for this, not lots of people running around not looking like they are in control.
DON'T rush into decisions. Remember – in the midst of a crisis, every move is monitored. Words cannot be unspoken; each action will have a consequence.
4: DO get the facts as early and as clearly as possible. Ask yourself the question – do you know as much about the situation as the journalist who may be calling to put a story to you? If not, get the right people around you and make sure all the information is to hand. There may be a nugget of info which stops an initial enquiry becoming a full-blown crisis.
DON'T forget about two of your most important assets – the people you do business with, and your workforce. B2B communications and internal communications in a crisis are often overlooked but need to be handled correctly. Imagine your workers or a supplier reading something about your company before being told about the situation by you direct? Communication is key.
5: DO make sure the strategy for dealing with the situation includes social media. Ignore at your peril.
DON'T be afraid to ask for outside help, be it from lawyers, PRs or other advisors. You will have a strong team around you, no doubt, but investing in external help is far more cost-effective than being caught cold by a crisis.
Crisis Management Do's and Don'ts
A public relations (PR) crisis can cause irreparable damage to the reputation of a business. There are many scenarios that can occur, whether you're a large corporation, individual or multi-national organisation. We specialise in mitigating risk for you and your business and providing an on-demand crisis and reputation support solution that's discrete, effective and professional. Our insurance policy means that you and your business are prepared for any eventuality and can continue business as usual.
How can we assist you?
Advice on how to mitigate negative publicity
Preparing, drafting and issuing press releases and handling media enquiries 24/7 on the client's behalf
Guidance documents on how to protect you and your company
Expert media training for both broadcast and newspaper interviews to prepare your key spokespeople for interaction with the media
Not sure a public relations insurance policy is for you? Here are just some examples where our team of experts can support you.
Poorly planned marketing
Marketing and PR are essential requirements to help grow your business. Sometimes your marketing efforts can backfire – even if you had the best intentions and never anticipated it becoming an issue. Whether it is a mis-use of terminology, a Freudian slip over social media or simply an image that has been taken out of context.
For example, high-street fashion store H&M came under fire in January, when the company released an advert featuring a young black boy wearing a hoodie that featured the phrase, "Coolest Monkey in the Jungle." The media covered the issue extensively and quickly found that this wasn't H&M's first incident. The PR and media backlash were extensive and detrimental to the brand's reputation.
In many cases their business reputation did bounce back after an initial plunge in sales and reputation. However, it can take expensive compensation packages and extensive resource to resolve the situation.
Product recalls
Our top tips during a product recall are simple.
Take responsibility: When sending your statement be transparent about what happened
Act immediately: Don't waste time, the situation could potentially escalate so act quickly
Be candid and compassionate: Say sorry to your customers, own up to your mistakes
Cooperate: Work with the people effected and your communications team
Use every means possible to communicate information: Think about this as a marketing campaign, you need to get in touch with every possible customer so use all your channels available to you
Product recalls can be a large drain of resource for your in-house communications teams. Ensuring your crisis and reputation policy and plan is being executed in conjunction with the situation can be a concern as well. Working with a specialist team who can act immediately and action that process for you is imperative to reduce reputational impact, avoid injuries or accidents with customers and ensure you have reached your core demographic and their network instantaneously.
Fashion store Primark had to recall three types of their men's flip-flops containing dangerous levels of a cancer-causing chemical last year. Primark came across really prepared and were quick to make their announcement. The interesting thing about the incident is that neither the information on the corporate website or the media statement says what the issue was. A better approach would have been to be open and clear about what the chemical is and what the risks are to customers. Being transparent and demonstrating action is a key part of responding to a product recall and shows that an organisation is taking the situation seriously.
High-risk territories
Does your brand operate in high-risk territories? When a brand or business must travel to various parts of the world there is always an extensive risk assessment put in place to ensure the safety of employees and guests and what to do if there were an incident. But in those plans have you thought about your media relationships? How would you communicate your side of the story, and how can you showcase to the public and those affected what you are doing to rectify the situation? That's where a clear crisis communications strategy comes into its own and experts on hand to deal with your situation 24/7.
Injuries and accidents
One possible issue that could develop and become a major PR crisis is if your products cause injury or illness to your customers or an employee, or if a contractor has a detrimental accident on your watch.
For example, in these types of scenarios reactions to issues can range from customers complaining to friends and family about your business, taking to social media and forums to raise their concerns to severe reactions, such as seeking legal action to reimburse medical costs or to receive compensation for their discomfort.
In these cases, it is imperative to demonstrate steps are being taken to resolve the situation, prevent any future problems, and of course negate some reputation damage.
Personal information
The introduction of the GDPR legislation in May 2018 has made some businesses across the UK nervous of the impact on their business if there were a breach. Not just monetary issues can occur, but the risk and damage a data breach can cause to the reputation of a business.
That was the case for BT who were fined £77,000 by the ICO. Between December 2015 and November 2016 BT sent 4.9 million emails about its fundraising platform My Donate, Giving Tuesday and Stand up to Cancer.  The ICO said that these communications were marketing, rather than messaging, and BT did not have consent to send them.
Handling customer feedback and inquiries and monitoring the 'noise' of the incident on social and in the media can be difficult. Our specialist crisis social team can work alongside your in-house teams to rectify the situation, whilst our PR specialists help you deal with media inquiries and publishing statements to those effected.
All smart businesses plan, and crisis management is no different; prevention is better than cure. We deploy a suite of services to manage and maintain your crisis and reputation. Contact us today to find out how we can work with you and your business.
Your crisis and reputation 'insurance policy'
Regardless of whether you support or are against Brexit, it's coming, and businesses are having to deal with the consequences come what may. For some, it presents serious operational concerns and threats which have been widely reported and recognised: job losses, supply chain issues and dwindling investment. For others, Brexit presents an opportunity. Since the result of the 2016 referendum, some existing businesses have resurged, and new ones have emerged.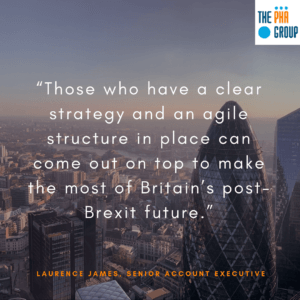 Luxury property
Following the referendum result, sales of luxury properties (valued between £5m and £10m) fell by 51% year-on-year, and new-builds in London priced at more than £5m saw an 83% drop in value. Tax changes and uncertainty around Brexit seemingly deterred buyers from investing in residential property.
Almost three years on, and the dark clouds continue to loom over a housing market which is populated by cautious buyers and sellers awaiting a government announcement on a deal with the EU. However, the luxury homes market has bounced back to weather the Brexit storm and come out the other side with a rather sunnier disposition.
Sales of homes worth over £15 million have risen more than 40% since the referendum. This is due to a rush of overseas buyers snapping up vintage English real estate. A combination of a fall in the value of house prices by roughly 25%, coupled with a drop in the pound of about 15% means foreign buyers can purchase luxury real estate for values around 40% less than they would have paid three years ago. As a result, over half of prime houses sold in London over the last six months of 2018 went to overseas buyers.
UK property is a particularly lucrative investment for buyers trading in euros and dollars. One such example is the FirethornTrust, a property investment firm run by two US billionaire families, which is investing heavily in London property amid the volatile economic conditions, including their purchase of Quay House in London's Canary Wharf.
As such, luxury property investment firms and estate agents such as London Central Portfolio have experienced success since the 2016 referendum result, when its CEO Naomi Heaton predicted an upturn in fortunes saying that: "prime central London real estate is expected to benefit from a flight to quality, against a background of highly volatile financial markets." She was right.
Gold investment
Brexit has led to a modern-day gold rush as British investors seek alternative financial assets that won't depreciate in value amid the uncertainty.
Earlier this year, Chris Howard, director of precious metals at The Royal Mint said "We have seen a significant increase in demand for gold, a trend which we have no doubt is largely attributed to Brexit and subsequent market volatility." He cited a 73% increase in demand year-on-year during the first half of January.
Speaking to Channel 4, Josh Saul, CEO of The Pure Gold Company, claimed that this increase is driven not just by a rise in demand from those with an existing interest in gold, but most importantly from first time investors. Josh has seen a 219% increase in demand from such customers over a 12-month period since the vote on EU membership. New investors are also turning to other online gold investment services such as BullionVault and Gold.co.uk.
At times when the pound and stock markets look vulnerable, gold represents a financial insurance policy for many wealthy investors. Its value remains resilient and has even appreciated in value, particularly at the most politically chaotic moments of the Brexit saga – when demand for gold is at its highest.
Management consultancy
As businesses and individuals seek to derive meaning amid the economic uncertainty arising from Brexit, expertise has also grown in demand. Numerous businesses offering expert management consultancy on Brexit have emerged following the referendum.
In the long term, potentially complicated border tariffs, a possible economic downturn, and a shortage of talented employees from the continent could ultimately have a negative impact on the industry, but for now Brexit has ensured the expertise of professional services businesses remain highly sought after.
In February, the BBC reported that the government had agreed contracts worth over £100m with management consultancy firms such as Boston Consulting Group, PwC and Deloitte to help smooth the transition from the EU and minimise any possible economic side effects.
But it's not just the government that needs this kind of professional advice, businesses small and large can benefit too. Even if a business is not directly affected by Brexit, it is almost certain that one of the other businesses in its supply chain or network of partners and clients will be affected. Therefore, many businesses already have or are considering incorporating a Brexit strategy as part of their core strategy.
Management consultancy firms such as the McWhinnie Consultancy and P2 consulting offer all types of businesses consultation within areas including legislation, finance, restructuring, strategy, corporate communications and technology, to help 'Brexit-proof' businesses.
Out of all the uncertainty created by Brexit, one thing is for sure: there are some winners and some losers. Those who have a clear strategy and an agile structure in place, can come out on top to make the most of Britain's post-Brexit future.
If you would like to find out what PR could deliver for your business, why not get in touch with our award-winning team today. Look at our B2B credentials here.
Businesses making the most of Brexit
The Business Show this year will see hundreds of exhibitors showing off their products and services, but one company we're most excited to hear from is challenger brand Starling Bank. In just five years it has grown from no more than an idea into a powerhouse of a business, now with 320 employees. It has almost half a million personal current accounts, and since launching its business account last March, has already had a whopping 42,000 signups.
Starling, amongst other digital banks, are now rivalling traditional high-street banks, who are feeling the competition and in turn are having to invest in making improvements to their digital offerings. Whilst the larger legacy banks tend to offer a wider range of services and financial products, app-based challenger banks benefit from lower operational costs as they don't have physical branches. And the concept has obviously worked, with Starling being named Best British Bank and Best Current Account Provider at the 2019 British Bank Awards, and Personal Finance App of the Year at the 2018 Payment Awards.
https://twitter.com/StarlingBank/status/1106857425104240645
We take a look back at the incredible journey of founder Anne Boden and highlight some of the key steps the company has taken since its launch in 2014.
The eureka moment
After thirty-five years in the banking business, Anne Boden had an idea. She had been travelling around the world trying to work out what competitor banks were doing and kept noticing the same challenge – banks wanted to improve their mobile banking service but were held back financially by the money they were spending on renovating their branches. That's when it hit her, and in 2014 Anne quit her job to set up a new kind of bank.
Every other industry had changed: Amazon had changed shopping, iTunes had changed music. Nobody had actually fundamentally changed banking.
– Anne Boden, Founder & CEO
She was approached by billionaire fund manager Harald McPike, who gave her a £48 million investment, and the bank officially launched two years later in May 2017.
Listen to your customers
When developing the concept, Starling asked people what they wanted from a bank. The response was that people didn't like paying fees to use their debit card abroad, so Starling eliminated them. Customers didn't want to pay penalties for going into their overdraft, so Starling decided not to charge. Customers were concerned about security, so Starling made the bank app-only because apps are much more secure than websites.
Partner up
In October 2018, the company launched its Banking-as-a-Service offering for business customers, with online savings marketplace Raisin UK as its first partner. The service enables businesses to use Starling's existing payments technology to power their product behind the scenes. One month later, the Starling Marketplace was launched. The aim was to put its customers at the centre of a wider financial ecosystem, allowing them to choose from a range of products and services.
From a customer perspective, these initiatives give them more control of their money than a traditional bank typically would. The partnerships of course also strengthen Starling's position in the market, allowing it to reach a larger demographic and to continue to expand its offering into new territories. So far, partners include online accounting software providers Xero and FreeAgent, gig economy insurance provider Zego, phone insurance provider So-Sure and life insurance provider Anorak.
Innovate
Starling is constantly improving its offering and continuing to add more and more value to customers. As well as introducing business accounts, last year also saw the roll out of its Young Person account, joint accounts, and a vertical debit card, which was created out of the ethos of questioning old logic and making banking more instinctive and intuitive. Customers can also now pay with Starling via Apple Pay, Google Pay, Samsung Pay, Fitbit Pay, and Garmin Pay.
The latest innovations, which are due to launch this year, include credit cards and EU accounts for UK customers, and creating a web portal to address the needs of SMEs who want to manage their banking online as well as through mobile apps.
Dream big
Anne's vision for Starling is to build the best bank account in the world. She hopes to stand out from other digital banks by pitching Starling as a mainstream bank for customers across the UK, but her long-term goals reach even further – she wants Starling to become a major player across Europe with millions of customers in at least 10 countries.
This is no small feat, but with the £175 million in funding the company has just secured and its 165 new recruits, it doesn't seem out of reach.
Are you a looking to build your exposure, or reach a new audience? Perhaps you have an app you're looking to launch and want to secure cut-through in the national and broadcast media? Speak to our team today to find out how we can help you achieve your long-term goals.
Starling Bank: How they did it
The PHA Group's Strategic Communications team assess what impact a new billion-dollar industry could have for investors, female empowerment and the UK's global role. 
Back in 2016, the UN's International Narcotics Control Board discovered a rather extraordinary piece of information. When assessing the global stocks and production of the world's legal cannabis, they found that an incredible 78% of the world's stocks were actually being stored in one country. Not only was that one country growing around half the planet's legal cannabis, it was also accountable for more than two-thirds of global exports.
Curiously, the country responsible for the vast majority of the world's legal cannabis production and trade that year was the United Kingdom, having doubled its production to 95 tons of legal cannabis (45% of the world's total.)
These developments can be attributed to what some analysts are now collectively naming the "Green Rush." A term being used to describe the changing political and mainstream discourse around cannabis, as more and more countries begin to develop medical programmes using both cannabis and cannabis extracts, while establishing hugely prosperous industries in the process.
A Budding Industry
At the time of writing there are roughly a dozen or so cannabis companies already operating with stock market values of more than $1 billion. While, most of the commercial focus has so far been on North America, some estimates believe that the European cannabis market itself could be worth over £100bn by 2028. To put that figure in perspective, that's more than double the revenues Apple reported in the region last year.
The big cannabis-producing companies recognise the need to provide more clinical evidence as they become more pharma-focused, which will begin to see more clinical trials and medical partnerships. The world's largest cannabis company, Canopy Growth, a Canadian grower that processes cannabis plants into oils, gel capsules and dried flowers, generated sales of £47m last year. They've now created a new UK subsidiary, Spectrum Biomedical, to begin importing and distributing cannabis to pharmacies in the UK at the request of physicians in 2019.
UK Market
Acceptance amongst Britain's political and business leaders around cannabis continues to grow, and it's proving exciting for investors. Britain's first investment vehicle devoted to medicinal cannabis, Sativa, floated on London's NEX exchange in March 2018, followed by High Growth Capital in June, both attracting buoyant backing from fund managers. Unsurprisingly, the shares would soar in value after Home Secretary Sajid Javid's unexpected decision in November to legalise medical cannabis. The decision from the Home Office to introduce legislation was significant breakthrough, a decision arriving much earlier than most analysts had expected. However, while patients are still struggling to access medical cannabis, it is worth remembering that cannabidiol (CBD) products were already widely accessible as food supplements. High street stockists, such as Holland and Barrett, have already been successfully promoting CBD ranges, despite not being able to endorse the health benefits by law.
In the background though, things continue to progress. There have been further positive votes in the European Union to advance medical cannabis. The World Health Organisation officially recommended that the cannabis compound cannabidiol (CBD) should not be classified as a controlled substance, and the UN has released positive findings from studies on both CBD and THC.
Now, ECH, which helped to secure the arrival of the first legal cannabis shipment in Britain this year, has now opened the first medical cannabis clinic in the UK in Manchester to assist patients with chronic conditions, with clinics in London and Birmingham due to open before the end of the year.
High Expectations
As the Guardian reported earlier this month, interest in CBD is exploding and it isn't just this month's turmeric shot. They reported that "If CBD does what its advocates suggest – or even a fraction of it – this all-natural, side-effect-free, widely available chemical could genuinely be the wonder drug of our age."
It's some statement. In the meantime, the UK is already seeing CBD cocktails, edibles such as gummy bears, vapes and we've even heard of a new tampon range. The government has recognised medical cannabis has benefits when it comes to some serious conditions, but others argue CBD has the potential to replace everyday items like ibuprofen. It's an industry in its infancy, and nobody is sure quite how far the possibilities extend. But if things progress as quickly and as promisingly as they are currently, you will most certainly be looking at the UK's next potential billion-pound industry.
Female Empowerment
The nascent cannabis industry requires talented entrepreneurs and leaders to take it forward.
On May 18th, global players in the market will be arriving in London to discuss these developments and more at the Women, CBD & Medical Cannabis Conference at the Hilton London Paddington Hotel. Business leaders tell us one of the benefits of working within such a new and rapidly developing industry is how ascendant it has been for women. As it is a relatively new industry, there is a unique opportunity to help build an entire regulated industry from the ground up – a space that is progressive and inclusive compared to other traditional industries. As a result, the number of women in senior leadership positions continues to outstrip the national average, while the female consumer demographic in the US virtually doubled in size last year. Forming a new industry has allowed equal opportunities to be built into the core of it, as well as giving them an edge when it comes to understanding their female consumers.
Are you looking to build your exposure, or perhaps reach a new audience? Speak to our team today to find out how we can help you achieve your goals.
Medical Cannabis: The UK's next billion-pound industry?
A PR campaign can be a really effective way of raising awareness of your growth plans and attracting interest from VCs. But your strategy has to be spot on to maximise the opportunity. Here are 5 top tips, with examples from our own work, to bear in mind.
Key messages
Potential investors ultimately want to know why your business is worth their money. And they don't have time to try and work it out themselves.
You must have clear messages at the heart of your PR campaign. What is your USP? How are you disrupting your industry? Why should someone part with their money to be part of your journey?
These messages should be consistent across all PR stories and come through whether it's via a written interview, TV appearance or by-lined article.
There is always an opportunity to portray these messages but knowing how to weave them in without simply plugging your service is key.
A PR strategy and calendar over a number of months will enable you to ensure these messages are clear across all channels; print, online and broadcast.
Perceived value
Attracting investment is all about the perception of your business and the value you can bring to investors. Often you want to seem bigger than you are.
Investors want to know that they will see a return on their investment.
You need prominence in the most well-respected business press and national business pages to reach your target audience of key decision makers; this can be achieved through a combination of interviews, company news (such as new hires) and thought leadership opinion pieces to position you as a leading authority for the sector.
When talking about your business, you can heighten its perceived value by explaining how you are disrupting the industry and being clear on figures such as turnover and profit.
We worked with Purplebricks.com from launch (April 2015) until November 2015 with a key objective of attracting investment. Through interviews with CEO Michael Bruce and regular industry commentary in the right titles, we achieved our ultimate goal. 18 months after launching, Purplebricks announced its intention to float with an IPO valuing the business at circa £250m. The consistent coverage we achieved for the company across the national and business press had a hugely positive impact on their corporate profile and reputation as one the UK's fastest-growing businesses, revolutionising the property market as we know it.
Growth potential
Part of a company's perceived value is growth over time – both previous and projected.
It's important to demonstrate, through correct messaging in the right set piece interviews, tangible evidence of how your business has grown since birth and how it's projected to grow even further.
You can actually choose certain publications and interview slots within these – which give you the opportunity to talk about these figures – through the right contacts.
Our work with Jordan Daykin, founder of GripIt Fixings and the youngest ever entrepreneur to receive Dragons' Den investment, focused around telling the story of his rapid rise to success since the age of 18 and ambitious crowdfunding plans to help expand internationally.
By securing coverage across the national, business trade and regional press, we oversaw GripIt's successful CrowdCube campaign which overfunded and raised £1.5m in just five days.
Success stories
Potential investors want to see that you are delivering on the real everyday problems you claim to be solving. Does your offering have the longevity they're looking for?
A great way of demonstrating this is through success stories in the mainstream media. These can range from money-saving examples to life-changing stories, and everything in between.
For instance, for Purplebricks.com we sourced, interviewed and placed case studies of satisfied customers in the national press to demonstrate the value added to the house buying and selling process by the Purplebricks.com brand.
Multi-channel approach
Getting your key messages across – USP, company value, potential growth and success stories – is at the heart of a successful PR campaign, but how can you ensure they are seen by the right audience and ultimately help to attract investment?
Knowing the media landscape and the right publications and set pieces which allow you to portray these key messages is vital. This includes securing coverage across print, online, broadcast and even maximising this across your social channels.
For example, we secured prominent coverage for child internet safety platform, Azoomee, ahead of their crowdfunding campaign in October 2016. Coverage in the business press and tech industry titles put them on the radars of savvy investors who quickly got on board with the crowdfunding campaign.
Ultimately, building a portfolio of targeted press coverage in the right publications over time will build your brand's credibility and make you an attractive proposition for potential investors.
How to use press coverage to attract investment
According to Bill Gates, the future of meat is vegan. There's no denying the surge of plant-based products entering the market, and last year the total value of the UK plant-based market reached a whopping £443m. The UK launched more vegan products in 2018 than any other nation – in fact, one in six products launched in the UK carried a vegan claim.
While this is great news for those long-term vegans who can finally enjoy being spoilt for choice at the supermarket, businesses are having to fight harder and harder to win customers and loyalty. Brands are no longer guaranteed high sales simply because they have a meat-free product on the shelves, and several ranges have been discontinued across even some of the big players in the market, including Linda McCartney's, Nestle's Garden Gourmet, and Flora.
So, what should businesses watch out for when launching a new vegan product? We explore how important language can be in marketing your product or service, some great examples of product messaging, and how to avoid common pit-falls.
Know your audience
There is no single category of vegan – people following a plant-based diet can't be put into a box, and as such there's no one correct way to advertise to them. Defining your target demographic is crucial; knowing who you're selling to will enable you to create the right content for the right people, and better understand what your product and marketing strategy should look like. While a blanket approach may have worked in the past, followers of a vegan diet are much more discerning now (not least because of the increasingly competitive market) and will be looking for a brand that speaks to them as an individual, instead of just as a vegan. Furthermore, with the rise in flexitarianism and the growing awareness of environmental and health concerns with meat, your audience is unlikely to be 100% vegan – many of your target consumers will be meat-eaters who are choosing alternative options.
Considerations when defining your audience: Imagine your ideal customer. Pick a name for them. What's their age, income, gender? Where do they live? What's their newspaper of choice? Where do they shop? What are their hobbies, spending habits and values (known as psychographics)? Once you've got a clear understanding of who the consumer is, place yourself in their shoes and ask yourself what would make you choose one product over another.
Take Nike as an example. The company is known for its provocative and disruptive marketing, which goes to show it understands its target audience and the issues that matter to them. Drawing on Nike's Twitter audience insights and analysis by Zoomph, we know that for a long time the company's core customer was a 14-35 year old man, living in a big city, with an affinity to The Economist and a political lean to the left. However, this isn't Nike's only audience, and in recent campaigns there has been a clear shift. Brands need to adapt their marketing strategy over time, and nowadays Nike has an increasing emphasis on tweens and teens. Its gender focus has become a lot more equal, with females making up 45% of its customer base. In terms of psychographics, Nike's target is unwavering: individuals who enjoy playing, watching, or talking about sports.
Don't overdo the health claims
"If a product is presented as delicious, it's more likely someone will consider it on shelf and take the time to read through health and sustainability claims." – Erin Ransom, VP of Marketing at Tofurky.
Brands should be wary of shouting too loud about how healthy a product is – for many people, a product labelled 'healthy' might be seen to lack flavour. Additionally, phrases like 'meat-free' or 'reduced meat' can turn customers off, giving them the impression that they're being short-changed. According to Daniel Vennard, who heads up the Better Buying Lab at the World Resources Institute, we need to get much better at describing sustainable food. Using the right language can make all the difference, and marketing specialists should be spending the time and money required to carefully select words that evoke emotions and shape customers' tastes.
A winning alternative could be to dispel the widely-held myth that vegan foods lack protein. Many products in Marks & Spencer's plant-based range, Plant Kitchen, are labelled 'high in plant protein'. This is a great example of a brand showing off nutritional claims without turning customers off by devaluing what the product offers.
A brand's choice of language can be critical, and a simple name change can cause product sales to soar. A Panera Bread store in Los Angeles renamed its "Low Fat Vegetarian Black Bean Soup" to "Cuban Black Bean Soup", resulting in a 13% sales uplift. When the Sainsbury's market café in Truro changed their 'meat-free sausage and mash' to 'Cumberland-spiced veggie sausage and mash', sales spiked a whopping 76%. Vennard summed it up perfectly when he said that "using positive, indulgent language that emphasises taste and flavour seems to be much more effective".
Rethink 'vegan' messaging
Co-founder and executive director of the Good Food Institute, Bruce Friedrich, suggests that companies who sell meat-free products should, perhaps counterintuitively, avoid using the term 'vegan' or 'vegetarian' to describe them, as it can alienate people who don't subscribe to these diets. Labelling a product as vegan or vegetarian, according to Friedrich, is taken to mean that it's only for vegans or vegetarians, and because meat-eaters have an inherent bias against foods that are made for people on different diets to their own, they'll be less likely to choose it. Furthermore, specialists at the John Hopkins University published research last year that showed labelling a product 'vegan' can cause sales to plummet by 70%.
This attitude seems to be supported by a number of brands including Gardein, Tesco's Wicked Kitchen, M&S's Plant Kitchen, and Beyond Meat, who all avoid the 'v' word and instead opt for alternatives like 'meat-free' and 'plant-based'. According to Claire Hughes at M&S, labelling a product as vegan, less meat, or reduced meat is "the worst thing you can do".
But remember, just because it's worked for them, it doesn't necessarily mean it will for you; after all, many companies whose consumer-facing USPs do include 'vegan' are boasting amazing year-on-year growth. Over 50% of shoppers at Pret A Manger's dedicated vegetarian shop in Soho define themselves as meat-eaters, implying that Friedrich's assertions certainly aren't true for everyone. Be aware of what's right for your consumers – more and more people are becoming interested in moving towards a vegan lifestyle for ethical, health or environmental reasons, and will be actively searching for products that are suitably labelled.
Avoid confusing your customer
There has been a growing backlash from the dairy industry that plant-based milk alternatives using soy, almonds, cashews, rice, hemp, and oats should not be allowed to write the word 'milk' on their packaging. Whilst the plea gained little traction and was officially rejected by the US Court of Appeals in December, marketers should take note. Advertising a dairy-free product with words like 'milk' and 'cheese' on the packaging, with the absence of explicit vegan or vegetarian claims, could prove confusing to consumers, who may end up opting for a clearly labelled product instead to ensure they're certain of what's in it. And the same goes for meat-free products with 'chicken' or 'meat' on the label. As mentioned above, know who your audience is, and judge your decisions wisely.
If plant-based marketing feels like navigating through a minefield, you're not alone. Even Erin Ransom of Tofurky admits that the issue of labelling is one that all plant-based food companies are having. Ultimately, brands will need to consider both hard-core vegans and mainstream shoppers when deciding on their marketing strategy, and they should strike a balance when talking about being vegetarian- or vegan-friendly, so as not to alienate either audience.
If you're launching a new product or want to grow your brand's share of voice, our consumer PR team can help take your business to the next level. With extensive experience in FMCG and food and drink industries we know how to get your brand recognised and in front of the right audience. Get in touch here.
How to market your vegan product
As an agency with 14 years' experience of launching start-ups and growing with them, we are well versed in demonstrating the impact on our work in line with clients' business objectives.
Value for money and a sound return on investment have never been more important for growing businesses, and a key element of this for many start-ups, scale-ups and SMEs is the relationship with their PR agency.
The best agencies have emerged from the dark ages of measuring the success of a PR campaign against Equivalent Advertising Value or audience impressions – challenged to find more tangible, realistic and accurate ways of measuring coverage for their clients. From share of voice, to website traffic, to sentiment, there are various metrics to show the impact of our work. But underpinning all of this is a willingness on agency side to be transparent and understanding, qualities which are the foundation of a long and successful client-agency relationship.
Transparency from the start
The first pitch or introductory meeting often sets a precedent for rest of the contract, so an open, honest approach from the off – from both sides – is important. As the client, what are your primary objectives and ultimately what do you want to get out of the PR campaign? As the agency, do you fully understand the client's brief and are you clear on how they view success? These are two key questions to get out in the open early on.
Just as it's the client's responsibility to be clear with the brief, the agency must be crystal clear on how realistic and achievable these objectives are – and in what timeframe – from the moment the contract kicks off, to avoid any ambiguity on either side later on. Kicking off a campaign and media strategy without agreed objectives is, in a PR sense, the definition of madness.
Agree a target audience
What use is an interview, news announcement, by-line or case study if it won't be read by your brand's target audience? This is a key factor for an agency and client to establish early on, in order for the agency to deliver a PR campaign that will add true value, rather than coverage for coverage's sake.
As the client, feel free to tell your agency what your dream piece of coverage would be, and why. We'll often ask our clients this question the first time we meet, as it helps us understand a) the audience they wish to communicate with, and b) their expectations – it's then our job to manage these expectations and advise on a strategy to suit.
Within the Technology team we work with a fascinating variety of businesses – from start-ups to larger, international brands, operating in the B2B, B2C and Fintech space. It's unsurprising, therefore, that such a variety of companies have such different priorities when it comes to press coverage. Some would like a few, less frequent stand-out features in the national press, whereas others see more value in a regular stream of thought leadership in the key industry press. If both parties are clear from the beginning, delivery will ultimately benefit.
Data-driven insights
PR analytics tools, such as our own online & social listening service, PHA Pulse, are able to quantify the impact of PR – and inform strategy – in a way that the agency and client can understand, therefore allowing us to optimise our PR strategy accordingly to drive business objectives for the client.
Through taking a data-driven approach to measurement, we have been able to analyse the for clients in recent months, such as communications software company PowWowNow:
Their share of voice versus competitors; comparing the number of unique mentions the brand name receives in online news sources compared to its main competitors. We can take this information and tell the client where they sit in the market, and set an objective to increase this share of voice as part of our agreed KPIs (over 3 or 6 months, for example)
Who is engaging with / mentioning the brand on social media; identify the most common demographic engaging with the brand and what their interests are. We can take this knowledge and, as a result, target this specific demographic with our PR strategy
An analysis of relevant conversations online and across social media. This tells us the most used topics and key terms which featured within conversations about topics relevant to the client online. We can tell the client how prominent they are within these conversations and the related topics & key words we should be looking to engage with in order to increase this prominence
The most popular content about a specific topic (measured by engagement or audience impressions). This tells us which online news articles or social media posts about topics relevant to the client received the most engagement. We can a) identify journalists/influencers (and contact them) or b) learn about specific content relevant to the client that proves popular online (and replicate it)
Online sentiment towards a brand and the mindsets behind brand conversations. We can inform the client of overall sentiment and seek to improve it over time.
Speak up
Underpinning all of this is clear communication between the agency and the client. It's so important that either party makes it clear at any point if they're not happy with how things are going. The majority of qualms are easily put right on a call or meeting, and with openness and honesty, a successful long-term agency-client relationship will come naturally.
Are you interested in hearing about how we might be able to help you promote your offering? Speak to a member of our award-winning technology team today.
How a PR agency can demonstrate ROI