In recent weeks the Head Teachers across the UK commissioned a report focusing on the challenges of a digital era. The Digital Awareness UK report was based on interviews with 50,000 school pupils in the UK. It showed that 27% of head teachers in England now had to deal with problems related to online bullying every week. This was significantly higher to the comparison to an international average of 3%.  But it isn't just online bullying that is on the rise in the UK. Teachers are frequently dealing with issues and situations and it raises the questions if we need to do more as a society to support children through such difficult times.
We take a look at the incredible work anti-bullying charities are doing to support our younger generations.
Kidscape's vision is to create a world where children can grow up free from bullying and harm, with adults who keep them safe and help them reach their full potential. Their mission is to provide children, families, carers and professionals with the tools, resources and advice they need to help prevent bullying and protect young lives.
Kidscape deliver superb ZAP community programmes for all ages to provide children ages 6 – 16 with a range of tools to increase assertiveness, build confidence and help manage bullying situations. Running in both a community setting or their range of school programmes, their workshops have proved to help significantly reduce experiences of bullying and help children understand the outcomes of their actions.
Kidscape doesn't stop there; they provide workshops for big life changes through their RISE workshops to help build self-esteem and prepare young children with the transition of moving up to secondary school.
With a wide range of advice and resources for families, carers and children Kidscape is an excellent platform to support children with anti-bullying needs.
Youngminds are leading the fight for a future where all Youngminds are supported and empowered, whatever the challenges might be. Their impact report showed that three children in every classroom in the UK have a mental health problem, and Youngminds are on a mission to tackle that.
Youngminds deliver training courses across a host of topics including social media, anxiety, self-harm adolescent mental plus many more. They also provide tools and toolkits for schools, community centres and families to help tackle the route causes for many of these problems.
Children can get help from one of their support staff who will support them through their problems and give the well needed guidance they need at a difficult time.
View this post on Instagram
The Diana Award anti-bullying programme who recently featured on the popular BBC One documentary with Little Mix star Jesy Nelson help to support and raise awareness of bullying in UK schools. According to their Back2School resources 10 million children in the UK will return to school in September and over half of them will be affected by bullying. So, part of their mission is to educate school children about the impact, consequences of build their awareness to help prevent bullying in schools.
One area The Diana Award specialise in is the impact of cyber-bullying. With a host of cyber tips in their support centre, The Diana Award provides advise and support for children and young adults on what to do if they experience cyberbullying and how to spot it online. We aren't just talking social media either, advice and tips are also given for online gaming and other chat platforms.
Check out their how to stay safe online tips today to help raise awareness for this growing problem.
The StandUp Foundation was set up by Founder Ben Cohen, MBE. Ben is an England Rugby Legend. He is a World Cup champion and a second all-time scorer for his country. In 2011 Ben set up the StandUp Foundation with a clear vision in mind. The mission is to raise awareness of the long-term, damaging effects of bullying and to help fund organisations who are tackling bullying in schools, at work, in our communities, sports and online.
With compelling case studies from brave individuals who have shared their experiences with bullying in their lives the StandUp Foundation educates and provides clear insight into the lasting effects bullying can have on people.
The foundation provides grants to other third sector organisations to help eradicate bullying in our society. Grants are reviewed at the end of March and October.
Established in May 2006, Bullies Out is one of the UK's most ambitious anti-bullying charities. Through their innovative and interactive workshops and training programmes Bullies Out use their own experiences and energy, passion to focus on awareness, prevention and building empathy and positive relationships.
Their vision is to empower and inspire children and young people to overcome bullying and achieve their full potential.
Their e-mentoring support and Make a Difference communities help children and young adults nationwide to get the support and guidance they need.
If you want to learn more about our third sector public relations services, please speak to a member of our team today. With a specialist department we can scale our resources to fit your needs.
The top anti-bullying charities working to protect children and young adults
We're delighted to have been announced as a finalist for our first Corporate Social Responsibility Award at the CIPR Excellence Awards 2019. We have everything crossed for tonight's star-studded event but before we straighten our ties and put our glad rags on, we wanted to share our award-winning entry with you. Gain insight into the impact and engagement our PR and social media teams delivered for a large industry body.
The brief
The Industry Group for Responsible Gambling wanted a targeted social responsibility campaign to promote responsible gambling amongst customers and the wider public.
Responsible Gambling Week (RGW) took place across the UK & Ireland, November 1 – 7th, 2018. Our aims and objectives for the campaign were:
To raise awareness of the campaign amongst gambling operators and encourage participation
Raise awareness amongst customers of how to gamble responsibly
Raise awareness of the tools available to help customers gamble responsibly
Raise awareness amongst gamblers and in the wider community of where to find help and support for those who need it
Our research and planning
The prevalence of gambling, especially amongst young adults, has become a contentious political issue. Gambling operators have a statutory obligation to ensure their customers gamble responsibly, but they also have a duty as good corporate citizens to go beyond their statutory commitments.
But how do you reach your customers with these responsible gambling messages?
We reviewed research on the subject, including publications by Playing Safe, an independent academic panel working with the casino industry, which suggested an informal, conversational tone has greater cut-through than heavy-handed public health-style messaging. Younger gamblers perceive this as 'too nanny state'.
We were asked for input into the campaign messaging and it was agreed there would be five central messages:
Set your limits for time and money
Only spend what you can afford
Gambling is not the answer to any problem
Gambling shouldn't interfere with your personal relationships
Gambling when angry is not a good idea
In addition, there were 20 'conversation starters', designed for use on social channels and to trigger discussion. Examples included: 'Just a heads up…. it's easy to lose track of time when you're gambling'; 'Play smart…know your limits' and 'What time is it? Keep an eye on the clock'.
We had three primary audiences we set out to target:
Gambling operators and staff
Regular gamblers
Occasional gamblers and non-gamblers
Our brief from the client was to avoid engaging with national media as they would make it a debate about problem gambling rather than responsible gambling. We, therefore, targeted three main media audiences:
Trade media
Regional media
Alternative publishing platforms
Our strategy was to find a way of creating a national conversation without engaging with conventional national media. The issue of football clubs being sponsored by gambling companies was becoming increasingly sensitive, we used this to approach clubs directly to persuade them it was in their interests to support the campaign.
We knew if clubs shared our assets through their social channels and at their stadium, we would reach a mass audience, including one of our primary audiences: young, male gamblers. We could also use football clubs' involvement to spark interest with the regional media.
Strategic tactics
With no budget for commissioning original research or other campaign collateral, PHA conceived and implemented the campaign strategy. Campaign assets were focused on the five key messages about what it means to gamble responsibly, which were created by the Client.
We launched the campaign in the trade press in July to secure buy-in from operators. We maintained momentum through a series of news updates, interviews and thought leadership pieces with John Hagan, chairman of the IGRG. We posted from our Twitter and Facebook channels, creating engaging visual content. We persuaded many Trade titles and online platforms to carry free RGW advertising.
We secured a partnership with the EFL and sponsor Sky Bet, and with individual Premier League clubs.
During Responsible Gambling Week:
Free adverts appeared in every EFL match programme and on big screens and LEDs
Key responsible gambling messages and videos were promoted on clubs' social channels and two teams, Swansea City and West Ham, changed their match kits to carry the RGW logo
We secured a partnership with the Racecourse Association, involving all leading courses. At a televised Ascot meeting, a race was renamed as the RGW Stakes and the winner's enclosure was RGW-branded.
Delivery
Our strategy was to make the #RGWeek18 hashtag as widely visible as possible to promote conversation and publicise the responsible gambling messages. We were set a KPI of 10 million impressions – we generated almost 19.5 million.
A small percentage, around 400,000 impressions, were generated by an Instagram influencer campaign commissioned from another agency, involving former cricketer Graeme Swann and hockey player Sam Quek.
With gambling operators facing a political storm, we felt it was important to include political engagement in the campaign. Our approach was to hold a focused drop-in event for MPs with a strong interest in gambling – supporters and opponents of the industry. The event cost nothing and the client felt it led to more concentrated and useful engagement than in 2018.
Our results
#RGWeek18 generated 19,319,184 total impressions for the campaign period – in comparison to seven million impressions during Responsible Gambling Week 2017.
An external agency, Chrysalis, independently evaluated RGW and found that awareness of the campaign amongst the general population had increased by 2% from 2017 to 2018. The proportion of gamblers who had seen responsible gambling messages in newspapers increased from 9% in 2017 to 17% in 2018.
160 pieces of Media coverage were generated as a result:
B2B Trade and Industry: 64.
Regional print and online: 62.
Regional broadcast: 4.
Football Club websites: 26.
Racecourse websites: 4.
If you'd like to find out how we can deliver an award-winning campaign for your brand or business please get in touch with us today.
Responsible Gambling Week – Corporate Social Responsibility
Today is International Stop Food Waste Day, which is all about educating and igniting change in consumers and businesses, in order to tackle the global food waste epidemic that we're currently facing. According to WRAP, the government's waste reduction body, 1.9 million tonnes of food is wasted by the food industry every year in the UK, a massive 1.1 million of which is avoidable. Furthermore, 250,000 tonnes of the food that goes to waste each year is still edible.
The need to stop food waste is clearly dire, and thanks to a WRAP's Food Waste Reduction Roadmap, large food businesses including many major retailers are pledging to halve the UK's food waste bill by 2030. Additionally, more and more brands are popping up that aim to address the issue in innovative ways. Here we list our five favourite companies that are doing just that.
On a mission to make sure good food doesn't go to waste, FareShare take tens of thousands of tonnes of surplus food from the food industry and redistribute it across 1,500 towns and cities across the UK. In 2013 ASDA teamed up with FareShare to introduce an operational process to divert surplus products at depot level to people in need, and last year alone the charity redistributed enough food for 36.7 million meals.
When a group of tech-savvy entrepreneurs around Europe were confronted with the shocking reality of how much food gets wasted every day, they decided to join forces and created Too Good To Go in June 2016. It's an app that allows everyone to do their bit to reduce food waste – vendors and restaurants who have perfectly good leftover food at the end of the day can sell it to other users, who pay by the app and collect it. So far, the business has created an impressive community of 576,000 'Waste Warriors', who together have saved over 523,000 meals from being sent to landfill.
Innovative condiments brand Rubies in the Rubble make all their products from ingredients that would otherwise go to waste, not because they are unfit for consumption, but simply because they are the wrong shape, size or colour. Founder Jenny Costa found it unacceptable that so many people are starving in developing countries, while in wealthy countries we throw away delicious, in-date food just because it doesn't meet retailers' aesthetic requirements. Out of this came an idea: create chutneys, jams, and preserves from all the excess produce. The business is now an award-winning brand, stocked in supermarkets and delis across the UK.
Food Cycle is a community-focused charity that supports people who are hungry and lonely by serving tasty lunches and dinners every single day in towns and cities across the country. It targets vulnerable communities by reducing food waste, reducing food poverty and training volunteers. Everything the volunteers collect is surplus food that would otherwise have gone to waste. So far, they have saved 270 tonnes of surplus food, which they have used to serve over 250,000 meals to people in need.
Social enterprise FoodCloud is a retailer app that currently helps over 7,500 charitable groups get surplus food in the UK and Ireland. Supermarkets and food stores with leftovers scan descriptions of their excess food into the app, letting local charities who are registered on the app know it's available for collection. The company has so far helped to ensure 45 million meals have gone to people and not to waste, which equates to over 20,000 tonnes of food and over 65,000 tonnes of CO² in carbon savings.
If you're a charity or organisation who wants to spread the word about the work you do, take a look at our third sector PR services. With extensive experience in creating stand-out campaigns that drive awareness and boost donations, we know how to take your cause to the next level. Get in touch today.
Stop Food Waste Day 2019: Businesses fighting for the cause
Over 800 million people lack access to clean water, and 2.3 billion people do not have access to a decent toilet. It goes to show that there are still huge strides to be taken in the fight against the global water crisis.
Many businesses are doing their bit to provide clean drinking water to developing countries, and since today is World Water Day, we've taken a look at our three favourite challenger brands who are making significant progress towards the vision of a world with access to safe and clean water for everyone.
Every purchase of One Water, Juiced Water, Flavoured Water or One Gin, funds life-changing water projects for some of the world's poorest communities. With projects ranging from water and sanitation programmes to community training and school feeding programmes, One are truly making a difference to this incredibly important cause.
Launched on World Water Day 2017, the alcohol branch of the business, One Gin, was born out of the desire to create exceptional spirits that make a real impact on the world. It went on to become an IWSC Gold award winning brand, and today they donate 10% of their profits to the One Foundation.
So far, the company have raised £19.3m for global clean water and sanitation projects, giving clean, safe water to 3.5 million people in the world's poorest communities. And they show no signs of slowing down, with a mission to raise £20m by 2020.
Life Water sells locally sourced water in the UK's first zero-plastic cans, which are 100% recyclable, made from recycled aluminium and are BPA free. Every Life Water drink purchased funds clean water projects across the globe, through their partner charity drop4drop. Projects range from building hand pumps in Malawi to implementing an extensive restoration scheme in Mozambique, where they are fixing broken bore-wells and empowering communities to manage and maintain their projects locally and effectively.
Founded in 2005, Life Water's mission is to make a difference wherever they can, by raising the bar of what consumers should expect from their everyday products.
Social enterprise Jerry Bottle trades reusable water bottles for their sister organisation Waterfall Charity. Campaigning for a reusable and sustainable economy, they give 100% of their profits to fund water projects in India and Tanzania. The business model is based on encouraging people to swap out single use plastic bottles and instead purchase their stylish stainless-steel alternatives. What's more, at the bottom of every bottle is the coordinates of the water project you have funded by buying that product. A pretty great perk if we do say so ourselves!
The money raised from water bottles funds clean water projects, including building hand pumps in West Bengal to provide clean water for hospitals on Pemba Island in Zanzibar.
It's so important for brands like these to shout about the great work they're doing, particularly when it ties into awareness days for third sector organisations. At The PHA Group we work with a host of charities and third sector companies. Our award-winning team has extensive experience in fundraising campaigns, crisis management, influencer engagement and more. Speak to our team today to find out how we could help you achieve your goals long term.
Take a look at some of our credentials here.
World Water Day
Animal charities are notorious for memorable and often incredibly emotive adverts and campaigns. The key to finding the perfect balance between informative, guilt-inducing and shocking, or imaginative and relatable content is to incorporate multiple communications strategies. Whether it is working with celebrity ambassadors, pop-up events, case study promotions or positioning key stakeholders within the charity in the press, a clear communications plan is important.
Clearly, this is no mean feat, yet there are some animal welfare charities that have got this tricky concoction completely spot on. So, here is the coveted list of the leading animal charities that we think have knocked their campaigns out of the park.
Dog's Trust
Dog's Trust put an amusing spin on its longstanding 'A dog is for life, not just for Christmas' campaign, as usual, aiming to highlight the main issue that they routinely face around the festive period: the increased number of people ridding of their unwanted canine Christmas gift. In the light-hearted advert, the charity depicts people treating Christmas presents like dogs- taking a PlayStation for a stroll, playing fetch with a hairdryer and kissing a perfume goodnight. Ending with a woman attempting to wrap a dog up as a present, with Mel Giedroyc's comforting commentary, we are gently reminded that dogs really aren't just Christmas presents.
What do we like about it?
This is a refreshing withdrawal from the thought-provoking adverts that we are bombarded with over the festive period. Dog's Trust have found a happy medium between humorous content, whilst also conveying a clear message. The advert is witty, without being too ambiguous. Gathering over 5,243 views on YouTube in less than two weeks, the positive reaction speaks for itself.
Blue Cross – The world's first ever estate agents for cats
In April, Blue Cross created the first pop-up estate agents with a twist, the prospective tenants were cats. This initiative was brought to life by Blue Cross in a bid to encourage the adoption of homeless and unwanted cats in its care, as well as making people aware of the importance of mentally stimulating your pets. They also rather ingeniously included 'architects' of the cardboard homes in the form of journalists, bloggers, designers, university students and even school children.
What do we like about it?
By making Journalists, students and children the architects of these homes, Blue Cross could guarantee coverage and a wide spread of conversation. They also included an all-important personal, emotive touch, by featuring actual Blue Cross pets who were waiting to be adopted in all their imagery. In total, the campaign amassed 10,716 views on YouTube, a great response for the charity.
PDSA- Pet Fit Club
In this hugely successful campaign, PDSA set their sights on combatting the recently illuminated issue of overweight pets. Whilst on the surface, the concept of a 'podgy pooch' may seem amusing (especially when presented with the visuals), there is a serious health issue that must be addressed. Enter, Pet Fit Club, the UK's biggest and most successful pet slimming campaign competition. Every year, PDSA choose 13 overweight pets from across the UK and facilitate them in reaching their ideal weights, with owners receiving expert advice from PDSA vets and tailored diet programmes to get their pets healthy and every step being tracked on social media.
What do we like about it?
The campaign has a nice mix of humour, relatability and importance. They include visuals on the website that help us to see the funny side of the situation, for example images of the '10 fattest pets', yet at the same time, they address it as a very serious issue, offering advice and giving the public the opportunity to track success stories on social media. Everyone loves a weight loss success story, so what could be better than one starring our favourite four legged friends, that you can also follow on Twitter? The campaign generated national coverage in Daily Mail, Metro, The Express, Sky News, ITV News to name a few.
Battersea Dogs & Cats Home's first major brand campaign
Battersea Dogs & Cats Home opted for a playful approach in their campaign to raise awareness of the ever-present issue of rehoming rescue animals. With the stars of the advert series being actual residents of the home (Peanut the dog and Misty the cat), the 'dog and cat cam' documents the day to day life at Battersea, from health check-ups to their activities centre training. As part of the overall media strategy, the ad was accompanied by mini episodes online with various feline and canine guest journalists documenting the charities work.
What do we like about it?
With almost 171,000 views on YouTube, and counting, this awareness campaign has obviously been a success. Perfectly highlighting the brilliant levels of care at Battersea, as well as creating every animal lover's dream of experiencing the day in the life of their favourite animal. Light hearted, memorable, indisputably cute and accompanied by Sue Perkins's dulcet tones narrating the whole thing, what's not to like?
The Jane Goodall Institute- Cycle my cell
The Jane Goodall Institute's #CycleMyCell Student Challenge is a mobile phone recycling initiative, set up between Winnipeg Area High Schools. The aim with the challenge is simple; target debatably the most environmentally conscious generation and educate them about sustainable consumer choices, in the form of a competition, with the end goal of protecting the Congo basin where Great Apes reside.
What do we like about it?
Creating an informative advert campaign, teamed with a catchy alliterative hashtag and targeting the most social media active and environmentally minded age group is a simple, effective campaign strategy that is a sure-fire way to create a great social buzz and ensure that the campaign has longevity.
Do you agree with our choices? To find out how public relations can benefit your business then please get in touch with a member of our award-winning team.
Top 5 animal charity campaigns
You know it's acceptable to start feeling Christmassy as soon as that first Christmas advert appears on your TV screen. Charity Christmas campaigns are always bound to tug at our heart strings, and promote exactly what Christmas is all about, giving, spending it with others and being thankful for the year.
We take a look at some of the best charity Christmas campaigns from across the years, which have both shocked and moved us.
Greenpeace – Alternative Coca-Cola Christmas Advert (2017)
Reworking the famous Coca-Cola #HolidaysAreComing ad aiming to highlight the unfortunate side effect of bottled fizzy drinks and plastic waste, Greenpeace's campaign was a huge shock to many viewers. Coca-Cola renowned Christmas campaign hits our TV screens every December – but last year, Greenpeace UK set out to hijack the campaign, forcing it to share the spotlight with their ocean plastics campaign.
In the UK alone, 16 million plastic bottles a day aren't recycled, and many of these end up in our oceans. Greenpeace UK's spoof on Coca-Cola's well-known Christmas ad launched just hours before, to see if they could reach a bigger audience by taking over the hashtag.
The campaign was a success with 66% of the conservation about Coca-Cola on the day mentioning Greenpeace UK. PR Week named the advert as one of the season's top hits, with over 3.5 million views on Facebook worldwide.
Sainsbury's/Great Ormond Street Hospital Children's Charity – The Greatest Gift (2016)
In 2016, Sainsbury's partnered with GOSH to highlight the importance of sharing Christmas with family and friends. The advert told the story of a hard working and devoted father, Dave, who comes up with an ingenious plan to make sure he can be with his family for Christmas. The story is told through the catchy song The Greatest Gift, sung by comedian James Corden. All profits from the sale of the specially created Gingerbread 'Dave' (£1), and The Greatest Gift film animation kit (£5) going to GOSH – the campaign raised £550,000 which was used to fund the dedicated parent and carer accommodation close to the hospital.
Alzheimer's Research – Santa Forgot (2016)
This thought-provoking advert imagines a world where Santa is living with the effects of dementia and no longer visits children on Christmas Eve. It is narrated by the well-known Stephen Fry and aims for people to believe in the power of research to change the future.
Support following the campaign funded a record 84 pioneering research projects, allowing more researchers to join the hunt for new ways to help people living with dementia. Since Santa Forgot hit screens, a further 7,000 people have chosen to volunteer for research studies through Join Dementia Research.
WWF – Just Like Us (2017)
The one-minute film told through the reflection in an elephant's eye using CGI revealed the loss an elephant feels when it sees its herd attacked and killed by poachers for their tusks. The advert acted as an appeal for urgent donations at Christmas to help fund its work worldwide, including bringing down the illegal wildlife trade.
Since the launch of the #JustLikeUs Elephant Christmas Appeal, thousands of people became both members and adopters of the WWF. In 2017, 100,500 members and 231,800 adopters helped raise more than £60 million to fund WWF work.
Age UK – Just Another Day (2017)
For 1.4 million older people, Christmas isn't a special day and just passes them by. This campaign aimed to help Age UK help make sure no one is left alone this Christmas. The incredibly moving short film follows an older man's unchanging daily routine without human contact across the seasons, of which Christmas is just another day.
The advert saw an 86% increase in call in time volunteers, a +131% increase in the number of regular donations revenue and a 30.3% increase in one-off donations.
RSPCA – Woody the Christmas Pup (2017)
Over the Christmas period, the RSPCA braces itself for 2,000 calls a day. This campaign tells the story of Woody the Christmas Pup who is thrown out with the rubbish before being rescued and taken in for care by the RSPCA. The advert features an acoustic cover of the song Stars performed by Lucy Ellie. Proceeds from the single were donated to the RSPCA to help with their work in rescuing, rehabilitating and rehoming thousands of animals every year.
The advert was a big success, gaining more than 250,000 views on Facebook, 70,000 on Twitter and 4,000 on YouTube.
Do you agree with our choices? To find out how public relations can benefit your business then please get in touch with a member of our award-winning team.
Our favourite charity Christmas campaigns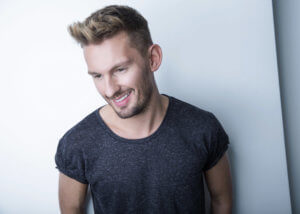 Pride season is upon us and now is a great time to reflect on why the celebrations are so important. The reason gay pride takes place in many cities across the world is for communities to unite to take a positive stand against homophobic attitudes within society.
In 1967, sexual acts between two men were decriminalised, so long as they were kept private. Just let that sink in for a second: 50 years ago, it was illegal to be gay – sounds ridiculous doesn't it? Following decriminalisation, there were still leaps and bounds to be made to tackle homophobia and discrimination of the LGBT community. At the time, just because it was legalised, did not mean that it was accepted.
The first Gay Pride parade in London was held in 1972 – with 2000 people in attendance. Since then, Pride celebrations have spread to cities across the world. Today, pride is an opportunity for LGBTQ+ people to come together, celebrate their identities and strive further forward towards a society free from prejudice.
LBGTQ+ rights have come a long way in more recent times, but let's not forget that there are others who are still having to suppress their sexualities and gender identities because society does not accept them. Members of the LGBT+ community have endured decades of discrimination and abuse from every corner of society and still do today. Same sex relationships are still illegal in 74 countries across the world. 13 of those countries enforce the death penalty for the 'crime' of homosexuality. It is mind-boggling that in today's society, a person can be killed for loving somebody.
We need LGBT+ communities and their allies to stand shoulder to shoulder in defiance of regressive behaviours and work together to encourage a shift in attitudes and change for the better. That's why at Ditch the Label we live by these values:
We want to enjoy life in a society where eventually there is no need or expectation to 'come out' unless you choose to do so because it is universally understood that sexuality can be fluid and is not defined by the gender of the person you love. A society free of judgement.
We want to live in a world where it is safe to walk down the road holding the hand of the person you love…to openly show affection…to flirt…without having to look over your shoulder or 'check' your behaviour to make sure it is safe.
We want to live in a world where a person is defined not by their gender or sexuality, but by what's inside their heads and their hearts.
We want a world where it is not only safe to be your true, authentic self, but embraced and celebrated.
We want to live in a world where equality prevails, and nobody is discriminated against because of who they fancy, the colour of their skin, where they were born, or what's in their pants!
We want to thrive in a society where love prevails, not hate.
So, this pride, make sure you take a moment to reflect on the meaning behind the revelry. We can't wait to see you there!
The importance of Pride – Liam Hackett, Ditch the Label
Paddy Power – can the team redeem themselves from the highly controversial World Cup Polar Bear stunt? It seems this creative hijack powerhouse is up for showing some Pride this summer – their new initiative will see them donate £10,000 to LGBT+ charities for every goal scored by Russia. Launched with what is possibly the best quote of all time in a press release: "Given they invented Russian Dolls, you'd be forgiven for thinking Russia wouldn't have an issue with women being into other women." Let's hope they really will put their money where their mouth is…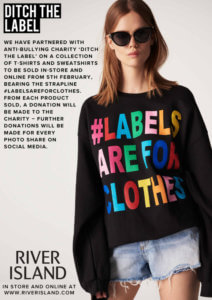 PHA client and anti-bullying charity Ditch the Label have once again teamed up with River Island for a stylish collaboration, this time celebrating Pride. The exclusive T-shirt range will help to raise funds for the charity which was started by CEO Liam Hackett after he was bullied for being gay. Grab yours while you can!
Bravo to Barclays who have returned as the main sponsor of Pride for the fifth year running. As well as supporting Pride financially, the bank also provides meeting spaces and support for community groups and their teams volunteer on parade day to assist with banking all the donations taken. For a full list of Pride events supported by Barclays look here.
Web giant Google is also getting in on the game. Its attempt to make spreadsheets fun truly paid off, after it released a secret hack to turn its Google Sheets rainbow themed if you type P R I D E into the top of 5 consecutive columns.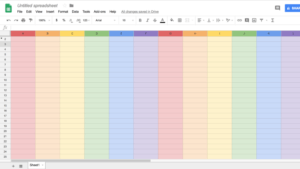 Finally, Pride sponsors the AA have brought a bit of experiential activity to their support. To celebrate Pride, they have re-launched the #SpotThePrideVan competition. The campaign has prompted Twitter users to question whether the service is dumping its iconic yellow vans – but in fact, if you spot a rainbow van and share a pic with the AA, you could be in for a chance to win a prize!
Pride campaigns of 2018
CSR has become one of the standard business practices of our time. Consumers now demand that companies start playing an active role in addressing social, cultural and environmental issues. For brands and companies who have embraced CSR, it has given them the opportunity to boost their brands reputation but also a chance to attract talent and retain staff.
Whether it's where we decide to raise a family or a house which has been in the family for generations, homes will always have an emotional spot in our hearts. That's why we've decided to look at the estate agents who are making it their responsibility to look after the communities and environments in the areas they operate in.
Whilst making it their mission to enable local communities to reach their full potential, they are also proud to support Veterans Aid. A charity which makes sure veterans in crisis receive vital care. Foxtons staff have also made it their duty that customers old and new, know about the app 'Gone for Good' which helps people donate their unwanted goods to local charities.
Foxtons have also looked to improve their environmental impact by ensuring all office lighting is low energy and that they are only in use during office hours. Foxtons support the charity WaterAid by supplying their offices with bottled Belu water. Belu water is made with environmentally friendly packaging who also donate 100% of their profits back to WaterAid.
Supporting and raising vital funds for Cancer Research UK since 2013, Hamptons International has cycled, ran, and baked their way to raising over £200,000. Whilst partnering with the charity, Hamptons International have set up multiple donation stations across the UK. Transforming the items, you no longer need into funds for life-saving research, with 100% of the money going to Cancer Research UK.
One fundraising event 'Relay Around the Regions' which was a company-wide fundraiser, where 300 individuals from around the business travelled between their 85 branches using various modes of transport whilst passing on the baton. The campaign coincided with 'Stand Up To Cancer' and over 11 days, over £12,000 was raised for the charity.
From consultants in training to experienced Directors, Dexters spend 10 times the industry average on training their people to ensure that they are up to date with the latest legislation. They actively encourage professional development for their staff to stand them in better stead later in life.
Dexters can also boast an overall gender breakdown of 50/50, and that 57% of manager and above roles in support are held by females. They have set themselves the target of by 2021 that over 50% of their manager and above fee earning roles are held by women.
Whilst expanding at a rapid rate through London, they are committed to finding new ways to reduce their carbon footprint, primarily through going paperless as much as possible.
Perry Bishop and Chambers takes CSR seriously, so seriously in fact that they only employ staff who live near the towns in which their offices are located, their local knowledge being a special touch for vendors and buyers. The estate agents also look to engage local suppliers and refer business to other locally based companies. Continuously sponsoring events, sport clubs and schools throughout the year in the local community. Whilst also donating a certain percentage from every sold house to local charities.
If you would like to talk about how PR could maximise your business or how you could share your CSR story please get in touch with a member of our award-winning team today.
Four estate agents who are leading the way in CSR
It won't have escaped your notice that this week is Mental Health Awareness Week. It seems to us that this year more than ever before, corporates and charities alike are working hard to raise awareness of good mental health. Here's our run-down of some of the best campaigns to engage with this MHAW:
The Mental Health Foundation is focusing the week on stress and has released statistics looking at stress in the workplace. It found that millennials felt more under pressure at work than baby boomers do – stating that working through stress was expected in their job. You can show your support for good mental health for all by ordering and wearing a green ribbon from the Mental Health Foundation.
Charity Mind has also chosen to focus on stress in the workplace. It encourages employers to create a stress awareness space, where staff can share their thoughts and feelings when they are feeling stressed through simple 'when I'm stressed…' cards. Luckily for us media folk, NABS is there to support anyone feeling stressed at work with a confidential helpline and events designed to help you boost your own personal mental health toolbox.
Rethink Mental Illness is well known for their hard-hitting campaigns. This MHAW, the charity is focusing on converting awareness into action and has given seven simple ways you can get involved to push for reform, fight stigma and campaign for change in the mental health space.
It's not just charities getting in on the act. PHA client Xercise4Less has opened its doors for anyone to come and train for free throughout MHAW. The gym chain is aiming to raise awareness of mental health issues and promote exercise as a great way for improving mental health and decreasing stress.
Also, on the corporate charge, the Bauer Media group has launched a petition calling on the government to make it a requirement for every workplace or college to have a mental health work aider in the UK. The publisher's research found that 90% of the public say they still feel there is a taboo around discussing mental health and 86% agree mental health is one of the biggest challenges facing the country today.
Finally – if you'd like to show your support for good mental health beyond this week, PHA Client anti-bullying charity Ditch the Label has recently launched Karma bands – simple accessories with lovely stress-busting slogans including 'Breath', 'Fearless' and 'Ride the Wave'.
If you're interested in learning more about how PR can help your charity stand out, get in touch with us today.
Mental Health Awareness Week