Name: Mike Cheng
Job title: Senior Account Manager, B2B Technology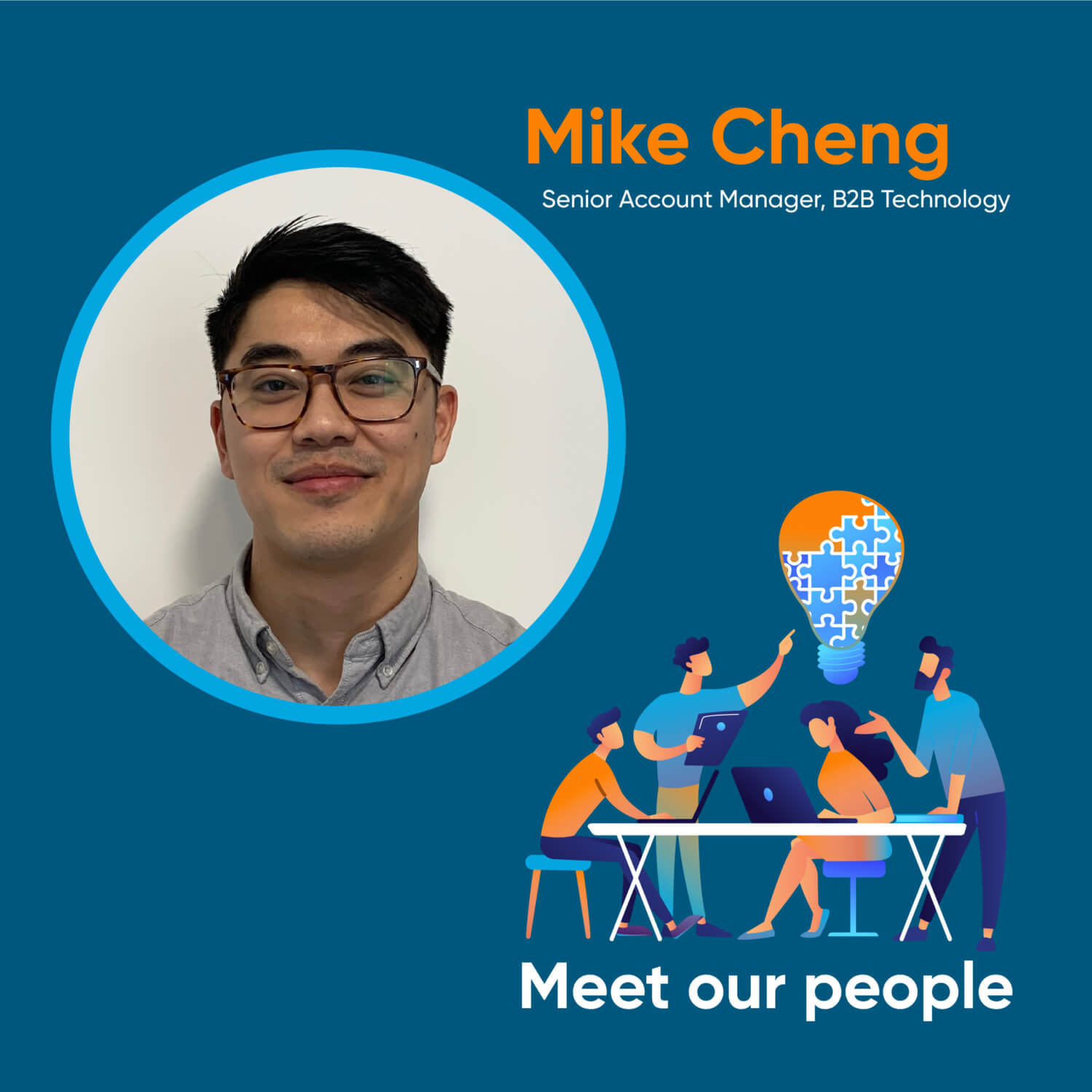 Tell us a bit about yourself and your background?
I joined PHA from a specialist STEM communications agency, where I delivered strategic campaigns for a range of clients in areas including cybersecurity, emerging tech and scientific research, as well as large enterprises and some of the most exciting start-ups and spin-outs in the UK and Europe.
How did you move into the tech sector?
I've always had an interest in all types of technology, and I have always enjoyed writing, so tech PR was quite a natural fit. After I graduated from University, I did some travelling and moved to London, and found a role at a B2B tech PR agency and haven't looked back since.
What is the most rewarding aspect of your job?
I'm really enjoying working with the team and adding value from the experience I bring. I particularly like the number of different teams at PHA – its a great to work with people with different backgrounds, it helps when we're coming up with new ideas.
How do you measure your PR impact for clients?
PR measurement is a notoriously tricky subject and there's no single metric you can measure success. However, I do believe that for comms to truly be successful, we need our objectives to be closely aligned with the client's business objectives so that we can deliver an outcome – whether that's increased awareness, sales, behaviour change, share of voice etc. This means really drilling down into a brief and identifying the client's challenges and responding with creative communications campaigns across multiple channels that deliver the desired outcome.
By closely aligning comms and business strategies, measurement becomes more meaningful, and we can move towards being judged by the outcome of our work.
Finally, what has been your most memorable campaigns you've worked on?
Quite a few – one of the ones that stands out was working with (ISC)2, a cybersecurity trade association, to raise awareness of cyber security as a societal issue. We worked with them to create a campaign around its Global Information Security Workforce Study (a bi-annual report); through working closely with the client to craft the report and the story, we secured blanket national, broadcast and trade coverage that propelled cybersecurity up the national agenda. Stats that we pulled out from the data are repeatedly quoted in cybersecurity articles to this day – the report was even quoted in George Osborne's 2015 Autumn Statement to justify increased spend in cybersecurity.
Another was working with a startup called the Solar Cloth Company – in a nutshell, we ran a crowdfunding campaign to raise £750k in a month. Through PR we raised over £1million – and won a CIPR Award for best STEM campaign in 2015.
If you're a technology company and would like to talk about what PR could do for your business, why not get in touch with us to find out more.
Meet our people; Mike Cheng
While you're working in the office, shouldn't your money be working as much as you are? Savings accounts offer savers very little in terms of interest. Cash ISAs are a great way to start but still only offer savers up to 1.5%. Innovative Finance ISAs (or IFISAs) are a great way to make your money work harder for you.
The IFISA came into effect on 6th April 2016, giving UK savers both an alternative asset class and a new way of diversifying their investments. The inclusion of peer to peer (P2P) lending and property investments offered a higher income alternative to Cash ISAs at a time of persistently low interest, without the fluctuating capital values of stocks and shares.
With all these platforms the normal ISA rules apply. You can invest £20,000 per annum tax-free across your portfolio of ISAs. So, you could invest £5,000 in a cash ISA, £5,000 in stocks and shares ISA and £10,000 in an IFISA or any other variation so long as, combined, your tax-free ISA savings in the 2019/20 tax year don't exceed £20,000.
Below are some of the hottest Innovative Finance ISAs (IFISA) that can push your savings to work harder when the new financial year begins on 6th April.
Crowd2Fund Peer to Peer Lending
Crowd2Fund is a peer-to-peer lender which earns investors an estimated 8.7% APR return on their investments. It does this by investing your money in small, high-growth companies looking for cash injections to expand. So, you can save and make money all while supporting great businesses of your choosing or use their Smart-Invest tool to have your funds invested automatically. You can also access your capital by selling shares to others on the Exchange, unlike some IFISA providers who lock you in for a fixed term.
Recently named in the Financial Times FT 1000 of the fastest growing companies in Europe, RateSetter is one of the most exciting IFISAs in the marketplace. With over 600,000 customers so far, over £170 million has already been invested through RateSetter's IFISA. Giving you better returns than a Cash ISA and less complex than Stocks and Shares, RateSetter lets you invest in a portfolio of loans and households and businesses. Choose between the Rolling Market and receive 3.1%, or the 1 Year Market at 4.9%, or 6% for their 5 Year Market. Investments start from just £10, so ideal for those looking to start out investing, and the due diligence carried out by RateSetter ensures borrowers are creditworthy and keep up their regular monthly payments.
With a minimum deposit of just £100, Kuflink offers a great range of IFISAs with three investment terms: 1, 3, or 5 years, and offers returns ranging from 5% to 7%. Crucially, there are no platform or investment fees unlike many IFISAs and stocks and share ISAs. It's free to open to a Kuflink ISA so there really are no fees to pay and you can start saving and earning straight away. With the Kuflink IFISA you'll be lending to a diverse range of businesses, all of which are secured against UK property.
With no losses to date, a reserve fund for security and an innovative co-investment strategy, Kuflink seems like a safe bet for a younger IFISA provider but with no secondary market or early exit, you are locked in for however long the term is, but the low barrier to entry and attractive returns makes it great for many first-time investors.
Founded in 2014, Property Crowd, offers people the opportunity to invest in 'institutional grade' property deals. These consist of UK property-backed bonds, mainly senior and mezzanine tranches which may be quite daunting to the first-time investor. However, with great transparency and robust risk management the expected returns of between 8% and 13% are tempting for any would-be investor. The minimum investment of £800 may put some people off and the 0.95% annual admin fee on the ISA account is more than some others, but it offers attractive yields and its slick, user-friendly online dashboard gives investors real-time access to data and comprehensive documentation on each property.
The PropLend team have over 80 years of combined commercial property experience so you are in safe hands. Like Property Crowd, the minimum investment is quite high at £1,000. It lets you invest in commercial property-secured loans and Proplend claims investors can expect an average annualised return of between 5% and 12% tax-free within their ISA options, of which there are three to choose from.
A big advantage that PropLend has is its level of security. Its base products, Tranche A, are secured by assets which are twice the size of the loan and borrowers are expected to make three to six months of loan payments in advance. Proplend only lends to experienced landlords and with a lot of due diligence to protect investors. Like other IFISA providers, you get the opportunity to choose which tranche you would like to invest in based on your own risk levels. The company has experienced no arrears over 45 days, defaults, or investor losses since its conception in 2014 which should put investors' minds at rest.
So that rounds up our IFISA snapshot. Remember, with all these IFISAs, your capital is at risk, investments can go down as well as up and you may get back less than you put in, so, do make sure that you are aware of the risks and plan for your own affordability.
If you would like to talk about how PR could benefit your offering then please get in touch with us today.
IFISAs to consider
The property juggernaut event that is MIPIM took place in the French capital last week. Businesses and brands from multiple sectors attended hoping to reach a wider audience and enhance their global reputation, we've highlighted five technology companies that we think did just that.
Swedish based company VXFiber, are here to power the digital future. Their business revolves around maximising the most of FTTH (fibre to your home). Through investing, managing and operating FTTH open access networks globally, VX Fiber can now supply cities with ultra-fast broadband services to residents and businesses.
The software has already been a major success in countries such as Germany, South Africa and it's native Sweden, and last year Stoke-on-Trent city council became the first local authority in the UK to sign up.
One of the beneficiaries of VXFiber is communication providers such as radio stations and telecoms who have seen an increase in customer satisfaction whilst they have been using VXFiber.
Meet the business on a mission to make Wi-Fi great. Wifinity have created innovative products such as the Smart Parks and GigaLiving that allow businesses to stay connected no matter what. So, whether you find yourself in a newly refurbished block of apartments or a swimming complex, Wifinity is ready to cater to your Wi-Fi needs.
They now successfully connect over two million people across a variety of sectors every year, with this number expected to increase in 2019.
2018 proved to be a successful year for the brand as it was ranked number 1 by MegaBuyte Emerging Stars Award and also won ISPA Best Internet Project Award.
International leading manufacturer of integral lighting solutions. For over 60 years, Zumtobel has been on the cusp of innovation, creating energy-efficient products.
From emergency exit luminaires to bespoke modular light systems, Zumtobel is your go-to for lighting products in the UK. We're expecting them to keep their competitors in the dark.
With offices in New York, London and Melbourne the world's leading tenant engagement technology brand, are well on their way to changing the world one square foot at a time.
Equiem's main function is to provide technology and services that help landlords and building managers unlock new value in their properties which can help to attract and retain tenants whilst increasing revenue.
The concept was built off the back of three core pillars which focus on a community portal allowing landlords to communicate with tenants, secondly a dedicated concierge system who offer the ultimate customer service, and finally, a service that delivers unique experiences, that keep your community engaged and coming back for more.
Last year, 88 Wood Street became the first Knight Frank managed building in London to begin working with the proptech company, a symbol of Equiem's sustained growth in the UK.
Keep your eyes peeled for Equiem, 2019 could provide to be a very successful year.
Perhaps the most creative brand on the list, this London based visualisation studio produces revolutionary digital imagery for the construction industry.
From large scale master planning down to the small but complex interiors, M3fx have established a glowing reputation during their 21-year history through creating outstanding work.
Some of their past projects include creating digital content for Duck & Waffle in Haymarket and creating photomontages for the Sky Garden Terrace.
If you're a technology company and would like to talk about what PR could do for your business, why not get in touch with us to find out more.
Tech innovation at MIPIM 2019
Over the last few years, there has been huge innovation coming out of the property industry, and the biggest driver of this change has been MIPIM – the leading property show in the sector. Now entering its 30th Year, there is a lot of speculation over what the biggest trends will be for 2019/2020.
We've picked out our favourite trends which we're expecting to see coming out of the innovation forum at the conference.
Hospitality
In the last 12 months, we have witnessed huge diversification in the hospitality industry, with hotels looking to offer a more well-rounded experience to their guests. Competing with the thriving homestay industry, hotels are adjusting their business models to stay ahead of the curb and meet the needs of their clientele, with Marriott, for example, adding homestay options to their portfolio in the guise of Tribute Portfolio Homes. This increased demand for personalisation and unique experiences has also led to the rise of connected hotel rooms and personal digital assistances, with developers incorporating all the latest technology into their projects.
Digital Assistants
More and more homes and buildings are embracing smart devices, such as the Alexa or Google Home, to help streamline their lives, and the property world is no exception, creating property management platforms that tap straight into these digital assistants. Designed to cut down the monotonous task of imputing data, companies such as askporter have created an all-in-one property management platform that can look after the smaller tasks, free time up for agents as well as cut back on management costs. This type of system can be applied to both small scale operations and large corporates, with JLL working with artificial intelligence lab EBI.AI to create a virtual assistant for tenants in the commercial and residential properties.
Sharing Economy
When you think about the sharing economy in the property industry, Airbnb is the main brand that springs to many people's minds. However, sharing economy is much more far-reaching than the billion-dollar homestay platform. Retail spaces have taken advantage of the growing trend, with companies such as Appear Here offering out retail space for a short term to outlets looking for cheaper costs and greater flexibility. Restaurants have even jumped on the bandwagon, offering 'office seats' for freelancers and entrepreneurs during their quiet times through platforms such as Spacious and AndCo. The success of Airbnb has even led to the creation of its own industry. Property management software such as Guesty and Your Welcome have specifically being designed for short-term rentals, and management companies, including Under the Doormat and SmartHosts, are offering Airbnb hosts a professional management service that takes the hassle out of hosting.
If you like the sound of our choices and want to talk about taking your PR outreach to the next level, contact us today.
What trends to expect out of MIPIM this year
Finding a new home is time-consuming, exhausting, and complicated if you don't know where to look. Thankfully there are some great property firms out there who are ready to make your life a whole lot easier. Checkout our shortlist on the best apps and sites to use to get one step closer to securing your dream property.
Renting properties has become a real issue for people in the UK due to high rent rates and a lack of good properties to choose from. Or that was the case before Patch Property arrived on the scene, with 100,000 users and one of the top-ranked apps on the Apple App Store, Patch is single-handedly reinventing renting for private tenants in the UK. The app tracks your monthly rent payments which helps to build your credit score for later in life when you're ready to buy your own property. Patch also offer to pay the deposit on the property you'd like to rent up to the sum of £4,000. All you need to do is pay a small monthly subscription fee.
On average every three minutes, someone finds a flatmate to live with on SpareRoom, making it the UK's busiest flat share site. With two million visitors to their site every month, SpareRoom isn't short of users to set you up with a housemate that you really click with. There's also a team of real people checking every advert on the site, allowing you to rest easy in the knowledge that your safety is always being put first.
Have you heard of Perchpeek? The innovative rental platform that uses cutting edge AI technology to automatically connect tenants easily to the most relevant rooms around, whilst also allowing agents and landlords to find suitable tenants. Perchpeek maximises the quality of information shown to tenants and room providers so the time spent looking for a new home is significantly reduced – a welcomed relief to both parties.
Designed to deliver a clear and crisp experience for renters in need of a new home. No more wasting time in having to send emails, or arrange house bookings, simply log into the Inadash app and begin viewing properties that interest you right away. Inadash has even created a solution to slow transactions by allowing you to view, make an offer, and rent a property all in one day via the app.
Meet the business here to shake up how renting works. Howsy is bridging the gap between landlords and renters, to stop the conflict of landlord and renter being on opposite sides. The business was designed to give consumers a stress-free and insightful experience which is priced fairly too. By combining smart tech and specialist property people, they have the unique knowledge of understanding what both renters and landlords need.
Do you have an app which you would like to launch or promote in the UK market? Why not speak to one of our award-winning team today about what PR could do for you and your business.
The renting companies ready to offer a helping hand
Last week, the Banking Competition Remedies (BCR), an independent group set up to manage RBS' £775m Alternative Remedies Package to boost competition in banking, announced the first – and largest – recipients of the cash from its £425m Capability and Innovation Fund. Metro Bank, Starling and ClearBank have been awarded a grant worth a combined £280m, with Metro winning the largest share of £120m, Starling Bank with £100m and £60m for Clearbank who joined forces with Tide.
The fund was created as part of the terms following RBS' £45bn bailout from the government at the height of the financial crisis.
The £775m is split into two funds. The first is a £350m Incentivised Switching Scheme to encourage up to 200,000 SMEs to ditch their RBS or NatWest business account for rival banks in which nine challenger banks have been approved to participate. The second, a £425m Capability and Innovation Fund that helps eligible bodies develop and improve their current account, lending and payment offerings to compete with RBS' business services.
The three early winners are part of Pool A, and the rest of the grants, Pools B, C and D all serve different purposes to encourage competition among business offerings. Pool A facilitates the development of more advanced business current account offerings, Pool B facilitates the modernisation of existing accounts, Pool C facilitates the expansion of businesses offerings and the fourth pool – Pool D – facilitates the commercialisation of financial technology that's relevant to SMEs.
What does this mean for the future of banking?
The funding marks a turning point in Britain's backwards banking. Gone are the days of queuing outside the bank during your lunch break to deposit a cheque or waiting 5-7 working days for money to be cleared when transferring to friends.
The rise of digital banks has made banking near-on instantaneous, easy and for most, enjoyable. Thanks to its thriving fintech sector, Britain is leading the way in challenging the big four banks – who still control 80 per cent of current accounts – with new digital-only competitors.
Changing one's bank, especially for businesses, is inconvenient, admin heavy and offers no real incentives aside from the occasional cashback offer. As a result, high street banks haven't seen the need to offer better products. However, the introduction of Open Banking last year has played a pivotal role in enabling competition to thrive and motivate banks to offer better services.
The aim of Open Banking regulation is to transfer the ownership of account information from the banks to the customer and let people securely share their transaction data with third parties. The nine biggest banks are required to make their API (application programming interface) available to authorised third parties.
With this data, fintech companies and digital banks can build and offer useful platforms and tools that can transform banking for businesses and the general public. This ranges from money management tools, current accounts and investment portfolios, for example. Companies can understand money habits of their customers and then tailor their offerings to fit their business needs.
How digital banks can stand out
Competition is healthy and Britain's thriving fintech sector is offering a range of new benefits to make business banking better and move away from traditional high street banking. The most important question, however, is how these digital and challenger banks can differentiate themselves in an increasingly competitive space.
Businesses are becoming savvier, so challenger banks need to create innovative offerings that give real business benefits. Hybrid intelligence assistants, invoice management, instant – and free – international money transfers are all being offered by companies like ANNA, Revolut and N26, to name just a few.
Metro Bank, Starling and ClearBank have set out how they will use the money from the Capability and Innovation Fund to improve their respective business offerings, and it'll be interesting to see how it is escalated. The RBS Alternative Remedies Package opens great opportunities for young challenger banks to provide a better, more personalised service and finally rid us of the stereotypical Lehman Brother's style bank. The future of banking is very much already here.
What the £775m RBS funding means for business banking
With the dust settling on London Blockchain Week, we take a closer look at some of the keynote speakers from the event that we enjoyed the most.
Known for his serial entrepreneurship who initially made his mark in blockchain back in 2015 when he created insurance smart contracts that could operate without the need of a carrier. Ridyard went on to co-found Surematics, a decentralized data room that brokers could use to communicate and negotiate terms, share documents, and agree on deals. Speaking at London Blockchain Week this year, Piers is currently CEO of Radix.
A speedy, scalable alternative to blockchain who's aims are to provide developers with the best tools to build and deploy a decentralized application, tokens and coins. A fast, simple limitless ledger.
With over 20 years of enterprise and developer experience, as well as becoming a recent startup founder, it is no surprise that Adi is consistently invited to speak at major industry conferences.
Not only is he currently the Founder and CEO of Applied Blockchain (a group of technologists building blockchain solutions for enterprises), but he is also co-founder of Tallysticks (a company specialising in the negotiations and managing of imports and exports). Adi also acts as an advisor for several blockchain start-ups.
One of Adi's biggest accomplishments to date is his invitation by the Government to represent his industry in the All-Party Parliamentary Group and House of Lords round table.
Lisa who is Australian based has an extensive and impressive list of accolades. She is a visionary, thought leader, and transformational strategist with years of experience in her field. Empowering women to advance in their industry by developing their business leadership qualities is one of her passions, as she has made a name for herself as someone constantly striving to make positive, sustainable changes.
Leading the victorious team in 2018 London Fintech Week Hackathon, founding numerous global initiatives, and becoming a regular international presenter and commentator are just some of Lisa's stand out moments in her career to date.
Argentine Fintech entrepreneur Guido started his career in the banking world and hasn't stopped evolving since. Founding SeSocio.com and subsequently Investoland, which provides smart contract solutions for investments are two of his businesses to date. His companies have benefitted from his outstanding leadership and management skills and continue to make waves in the industry.
Starting her professional career as a lifestyle feature writer and most recently co-founding the first solution-led blockchain lab, StateZero Labs, Tazz's possesses a hugely varied repertoire of expertise and experience.
She has spent the last seven years focussing on brand, strategy and marketing across law, finance, design and adtech sectors. As one of the founding members of three separate start-ups, Tazz is now a mentor to over 200, predominantly blockchain, other start-up companies, sharing her experience and advice with them, as well as speaking at numerous summits and conferences.
Tazz also recently attained the shortlist for Entrepreneur of the Year 2019 at the Women in IT Awards London, proving that she is undoubtedly one to watch this year.
One of Innovate Finance's Women in Fintech Powerlist 2016 and 'Blockchain guru' Helen Disney is an entrepreneurial force to be reckoned with. Having founded an impressive three companies so far, her most recent creation is Unblocked, an ingenious solution designed to bridge the gap between the technical world and business world, aiding people in their understanding of what Blockchain can offer their business.
Before immersing herself into the world of fintech, she founded an events and research network of over 12 organizations called The Stockholm Network. As a member of the Executive Committee of the British Blockchain Industry Association, she knows everything there is to know about cryptocurrencies and blockchain.
If you would like to find out more about how our Blockchain PR team could connect you with the right audience please get in touch with us today.
Innovators at London Blockchain Week
For those of us lucky to be in a loving relationship, Valentine's Day is an opportunity to celebrate and look forward to the year ahead. On the other hand, for people who are single, it can prove to be a difficult time of the year, with some people feeling alone or at a loose end.
With that in mind, we've looked at five apps that are helping to battle the effects of loneliness.
Their tagline describes perfectly the nature of their business, 'turning loneliness into happiness'. The team at BuddyHub are here to make a difference to an older community in the UK. The UK's population is made up of a million people over 65 who are said to either feel lonely all the time or most of the time. BuddyHub is here to help prevent that by connecting them with like-minded buddies who live no-longer than a 30-minute walk away. Seniors and buddies are carefully matched based on their interests and experiences. Put simply the app was designed for the purpose of making friends and enjoying someone else's company.
Meet the first strictly platonic friend making app, get matched with people near you who share similar interests. There's just one rule, absolutely no flirting! Patook's AI-powered flirt detector' works by comparing messages to data from forums that post flirty messages. Using the AI technology, it identifies the message and doesn't allow a user to send a message if it is deemed 'flirty'. Patook allows you to assign points to specific traits you're looking for in potential friends which helps find your mate matches.
Ever wanted to join like-minded individuals like yourself and learn how to code? Or chat about blockchain over a few cold ones? Meetup is the online community that allows you to do just that. Register to a group online and then meet in person the next time that group meets. Even with the hundreds of groups to choose from on Meetup, if there's something specific you want to get into then create the group yourself and wait for people to join . Meetup was created to allow people to do more of what matters to them. Getting together with people in real life can make powerful things happen. Groups become opportunities, ideas become movements.
The best way to stay in touch with what's going on in your neighbourhood. Whether it's finding a last-minute childminder, planning an event in the local community or warning your neighbourhood about some updated safety tips. If Nextdoor is the answer, then the question must be how neighbourhoods can stay in better contact.
With a secure verification process, neighbourhoods can rest easy knowing that strangers won't be allowed to register to their street until their data has been accepted.
A free mobile app that privately connects you to the most compatible people around you. By combining social science and machine learning (and just the small matter of 150 factors into consideration) to create the most advanced algorithm around, but like Patook remember this is for making friends only! Once the questions have been answered, We3 will begin to match you with group chats of 3 incredibly compatible people, currently, it only matches people of the same gender. Why 3? We3 believes meeting in groups of three is more conducive to forming new friendships than the awkward 1 on 1 "friend date".
If you would like to learn more about what PR could do for your business, speak to a member of our award-winning team today.
The apps that are making loneliness a thing of the past
Last week saw the biggest gaming industry event dedicated to solutions, content and networking with some of the largest names in the business descend on London – ICE London. We take a look at the companies that are leading the way in both the online and offline gaming sectors.
Fantasy sports interactive or FSI is the award-winning, fantasy sports betting software company. This innovative business not only offers a range of fantasy sport gaming options but is also the first company to launch fantasy better in Europe through their own platform.
Their rich insights into fantasy sports betting and skill gaming offer a tailored white-label solution to iGaming operators and businesses seeking a modern and effective way to gain new customers. If you need to create an engaging, competitive and full licensed iGaming product, FSI is the business to get in touch with.
Perform Group is a leading digital sports content and media group, who strive to connect the world through sport by producing the most detailed and engaging content around. With consistent advances in technology, and changes in the way fans consume content, Perform want to lead the charge and elevate the users experience.
It's also worth mentioning the great charity work that Perform have done in the past.  Working with Plan International, the project focuses on lifting children out of poverty and advancing gender equality through the power of sport.
During their time in India, Perform managed to reach 12,895 children either through sports, life skills and awareness sessions. We can't wait to read about all the great work they achieve in their upcoming CSR project in Brazil!
Super Spade Games offers a classy and flexible live dealer format for gaming operators from all around the globe and provide a service for white label providers too.
By delivering a unique and extraordinary gaming experience to players across a host of live dealer games. Innovation is at the heart of everything that Super Spade Games does. With their friendly interface and fast development work, watch out for Super Spade Games throughout 2019.
 Crowned sports betting supplier of the year in 2018 and one of the leading providers of sophisticated software to the regulated sports betting sector. Betgenius provide robust and unique technology that aids both international bookmakers and lottery operators the ability to increase performance across both trading and marketing.
Founded in 2000, Betgenius has risen to the top and are proud to supply not only the world's biggest sportsbooks, but also own the fastest and most accurate live data around.
For the fifth year running, Storm GT exhibited at this years' ICE London event. The UK's most progressive, independent gaming company has been creating gaming software and platforms, specifically for the pub, bar, club and arcade sectors across both domestic and international markets for the past decade.
With over 5,000 kiosks installed in over 12 countries, Storm GT specialises in game development, kiosk manufacturing, graphics and 3D modelling. Their philosophy is based around building and nurturing relationships that evolve into fully fledged partnerships that lead to the possibility of relevant opportunities.
Are you looking to establish your reputation within the gambling industry? Are you looking to break-through to a new organisation or audience? Speak to a member of our award-winning team today to find out how we can work with you to deliver a bespoke communications strategy.
Spotlight on ICE London
Do you have a perfect night in planned this Valentines? Are you in charge of whipping up a romantic meal for two but you're a little unsure as to what to cook? Well fear not, we have tracked down the mobile apps that make rustling up that perfect dish all the more fun and simpler.
The smart cooking sidekick that learns what you like and helps customise your browsing experience to match your personal taste. Whether you have allergies, nutritional needs, or you simply want to start at the beginning stages of cooking in the kitchen, this clever app provides it all.
It doesn't stop there, Yummly's unique filtering system allows you not only to breakdown your choices by cuisine but also cooking time, dietary requirements, occasion and much more! So, if you're unsure what to cook this Valentines Yummly could be the perfect match for you.
How many times a week do you have the same conversation with friends or family asking what is planned for your evening meal? Well, we bring you Mealime who pride themselves on the app that can 'take the thinking out of what's for dinner'. Making meal planning, food shopping and cooking easier than ever from their simple easy to use application.
A study by YouGov showed 1 in 8 of us in the UK avoid cooking from scratch because we simply don't have the time or know how to do it. Mealime can help buck that trend and could make the next Jamie Oliver or Mary Berry of you yet!
HappyCow was founded in 1999 for vegan / plant-based individuals travelling the world looking for healthy foods. According to The Vegan society, there are over 600,000 people who have a vegan diet in the UK, and this is forever on the rise.
HappyCow is the perfect restaurant and health food store guide to help you seek out the best places to eat, find foods you love without a limited menu on hand. With millions of members worldwide, you'll never be short of inspiration whether you're spending Valentine's day in the UK or somewhere more exotic.
BigOven is the creation of a software engineer who just loves to cook. Founder Steve prides this application as the place to store all your culinary delights. With BigOven, you can take your recipes anywhere, make grocery lists and easily share your favourite creations with your friends, family or just save for some inspiration another time.
This handy app gives the ability to plan meals, manage your shopping list, be part of a community, reduce your food waste and the best part is it is absolutely free!
The official home of all things tasty. With their easy to follow recipes, short videos to show you exactly how it is done using items in the cupboard we all own, Tasty is perfect for the beginner chef just starting out.
With hundreds of ideas for breakfast, dinner, snacks and more across their app you are in good hands with Tasty. Priding themselves as the cookery coach at your fingertips you'll be full of inspiration this valentine's day.
Cookpad is the technology hub for food lovers to share all their tips and tricks in the kitchen. The ethos behind Cookpad is to build a better world by teaching people to cook, for the growers and producers we buy from, and the wider environment.
Now on average, 100 million people around the world use Cookpad every month and over 5 million recipes have been created on the platform in 70 different countries, so you are sure to find something that tickles your taste buds.
If you have an app, you're looking to launch to market get in touch today. Find out how we can work with you and your in-house teams to achieve your long-term goals. We have extensive experience across multiple sectors, but above all, we're passionate about all things tech and well…food! Speak to our team today to find out more.
Meal ideas for Valentine's Day – the apps that can decide for you