Name: Mike Cheng
Job title: Senior Account Manager, B2B Technology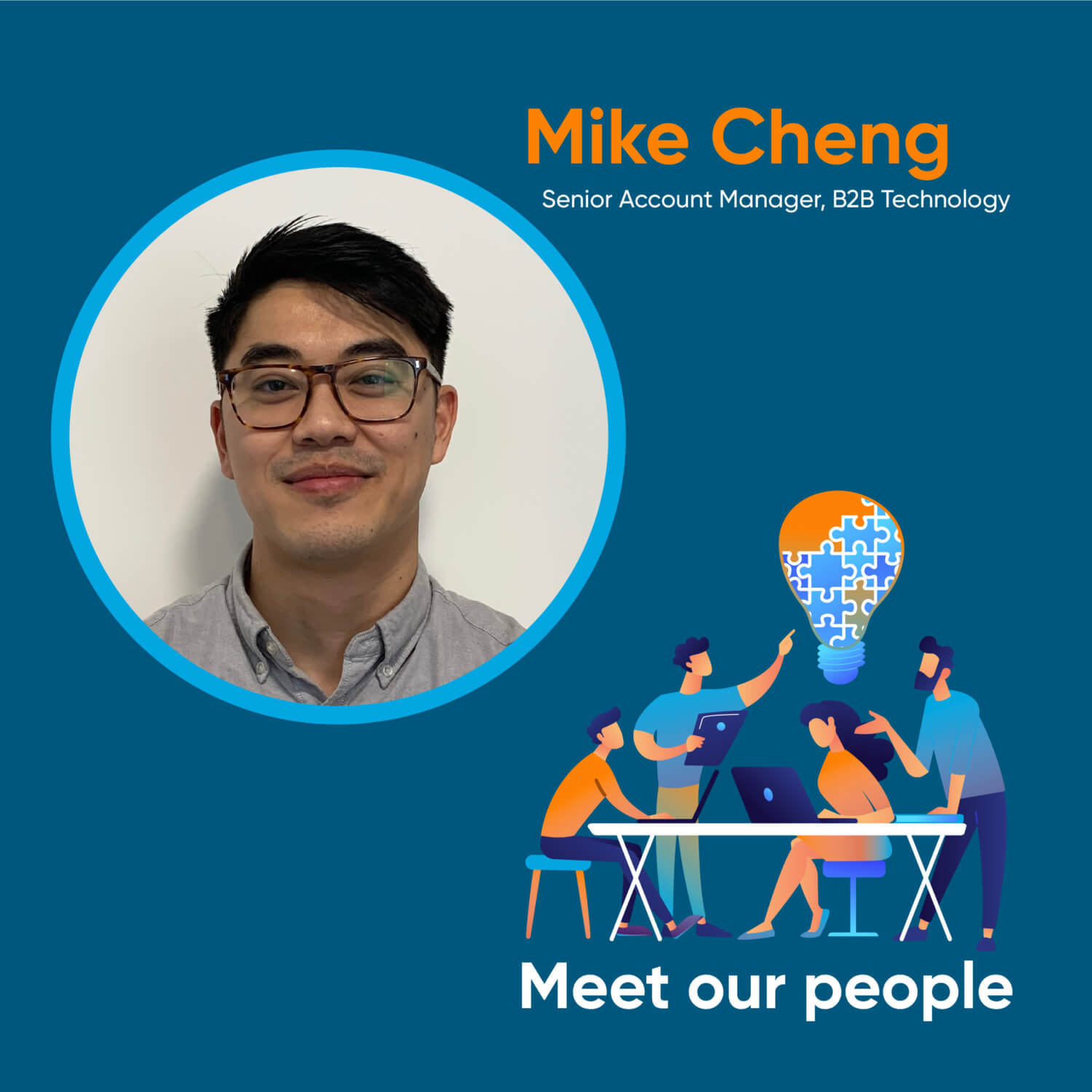 Tell us a bit about yourself and your background?
I joined PHA from a specialist STEM communications agency, where I delivered strategic campaigns for a range of clients in areas including cybersecurity, emerging tech and scientific research, as well as large enterprises and some of the most exciting start-ups and spin-outs in the UK and Europe.
How did you move into the tech sector?
I've always had an interest in all types of technology, and I have always enjoyed writing, so tech PR was quite a natural fit. After I graduated from University, I did some travelling and moved to London, and found a role at a B2B tech PR agency and haven't looked back since.
What is the most rewarding aspect of your job?
I'm really enjoying working with the team and adding value from the experience I bring. I particularly like the number of different teams at PHA – its a great to work with people with different backgrounds, it helps when we're coming up with new ideas.
How do you measure your PR impact for clients?
PR measurement is a notoriously tricky subject and there's no single metric you can measure success. However, I do believe that for comms to truly be successful, we need our objectives to be closely aligned with the client's business objectives so that we can deliver an outcome – whether that's increased awareness, sales, behaviour change, share of voice etc. This means really drilling down into a brief and identifying the client's challenges and responding with creative communications campaigns across multiple channels that deliver the desired outcome.
By closely aligning comms and business strategies, measurement becomes more meaningful, and we can move towards being judged by the outcome of our work.
Finally, what has been your most memorable campaigns you've worked on?
Quite a few – one of the ones that stands out was working with (ISC)2, a cybersecurity trade association, to raise awareness of cyber security as a societal issue. We worked with them to create a campaign around its Global Information Security Workforce Study (a bi-annual report); through working closely with the client to craft the report and the story, we secured blanket national, broadcast and trade coverage that propelled cybersecurity up the national agenda. Stats that we pulled out from the data are repeatedly quoted in cybersecurity articles to this day – the report was even quoted in George Osborne's 2015 Autumn Statement to justify increased spend in cybersecurity.
Another was working with a startup called the Solar Cloth Company – in a nutshell, we ran a crowdfunding campaign to raise £750k in a month. Through PR we raised over £1million – and won a CIPR Award for best STEM campaign in 2015.
If you're a technology company and would like to talk about what PR could do for your business, why not get in touch with us to find out more.
Meet our people; Mike Cheng
Healthy and happy work relationships are important to us at The PHA Group as our people are at the heart of what we do here. Any business that doesn't understand how vital good working relationships are ignoring it at their peril. Our culture and people are what make PHA a great place to work – we are a collaborative and entrepreneurial team where everyone is unique and valued for their individuality.
We begin building these relationships before our new starters join us. They are given the opportunity to meet their team and are sent their induction programme which sets out all the meetings arranged for them across the agency in their first week. They are also given a 'buddy' who will take them out for coffee and chat through what it's like working at PHA and answer any questions they may have. At PHA, it's so important for new starters to feel at ease and start their career here feeling welcomed.
Mentoring is an increasingly popular way to provide guidance and support to colleagues and our scheme supports and encourages the mentee to develop their knowledge, their skills and their confidence. It's a supportive, one-to-one relationship, where the mentor acts as a sounding board and encourages the mentee to clarify their thoughts and feelings, helping them to achieve their goals.
Another way we encourage relationships to evolve is through social events hosted by PHA. Hit of the Month celebrates individual and team successes of the past month and is a great way to bring everyone together in a social environment. We also have a 'team treat' twice a year, where teams choose a social event to do together away from the office, such as ten-pin bowling, curling or gin tasting.
The people at PHA are the DNA of our business. We are proud to encourage initiatives that champion and foster a close-knit community – employees who connect and engage with each other deliver the best results.
Building relationships at The PHA Group
In recent years, there has been a real surge in positive attitudes around wellbeing workplace initiatives, however, many companies are sometimes slow to implement them. Understanding the benefits and identifying why it is important to have wellbeing initiatives for your employees could be the edge that your agency, business or organisation needs.
Large companies often introduce expensive wellness initiatives that many businesses would be able to feasibly introduce, but are there benefits for smaller SME companies too? And can it improve their workforce instead of having to provide free meals for all or sleeping pods for your workforce?
The answer is yes.
Research has shown that there are many reasons why workplace wellness provides benefits for not only the employee but employer as well. Of course, it is hard to calculate the monetary value, but you can measure the gains by your team's performance, general wellbeing and an all-round happier workforce. At The PHA Group we strive to implement employee wellness initiatives that our staff are truly going to benefit from, and as a result will improve their wellness.
Here are just some of our ideas we'd like to share with you.
Development Days
It is important that employees have time to consider how they wish to develop their future and invest time in activities that might help them not only professionally but personally as well.  At The PHA Group we offer all our staff the opportunity to take a development day to pursue areas of personal and professional interest that are likely to have a positive and tangible effect upon their development. The development day can fall into one of the following categories:
Volunteering
Charitable initiatives
Educational courses
Helping the community
Health Cashback Plan
Attending dental appointments, buying prescriptions and the need for physio or sports treatments can be pricey. Our free health cashback scheme allows employees to claim back these expenses at no extra cost and benefit from different services.
Office Fruit Delivery
Who doesn't like free food? The "Great Fruit Experiment" from fruit delivery service Fruitful Office found an 11% increase in staff agreeing that their workplace "enabled them to work more productively" following the introduction of fruit to the workplace.
Wednesday Wellness
Our Wednesday Wellness sessions have been a real hit. With more than 60 members of the agency benefitting from a masseuse who came into the office, and every team taking part in chair yoga sessions to help improve their posture while sitting in an office chair to setting up a Mindful Lunch club where friends and colleagues can enjoy food together and open the conversation about mental wellbeing in a safe space.
Recognition and Reward
Never underestimate the importance of rewarding your loyal employees. Whether it is a simple 'thank you' in person, in a team meeting or at a group event, people need to feel valued. At The PHA Group, we host monthly awards to celebrate not only the great work and coverage our teams have achieved for clients, but also promotions and new starters to make sure we welcome people into our team. There is also a Cupcake Award which is given to someone who is nominated by employees just to say thanks for going the extra mile. Who doesn't like cake right?
Wellbeing Instigator Programme
A focus for us for 2019 is to uncover new ways to enhance employee wellbeing in our office environment. As a result, we have pulled together a team of 'Wellbeing Instigators' who meet fortnightly to discuss new initiatives we could look to implement across the agency. Whether that be chair yoga classes, joining the PHA football and netball teams, keeping our environment tidy or common issues around the office, this group aim to improve the wellbeing of our employees while they are at work.
If you're interested in a new career or want to make your next step change in PR check out our careers page for all our latest opportunities. And if you have a wellness initiative that works particularly well for you please do let us know, we are always looking for ways to improve.
Wellbeing in the Workplace
2018 has been a stellar year. We have grown to a 90 strong agency, welcomed some excellent new clients as well as continuing to work with some of the best brands, businesses, and entrepreneurs across a variety of sectors.
The start of 2018 was an exciting time for our business as we evolved from PHA Media to The PHA Group. This evolution came about after many months of navel-gazing and realising that as a business we had changed significantly since our inception 14 years earlier, yet our own brand hadn't reflected this change.   We lacked one key message to explain what we are all about. We required a new brand narrative and identity to that reflected our growth and presented a cohesive and authentic story to our staff and to the outside world.
So, we were delighted to become The PHA Group; Vibrant people who deliver. Simple
Our new brand and identity encapsulated the essence of what we have always been about and what truly sets us apart from our competitors; our people. We recognised that to get the best out of our people, we needed to empower them, and create a culture which will enable them to thrive.  We wanted 2018, our first year as The PHA Group to be the year that we celebrated our most important asset, our people, in a special way.  And so, in recognition of our people, we launched our own internal campaign called 'Show us what you're made of'. We challenged every one of our employees to take on something they had always wanted to do throughout 2018, a pledge to do something that would take them out of their comfort zone and give them an opportunity to show us what they were made of.  The pledge could be personal or professional, all that mattered was that it was a challenge to the individual and gave them the opportunity to demonstrate why the people at The PHA Group are so vibrant.
As a result, we have had employees raise over £5,000 for charities, run marathons, climb or cycle multiple mountains across the globe, learn Braille, volunteer hundreds of hours, write a children's book reconnect with family members, learn to speak foreign languages and realise passions for cooking, fishing, and cycling. We were overwhelmed with the stories and what our people achieved.
To add a special incentive to encourage individuals to take part there were three very special prizes up for grabs for every individual that completed their pledge, with the top three winners being selected by an independent judging panel. The person with the most compelling journey would be rewarded with tickets to a holiday destination of their choice anywhere in the world plus spending money. Second place would be treated to a weekend away in the UK and third place would be allowed to indulge in a dinner for two at a top London restaurant. This year-long campaign was designed to encourage development, encourage the achievement of personal goals and champion the importance of a great work/life balance.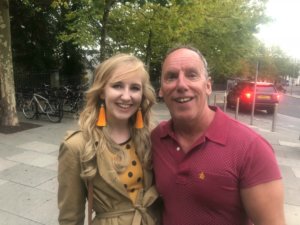 Angel, Social Media Assistant set out on an extremely personal challenge to reconnect with her birth father; 'My pledge was very personal and tough to share at times, but that's exactly why I chose it. When I heard about the pledge scheme, I asked myself what I've never been brave enough to do and meeting my dad was the one thing I'd always avoided – but not anymore.'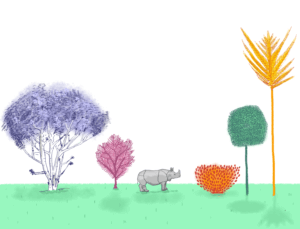 Celia, Senior Account Manager said 'I've always agreed with the saying "if you want something done, ask a busy person" but the pledge made me realise how much more I could do with my spare time'
Last week marked the end of the campaign and it was time to pick our winners. Our New York partner agency, 5W, generously agreed to take on the role of independent judges, with three of their senior Directors forming the panel.
Dara Busch, Executive Vice President, Consumer Practice "We were blown away with how real and personal the individuals got with us".
Shane Russell, Senior Vice President, Technology "It was really cool to see how people adapted the pledge to their lives and goals"
Matthew Caiola, Executive Vice President, Corporate and Technology Practices "So many of the pledges showed incredible selflessness"
At The PHA Group Christmas party on Friday, we announced the winners of 'Show us what you're made of' and were delighted to crown Holly Hale, Junior Account Manager our overall winner for completing L'Étape du Tour, one of the world's most grueling cycling races. Described as 'sitting on a bike at full resistance for 11 hours' Holly managed to take on the tremendous challenge where only 6% of the 15,000 participants were female after dedicating herself to hundreds of hours of training in preparation.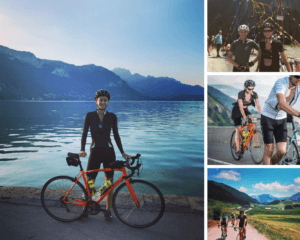 Holly explains: 'As soon as the pledges were announced I knew I had to give it my best. I really enjoyed the months of training and preparing for the event itself. Now that it's all over I miss having that one thing to work towards and focus on. Naturally, the prizes were a big incentive to keep working towards achieving my pledge. Having said that, equally as important as the possibility of winning an amazing prize was having everyone in the company know what my pledge was, and what I was trying to achieve. It made me accountable and it meant that I would be letting people down if I didn't complete my pledge. Overall a great experience with an even better result!'
In joint second place was Hayley, Senior Marketing Manager, and Rory, Account Executive. Both pledgees achieved an outstanding number of voluntary hours to help organisations close to both of their hearts.
Rory said 'I've wanted to help people who suffer from mental health for some time now following battles with depression myself. After a bit of exploring I've found myself working for a charity that provides emotional support for people suffering from mental illness through a phone line and text care service. Working on the phones has been challenging and emotional at times, but I enjoy it and feel like I'm making a difference. The pledge really gave me the kick I needed to turn an ambition into a reality, and hopefully, this is just the start of a lifetime helping those with mental illnesses.'
Hayley said "I've wanted to do more volunteer work for some time now and the pledge presented the perfect opportunity. I have really enjoyed helping lots of different organisations and will continue to support many of them in 2019."
In joint third was Celia, Senior Account Manager, who pledged to create a children's book, which is currently being reviewed by an agent and publisher and provide pro-bono work for a charity supporting blind and partially sighted individuals.  With Angel, social media assistant also securing third place for her commitment to such an emotional journey to reconnect with her dad.
As an organisation we couldn't be prouder of all the employees who took part in the process and we're delighted to hear so many are continuing into the new year with their new skills, commitments, and journeys.
As for 2019 at The PHA Group we have committed to another huge opportunity for our staff showing the industry just how Vibrant we all are.
Stay tuned for more…
Show us what you're made of
Wellbeing in the workplace has often been overlooked by employers throughout the years, particularly in Western society and culture, where work is so fast paced that you barely get a second to think about the present moment. There are always thoughts and concerns over what's just happened, or what's coming up. When do we actually get a chance to focus on ourselves?
Now, there is finally a growing recognition of the importance of physical and mental wellbeing in the workplace, as well as outside it. Staff who recognise their own mental and physical wellbeing, and who are supported in doing so by their employers, are likely to be more productive at work and make more contributions to their organisations they work for.
Whilst work is an integral part of life, it shouldn't be a source of anxiety, stress and ill health. The success and well-being of the staff and the business go hand in hand, thus, organisations that understand and act on this will continue to adapt, innovate and outperform those that don't.
Here at The PHA Group, we pride ourselves on providing as much support as we can for all staff. We recognise that our employees are the key to a happy and successful workplace, which is why we introduced our Wednesday Wellness initiatives. We're eager to encourage staff to refocus their mind and gain perspective when the stressful thoughts and pressures start to creep in.
This is why our Wednesday Wellness sessions concentrated on mental wellbeing, focusing on meditation and taking a much-needed break in the day to re-energise the brain. This is just one example of how easily we can build mental wellbeing practices into our day, giving us immediate benefits and stress relief.
Physical wellbeing is just as important to individuals, which is why we regularly focus our Wednesday Wellness sessions on relaxing the body and stimulating the mind. At The PHA Group, our most recent Wednesday Wellness initiative has been the introduction of twenty-minute massages for employees throughout the day.
We have found this to be a successful and popular wellbeing initiative among our staff. Alicia Diaz-Benitez says: "Sitting at your desk for long periods of time can deplete your energy levels. I find the massage sessions really lift my spirits and make me feel renewed and refreshed – and give me clarity of mind when I resume my workload."
Our ever-evolving focus on the implementation of initiatives like these allows our staff to embrace, explore and apply the benefits of emotional and physical well-being. Our company wellness initiatives make our staff feel valued and comfortable in the workplace. And we feel that happier, more fulfilled employees deliver the best results.
Wednesday Wellness – an employer who puts you at the centre
The last two weeks have been a whirlwind of work experience and fun. I've learned so much at PHA, not just about PR but also about the ins and outs of an office – it's my first time in this kind of business environment.
When I arrived, I didn't quite know what to expect, what I'd be doing or how the Personal PR Team worked. In just a fortnight I've picked up so much, from what 'personal PR' means to how social media accounts are run, to the best ways of getting a journalist's attention (3kg of sweets, anyone?).
Here are five lessons I learnt:
Time management and prioritisation
Being totally honest with myself, I knew time management was something I had to work on. I put my hand up to take on work from day one – and the team took note. I soon found myself with an exciting (but large) list of things to do and I decided that I would start setting myself time restraints for certain tasks to ensure that my days were as productive as possible. This method worked well for me and allowed me to structure my day as efficiently as possible. I now feel like I have a way to help me sort tasks and get things done – skills that will come in handy when I go off to university in a few months.
The UK Media
I learnt the importance of reacting to the news quickly.  PHA's morning scan was a big eye-opener for me. Scanning through national newspapers allowed me to see just how many opportunities there are, and how many papers there are.
I've never been an avid reader of the news, so this was an important lesson for me and a habit I'm not going to drop any time soon. Time to invest in newspaper subscriptions.
Teamwork
I loved getting involved at PHA – and not just because they share a similar passion for Love Island. The team layout was very open, and I was encouraged to ask questions and chat with the team, this made me feel more at ease and more relaxed.
I received a lot of support from the other members of the team and always felt included, they were great. Having a supportive team really benefitted my experience – as I was asking questions and constantly learning.
No two days are the same
I loved the diversity and variety at PHA – I had never experienced such a wide range of things to do. From scouring the business section of the Sunday papers (all in the name of personal PR) to researching dolls house toilet paper (don't ask) in the same day – it was fantastic.
Phones are for making calls! Who knew?
Finally, this is a big one, the phone calls. When I first arrived, I couldn't believe how many calls were being made in the office – to journalists, clients and suppliers. My mobile is 90% used for Instagram and WhatsApp, not calling. I quickly learnt that phone calls in the context of work aren't actually scary at all – they can be really exhilarating especially when it goes well, and you see the results.
I learnt a lot during my work experience including things that aren't PR related that I will be able to use in my future career. It was an amazing two weeks with a friendly, helpful and humorous team who allowed me to get the most out of my work experience.
If you're looking to make your next career move in PR speak to a member of our recruitment team today. We'd love to hear from you and take you through any vacancies we have available.
My time at PHA: Annie Quinn
With less than a month until the new European legislation, known as the General Data Protection Regulation (GDPR), comes into force in the UK we look at what this really means for the PR industry, whilst putting some of those rumours and myths to bed.
Find out the basics
You can't prepare for what you don't know. So, the first crucial step is to make yourself aware of the key facts surrounding the GDPR. If you haven't received training at your organisation it is probably worthwhile embarking on some personal research on the dos and don'ts when it comes to data protection. Sites such as the ICO are really detailed and can help you answer some of those burning questions.
Our Legal and Finance Director, Marina Hall says "Don't panic, GDPR is a good thing and allows you to organise your data and the information you store. The legislation is enforcing best practice and requiring all businesses to have the same standards when it comes to processing and storing personal information."
What data is included?
The GDPR may sound as exciting as watching paint dry but it's important to know the details, especially as it will affect every business in the UK. You will need to know what qualifies as "personal data"as you'll probably find that you process it a lot more than you realise. The main areas could be:
Name
Email address
Mobile number
Bank account details
Addresses
Driver/passport number
The legislation covers indirect identification of personal data, as well as direct. This means marketers will need to think about pseudonymisation, a data management procedure by which personally identifiable information fields within a data record are replaced by one or more artificial identifiers. When these elements are brought together, such as a postcode used with a surname, this could lead to someone being identified.
Do I have to get permission from every journalist?
No; if you are using aggregator sites such as Gorkana, Agility or Response Source you're covered. These sites require the journalists or organisation to opt-in to have their details shared, meaning you have permission as a subscriber to the site to access that data. In addition, business emails that are published in the public domain such as John.Smith@parliament.co.uk are exempt from GDPR and you are able to make an approach.
Freelancers can be a murkier ground. There is a grey area within the new legislation around "legitimate interest". If, for example, you were representing an environmental charity and you wanted to contact a freelance environmental journalist, you can argue legitimate interest as the journalist would more than likely want to hear about your story. However, if you included the same freelance journalist in a big promotional email about something totally irrelevant to them it would be deemed misuse of their data and could lead to other problems.
How does this affect my client work?
Our top tips for most PR professionals would be to focus on the following.
Make sure you know where to find your new updated contracts and how to explain them if your client comes back with any questions.
Ensure you are vetting any third-party suppliers you might be using, such as photographers, copywriters or website developers. It might be worthwhile having a supplier agreement in place.
Password protect your spreadsheets. If you have media lists, client to do lists or simply a data capture from an event, make sure they are securely stored away and password protected. If you're unsure how to lock your work down seek help from your IT team who will be able to advise you.
Don't pass on details you don't have permission to share. If you haven't got permission, make sure you don't share data with any third parties. If you do, this could it could lead to larger issues. If you're unsure, check with the Data Protection Officer within your organisation for the correct process.
The right to be forgotten – the new GDPR rules provide "data subjects" (individuals) with the right to request that their information be erased completely. This is not optional.
Finally, know who your Data Protection Officer is. Most organisations will have an appointed person or team. Make sure you keep them in the loop if you're unclear about the process or just want to clarify what you're doing is the correct way.
Finally, we'd just like to add we are not qualified to provide legal advice, so if you have some bigger questions please do contact your legal counsel.
We hope you enjoyed our top tips; if you're looking for a PR agency to support you or your business please get in touch with our award-winning team today.
Putting The PR in GDPR
Science was never my thing at school – my proudest achievement was wiring a plugin Physics when no-one else in the class could  – not even the boys.  I always admired the girls who got it – science that is – and put them on a pedestal as being the brainiest of the brainy kids, particularly because science was a 'boys' thing in my generation.
So when I read about Dawn Childs being recognised as one of the Barclays Women of Achievement for engineering I was intrigued and excited.  This woman was amazing – she had spent 23 years in the RAF as an Engineering Officer, in fact, she had been Head of Engineering at an RAF base with her prime responsibility looking after all the spy planes.  How can you not be inspired by someone like that – a woman looking after the nation's spy planes?  Now, having left the RAF and becoming the first woman Head of Engineering at a major international airport (Gatwick), she is Group Engineering Director for Merlin Entertainments Group.  She is no longer looking after aircraft, rather the engineering standards, practices and processes for rollercoasters and rides at more than 100 theme parks worldwide – her career has to be right up there in empowering womankind.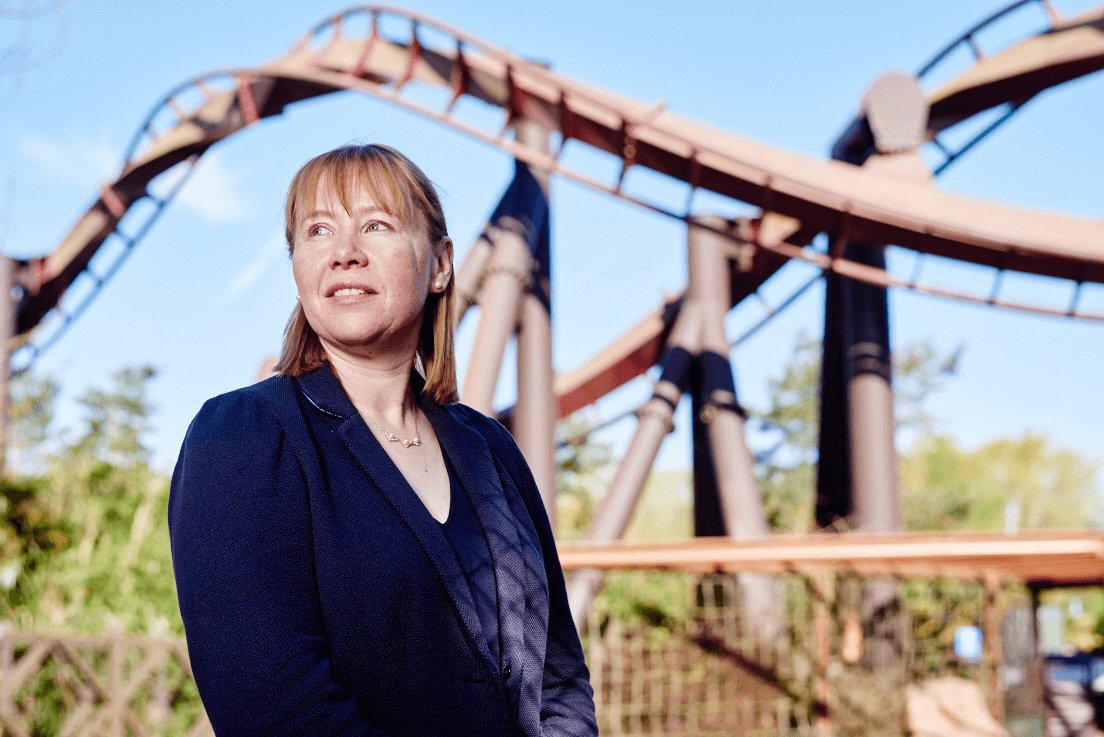 Has she got resilience?  Of course, she has.  There is no way you could survive, let alone progress, in this male-dominated profession unless you are tough. Has she experienced sexism?  Of course, she has – someone in the military once asked her if she was attending a meeting to take the notes when, in fact, she was leading it.
She is the epitome of success and achievement, a trailblazer in a male-dominated world of engineers – that has to be celebrated and applauded for the next generation of women engineers.
The point of telling you about Dawn is that she is not unique.  I guarantee you will come across someone like her during your career – I have, and she has been invaluable to me in my progression.  When you meet your version of Dawn, observe her, learn from her, gain confidence in your ability from her, adopt her style if it resonates with your own, learn to trust your judgement and instincts and don't be afraid to fail.  All these elements will inspire and empower you in whichever world you work in.
Dawn's tips for youngsters are; ask lots of questions and never think others could do your job better than you – always take a bet on yourself and your abilities – I did. #PressforProgress
#PressForProgress Inspiring Women: Dawn Childs
I had never planned to work in PR. Having geared my entire education towards a career in art and design. I became one of many 'lost' graduates to embark on a strange world beyond the comfort of my student loan. For two years I flitted between office admin roles and thinking I was destined to schedule appointments for other people, which held no promise of the creative career I once felt was in my path.
It wasn't until a close friend completed a week's work experience at The PHA Group that PR even crossed my radar. She told me "I think it might be for you", while any work experience in PR would be unpaid I was more than willing to try something different.
The atmosphere in the office on my first day was frantic, but somehow that didn't put me off, I found it exciting and young and I was eager to join in. Rather than the corporate world I once thought it was, work experience taught me that PR fundamentally revolves around ideas, thoughts and creative. PR can be anything you make of it, which is a notion that sits well with me.
It isn't all about attending fun events and schmoozing the media with expensive lunches and dinners. You learn to adapt a varied set of skills. One day you might be writing a press release about the intricate design details of the inside of a watch, the next you could be speaking to high-profile journalists and influencers at press events.
What makes a good PR? A strong writer, with the ability to sometimes take on different personas and writing for different audiences whilst being aware of the appropriate tone. You'll need to have an interest in the media and things happening in the world. It's also crucial you can work under pressure, and not afraid of a fast-paced working environment. The rest you learn along the way.

I think that there's a lot of graduates with degrees who think PR is for people who studied communications, marketing or business, but some of the most talented people I work with have English, design, tech and even athletics so, personally, I think it's about your skills and experiences more than what you have studied.
PR is a very competitive industry with a lot of talented people. With two weeks work experience I was lucky enough to be offered a three-month internship with the Consumer & Lifestyle. After spending so long with no professional direction to find something I found exciting, fast-paced and interesting was incredibly motivating.
Now I work fulltime at PHA. So far, I've been subjected to so many experiences, from trying to find the perfect fancy dress costume for Ashley Banjo to running around Oxford Street frantically sourcing a teapot for a photoshoot. It's unpredictable and it's 100 miles per hour, but every day is different.
Think a career in PR could be for you? Why not contact Louise on LouiseN@thephagroup.com today about the The PHA Group Open Day or alternatively look at our current job opportunities. 
Why PR could be the ideal career for you
By Ellen Maddin, The PHA Group Intern
It's the final day of August and it's my final day at The PHA Group. Some say, 'time flies when you're having fun' and my month here definitely has.
I remember the 2-minute wait in reception on my first day felt like an eternity. The nerves were mounting and upon reflection; the 2 double shot cappuccinos I'd had that morning were probably not a good idea.
However, the welcome given to me by the Entrepreneurs and Business Team (Abbi, Emily, Celia, Alice, Prisca, Jasmin, James and Stuart) instantly made me feel better. I cannot express how thankful I am to them; their positive energy is infectious, their work ethic is inspiring and their supportive nature radiates across the pods. Two words to sum them up are: Girl Power! Not forgetting of course James and Stuart who immediately made me feel part of the team!
Now to the important points…
What I have learnt…(a vast amount):
I now have a real understanding of how a PR company works
I have learnt how to use Gorkana – vital when creating media lists
You must be on the ball; constantly keeping an eye on news outlets for coverage opportunities
Brainstorming ideas is essential especially when deciding on a new pitch angle – two brains are always better than one!
Being confident is a fundamental part of PR – mine has grown while being here!
Don't be afraid to ask questions (everyone is happy to answer them) – it gives a meaning to the work you are doing and it makes it much more interesting!
It has been exciting to see how all the different parts link together to form an overall strategy!
My Highlights
There have been too many highlights to write about them all so here are my top 3:
I loved the mini project I was involved in because I could demonstrate my creative skills. It also gave me an insight into the broad range of work PHA do for their clients. Seeing the finished product was a great way to end my time.
The research tasks I have completed have all been fascinating and have shown me the wide variety of clients PHA-Media have. Everyday has been different!
Knowing that I enjoy writing, Emily (from E&B) set me some blog posts to write for some of The PHA Group's clients. Understanding when to use a different tone and language style has been incredibly useful!
This internship exceeded my expectations and taught me some invaluable lessons. Notably, to succeed in PR you need to be determined and enthusiastic. A month ago, I was feeling anxious about graduating in a year's time knowing I'd be entering the 'real world'. Now I feel like a future career in PR could hopefully be on the cards and that is all testament to what I have experienced at PHA. Thank you everyone!
P.S. influenced by the mini project I was set, my parting gift to the E&B Team is a survival kit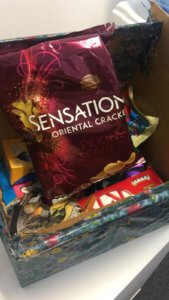 What a month at The PHA Group