In the UK alone, more than  3/4 of children between the ages of 10 to 12 have their own social media accounts. So, 21st century adults entering the complex world of parenthood face a hurdle that has yet to be a concern for said group – protecting your children from the threat of adult content, unfiltered comments, cyber bullying, identity theft and predators. A rather large ask in this social media obsessed society.
Luckily for parents up and down the country, help is at hand. Rather than risking the 'FOMO' backlash from your kids, you can now rely on safer social media alternatives that allow kids to be kids, socialising, sharing and chatting, just without all the risks.
We look at social network alternatives for young people, built with safety and age-appropriate socialising in mind.
Whilst most of us were climbing trees and rushing home to watch Art Attack after school during our adolescent years, in 2013, 12-year-old Zach Marks was casually founding the social media platform, Grom Social, which now boasts 13 million users across 200 countries. Successfully making us feel like our teenage days were somewhat inadequate, Zach has also managed to create a platform which tackles issues that often affect young people using social media; bullying and a lack of safety. Each user interacts with other 'GromAtars', and with the site being monitored 24/7, if and when someone tries to post something inappropriate, a GromAtar will stop them and explain why the behaviour will not be tolerated. This concept of learning from 'peers' rather than seemingly out of touch parents is a brilliant way of getting through to kids, without patronising them. Parents also receive regular emails detailing their child's online activity.
Launched in 2001, Kidzworld is now the largest independent website for young people in the world and is hailed as a safe place where kids can enjoy, explore and learn. The focus on education is paramount for this platform, so Kidzworld is often popular with teachers, as it gives them engaging resources and conversation points to use in the classroom. One great feature is the 'Dear Dish-It' advice blog, which acts as a forum for kids to ask for personal advice about self-esteem issues, relationships, bullying, peer pressure and everything in between.
Franktown Rocks is all about having fun and socialising through games. It incorporates a multiplayer online game for kids between the ages of 8-12. You can create your own characters, interact and chat to other characters all at once. Franktown is unique in that you can not only play games together, but can also make music, complete quests and watch videos. There is also a handy area for parents, answering any questions regarding safety that they may have.
ChatFOSS is a safe place where you can chat with your friends online. You can do all the things you do on other social media apps, but with ChatFOSS you always know with whom you are chatting, and strangers cannot contact you. Even better, the app gives you control of what you share. There is no need to share everything with everyone! Strangers cannot look for you, follow you or find you, only your friends on ChatFOSS will know you have an account. A great app for children where parents can be reassured that no strangers would get in touch with their little ones or people they don't want to speak to can't.
PopJam is a platform for 7 – 12-year olds, where you can create and share art, photos and much more. You can also watch specially selected videos, take epic quizzes, play games, discover and follow all the stuff you love! There's a community of friendly and creative PopJammers who all have their own profiles.
Children using PopJam can't share personal information and can't use private chat to communicate with people. PopJam is committed to online safety and child protection, they cooperate with third party companies such as CEOP (Child Exploitation and Online Protection Centre) and the NSPCC, to ensure children are safe using the platform.
Is your brand in need of a PR or social strategy? Why not get in contact with us today to see how we can help you get ahead of your competitors and gain exposure in new markets.
Top social media websites that will keep your kids safe online
With the launch of Amazon's new HD streaming service to rival the likes of Spotify and Apple Music, industry eyeballs are on who will be helping artists and musicians monetize their music away from the traditional labels in the future. The music world has always been about who is able to identify "the next big thing", nurture that relationship and establish a successful route to market with the potential financial windfall always on the horizon. Of course, making sure artists are paid sufficiently and managed appropriately has always been a difficult balancing act, but streaming and new technology are paving the way for a host of companies pushing into new markets and capitalising on this growing industry.
New platforms and startups are being set up with the next challengers looking to change investment into the industry and capitalise on the new wave of streaming content services. Below are a select few to keep your eye on:
Corite allows fans to invest in music and get rewarded in the form of royalties from the likes of Spotify and Apple Music.
The Stockholm-based platform started by industry veterans and Universal Music Group alumni Mathias Tengblad, and Emil Angervall, say Corite will enable new artists to enter the music market without the need of the backing of traditional record labels.
It also enables artists to estimate the value of a song they have created based on their streaming history and future projections, before announcing the amount they want to raise and setting a percentage of streaming royalties which investors will receive in return.
The music business is littered with stories about songwriters or studio contributors and session musicians who never get the credit — or money — they're often due for their work on hit songs.
Jammber was started by serial entrepreneur Marcus Cobb to make sure that those cheques get cashed by the right parties in a timely fashion and they get the appropriate credit. It is a suite of tools to manage everything from songwriting credits and rights management to ticketing and touring all from a group of apps on your mobile phone.
With offices in Nashville and Chicago, Cobb has his sights on the West Coast and a base in London in the coming years to push the company forward and make it truly international in its reach.
With an exciting new proposition for the industry, Songbook is looking at taking crowdfunding into the music world to help artists fund their work and promote their songs with an ongoing commercial route to market.
Setup by Chris Read in London, Songbook is an investment platform solving the two main problems artists and labels have: a lack of cash and sustained promotion. It lets fans crowdfund an artist's next album, EP or single; in turn, it gives them a cut of the master or publishing rights, anywhere from which they earn royalties from three to 25 years.
Fanvestory is a platform for music copyrights. It allows fans to buy a part in a piece of music and be entitled to its future royalties while supporting their favourite artists. Artists are provided money upfront for their copyrighted work and are given a direct line to their most loyal fans.
Positioned as a disruptor to the market, Fanvestory is looking to shake up the current status quo that allows artists royalties and funds in the future and helps them gain access to capital at the start of their careers when they need the money the most.
Imagine you would have bought 1% of the master rights of Ed Sheeran's "Shape Of You" when it was released. Up until today, you would have earned more than £100,000 from streaming alone.
Open investment into the music business is what Vienna-based start-up Global Rockstar is aiming for and in August 2019 it opened its platform to hundreds of thousands of unsigned emerging talents and their fans, who can now become a part of their success.
The idea from founder and CEO Christof Straub is that by investing in music rights, music lovers become "shareholders" of tracks and receive royalties from the commercial exploitation of the master rights for up to the term of copyright which is in average 70 years in Europe.
If you would like to learn more about what PR could do for your business, speak to a member of our award-winning team today.
Five companies making waves in the music industry
Over the past five years we have worked with Jeans for Genes and each time the brief is clear: to raise awareness and drive sign-ups for their annual fundraiser.
Jeans for Genes is a national children's charity, which raises money for the care of children and families who are affected by genetic disorders. The charity also aims to raise awareness and understanding of genetics and what it means to live with a genetic disorder.
The brief in 2019 was no different. The campaign itself was simple: asking people to wear jeans in return for a donation to support children living with genetic disorders.
Each year we create a fresh and strategic campaign that focuses on educating the public on the health implications of genetic disorders. As we reach the end of this year's Jeans for Genes week, we have so far secured 350 pieces of coverage across print, online and broadcast media and hundreds of social media posts from celebrities and influencers encouraging people to support the campaign.
So how do we go about driving impact year after year? Learn more about our strategies below:
Case studies
A key part of our strategy was to include real people in the campaign. We set out to educate about the impact a genetic disorder can have on a family and the amazing stories of those who live a fulfilling life. We worked closely with over 30 families who were affected by genetic disorders and secured opportunities for them to share their experiences. We placed a series of emotive case studies generating 123 pieces of coverage across the national and regional print and broadcast media.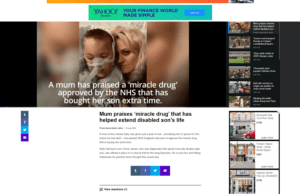 Educational coverage
We set out to educate the public on what a genetic disorder is and to encourage individuals to learn more about genetics. Deploying a multi-pronged educational strategy utilising Gene Therapy expert Professor Bobby Gaspar, we secured 22 pieces of coverage including publications such as the Manchester Evening News and Yorkshire Post.
Fashion and lifestyle coverage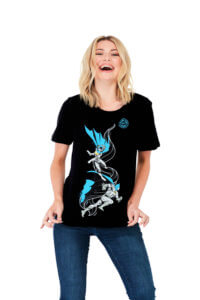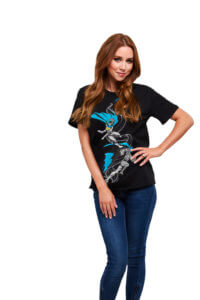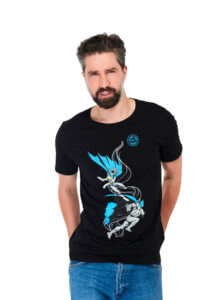 An important element of the fundraising campaign is the sale of their fashion t-shirt. Each year there is a high demand for the uniquely designed garment, and this year was no different, with the t-shirt designed in partnership with Warner Bros and featuring Batman and Batgirl. Our team secured 227 pieces of coverage dedicated to promoting the t-shirt.
Celebrity influencers and endorsement
Celebrities and influencers as we know can be a very effective way of increasing engagement, building awareness and reaching your target audience.
As part of the Jeans for Genes campaign, we worked with; Alice in the looking glass, Christopher Taylor, David Seaman, Emma Barton, Faye Tozer, Nadiya Jamir Hussain, Adam Pearson, Charlotte Hole and many more.
It was a real focus of our team to ensure we made the right partnerships to ensure the success of the campaign.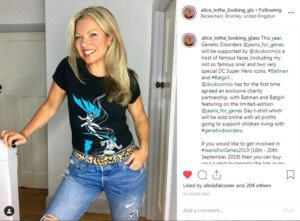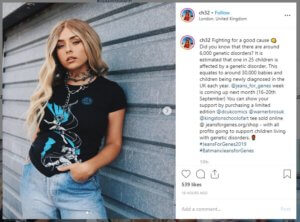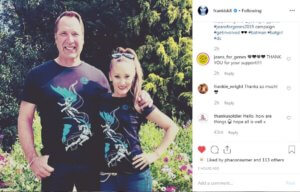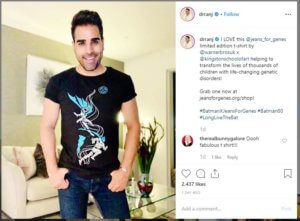 Gifting
To help keep our campaign and messaging at the forefront of journalists minds we activated a series of desk drops with branded Biscuiteer biscuits to a selection of fashion, health and lifestyle media.
Hosting a celebrity event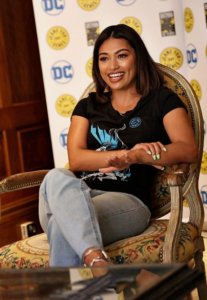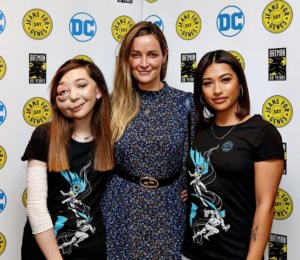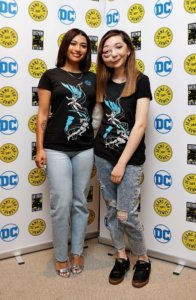 Jeans for Genes Day ambassador and singer-songwriter, Vanessa White hosted an intimate breakfast event at the Covent Garden Hotel to launch the 2019 Jeans for Genes Day campaign and its new charity T-shirt, on sale now.
The breakfast event at the Covent Garden Hotel was also attended by Made In Chelsea star, Francesca Newman-Young, and Jeans for Genes ambassador and emmy winner, Nikki Lily.
Vanessa debuted the limited edition 'Batman and Batgirl' design at the event, created by Kingston School of Art Graphic Design student, Chayanis Jumrus. This year's T-shirt motif was selected by a distinguished fashion panel, including Coleen Rooney, Louise Thompson, the London Evening Standard's Head of Fashion, Maurice Mullen and Fashion Director-at-large at Glamour UK, Alexandra Fullerton.
Vanessa greeted guests with a short introduction to her involvement with Jeans for Genes, upcoming projects, and why she has chosen to support the 2019 Jeans for Genes campaign.
Jeans for Genes Day has such a positive impact on the lives of children and families living with genetic disorders, which is why I am proud to be able to support the campaign. It is estimated that one in 25 children is affected by a genetic disorder, which means 30,000 babies and children are diagnosed in the UK every year. Whereas some disorders are apparent at birth, others are diagnosed at different stages throughout childhood. Vanessa White
If you'd like to speak to a member of our team and find out how we can support your organisation, please get in touch today. Or if you'd like to support this year's Jeans for Gene's campaigns it's not too late, visit their donation page here.
Making it count: Jeans for Genes
Today it is more crucial than ever to make changes to help our environment. Every day we hear about another turtle who has died with a litre of plastic in its stomach or see an image of a hungry polar bear starving in the melting ice caps.
The Homeware industry in previous years has been one of the greatest producers of single use plastics. This has posed serious environmental issues such as increasing CO2 emissions and polluting our oceans, so several companies are trying to tackle this issue and have made huge efforts to create more sustainable products.
First up we have the Waikiki Bottle. This eco-friendly stainless-steel insulated bottle is designed to keep you hydrated whilst encouraging a more sustainable lifestyle. As well as helping the environment by reducing the number of plastic bottles purchased, Waikiki has also launched the Take-back Program. This allows customers to return their used bottles once they are done with them to be recycled at its source. Those who return the bottles receive a discount on future purchases as a thank you for keeping your bottle from the landfill.
Eco-Strawz Reusable Metal Straws 
Another small change that can aid our environment is the removal of single use plastics such as straws. These stainless-steel drinking straws made by Eco-Strawz can be cleaned and reused multiple times, saving space in our landfills from the regular use of plastic straws, which take years to decompose. What is more, with every reusable straw purchased, Eco-Strawz will donate 1p to Sea Shepherd, a world leading direct action ocean conservation charity.
These luxury soy wax candles are not only stylish but environmentally friendly too. Join ensure their candles are vegan, carbon neutral and sustainable. The cotton core wicks and fine essential oils create a long, clean and natural fragrance without harming the environment. Join are committed to reducing their carbon footprint as much as possible, using recyclable packaging from sustainable sources and print with vegetable dye inks.
Panda Packaging Bamboo Lunchbox
This eco-friendly lunch box is a great replacement for your single use Tupperware. The base is made from stainless steel and the lid is handmade from bamboo. The organic bamboo fibre has antibacterial qualities, keeping your food safe. Panda Packaging has a mission to replace the use of all plastic products by creating new and exciting sustainable solutions which are affordable and accessible across the world.
These handmade organic cotton Beeswax Wraps are the new sustainable way to keep your food super fresh. The BeesWax Wrap Co. aims to encourage people to ditch the single use cling film which will fill up unnecessary landfill space and convert to the 100% natural and biodegradable Beeswax Wraps, also available in a variety of colours and patterns. There is even a tutorial on their website on how to keep the wraps clean and fresh, so they can continue preserving your meals and snacks.
Greener Cleaner are committed to delivering high-performing eco-friendly cleaning products sustainably. This high performance environmentally friendly dish brush has durable fibres and is deal for cleaning all types of dishes, pots and pans. The wood flek handle is made of 100% recycled plastic giving it an Eco-Flek finish. All Green Cleaner products are made from recyclable plastics which can be recycled again after their use. The 'Reduce, Reuse, Recycle' waste hierarchy is used as the strong foundation for the creation of Green Cleaner products.
Are you looking to promote your own sustainable homeware product or sustainable service? Do get in touch with our award-winning team today to see how we can help!
6 sustainable products fit for your home…
Founded in 2008, the Zero Waste Week's purpose is to help organisations, individuals and community to reduce landfill waste, save money and preserve resources. This special week will encourage you to make small changes that lead to more sustainable consumption patterns.
But it's not only the team behind the Zero Waste Week trying to get more sustainable. Recently, Sky's Ocean Ventures Fund invested in 10 UK businesses that are looking to make sure plastic isn't part of our life anymore. The 10 companies have all been chosen because of their pioneering ideas in either material innovation, circular economy or responsible consumption. Here are a few examples.
Are you fed up of having to buy 5p bags every time you forget your carrier bag? Bagboard have a great solution, turning recycled paper bags into an ad. It's basically an ad platform bringing people, brands and retailers together to remove and recycle 1 billion plastic bags from the environment.
This is pretty simple; all you need to do is go to one of the 2,000 independent shops across London and grab a paper bag. Then you download the Bagboard app and scan the ad on your bag. As a thank you for doing so, the company will then donate money to Plastic Bank to stop sending plastic into our oceans. You can even return the bag to one of the shops so they can recycle it and create a new bag from it.
Choose Water goal is to be an environmental and social enterprise. They have partnered with Water for Africa with the keen desire to form a long-lasting relationship by raising awareness and providing profit derived financial support. Water for Africa provide lifetime support for all water projects in Africa, through continuous development and training. They believe running water is a basic human right for nations to thrive, and therefore aim to provide each country with the adequate personnel, assistance and technology to succeed.
When a plastic bottle is thrown away – whether it ends up in landfill or our oceans – it will stay there for at least 450 years. Choose Water's bottles are 100% plastic-free, biodegradable and are made entirely from sustainable naturally derived materials which will take less than a year to degrade. Every bottle is filled with the purest water you can find in the UK and will keep your water super fresh for a very long time.
Flexi Hex is an adaptable plastic-free packaging solution founded by Sam and Will Boex who recognised the impact that single use plastic was having on their local and the world's marine environment. Their passion for surfing and their personal experience of transporting boards around the globe inspired them to create a sustainable packaging sleeve for the board sports industry.
Motivated by the challenge to create user friendly, well-engineered packaging using simple biodegradable materials, Flexi-Hex is designed as a reliable, adaptable alternative to single use plastics in packaging systems. The unique honeycomb design gives the packaging high compression resistance to unsure that every product will arrive at destination damage free.
Naturbeads produces biodegradable cellulose microparticles to replace plastic microbeads. But what are microbeads you might want to ask? Fair question, microbeads are added as an exfoliating agent to cosmetics and personal care products, such as soap, facial scrub and toothpastes. When microbeads are washed down the drain, they subsequently pass unfiltered through sewage treatment plants and make their way into rivers and canals, resulting in plastic particle water pollution. Since 2017, countries are banning microbeads in all products, so new companies like Naturbeads are looking for ways to replace them.
Naturbeads are natural and biodegradable made from plants and are much better for the environment. Naturbeads' biodegradable alternative to plastic microbeads could reduce microplastic pollution in our oceans, so that traces from sun cream, cosmetics and other personal care products don't end up in the ocean. More to come.
Would you like to know more about our services and how we can help your sustainable business, brand or product? Get in touch today to set up a call with our team.
Zero waste week
We've made the final!
We are delighted to have found out this week that The PHA Group has been shortlisted for no fewer than FOUR awards at this year's The Drum PR Awards for our outstanding work.
Our teams work with Responsible Gambling Week 2018, West Ham United and HCA Healthcare UK has caught the eye of this year's judges and shortlisted for both the Health & Pharma Award and Corporate Social Responsibility category.
We didn't stop there; as you know we love to shout about our most important asset at PHA, our people. We're proud our work has been shortlisted for the Internal Communications Award following our extensive work to place the wellbeing and development of our people at PHA at the heart of what we do and achieve. Earlier this year we won a PR Moment Award and made the final of the HR Excellence Awards for our internal communications so we couldn't have any more fingers crossed for the announcement in September.
Find out more about our entries at The Drum PR Awards site or get in touch with a member of our team, we'd love to share our insights and work with you.
Show us what you're made of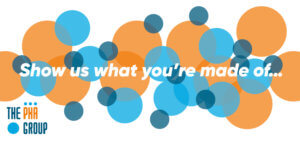 Health fact Vs Fiction – HCA Healthcare UK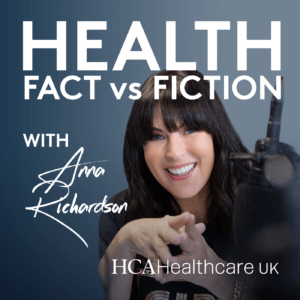 Responsible Gambling Week 2018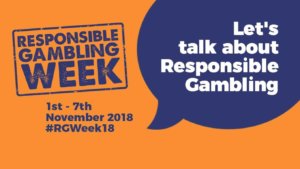 West Ham United – Uniting our community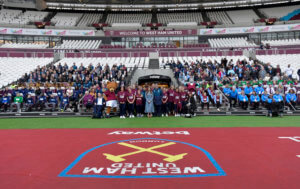 Finalists – The Drum PR Awards 2019
It starts around 6am. Any journalist who has ever witnessed a momentous day down the "wind tunnel" that is Downing Street, SW1A will tell you that it always starts at the break of dawn. All the spots have already been diligently marked out on the pavement with each media outlet's name tattooed on the concrete outside of the famous black door, so everyone knows where they are to setup camp for the day.
It is the most unglamorous pavement imaginable; the police often lock down the street so the possibilities of running to the bathroom or to grab coffees are minimal so once you are in, you are in for the long haul. As soon as the clock hits 7am and the breakfast bulletins want their live reports, you are off to the races.
In my years as a journalist with CNN, I had the privilege to be a member of the parliamentary lobby which means that you are on the guest list. Essentially you are in a select group of journalists who receive the news before anyone else and it is your responsibility to report on the twists and turns of the day as they happen. I covered the results of the Scottish independence referendum in 2014, David Cameron's 2015 General election coalition government win, the Brexit vote in 2016 and Theresa May's first day as the UK's second female prime minister. Each of those days I was witness to history and the rollercoaster of emotions that accompanies it.
The news flows thick and fast. Tweets, announcements, speeches, cabinet resignations and new appointments are the order of the day and as a journalist, even with the rumor mill in full swing, the importance to not misreport, misrepresent or get anything wrong is paramount. As a team working with your editors back in the studio, the trust and focus needed to deliver the news in real time is why you joined up in the first place.
With all those days I covered outside no.10, I remember the morning's in the lead up to lunchtime as rather sad. News of resignations and sackings pepper your inbox and all the hard work and aspirations of previous campaigns leading up to those hours culminate.
Then the spoils go to the victor as the infamous lectern is setup outside the black door at no.10 and whoever is set to be the winner and PM will give a speech to all those who have been setup with their cameras all day. A full stop to the speculation and day of change at the heart of the country's government. Then the moment you woke up so early for happens. For me that was often David Cameron out the front with a victory speech full of promises, hopes and ambitions or his successor Theresa May promising in 2016 to deliver Brexit.
Then they're off, a turn on the heels, a wave for the cameras before they enter the cream hallway inside Downing Street with the staffers applauding their new boss. It all happens so quickly and then business resumes as usual. A day of epic change at the heart of government with winners and losers on all sides. And then it's over. You leave that little street and return home trying to digest your working day having been bombarded by information from all sides.
All change at No.10 – what it's like covering Downing Street
Cannabis has been illegal in the UK since 1928, but recently, cannabidiol, one of the hundred or so chemical compounds found in the marijuana plant, has been gaining huge popularity. What makes cannabidiol (also called CBD) different is that it doesn't contain psychoactive substance THC, which is also found in marijuana but is a controlled substance under the Misuse of Drugs Act 1971.
According to recent research by the Brightfield Group, Europe's CBD market is estimated to grow over 400% in the next four years. So why the sudden surge towards all things CBD? A turning point was when a World Health Organisation report revealed last year that CBD could have medicinal benefits, and may help to provide relief from Alzheimer's disease, Parkinson's, multiple sclerosis, and cancer.
But it's not just scientists and medical professionals that are getting excited about the potential of CBD. Brands have been launching CBD-containing products left right and centre, initially constricted to the pharmacy and supplement sector, but now reaching almost every aisle in the supermarket. Products range from oils, face masks and body creams to sweets, soft drinks and baked goods. The alleged benefits include relaxation, pain relief, focus, energy, reduced anxiety, digestion… the list goes on.
As with any trend that sweeps the nation seemingly overnight, along with all the promise comes challenges. Here are some of the reasons why promoting your CBD product may feel like an uphill battle.
Consumer scepticism
Not long ago, anything cannabis-related was widely considered as dangerous and harmful. Many consumers will therefore be understandably worried about the safety of CBD, given how recently it was legalised. Scepticism about its long-term effects, as well as concerns around the (lack of) regulatory testing that companies are required to undergo, might be causes for hesitation, and this is something brands need to address if they are to win over the public.
There is also a lack of knowledge and confidence around its benefits; even if it is safe to consume, will the product actually do what it says on the tin? These days you can purchase cannabidiol in so many different forms, each claiming to have a slightly different effect. CBD doesn't fit into a neat box and new types of CBD-related products and services are popping up everywhere. You can now buy a CBD bath bomb, hemp oil infused coffee, CBD vapes and even cannabis tampons. It's no wonder there are controversies about the apparent benefits – can CBD-infused blueberries really make a positive difference to your health, over and above the natural benefits of the fruit itself?
A legal question mark
Questions around the legality of the constituents of cannabis are not straightforward, and a comprehensive answer will come with qualifications and restrictions. There is continued confusion over whether CBD oil is legal in the UK, and an ongoing debate about whether it should be. The facts are that as of November last year CBD is legal in the UK, provided it contains no more than 0.2% of the psychoactive ingredient THC, which is responsible for the high marijuana is known to induce.
So… 'CBD', also called 'cannabidiol' and 'medical cannabis', was legalised last year (with caveats), but 'cannabis' and 'cannabis oil' are still illegal. With so many similar names having different meanings, coupled with conflicting opinions in the media, it's hardly surprising that consumers might hesitate to get on board.
Advertising restrictions
While CBD products are legal to sell, advertising them will prove a little more difficult than one might suspect. Any CBD products claiming to have a medicinal effect require a medical license from the MHRA, and the ASA's website hosts lists of regulations and requirements that need to be adhered to before any CBD-containing product goes to market. Crucially, companies without a license can legally sell CBD oil only when advertised as a food or supplement; any medical or health claims are prohibited.
Navigating social media is equally confusing. Facebook and Instagram don't permit any drug-related products to be advertised, and Twitter denies brands to use paid advertising for herbal drugs. On LinkedIn, "ads related to illegal, prescription, over-the-counter or recreational drugs are prohibited", including any herbal medicines. There are ways to get around these restrictions, and many companies have managed to find loopholes to weave their way onto these platforms, but it's certainly not straightforward.
Companies might also face challenges around influencer engagement. It can be difficult for any brand to find an individual with the right demographic, engagement and tone of voice for your product. But with CBD, there are the added hurdles of influencers potentially not wanting to be associated with such a controversial product, because of possible backlash from the media and the effect it could have on their reputation. The good news is that a PR agency can help to identify the right relationships and introduce brands to influencers they may not otherwise have considered, like councils or membership boards who are already active in the CBD space.
Media relations
It can be tough to secure coverage in the media, unless you know how best to communicate your key messages and have the right journalists in your network. The controversy around CBD means businesses need to be particularly aware of what to say and what topics to steer clear of. Without this, they risk alienating their target audience, communicating too scientifically, or jeopardising their reputation. Having access to a wide contact list also opens doors because it means you can be put in touch with the specific individual who writes for the product placement list you want to be featured in, rather than having to rely on emailing whoever you can find on Google and hoping for the best.
In conclusion, CBD brands hoping to entice customers need to think carefully about how to address these issues and position themselves as a credible, safe and desirable choice. One of the best solutions for promoting a CBD product lies in PR, which can help to instil this confidence by tapping into the right news publications, allowing businesses to get around many of the challenges that print and digital advertising restrictions present.
If you need help promoting your CBD product, get in touch with our award-winning team today.
What makes promoting CBD brands so tough?
It's been a fortnight of shocking losses, tremendous wins and fabulous fashion for Wimbledon. Something else that has caught our eye has been Wimbledon's brilliant Instagram social media strategy. We all know that Instagram is the main visual platform, which is what makes it ideal for sport. From sportsman celebrations that people want to replay, to match announcements and crowd reactions, watching the action live on TV is just one dimension.
Wimbledon's Instagram account has certainly caught our eye for all the right reasons this year. With over two million followers, there's a lot of pressure, but we have to admit, the content is visually stunning and consistent with their brand.
You can keep up with the tournament by following their daily Instagram Stories and if you happen to miss a match day, don't worry – they've created a highlight for each day. The highlights are varied and cover fashion moments, slow-motion videos of the players, celebrities and staff features. Behind the scenes content is always something that consumers crave as it makes them feel a part of the action. Instagram Stories are a brilliant opportunity to create in-the-moment videos that are low-budget, as the expectation for Stories are much less constraint than feed posts. They also entice users to visit Wimbledon's profile and peruse their feed posts.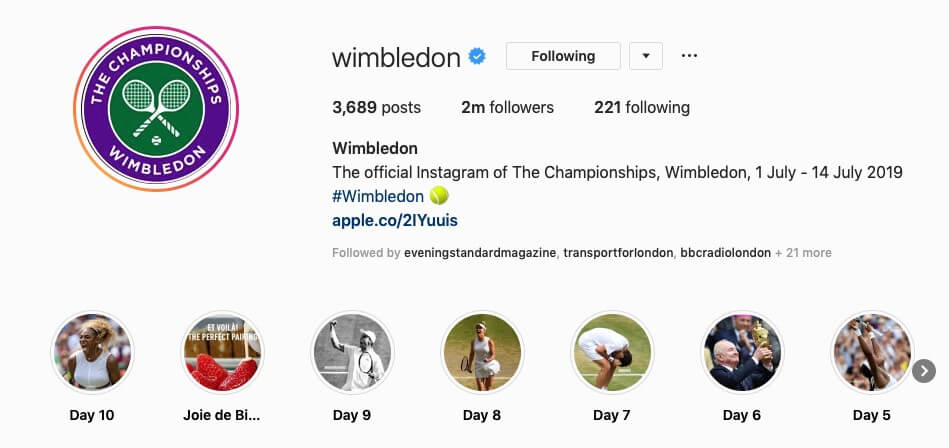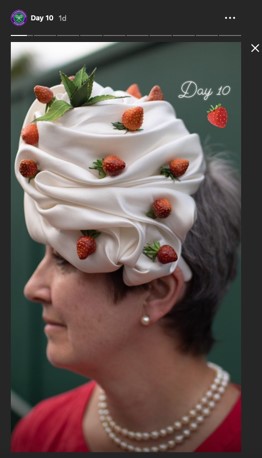 The Wimbledon feed is the perfect mix of video and still imagery. Video is becoming increasingly popular on social media as it can improve the reach of a post dramatically compared to still images, and they have clearly invested in their video content with some brilliant interviews and match best moments montages. Interestingly, their engagement is high. This is to be expected due to the decline of organic reach, so even Wimbledon cannot afford to rely on followers alone. That said, each post includes a handful of hashtags to further their exposure, and this is something that big follow accounts don't often do out of vanity. It is good to see Wimbledon using every opportunity to enhance their engagement. The stars of tennis such as Serena Williams and Roger Federer and their celebrity friends, including the Beckhams, dominate the feed as the most engaging content.
Sport is something that people enjoy discussing and their posts often attract hundreds of comments. Avid Wimbledon followers often have their firm favourite player that they support religiously. The beauty of a tournament like Wimbledon is that every day, the odds change and therefore the predicted winners are always up for debate.
As well as the sport itself, Wimbledon is lucky to have a reputation for its fashionable and often famous guests (Meghan Markle in jeans and panama hat, we see you!). We say 'lucky', because it is another opportunity for great content. The stars on the court can sometimes get overshadowed by the celebrity spectators sitting in the Royal Box. Famous faces are a great way to get people engaged with the sport – if it's good enough for David Beckham, it's good enough for us.
https://www.instagram.com/p/Bzx3-oXljBK/
Wimbledon tennis has a reputation for being a formal event and there is a strict dress code for anyone who wants to go in the Royal Box, which is why even mere mortals tend to dress smart. Wimbledon has teamed up with Haagen Dazs and Laura Whitmore this year to interview the fashionable attendees in a series of short videos. It's a great street style edit whilst subtly plugging the Haagen Dazs stand. A far cry from the usual blatant influencer content that we see too often.
https://www.instagram.com/p/BzyR-7zjiE_/
Overall, even if the sport doesn't entice you, the content certainly will as it is so varied and high-quality. So many world-famous brands rely on their reputation to attract fans, but with the changing landscape of consumers this is no longer acceptable. Who would think that a 142-year-old brand would be leading the way?
You may think that Wimbledon has such a big budget that your brand could never recreate their strategy, but it can be more cost-effective than you think. You don't need a team of videographers to capture your next event, as most content is viewed on mobile anyway. As long as you are consistent with your tone and branding, you too could create something as engaging that documents the essence of your business.
If you're unsure about where to start, please get in touch to find out how PHA Social can help.
Wimbledon's sport social media strategy
As CBD oil continues to rise in the beauty industry, hemp too has come back into the skincare spotlight. The "it" ingredient is proven to help re-establish systems' equilibrium and is ideal to help replenish cells. Hemp is from the seeds of cannabis plants and is rich in nutrients like omega 3, so extremely nourishing and reduces redness and irritation. Cannabidiol is mainly from the leaves, it has some hydration benefits and anti-inflammatory properties. Brands from all over the world are emerging using one of these two ingredients and mostly 100% vegan and cruelty-free.
We take a look at brands that are disrupting the skincare industry using CBD as their main ingredient.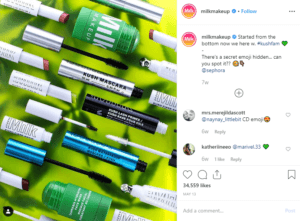 From Cannabis Hydrating Face Mask's to lip balm and brow gel, this trendy brand is ticking a lot of boxes. In addition to their cool packaging, the brand is cruelty-free, paraben-free, and 100% vegan.
Milk Makeup was founded by Milk cofounder Mazdack Rassi, product developer and COO Dianna Ruth, seasoned Milk Girl and creative director Georgie Greville, and beauty + fashion editor and E! News correspondent Zanna Roberts Rassi. All aspects of the line are developed in-house at Milk Studios, their downtown NYC home.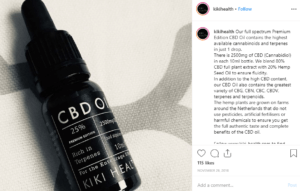 Extracted solely from the tops of fresh hemp plants to maximise the purity and efficacy, KIKI believes in adding only the purest of ingredients with the highest potency available. All ingredients are meticulously chosen and ethically processed to preserve and maximise the beneficial and powerful elements, ensuring unsurpassed bioavailability.
KIKI offers a range of CBD oils containing an abundance of nutrients, including omega-3 fatty acids, terpenes, vitamins, chlorophyll and amino acids and a wealth of free radical-fighting antioxidants. We also like the simple but efficient packaging.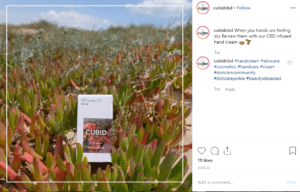 "We created CUBID CBD to become an influencer, to lead a CBD revolution and to deliver a range of products that answered the specific needs of our customer."
From face cream to hand cream or body butter, CUBID CBD's products all have a significantly higher quantity of CBD with a focus on the natural and botanical. Their CBD is pure – with no chemicals, metals or pesticides and it is affordable. You'll also find on their website a very useful guide on CBD including why you should use it and how much you should use. A very practical website to help people understand the new trend better.
CUBID CBD strives to set the benchmark of best practice, continually sharing their knowledge and expertise within their communities. Their goal is to inspire and influence people to live a healthier happier life, empowering them to change their way of living.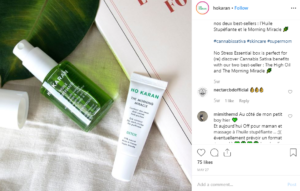 The story of HO KARAN began in 1965, when the founder's grandparents began growing hemp in Britanny. Today, their mission is to show all the benefits of Cannabis sativa to everyone. HO KARAN which means "I love you" in Breton, is a love declaration to these hemp growers, to their spirit, and to our planet.
The founder calls herself Miss Cannabis and has a very serious mission, to reveal the beauty of hemp and cannabis around the world. She started a Cannatour; a series of interviews with the various people involved in the industry, to show the faces and listen to the voices of those whose love cannabis. Her aim is to combat the stigma and help people (re)discover this plant, which has been used for millennia in medicine and nutrition but was wrongly discredited in the mid-20th century.
Ho Karan has created products – 2.5% and 5% – that only contains cannabidiol and regionally-grown organic hemp. They can be used alone to smooth over the face or as a booster if you want to add them into your own skincare, from moisturizing cream to serums to bump up their protective antioxidant, oil regulating and calming capabilities.
The CBD market is booming with brand emerging from all over the world. Get in touch today to see how we can help you get your business featured in the UK media landscape.
CBD oil beauty products