Over the past decade renewable energy sources have grown from occupying a niche corner in the European energy market to becoming a cornerstone of the power sector. Between 2007 to 2017, the European Union increased its volume of renewable energy produced by 64 percent and last year alone, European investment into clean energy capacity totaled $54.6 billion.
Undoubtedly, 2020 has already been a significant year for the renewable energy market. In the first few months the power generated by renewable energy sources overtook fossil fuels for the first time ever in the UK.
With renewables now on an exponential growth path, we take a look at four of the most innovative companies that are working to revolutionize how we generate, store and distribute clean energy.
ITM Power is a clean energy company based in Yorkshire that has set up the world's largest carbon free renewable hydrogen production facility. Whilst hydrogen is already an established renewable energy source ITM Power creates 'green hydrogen' by using electricity produced by solar or wind power in its hydrogen production facilities.
In a joint venture with Cadent, ITM Power is already driving the first live pilot project that injects zero-carbon hydrogen into a gas network, working to help heat British homes and businesses.
The future potential for 'green hydrogen' is vast and hydrogen blending could significantly help to meet climate change targets as there is no need to change any of the existing pipework, or domestic appliances. This means that customers can easily embrace the clean energy solution within their homes at no extra cost or disruption.
Ryse is another UK based clean energy company spearheading the rise of 'green hydrogen'. Tackling the same issue, Ryse uses excess power from wind farms to run a network of electrolysers to make 'green hydrogen' for vehicles in the UK.
The potential for hydrogen as a zero-carbon alternative to fossil fuels is growing rapidly and Ryse has focused on its application to power transport systems. For example, Ryse has recently been awarded a contract to supply hydrogen to 20 buses in London operated by TFL the world's first hydrogen powered double decker buses. Ryse also intend to supply hydrogen for other modes of transport including taxis and trains.
VoltStorage is a German based smart battery company that is facilitating a boom in solar energy storage for private households.
The potential for solar power is vast. However, whilst many solar panels generate energy during the day, if you don't use it, you will lost it. To tackle this issue, VoltStorage have developed a cost-effective solar storage system based on the eco-friendly Redox Flow Technology, enabling you to store extra solar energy to use as and when you need it.
By putting control back in the hands of the customer, VoltStorage is enabling households to run efficiently on climate friendly solar power, independent of the weather and around the clock.
Earlier this year, the Norwegian airborne wind energy company, Kitemill AS, acquired the intellectual property assets of the Scottish based Kite Power Systems. Kitemill AS are now continuing development in Norway where they plan to set up the first kite energy demonstration farm by 2021.
Exploring a new method of 'green energy' generation, the principal idea is that two kites are attached to a turbine. When the wind blows, one kite rises in a figure of eight movement which pulls a tether that turns a winch at its base, generating power. When the kite reaches its maximum height, it falls and is replaced by the second kite, so energy can be produced constantly.
If you'd like to find out how we can support your energy, utilities or renewables company please get in touch with our team today.
The European companies spearheading the 'green energy' boom
Following the update to the UK Government's recovery strategy, this weekend which has been dubbed 'Super Saturday'. It will see a welcomed opening of pubs, restaurants as well as accommodation providers across the nation.
Since the Prime Minister gave the green light for staycations to re-open, businesses across the country have seen bookings sore!
Campsites are expected to be a popular choice amongst UK holidaymakers whilst the continued uncertainty remains around international travel.
So, whether you're an outdoor enthusiast or a first-timer, the chances are you might end up spending your summer holidays camping somewhere cosy this year.
We're ready to give you the lowdown on the must-have camping tools that will make your stay that little more comfortable.
As the name suggests, this product is a lifesaver. Whether you are trekking through the woods or exploring the UK countryside, your water storage or supply is vital.
LifeSaver water purifiers give you the ultimate protection, removing 99.99% of bad bacteria and viruses in water. Turning water from rivers, lakes, and puddles into safe, drinkable water. The ideal product to take away on a camping holiday where you are planning some rambling.
If you prefer camping as opposed to glamping, you are going to of course need a tent. For over 50 years Vango have been leading the way in camping and caravanning innovation.
This year, the team at Vango have created the world's lightest air tent, alongside a range of lightweight sleeping bags, mats, and rucksacks. Perfect if you are looking to travel light or a long way from car to pitch.
They also have a great selection of hiking and trekking equipment for you to check out too.
Power Traveller have already established themselves at the forefront of portable power sources.
Whilst it might seem counter-intuitive to be using technology in the forests rather than exploring. Power Traveller looks at technology as a way of helping you to get the most out of the time you spend outdoors and helps us capture unforgettable moments.
We particularly like the Kestrel 40 product, a solar charger that can charge your tablet, smartphone and a headtorch in case you get lost!
Whilst being with nature has its obvious positives it can also be problematic if you're missing a few home comforts like clean clothes.
Ash Newman discovered this when he took a four-month break from his job to climb Mount Kilimanjaro. He realised with all the camping equipment and warm clothing he needed to pack, it only left him with room for a few casual clothes for when he wanted to relax. The Scrubba Wash Bag idea was born.
The bag itself is packed with little rubber nodules, so all you need to do is add water, cleaning liquid and your clothes to the bag, deflate the bag and rub away.
Washing machine cleaned clothes in just five minutes flat.
On a mission to bring energy everywhere. BioLite create revolutionary products that transform the way we cook, charge, and light our lives off the grid.
The company which has been raised on the ethos that technology and sustainable business practices can not only be combined but can also change the world for the better.
One of their unique products, CampStove2 allows you to turn fire into electricity. Yep that's right you can charge your iPhone through a stove.
Using patented combustion technology, BioLite have created smokeless flames that can cook your meals and charge your gear all at the same time.
Do you have a camping or outdoor product that you would like to raise more attention for in the UK? Why not get in touch today.
Your camping must-haves this summer
Bhanu Choudhrie is founder and chief executive of the C & C Alpha Group, an international private equity business with a strong focus on emerging markets. He oversees investment strategy, working with a group of experienced venture capitalists.
In this interview with Bhanu we find out more about his business philosophy – and the challenges for venture capital in turbulent economic times….
What is the focus of the C & C Alpha Group's investments?
At the C & C Alpha Group we have a very diverse portfolio, but we invest primarily in aviation, hospitality, real estate, banking, health care and utilities. We have an international footprint, with a significant presence in the UK; the US; India; and UAE. The team analyses global economic trends and find companies in market niches that are on the brink of expansion. We were early investors in emerging markets and, for several years, sponsored The Emerging Markets Symposium at Oxford University.
What is your philosophy as a venture capitalist?
The C & C Alpha Group has always believed in long-term investment and that has shaped our philosophy for the last 18 years. We incubate and grow companies by believing in them and committing to them. We invest in strong management teams and then trust them to deliver. Our ethos is to not seek quick exits and, because we invest for a longer period than most other venture capital firms, that allows us to support and grow our investments to achieve their maximum potential. A good example of that is Alpha Hospitals, a provider of specialist mental health care, which was an idea we first discussed around the kitchen table and then spent 13 years incubating and scaling up the company before selling it to a US company, Cygnet Health Care, for £95m in 2015.
What do you look for in a company?
We want to be partners, not just investors. In some cases that might be a start-up, which needs not only capitalization, but also guidance in developing its market presence and managing its growth. In other cases, it might be a more established company looking to expand into new markets; we can bring an infusion of capital, but we will also provide added value through our expertise, international contacts, and management support. We have a team of experienced consultants, project managers, project developers, and financial analysts, who have the expertise to help companies achieve their potential.
What was your first major investment?
We invested in Air Deccan in 2003. At the time, it was a low-budget Indian carrier with just one plane in its fleet. The airline was a risk. Four of us invested and we said to each other at the beginning, 'If it doesn't work out, at least we can say we had an airline,' but it played a pivotal role in opening up the airline industry in India. There was a massive boom in aviation because journeys that had taken up to three days by train were now within reach of more people who could afford to fly. Five years later, when Air Deccan was sold to Kingfisher, it was running 200 flights a day and transporting 7 million customers annually.
What is your approach to risk?
As an investor, I am always looking for new ventures that excite me, but, for every two or three opportunities we invest in, we will probably turn down 100. We minimize risk by going in small and increasing our investment incrementally. Once your base is sound, the time is right to take higher investment risks. When I started out, I was willing to take more chances, but as you get older you become more cautious with your investments.
How do you decide on the right growth trajectory for your companies?
This is a dilemma for many venture capitalists. We examined this question at our 2019 annual conference in Dubai, which was led by Professor William Kerr, of Harvard Business School. He suggested one way of looking at this was by asking: 'Have I earned the right to grow?' He suggested a four-question framework, which can be summarized as: Is my business ready? Do we have the resources we need? Have the leadership team bought into the vision? What is the cost of standing still?
Another useful way to approach the question is to ask: What was the first thing that worked for my business? Every business has core competencies, but what is your distinctive competency – what do you do better than your rivals? Make growth decisions based on your distinctive competency, not on your core competencies.
As the coronavirus crisis has shown, cash flow is usually the biggest challenge to growth. Sometimes it is better to be less profitable if it allows you to keep hold of capital because raising capital yourself can cost you more than the profit you have sacrificed.
Where do you see the potential in your current investments?
Alpha Aviation Group is a world-class pilot training business, which we have grown over the last 14 years. We identified a clear gap in the APAC market, caused by a shortage of commercial pilots at the very time when passenger demand was increasing dramatically and invested substantially in the business. Alpha Aviation has trained nearly 2,000 pilots from 40 countries. Last year, we opened an $11m simulator in the Philippines, our sixth in the country, and more than any of our competitors. Alpha Aviation Academy UAE, which celebrated its 10th anniversary in 2019, has earned an outstanding international reputation for the quality of its cadet training, giving unprecedented opportunities to female cadets, and forming partnerships with key carriers in the region.
Coronavirus has had a devastating impact on aviation and we are likely to see a consolidation of the pilot training sector; only those with strong cash reserves will survive the pandemic. But in these very difficult circumstances, there is an opportunity to think about how pilot training companies like ours can help airlines. All airlines need to cut costs and pilot training providers need to be more flexible with their price offering to airlines, providing differential pricing. Airlines will need to rethink their pilot training strategy, with more outsourcing and decentralising to ensure they are streamlining and managing their costs. Ultimately, this will be a new opportunity for us.
I am also excited by the growth of Alpha Utilities. We own and operate a desalination plant in Sharjah and we have developed world-beating expertise as a water technology company. Demand for desalinated water is increasing rapidly and is essential for industries in the region. We believe the company will continue to grow, finding new markets and new opportunities to expand in the Emirates and beyond. Global warming poses a significant threat to human health, but it also has the potential to become the single biggest driver of economic transformation.
What impact has coronavirus had on your business?
Our annual conference last year was entitled Business Sustainability, Emerging Risk Analysis and Growth in a Changing Climate. We examined several different scenarios that might threaten business, including Brexit and regional instability in the Middle East, but I don't remember a global pandemic being one of them!
What we discussed at our conference was adapting to change, whatever your circumstances. If you are running a successful business, it is tempting to think you do not need to change anything about your business model. But in today's fast-moving world, if you wait until you need to change it you will already be too late. The best CEOs anticipate disruption even before it has happened and are not afraid to change their business to adapt to it, however, counter-intuitive that might seem.
The aviation and hospitality industries have been hit very hard by coronavirus and will feel the impact for years to come. It will have far-reaching repercussions on how we travel, how we holiday, and how we choose to live our lives. But every crisis brings opportunity and the chance for re-invention. I am confident we are well placed to weather the storm and adapt to the new business landscape.
Want to know more about some of our work with Venture Capitalists? Then click here to see how we raised the profile of Consilience Ventures  and its alternative start-up ecosystem.
Interview with Bhanu Choudhrie of C & C Alpha Group
When the Transport Secretary delivered his statement on Covid-19 at the beginning of May, he suggested that in some places in the UK there has been as much as a 70% rise in the number of people on bikes. This was either for exercise, or for essential journeys.
Whilst the above statement might put a smile on the environmentally aware amongst us, it has also meant that there has been more accidents and collisions with cycle lanes not being wide enough to accommodate the sharp rise in users.
In response to this, Transport Secretary, The Rt Hon Grant Shapps has committed to creating a £2 billion package to make sustainable travel options such as cycling and walking safe for public use. This includes £250 million being spent in a series of swift, emergency interventions such as pop-up bike lanes, wider payments and cycling and bus-only streets.
But whilst all these measures are great to see, they do not provide instant safety for cyclists. With this in mind, we've taken a look at four of the best bike helmet brands on the market that will put your mind at ease next time you're on two wheels.
Created in the 1950's by Roy Richter who had initially begun his career in producing equipment to satisfy the needs of speed-hungry consumers. That was until he discovered the grim realities of speed, this led to Roy exploring safety helmets, from here Bell Helmets was born.
Whether your passion is motor racing or cycling, Bell exists to inspire and enable the next generation of boundary breakers. Helmets aren't just helmets when it comes to Bell, they help to re-define what's possible for adventure thrill-seekers.
Currently, Bell are offering a 30% discount available to all NHS and key workers to say thank you.
Since being founded in 2005, the Swedish brand has gone on to be awarded more than 60 international safety, design and innovation awards for its helmets, eyewear and apparel.
Their mission has always been to do their utmost to save lives and to reduce the consequences of accidents when they, unfortunately, do happen.
An example of this is that for all new helmet concepts and designs, the POC Lab which consists of some of the world's foremost sports medicine experts, brain scientists and specialists in spinal cord injuries, are always consulted throughout the development phase of the product.
Founded more than 30 years ago by Jim Gentes, a man with a fascination for design and answering unmet needs. This drive of his, led him to start creating his own products which eventually led to Giro being born.
So committed to perfection, Giro suggests that they have destroyed more helmets in the development stage of testing than some brands have ever created.
When it comes to it, you know that Giro will be there for you when you need them most.
Based in Italy, Kask specialises in developing, designing, and manufacturing some of the best safety helmets on the market. Whether you're looking to participate in skiing, cycling, mountaineering or even horse riding, Kask helmets are at the forefront of safety technology.
Thanks to a gifted team of skilled engineers and partnerships with Italy's market-leading factories, KASK has been able to sustain a perfect balance between technological excellence, functionality, safety and attractive design in their products.
What this space to see what the future holds for KASK!
A bespoke PR strategy handcrafted by award-winning professionals could deliver success to your business, why not speak to us today for a no-obligation chat to find out how we can work with you.
Four brands providing cyclists instant security
A public relations (PR) crisis can cause irreparable damage to the reputation of any business. There are many scenarios that can occur, whether you're a large corporation, individual or multi-national organisation. We specialise in mitigating risk for you and your business and providing an on-demand crisis and reputation support solution that's discrete, effective, and professional. We offer a crisis 'insurance policy' of sorts which means that you and your business are prepared for any eventuality and can continue business as usual.
How can we assist you?
Advice on how to mitigate negative publicity
Preparing, drafting and issuing press releases and handling media enquiries 24/7 on the client's behalf
Guidance documents on how to protect you and your company
Expert media training for both broadcast and newspaper interviews to prepare your key spokespeople for interaction with the media
Not sure a public relations insurance policy is for you? Here are just some examples where our team of experts can support.
Poorly planned marketing
Marketing and PR are essential requirements to help grow your business. Sometimes your marketing efforts can backfire – even if you had the best intentions and never anticipated it becoming an issue. Whether it is a mis-use of terminology, a Freudian slip over social media, or simply an image that has been taken out of context.
For example, high-street fashion store H&M came under fire in January, when the company released an advert featuring a young black boy wearing a hoodie that featured the phrase, "Coolest Monkey in the Jungle." The media covered the issue extensively and quickly found that this wasn't H&M's first incident. The PR and media backlash was extensive and detrimental to the brand's reputation.
In many cases, their business reputation did bounce back after an initial plunge in sales and reputation. However, it can take expensive compensation packages and extensive resources to resolve the situation.
Product recalls
Our top tips during a product recall are simple.
Take responsibility: When sending your statement be transparent about what happened
Act immediately: Don't waste time, the situation could potentially escalate so act quickly
Be candid and compassionate: Say sorry to your customers, own up to your mistakes
Cooperate: Work with the people affected and your communications team
Use every means possible to communicate information: Think about this as a marketing campaign, you need to get in touch with every possible customer so use all your channels available to you
Product recalls can be a large drain of resources for your in-house communications teams. Ensuring your crisis and reputation policy and plan is being executed in conjunction with the situation can be a concern as well. Working with a specialist team who can act immediately and action that process for you is imperative to reduce reputational impact, avoid injuries or accidents with customers and ensure you have reached your core demographic and their network instantaneously.
Fashion store Primark had to recall three types of their men's flip-flops containing dangerous levels of a cancer-causing chemical last year. Primark came across really prepared and were quick to make their announcement. The interesting thing about the incident is that neither the information on the corporate website or the media statement says what the issue was. A better approach would have been to be open and clear about what the chemical is and what the risks are to customers. Being transparent and demonstrating action is a key part of responding to a product recall and shows that an organisation is taking the situation seriously.
High-risk territories
Does your brand operate in high-risk territories? When a brand or business must travel to various parts of the world there is always an extensive risk assessment put in place to ensure the safety of employees and guests and what to do if there were an incident. But in those plans have you thought about your media relationships? How would you communicate your side of the story, and how can you showcase to the public and those affected what you are doing to rectify the situation? That's where a clear crisis communications strategy comes into its own and experts on hand to deal with your situation 24/7.
Injuries and accidents
One possible issue that could develop and become a major PR crisis is if your products cause injury or illness to your customers or an employee, or if a contractor has a detrimental accident on your watch.
For example, in these types of scenarios reactions to issues can range from customers complaining to friends and family about your business, taking to social media and forums to raise their concerns to severe reactions, such as seeking legal action to reimburse medical costs or to receive compensation for their discomfort.
In these cases, it is imperative to demonstrate steps are being taken to resolve the situation, prevent any future problems, and of course negate some reputation damage.
Personal information
The introduction of the GDPR legislation in May 2018 has made some businesses across the UK nervous of the impact on their business if there were a breach. Not just monetary issues can occur, but the risk and damage a data breach can cause to the reputation of a business.
That was the case for BT who were fined £77,000 by the ICO. Between December 2015 and November 2016, BT sent 4.9 million emails about its fundraising platform My Donate, Giving Tuesday, and Stand up to Cancer.  The ICO said that these communications were marketing, rather than messaging, and BT did not have consent to send them.
Handling customer feedback and inquiries and monitoring the 'noise' of the incident on social and in the media can be difficult. Our specialist crisis social team can work alongside your in-house teams to rectify the situation, whilst our PR specialists help you deal with media inquiries and publishing statements to those affected.
All smart businesses plan, and crisis management is no different; prevention is better than cure. We deploy a suite of services to manage and maintain your crisis and reputation. Contact us today to find out how we can work with you and your business.
Your crisis and reputation 'insurance policy'
In the UK alone, more than  3/4 of children between the ages of 10 to 12 have their own social media accounts. So, 21st-century adults entering the complex world of parenthood face a hurdle that has yet to be a concern for said group – protecting your children from the threat of adult content, unfiltered comments, cyberbullying, identity theft and predators. A rather large ask in this social media-obsessed society.
Luckily for parents up and down the country, help is at hand. Rather than risking the 'FOMO' backlash from your kids, you can now rely on safer social media alternatives that allow kids to be kids, socialising, sharing and chatting, just without all the risks.
We look at social network alternatives for young people, built with safety and age-appropriate socialising in mind.
Whilst most of us were climbing trees and rushing home to watch Art Attack after school during our adolescent years, in 2013, 12-year-old Zach Marks was casually founding the social media platform, Grom Social, which now boasts 13 million users across 200 countries. Successfully making us feel like our teenage days were somewhat inadequate, Zach has also managed to create a platform that tackles issues that often affect young people using social media; bullying and a lack of safety. Each user interacts with other 'GromAtars', and with the site being monitored 24/7, if and when someone tries to post something inappropriate, a GromAtar will stop them and explain why the behaviour will not be tolerated. This concept of learning from 'peers' rather than seemingly out of touch parents is a brilliant way of getting through to kids, without patronising them. Parents also receive regular emails detailing their child's online activity.
Launched in 2001, Kidzworld is now the largest independent website for young people in the world and is hailed as a safe place where kids can enjoy, explore and learn. The focus on education is paramount for this platform, so Kidzworld is often popular with teachers, as it gives them engaging resources and conversation points to use in the classroom. One great feature is the 'Dear Dish-It' advice blog, which acts as a forum for kids to ask for personal advice about self-esteem issues, relationships, bullying, peer pressure and everything in between.
Franktown Rocks are all about having fun and socialising through games. It incorporates a multiplayer online game for kids between the ages of 8-12. You can create your own characters, interact and chat with other characters all at once. Franktown is unique in that you can not only play games together but can also make music, complete quests and watch videos. There is also a handy area for parents, answering any questions regarding safety that they may have.
ChatFOSS is a safe place where you can chat with your friends online. You can do all the things you do on other social media apps, but with ChatFOSS you always know with whom you are chatting, and strangers cannot contact you. Even better, the app gives you control of what you share. There is no need to share everything with everyone! Strangers cannot look for you, follow you or find you, only your friends on ChatFOSS will know you have an account. A great app for children where parents can be reassured that no strangers would get in touch with their little ones or people they don't want to speak to can't.
PopJam is a platform for 7 – 12-year olds, where you can create and share art, photos and much more. You can also watch specially selected videos, take epic quizzes, play games, discover and follow all the stuff you love! There's a community of friendly and creative PopJammers who all have their own profiles.
Children using PopJam can't share personal information and can't use private chat to communicate with people. PopJam is committed to online safety and child protection, they cooperate with third party companies such as CEOP (Child Exploitation and Online Protection Centre) and the NSPCC, to ensure children are safe using the platform.
Is your brand in need of a PR or social strategy? Why not get in contact with us today to see how we can help you get ahead of your competitors and gain exposure in new markets.
Top social media websites that will keep your kids safe online
Social listening has grown to become a major component in any consumer social media strategy, but did you know that social listening can be just as effective when it comes to brands targeting B2B audiences online as well?
The ability to home in on exactly what's being said about your brand, to measure vital statistics such as mentions and engagements and to quantify emotion and sentiment, is a vital commodity for all brands looking to leverage social media and advance their business. Especially during a global pandemic.
From a corporate perspective, where sentiment can fluctuate overnight and crisis can always seem to lurk in the rear-view mirror, social listening can play a key role in your online or social media strategy.
What's more, brands in certain corporate spaces can find themselves up against their competitors who are targeting the same audiences, especially in niche industries. It is vital that you use tools at your deposal to try and get ahead and discover what content works best on each channel.
This insight can be obtained from social listening. Here is a quick, 5-minute guide to social listening and why you need it for your corporate business.
The statistics that matter
Traditional social media tools will enable you to keep track of the top-level statistics of your competitor's social media channels. Audience growth, post frequency analysis offers little beyond vanity metrics and superficial comparison so can be hard to determine a true picture of their success.
We can track brand mentions and benchmark these against mentions of your competitors enabling you to depict your share of brand voice. We are also able to track the output and performance of owned content.
Social listening allows you to dig deeper and uncover insights into the impact and output of your competitor's social media activity. For instance, the engagement rate of each of their posts, whether video and GIF assets work better than still imagery; the impressions generated by their recent influencer collaboration can all be tracked. All this information can be collated into easy-to-read reports, and what's more, we can also provide insight into your industry benchmark, so you know exactly how you stack against others in your sector.
This information can help fill in the blanks between the 'what' and 'how': what are your competitors sharing that is working, and how are they sharing it. This is gold dust when you're trying to go one better than a rival online and get a step ahead on social.
Shout, shout, let it all out.
No, we're not having a Tears for Fears nostalgia session, we're talking about share of voice and measuring your online influence.
What is share of voice and why is it so useful to measure? A very good question with a simple answer: because it enables you to visualise what proportion of your industry audience is aware of who you are, how often they talk about you, and how that stacks up against your key competitors.
You might find your brand has a small share of voice, which implies you're not doing enough to raise your profile against your competitors and it's time to amplify your message with a more robust social strategy that hits harder and further.
Conversely, you might find that, whilst you possess a much larger audience via traditional social media channels, your key rival has utilised a little-known community online and is using that to dominate industry conversation, seed key messaging and acquire additional traffic to site.
Such insight would enable you to understand exactly where you should be sharing your message, and the type of content you should be putting in front of your target audience.
When we start working with you, we pin your share of voice to the wall from the outset. As the weeks and months go on, we monitor its fluctuations and it becomes an integral part of our performance metrics.
Press coverage, new campaigns a revamped social media strategy are all great ways to give your share of voice a good kick start.
The calm before the storm
For those seasoned social media managers out there with a few years' experience under your belt, you'd know that a crisis on social media is never very far away. What might be an innocuous error could soon escalate into a Twitter or Instagram firestorm with no sign of abating.
Whilst we cannot build a bullet-proof strategy that promises to eradicate crises for good – we can promise to notify you at the first sign of things going awry online. Enter sentiment analysis…
The ability to monitor sentiment should not be underestimated when it comes to forecasting a crisis. Just like dark clouds gathering before the main downpour, a decline in sentiment and a rise in the volume of mentions is the first sign of a crisis about to unfold. Our social monitoring platform allows us to place alert systems that signal immediately at the onset of a crisis.
Whilst that won't necessarily dampen its effects, the ability to react instantly enables us to stay in control and limit the 'catching-up' period that so often causes a crisis to go from contained to uncontrolled. Working with senior crisis communication figures at PHA, we have a track record of using social listening to pinpoint exactly when and where a crisis has started, and later on use it as a way to track its trajectory, neutralise your most outspoken critics and assess the impact it's had within your industry.
And there you have it; a whistle-stop tour of social listening and why it is essential for corporate brands. Of course, there's a lot more that we can discuss about the virtues of our software and how we can use it to amplify your brand, but it's probably best saved for discussing in person.
If you're interested in learning more about both our social listening and social media services at The PHA Group, get in touch today and have a chat with one of our experts.
The importance of social listening for corporates
On Sunday morning, the Sunday Times reported that the landlord of the ExCel exhibition centre in east London was charging the NHS millions of pounds to use it as the Nightingale Hospital.
By Sunday evening, following the coverage, the landlord –Abu Dhabi National Exhibitions Company – had performed a dramatic u-turn and it was announced it would be rent-free.
On the same day, the Sun on Sunday exposed Scotland's Chief Medical officer, who, by twice travelling to her holiday home with her family, managed to add a new level to hypocrisy by defying the rule she herself had set down for the public. It was an old-fashioned, agenda-setting story for a modern, unprecedented time which showed the usual rules still apply.
The weekend also brought debate around football place in all of this with pressure on players to take wage cuts.
Now, more than ever, in this historic, unprecedented chapter of global crisis, journalists – online, print and broadcast – are being looked at to hold to account those in government, sports, business, sovereign states, and society.
The weekend's press starkly underlined this. As do the journalists questions at the end of the daily government coronavirus briefings, where the best reporters are asking the questions their readers and viewers desperately need to know.
However, we do not just require the media to inform. A wider glance of the Sunday press shows the power of creativity – guides on how to make the best in lockdown, smart thinking on keeping fit, helpful hints on keeping the kids entertained. All life – even in the perilous times of our lives that is COVID 19 – exists here. To boot, most journalists are working from home, under great pressure with advertising revenues being blitzed with all sectors struggling, underlines the determination and talent of UK newsrooms to reach readers in lockdown.
The Wall Street Journal has reported that top global news sites are experiencing a 30% boost in web traffic. Sadly, it reports the pandemic will force local newspapers out of business, and the same could be true in the UK too where there is mounting pressure.
But where does this leave the world of Public Relations? Bill Gates was once quoted as saying that if he was down to his last dollar, he'd spend it on PR.
Did he really say it? It has been questioned. It is certainly a quote used by us all at various times in the PR industry. Questions on its origins aside, it now feels more relevant than ever. Gates is someone who knows what he is talking about – at a TED talk in 2015, he warned that the world was not ready for the next pandemic, one which he said could have a huge effect on life as a result.
Media scrutiny, as mentioned above, is more intense than ever. Journalists are looking closely at how companies act, how they treat customers, how they prepare for next steps. We have already seen a number of headline-grabbing PR mistakes.
A strategy for steering through this point – and emerging stronger the other side – is key. The government is showing on a daily basis the need to not only have a plan but being able to communicate it.
It is even more true in the current climate that one wrong turn can be fatal for reputation. There are of course many companies well placed to help and in fact boost their business in the current crisis – The PHA Group works with a number – but the pathway through for those companies is as important in the planning as those looking to evaluate their offering and business in the current climate.
But it is not all about reputation – positioning and creativity is also vital. Companies are finding all sorts of innovative ways to realign offerings. Whole industries and sectors are emerging as being able to supply a new demand and to provide solutions.
The breadth of media that PR programmes can reach also provides the value, bang for buck argument.
The best PR professionals listen to clients but ultimately, find ways to address the situations and address problems and help steer through troubled times.
While the country is on lockdown, the media – despite facing many of its own problems – certainly isn't.
And that means being able to deal with communications as calmly, professionally and progressively, is of vital importance.
The role of media and Public Relations in the COVID 19 crisis?
As CBD oil usage is on the rise in the beauty industry and being thrust into the skincare spotlight. The "it" ingredient is proven to help re-establish systems' equilibrium and is ideal to help replenish cells. Cannabidiol is mainly from the leaves, it has some hydration benefits and anti-inflammatory properties. Whereas hemp is from the seeds of cannabis plants and is rich in nutrients like omega 3, so extremely nourishing and reduces redness and irritation.  Brands from all over the world are emerging using one of these two ingredients and mostly 100% vegan and cruelty-free.
We take a look at brands that are disrupting the skincare industry using CBD as their main ingredient.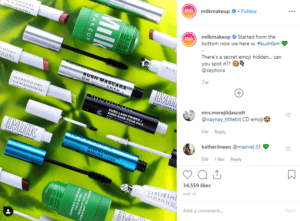 From Cannabis Hydrating Face Mask's to lip balm and brow gel, this trendy brand is ticking a lot of boxes. In addition to their cool packaging, the brand is cruelty-free, paraben-free, and 100% vegan.
Milk Makeup was founded by Milk cofounder Mazdack Rassi, product developer and COO Dianna Ruth, seasoned Milk Girl and creative director Georgie Greville, and beauty + fashion editor and E! News correspondent Zanna Roberts Rassi. All aspects of the line are developed in-house at Milk Studios, their downtown NYC home.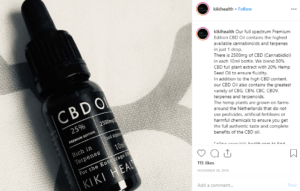 Extracted solely from the tops of fresh hemp plants to maximise the purity and efficacy, KIKI believes in adding only the purest of ingredients with the highest potency available. All ingredients are meticulously chosen and ethically processed to preserve and maximise the beneficial and powerful elements, ensuring unsurpassed bioavailability.
KIKI offers a range of CBD oils containing an abundance of nutrients, including omega-3 fatty acids, terpenes, vitamins, chlorophyll and amino acids and a wealth of free radical-fighting antioxidants. We also like the simple but efficient packaging.
"We created CUBID CBD to become an influencer, to lead a CBD revolution and to deliver a range of products that answered the specific needs of our customer."
From face cream to hand cream or body butter, CUBID CBD's products all have a significantly higher quantity of CBD with a focus on the natural and botanical. Their CBD is pure – with no chemicals, metals or pesticides and it is affordable. You'll also find on their website a very useful guide on CBD including why you should use it and how much you should use. A very practical website to help people understand the new trend better.
CUBID CBD strives to set the benchmark of best practice, continually sharing their knowledge and expertise within their communities. Their goal is to inspire and influence people to live a healthier happier life, empowering them to change their way of living.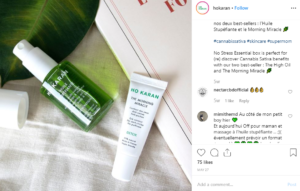 The story of HO KARAN began in 1965, when the founder's grandparents began growing hemp in Britanny. Today, their mission is to show all the benefits of Cannabis sativa to everyone. HO KARAN which means "I love you" in Breton, is a love declaration to these hemp growers, to their spirit, and to our planet.
The founder calls herself Miss Cannabis and has a very serious mission, to reveal the beauty of hemp and cannabis around the world. She started a Cannatour; a series of interviews with the various people involved in the industry, to show the faces and listen to the voices of those whose love cannabis. Her aim is to combat the stigma and help people (re)discover this plant, which has been used for millennia in medicine and nutrition but was wrongly discredited in the mid-20th century.
Ho Karan has created products – 2.5% and 5% – that only contains cannabidiol and regionally-grown organic hemp. They can be used alone to smooth over the face or as a booster if you want to add them into your own skincare, from moisturizing cream to serums to bump up their protective antioxidant, oil regulating and calming capabilities.
The CBD market is booming with brand emerging from all over the world. Get in touch today to see how we can help you get your business featured in the UK media landscape.
CBD oil beauty products
Amid all the updates about alcohol flying off the shelves and social distancing, parents and carers still need to purchase the many necessities for their little ones in this chaotic time. One absolute essential is nappies.
Apparently, newborns get through an average of 12 nappies a day, and alongside the toilet roll shortage, nappies seem to be disappearing fast too.
Could now be the perfect time to start sustainably wrapping up the tots then? We are aware of the environmental dilemma that comes with purchasing all those disposable nappies so what better time to give these top brands a go?
Kit & Kin was created back in 2017 by co-founders Emma Bunton (yes, Baby Spice; how apt) and Christopher Money, bringing over 15 years' experience working in the mother and baby industry for some of the world's leading brands.
As parents themselves, Emma and Chris struggled to find products which didn't irritate their children's skin. They were inspired to create Kit & Kin, offering families a range of safe, eco-friendly and affordable products that are better for babies and better for the environment.
Choose from high performance hypoallergenic nappies, biodegradable nappy sacks and baby wipes. All products are hypoallergenic and approved by dermatologists to ensure they're mild and kind to use on skin.
The brand also provide skincare and babywear; our favourites are the bear and bunny cardigans. Too cute.
Over 40 years old, Bambo Nature produces skin and eco-friendly nappies and baby products for families all over the world.
Each Bambo Nature product is designed to provide comfort and safety by using quality ingredients and materials. Supplying consumers with a range of nappies, pants, lotions and wipes their products have proven to be as strong and effective as they are safe and sustainable.
The brand's HQ, located in Denmark, also recycles 95% of all waste from the production of their baby nappies, e.g. foil wrapping from raw materials and surplus textiles. Waste is collected and sold to recycling companies to be processed in a cradle-to-cradle lifecycle that transforms it into new raw materials.
https://www.instagram.com/p/B8UDAaylFdf/?utm_source=ig_web_copy_link
LittleLamb is a family run business where co-founders Nick and Vicky have tried and tested all their washable and reusable nappies on their six kids (saving over 39000 disposables from landfill apparently!).
All their products' components are tested and certified using Oeko-tex100 certified bamboo yarn and GOTS organic cotton yarn. They are even conscious of dying the nappies with products that can restrict absorption.
Little Lamb products include nappies, wraps and accessories such as bamboo breast pads and organic cotton wipes. They even provide cloth sanity pads that you can wash and reuse for up to three years.
We say join the Little Lamb community today and help save acres of landfill.
Bambino Mio was founded in 1997 by husband and wife Guy and Jo Schanschieff, who set up a reusable nappy laundry service from their home in Northampton and then began to sell reusable nappies.
Since their humble beginnings the company has won over 50 awards including GOLD in the Loved By Parents Awards 2017 for Best Reusable Nappy and PLATINUM in the Junior Design Awards 2016 for Best Reusable Nappy.
As well as nappies, Bambino Mio sells nappy liners, reusable swim nappies, potty training pants, reusable baby wipes, and laundry detergent. Their website also offers potty training and swimming tips for all carers out there in need of a little help.
https://www.instagram.com/p/B9yrXI_Fjll/?utm_source=ig_web_copy_link
Could your brand do with a new PR or a communications strategy? Why not get in touch to find out how our award-winning consumer team can help you.
Top reusable and eco-friendly nappies that help do your bit for the planet