Tell us about your experience to date and your background
I've been in web development for over six years now and although it's relatively plain sailing, it didn't start out like that! I initially studied Environmental Sustainability at Leeds University but when I graduated, I realised it wasn't an area I wanted a career in. After a few months of temping and job searching, I ended up quitting my temp job and telling my family and friends I was going to teach myself web development.
The initial reception wasn't the best, but I knew there was a career in it and it was something I enjoyed. I worked hard to learn what I needed and after a while things started to happen thanks to a few friends putting me in touch with my first clients, those of whom I now owe a lot too.
The first couple of websites included a lot of learning on the job but the clients were happy, and the end product was good. From there, I was given more freelance work at a web development agency based in Leatherhead who after a few months with them, offered me a full-time job. It was here that I learnt most of what I know today thanks to some fantastic (and patient!) mentors. I then moved to The PHA Group, where I've been for the past three years. During my time here I've had the pleasure of building numerous client websites some of which you can see here – and also working on internal projects such as the website you're viewing at the moment. After six years in web development, I'm still eager to continue learning, developing my skill set and helping The PHA Group's clients bring their ideas to life.
What role did you play in The PHA Group rebrand?
During The PHA Group rebrand I worked on building the website you're on at the moment! This included working closely with the design team to ensure that it behaved and looked exactly as required. It is an ever-evolving website and new features and design changes are often proposed to which the design team will mockup for sign off, and I can begin its development. Recently this has included integrating the 'Careers' section (https://thephagroup.com/careers) into our third party HR software which helped remove some of the manual labour for the HR team.
If you had to choose two of your favourite projects you've worked on during your time at PHA, which would you choose?
All the websites I've worked on have provided unique challenges and been fun to work on in their own way. As such, it's hard to pick just two, but a few projects that stick out, include; www.nomochoc.com who's unique header design took a lot of planning but the end product was great. Another fun site was https://patientory.com/ which I enjoyed building because of its sleek, modern design. More recently, I've been working on a site which showcases films and videos for talent within the film industry, and so it involves working with a lot of fantastic video content which is always fun to work on.
You take on a variety of different projects from clients, what would be your one piece of advice to an aspiring developer?
I would say the best way to learn web development would be to 'persevere with your learning'. There are definitely times when you'll want to give up on it after a day of trying to get CSS to do what you'd expect, but if you really want it then to keep plugging away and things will eventually start to stick. I would say that also it's important to focus on one technology at a time, otherwise you'll be overwhelmed by the sheer amount of learning resources available. A good order to learn front end development would be to learn HTML, CSS, JS and then move into a CMS such as WordPress. (That was more than one bit of advice… Sue me!)
Finally, what website trends do you expect to see playing a major role in 2020?
In regard to design there is definitely a growing trend in a certain retro aesthetic that I'm personally not fond of, but generally involves large text, bold simple colour schemes and animations as you scroll. A few websites that I've found on the first page of a site aggregator (www.siteinspire.com) that are good examples include https://blackfuturism2019.xyz/, https://www.festivalcontours.fr/, https://hallobasis.com/. This style of website often rely heavily on JavaScript libraries such as three.js which accommodate complex animations for example – https://stuuudio.co/. I can imagine the retro trend in web design will eventually disappear, but animations are here to stay.
From a development perspective, headless CMS's are growing in popularity which is essentially where you decouple the front and back end of your website which generally allows for improved speed, performance and scalability of a website. This includes using a frontend framework such as React or Vue and then a CMS system such as https://wordpress.org/ or https://www.netlify.com/.
If you would like to find out about our design services then please get in touch with us today.
Meet our people; Tom Hoadley
For business owners, saving money is always a priority. But sometimes it's best not to cut corners in certain aspects of your business, especially when it comes to your logo.
A logo is one of the most important things about your branding. This will help your customers to recognise you and communicate your message with just one image. A logo should be much more than a simple image to fill space on your business card or website. Ideally, it is a visual representation of what your company stands for and its values.
Below are a few examples of why DYI logos might not be the best idea for your business.
Not so simple after all
Your logo is the face of your brand. This is the first thing people see when they go to your website or search for you on social media and ideally, you'd like people to recognise it at first sight. An efficient logo design not only has the power to communicate what you stand for, but also makes an impactful first impression and helps you stand out from the competition.
Some logos might look simple to you but in fact required years of work. Let's take the McDonald's logo as an example. You would recognise this logo anywhere, not just on top of one of their restaurants, but in an advert, merchandising etc. To you, this might just be a simple "M" but to them, it's more than that. The McDonald's logo is symbolic of the arches that were the substance of the newly constructed architecture of the first franchised restaurant in 1952. The Golden colour represents the famous arches of its first franchised restaurant, while the red colour represents the food industry of this company.
With this example, it becomes clear that what looks simple to the eye is almost certainly crafted to make the best use of white space, with carefully chosen fonts, complementary colourings. A professional graphic designer will know about your industry, what colour represents it and what would catch their attention so it's always good to listen to what they have to say.
Versatility
In graphic design, versatility is key. How will your logo look on a business card or on your Twitter feed? How will it look if you do a large version on a billboard or on TV advert? A professional graphic designer will make sure you can use your logo everywhere, from your website, to a billboard or print. Every medium requires a different format which some DYI platforms don't allow you to do. A graphic designer will also create different variations of your logo so you can use it on social media, or on your website or embed with new business presentations. It only takes them a few hours when it could take you a few days to recreate all your variations. Graphic designers use tools such as Photoshop and Illustrator to create logos which are bespoke to you and your business.
We worked with Lifestyle brand AudreyStyle to create their logo and branding. The goal was to create something for their website and social media channels that could also be adapted for their production line as well. Audreystle wanted to ensure the new branding represented the boutique businesses tone and audience. The team created a monogram and logotype that incorporated the values and quality Audreystyle liked to reflect. Read all about our work here.
What do you stand for?
As we said earlier, a simple look is important to make your logo stand out but it is also equally important that it relates to what your business or organisation actually does and stands for. Therefore, having someone detached from the business can be helpful as they will look at your organisation with a different perspective. If you're the owner, you'll know all about your company, but you might not know what people internally and externally think. A professional could help you understand your brand and show you the best way to present that through imagery.
We worked with a start-up gym called Body Society where we were tasked to look at their branding. Starting from scratch we looked at how this brand could be positioned within a flooded market; how we could make this gym bespoke from its competitors and how we could make it more appealing to gym goers. Working on concepts and theme ideas to begin with, we started to shape the personality for the band by working out the unique selling points and positioning they had within the market. This then slowly created a channel of vision in which multiple ideas for logo and identity were explored. Read more about our work with Body Society here.
Colours, design, everything is as important in a logo but don't forget the font. A professional will be able to find the best font for your business, when you think of businesses like Coca Cola their typeface is so iconic it has become its own branding. It is also easy to read and legible on various formats. When choosing what font best represents you and your business think about how you will be using it as it can differ from device, platform and outlet!
To learn more about how we can help you and your business get your brand on point, get in touch today.
Why you shouldn't DIY it when it comes to your brand's logo
In January, Instagram Stories reached 500 million daily active users (Statista), and we can see why! The platform's features allow consumers to connect with friends and brands creatively but we were surprised to see that the launch of the new Quiz Sticker saw very few accounts taking the plunge. In time, we feel this Sticker could have several benefits for brands, helping to further their online goals.
The Instagram Quiz Sticker is simple to grasp. Users write a question (or Instagram can offer you random inspiration), alongside 2-4 answers. This is placed on top of an existing image, or a block colour. Viewers of this Sticker then click their answer, and instantly see whether they were correct. Whilst we do encourage your brand to play around with this feature to see what is effective for you, there are universal ideas to consider.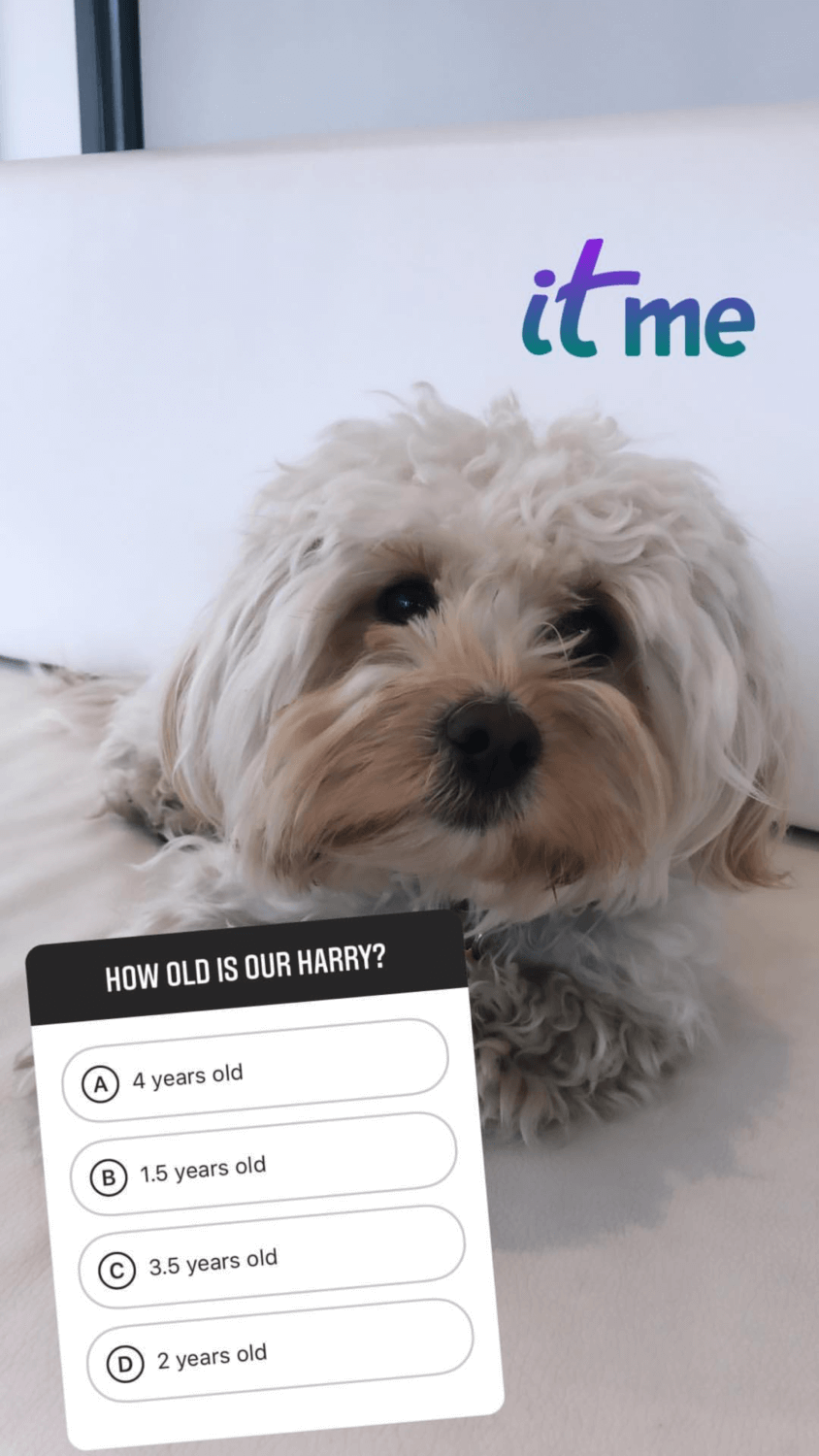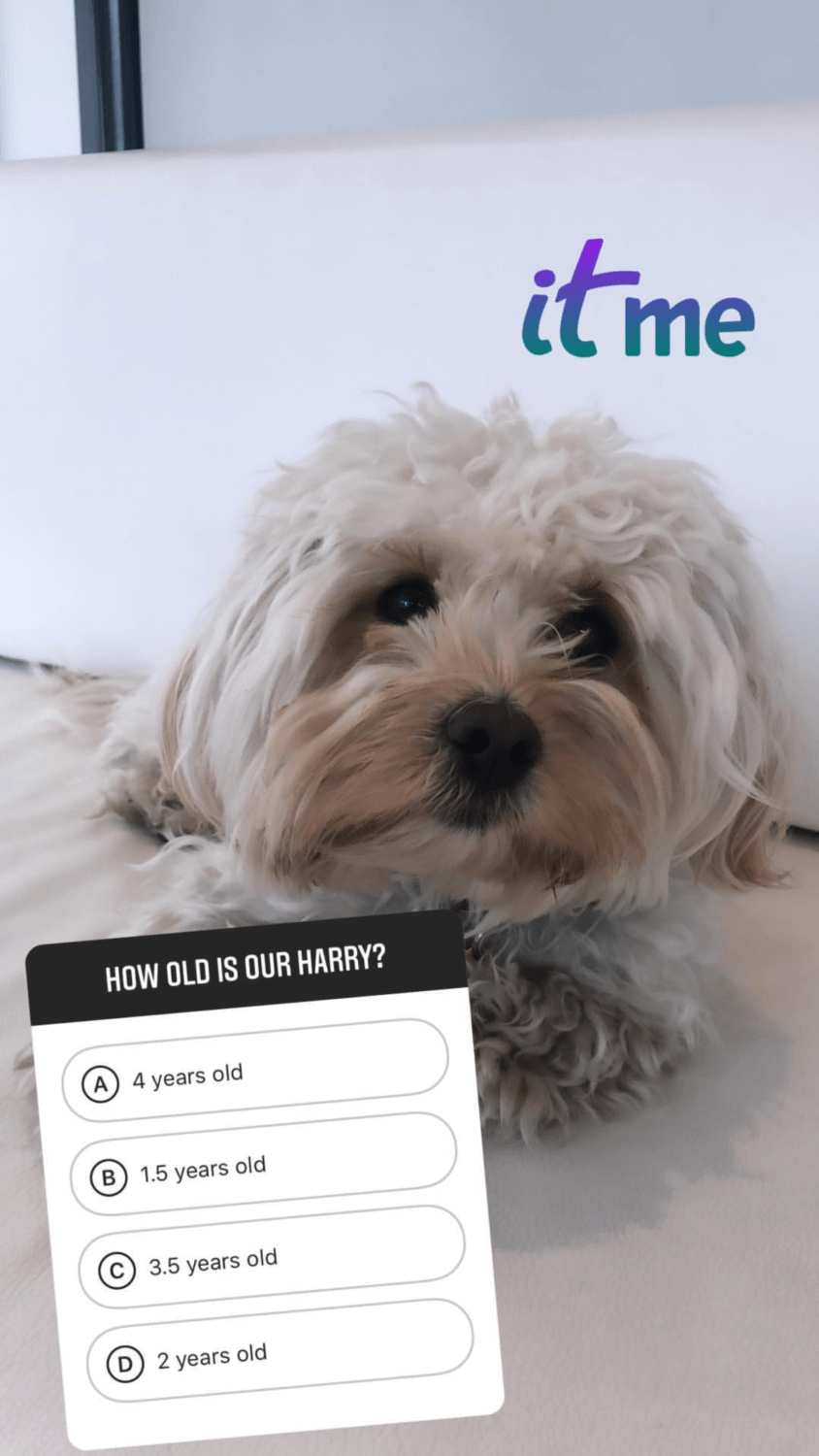 Reinforcing core brand values – what will your quiz answers be?
Every brand will have key messages they want fans to recall. A tagline, statistic, USP. The Quiz Sticker will reveal if your customers are retaining these messages. We recommend making your quiz answers hard – customers will then feel rewarded when they answer correctly, or curious, resulting in them wanting to know more about your brand. We really enjoyed seeing influencer Luke Christian asking his followers to guess his celebrity icon – not only will this reveal audience perceptions of him, but also opens up a conversation around why viewers chose the answers they did.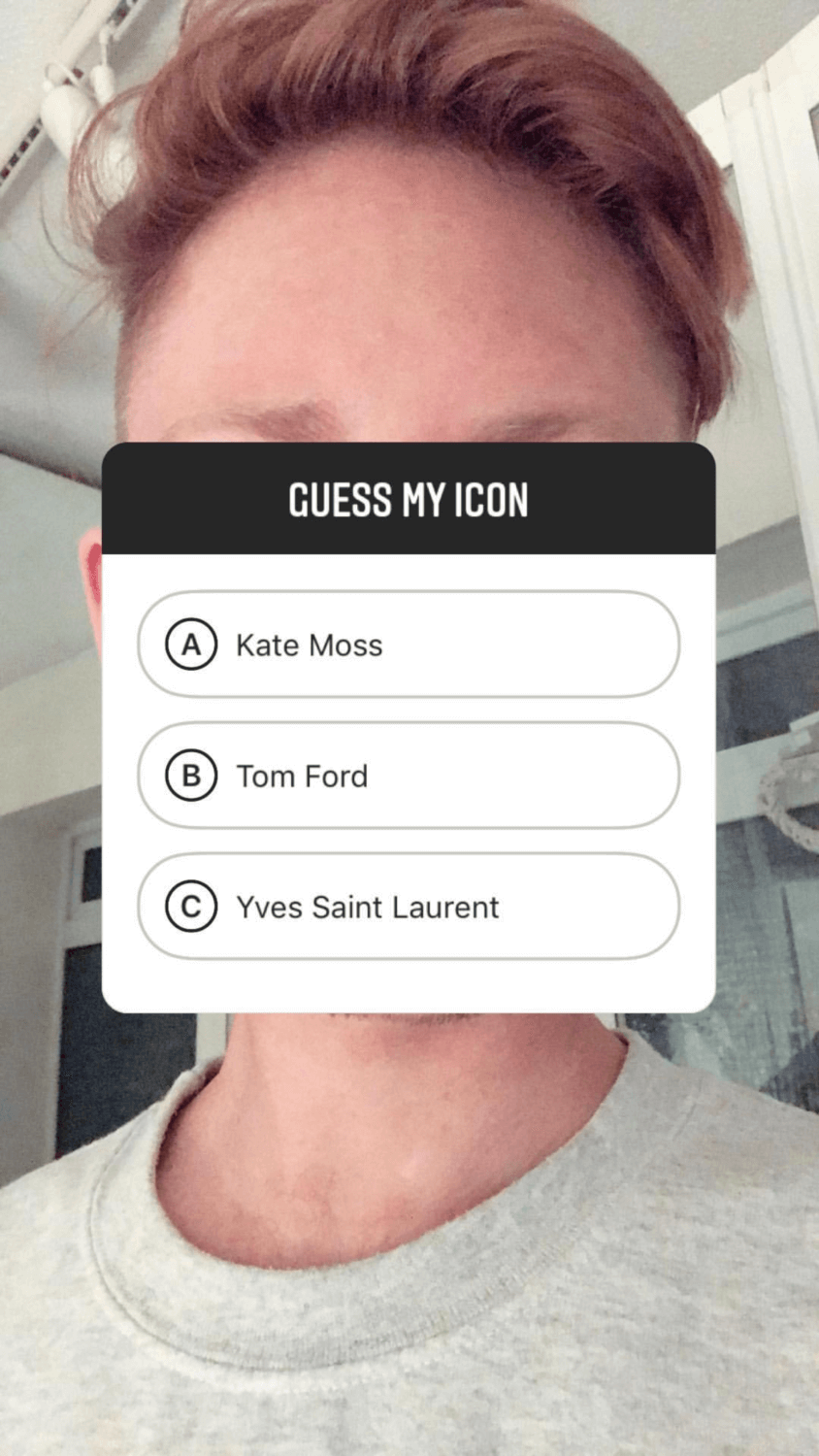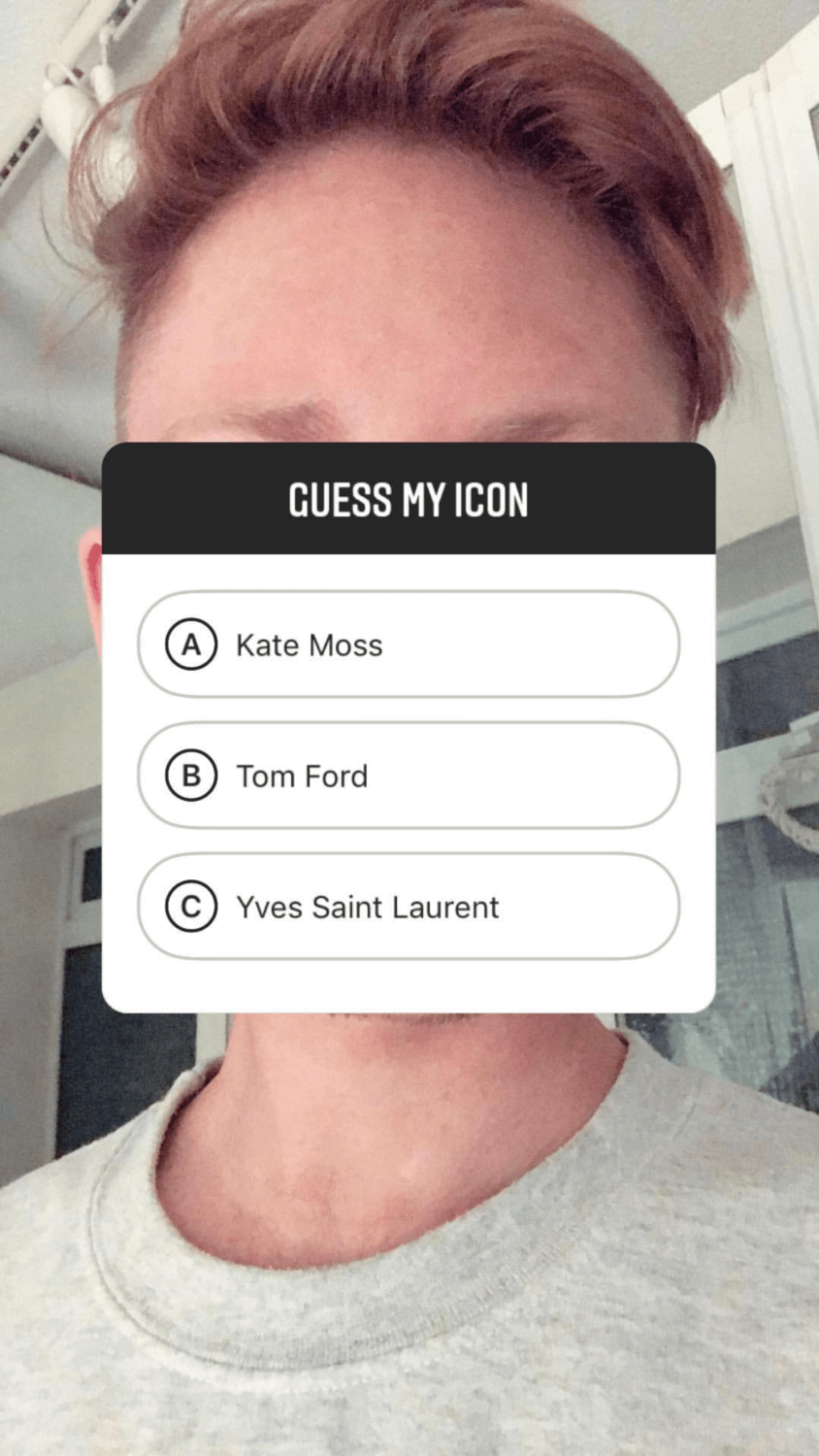 Reveal new aspects of your business
Instagram Stories last for 24 hours, and thus offer a more informal tone for more casual topics. Not every post online should be a direct sell to your product. For example, how do you want your consumers to feel about you? Whether this is funny, warm or premium, Stories offer a platform to utilise other aspects not suitable for a main feed. Whilst Save The Student's main Instagram feed is (rightly) full of top tips and memes, on their Stories, followers were asked how old the office dog is. This simple question reveals that this is not just a business, but a group of people who have their own lives. How could personal quiz questions such as this change perceptions of your brand?
In summary, Instagram Stickers allow a certain amount of vulnerability for brands. They can reveal what consumers like and do not like but there is minimal value in your quiz answers being obvious – what value will 'Yes!' and 'YESSSS!', offer you or your customers? This new Sticker, used correctly, will reveal new insights about your audience – and could be the most beneficial part of your Instagram strategy.
Looking to up your Stories game? Get in touch with PHA Social with your aims and we can create examples that best match your brand's personality.
Our predictions for the Instagram Quiz Sticker
After months of back and forth with your CEO and persuading them it's time to bring your outdated website into the 21st century, the project has finally been signed off. You're eager to get going, so you spend some time clarifying what you want and then send out your brief to a list of potential web development teams. You get a stack of proposals back but are left scratching your head how to decide who would be the best fit for your project.
Below is a list of what to look out for when choosing a reliable, high-end web development team and be confident that they will create you a website to be proud of.
A stickler for detail
During the research, design and build stages the devil is in the detail. As such, a team with great communication is necessary. Find someone who asks questions and strives to understand your vision and what you are trying to achieve as the better their understanding is, the smoother the project will be.
For our most recent build, our client Morgan Dairy required some complicated functionality, namely a delivery postcode checker and a product ordering form. We had to ensure that each of these were working exactly as expected which we achieved by sending prototypes for them to test and confirm it was what they envisioned.
Astute
Before choosing a development team, try to establish how astute they are. Do they show an ability to accurately assess situations and projects? Are they saying no to everything you are suggesting? Or maybe they say yes to everything? The truth is, it's not possible to create an all singing all dancing website, within record speed timing and at an insanely low price. Anyone who says it is, likely doesn't understand the project or is just trying to get their hands on your hard-earned money. As such, it's always worth using your own common sense to think whether they will be able to deliver on exactly what they've promised. If it sounds too good to be true, it probably is.
One such client that we were keen to help was Helen and Douglas charity whom we created two bespoke stages for their project timeline. The first being a website with events booking, custom campaign pages, a blog and more. The second being the website with donation functionality. This helped to ensure that realistic expectations were set at the start of the project and that a polished, quality product was delivered.
An eye for design
A crucial element when deciding between web development teams is to ensure they have a keen eye for design. The best way to ensure this is to go through their previous design work with a fine-toothed comb. If they can demonstrate skill and provide insight into the type of work you can expect from them, you're off to a good start.
One such project where we were keen to ensure that the latest in design patterns were utilized was with our client Patientory. We implemented a clean, modern design with appropriately placed user interactions for an added element of fun ensuring to stay on brand and engage the potential clients.
Coding skills
As a client, these ones can be slightly harder to foresee but you can generally get an idea by looking at the existing portfolio. Alternatively, you could ask them about the technology stack they'll be using and why they use it. You could even get in touch with some of their previous clients to help form your opinion on this.  Generally, if their portfolio examples websites work as you would expect them to, you should be in good hands
Willingness to learn
Does the web development team show a willingness to learn and try new things? Are they suggesting adding exciting features to your site, or maybe that it would be a great time to implement new cutting-edge technology? If so, it's likely you have a team of passionate web developers on your hands who will strive to create you a website to be proud of.
If you would like to talk to our Studio team about website design or build, then please get in touch with a member of our award-winning team today. We'd love to start bringing your idea to life.
Website development – what to look out for
April Fool's Day is an exciting time for marketers. Many brands cleverly tweak their tone of voice online to great effect. Acting in a slightly goofier fashion can reveal the human side of a brand, making them more relatable and personable. This day can inspire all, including those who do not have the budget for traditional stunts – simple yet effective visuals can spark the imagination of your customer base and make them remember you.
Below are PHA Social's favourite April Fool's day gags from 2019, as well as our 3 top tips on how to make your audience giggle next year!
Being directly funny isn't the only option
A lot of brands seemed to default to the traditional gag of releasing fake products, however, this doesn't have to be the only way to cut through the April Fool's noise. This day is about being light-hearted – what would you like your customers to know about your brand that you may have difficulty saying normally?
Whilst we might have expected The Muppets to tell a joke, we felt their simple acknowledgement of the day was light-hearted and warm – it reminded us of how the Muppets make us feel.  Could you use April Fool's for a similar effect with your workplace or employees, reminding customers of the friendly faces behind the brand?
Respond to ongoing conversation surrounding your brand
Some conversations/feelings around your brand will not be appropriate to respond to when they appear casually throughout the year. However, April Fool's day is an opportunity to engage in this conversation, due to the relaxed environment social media supports. Duolingo is iconic for its repetitive notifications. Their video announcing Duolingo Push was able to merge all the conversations surrounding this feature into a light-hearted piece that shows they not only listen to their audience, but they also acknowledge a comical part of their business.
The moment you've all been d̶r̶e̶a̶d̶i̶n̶g̶ waiting for…Introducing Duolingo Push! We're taking notifications out of your phone and into the real world. That's right: Duo the Owl will literally show up to remind you to practice so you never miss a day of language learning again.Try it today: https://push.duolingo.com

Posted by Duolingo on Monday, April 1, 2019
On the flip side, some online pranks will spark new conversation surrounding your brand, revealing gaps in your product catalogue. Love Hearts Sour Hearts feels like a perfect anti-product to us, which many could relate too!
Do not admit you know it's April Fool's Day
For many, April 1st is a normal day, and so there are plenty of genuine articles and content posted online. The art of this holiday is to blend your jokes so that they appear (largely) natural and authentic. If you have someone in your comments saying, 'this has to be an April fool's, surely!', then you have succeeded in creating a mystery – and your engagement will grow from this confusion. Caffé Nero was able to successfully maintain their sophisticated style whilst establishing this illusion by utilising Instagram stories. They 'announced' that 'due to a manufacturing issue', their chocolate cups had to be recalled.
Due to a manufacturing issue we have had to recall our chocolate cups. Sorry for any inconvenience caused. #AprilFools

Posted by Caffè Nero on Friday, March 29, 2019
April Fool's day should not be seen as a difficult part of your marketing calendar. Listen to your audience, be bold, try something different and monitor the results so learnings can be applied to the next campaign. Just remember that important, genuine posts should be avoided on this day or you could encounter the same response that Theresa May's announcement of a higher living wage had on Monday.
If you would you like to capitalise on national days such as April Fool's Day in the future, get in touch with PHA Social to discuss how we can help people discover your brand in a fun and creative way.
How to maximise your April Fools' online content
Whether you're a developer who has been writing code or a designer who's worked on putting together a dazzling design, launching a new website is always an exciting time. Seeing the fruits of your labour is something you've been eagerly waiting for and equally desperate to share.
But before you rush into pushing it live, have you double checked the details? Does all your imagery have alt text? Do the meta-descriptions accurately describe your content?
As Senior Web Developer here at The PHA Group, I've worked on numerous websites such as the David Shepherd Wildlife Foundation or the health IT company, Patientory. Here are my five top things to check before launching a website.
Mobile responsiveness
Based off of 2 Trillion site visits in the US in 2017 from 2016 the percentage of visits from mobile devices grew from 57% to 63% comprehensively beating desktop which made up the difference (37%). Mobile also saw a significant drop in bounce rate from 52% to 47%, whilst the time people spent on a site on mobile grew from 40% to 49%. If you didn't know it by now, mobile is on the rise. Make sure your site is fully functioning on it and performs just as well as on desktop. Accelerated mobile landing pages should appear on your to-do list.
Testing in multiple browsers
Remember not everyone who visits your site will be using the same browser. From Chrome to Firefox to Internet Explorer, you need to ensure your site is consistent. For us at PHA that involves testing it in all modern browsers including Internet Explorer 9. In recent years, we have stopped catering for Internet Explorer 8 and below since Microsoft ended its support for them.
Have you added in analytics?
Without analytics, you'll lose out on valuable data on your site. You won't be able to track how many visitors you have on your site, what content they've been engaging in, how long did they spend on your site, did they make an enquiry through the website, and so much more. Trust us on this one, get it in before launch and you'll save yourself a headache later. Analytics is also a really insightful tool for your communication and marketing teams. They can use this to understand your customer base and help make your targeting and decisions more informed.
Search engines
Have you allowed your site to be indexed by search engines? If you launch your website and it's still blocking indexing, you may be left scratching your head as to where all your visitors are. It's simple they can't find you! On WordPress, it's important to ensure you've unticked the 'Search Engine Visibility' tick box in the admin panel. Once you've ensured there's nothing blocking them, to speed up the process you should always submit your site URL to search engines such as Google, Bing and Yahoo.
Is the client happy?
Arguably the most important thing on this list. Before going live, make sure to take your client through every page of the site and straightened out any issues before it's noticed by their customers. Once the clients happy and you've dotted the i's and crossed the t's you will be able to share you and your team's hard work with the world!
If you would like to talk to our Studio team about a website design or build, then please get in touch with a member of our award-winning team today. We'd love to bring your ideas to life.
5 things to check before a website launch
Fitness influencers today generally speak of self-love, self-worth and the importance of health over image. There are thousands of influencers these days doing brilliant work for women, both inside and outside of the gym. They use their stories to encourage and empower, and they all work for different women in different ways. These are just four of these many powerful women who inspire us to work out for our bodies, not against them.
Jessamyn Stanley is a yoga teacher, an author and an inspiring public speaker. Yoga is supposedly for everyone; one of the most inclusive and modifiable forms of exercise, working for all from the elderly to the pregnant. Yet, the vast majority of 'Instagram Yogis' in our feeds today are young, white, slim women. Jessamyn drives body positivity and inclusivity with every post, she holds all the challenging postures that we long to manage, and she isn't a size 6 white girl. Whilst covering all the essentials of a yoga-blogger, she also speaks powerfully and openly about life on and off the mat. Her book, 'Every Body Yoga', neatly sums up what makes her empowering to so many: "Let go of fear, get on the mat, love your body".
Brooke Ence is just a total badass. She smashes any preconceptions of how women should look, act or exercise. With so much of the gym considered a gendered zone,  Brooke encourages women to get involved with heavy lifting and serious strength training. Endlessly cool, Brooke flips from Red Carpet to Amazonian warrior to Cross Fit athlete. Follow her if you want incredible displays of strength and cute pics of her Labradoodle.
https://www.instagram.com/p/BuFRcASAQ6U/
Kaisa Keranen has taken the US by storm. Insanely strong and agile, she smiles through every one of her workouts, which is simultaneously impressive and terrifying. Her focus is on feeling, and being, powerful ahead of aesthetic considerations (of course she still looks incredible, but that's not really relevant). Her whole ethos is just to get moving, and she provides plenty of inspiration to get others doing the same. Her workouts are incredibly varied, from short moves you can do in the office, to full resistance sessions. Kaisa almost never mentions physique, which is incredibly refreshing, and her feed is totally free of posed mirror selfies. A win-win for proper fitness inspiration.
https://www.instagram.com/p/BubdB7XhYoP/
Natacha Oceane is primarily a YouTuber, which is where she does her best work and best workouts. She's known for her cheat day '10,000 calorie challenges' and insane 2000 calorie workouts. She brings a playfulness and curiosity to her work, devising experiments to answer some of our longest held fitness questions. From her journey, as a girl with a severe eating disorder, to studying for her PhD, her content is endlessly interesting, and definitely one to binge-watch on YouTube. Also, she's pretty incredible in the gym and doesn't look like she's slowing down anytime soon.
https://www.instagram.com/p/Burj2syH-CI/
Inspiring Female Fitness Influencers
Personal branding gives an individual an opportunity to express and communicate their skills and core values. Personal brands shouldn't just be something for entrepreneurs. Instead it should be seen more as that 'secret sauce' that helps your credentials stand out from the competition whether that be trying to win new business or applying for a new position.
Developing this requires you to pay careful attention in deciphering who you really are, and what your values and unique selling points are. Once you've identified exactly what your strengths are, work on perfecting them. Learn all you can about that area and fully immerse yourself. Your unique selling points will draw people to your brand. A successful brand or business creates a consistent, targeted impression on their target audience.
A brand identity that reflects your values
When trying to establish some values for your business to abide by, the easiest way to begin is to think about what's really important to your business. Think about the characteristics and strengths that sum up your personal brand. Once you've identified what sets you apart from the competition, you should home in and perfect those elements. Remember when crafting your personal image, you must have a clear idea of your goals for both the short and long-term.
Not only do personal brand values contribute to shaping the culture and the environment of your business it also helps to communicate what type of brand you are to stakeholders, future investors or employees.
Build your platform
Building yourself a strong platform from which to present yourself is of the utmost importance. To begin with, your website URL should have your name in it as this will help to create brand awareness for your business. By having your own domain and website, you put yourself in a position of being able to communicate and express your own individuality without limitations. This virtual platform must be personalised and bespoke and allow you to express your values and uniqueness.
Creating social media accounts especially across platforms such as Facebook, Twitter and LinkedIn are another crucial way for individuals to boost their personal brand as these will allow for a share of voice.
Be consistent
Your personal branding means nothing without consistency. Take a moment to think about how big brands such as Nike or Apple gain your trust. In a market place where choices are endless, consistent messaging resonates with us.
It is essential that you have a coherent and consistent presence across all your digital platforms. This includes everything from your visual identity, tone of voice and appearance. Presenting yourself consistently and authentically will create trust and support. This means that your brand needs to be congruent throughout, from online engagement, to how you present yourself in person.
If you want to learn more about how a bespoke crafted personal brand will boost your business, speak to a member of our award-winning design team today.
How to craft a personal brand
At approximately 11pm UK time on Thursday evening – late afternoon in the States – Jeff Bezos published a cluster-bomb of an article that could have ramifications reaching from the oil fields of Arabia to the Oval Office of the White House.
From the outside, it reads like a popular commuter thriller: the world's richest man gets blackmailed by a giant media corporation, with alleged support from the President of the United States. Said richest man turns the tables and retaliates with far-reaching consequences that involve a tyrannical middle-eastern state, a murdered journalist and a corrupt-beyond-belief White House.
If anything, the reader would likely dismiss the story as far-fetched and completely beyond the realms of possibility. But yet, here we are. It's 2019 and I'm about to share my thoughts on a plot concerning the richest individual on the planet, an extortionate media company, a cornered President and a despotic oil-state.
From what we know so far, there are several sub-plots to this scandal, each as fascinating as the next. I'll begin with the one closest to home – we do work in social media after all: the decision by Bezos to self-publish a retaliatory 'bare-all' account of the scandal.
In order to expose the National Enquirer and the AMI, Bezos has had to expose himself: the admission that there exists 'nude selfies' of the billionaire as well as private texts that could have damaging consequences to his divorce battle, which is at the heart of his expose.
The manner of the article, from its prose that is wholeheartedly personal and far from polished, to the weight of accusation, is extraordinarily frank.
"If in my position I can't stand up to this kind of extortion, how many people can?".
What is more intriguing is Bezos' decision not to traverse the classic PR or communications route: consulting publicists and professionals, composing a bullet-proof statement that contains the top-level facts, and seeding it through a popular media title.
Instead, Bezos decided to self-publish a blog post on Medium, an online publishing platform, and break the story with a nondescript tweet:
Within hours, both the tweet and the article were shared around the world several times over. It has hit the front page of global media titles, from the New York Times to the Guardian. It has amassed close to 100,000 social actions on Twitter and the article itself has been 'applauded' 115,000 times on Medium.
In short, Bezos has taken control of the narrative and manipulated it to the extent that he has engaged an audience in ways that traditional media would struggle to replicate. It's arguably not the correct way to conduct yourself during a major expose of your character, but it's an incredibly brave and confident approach.
When you're worth $170 billion and possess real power that rivals even that of the man in the Oval office, I suppose you can take such risks.
In doing so, Bezos has pulled the covers off a media corporation that uses the power it possesses in its most crude form: to cow an individual into submission and tow him into line with the threat of leaking private photos. Nobody, not even the richest man on the planet, should be subject to such treatment
More, he has empowered others to do exactly the same. Since he published his article on Medium, other public figures have stepped forward to share their stories and lift the lid on dirty tactics undertaking by the National Enquirer and AMI.
In Bezos' own words: "I prefer to stand up, roll this log over, and see what crawls out."
One can just imagine the panic that is setting in certain offices across the globe, from New York to Riyadh and back to Washington.
Bezos' taking control of the narrative that has several subplots
Staying up to date and ahead of the game when it comes to the design of your website is paramount in maintaining success across every aspect of your company or business. A lot can change in twelve months in the fluid world of web design, so we're on hand to give you a head start and advise on what you need to be looking out for this year!
Natural, organic shapes
In the past, harsh geometric shapes such as triangles and squares have been preferable, with their connotations of stability and strength. This year the use of smoother, more natural shapes are popping up across most modern design websites. Breaking away from symmetry, and order, creates a web page that stands out, giving it a spontaneous element and animated with a depth that the afore-favoured symmetrical designs could not achieve. When creating the Patientory website, these smooth shapes and their impact were at the forefront of our minds, giving the site a necessary depth and feeling of vibrancy, with curves and smooth edges used across the site.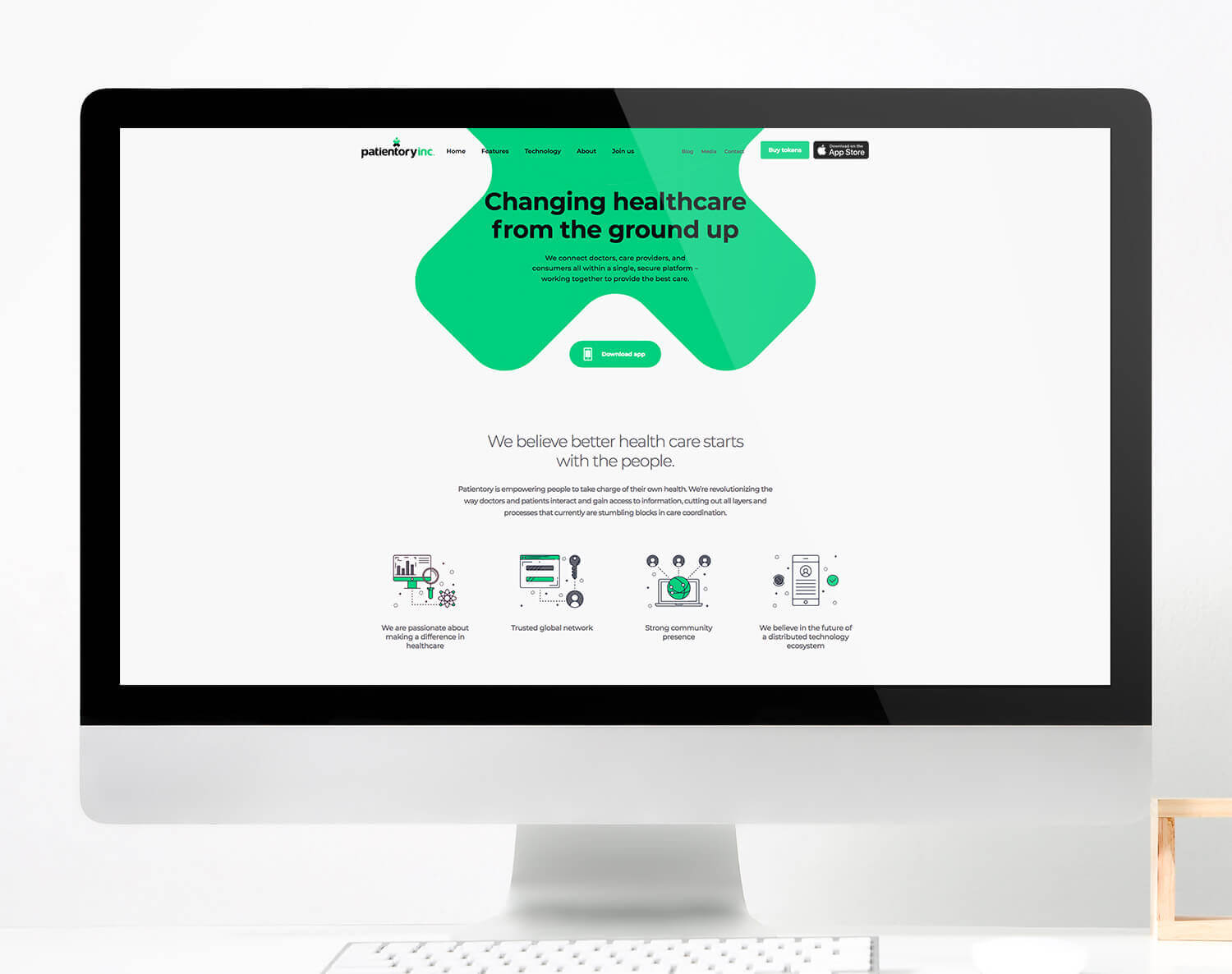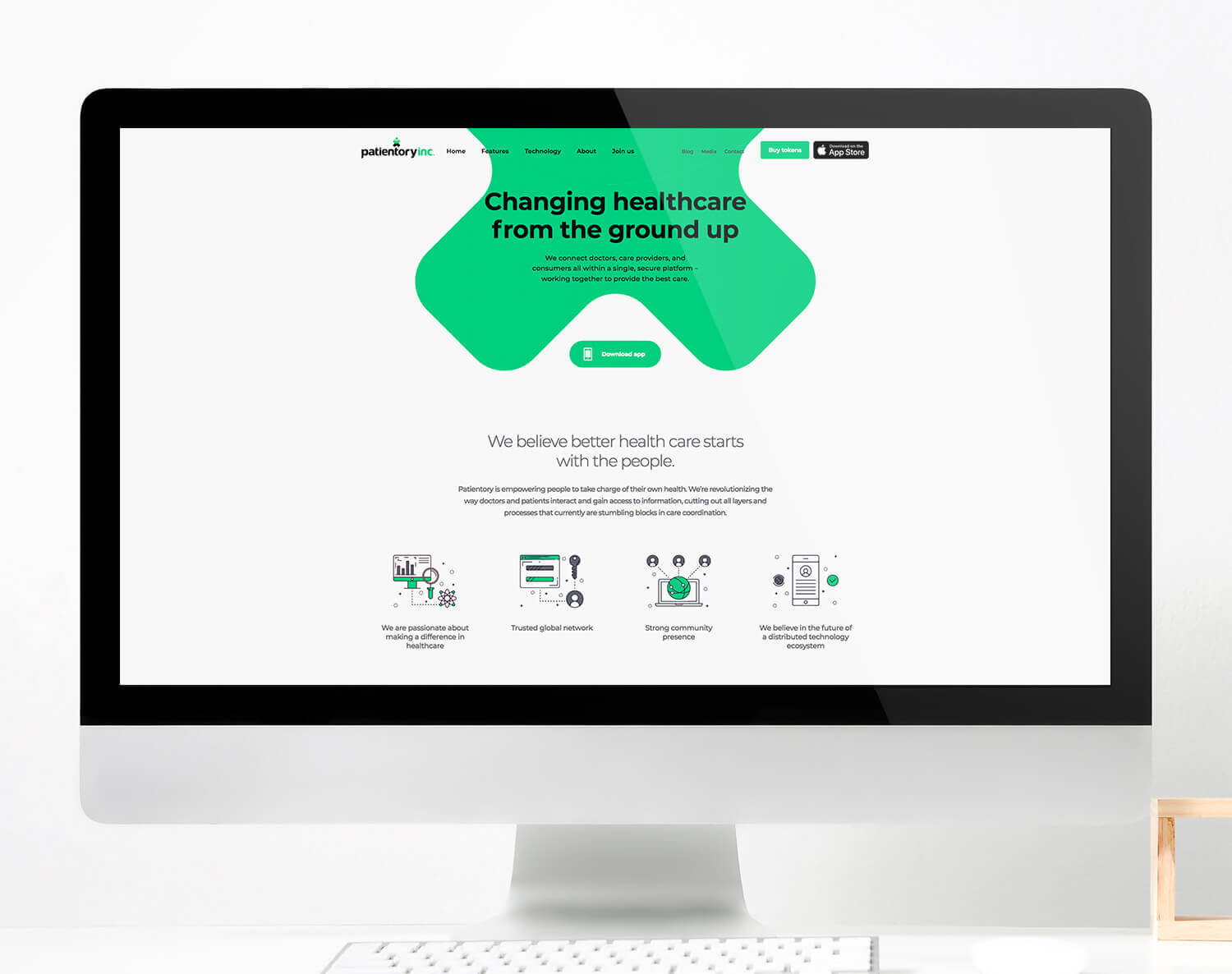 Asymmetrical layouts
Effective asymmetrical designs are, in fact, some of the hardest to execute, but done well, they can provide a unique perspective and a clean and professional design. The popularity of the asymmetry trend began in 2018, and it looks like it's not going anywhere as we enter into a new year of web design. With the use of grids, the site will look structured and organised, making it easy to consume information with a sense of familiar predictability. In the Studio team at The PHA Group, we recently launched the nanoM website, incorporating these asymmetrical layouts across the website, which allowed us to maintain the desired clinical and organised feel.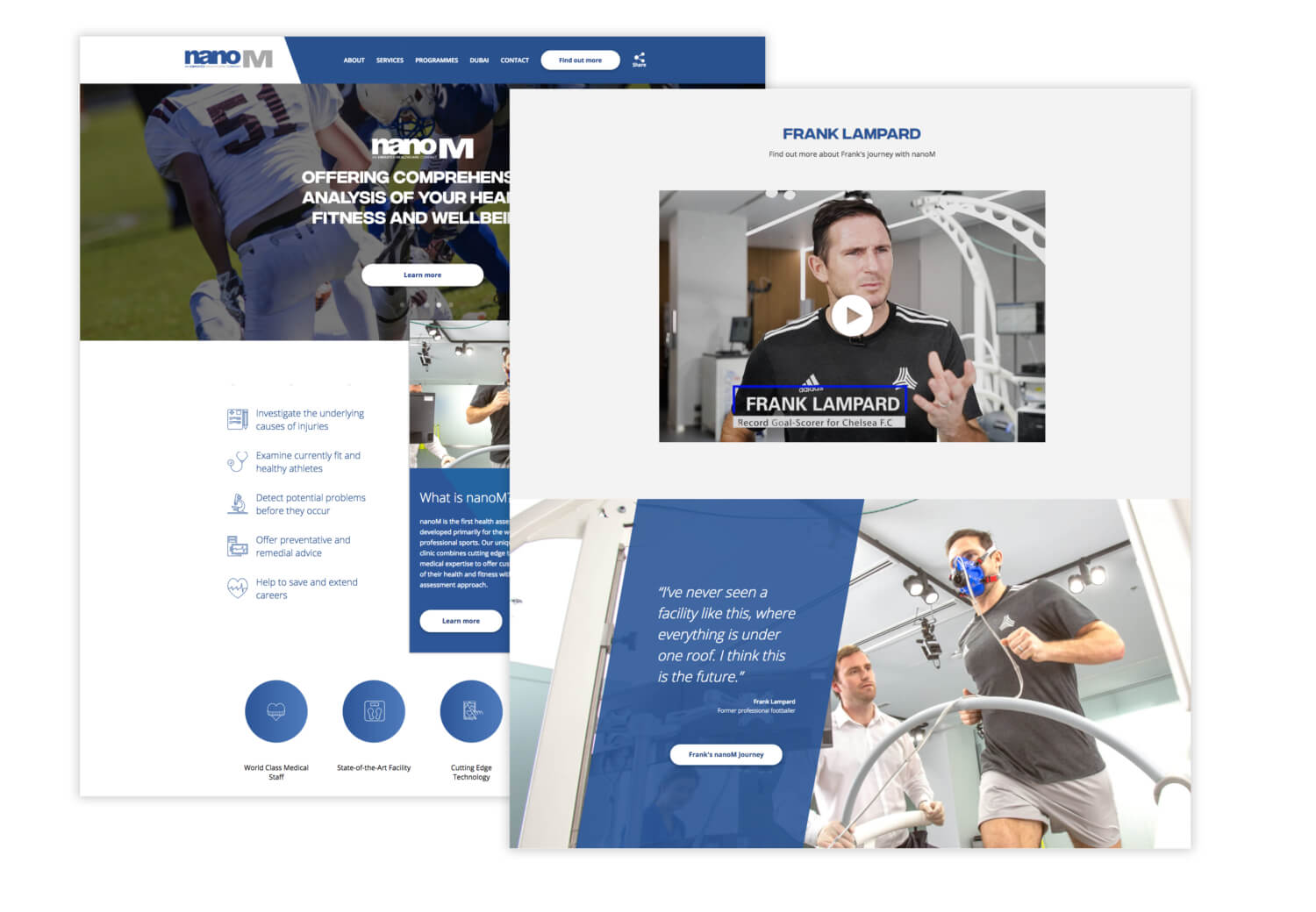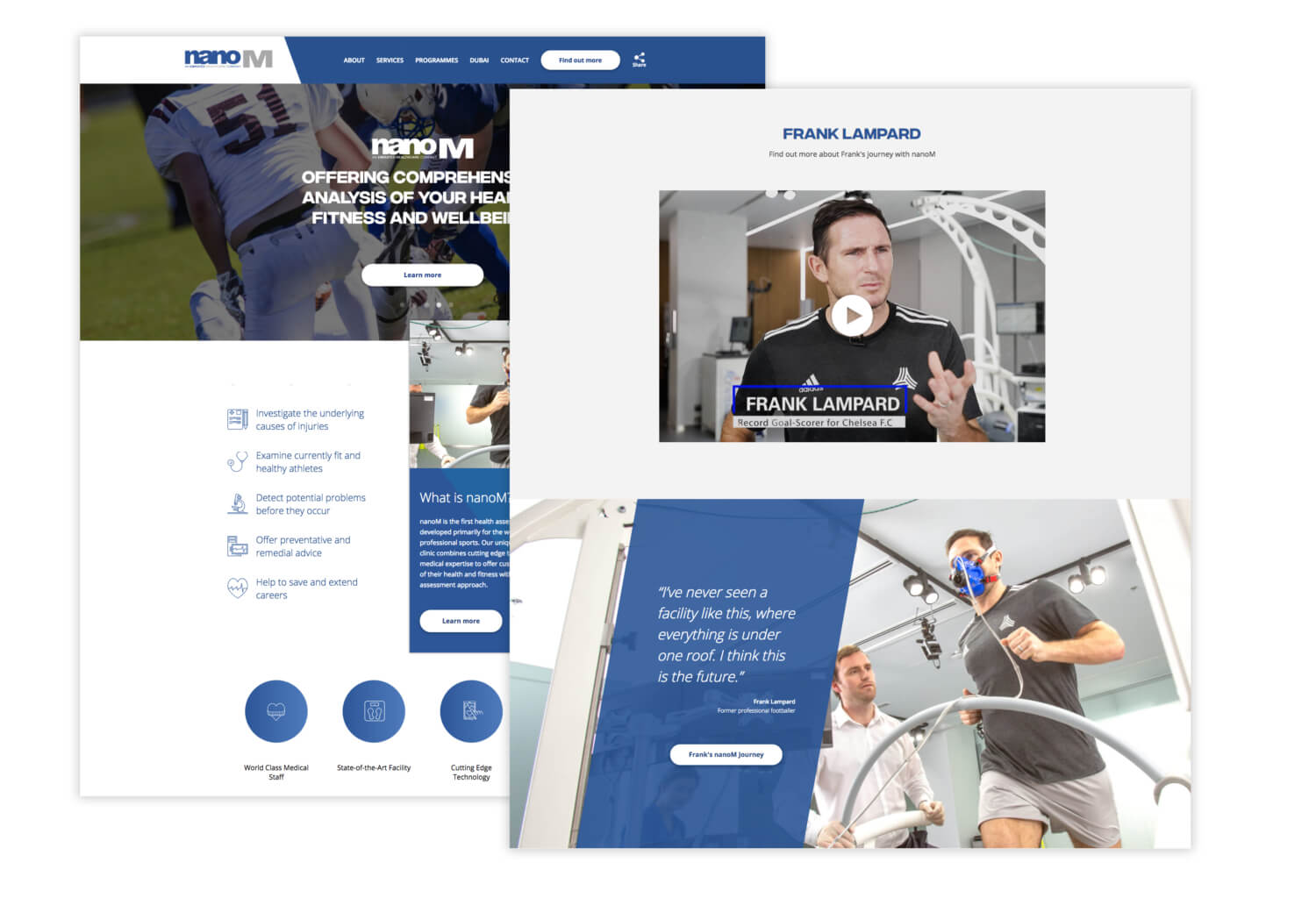 Micro-interactions
Micro-animations have impacted the market hugely over the last few years, with one simple aim; to enhance a visitor's experience on the site, by making it more interactive. On our own website, this addition gives an exciting, creative element that sets us apart and keeps visitors engaged. Another great example of the effectiveness of micro-animations is on the Elleven dental website, which incorporates many in one place, facilitating users in answering their frequently asked questions. These are visually appealing, appropriately placed and useful at the same time.

Even more video content
Video content has always been a success when it comes to web design. As demonstrated with our design of the Body Society website, using instant video and movement on the home page not only immediately grabs a user's attention, but it also keeps visitors on the page for longer periods of time. According to statistics, 72% of businesses say video has improved their conversion rate. Videos provide immediate entertainment and variety, regardless of the other content.
Minimalism
When designing the Soho Estates website last year, we had one 2019 trend in mind; minimalism. With minimalism, comes clarity and balance, which are often preferred by users nowadays, as they are focussed on one aim and not distracted by insignificant information or design. A more minimalistic approach to website design will help users navigate the site, with ease and find required information rapidly without exerting huge efforts.
If you want to learn more about how you could capitalise on new website trends for this year, speak to a member of our award-winning design team today.
Website design trends you won't want to miss out on