Tell us about your experience to date and your background
I was a journalist and news producer with CNN for eight years before making the jump across to The PHA Group.
The access to big international stories and business leaders at CNN was amazing and I was very lucky to work on some massive stories including the Russian annexation of Crimea, the growth of ISIS in Syria and Iraq, a Royal wedding and I was outside Downing Street for a couple of elections and referendums too!
After years on the road travelling all over the world, I came back to London and thought I wanted to work in communications and step to the other side basically.
Business has always interested me, and I thought I could be successful if I moved across taking with me my journalistic knowledge, international background and applying it to help CEOs, businesses and private clients navigate the media.
What was it about The PHA Group that enticed you over other agencies?
The work that the agency is most known for was the real appeal. Phil Hall is known as one of the best at crisis and reputational PR and I thought that my skill set could probably adapt to this type of work and I could add value to the business. When you are a journalist you never truly get to see behind the curtain, and I wanted to be in the room with clients from the start and to know exactly what was going on and how I could help. For years I saw first-hand how journalists and editors could misreport, jump to conclusions or turn a blind eye to some facts but zero in on speculation to suit their audience or own needs and the work at The PHA Group lets you sit as the broker of trust to make sure balance and the truth is there.
What is it about litigation PR and communications that interests you?
I have always been fascinated by the law. Building an argument in legal terms is the same as building one in journalism or communications and digesting complex matters and distilling it for an audience who may read the Daily Mail or The Sun can be a real skill.
More and more legal teams and their clients are looking to build comms work into their long-term litigation strategies. Often clients are with their legal teams and want to win in the court room and neglect the media or public opinion but as we have seen time and time again the influence of public opinion around cases and the media's effect can really add a context around litigation that can leave a lasting impression.
Whether it be a divorce case, a personal dispute or a corporate fraud case, a considered communications strategy can help the press take a stance and be the judge and jury for public opinion.
Some interesting projects must come across your desk
There is never a boring day that is for sure! The scope of the work at The PHA Group is always varied. Whether that be working with a legal team and an individual on a blackmail case, providing strategic counsel for an international hospitality group in a crisis or working with private clients and HNWIs on campaigns going through the courts or just to avoid intrusion into their own personal lives.
What has always struck me is a certain degree of naivety at how the media works from some clients and their teams. Our value is to consult and advise and take the lead to get the best outcome. Many think they do not need PR help because they don't want to be in the papers but like it or not the media finds them or a report is published without their knowledge and then the emails flood in from interested journalists looking for the story.
What is the most rewarding aspect of your job?
When I am working with a client in a high-profile situation, perhaps under close media scrutiny, and I feel I can use my experience to advise them and help them navigate it then that can be very satisfying.
We all need to bring something to the party when we sit around the table and if I can devise a strategy that isn't linear but looks at different stakeholders, impacts in foreign jurisdictions or simply advise on how this will play out in the media from their point of view that perhaps client's advisors, employees or legal teams are slightly hesitant to tell them up front then that is rewarding.
If you would like to find out more about what Alex and his team do at The PHA Group then find out more information here or contact our team for a chat today.
Meet our people; Alex Felton
Promotion and protection: the promise of coverage is often a key selling point when prospective clients are seeking out a PR agency, but when you're putting your head above the media parapet, I would argue that brand protection and reputation management should be a more critical consideration.
A celebrity when they have a TV programme or album to push, a business that wants to spotlight its latest life-enhancing innovation, a charity that may wish to create some buzz around its latest campaign…'Promotion' will often be the primary consideration when a client hires a PR agency. Delivery, column inches, blanket coverage that all lead to engagement and conversion, that heighten the public's proclivity to invest time and money in a person, product, or brand.
All is well and good when the exposure is positive. But what about the element of 'Protection' when things don't quite go to plan?
As specialists in Crisis and Reputation Management, The PHA Group would argue that the element of 'Protection' is equally paramount, if not greater. Whether you are a person of profile that has made a very public mistake, an individual of influence with a ticking time-bomb of a skeleton in your closet or a business operating in a 'high risk' sector, you need to be proactive and pre-emptive.
When considering PR options, you need to make sure that you instruct an agency that has a dedicated and specialised Crisis and Reputation Department. It is a decision that will pay dividends and give you unparalleled peace of mind.
Every PR agency will attest to having the best media contacts book and creative minds in the business. But not all of them have decades of experience in helping their clients to navigate the media minefield.
The media largely shapes and informs the court of public opinion. The media can make or break you. Fall afoul of the media and a reputation that took a lifetime to build can be shattered overnight. And the immediacy of social media has only fueled the extent to which negative coverage can snowball.
You could be the manager, lawyer, or agent of a household name who has been caught doing something they should not. They stand to lose their job, their lucrative endorsements axed. You could be the CEO or Communications Manager of a business, stung by a product recall or a whistleblower that kills all consumer confidence in your brand. Whatever the scenario, if you are being scrutinized and attacked by the media, or indeed, are fearful of potential scrutiny and attack, you need to act quickly.
Do not think you are immune and impervious to a line of inquiry from the media. Do not waste time and let the situation fester to the point of no return. And do not presume you have the experience to go it alone.
Instead, hire an agency with the best Crisis and Reputation Management credentials who can think ahead and deploy the necessary preventive measures and strategic steps to prepare their clients for any worst-case scenario. Go-to fixers, on hand 24/7, who can protect the reputation of an individual or company should a crisis ever break. The perfect insurance policy.
The Media, Crisis and Reputation Department at The PHA Group offers a suite of crisis and reputation management services, depending on the nature of the reputational brief and what we as media experts determine to be the best course of remedial action for our clients.
We are constantly attuned to the news agenda, which means we are constantly attuned to what the public is thinking and feeling. Our fingers are always on the pulse of public perception and this is crucial when it comes to fine-tuning the key messaging of our clients and informing and shaping their statements to the press. We understand all the sensitivities and complexities.
As former journalists ourselves, we're perfectly placed to prepare all our clients for any contact with the media and our in-house Media Training combines top-level theory from some of the most respected former national newspaper journalists in the country.
And because we have worked with the editors of all the national newspapers in a previous life, we have a direct dial to every one of influence in a broad cross-section of media. When we call them, they listen, giving us greater leverage to stem and correct any misinformation in the media and reclaim control of the narrative. Time and time again, we set up safe and controlled interviews with only the most trusted of journalists so that our clients can set the record straight in their own voice, on their own terms.
If you are risk-averse, operate in a high stakes sector, in the public eye, already in the throes of a crisis or if you simply want to safeguard your business and brand from a future crisis – warrant careful consideration to the above and hire boutique Crisis and Reputation specialist to promote and protect you.
Reputation management advice: promotion and protection
A public relations (PR) crisis can cause irreparable damage to the reputation of any business. There are many scenarios that can occur, whether you're a large corporation, individual or multi-national organisation. We specialise in mitigating risk for you and your business and providing an on-demand crisis and reputation support solution that's discrete, effective, and professional. We offer a crisis 'insurance policy' of sorts which means that you and your business are prepared for any eventuality and can continue business as usual.
How can we assist you?
Advice on how to mitigate negative publicity
Preparing, drafting and issuing press releases and handling media enquiries 24/7 on the client's behalf
Guidance documents on how to protect you and your company
Expert media training for both broadcast and newspaper interviews to prepare your key spokespeople for interaction with the media
Not sure a public relations insurance policy is for you? Here are just some examples where our team of experts can support.
Poorly planned marketing
Marketing and PR are essential requirements to help grow your business. Sometimes your marketing efforts can backfire – even if you had the best intentions and never anticipated it becoming an issue. Whether it is a mis-use of terminology, a Freudian slip over social media, or simply an image that has been taken out of context.
For example, high-street fashion store H&M came under fire in January, when the company released an advert featuring a young black boy wearing a hoodie that featured the phrase, "Coolest Monkey in the Jungle." The media covered the issue extensively and quickly found that this wasn't H&M's first incident. The PR and media backlash was extensive and detrimental to the brand's reputation.
In many cases, their business reputation did bounce back after an initial plunge in sales and reputation. However, it can take expensive compensation packages and extensive resources to resolve the situation.
Product recalls
Our top tips during a product recall are simple.
Take responsibility: When sending your statement be transparent about what happened
Act immediately: Don't waste time, the situation could potentially escalate so act quickly
Be candid and compassionate: Say sorry to your customers, own up to your mistakes
Cooperate: Work with the people affected and your communications team
Use every means possible to communicate information: Think about this as a marketing campaign, you need to get in touch with every possible customer so use all your channels available to you
Product recalls can be a large drain of resources for your in-house communications teams. Ensuring your crisis and reputation policy and plan is being executed in conjunction with the situation can be a concern as well. Working with a specialist team who can act immediately and action that process for you is imperative to reduce reputational impact, avoid injuries or accidents with customers and ensure you have reached your core demographic and their network instantaneously.
Fashion store Primark had to recall three types of their men's flip-flops containing dangerous levels of a cancer-causing chemical last year. Primark came across really prepared and were quick to make their announcement. The interesting thing about the incident is that neither the information on the corporate website or the media statement says what the issue was. A better approach would have been to be open and clear about what the chemical is and what the risks are to customers. Being transparent and demonstrating action is a key part of responding to a product recall and shows that an organisation is taking the situation seriously.
High-risk territories
Does your brand operate in high-risk territories? When a brand or business must travel to various parts of the world there is always an extensive risk assessment put in place to ensure the safety of employees and guests and what to do if there were an incident. But in those plans have you thought about your media relationships? How would you communicate your side of the story, and how can you showcase to the public and those affected what you are doing to rectify the situation? That's where a clear crisis communications strategy comes into its own and experts on hand to deal with your situation 24/7.
Injuries and accidents
One possible issue that could develop and become a major PR crisis is if your products cause injury or illness to your customers or an employee, or if a contractor has a detrimental accident on your watch.
For example, in these types of scenarios reactions to issues can range from customers complaining to friends and family about your business, taking to social media and forums to raise their concerns to severe reactions, such as seeking legal action to reimburse medical costs or to receive compensation for their discomfort.
In these cases, it is imperative to demonstrate steps are being taken to resolve the situation, prevent any future problems, and of course negate some reputation damage.
Personal information
The introduction of the GDPR legislation in May 2018 has made some businesses across the UK nervous of the impact on their business if there were a breach. Not just monetary issues can occur, but the risk and damage a data breach can cause to the reputation of a business.
That was the case for BT who were fined £77,000 by the ICO. Between December 2015 and November 2016, BT sent 4.9 million emails about its fundraising platform My Donate, Giving Tuesday, and Stand up to Cancer.  The ICO said that these communications were marketing, rather than messaging, and BT did not have consent to send them.
Handling customer feedback and inquiries and monitoring the 'noise' of the incident on social and in the media can be difficult. Our specialist crisis social team can work alongside your in-house teams to rectify the situation, whilst our PR specialists help you deal with media inquiries and publishing statements to those affected.
All smart businesses plan, and crisis management is no different; prevention is better than cure. We deploy a suite of services to manage and maintain your crisis and reputation. Contact us today to find out how we can work with you and your business.
Your crisis and reputation 'insurance policy'
Your privacy and reputation have never been more prized assets. We live in an age where the internet and social media has made finding out information about individuals and businesses easier than it has ever been before. Anyone, including journalists and newspaper editors, can discover background information through a quick online search or look across Facebook, Instagram and LinkedIn. When the press run a story about someone their digital footprint can remain online for everyone to see. We all have the right to a private life but during times of legal action, disputes and open court reporting, it has never been easier for the press to build a story so quickly, no matter if it is entirely accurate or not.
Over the summer, I was asked to provide an initial consultation for a prospective client to see if we could help supplement the instructed legal team and provide adequate communications support with several upcoming court dates. The other side had already engaged with the press ahead of time and the narrative had already been set in a couple of publications with their side of the story. After we came away from the initial meeting, within 48 hours our client already had a handful of journalists from leading national newspapers requesting comments out of the blue. We came on board straight away to help right the conversation and highlight the truth that was to be conveyed in court. The client couldn't believe how quickly these journalists jumped on the story after one piece online had been published, but now all it takes is one tweet, one story and the ball can start rolling, and roll quickly.
It is no longer just the UK where the media can get their teeth into a story. The global media interest in a case can be ferocious as businesses and individuals are increasingly operating and travelling across the globe. As they do so, the demand for international commercial courts to serve them has also grown. The supply of court services has risen to meet this. More and more we see disputes being taken to the courts in London, under English law, as the English common law system has been exported to many countries. Even with the UK exiting the EU, the English court system has never been busier hearing cases with an international element.
Increasingly we are asked to provide discreet, strategic and practical advice to our private clients and business owners who today face ever-more complex digital, media and regulatory challenges. Our team puts together bespoke support for challenging disputes and our international network of media contacts stretches to multi-jurisdictional environments, so our client's messages and stories are portrayed accurately whether it be in the USA, Italy, France or right here in the UK.
The long process of building a legal argument can all be misrepresented by reporting in the public eye that frames the case in a certain light that may hinder the overall strategy and objectives. It is paramount to set the tone and make sure the correct messaging is portrayed to the media as it will undoubtedly remain on the internet for years. The old adage that today's news is tomorrow's fish and chip paper no longer holds true in 2019.
Privacy and Reputation: Today's news is tomorrow's fish and chip paper
At approximately 11pm UK time on Thursday evening – late afternoon in the States – Jeff Bezos published a cluster-bomb of an article that could have ramifications reaching from the oil fields of Arabia to the Oval Office of the White House.
From the outside, it reads like a popular commuter thriller: the world's richest man gets blackmailed by a giant media corporation, with alleged support from the President of the United States. Said richest man turns the tables and retaliates with far-reaching consequences that involve a tyrannical middle-eastern state, a murdered journalist and a corrupt-beyond-belief White House.
If anything, the reader would likely dismiss the story as far-fetched and completely beyond the realms of possibility. But yet, here we are. It's 2019 and I'm about to share my thoughts on a plot concerning the richest individual on the planet, an extortionate media company, a cornered President and a despotic oil-state.
From what we know so far, there are several sub-plots to this scandal, each as fascinating as the next. I'll begin with the one closest to home – we do work in social media after all: the decision by Bezos to self-publish a retaliatory 'bare-all' account of the scandal.
In order to expose the National Enquirer and the AMI, Bezos has had to expose himself: the admission that there exists 'nude selfies' of the billionaire as well as private texts that could have damaging consequences to his divorce battle, which is at the heart of his expose.
The manner of the article, from its prose that is wholeheartedly personal and far from polished, to the weight of accusation, is extraordinarily frank.
"If in my position I can't stand up to this kind of extortion, how many people can?".
What is more intriguing is Bezos' decision not to traverse the classic PR or communications route: consulting publicists and professionals, composing a bullet-proof statement that contains the top-level facts, and seeding it through a popular media title.
Instead, Bezos decided to self-publish a blog post on Medium, an online publishing platform, and break the story with a nondescript tweet:
Within hours, both the tweet and the article were shared around the world several times over. It has hit the front page of global media titles, from the New York Times to the Guardian. It has amassed close to 100,000 social actions on Twitter and the article itself has been 'applauded' 115,000 times on Medium.
In short, Bezos has taken control of the narrative and manipulated it to the extent that he has engaged an audience in ways that traditional media would struggle to replicate. It's arguably not the correct way to conduct yourself during a major expose of your character, but it's an incredibly brave and confident approach.
When you're worth $170 billion and possess real power that rivals even that of the man in the Oval office, I suppose you can take such risks.
In doing so, Bezos has pulled the covers off a media corporation that uses the power it possesses in its most crude form: to cow an individual into submission and tow him into line with the threat of leaking private photos. Nobody, not even the richest man on the planet, should be subject to such treatment
More, he has empowered others to do exactly the same. Since he published his article on Medium, other public figures have stepped forward to share their stories and lift the lid on dirty tactics undertaking by the National Enquirer and AMI.
In Bezos' own words: "I prefer to stand up, roll this log over, and see what crawls out."
One can just imagine the panic that is setting in certain offices across the globe, from New York to Riyadh and back to Washington.
Bezos' taking control of the narrative that has several subplots
By Salma Yehia
In a digital age of social media, the public has taken on the role of judge, jury and executioner. A person's reputation now hinges upon a single social media status. Brands are constantly striving to gain attention. However, their attempts don't always work out quite how they'd hoped. In no particular order, we've taken the time to compile a list of some of the biggest brand faux pas of 2018 thus far.
Elon Musk
The CEO of Tesla, Elon Musk, has once again found himself in hot water. In a comment made on Twitter, Musk called British caver Vern Unsworth a "pedo guy". The tweet was later deleted, and Musk issued a public apology.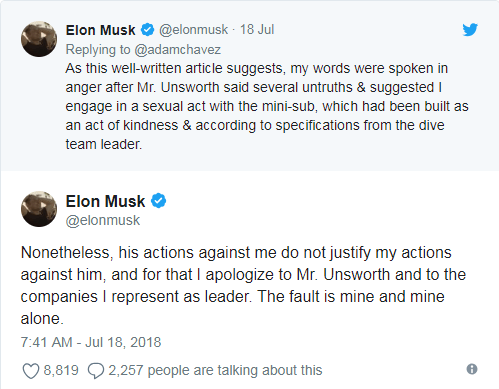 2. Alan Sugar
Lord Alan Sugar made a controversial tweet regarding the Senegalese World Cup football team. The tweet featured a photoshopped image of the team standing in front of counterfeit goods: "I recognise some of these guys from the beach in Marbella. Multitasking resourceful chaps".
People immediately took to Twitter to express their horror, branding his tweet 'racist'. Sugar initially responded with a series of tweets: "…it is meant to be funny…for god sake" and "I can't see what I have to apologise for… you are OTT…it's a bloody joke." He later took down his tweet – "just been reading the reaction to my funny tweet about the guy on the beach in Marbella. Seems it has been interpreted in the wrong way as offensive by a few people. Frankly I can't see that, I think it's funny. But I will pull it down if you insist."
In a matter of minutes since his previous tweet, Sugar took to Twitter to issue another, less cynical, apology.
3. Ryan Lochte
Olympic swimmer Ryan Lochte accepted a 14-month sanction after he posted a picture on Instagram of him and his wife, receiving an intravenous drip.
According to the US Anti-Doping Agency, "intravenous infusions or injections in excess of 100 ml within a 12-hour period received in any other setting require an approved TUE. If a prohibited substance is administered intravenously or via injection, a TUE is necessary for this substance regardless of volume. Administration of IV infusions over the WADA volume limit, including dietary supplement and vitamin cocktails, provided to athletes for recuperation, recovery or lifestyle reasons is prohibited at all times without prior TUE approval. In situations of medical emergency, a retroactive TUE application pursuant to the International Standard for Therapeutic Use Exemptions is acceptable."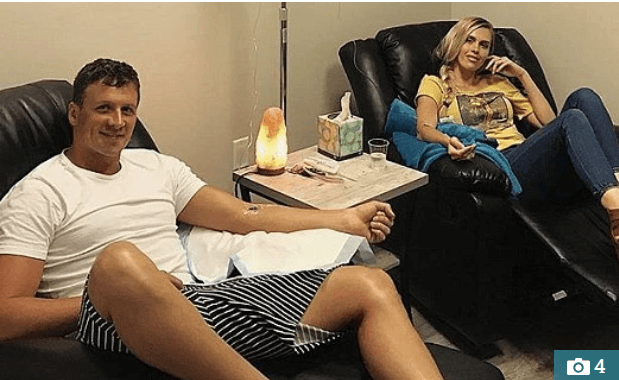 4. Kim Kardashian
The social media star has been accused by fans as having photoshopped her Kimoji perfumes into old pictures. Kardashian fans first spotted the uncanny similarities between the two images when Kim posted it on her Instagram account. The reality star certainly wasn't shy about recycling her old images. The original post featured Olay's Regenerist Whip and appeared to be replaced by the Kimoji Cherry perfume.
The original post                    The photoshopped post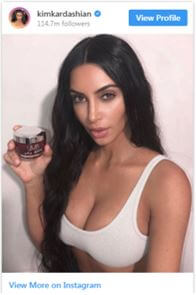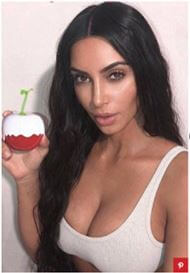 5. Lorde
The singer shared a photo on Instagram with the caption: "And iiii will always love you", which appeared to reference the 1992 Whitney Houston song. Lorde received a huge backlash soon after posting the image. It attracted such an adverse response because Houston drowned in a bathtub in a hotel suite at the Beverly Hilton hotel in California. Lorde took to Twitter to post an apology, saying: "I am SO sorry everyone this was a deeply poorly chosen quote about my love of bathing. I was meaning no disrespect and hadn't put anything together because I'm dumb and it's my day off. SORRY".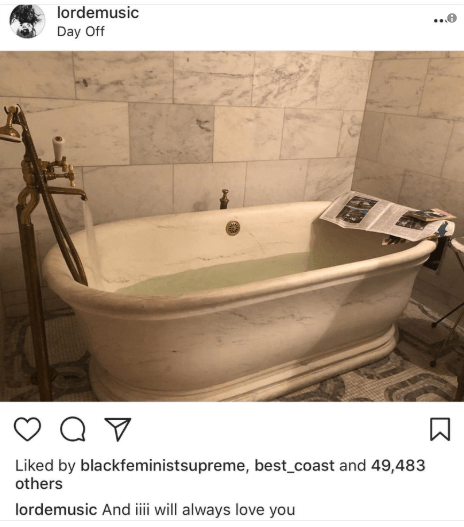 6. Snapchat
It's no secret that the app has been in major decline in recent months; their latest stunt has made them even more unpopular amongst social media users. In March 2018, Snapchat ran an advert which appeared to reference Rihanna's domestic violence experience. In 2009, Chris Brown was convicted of domestic violence against Rihanna. The advert for a game called "Would you Rather?" asked users if they would rather "slap Rihanna" or "punch Chris Brown".
Snapchat pulled the advert, claiming it was "reviewed and approved in error, as it violates our advertising guidelines", adding, "We are sorry that this happened". Rihanna took to Instagram to respond to the advert: "Now SNAPCHAT I know you already know you ain't my fav app out there! But I'm just trying to figure out what the point was with this mess! I'd love to call it ignorance, but I know you ain't that dumb! You spent money to animate something that would intentionally bring shame to DV victims and made a joke of it!!! This isn't about my personal feelings, cause I don't have much of them…but all the women, children and men that have been victims of DV in the past and especially the ones who haven't made it out yet….you let us down! Shame on you. Throw the whole app-ology away".
With all these shocking blunders, we've made a list of our top tips to help you avoid these mistakes:
Proofreading: Before posting anything, take a few moments to check your post for typing errors, particularly spelling and grammar mistakes.
Factual inaccuracies: Fact check your post to eliminate any inaccuracies.
Think holistically: Approach your post from different angles and consider whether it could be interpreted as being offensive.
If you want to know what we can do for your business, get in touch and make an enquiry today.
Top six social media blunders of 2018
Our experts have helped countless high-profile individuals and businesses salvage their hard-earned reputations online, offline or both. We deploy a suite of specialised personalised services to defuse crisis, mitigate further risks, take legal action if necessary and create a new, positive media narrative.
Read on to find out how our team of experts supported Sir Cliff Richard during his battle with the BBC following the live broadcast of a raid on his home in August 2014.
The Brief
To protect the reputation of Sir Cliff Richard and ensure the public – globally – were being told the true story of Sir Cliff's innocence and his battle to clear his name. We deployed a multi-pronged approach using public relations techniques and legal assistance to defuse crisis, mitigate further risks, and create positive media narrative to manage Sir Cliff Richard's reputation.
Our Strategy
To tell the public the true story of the so-called Cliff Richard Investigation – that Sir Cliff, following collusion between the BBC and South Yorkshire Police, became the victim of some media and police "sweetheart deal" which resulted in him being named as being under investigation during a live broadcast of a raid of his apartment.
Build a "fight-back" narrative to reassure the British public – and protect the reputation of Sir Cliff Richard
Ensure the message of an unprecedented situation was communicated clearly, accurately and compliant with current journalism law
Secure opportunities with key media outlets to communicate Sir Cliff's side of the story
Support and manage the PR for the litigation against the BBC
Create a campaign that would have longevity and reduce the impact on Sir Cliff's career
Our Method
After receiving notice of the police raid and the BBC's attendance, a crisis team was formed at The PHA Group consisting initially of Chairman, Phil Hall, and former national newspaper journalist Neil McLeod.
From the outset, the strategy, via a public statement released on behalf of Sir Cliff, was to underline his shock at the BBC being on site as his home was raided – and to deny any wrong-doing. The integrated strategy which followed was designed to help the wider team get on the front foot and combined cut-through personal reputation commentary, insightful personal experience pieces and news agenda reaction to help push-back on false perceptions of Sir Cliff and underline the truth – that he is an innocent man fighting for his own rights.
The team worked in partnership with Partners from Michael Simkins LLP, Sir Cliff's media lawyers, to ensure that events and details were reported accurately, and that falsehoods were corrected or stopped, or not given oxygen. Neil and Phil's intimate knowledge of the media played a key part in their successful negotiations to ensure Sir Cliff was fairly represented and the record was set straight, with the strategy of being approachable and open with the media being important.
Former award-winning journalist and PHA consultant Phil Taylor was also brought into the account team alongside Phil Hall to coach Sir Cliff to handle tough media questioning he would inevitably face once the investigation was dropped.
Reactive news agenda placement was deployed, for example, in response to reports that Sir Cliff had been banned from the US, our team arranged pictures of him rehearsing in Nashville for his upcoming tour. These were printed by national media outlets. Allegations claiming Sir Cliff had poor health were also reported, so we launched into action, securing six images of Sir Cliff on page 3 in The Mail on Sunday, showing he was in good health and continuing his life as normal. Other media outlets soon followed suit.
Following the BBC story, a media environment was created where many publications seemed to believe it was "open season" to report on Sir Cliff's life. Our team ensured accurate reporting by the Mail on Sunday and secured a Page One story showing he was fighting for his reputation and his rights following the unprecedented attack on his privacy.
Throughout the campaign, PHA received a plethora of story inquiries, almost on a weekly basis, which arose from false allegations – many of them outlandish – and working with the team to prevent publication or amend stories.
We also secured expert thought leadership consultancy in both the national and international press about privacy legislation, correct terms of events and spokesperson commentary to raise awareness among the public, media and Sir Cliff's fan base. Our team arranged an exclusive interview with The Daily Mail, a key demographic and the largest circulation in the middle-market, as well as a personal one-to-one interview with close friend Gloria Hunniford on Loose Women. PHA also worked with Cliff and his music company to facilitate positive interviews – and manage messaging – around positive events for Sir Cliff, such as record releases and his sell-out birthday concerts.
Following confirmation of Sir Cliff's legal action against the BBC, PHA provided support throughout the litigation, helping to engage with journalists and help provide messaging to correct misconceptions on the nature of the litigation and Sir Cliff's reasons for going ahead with it.
The Result
We harnessed our strategic approach to rally Sir Cliff's fan base and close friendship group; we reiterated his status as a national treasure in the media and public eye.
Our team established excellent relationships with journalists, ensuring over 150 articles with false allegations were either retracted, amended or we provided a comment, so we could successfully manage Sir Cliff's reputation.
We established positive awareness and positively shifted assumptions about Sir Cliff's reputation in the media.
He enjoyed a series of sell-out shows at The Royal Albert Hall and Greenwich, as well as releasing a Greatest Hits album that shot to number 1.
South Yorkshire Police settled with Sir Cliff Richard and admitted in a statement to the High Court that they acted unlawfully.
The BBC mounted a defence against Sir Cliff's privacy action against him. In April 2018 the court heard how they used a helicopter to live broadcast the raid on Sir Cliff's home after "strong-arming" South Yorkshire Police with information they had on the early stages of the investigation.
Judge, Mr Justice Mann, delivered his judgment on Wednesday 18 July awarding an initial £210,000 in damages.
We fostered and maintained positive media relations across the board with journalists against a background of challenging issues for them with regards to reporting and some misconceptions over press freedom in relation to the litigation.
Do you need an immediate short-term plan to deal with a problem or situation and a long-term communications strategy to rebuild your profile? Do you also need the help of experienced professionals with strong personal relationships, who can provide sound judgement? We offer all of this and more. Hire the best team to fight your corner. Contact us today to find out more.
Fighting for the truth: preserving the reputation of national treasure, Sir Cliff Richard
When controversial entrepreneur Elon Musk waded into the Thai cave rescue drama, some praised his good intentions – but far more branded him a shallow attention seeker.
The world exhaled a collective sigh of relief that all twelve Thai boys and their football coach had been rescued from the cave. But there was also an arched eyebrow pointing in the direction of the Tesla mogul.
Responding to the unfolding story, Musk commissioned a child-size submarine from his company SpaceX and live-Tweeted his support.
Unfortunately, the submarine was not fit for purpose and impractical for the rescue mission.
Although his intentions behind the mini-submarine were undoubtedly good, the misjudgement showed that there was a lack of proper research and knowledge of the situation.
Some sceptics branded his actions "unhelpful" and "self-aggrandizing" as it moved the spotlight away from the international rescue team of divers, including the Thai hero who lost his life.
After Musk left the submarine behind, one person Tweeted "this is the narcissistic billionaire equivalent of dumping a fridge in a public park."
In short, it was seen by many as a callous PR stunt capitalising on a perilous situation in which a number children could die.
Not all the reaction to Musk's offer of assistance were negative.
A spokesperson for the Thai Prime Minister diplomatically said he was "highly appreciative" and "very touched that Mr Musk had personally travelled to Chiang Rai Province to offer assistance, especially with his ingenious solutions."
The president of FIFA, Gianni Infantino, is an example of how to get involved in a disaster in a less contentious way.
He personally invited all the boys and their coach to the World Cup final in Moscow on Sunday.
It was a feel-good gesture that showed FIFA was engaging with the situation without attempting to get directly involved in the disaster relief effort.
Sadly the boys were not fit enough to attend, but the gesture was still appreciated.
It is common for businesses or powerful individuals to offer to help when disaster strikes because they have the means to support.
But however well-intended the gesture, there is always a risk it will be viewed as having an ulterior motive. It's essential to carefully consider how the action will be perceived.
After the Boxing Day tsunami, Coca-Cola converted its soft drink production in Sri Lanka to provide bottled water and then used its delivery trucks to distribute the bottles to victims.
Here, Coca-Cola used the operation chain and resources that it already had in that part of the world and turned its attention to the disaster at hand. A simple but incredibly important and effective gesture.
No one can say for sure that there were bad intentions behind Musk's gesture of support, but the execution and delivery came across as crass. It was exacerbated by Musk's stream-of-consciousness style delivery on Twitter.
The public and media response can turn on you if there is a hint of suspicion that your support is self-promoting – as Musk has found to his cost.
If you would like to know how PR could benefit your online reputation then please contact us today and speak to a member of our award-winning team.
Musk out of his depth in Thai cave PR fiasco
When it comes to the business planning lists for 2015 drawn up by CEOs and Managing Directors, preparing a reputation management response probably does not feature.
Why should it? There are more pressing matters to deal with for the future growth and success of a company to concentrate on over the next 12 months.
Investment in talent and tech, development of ideas and contacts and the drive for new business may all be considered far more important, particularly as the country continues on the road of recovery.
Crisis management can represent the ugly side of running a business.
With the gloss still gleaming on the New Year, business leaders can be forgiven for not wanting to darken their door with thoughts of how they could be attacked in the media over events taking place at the company.
Some may even believe that a media crisis cannot be planned for, that punches can be rolled with and when and having a strategy in place makes no difference.
The truth is, a jarring as it is, considering what you and your company would do in the face of a media storm is a business imperative.
The reason for this is a crisis can affect all of those planning elements which are referenced above.
If the answer to the question "Do we have a crisis plan?" is 'no', now is probably the time to address it.
If you don't have a crisis plan, you can't answer the most important question: What do we do, or who do we call, in a crisis?
While crises can differ, the truth is, most can be planned for in advance.
Crisis and reputation management is a Public Relations discipline which requires expertise and part of that expertise is the planning process.
With scrutiny of businesses at an all-time high, it is no good to simply believe a crisis won't affect you.
No business runs completely smoothly. True, not all situations will lead to a media crisis, but it is worth being prepared.
To help prepare for 2015, below is a five-point checklist which we advise business leaders to consider:
1: What is on the horizon for 2015 which may trouble you in dealing with? Do you have any potential issues with employees, suppliers, products or business deals which you feel may escalate?
2: What interest has your company had from the press and media? You may have been fortunate enough to have been written about in the national press. This raises your profile and makes smaller matters more interesting. Even if you have not experience national coverage, your trade or regional publications might be interested in a negative story on you. Some of the most damaging stories can come from regional and trade publications as they are the ones closest to your business.
3: How would you communicate with other stakeholders? This includes your employees. Do you have a plan for internal communications in the event of a crisis?
4: Who you will call for external advice? Often, a third-eye is needed when forming a plan and managing crisis response. External consultants have the knowledge and expertise to deal with all manner of media crises, and their expertise comes with the ability to be more objective than a team which may be more emotionally tied up with the situation. They can also provide a barrier between you and the media.
5: Don't be scared to ask for help in planning for crises. You may never need to activate the plan, but it is preferable to have one and not need it, rather than the other way round.
Are you prepared for a PR crisis? Five steps to protect your reputation in 2015
Fame is a transient construct. You can never get too comfortable in the world of showbiz. One minute you're at the top of your game…a critically lauded album at Number one, a movie dominating the international film charts, a tour that's filling stadia all over the world…but all it takes is one flippant, off the cuff remark, one poorly thought out comment to create a ripple effect that changes the tide of public perception.
In a split second, you can fall from hero to zero and the media turns from once 'making you' to now 'breaking you'.
---
Click here for reputation management advice from leading crisis PR experts
---
We're all human, we're all guilty of making impulsive remarks and this is why the wisest of celebrities grasp the importance of retaining clued-up PR and crisis management advisors. So when their own actions engender a negative, critical response, their media advisors can tailor an appropriate mea culpa and create lots of new positive press to displace the negative that's doing the rounds.
As we ease ourselves into 2015, I wanted to reflect on five high profile individuals whom I feel could benefit from a spot of attitude adjustment in the New Year. Individuals with real talent and something to offer who could win over a lot more people if they simply warrant a little more thought to the words they put out there.
Number one: Katherine Heigl
In a recent interview with The Hollywood Reporter, Queen of Thursday Night US TV Shonda Rhymes made a telling remark. Referring to the most watched drama on US network TV at the moment, she commented that "there are no Heigls" allowed on the set of Scandal. A reference to Katherine Heigl, who starred in Rhymes' first TV smash, Grey's Anatomy.
A landmark character back in the early days, speculation was rife when Heigl left the show. Was her refusal to throw her name in the hat for Emmy consideration interpreted as a negative indictment of the material she was given on the show? Or did she think she was too big for the small screen now her movie career was skyrocketing? Heigl's negative image, however, escalated incrementally after a highly publicised interview with Vanity Fair, in which she talked about the movie Knocked Up.
Widely considered to be the film that propelled her to A-List status and an A-List salary, Heigl branded the movie "a little sexist", claiming that the film "paints the women as shrews, as humourless and uptight, and it paints the men as lovable, goofy, fun-loving guys".
Heigl's comments catalysed a media storm with people attacking her for seemingly biting the hand that feeds her. But, for every mistake, there is a potential for growth, and Heigl responded very graciously to the recent Rhymes interview, expressing her hope that she can change the acclaimed producer's opinion of her.
Back on TV with new NBC espionage thriller State of Affairs, Heigl is clearly an intelligent, gifted and highly capable actor and producer. She just needs to choose her words more carefully so she doesn't alienate future employers!
Number two: Shia LaBeouf
I think people USED to think that Shia LaBeouf was pretty well adjusted for a former child star. And the Hollywood studios certainly approved his transition to leading man status when his movies began to open at number 1 at the box office. Lately though, the strange behaviour has proven a little hard to ignore. Stepping out in public with a bag over his head scribed with the words 'I am not famous anymore', prompted many to question what the hell was going on.
Then there were plagiarism accusations and most recently he interrupted a performance of Cabaret by smoking, shouting at the cast and patting star Alan Cumming on the backside! When the police were called, LaBeouf allegedly shouted, "F#!* you…This is f#!*#!*bulls#!* Do you know my life? Do you know who the f#!* I am?".
Behaviour like this will catalyse m,. the big studios into thinking you're a liability…and if you're perceived as a liability in Hollywood, your job prospects will suffer. A bit of time out to recalibrate will certainly do LaBeouf the world of good right now.
Number three:  Reese Witherspoon
I love Reese Witherspoon, I really do, she's a fine actor, she has masterfully immortalised some cracking characters on the silver screen in the past and Gone Girl proved that she has a formidable talent for producing really compelling material. But…I can't help but think that the quality and the integrity of the roles she has taken on in the last couple of years have been somewhat questionable.
The association that I'm making is that ever since she was arrested and charged with disorderly conduct for getting belligerent with the arresting officer, the movies she has starred in seem to be less talked about. Questioning the authority of the police officer wasn't a smart move, but asking him if he knew who she was!? A major celebrity faux-pas that comes across as insanely obnoxious. Reese apologised for her conduct but at the end of the day, a celebrity is a brand and the incident certainly damaged her brand perception. If celebs want to be top of the list when it comes to edgy, innovative and challenging scripts that are sent out by the studios, a little humility goes a long way!
Number four: Kanye West
You've got to laugh at Kanye West, he comes up with some classic one-liners: "I am God's vessel. But my greatest pain in life is that I will never be able to see myself perform live." (VH1Storytellers); "I am not a fan of books. I would never want a book's autograph." (Reuters); "And the thing is, for me to say I wasn't a genius, I would just be lying to you and to myself." (Jimmy Kimmel Live).
Up until fairly recently, Kanye has always been able to justify the egotism because of the quality of his music. But the combination of a heavily-flaunted marriage with Kim Kardashian and an ever-increasing arrogance and lack of modesty may have taken its toll on the fans' patience. The last studio album, Yeezus, in my opinion, was a cracking album! Audacious, experimental and different. And the rave reviews are totally warranted. But, one can't overlook the fact that the album did not perform as well commercially in comparison to his previous studio releases. The mixed reaction from the public is reflected in its sales. It debuted at the top of the Billboard but units shifted quickly waned and the sales figures marked his lowest solo opening week sales in the US.
Projected to sell half a million copies in its first week, sales fell below industry forecasts and label expectations. Sure, an alternative marketing approach, early leaks and internet piracy probably didn't help but at the end of the day, to stay relevant, mainstream and popular, you need to keep the fans – the people that spend money on your brand – onside. And a good attitude really helps.
Number five: Amy Pascal
I conclude my list with Amy Pascal, the Sony Picture Entertainment bigwig at the centre of THAT email hack which dominated the international news agenda at the end of 2014.
The hack caused considerable humiliation, not only to Pascal, but to Sony as an entire company. E-mails between Pascal and producer Scott Rudin were peppered with critical comments levied at Angelina Jolie, with Rudin referring to her as "a minimally talented spoiled brat".
The photo of Pascal encountering Jolie for the first time after those emails surfaced spoke volumes. Simply put, it was toe-curling, you could cut the tension with a knife. In another email exchange with Rudin, Pascal suggested that President Obama would especially enjoy the movies Django Unchained and The Butler. One can understand why news reports were quick to brand Pascal as "racially insensitive" and "racist". My advice to Pascal moving forward?
Well, actress Lisa Kudrow has hit the nail on the head in my opinion: "Don't write anything you don't want broadcast".
Five celebrities who must avoid a PR crisis in 2015