Tis the last long weekend of the year until Christmas, and we plan to make the most of it! If the British weather allows us to enjoy the outdoors what better way to celebrate the end of the summer than a perfect picnic.
We take a look at the best sustainable and ethical picnic accessories you can get this year to say goodbye to summer and look after the environment at the same time.
We've all heard of paper or bamboo straws, but what about wheat straws? Eco-friendly, 100% biodegradable and fully compostable at home, they would be the perfect feature for any picnic.
Although designed to be disposable after single-use, they will can be used for more than one drink and are great for cocktails, coffees, and soft-drinks. Even better, you can use them for hot and cold beverages, and they don't go soggy like paper straws do . Just Straw are giving the leftover stalks a new lease of life after they have been harvested for flour, grains etc, so no waste involved!
Wheat might be the new cool kid in town. After bamboo cutlery, let us introduce you the new trendy accessory for your picnic, the wheat cutlery set from Weety, a brilliant reusable alternative to disposable cutlery.
Light and compact to carry with you at all times and ditch single use plastic utensils, this set also comes with a box so you don't lose them or get them mixed up with the rest of your bag.
Weety was born when Miguel, the founder was looking for a perfect durable and eco-friendly cup for his morning coffee. As he could never find The One, he decided to invent it himself. In addition, Weety are members of 1% for the planet, which means they are donate 1% of each sale to the organisation to help save the ocean.
You might see this bottle every day, maybe all of your colleagues in the office are sporting them, as it seems that everyone has one these days! The Chilly's bottles comes in different sizes and various colours, with so many to choose from you wouldn't know which one to pick! What's great about this product is that it keeps your drink very cold or hot for a long time. We also like the fact that it comes in different sizes, so you don't have to carry a heavy bottle if you don't want to, you can opt for the smaller size one instead.
Chilly's was founded in 2010 by James Butterfield and Tim Bouscarle, with the aim of providing people with the ability to always have cold water on-the-go, without having to buy single-use plastic water bottles. In pursuit of their mission, Chilly's have now expanded their range including coffee cups, reusable straws and even a sustainable brush to wash your bottle. The brand is also partnering with famous designers as well with non-profit City to Sea, on their award-winning campaign Refill.
We love Black & Blum lunch boxes. They are simple but use the best material to store your food. Of course, the boxes come in different sizes and colours. Oh, and its leak proof, truly, which means that you can carry it in any bag without fearing ruining your bag. Cherry on the cake, the box is a 3-in-1, multi-functional lunch box allowing you to transport your lunch, cook dishes in the oven, and even store pre-cooked meals in a freezer.
Dan Black and Martin Blum met studying industrial design at Northumbria University. In 1998 they formed Black+Blum and based it in London. The company allowed them to express their passion and explore their originality for developing their own designs.
Would you like to know more about our services and how we can help your sustainable business, brand or product? Get in touch today to set up a call with our team.
Sustainable picnic ideas for your summer spread
Now that summer is nearly over, it's time to think about Christmas and what type of PR strategy you need to put in place. Yes, Christmas feels a long way ahead but 48% of UK shoppers have already started buying Christmas presents in July. And another majority will start buying theirs between October and November. But why should you launch a Christmas PR campaign?
When executed successfully, PR can offer a creative, results-driven approach that will help tell your brand's story and generate engaging media placements that talk directly to your target audience. We look at some of the methods and strategies our award-winning teams deploy to gain cut-through and deliver results for our clients during this festive time of the year.
Influencers
In today's age we are bombarded by choice. So, it's no surprise that influencers hold a lot of power in validating our decisions. This Christmas again, influencer marketing is going to help you take your campaign to the next level. Why? Because influencers are real people who we trust and respect, a vital tool in marketing a product given that their opinions can, and do, impact the behaviour of their amassed following.
In December, we were briefed to generate widespread press coverage for The British Library to showcase their membership scheme as a must-have Christmas gift for the season. To achieve this, one of the key activities was to work with a range of digital influencers, based in London. Partnering with key influencers including Liberty London Girl, Not such a Model Mum and Boo & Maddie was important to produce impactful content for British Library Membership and supported the campaign to position a membership as the Christmas gift for the imagination.
The British Library said:
The PHA Group supported us with our British Library Membership Christmas campaign. They were a delight to work with – super organised and results driven!  We gained some great coverage in a short period of time.

Senior Marketing Manager at The British Library
Events
Events, pop-up shops and press conference are in the heart of any PR strategy, especially for Christmas when people are looking for the perfect gifts for their loved ones. Organising an event to launch a new product or range can be daunting. PR agencies can effectively promote your event encouraging media to cover or attend it through excellent relationships and contacts, as well as creating a buzz of excitement by generating awareness and increase the number of attendees. When opening a pop-up store, you can also maximise your brand awareness. You'll face your customers and therefore will be able to test your products or services directly in front of your key customers.
Disney wanted to launch a new video game called Epic Mickey 2. Celebrating the forgotten characters of Disney, this game had the potential to appeal to both older and younger generations. To capture the imagination of our audience, we decided to bring the Disney magic to life through a once in a lifetime event. Taking ownership of a coveted space at Westfield, Stratford, we planned an event designed to cut through the noise of our competition. We brought an official Disney illustrator to draw the iconic characters and a virtual graffiti wall to complete the two-day event which was hosted by TV presenters Dick and Dom, ensuring entertainment for adults and children alike. With over 2,000 attendees, many of which were young families, the pop-up event was a huge success.
Digital
Whatever your industry, segment and audience, a big portion of your customers and leads have a digital footprint. Whether it's to re-enforce your image, create a stunt or promote a new product, social media should always be part of your strategy. From animated GIFs to cinemagraphs and motion graphics, we provide a complete digital solution to create impactful campaigns to engage with your audience. Our dedicated in-house specialists work with you to develop your strategy, and then manage every aspect of all your channels, from weekly content plans and content creation, to daily posting and scheduling through to news agenda or event reaction.
We worked with LaplandUK to position them as the only immersive, theatrical Christmas experience for children to uphold the real and traditional values of Christmas. Our goal was to secure high-profile celebrity visits to create a buzz around the venue on social media as well as raising their profile within key national press and media and consumers to gain top coverage across a variety of channels. Our campaign was based on bringing the magic of LaplandUK to life by enhancing people's understanding of traditional values of Christmas, the innocence of the season and its ethos. We approached A-list celebrities who have children between the ages of 2-12 and arranged for them to book a trip with their family to LaplandUK in exchange for a quote or social media post. We secured visits from the Beckhams, David Furnish, Emma Bunton, Simon Peg, Emilia Fox and Katie Piper to name a few. The campaign was extremely successful with the experience selling out within two-and-a-half-weeks of being open.
Gift guides & placement
Gift guides are a life saver for many people around Christmas, and all magazines are creating some to help people find the best present for their loved ones. So, it's no surprise that a gift guide is one of the most powerful tools you can have during the holidays. It allows you to showcase your products, inspire shoppers, and stay top of mind throughout the season. Often brands who have enjoyed placement in a gift guide can see a huge return in terms of an increase in website traffic and sales of the product mentioned.
We worked with Champagne Pommery to position them as one of the leading and most innovative champagne brands in the world during the festive season. To do so we placed Pommery Brut Royal Champagne within relevant Christmas gift guides including Marie Claire, Red, Woman & Home, Mail online. As well as Gift Guides, we also did some featured placement for the Champagne brands which generated opportunities for key spokespeople to write feature articles for relevant media titles, for example, we placed a feature article on '6 Champagne tricks to make your New Year's Eve party extra special' with Red online.
A PR agency can help you engage with the right audience helping you to create and implement a communications strategy for your business and brand ahead of Christmas. Get in touch now to see how we can help you.
How to "sleigh" your Christmas PR campaign?
Sustainability is everywhere, from beauty to homeware and now making a real impact to the fashion industry, but what about childrenswear? A few years ago, it was very difficult to find a brand that would be good for the environment, sustainable and still look, well, fashionable. Today more and more brands are emerging around the world combining pure material, clever design as well as long lasting clothes.
Children are the biggest clothes wasters of all time; they grow so fast and usually wear a piece of clothing for a few months before having to switch to a bigger size. We're looking at clever companies creating innovative clothes for your little ones to help tackle the impact on the environment and sustainability issues.

Petit Pli is a wearable technology company based in London aiming to dress the future generation. The company has been founded in 2017, by trained aeronautical engineer Ryan Mario Yasin and is inspired by Ryan's background to stop wasting children clothes.
The concept of Petit Pli is built upon using materials sustainably. The company's designs significantly reduce waste, and CO2 emissions at the point of production, distribution and after purchase. Their garments grow up to seven sizes – so instead of buying seven pieces of clothing, you'll only buy one! As well as reducing waste, Petit Pli suits are made from recycled fabrics & have a mono-fibre construction – allowing them to be recycled easily at the end of their use.
Looking at the weather this week, this collection of outwear would be really handy for your little explorers. Launched this summer, this new collection of lightweight jackets is all made from cutting edge recycled fabric. Not only are they good for the environment, they are also 100% waterproof and come in two different print. The collection includes jackets, fleeces and trousers and are all great for cold and rainy days.
It's not too expensive neither to buy this fun outdoor jacket, and you can wash it anytime, as we know the explorers like to get muddy when it rains!
Have you ever wished your child's clothes were made in your size too? Well, with The Bright Company, your dream has been fulfilled. The company describe themselves as the "Design-led, organic and ethical sleepwear and loungewear for modern families". Yes, they design sleepwear for both adults and children so no need to be jealous anymore.
And even better news, all their products use super-soft, GOTS certified organic cotton jersey fabric as well as meeting the strict OEKO-TEX Standard 100, ensuring no harmful substances or dyes are used at any stage of production. All the products are made within the EU for even more ethicality, so you can sleep tight and night!
Who said sustainable had to be boring? Picalilly is a British baby and kidswear brand designing organic clothes from newborn up to 10 years. They're the leading UK company to develop muslin swaddling blankets and manufacture all their organic clothing to the highest ethical standards.
As an example, Picalilly sources their chemical free organic cotton from a project called Chetna Organic. It's a fair-trade cotton programme with a mission to improve the livelihood of smallholder farmers by making their farm systems more sustainable and profitable. In 2008 Chetna became the first cotton farmers organisation in India to receive Fairtrade Certification. All their cotton is grown by small marginal farmers without the use of child labour, chemicals and GMOs.
If you are launching a new product or would like to raise awareness of your sustainability work for your brand or business, get in touch with our Consumer PR team today to find out how we can help.
Sustainable fashion brands for children
Tell us about your experience working in the healthcare sector?
When I first started working in communications, I had no intention of working in healthcare. As a junior account executive my first client was a hot sauce brand, and at the time I thought I would gladly spend the rest of my career debating the relative merits of a habanero or a jalapeno. But in the wise words of Ronan Keating, life is a rollercoaster – six months later I'd been pulled over to healthcare to support on a new campaign for Sudocrem.
I never looked back. Healthcare may be one of the most heavily regulated industries in the world, whether you're working with prescription pharmaceuticals or over-the-counter consumer brands, but that challenge is exactly what makes it one of the most creative fields for marketing and PR.
Since that first campaign for Sudocrem – which went on to snatch Gold at the OTC Marketing Awards – I've gone on to work for consumer health brands across infant health, maternity, gastroenterology, dietetics and nutrition, and immunology (off the top of my head).
One particular highlight of my career to date was working on the licence switch of Viagra Connect last year (from prescription-only to being available over the pharmacy counter). It was, and remains to be at the time of writing, the most high-profile pharmaceutical licence switch to date – but we can expect to see more prescription-only pharmaceuticals, including Cialis and Levitra, following in its footsteps.
What are the most common hurdles brands, products and businesses face in the health industry?
Working with healthcare's strict and detailed regulatory codes can look (and sometimes feel) confining compared to consumer brands. But the reality is that health and wellbeing are among the most emotive subjects in the world, so clever research and a little creativity can go a long way to move hearts and minds.
Healthcare brands are rarely ever designing communication campaigns with just consumers in mind, either. More often they're talking to healthcare professionals, charities and special interest groups, and sometimes commissioners or national decision makers as well as patients and their loved ones.
Unsurprisingly many healthcare brands and businesses find developing a communications strategy that can speak to all these diverse audiences, across all the diverse channels we have these days, to be incredibly challenging. No more so than when they're already struggling to translate a complex disease, condition or treatment into a clear story for media.
What do you like most about supporting businesses with their PR requirements?
No two brands or businesses are the same, so a cookie cutter approach is never going to fix everyone's problems. I love solving puzzles and problems, so working to find the exact balance of activities that will meet a business' unique requirements is interesting and exciting work for me to be doing.
The health sector is tough is terms of competition, how can PR help a business become a thought leader and improve their brand awareness?
If you want to be a thought-leader, you can't always play it safe. After all, if you're saying the same thing as all your competitors, then you may as well be saying nothing at all. But you don't need to take huge risks to stand out – considered messaging, an understanding of your audience and careful risk mitigation can give your brand the chance to shine without any of the downsides.
What sets the consumer PR services at PHA apart from other agencies?
Our team combines people from diverse PR, comms and marketing backgrounds with those who have worked for many years as a journalist. This unique blend of skills and perspectives means we're able to seamlessly blend journalistic values and an ingrained understanding of the news agenda with a strategic approach to communicating brand messages.
It's what makes us so great at spotting breaking news and turning it to our clients' advantage, translating breaking news about a Tiger Woods golfing win into a Daily Telegraph feature about orthopaedic surgery, extensively featuring a client.
Meet our people – Beth Stone
Well known high street and luxury brands are beginning to positively change their stance on sustainable fashion but there are several brands in which sustainability has always been at the core of their business.
By purchasing from sustainable brands, you will be reducing your carbon footprint compared to unsustainable brands. Some use only recycled materials so there is a closed supply chain and no new resources are being used up. Others use organic materials such as organic cotton which require less water, energy and don't use chemicals in production. On top of this, many up and coming sustainable fashion companies run community and environmental projects to give back to the areas where they sustainably source their materials from.
If everyone makes a conscious effort to shift towards only buying sustainable garments and accessories, eventually those companies without sustainable fashion goals will fall behind and will be forced to adapt. Below are a number of brands worth looking at for sustainable alternatives to your typical high street and luxury brands which are not quite there – just yet.
Komodo is a British clothing brand who have been creating eco fashion for over 30 years. Their products are organic, incorporate fair trade and are high quality in order to reduce throwaways. On top of this, Komodo have supported numerous environmental and social projects in the UK and in their manufacturing countries. From sheltering London's homeless, to building schools high in the Himalayas, and reforestation programs on the side of volcanos.
This Ukrainian brand was founded in 2011 and has become an advocate for sustainable fashion in Eastern Europe. After years of research and development, Ksenia Schnaider released its demi-denim collection, all from reworked denim. This is now the brand's signature look. Ksenia Schnaider has become popular among A-list celebrities including the likes of Bella Hadid and Dua Lipa and is now stocked in over 70 stores worldwide! In the UK, the label can be found in Selfridges and Koibird.
Standing for mat(t)erial and nature, MATT & NAT is a vegan accessory brand built on the principle of respecting life and nature. The company is committed to using no animal-based products and has experimented over the years with cork, rubber, cardboard and nylons. Since 2007, they have only used linings that are made from 100% plastic bottles in all their bags.
Mara Hoffman is an American label founded in 2000. It currently does not have any UK stores but is stocked in a few department stores including Selfridges and Harrods. They also ship to the UK. Mara Hoffman aims to educate society on sustainable fashion and encourage people to re-evaluate the relationship they have with clothing. The brand uses responsibly sourced organic, recycled and regenerated materials whenever possible and manufacture in a way that minimises negative impacts and ensures all people involved are treated fairly. Mara Hoffman has also teamed up with various organisations which support the communities they manufacture in, and educate society on sustainable fashion. The label is known for its on-trend designs and bold colours.
View this post on Instagram
Established in 1991, People Tree is a colourful brand with patterns inspired by the V&A archives. Collections feature organic cotton, TENCEL™ Lyocell and responsible wool. These materials are then transformed into garments using traditional artisan skills such as hand weaving, hand knitting, hand embroidery and hand block printing. People Tree also creates manufacturing jobs in rural locations where employment is scarce. Their website includes details on how to care for their garments in order to make them last, again incorporating sustainability.
If you are launching a new product or would like to raise awareness of your sustainability work for your brand or business, get in touch with our Consumer PR team today to find out how we can convey your key messages to the UK media.
Up and Coming Sustainable Fashion Brands
From cholesterol and blood pressure to DNA and STIs there is now a home testing kit available for a multitude of medical queries. HOME testing is more popular than ever, and pharmacies now sell an array of diagnostic medical devices that could help you to take your wellbeing into your own hands.
Whether it's long waiting times at your GP surgery, or a set of embarrassing symptoms that you're too shy to get checked out, there are plenty of reasons why people might choose to cut out middleman (or woman) and check themselves at home.
We check out the businesses leading the way in the medical arena and providing consumers with easy, accessible medically approved testing kits.
The home-based saliva collection kit that promises to find out your ancestry, health and DNA make up without all the needles and blood usually required by your doctor's service. 23 and Me offer several services that customers can partake from the comfort of their home. They pride themselves on a simple three step service. Simply choose the kit for you which typically arrives within 3-5 days. Follow the instructions and register for you kit to be collected and mailed back to their specialist lab. Finally discover within 3-5 weeks your bespoke dedicated online report and find out what your DNA says about you.
With over 35 years of diagnostic testing Yorktest Laboratories pride themselves as the leading provider of food and drink specific IgG antibody testing programmes. In the UK alone according to the Food Standards Agency an estimated two million people live with a diagnosed food allergy so identifying individuals needs have never been so important. Yorktest Laboratories test over 208 foods and provide customers with actional information to help optimize their diet and wellbeing. Check out their tests today whether its IBS, for your children or you want to reach your perfect weight they have a kit for everyone.
Cerascreen is the home testing kit provider who offers health diagnosis, advice and care from a single source. Through their simple blood return test draws a result by utilizing the data form a supplementary questionnaire couple with the experience gleaned from thoughts of tests conducted over the last 10 years. Their professionals also provide each customer with clear results that have important information and personalised recommendations to improve health. Their popular vitamin, hormone, mineral and food tolerance tests allow you to find out your health status from the comfort of your own home.
Manufactured by Personal Diagnostics Ltd the self-testing kit helps to detect underactive thyroid activity. ThyroScreen only takes 10 minutes to complete and contains the equipment to collect a small drop of blood from the individual's finger, of which the test is performed. The kit tests the amount of Thyroid Stimulating Hormone (TSH) also known as thyrotropin, in the blood. The home testing kit doesn't measure the exact level of TSH, only whether it is 'positive' or 'negative' prompting the individual to seek further medical advice.
SELFCheck is a growing range of self-test medical test kits from 1st Health Products Ltd. Providing customers with validated medical tests that are easy to use and accessible is their number one priority. SELFCheck have several home testing kits but their Prostate Health Test is one available for men who want to check their PSA levels. Prostate cancer remains the number one cause of cancer in men and, given that the UK has an ageing population, this is unlikely to change. Men are advised to carry out PSA examinations and screening annually from the age of 50-60 onwards and, where there is family history of prostate disease, it may be wise to undertake screening sooner. The easy to use at home test detects raised levels of a protein Prostate Specific Antigen (PSA) associated with abnormalities associated with the prostate gland.
Getting tested and treated for sexually transmitted infections (STIs) is straightforward and confidential, but many people put off going to the clinic to get things checked because of embarrassment.
LetsGetChecked provide convenient, confidential and accurate health testing for women and men with online results available within a matter of days. With a wide range of tests on offer, LetsGetChecked allows you to activate your test and collect your sample on the morning, return the same day with your prepaid shipping label and within 2-5 days receive your confidential results. An easy way to manage your health, their team of nurses are available 24/7 to provide you with the best medical advice to suit your needs.
If you'd like to find out more about our Healthcare PR services, please speak to a member of our team today.
The best home health testing kits
'Fast fashion' is affordable, and it allows people to keep up with the latest trends. The drawback, however, is that it is destroying people's lives and the world we live in. With governments and organisations all over the world declaring climate emergencies, people are becoming more aware of climate change and what they need to do to have a positive impact on the environment such as turning lights off when leaving a room or recycling plastic. Public knowledge on changes that need to be made to fashion, however, seems to be lagging compared to other forms of sustainability and climate change mitigation.   
Sustainable fashion, by definition, is to change the products and fashion system towards greater ecological integrity and social justice. The UK government are in the process of developing plans to change the system to end the throwaway society we currently live in, but it is not just up to them, as individuals we must make conscious decisions about our purchases and where they have come from. Achieving sustainable fashion will be a gradual process but education and cooperation is the main way to push this, websites and apps such as good on you aim to help people do this. 
Environmental and ecological integrity  
To achieve sustainable fashion through environmental and ecological integrity several steps must be taken: 
Avoid c

heap 'fast fashion brands'

as

c

heap clothes are often made

with

a short

lifespan

in order to

keep up business.

 

When you can,

try to buy fashion items made from a high percentage

of recycled materials, if not 100%

. Also try to buy

'sustainable' materials such as sustainable cotton

which is made using less water, energy and is free

from

chemicals.

 

B

uy items

that are

not made from animal

–

based materials.

These are hazardous for the environment

so

PETA

urges people to use vegan alternatives such as

soy-based 'vegetable

cashmere' or

cotton.

 

B

uy

items that have come from as near as possible. A top shipped to the UK from China will generally have a much larger

carbon footprint

than a top from Spain

.

 

I

f you no longer want an item of clothing

, instead of chucking it,

you could pass it on to someone

who would still wear it. Charity shops are

ideal

for this

because you also know a cause is benefiting from your old clothes

. Selling platforms such as

eBay

and

Depop

can be used

to match

old clothes with a new owner directly

.

A

nd

finally, if you're feeling creative then

pick up a needle and thread and try reworking your unwanted garment

s

into something

new!

 

T

ry to o

nly b

u

y fair trade and organic

fashion items

so

that you know the people

producing

the clothes

at the very bottom of the production line

have

been paid fairly and are working in acceptable con

ditions.

Consider who has made the clothing you are about to buy and

question whether they

 
High street sustainability  
Many high street brands are now trying to clear their name surrounding 'fast fashion'. The H&M Group, which previously has a reputation for fast fashion, has pledged to move towards sustainability. Included in the group are names such as Weekday and Monki. Weekday stands out of the group as they plan to use organic or recycled cotton only by 2020, only reusable, recyclable or compostable plastic in their packaging by 2025 and by 2030, they hope to only use 100% recycled or sustainably sourced materials.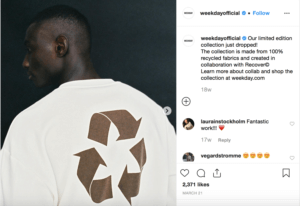 Mango has a 'Take Action' programme with the goal to have 50% of its cotton sustainably sourced by 2022. 
This year, ASOS has decided to ban all products containing cashmere, mohair, silk, feather bone, horn, shell and teeth being sold on their site. ASOS also tag all their sustainable products so it is easier for buyers to locate them on the website, showing that they are willing to make it easier for customers to find sustainable clothes.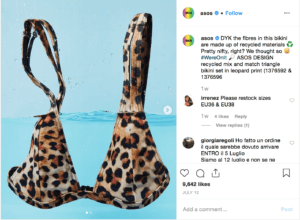 This week, Zara announced its latest sustainability goals. They aim to make all collections from 100% sustainable products by 2025. Furthermore, by the end of 2019, Zara hopes to have 7,500 eco-efficient stores, meaning that no waste from these will go to landfill. 
Luxury brand sustainability  
Environmental and ethical concerns should not only be associated with cheaper brands, but luxury items are also tossed away as fashions change and have also been known to be unethical in their production. Luxury brands currently use far more animal–based materials including fur and leather. However, luxury brands are now also competing in the race to show consumers and regulators their commitment to reducing their environmental and social impact.  
Just this week, LVMH and Stella McCartney announced a new partnership. Stella McCartney has already been a pioneer brand in the industry for movements such as producing eco-friendly glue-free trainers. The partnership aims to accelerate the development of the business while remaining true to its long-lasting commitment to sustainable fashion. More details of this partnership are to be released in September. Tommy Hilfiger, Ralph Lauren, Gucci and Versace are some of the luxury fashion brands now making pledges towards sustainable fashion. Tommy Hilfiger aims to prove that an entirely sustainable denim sourcing and production chain is possible, and Gucci has made sustainable handbags and even biodegradable shoes! 
Prada has just released their pioneering Re-Nylon collection of bags made from ECONYL®, regenerated nylon obtained through the recycling and purification process of plastic waste collected from oceans, fishing nets, and textile fibre waste.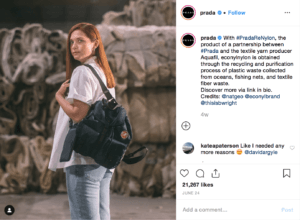 The progress being made currently is mostly described by ethical rating app, good on you, as 'a start'. The 'fast fashion' era is hopefully on the way out as attitudes are changing and people turn their noses up at it, however, we have a long way to go before fashion is fully sustainable and there are closed supply chains. 
You can do your part to help- if everyone follows the guidelines laid out above, then companies without these goals on their radar will fall behind and either go bankrupt or will be forced to produce sustainably. Until companies are fully sustainable, they are not doing enough. 
There will be more on sustainable fashion in our next blog, this time exploring up and coming sustainable fashion brands. 
If you are looking to promote your sustainable fashion brand or would like some recognition for the work you're doing, do not hesitate to contact our award-winning PR team today! 
Sustainable Fashion: how to go about it
Fridays. We love Fridays and today is no exception. In fact, this particular one we've been looking forward to for a long time – International Beer Day.
But choosing the 'right beer' can often cause debate among friends, family or that one colleague at work who's adamant that their specialist craft brew is the 'one'. Luckily at PHA, we like our beer so much we wanted to celebrate this special day. We've compiled a list of our favourite beers from around the world. So, dust off your favourite beer tanker and get ready to enjoy (responsibly).
Camden Town Brewery – London, England
A London based brewery founded in 2010 who are looking to bring back the excitement to lager in the UK after it has become 'unloved'. The flagship beer from the brewery is Camden Hells which is a lovechild between two of their favourite German beer styles – Helles and Pilsner. Clean, crisp and dry, it's the beer the owners always wanted to drink and the reason why they created Camden Town Brewery.
Kingfisher – India
From Delhi to Doddanapudi, Kingfisher is India's number one beer. Kingfisher is crisp, clean and refreshing, making it the perfect partnership for the heat and spice of even the richest of curries. Whether you try a glass in Mumbai, Madrid or Manchester you can rest easy in the knowledge knowing that it'll taste the same and that you truly are drinking the real taste of India.
Hawkshead Brewery – Cumbria, England
From big hopped modern pale ales to deep dark stout beers Hawkshead Brewery produces them all. The multi award-winning brewery has had another successful year picking up 2nd place in the Champion Beer of Britain, North West region for both their Stout and Hops produce. With 10 options to choose from their 'Core' range, Hawkshead Brewery should certainly be on your list to try!
Red Stripe – Jamaica
Rumour is that the simplistic but clever brand design was based off the red stripe that runs down the side of the Jamaican police's uniform. Commonly known for its pale ale which is available around the world. A full-bodied and smooth post palate sensation that will leave you with a low butterscotch flavour.
Hogs Back Brewery – Surrey, England
The Hogs Back brewery has been in business since 1992. The Surrey-based brewery has won multiple awards for their fine English ales and lagers, by combining a real passion of brewery with a continued focus on attention to detail. Hogs Back Brewery have also made the world's first real chocolate lager which has been described as a well-balanced and fulfilling drink that is both unexpected and beautifully complementary.
Asahi – Japan
In 1987, Asahi launched Asahi Super Dry, a beer that would go on to revolutionise the beer industry in Japan and send Asahi back to the top spot in the domestic beer market. Since its launch, Asahi have sold over 100 million cases annually for more than 25 years. If you're after a crisp clean taste that can be paired with any type of food, then Asahi Super Dry should be your first choice.
View this post on Instagram
BrewDog – Scotland
In 2007 when two friends decided that they were bored of industrially brewed lagers and stuffy ales, BrewDog was born. Their mission then and still is to make people as passionate as they are about great craft beer. The extensive six stage brewing process means the beer is matured for 30 days whereas a typical beer is only matured for seven days ensuring the flavour packs a punch.
Fuller's – England
The only UK brewery to have three different beers named Champion Beer of Britain at the annual Great British Beer Festival. Between them, Chiswick Bitter, London Pride and ESB have won this award an unprecedented five times. Fuller's beers are exported to 80 countries from around the world with its biggest overseas market in Russia and Sweden. Apart from the numerous awards that Fuller's have won they are also known for their award-winning London Pride, with its well-rounded flavour and rich history, everything about this authentic, characterful beer binds it to our capital city and the people who love it.
Are you in need of a communications strategy to help gain exposure for your brand or business? Our expert teams are on hand to help you do just that. Speak to us today to find out how you can gain cut-through in online and offline media.
International Beer Day top picks
Women aren't aware of the impact regular sanitary products have on the environment. 45 billion tampons are used annually across the globe which results in 3.2 million kgs of waste and according to Change to Green, regular tampons take around 500 years to degrade. In addition, plastic from packaging and tampon applicators that are not able to be recycled break down into microplastics – pieces smaller than your little fingernail. These make their way into our waterways and eventually into our meals. Earth Day state that every minute, a bin lorry worth of plastic is dumped into the ocean.
But it's not just about plastic, the chemicals within sanitary products are often bad for your body as chemicals can be absorbed through your skin and go straight into the bloodstream.
Considering all this, women should make attempts to swap to more sustainable products. Even if you are not quite ready to ditch tampons, you could invest in a reusable applicator and organic cotton tampons instead. There are many sustainable sanitary products emerging on the market as environmental awareness increases all over the world, so we are looking at the different options available to you.
Menstrual Cups
Menstrual cups have been around since the 1930s but have recently come to people's attention along with environmental awareness. The cups massively reduce the waste produced from your period. They are generally made from medical grade silicon, as opposed to the original rubber cup, and can collect blood for up to 12 hours, depending on the brand.
Mooncup® are the Tampax® of all menstrual cups. They created the first medical grade silicone menstrual cup in the world. The cups are clear because Mooncup® did not want to add any artificial colourings. Not only is the Mooncup a great way of being sustainable, it's also a good way to save money, as you can keep it for up to six to eight months and you won't need to spend money on anything else.
The collaboration Monki X Lunette X The Cup released a menstrual cup in the effort to end period stigma, going by the slogan "Periods are cool. Period". 5000 of their menstrual cups will be donated to underprivileged girls in Kenya who do not have the access to menstrual care and education surrounding menstruation through The Cup Foundation. The cup comes in two sizes for light and heavy flow and is now available in Monki stores and online.
The Organic Cup is free of bleach, perfume, glue, lotion and basically anything else that should not be going into your body. The organic cup has won "Product of the Year" twice and claims that a cup should last you up to 10 years. Their website gives in-depth detail on how to use a menstrual cup, including a video showing demonstrations with models. The brand also runs community projects and works with organisations. An example of some of Organic Cup's work is an initiative called Taboo which explores the implications women and girls face across the world when they have their periods. Questions such as: why are girls in Nepal not allowed to leave their huts when they are menstruating? Why do girls in Africa miss school for their periods?
Lingerie and Reusable Sanitary Towels
Absorbent underwear has now been developed as an alternative to sanitary products like tampons, cups and pads.
Modibodi is offering period underwear using high quality, tech-savvy fabrics to allow breathing to get a lighter feel. There is a range of styles and colours depending on your menstrual flow. They have recently added a new patent-pending Modifier Swim Technology™ to wear in the water, something no other brands have done so far.
Cheeky wipes sell both period pants and sanitary towels that can be washed and reused. Their pads come in all sorts of bold colours and patterns and do up around you briefs with a popper. Just like regular pads, they offer different sizes and pads for day and night, just without the chemicals and waste!
Tampons 
If you can't bear the thought of wearing anything other than the classic tampon, then there are still more sustainable ways than your regular options. You could buy organic cotton tampons with no applicator or cardboard biodegradable applicators, this way the damage left on the planet is a lot less.
Or if you prefer the smoothness of a plastic applicator, Dame has recently released a reusable tampon applicator called the D. Dame also produce organic tampons to use inside the applicator and neat storage bags and tins for them. This year the brand has just saved their first 100 million pieces of plastic!

If you have a sustainable women's health product and you want to gain more exposure in the UK media landscape, get in contact with our award-winning PR team today.
Women's health: can it be sustainable?
So, what is CBD?
CBD, cannabidiol, is a non-psychoactive compound found in marijuana and hemp plants. These are both included under the umbrella term cannabis which is a flowering plant in the Cannabacacae family. Hemp is a very strong and versatile natural fibre and is used in over 50,000 ways including in carpets and ropes, soaps and shampoos, as fabric and even in newspapers and packaging!
CBD infused products are taking wellness markets by storm across the world. CBD is said to have a plethora of health benefits; there have been studies showing that CBD can improve sleep, concentration, reduce anxiety, pain, inflammation and potentially other benefits that are still being explored. The World Health Organisation (WHO) claims CBD could one day be used to treat Alzheimer's and cancer. For CBD products to be sold medicinally, however, products must be licenced under the Medicines & Healthcare products Regulatory Agency.
Currently in the UK, THC is illegal, but CBD is not. CBD products are growing in popularity exponentially and are constantly being developed, from beauty products to baked goods. This article will explore some of the food products available in the UK and several cafes, bars and restaurants that are updating their menus to contain the plant extract.
CBD Food Products Available in the UK
Good Hemp produce several products containing CBD extracts including milk, seeds, cooking oils, oil drops and protein powder. Their website has a cookbook section with lots of yummy recipes to use their CBD infused products in. The brand is stocked in many health stores such as Holland and Barrett, and in supermarkets including Tescos, Sainsburys, Morrisons and Waitrose- so it shouldn't be too hard to find!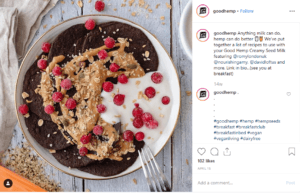 Like Good Hemp, Love Hemp produces CBD oils. It also sells CBD infused sweets like sugar free gummy bears, vegan and sugar free jelly domes and chocolate bites! Unique to Love Hemp is its bottled mineral water infused with CBD hemp droplets, the first CBD infused mineral water in Europe. Each bottle contains 2mg of natural hemp extract and is sugar free, allowing you to get your CBD fix and stay hydrated.
Mr Prempy's is a smaller CBD foods company that focuses on sweet treats- cakes, chocolate coconut bars, chocolates and truffles to name a few. Planet organic stocks the boxes of truffles and other products can be bought directly from the Mr Prempy's website. Mr Prempy's also offer a bespoke private make-to-order service. So, if you'd like to throw a party with some delicious CBD infused snacks, get in touch with Mr Prempy's!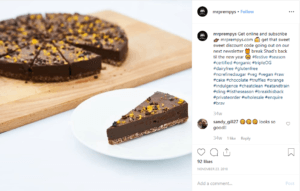 CBD Cafes, Bars and Restaurants
Not only are there CBD food products springing up everywhere, several cafes, bars and restaurants are incorporating CBD into their menus.
Farmacy Kitchen is an organic restaurant in Notting Hill. They grow many of their own ingredients in Kent and then deliver them on a weekly basis by electric van to Notting Hill. All very eco-friendly! Farmacy Kitchen serve a unique high tea including open sandwiches served on gluten-free charcoal bread, a mushroom and spinach quiche, prosecco jelly and berry pavlova and of course CBD infused chocolates.
Wanting a health kick? Mortimer House Kitchen in Fitzrovia is a superfood-focused restaurant located in Mortimer House which is also home to a gym and wellness centre. A shot of CBD infused turmeric oil can be added to any coffee on the menu, relaxing you after a long workout.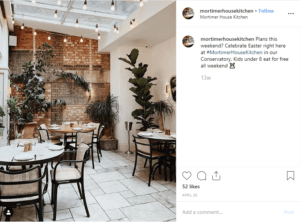 For a healthy desert treat, head to Yogland in Notting Hill for the world's first 'cannabis-laced' frozen yoghurt. The CBD infused froyo flavour is named Hemp Matcha and is not only low calorie (under 80 calories a serving), it's vegan too! Yogland released this flavour in light of the legalisation of CBD oil in 2018.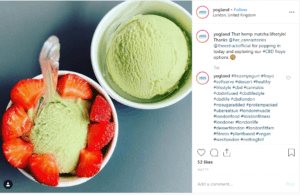 Fancy a CBD cocktail after your CBD meal? Mr Fogg's House of Botanicals in Fitzrovia, London offers a CBD infused cocktail at their upstairs bar. The cocktail, named Bhang, comes in a bong-shaped glass and contains CBD oil-washed Alipús San Juan mezcal, Green Chartreuse herbal liqueur, Acqua di Cedro liqueur, fresh lime juice, sugar syrup and fresh tarragon and is described on the menu as smoky, aromatic and healthy.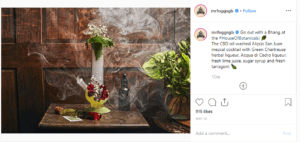 If you have a CBD business and would like to find out how our award-winning team could help promote your business, or if you're launching a new product into the market, get in touch today.
CBD: food for thought