Relationship guru and matrimonial consultant Sheela Mackintosh-Stewart is on a mission to promote successful relationships and prevent marriage breakdowns in society.
From Love Island, to Celebs go Dating, to First Dates, the quest for love is unavoidable and ever-present in our modern-day society. Whilst these programs make it seem as though navigating the dating world is the simplest and most entertaining of tasks, this is not the case for everyone. Sometimes the dating world can be daunting and frightening, but finding and choosing the right person for you, and knowing how to build and maintain a healthy and lasting relationship is probably the most important life decision you will make.
Here are my top tips to maximize your chances of choosing the right one in this complex world of love-matching:
Know what you both want at the start. It is important that both parties want to be in it for the long haul
Before embarking on your relationship journey, you must both establish what you want to get out of it. Be sure to discover and ascertain if you are mutually on the same page in terms of commitment and long-term engagement, which is vital to building a good foundation for your relationship. Strong, honest and open communications is absolutely crucial to ascertain this.
Be aware of what you want and need from each other
Choosing right involves you being true and honest with yourself about you want and need from a partner. Many clients struggle to find their right match, because, in reality, they have not asked themselves what they are searching for in the first place. So, before you embark on this journey, take a step back to assess what it is that you truly want. It will make the process easier. Start by evaluating what your personal morals, values and 'red lines' are, and make them your core indicators to measure and decipher whether you are truly compatible with someone, and whether you can give each other what you both want and need. Learning from past relationship failures is an excellent way to know what you don't want from a partner.
Shared Respect, acceptance, trust and forgiveness are key ingredients.
It is hard to live with someone who doesn't mutually respect, trust or accept you for who you are, warts and all.  You must feel secure and safe with your partner and vice versa, where you can both be your true selves. So never ever compromise on these important values.
Be the person who you would like to date
Once you decide who you want to date, then make sure you become that dream date, so that you become someone else's dream date too. If you want to date someone who is in fun, in good physical health and is successful then channel your energies on becoming just that sort of person. Why would anyone accept anything less? By channelling characteristics that you also look for in a partner, you will inevitably attract a similar person. If you are charismatic and confident, you will attract a similar person. If you want to be with someone who will bring out the best side of you, you need to display that side of you first. Do bear in mind that you should not set out to try and change someone, so find someone who you are happy with just as they are.
Attraction and chemistry must extend beyond the physical
Do they stimulate you intellectually? Are they emotionally available to you at all times? Are they a source of support and comfort? Are you relaxed in each other's company? Looks do eventually fade, but a good kind personality and character won't. You must always think with your head as well as your heart, when it comes to love. Do not rush your search; the right person will be out there, so don't settle for anything less than you deserve.
With over 30 years' experience as a Family Lawyer and Relationship Coach, and having witnessed the devastating impact of divorce first-hand, Sheela specialises in giving expert and bespoke relationship advice to singletons looking for love and couples facing the possibility of separation through her counselling and advice service.
Top tips on finding, and maintaining your right match this Valentine's Day
For many reasons, Gillette deserve some well-earned praise for this latest marketing attempt. The advert, which challenges men and boys to be better and call out sexually inappropriate behaviour, deserves both praise for bravery and for getting the go-ahead. Tackling social issues always carries an inherent risk of backfire.
Millionaire Kendall Jenner's poorly judged peace offering involving Pepsi at a protest already served as a significant warning to the industry of what can go wrong if issues aren't handled sensitively. Yet, more recently Nike has seen booming sales after standing with Quarterback Colin Kaepernick in their "Believe in Something" campaign.
It's continuing a strange phenomenon where the marketing teams of the world's biggest companies seem more capable of touching the right cord with consumers than politicians do with their voters.  A lot of these decisions are calculated. Companies like Nike know which side their bread is buttered on. As University of Michigan Business Professor Jerry Davis put it on ABC news, "it turns out Democrats buy a lot more sneakers than Republicans."
This comment was referring to the legendary adage often attributed to Michael Jordan that "Republicans buy shoes, too." Yet, the increasingly important divide that age is playing in politics now means many of the world's biggest companies are quite happy to hedge their bets on the next generation. Nike know the average customer who walks through its door is a teenage male, far more likely to sympathise with the political messaging that Kaepernick "sacrificed everything" to support. That risk has for the time being paid off.
Marketers ultimately report to the bottom line. Unlike Gillette, Nike has seen year on year growth for a decade. Gillette has instead seen year-on-year falling sales in a market where men have increasingly more choice and fewer people choose shaving. Gillette will have been sitting on ideas of how to revitalise their iconic "The Best A Man Can Get" slogan for a while now and how to target it at the next generation of men. This advert, however, certainly doesn't naturally feel like it is driven directly by sales. There are no razors. The demographic it is most likely to impress, women, aren't even potential customers. It fits into something bigger.
Gillette wrote on their website of how they plan to include this as part of a wider campaign: "From today on, we pledge to actively challenge the stereotypes and expectations of what it means to be a man everywhere you see Gillette. In the ads we run, the images we publish to social media, the words we choose, and so much more."
The advert has so far only been paid for on digital channels in America, with no known plans to run it in the UK. So, when Piers Morgan reacted, himself fast becoming an effective medium through which all successful marketing campaigns must pass, Gillette had achieved huge global organic growth with a relatively modest budget. But you wouldn't clap just yet…
When it comes to marketing, the opposite of bravery isn't cowardice but conformity. Standing still isn't so bad compared to losing ground. The launch of Gillette's new campaign has achieved both widespread coverage and supported an excellent cause. Yet, for a company with more than half the market share in the US and far more than that in the UK (roughly 65%), we might be left asking what Gillette is set to achieve from this.
When Nike launched their campaign, they weren't operating with anything close to a 50% share in any of the markets they compete in. When Nike isolated a certain part of America, they knew they were already experiencing declining sales due to a negative price elasticity those consumers were having with its products. They expected to recoup those sales elsewhere. It isn't clear if this is going to be the case for Gillette.
Where Nike's campaign was positive and inspirational, Gillette's message feels negative. Nike told its key customers they behave better than the rest, Gillette has told its customers the opposite. At writing, Gillette's video has received nearly 10 million views but the reaction to it has been overwhelmingly negative. The dislike to like ratio stands at 577k to 217k. On Sunday, the ratio was 10:1 with most comments saying they would abandon the brand. Make no mistake, those who found the advert first were Gillette's actual customers.
In comparison, Nike's campaign ran at the complete opposite. With ten positive reactions for every one negative. In the four long months of media coverage, the "Believe in Something" commercial still hadn't amassed the number of dislikes Gillette has run up in the first 24 hours. Online sales grew for Nike by a massive 31% in the bank holiday weekend after the ad launched and the company has grown by $6 billion since. Opponents couldn't boycott the company because they already didn't shop there.
It's of course too early to know how this will affect sales, but whether you agree with the message or not, it's obvious Gillette have risked marginalising the actual people who buy their products. If they don't end up attracting that next generation of customers, Gillette may be left wondering if their marketing strategy really is the best they can get.
Gillette: Is social posturing the best marketing you can get?
In the UK alone, more than  3/4 of children between the ages of 10 to 12 have their own social media accounts. So, 21st century adults entering the complex world of parenthood face a hurdle that has yet to be a concern for said group – protecting your children from the threat of adult content, unfiltered comments, cyber bullying, identity theft and predators. A rather large ask in this social media obsessed society.
Luckily for parents up and down the country, help is at hand. Rather than risking the 'FOMO' backlash from your kids, you can now rely on safer social media alternatives that allow kids to be kids, socialising, sharing and chatting, just without all the risks.
Here are our top three social network alternatives for young people, built with safety and age-appropriate socialising in mind.
Whilst most of us were climbing trees and rushing home to watch Art Attack after school during our adolescent years, in 2013, 12-year-old Zach Marks was casually founding the social media platform, Grom Social, which now boasts 13 million users across 200 countries. Successfully making us feel like our teenage days were somewhat inadequate, Zach has also managed to create a platform which tackles issues that often affect young people using social media; bullying and a lack of safety. Each user interacts with other 'GromAtars', and with the site being monitored 24/7, if and when someone tries to post something inappropriate, a GromAtar will stop them and explain why the behaviour will not be tolerated. This concept of learning from 'peers' rather than seemingly out of touch parents is a brilliant way of getting through to kids, without patronising them. Parents also receive regular emails detailing their child's online activity.
Launched in 2001, Kidzworld is now the largest independent website for young people in the world and is hailed as a safe place where kids can enjoy, explore and learn. The focus on education is paramount for this platform, so Kidzworld is often popular with teachers, as it gives them engaging resources and conversation points to use in the classroom. One great feature is the 'Dear Dish-It' advice blog, which acts as a forum for kids to ask for personal advice about self-esteem issues, relationships, bullying, peer pressure and everything in between.
Franktown Rocks is all about having fun and socialising through games. It incorporates a multiplayer online game for kids between the ages of 8-12. You can create your own characters, interact and chat to other characters all at once. Franktown is unique in that you can not only play games together, but can also make music, complete quests and watch videos. There is also a handy area for parents, answering any questions regarding safety that they may have.
Is your brand in need of a PR or social strategy? Why not get in contact with us today to see how we can help you get ahead of your competitors and gain exposure in new markets.
Top social media websites that will keep your kids safe online
Once the excessive drinking, partying and gluttony of December is all over, January is widely regarded as the gloomiest month of the year…but what if we could change all that? Whisk yourself away to one of our top festive destinations this Winter, oust those January blues and start your year off right!
Sykes Holiday has over 12,000 cottages available to rent across the UK and Ireland, meaning that we have no reason to accept that dreaded January melancholy. With competitive prices and special offers in abundance, you won't have to worry about the feeling the pinch at the beginning of the year either. Instead, you can cosy up by the fire, or treat yourself to a relaxing glass of wine in the hot tub! Hobbits Landing log cabin cottage in the Isle of Wight is a particular star of the show, situated beside a beautifully serene lake, offering the perfect excuse to reconnect with your inner nature-lover and hide away from hectic city life.
Is there anything more festive than the image of snuggling up in a log cabin buried within a forest? With almost 600 cabins in 10 forest locations across the UK, Forest Holidays offer the ideal alternative January getaway. With detailed emphasis on supporting forests, local tourism and local communities, your escape to the country really will be completely guilt free. The Golden Oak Treehouse in Blackwood Forest, with its fairy-tale style master bedroom across a rope bridge and option of in-cabin spa treatments or your own personal chef, provides heaps of winter luxury.
Unique Home Stays offers something extra special; the opportunity to escape to a ready-made home. Guests are given the opportunity to experience intimate and deluxe hospitality in extraordinary country and coastal locations. Alongside first-rate service and comfort, guests are greeted by hosts on arrival, who help you get acquainted, before leaving you to enjoy your indulgent break away. Unique Home Stays has a great portfolio, boasting some of the finest private homes in the world. With homes such as Midsummer Wood in the Cotswolds representing everything you could wish for in an extravagant Winter retreat. Think; the quaint English cottage in The Holiday, but surrounded by 11 acres of Eden-esque grounds and an indoor swimming pool…
With the aim to inspire people to connect with nature through meaningful experiences, Canopy and Stars provides a new experience as well as a getaway. From snug yurts, to cosy canal boats, you are encouraged to unleash your inner child and embrace the great outdoors this Winter. In accepting only 20% of the places that apply to them, it is clear that Canopy and Stars take time and great pride in the quality of their properties. The House-Box at Kinton Quarry is an outstanding handcrafted haven, that is worth noting. With panoramic views looking over the crisp Welsh countryside, it's the most idyllic spot for a much-needed romantic January retreat.
Do you agree with our choices? To find out how public relations can benefit your business then please get in touch with a member of our award-winning team.
The best spots in the UK that will help you escape those January blues
It's chilly outside so what better time than to plan and start thinking of a hot exotic getaway to look forward to in the new year?
To help you take the plunge and maybe treat someone this Christmas to a break away, we're looking at the best luxury holiday websites to book your well-deserved holiday.
Flash Pack connects like-minded professionals in their 30s and 40s in groups to travel together. Flash Pack curates the group dynamic, so that everyone is on the same wavelength. Around 95% of Flashpackers fly solo and most are single, but this is more about friendship rather than dating. They also have a kind-people only policy: to make sure that everyone shares the same travel values.
Flash Pack's idea is simple, match like-minded souls with comfort-bursting adventure to create some great memories and make the most of their holidays. Flash Pack also sets up the Flash Pack Foundation to channel money back into local communities the groups travel to and support local businesses.
Family-owned Sandals Resorts International has transformed itself from one brand and one resort in Montego Bay, Jamaica to become one of the most well-known and award-winning hospitality companies in the world. With five brands and 24 properties in seven countries including Antigua, The Bahamas, Grenada, Barbados, Jamaica, Saint Lucia and Turks and Caicos, Sandals Resorts International is the go-to for Caribbean holiday experiences.
Every resort represents luxury from the Suites to the entertainment and restaurants, Sandals Resorts International will make sure you have the time of your life. Bear in mind most Sandals Resorts are adult only so if you wanted to bring the little ones be sure to check the hotel policy before you book!
Every Destinology holiday is unique; tailor-made by a destination expert, from a hand-picked selection of superb resorts meeting their exacting standards, by virtue of their excellent quality and enduring appeal. So, whether you're thinking of a short break in Spain, a multi-centre adventure around Asia, a honeymoon in the Maldives or a fabulous villa that the whole family will love, they'll make sure you have a special experience.
With Destinology, you'll have your own personal travel consultant who will look after you right from your initial inquiry, all the way through to returning home. They understand that everyone has different tastes and preferences when booking a holiday, so they'll listen carefully to you to create your ideal itinerary.
Secret Escapes negotiates exclusive rates for luxury hand-picked hotels and holidays in the UK and abroad. As hotels don't like to have empty rooms, they manage to negotiate attractive prices to make sure hotels are fully booked.
Secret Escapes is a member-only website, all you need to do is to sign-up and you'll receive targeted deals to your inbox daily. Trust us, it'll give you massive travel envy every morning.
By partnering with Designer Travel, Secret Escapes is now able to offer a 'bespoke' holiday, a personalised holiday service available to members only. So, if you fancy a bespoke option, Secret Escapes will put you in touch with their partner and see how they can create the best holiday package at the best rates  for you.
Black Tomato is a bespoke luxury travel agency. Everything they do is bespoke, led by the needs and desires of their clients. From organising an unforgettable Honeymoon to putting together a family holidays where all the family can be entertained, the choice is yours.
Their website is a great inspirational tool, giving you ideas for your next trip abroad. Black Tomato also created some experiences like Tasting Notes, a series of immersive, luxurious journeys that their travel experts have co-created and designed with Michelin-starred chefs and food-personalities from around the world.
Are you looking to boost your bookings for 2019? Do you need help diversifying your customer base? Speak to our communications experts today to find out how we can help you.
Luxury holiday inspiration
The global art market was worth more than $63.7 billion in 2017, and art is one of the fastest growing alternative investment classes. Art's invulnerability to political upheaval allied to the increasing digitisation of the world of investment is making the sector more accessible, and attractive, than ever.
These five companies are using different strategies to turn art into an asset class for everybody from wealthy collectors, to everyday investors, and even making the market more lucrative for the artists themselves.
The Established Heavyweights:
The wealthiest players in the art market want the best investment advice, and The Fine Art Group offer their clients unrivalled expertise in collection management and art financing. Their speciality is in using art as collateral for lending, and in late 2017 they announced plans to deploy over $1bn in lending to collectors in Asia over the next decade. Fine Art is at the exclusive end of the market, and The Fine Art Group dominates that space, helping collectors and dealers to borrow against their assets: https://www.fineartgroup.com/en/
 Art Investment for All:
Maddox Fine Art, twinned with the luxury gallery based in Mayfair, is a specialist art investment consultancy with expertise in contemporary art and emerging artists. Their sweet spot is in spotting contemporary artists and art whose work has the potential to greatly increase in value, and pairing investors up with those emerging talents. Anybody can invest from £4,000, so Maddox are perfect for those looking to make an entry into the art investment space, or for those who fancy themselves as having an eye for the next Damien Hirst: https://www.maddoxinvestments.co.uk/about-us/
 The Digital Challengers:
The Maecenas platform uses blockchain technology to give investors the opportunity to own fractions of masterpieces in the form of digital shares. This is a different way for an investor to build up and diversify their portfolio, focussing on accruing shares rather than entire works. CEO Marcelo says that 'Maecenas aims to be to fine art what NASAQ is to shares'. Maecenas see themselves as the inevitable response to the transaction fees that auction houses and banks charge, and their streamlined, efficient model is the perfect example of how technology is making art more investable: https://www.maecenas.co/
Whereas Maecenas is harnessing blockchain to democratise the art market, Arthena is using big data to put a 21st-century spin on art investment. Based in New York, Arthena analyses data points including the identity of the artist, the size of the art and the style of the piece, to identify which pieces will appreciate in value. Arthena operates funds from the high-risk, focussing on upcoming artists, to the low-risk, focussing on more established artists and works. Arthena's model is bringing a scientific element to a traditionally emotional world so that anybody, not just experts, can analyse art and make informed investment decisions: https://arthena.com/
 The World's First Agency for Artists:
MTart are wholly unique, as their model focusses on investing in artists themselves rather than in art. Founder Marine Tanguy, part of the Forbes 2018 30 under 30 list, wanted to create a model that supported artists, that was accessible to all demographics, and that could help art reach people from all backgrounds. MTart review 200 portfolios every month and select the artists they see the greatest potential in. Selected artists then have their studio costs covered, press exposure managed, sales of their work handled, and commercial and cultural partnerships struck. MTart partners with major brands, galleries, and even cities to place the work of their chosen artists. Collectors, clients and partners can then buy into artworks from the talent on the MTart roster: https://www.mtart.agency/about/
Are you looking to raise vital funds for your business? Our team of specialists are here to help. Contact us today to find out how we can help you gain breakthrough for you and your business.
Five Companies Turning Art into an Asset Class
We're in the eighth year of the UK population embracing what has become one of the biggest dates in the retail diary – Black Friday. With consumers spending £1.39bn in 2017, according to data from IMRG. Retailers are hopeful for another increase in 2018.
But how do you know if you're getting the best deal and not being sucked into all the hype? We check out the price trackers you can use this weekend to help make those all-important spending decisions.
Idealo is a German based start-up, founded in Berlin 17 years ago. Their mission is to help users make better buying decisions. Today, they are Europe's leading price comparison platform and one of the largest websites in the German e-commerce market with 330 million offers across their platform.
Idealo is a comparison platform that can notify you when a product has reached your target price. A useful tool, especially when you're inundated with Black Friday offers and you want to know which retailers are offering the highest value for money. The tool provides a graph of the price fluctuation and how it has changed over the year, so you're sure you're not overspending. If you like the look of it, they also compare flights!
CamelCamelCamel is an Amazon price tracker that provides price drop alerts and price history charts for products sold by Amazon. You can either use the website which gives you a good overview of what products are on amazon and you can also download their plug-ins which means that every time you look at a product on Amazon, you can check the price history as well as the third-party price to compare. You don't need to create an account to use it, making it easy and hassle free.
Which? Is the largest independent consumer body in the UK with 1.3m members. Their commitment is to provide unbiased advice. From choosing a TV, phone, car, or holiday, to getting a mortgage or writing a will, they'll help you make the best decision.
Last year during Black Friday, they carried out an investigation into product prices and found that you might get a better bargain if you wait until after the Black Friday sales. In fact, they found that 87% were the same price or cheaper than their Black Friday price at other times of year. So, this year, they are giving you some really interesting tips on how to find a bargain including buying lesser known brands, or doing some research before your purchase an item.
Sometimes it's not just about the price. Trusted review allows you to get reviews on thousands of products and gives you the best deals around. Their Black Friday section is a long list filtered by retailers and category so whether you're looking for a TV, a video game or a game for Christmas, the website will help you find the best deal you can get around. Their blog section is also useful, giving you tips and tricks on Black Friday.
If you're interested in raising your profile in the media, get in touch to find out how our team can support you in achieving your business goals.
Black Friday – How to spot the best deal
We're feeling festive thanks to all of the great Christmas adverts that are appearing on our screens! Gone are the days of waiting to see your favourite brand's advert on television; now you can head to your social media channels and see the advert at your leisure and share it with your friends.
We've created a  list of the most notable campaigns, along with our added opinion of who's come out on top in the Christmas advert war this year…
John Lewis
Let's start with the big dog. Sorry to be cliché, but we couldn't compile a list like this without mentioning John Lewis. They have taken a rather untraditional route this year by starring Sir Elton John, featuring 'Your Song' and recreations of Sir Elton throughout his life. The advert ends with a very young and cute Elton John opening his first piano for Christmas with the tagline, 'some gifts are more than just a gift', suggesting that this gift shaped his career. We are big fans of Elton, but as for the advert, the link between a young boy receiving a piano for Christmas and growing up to become a star is a little weak. Where are the bells? Where is Santa? Granted, past John Lewis Christmas adverts have included a man on the moon and monsters under the bed, which some may argue doesn't exactly scream 'CHRISTMAS!', but they were full of sentiment and a strong sense of storytelling. This year's advert felt more like a teaser for Sir Elton John's biopic film, Rocketman (due to be released in May 2019).
The piano featured in the advert is also worth over £800 and considering Sir Elton John grew up in a council house, it is also unlikely that the average working-class family in the 1950s could afford such a luxury. In fact, how many of us watching the advert can afford that? Lidl saw this as an opportunity and Tweeted a hilarious response:
With over 25,000 likes, Lidl has managed to gain serious recognition at no advertising cost. John Lewis however reportedly spent £7 million on this year's advert.
The department store has created the most buzz around their Christmas advert than any other brand since 2007, but according to The Telegraph's recent poll – their latest ads have never lived up to the original. Has the pressure of generating new ideas and exceeding expectations gotten all too much for John Lewis? Capturing an audience, whether from a comedic or sentimental angle doesn't have to cost millions, perhaps John Lewis should go back to basics with a strong story instead of a famous face?
Iceland
Once again, the power of social media has given us an exclusive preview. Perhaps the most thought-provoking advert this year, Iceland's advert was deemed too political to appear on TV. The animation tells the story of an orangutan who has had his home taken away and his mother killed due to the deforestation that is undertaken to produce palm oil. Despite it being banned from TV, Iceland took a stand and decided to share this advert with their followers and viewed over 15 million times. There is also a petition to air the advert on TV, which has received over 670,000 signatures. The advert has been very successful in terms of sparking conversation around the consumption of palm oil and the supermarket chain have been commended for their advocacy. It has even opened some great collaboration opportunities for Iceland as Selfridge's are now stocking their mince pies to show support for their efforts. That's the great thing about social media, rules can often be broken and it is so easy to share things you like or dislike with a community and rally an audience together.
Sainsbury's
A simple and humble concept that tells the story of a school play involving some ridiculous costumes and amazing voices. The ad features a young boy dressed as a plug, which led to a trending hashtag, #PlugLife. This lucky young boy, Harrison from Rugby, has become an internet sensation. Sainsbury's have even released an interview with him on their social channels and he even got to switch on the Christmas lights in his local town! Furthermore, Sainsbury's have done an impressive job of engaging with users about the advert and much like Lidl, have teased John Lewis in the process:
The slight irony, as Sainsbury's have been criticised by some for creating an ad that is very similar to John Lewis' Queen tribute advert earlier in the year, which also featured a school play and a big musical number. Putting those accusations aside, it is a great advert with a lovely family vibe.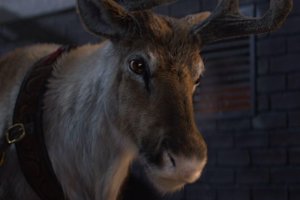 Mcdonald's
We wanted bells and Santa and finally, they've mcdelivered! The #ReindeerReady advert shows Santa and his reindeers flying from house to house, but unfortunately, no one has left out any carrots for the reindeers. The poor reindeers are exhausted, so Santa stops at a Mcdonald's and buys a sack-load of carrots for them. A truly traditional advert that is sentimental and heart-warming. There is nothing more magical than the idea of Santa flying through the sky at Christmas and to make Mcdonald's little packs of carrots relevant to Christmas is genius. If this doesn't make kids choose the healthy option for their Happy Meal we don't know what will! The advert has received high praise from social users with some even saying that it made them cry!
Boots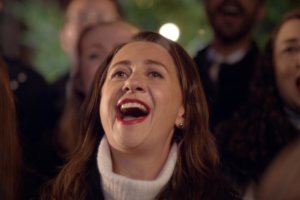 Boots have managed to capture the genuine love between a mum and daughter in their ad this year. It successfully highlights the usual female conflicts and interactions between a mother and daughter, such as the daughter using her mum's perfume, then the daughter gets ready to go out with friends but her mum forces her to remove her bright pink lipstick. The daughter is, of course, annoyed but watches her mum sing in a choir in a bright red shade of lipstick and decides to buy her mum the lipstick for Christmas. This is all whilst singing a spoof version of Robbie William's 'She's the One' in a northern accent. The lyrics say "if there's somebody spoiling my fun, she's me mum." We're definitely able to relate to this at PHA Social, however, general social reaction to the #GiftsThatGetThem has been mixed. Some consumers have said that the advert 'sends out the wrong message' as the removal of lipstick could be interpreted in a few different ways. Other criticism comes from those who have branded the advert insensitive, as not everyone has their mother with them at Christmas. It is becoming increasingly difficult for brands to know what will offend consumers, as social media makes it so easy to voice criticism, but overall, for every negative comment there is a positive comment for this advert and boots should be happy to be a part of conversations around feminism and social good.
Asda
As a wise man once said, 'don't fix what is not broken'; The formula of snow and Santa at Christmas never fails to impress, and this advert has plenty of both. Santa lights a cannon whilst a crowd dressed in sequins, onesies and festive jumpers run through the snow. There are motorbikes, a polar bear float full of toys, and even a man riding a Christmas tree! Most importantly, there is plenty of product placement with an amazing feast of turkey, macaroons and every sweet treat you could ever want! It must have been a very difficult advert to film because of all the fast motion movement and for that we commend Asda. Disappointedly, Asda hasn't been very active on social in comparison to their competitors, the advert could have really of benefited from a hashtag to direct consumers to the conversation. They also released the advert at the start of November, which was perhaps a little too eager.
Overall, it's been a good year for Christmas adverts and of course, the winner is up to interpretation, but for PHA Social, it's the Boots advert. We admire brands that are brave enough to take on old classics and evoke emotion and response. Christmas is such a crucial and competitive time for brands, standing out can be tough but sticking to tradition and getting that perfect balance of humour and sentiment is definitely the way forward.
If you need any help with telling your story on social, PHA Social is able to provide you with a compelling campaign that is both relevant and timely using all of the latest industry insight. Contact us here.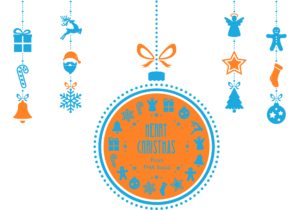 The best Christmas advert of 2018
This summer was one of the best for UK tourism, as Brits decided to stay in the country and enjoy all the British Isles has to offer.
This trend is likely to continue in to 2019, especially with Brexit on the horizon with many more UK families starting to think about taking their annual holiday in the UK. With uncertainty around the value of the pound, almost two thirds of Brits (65%) said they were worried that a further fall in the value of the pound would drive up prices for overseas travel and so they would rather stay in the UK for their annual holiday.
So, for those of you who are planning ahead for next year and dreaming of your next break we've helped you out by taking a look at the best UK staycations for your 2019 holidays.
Center Parcs revolutionised the holiday market in Holland over 40 years ago, before arriving in the UK in the 80s. Today, Center Parcs has five villages across the UK – with more to come. Center Parcs' villages are built deep within the forest, enabling families to enjoy acres of unspoilt woodland where they can interact with nature. The Dutch brand aims to be one of the leading sustainable 'Large Scale Tourism Destinations' in the UK. Center Parcs also offers a large choice of activities for all the family, from aerial adventures to aqua jetting and nature walks, not to forget the main attraction, the swimming pool complex which will always entertain the little ones!
Eighty years ago, Billy Butlin changed the face of British holidays. His aim was to make the British seaside break accessible to all. He wanted to create a place of happiness where quality activities and entertainment would be provided, so that families could really enjoy their time together. Eighty years later, Butlins has three different parks within the UK and welcomes thousands of visitors every year. Each park is designed with family at the heart, with multiple hotels, self-catering apartments, dozens of restaurants and bars, a fairground, flumes, go-karts, climbing wall, multi-sports courts, stages, and shops.
From Woodland retreats to action-packed holidays for all the family, Hoseasons is a great choice for UK based breaks. Over one million holidaymakers chose to book with Hoseasons every year. We really like their Starboard packages including cruises and boat rental options – a different way to travel the country and see beautiful landscapes. Hoseasons also produces beautiful travel guides on their social channels to help travellers discover the wonder of Britain and decide which trip is right for them and their family!
When thinking about British holidays, one of the first thoughts that comes to mind is a beautiful, traditional cottage in a picturesque village setting. Well, this dream can now become a reality thanks to Holidaycottages.co.uk. A UK based website that helps you book cottages for all your family, friends… and even pets. If you fancy a last-minute getaway, this site will also give you all the latest vacancies.
For the adventurers amongst us, Forest Holidays will tailor each holiday makers' trip depending on the activities you want to focus on. From zip lining to gorge scrambling and bike rides, there's something for everyone. They'll also find you a cabin in the woods, so you and your family can have some happy times together using the hot tub or even have your own in-cabin chef. Make sure you check their "forestipedia" blog, it'll give you some interesting insights on nature and what to do depending on the time of the year.
Are you looking to boost your bookings for 2019? Do you need help diversifying your customer base? Speak to our communications experts today to find out how we can help you.
Best UK staycations for your next holidays
Happy Halloween! For some this is a time to head to a fancy-dress party or send your little one's trick or treating.
To celebrate the scariest day of the year, we're looking at the best Halloween campaigns we've seen spooking consumer this year.
Jägermeister
Jagermeister is focusing its advertising on Snapshat with an impressive $100,000 budget to reach out to Millennials. The Jägermeister's AR campaign, called "Divine the Darke", allows users to swipe up on Snapchat ads and trigger AR Snapchat lens featuring tarot cards meant to reveal users' "cocktail fate." Snapchat users can also access the experience through nine different Snapcodes found on Jägermeister products in bars and stores.
The campaign already generated impressive results, including 32 million impressions, and 450,000 Snapchat users have swiped up into the lens experience. Not too bad for a campaign which only started on October 19.
Fanta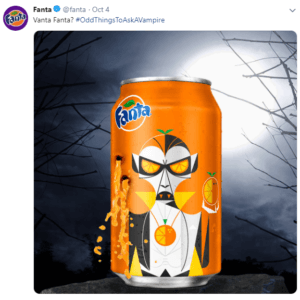 To celebrate Halloween, Fanta is throwing one of its biggest campaigns so far, including the launch of two new Halloween flavours, spooky limited-edition bottles and cans. The fizzy drinks brand is using Snapchat lenses and filters, and an experiential Halloween event called Twisted Carnival to promote the release.
With a £3 million marketing budget for both outdoor and digital campaigns, it's impossible not to have spotted the scary characters on the street of London. Fanta has also teamed up with Lad Bible and influencer Joe Tasker to bring the campaign to life with light-hearted content.
The Coca-Cola- owned brand worked with Merlin Entertainments to throw the ultimate Halloween experience. The event takes fans on a freaky journey and promises to leave them equally thrilled and terrified in different parks including Thorpe Park, Westfield London and Birmingham Bullring.
M&Ms
While M&M's are a Halloween staple, it's been 11 years since the brand released a new commercial marking the holiday. This year's new commercial takes a humorous look at "surviving" the scariest night of the year as it suggests that Yellow may have died!  The ad takes a Halloween-themed look at the brand's longstanding irresistibility storyline to show what life (or death) is like when you're a delicious piece of chocolate. With the famous two characters, Red and Yellow, M&Ms are always finding ways to bring some fun to any occasion.
Along with the new commercial, the brand also created new Halloween-themed print ads, as well as some easy cooking videos on how to create Halloween treats using M&Ms. They are also promoting their usual Halloween flavours: Pumpkin Pie and Candy Corn and are using the season's colour in all their social media posts to keep the theme alive.
Dior Makeup
It's not just F&B brands that are using Halloween to campaign their products. Dior Makeup got into the spooky vibe with an influencer campaign featuring Bella Hadid, where the supermodel demonstrated how to create makeup looks just for Halloween. The campaign in its second year has been a big success.
Dior Makeup as part of the campaign created a landing page where shoppers can buy the full look, full of red and black products. Dior is mastering the use of influencers and understand that videos are key to attract their audience.
ASOS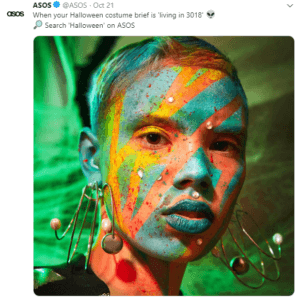 Sometimes it's the small details that matter the most. ASOS are always brilliant at changing icons on their website depending of the time of the year. Halloween is no different, when ASOS changed the profile logo to a little ghost. A funny touch that will remind people that Halloween is around the corner and that they can always use ASOS to find the perfect costume for this year's Halloween party.
ASOS are also producing inspirational content to show shoppers how to use their products including makeup and clothes. The online retailer is partnering with brands such as Gypsy Shrine to showcase dazzling face and body decorations. There is even a discount code just for today SCREAM15.
Snapshat and Perrier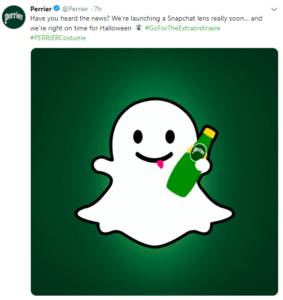 French water brand Perrier has paid homage to Kanye West dressing up as one its bottles by allowing Snapchat users to virtually do the same for Halloween. One month later, Perrier's social team has consecrated the performance via the power of a Snapchat filters. Looking to capture the 18-24-year-old market, the brand has developed an AR lens that turns users into a green bottle, just like Ye. Snapchatters can then record a clip of themselves awkwardly bobbing and send to their friends. No need to buy a costume!
Do you agree with our choices? To find out how public relations can benefit your business then please get in touch with a member of our award-winning team.
The best Halloween campaigns