Regardless of whether you support or are against Brexit, it's coming, and businesses are having to deal with the consequences come what may. For some, it presents serious operational concerns and threats which have been widely reported and recognised: job losses, supply chain issues and dwindling investment. For others, Brexit presents an opportunity. Since the result of the 2016 referendum, some existing businesses have resurged, and new ones have emerged.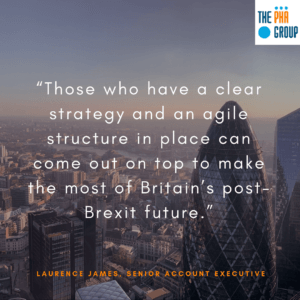 Luxury property
Following the referendum result, sales of luxury properties (valued between £5m and £10m) fell by 51% year-on-year, and new-builds in London priced at more than £5m saw an 83% drop in value. Tax changes and uncertainty around Brexit seemingly deterred buyers from investing in residential property.
Almost three years on, and the dark clouds continue to loom over a housing market which is populated by cautious buyers and sellers awaiting a government announcement on a deal with the EU. However, the luxury homes market has bounced back to weather the Brexit storm and come out the other side with a rather sunnier disposition.
Sales of homes worth over £15 million have risen more than 40% since the referendum. This is due to a rush of overseas buyers snapping up vintage English real estate. A combination of a fall in the value of house prices by roughly 25%, coupled with a drop in the pound of about 15% means foreign buyers can purchase luxury real estate for values around 40% less than they would have paid three years ago. As a result, over half of prime houses sold in London over the last six months of 2018 went to overseas buyers.
UK property is a particularly lucrative investment for buyers trading in euros and dollars. One such example is the FirethornTrust, a property investment firm run by two US billionaire families, which is investing heavily in London property amid the volatile economic conditions, including their purchase of Quay House in London's Canary Wharf.
As such, luxury property investment firms and estate agents such as London Central Portfolio have experienced success since the 2016 referendum result, when its CEO Naomi Heaton predicted an upturn in fortunes saying that: "prime central London real estate is expected to benefit from a flight to quality, against a background of highly volatile financial markets." She was right.
Gold investment
Brexit has led to a modern-day gold rush as British investors seek alternative financial assets that won't depreciate in value amid the uncertainty.
Earlier this year, Chris Howard, director of precious metals at The Royal Mint said "We have seen a significant increase in demand for gold, a trend which we have no doubt is largely attributed to Brexit and subsequent market volatility." He cited a 73% increase in demand year-on-year during the first half of January.
Speaking to Channel 4, Josh Saul, CEO of The Pure Gold Company, claimed that this increase is driven not just by a rise in demand from those with an existing interest in gold, but most importantly from first time investors. Josh has seen a 219% increase in demand from such customers over a 12-month period since the vote on EU membership. New investors are also turning to other online gold investment services such as BullionVault and Gold.co.uk.
At times when the pound and stock markets look vulnerable, gold represents a financial insurance policy for many wealthy investors. Its value remains resilient and has even appreciated in value, particularly at the most politically chaotic moments of the Brexit saga – when demand for gold is at its highest.
Management consultancy
As businesses and individuals seek to derive meaning amid the economic uncertainty arising from Brexit, expertise has also grown in demand. Numerous businesses offering expert management consultancy on Brexit have emerged following the referendum.
In the long term, potentially complicated border tariffs, a possible economic downturn, and a shortage of talented employees from the continent could ultimately have a negative impact on the industry, but for now Brexit has ensured the expertise of professional services businesses remain highly sought after.
In February, the BBC reported that the government had agreed contracts worth over £100m with management consultancy firms such as Boston Consulting Group, PwC and Deloitte to help smooth the transition from the EU and minimise any possible economic side effects.
But it's not just the government that needs this kind of professional advice, businesses small and large can benefit too. Even if a business is not directly affected by Brexit, it is almost certain that one of the other businesses in its supply chain or network of partners and clients will be affected. Therefore, many businesses already have or are considering incorporating a Brexit strategy as part of their core strategy.
Management consultancy firms such as the McWhinnie Consultancy and P2 consulting offer all types of businesses consultation within areas including legislation, finance, restructuring, strategy, corporate communications and technology, to help 'Brexit-proof' businesses.
Out of all the uncertainty created by Brexit, one thing is for sure: there are some winners and some losers. Those who have a clear strategy and an agile structure in place, can come out on top to make the most of Britain's post-Brexit future.
If you would like to find out what PR could deliver for your business, why not get in touch with our award-winning team today. Look at our B2B credentials here.