Influencer marketing is seeing explosive growth. In 2021, it was worth £10.4 billion. In 2022 it is expected to grow to a £12.3 billion global industry.  
Influencer content is important for brands for a few reasons:  
1) 60% of global consumers say they'd "follow a brand, product, or service after seeing it promoted by a creator who shares their values and interests" (Facebook; how CPG brands can leverage influencer marketing for results).  
2) 86% of consumers say they'd purchase, try or recommend a product when content is rated as shareworthy.  
3) 68% of people say that they come to Instagram to interact with creators.  
Consumers trust influencers more than brands, so brands should be effectively using creators to maximise their sales.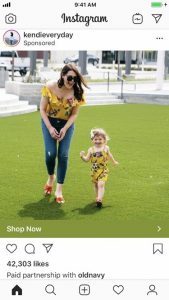 One of the ways brands can partner with creators is through 'branded content'. Branded content on Facebook and Instagram is a creator's content that features a business partner or brand and can appear in feed and stories (example right).
People will see "Paid partnership with" along with the brand name on each post – improving ad transparency with influencers, which has been known to be lacking with the use of #ad in sponsored posts.  
However, depending on the creator's following, reach can be quite limited. – If an influencer has a following of 50,000 then it can only reach that number organically –(although Instagram explore can help expand reach).
To combat this, brands should look to use branded content ads, allowing them to expand the reach of branded content to an audience beyond the creator's following with content that feels organic. 
The use of branded content ads isn't just useful to expand reach – it can also drive sales. When Facebook and Instagram campaigns are combined with a brand's regular ads, consumers are 85% more likely to add products to online basket orders. Facebook use the example of Clinique, who earned an 8.7x ROAS from using branded content ads. 
We've been working with influencers from the get-go and we have a team of social media specialists who are ready and able to set up branded content ads with your influencer partners to truly maximise results. . Get in touch today to see how we can help support you.