Written by
Lily Barnes
• Published 10th September 2018 • 4 minute read
Idea 1: Add some Christmas flair to your brand
Starbucks Christmas cups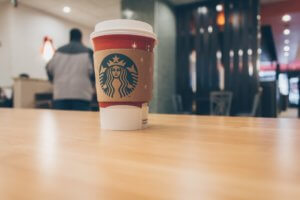 Every coffee lover is waiting for this moment. The time where Starbucks switches their white paper cup to the warming festive red cups. This my friend has been the start of the festive season for 21 years now. Not only do they change the colour of the cups, the American coffee giant also brings new flavours to its menu from gingerbread latte, eggnog latte to peppermint mocha. Every year, the design of the cup changes, last year, Starbucks created its first-ever colour-in Christmas cup, encouraging customers to add their own splash of sparkle and style to their drink. Starbucks isn't the only coffee chain to launch festive takeaways, but it was the first. There's even a countdown website to let people know when the Christmas cup will make its return. Having a seasonal product always creates enthusiasm and Starbucks are mastering it.
Idea 2: Make your shop/pop-up festive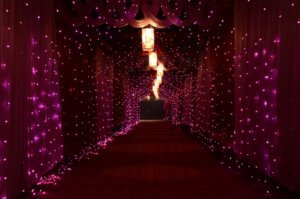 Over the years we've seen more and more pop-up bars and restaurants opening during the Christmas period. From cosy chalets to ice rink rooftop bars, London is full of options to celebrate the festive season around Eggnog and melted cheese. Last year, we liked the igloos popping up around London. Especially Jimmy's Lodge in Southbank. You could choose between a private snow globe (it's an igloo yes!) chalet-style Refuge Restaurant perched on the edge of the Thames, serving melted cheese and warming treats. Add in some warm food, spicy cocktails and fairy lights and you'll have a successful festive pop-up restaurant!
Idea 3: CSR campaign – Bringing a festive feeling to the community
Pret a Manger – Christmas sandwich campaign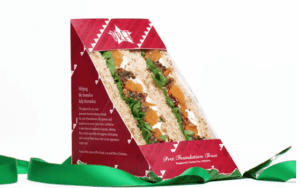 Nothing screams Christmas like Pret's turkey sandwich. But this isn't the only reason why we like Pret so much. In fact, 50p from every sandwich and baguette sold from Pret's Christmas range is donated to the Pret Foundation Trust to support its charity partners, including The Clock Tower Sanctuary, Imagine If Trust or the 240Project. Pret focuses their efforts ontheir shop windows, packaging, team members and social media channels to tell their stories and interact with customers.
A Christmas CSR activity is a great way to engage a new audience with your brand as well as with your regular customer. Consumer in the UK have a greater tendency to buy products that have a positive social or environmental impact and Pret is a great example of what can be done.
Idea 4: Partner with influencers to run a Christmas prize draw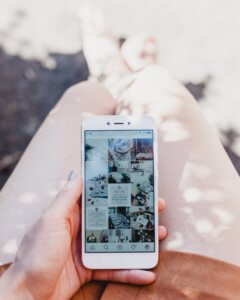 Photo by Georgia de Lotz on Unsplash
One of the easiest ways to expose your brand to potential customers during the festive season is to get it into the hands of the influencers they love to follow. Sending products to an influencer, even for a giveaway, does not guarantee coverage. However, if an influencer agrees to work with you, it's a great way to build excitement around your brand, especially during Christmas where customers are on the hunt for good deals, latest trends, treats for their loved ones or even for their selves.  Building relationships with the right influencers is crucial to your success. Ensure you've researched their engagement, demographic and target audience before approaching, you both have reputations to protect.
And when it comes to deciding what to give away, we suggest a few guidelines:
Offer something of real value. You want to make it worth the audience's time to enter.
Make sure it's something you can afford to give away.
Remember that influencers ultimately know their audience better than you do, so be receptive to feedback regarding what they think you should be giving away.
As for the process of entering the giveaway, don't make it too complicated for people to participate but do require them to do something low-effort that somehow benefits your marketing goals.
Idea 5: Create a gift guide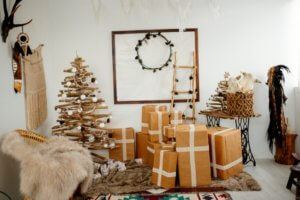 Photo by Chang Duong on Unsplash
Gift guides are a fantastic tool that lots of retailers and content creators utilise around Christmas to both promote their products and give their customers/readers some great gift inspiration for the festive period. With half of consumers saying they still rely on in-store inspiration, retailers should consider ways to blend digital and in-store experiences to guide shoppers.
With so many gift guides out there this time of year, it can be hard to make yours stand out from the crowd. Here are a few ideas to create a cracking gift guide:
Why not try a video gift guide to showcase your best-sellers and showcase them in action? Video has proven to be effective in gaining traffic, views, and engagement, so a video gift guide could be just the thing to get people interested in your products.
Make sure you have products for everyone and have a clear categorisation, so people can navigate easily through the guide.
Make sure your gift guide looks great on different channels or platforms especially if you are using a mix between print and digital.
We love Time Out's gift guide, with gifts for foodies, techies, and music lovers, you'll find something for everyone. The guide works well in both printed and digital and is packed with brilliant and fun ideas to satisfy even the trickiest of friends and family members.
Do you need help launching your Christmas campaign? Speak to a member of our award-winning team today to see how we can help.