2023 saw consumers across the UK tighten their wallets in response to the cost-of-living crisis. Early predictions have suggested that Black Friday consumer spending is expected to take a 23% YoY hit, with the average shopper spending 40% less compared to the same period in 2022. Despite this, Black Friday and Cyber Monday (BFCM) will remain a critical weekend in boosting sales for businesses up and down the UK. This year, having an accurate set of expectations to inform BFCM marketing campaigns is particularly important. With this in mind we take a closer look at what key trends marketers should be keeping in mind.
More BFCM participants
The cost-of-living crisis might have lowered the average BFCM consumer spending to £113; however, it will drive up the number of participants this year. Approximately 51% of the UK's adult population will seek out the best deals this year, a 12 percentage points increase from 2022. If marketers wish to reach new joiners, they should consider both wide-reach campaigns and targeted incentives. For a wider reach, paid search advertisement is the ideal option. Compared to last November, PHA clients saw a 10% MoM increase in search and a 348% MoM increase in CTR for the 'client name + discount/sale/outlet/promo code' keyword. One way to target closer to home is by identifying the segment of its existing customer base that has not previously participated in Black Friday with them and creating an email campaign with exclusive incentives.
Rise in consumer price sensitivity
The DMA (Data & Marketing Association) reports that consumers are increasingly more price-sensitive, and 48% of consumers would switch away from a brand they liked if the brand stopped offering deals. However, for consumers to deem a discount acceptable they expect a minimum of 30% discount. Navigating price sensitivity can be crucial to a retailer's campaign success. Businesses can utilise product bundles to improve the affordability of steep discounts; beyond this, marketers will need to be particularly savvy with their margin consideration in their PPC strategies, taking care of their BFCM budget and optimal bidding strategy.
More broadly, marketers should make high-intent customers aware of a business's most competitive BFCM discounts via a holistic digital marketing strategy incorporating paid search, paid and organic social media. While UK consumers still head to physical stores during BFCM, online spending has overshadowed its offline counterparts in the wake of the global pandemic. Moreover, according to Google-commissioned research (Google Internal Data), 96% of consumers used online search before purchasing in-store in Q4 2022.
Increased usage of social media
Social media plays a communicative role in long-term marketing objectives centred on building brand presence and increasing customer loyalty. However, more relevant to BFCM campaigns is the high growth of the immediate sales roles of social media. Firstly, social media is driving more traffic to e-commerce sites. After a record 22% YoY increase in social media referral rates last BFCM, DotDigital expects consumers to continue increasing their social commerce transactions this BFCM. Secondly, social commerce is on the rise. Insider Intelligence reports an estimated 8.6% growth in the number of UK social buyers in 2023. The growth is likely driven by consumers increasingly using social media as search engines. Almost 40% of Gen Z use TikTok and Instagram over Google Search and Maps (Google Internal Data). Meaning, social media should be an essential component of retailer's BFCM campaigns.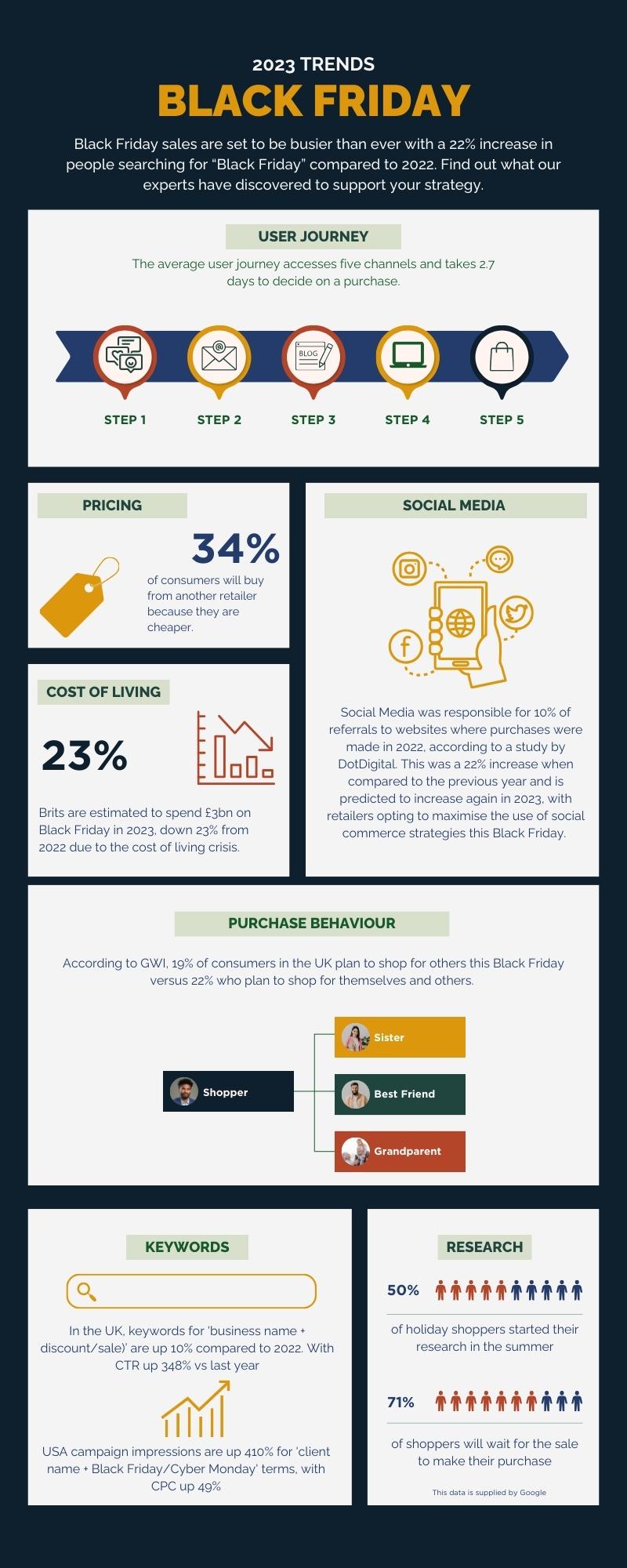 Formulating a holistic digital marketing strategy to address the changes in consumer behaviour can be overwhelming. Our specialist digital team and social media team at PHA are experts who have consistently delivered tangible results for our clients. Get in touch to see how we can support you.