It's been a fortnight of shocking losses, tremendous wins and fabulous fashion for Wimbledon. Something else that has caught our eye has been Wimbledon's brilliant Instagram social media strategy. We all know that Instagram is the main visual platform, which is what makes it ideal for sport. From sportsman celebrations that people want to replay, to match announcements and crowd reactions, watching the action live on TV is just one dimension.
Wimbledon's Instagram account has certainly caught our eye for all the right reasons this year. With over two million followers, there's a lot of pressure, but we have to admit, the content is visually stunning and consistent with their brand.
You can keep up with the tournament by following their daily Instagram Stories and if you happen to miss a match day, don't worry – they've created a highlight for each day. The highlights are varied and cover fashion moments, slow-motion videos of the players, celebrities and staff features. Behind the scenes content is always something that consumers crave as it makes them feel a part of the action. Instagram Stories are a brilliant opportunity to create in-the-moment videos that are low-budget, as the expectation for Stories are much less constraint than feed posts. They also entice users to visit Wimbledon's profile and peruse their feed posts.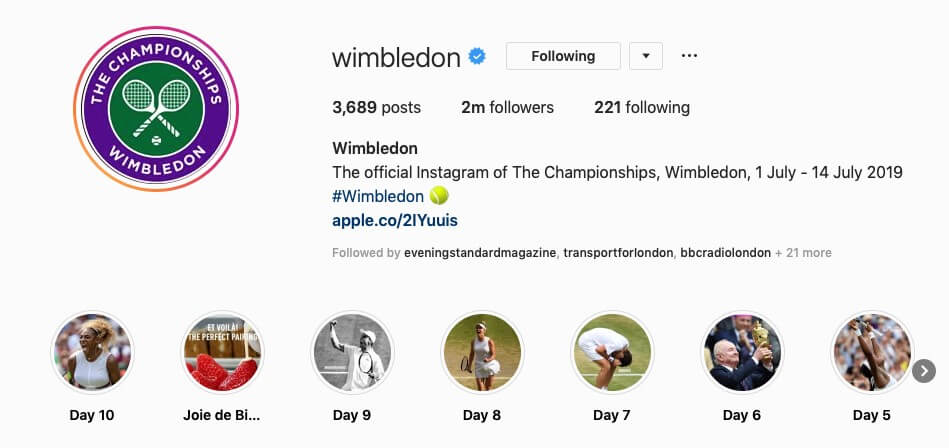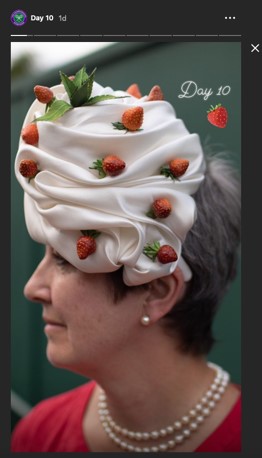 The Wimbledon feed is the perfect mix of video and still imagery. Video is becoming increasingly popular on social media as it can improve the reach of a post dramatically compared to still images, and they have clearly invested in their video content with some brilliant interviews and match best moments montages. Interestingly, their engagement is high. This is to be expected due to the decline of organic reach, so even Wimbledon cannot afford to rely on followers alone. That said, each post includes a handful of hashtags to further their exposure, and this is something that big follow accounts don't often do out of vanity. It is good to see Wimbledon using every opportunity to enhance their engagement. The stars of tennis such as Serena Williams and Roger Federer and their celebrity friends, including the Beckhams, dominate the feed as the most engaging content.
Sport is something that people enjoy discussing and their posts often attract hundreds of comments. Avid Wimbledon followers often have their firm favourite player that they support religiously. The beauty of a tournament like Wimbledon is that every day, the odds change and therefore the predicted winners are always up for debate.
As well as the sport itself, Wimbledon is lucky to have a reputation for its fashionable and often famous guests (Meghan Markle in jeans and panama hat, we see you!). We say 'lucky', because it is another opportunity for great content. The stars on the court can sometimes get overshadowed by the celebrity spectators sitting in the Royal Box. Famous faces are a great way to get people engaged with the sport – if it's good enough for David Beckham, it's good enough for us.
Wimbledon tennis has a reputation for being a formal event and there is a strict dress code for anyone who wants to go in the Royal Box, which is why even mere mortals tend to dress smart. Wimbledon has teamed up with Haagen Dazs and Laura Whitmore this year to interview the fashionable attendees in a series of short videos. It's a great street style edit whilst subtly plugging the Haagen Dazs stand. A far cry from the usual blatant influencer content that we see too often.
Overall, even if the sport doesn't entice you, the content certainly will as it is so varied and high-quality. So many world-famous brands rely on their reputation to attract fans, but with the changing landscape of consumers this is no longer acceptable. Who would think that a 142-year-old brand would be leading the way?
You may think that Wimbledon has such a big budget that your brand could never recreate their strategy, but it can be more cost-effective than you think. You don't need a team of videographers to capture your next event, as most content is viewed on mobile anyway. As long as you are consistent with your tone and branding, you too could create something as engaging that documents the essence of your business.
If you're unsure about where to start, please get in touch to find out how PHA Social can help.