By Salma Yehia
In a digital age of social media, the public has taken on the role of judge, jury and executioner. A person's reputation now hinges upon a single social media status. Brands are constantly striving to gain attention. However, their attempts don't always work out quite how they'd hoped. In no particular order, we've taken the time to compile a list of some of the biggest brand faux pas of 2018 thus far.
Elon Musk
The CEO of Tesla, Elon Musk, has once again found himself in hot water. In a comment made on Twitter, Musk called British caver Vern Unsworth a "pedo guy". The tweet was later deleted, and Musk issued a public apology.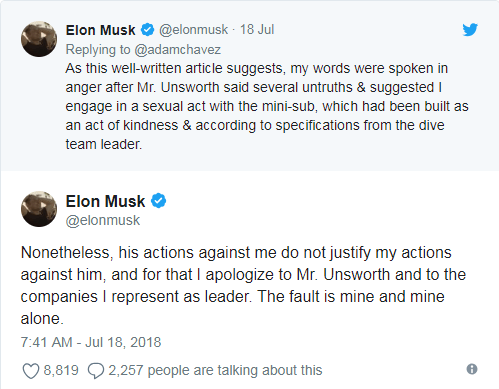 2. Alan Sugar
Lord Alan Sugar made a controversial tweet regarding the Senegalese World Cup football team. The tweet featured a photoshopped image of the team standing in front of counterfeit goods: "I recognise some of these guys from the beach in Marbella. Multitasking resourceful chaps".
People immediately took to Twitter to express their horror, branding his tweet 'racist'. Sugar initially responded with a series of tweets: "…it is meant to be funny…for god sake" and "I can't see what I have to apologise for… you are OTT…it's a bloody joke." He later took down his tweet – "just been reading the reaction to my funny tweet about the guy on the beach in Marbella. Seems it has been interpreted in the wrong way as offensive by a few people. Frankly I can't see that, I think it's funny. But I will pull it down if you insist."
In a matter of minutes since his previous tweet, Sugar took to Twitter to issue another, less cynical, apology.
3. Ryan Lochte
Olympic swimmer Ryan Lochte accepted a 14-month sanction after he posted a picture on Instagram of him and his wife, receiving an intravenous drip.
According to the US Anti-Doping Agency, "intravenous infusions or injections in excess of 100 ml within a 12-hour period received in any other setting require an approved TUE. If a prohibited substance is administered intravenously or via injection, a TUE is necessary for this substance regardless of volume. Administration of IV infusions over the WADA volume limit, including dietary supplement and vitamin cocktails, provided to athletes for recuperation, recovery or lifestyle reasons is prohibited at all times without prior TUE approval. In situations of medical emergency, a retroactive TUE application pursuant to the International Standard for Therapeutic Use Exemptions is acceptable."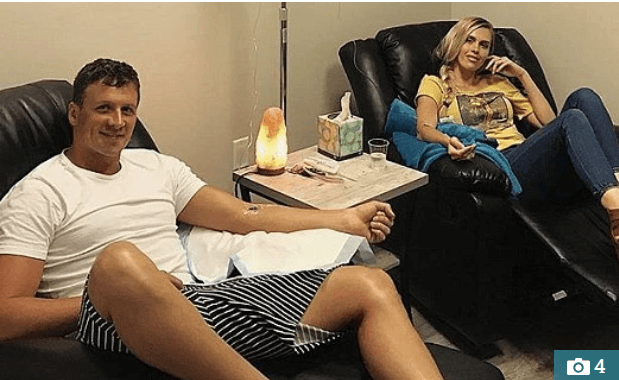 4. Kim Kardashian
The social media star has been accused by fans as having photoshopped her Kimoji perfumes into old pictures. Kardashian fans first spotted the uncanny similarities between the two images when Kim posted it on her Instagram account. The reality star certainly wasn't shy about recycling her old images. The original post featured Olay's Regenerist Whip and appeared to be replaced by the Kimoji Cherry perfume.
The original post                    The photoshopped post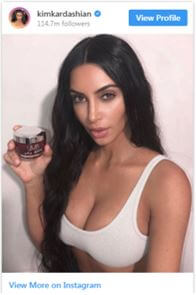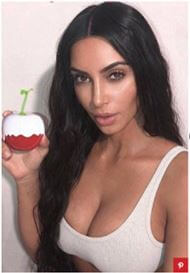 5. Lorde
The singer shared a photo on Instagram with the caption: "And iiii will always love you", which appeared to reference the 1992 Whitney Houston song. Lorde received a huge backlash soon after posting the image. It attracted such an adverse response because Houston drowned in a bathtub in a hotel suite at the Beverly Hilton hotel in California. Lorde took to Twitter to post an apology, saying: "I am SO sorry everyone this was a deeply poorly chosen quote about my love of bathing. I was meaning no disrespect and hadn't put anything together because I'm dumb and it's my day off. SORRY".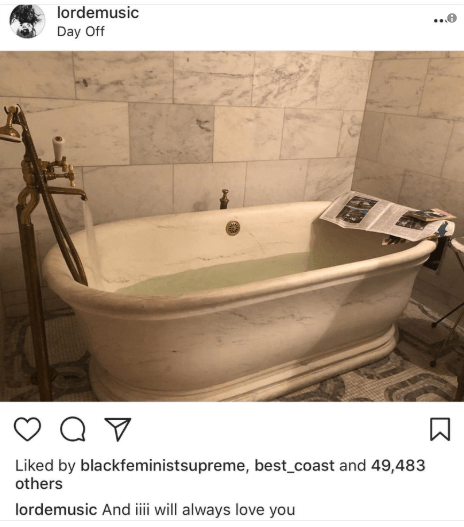 6. Snapchat
It's no secret that the app has been in major decline in recent months; their latest stunt has made them even more unpopular amongst social media users. In March 2018, Snapchat ran an advert which appeared to reference Rihanna's domestic violence experience. In 2009, Chris Brown was convicted of domestic violence against Rihanna. The advert for a game called "Would you Rather?" asked users if they would rather "slap Rihanna" or "punch Chris Brown".
Snapchat pulled the advert, claiming it was "reviewed and approved in error, as it violates our advertising guidelines", adding, "We are sorry that this happened". Rihanna took to Instagram to respond to the advert: "Now SNAPCHAT I know you already know you ain't my fav app out there! But I'm just trying to figure out what the point was with this mess! I'd love to call it ignorance, but I know you ain't that dumb! You spent money to animate something that would intentionally bring shame to DV victims and made a joke of it!!! This isn't about my personal feelings, cause I don't have much of them…but all the women, children and men that have been victims of DV in the past and especially the ones who haven't made it out yet….you let us down! Shame on you. Throw the whole app-ology away".
With all these shocking blunders, we've made a list of our top tips to help you avoid these mistakes:
Proofreading: Before posting anything, take a few moments to check your post for typing errors, particularly spelling and grammar mistakes.
Factual inaccuracies: Fact check your post to eliminate any inaccuracies.
Think holistically: Approach your post from different angles and consider whether it could be interpreted as being offensive.
If you want to know what we can do for your business, get in touch and make an enquiry today.