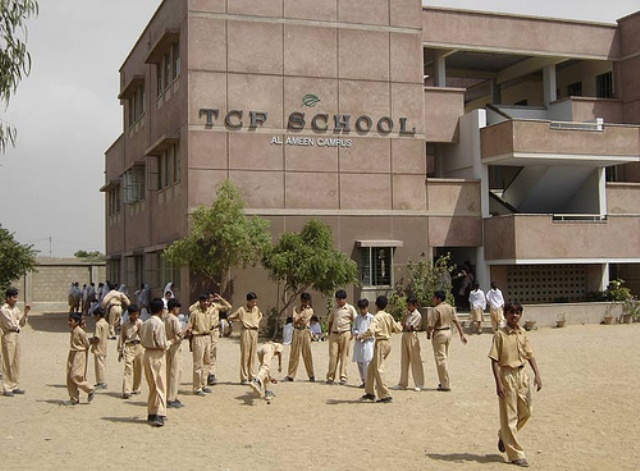 If ever there was a country in need of some good PR it's Pakistan. The first impression fits in with all the prejudices of the West. The hot, dusty streets in Karachi are alive with sirens and we can't get to our hotel without machine gun-toting guards checking our car with a bomb sniffer dog. We're warned that perhaps it wouldn't be a good idea to take a stroll outside the gates.
There are no tourists here. It's too hot, too dangerous.
But first impressions can be misleading. We enter into the air-conditioned splendour of the Pearl Continental to find families taking high tea, parents and their children visiting a university convention pushing colleges in faraway places like Leeds, Bristol and Middlesex. The Pakistani Idols are staying here in between TV talent show contests. We half expect to see Simon Cowell sitting in the lobby.
Life goes on, as it does everywhere, in simple ways. Families getting together around the meal table, parents worrying about their children's education, all of us watching silly television shows.
With my PHA colleague Jo Foster, I'm in Karachi to meet with the directors and staff of The Citizen's Foundation, a non-profit that has beaten all the odds to build almost 1,000 schools in Pakistan's poorest urban and rural neighbourhoods. They want us to help safeguard their educational legacy with a global fund-raising campaign publicising their extraordinary success, not only in bringing literacy to those most in need but also in insisting that girls should get exactly the same opportunities as boys in their classrooms, a goal once thought impossible in areas influenced by the fiercely fundamentalist Taliban.
But before we can start work we're whisked off by one of the founders to a wedding. Here's a very different side of Pakistan. The dancing was the night before and the bride and groom and their families and close friends had been celebrating for days.  You wouldn't notice. Both looked immaculate. This was the grand finale involving more than 1,000 guests, the women stunning in eye-catching colours, the men magnanimous in suits and smiles.
Everywhere, we're treated like we belong.
At the TCF offices the next morning, the talk is not so much about Pakistan's educational drawbacks (which are substantial – of the 180 million population, more than half aged 15 and above are illiterate) but of the children, some from one-room slums, who have gone on to finish school, go to university, in one young woman's case, even study at Harvard. The conversation is not so much about terrorism or national security, both genuine and urgent concerns, but of providing a quality education – and working toilets – for children who had little hope of either before TCF.
The byword is opportunity. For girls, for the disadvantaged, for the invisible victims the world fails to see when it thinks of Pakistan.
Thanks to all of you – TCF has now reached the incredible milestone of 1,000 school units across Pakistan. We… https://t.co/qNinZBaChF

— TCF-UK (@tcfukorg) April 2, 2014
Dinner with three unstoppable, wonderfully formidable Pakistani women fund-raisers, one of them a TCF director so engaging and entrancing you could totally forget there was an armed guard outside. It didn't hurt that she owned the (highly recommended) restaurant.
Two days and Pakistan has already become a very different place to us. It has taken on the vibrancy of its people.
Few would argue that the country has an image problem. Few would argue there are crucial issues that must be faced.
But there is so much passion and beauty in this hidden pearl of a country.
All you have to do is crack the shell to find it.
By David Gardner