The Rise of Influencer Advertising…
For the first time ever the FTC has personally reached out to influencers and celebrities to remind them of their duty to disclose their "material connection" with the brands of products promoted across their social media. So what does this mean for apps such as Instagram? 
***
"OMG loving the results of my brand new whitening toothpaste. I've been using it for weeks now and nothing works better. Get it here! #toothpaste #shopping #spon #ad"
Sound familiar?
There's nothing new about brands using Instagram and their influencers to promote their products. Arguably, when done properly, it's one of the most effective marketing tools in a brands arsenal.
Pick the right influencer with the perfect target audience and a brand can increase their sales exponentially; after all, what's more powerful than someone you respect and trust not even just endorsing a product but emploring you to use it? It's real time, you can see the 'results' and the implication is by using this product you can become more like your favourite actress/model/singer.
You're just one protein shake/whitening toothpaste/detox tea away. Promise.
For the brands that were first on the scene this has been an incredibly successful tactic.
A study by TapInfluence found that social media influence marketing is 11 times more effective than banner ads. Add to that eMarketer's findings that Instagram's global mobile ad revenues are expected to close in on nearly $3 billion by 2017 and it's easy to see how brands are on to a winner.
Read our guide on how to work with online influencers here! 
So far so good right?
Certain brands certainly seem to think so, jumping on the trend by giving influencers specialised discount codes to give to their followers, gifting them free product in return for a coveted space on their feed, and implementing Instagram takeovers. The sky's the limit as far as this type of promotion goes and its fairly versatile too.
Even attempts by the FTC haven't made much of an impact. The introduction of #spon and #ad tags as a call for more explicit disclosure from bloggers did little to dampen the enthusiasm for these brand – influencer relationships. More recently the FTC has reached out directly to influencers to remind them of their duty to clearly disclose their relationships to brands when promoting products on social media.
Whether this will do more to control unlabelled advertising remains to be seen. There is still no set way to label paid posts and it seems that this form of advertising has yet to reach its peak.
And yet, there's a rumbling of discontent.
In all the excitement over rising sales and increased brand awareness something appears to have been overlooked. When you market directly to your customers, the reaction is pretty immediate too. And that reaction can change in an instant.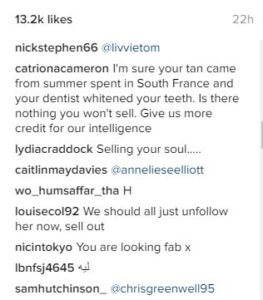 Uhoh.
"You can never have too much of a good thing" so the saying goes, however the reactions above might well suggest otherwise.
Put it this way. Imagine your favourite health blogger endorses a spiralizer. They make an impassioned case for that piece of kitchen equipment. You also then see that same bit of equipment popping up in various posts as they continue to use it to create their recipes. Sure, you suspect they may have been given it for free but it seems like they'd have bought it anyway.
This feels genuine. You trust that blogger and you can see them using this product consistently. Furthermore, this is their area of expertise. It makes sense to buy it.
Now imagine the same blogger suddenly endorses a watch from a brand you haven't heard of. Plus, they offer you a discount code. Interesting, perhaps? But then, what does this blogger know about watches? They've never expressed an interest before. You suspect they got this for free, but maybe that's ok. It's just the odd post in a sea of engaging content. After all, everyone likes a nice watch.
Finally imagine that this blogger suddenly endorses a watch, a detox tea and a whitening toothpaste all in the space of three days. Plus, they name drop a couple of clothing brands that they just 'happen' to be wearing. It seems quite obvious that these things have been given to them. There's no passion behind the endorsement. You've never seen them use these things or wear these things before. It all feels a bit staged.Do you go out and buy those things? Probably not.
Do you remain an avid follower of an account that has become something akin to a shopping channel? Probably not.
Herein lies the problem. Not just for brands but for Instagram in general.
"Instagram is the home for visual storytelling for everyone from celebrities, newsrooms and brands, to teens, musicians and anyone with a creative passion."
Instagram – about us statement
If Instagram at its conception was intended as a hub of creativity and storytelling as its mission statement claims, they'd better be wary of the rise in this undercover advertising. If our feeds become crowded with influencers pushing out brands for the sake of a pay out, you can bet that their audience will lose interest pretty quickly.
Scrolling through a feed full of repetitive #spon and #ad posts is boring at best and highly irritating at worst. You need only examine the comments on the feeds of the worst offenders to see that their audience is wise to what they are doing and not particularly pleased. In fact, they're pretty irritated.
Somethings got to give but who knows what the breaking point will be. What is clear at this point is that Instagram is running the risk of becoming a glorified string of adverts with influencers posts, at times, barely distinguishable from their paid promotion slots.
It's overkill, death by promotion and I'm doubtful that it can continue.
Now if you'll excuse me I have some whitening toothpaste to order. #spon