To coincide with the release of our free download Top 55 Tech Tweeters You Must Follow, we wanted to pay homage to the myriad of great UK tech writers out there in the blogosphere.
The below list represents 13 UK tech blogs that are not just influential, but are full of fantastic content, articles, reviews and updates on the latest trends. While many of these blogs are well known, we've also included one or two that you may never have come across before – but that should be on your tech radar.
Without any further ado, and in no particular order, here is our top 13 list. Let us know if you agree with our choices in the comments sections below.
Top 13 UK Tech Blogs
1) Jason Slater
www.jasonslater.com/ @jasonslater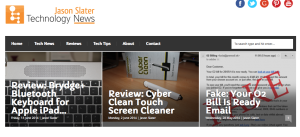 Jason runs his self-named blog, specialising in the productivity and efficiency of technology, as well as smart energy, big data and large-scale applications. His blog is full of reviews and fun things for people of all ages to get engaged with. Jason runs his blog with Sharon Stringer, who writes articles for the blog about gadgets, mobile apps and practical data. He has over 5,000 followers on Twitter, running a fantastically versatile tech blog.
[su_spacer size="20″]
2)     Becca Caddy
editor of www.shinyshiny.tv/ @beccacaddy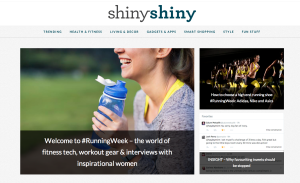 Becca is the editor of a London based blog called Shiny Shiny. This is a tech blog aimed at women and how technology is enriching the lives of women. The site was created in 2004 and since then has gone from strength to strength, becoming one of the most influential technology blogs for women in the UK. Initially set up to inform women about gadgets that they might find of interest, Shiny Shiny has been successful for the last 10 years and now specialises in the way technology is integrated into the everyday lives of women. Editor Becca is especially interested in gadgets and how they can help women get fitter, a truly inspiring and current blog that shines in this male-dominated industry.
[su_spacer size="20″]
3)     Ben Gillbanks
www.binarymoon.co.uk/ @binarymoon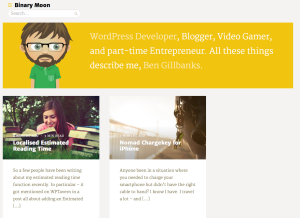 Ben is a WordPress developer, web-designer and a part-time online entrepreneur. He also works for Miniclip.com as Web Developer. He has a variety of different website, but his most famous one Binary Moon has received 150,000 hits a month since it was set up in 2005. He blogs about all things technical, acting as a source of information for web designers, WordPress users and the like. He also blogs about game releases, technology accessories and film releases, proving to be an all-round tech blogger and a generally cool guy. His heavily influential tech blog and his versatility as a blogger, web developer and WordPress expert has put him as a high contender on our list.
[su_spacer size="20″]
4) V3 – the frontline blog
https://www.v3.co.uk/blog/the-frontline-blog/ @v3_co_uk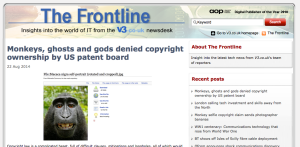 V3 bills itself as "Insight into the latest tech news from V3.co.uk's team of reporters"
– making it a great resource for tech companies interested in the latest trends, news and stories affecting the industry. The blog covers a broad range of topics although we noticed the updates are not as frequent as other blogs mentioned in this list. That said it's a useful resource and well worth being aware of.
[su_spacer size="20″]
5)     Graham 
Cluley
www.grahamcluley.com/ @gcluley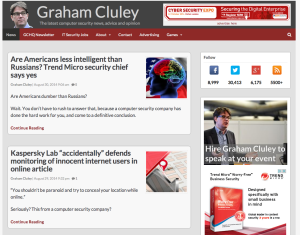 Graham has been working in the computer science industry since the 1990s and has worked for a variety of IT software programmes, including Sophos and McAfee. Before deciding to run his own blog, Graham was the editor of the Naked Security blog, receiving 1.5 million views a month. Nowadays, he is an independent computer security analyst. Having been an avid blogger since 2009, he has won a multitude of awards for his tech blog, including Twitter User of the Year in 2009 and 2010 and Best Security blogger in 2011, it is clear that Graham has influenced a lot of people in the world of technology, placing him highly on our list.
[su_spacer size="20″]
6) Mighty Gadget
https://mightygadget.co.uk/ @mighty_gadget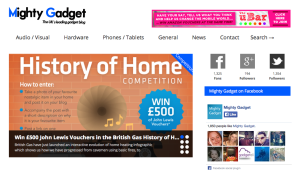 The Mighty Gadget blog is a great site for news, reviews and features about tech gadgets relating to the UK market. They regularly review new products so there is a good opportunity for businesses looking to launch a new gadget or app – remember though they are an impartial, quality site and so you should keep that in mind when submitting a product.
[su_spacer size="20″]
7) Which? Tech Daily
https://blogs.which.co.uk/technology/ @WhichTech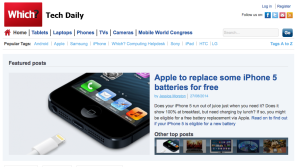 Which?'s Tech Daily blog is written by their tech journalists who write for Which? magazine and Which? Computing. It offers companies fantastic exposure when it comes to product news and reviews – however, it should be noted that the blog prides itself in "filter [ing] out the hype" so be warned as reviews can be cutting. As a hub of information though, Tech Daily is right up there. They publish the latest news and live coverage from all the Tech shows and regular useful hints and tips.
[su_spacer size="20″]
8) Al Carlton
www.coolgadgets.com/ @alcarlton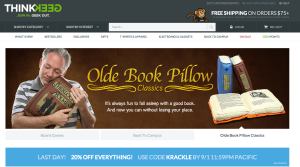 Al set up Cool Gadgets in 2005 when he was working in IT, before giving up his job to become a full-time tech blogger. He has a massive audience, around 72,000 people from around the world read his blog. Since setting it up it has gone from strength to strength, and he now has a further four members of staff working on his blog. They specialise in blogging about the latest gadgets, as Al loves gadgets and the internet so wanted to combine the two together to create his brainchild, Cool Gadgets. Since then he's set up another two blogs: SelfMadeMinds and FoolishGadgets, showing how much he loves tech blogging. With a big global following on his blogs and Twitter, this guy is a firm favourite in the blogger sphere.
[su_spacer size="20″]
9)     Cory Doctorow
editor of www.boingboing.com/ @doctorow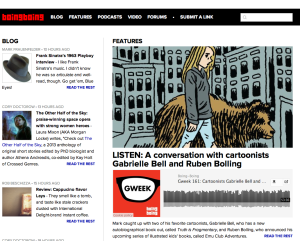 Cory is the editor of global blog Boing Boing, which was co-founded by Mark Frauenfelder and his wife Cara. Boing Boing was originally a magazine but was later converted into a web blog specialising in weird and wonderful things found in technology and culture. Cory is well known as a science fiction author, and has written novels such as For the Win and Little Brother. He has written for many magazines and newspapers including The Guardian, Wired and Publishers Weekly. He is a digital activist and co-founder of the Open Rights Group, a group protesting to protect people's digital rights in this digital age. He now runs his own blog as well as editing Boing Boing, and has 325 thousand Twitter followers. You can find his blog on his Twitter @doctorrow.
[su_spacer size="20″]
10)     Peter Rojas
co-founder of Gizmodo and Engaget, https://roj.as/ @peterrojas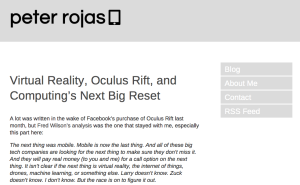 Peter was educated at Harvard before receiving a Masters in English Literature from the University of Sussex. Peter worked for Red Herring magazine for two years before co-founding Gizmodo and giving up his job to work on the blog full time. Now Gizmodo is owned by Gawker Media, and he has also sold off his other blogs – Engaget and Joystiq to AOL. Nowadays he writes his own blog, Peter Rojas, as well as having a strong following on Twitter, with his bio saying 'Stop me before I start another gadget site,' showing that he is a strong influence in the world of technology, which puts him firmly at the top of our list.
[su_spacer size="20″]
11) The Financial Times Tech Hub
https://blogs.ft.com/tech-blog/
The FT Tech Blog links to the main FT.com site, meaning that you will be asked to register to read their blogs. That minor interference aside the FT Tech Blog is full in-depth expert articles and features written by senior journalists in both the US and the UK. Posts range from news stories about the latest Apple releases to in-depth features on new Kickstarter innovations and the latest news in the world of social media.
[su_spacer size="20″]
12) The 'telegraph.co.uk'
blog – https://blogs.telegraph.co.uk/technology/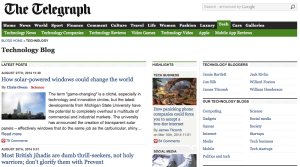 The Telegraph's Technology Blog contains many contributions from guest bloggers and tech experts from around the world. Pitching an article/feature to the blog, therefore, could be a useful technique for raising your own personal profile – providing, of course, you have something truly interesting, thoughtful and insightful to offer. Like the FT and Guardian blogs, the posts are extremely well written and cover multiple topics impacting the Tech sector.
[su_spacer size="20″]
13) The 'guardian.co.uk'
technology blog
The Guardian's tech blog offers regular, daily updates and analysis covering the latest development in tech. The blog is run by Charles Arthur, the Guardian's technology editor, who covered science, technology and health at the Independent for nine years. Charles' blog are well followed and he has a personal Twitter following of 58.7k
[su_spacer size="20″]