The festive holidays are one that we all relish but often we find the time off disappears before we know it. In fact, Christmas turkeys, crackers and glorious mulled wine seem a distant fading memory right now.
But as Christmas departs a new year begins and with that fresh optimism is born. (could it really be England's year?)
With us now already a week into 2018, it's time to look forward and see what the sporting calendar has in store for us. It promises to be a jam-packed 12 months!
Here are my Top 10 events for the year to come:
Winter Olympics & Paralympics, Pyeongchang 9th – 25th February & 9th – 18th March
Any event which includes a sport where four athletes race from the top of a mountain to the bottom as fast as they can is a winner in my book. Of course, Ski – Cross is just one of many exhilarating sports the Winter Olympics has on offer. Even the staunchest traditionist would struggle not to get excited at the prospect of an athlete hurling themselves downhill on what is effectively a dinner tray at up to 80 mph.
Commonwealth Games, Gold Coast, Australia 4th – 15th April
After a month of snow-related sports, you might be in need of some sun. So from South Korea, we move our attention to the Gold Coast. The 21st Commonwealth Games and what a fabulous location for them indeed. Will England's male sprinters stand up and put on another gold winning performance like they did last year at the World Championships in London whilst representing Team GB? Can anyone get near Adam Peaty in the 100m Breaststroke? Heptathlete Katarina Johnson – Thompson competes in her first games and will be aiming for a podium finish.
The Masters, Augusta National, Georgia 5th – 8th April
You'll have to be on your A-Game to make sure you don't miss out on any sport in an action-packed April. Although the picturesque sight of the 13th at Augusta will be enough to convince you that you really don't need that seven hours of sleep you had previously promised yourself…
FA Cup Final, Wembley 19th May
Always one of the standout weekends in the sporting calendar, the history of the Cup speaks for itself. This year there's a twist. With the Royal Wedding scheduled for the same date, HRH Prince William will be relieved that his beloved Aston Villa were knocked out in the 3rd round of the competition.
FIFA World Cup, Russia 14th June – 15th July
The groups have been drawn, the fixture dates have been released, football's biggest competition is starting to feel very close. Can Gareth Southgate's men find the blend between attacking football and winning games that England fans so desperately crave?
Wimbledon 2nd – 15th July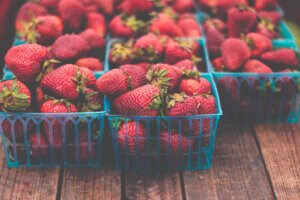 Wimbledon is certainly one of the classiest events in the sporting calendar. An event steeped in rich history and traditions. Homemade strawberries and cream accompanied with a Pimm's is mandatory of course, but would you want it any other way?
Time will tell if Murray Mount will get to see their namesake at this year's tournament but in Johanna Konta the Brits have a new fan favourite to get behind.
Women's Hockey World Cup, London 21st July – 5th August
Not only is it the first time the women's World Cup has been hosted in the UK, it's also expected to be the biggest hockey event ever in the UK. The English team are currently ranked 2nd in the World behind the Netherlands. Can they build on the success from the Commonwealth Games earlier in the year perhaps?
T20 Blast Finals Day, Edgbaston 15th September
Three games of cricket sandwiched into one day. Finals Day guarantees to deliver roller-coaster finishes, monster hits, fancy dress and a good old sing along. You won't be left disappointed.
 Ryder Cup, Le Golf National, Paris 28th – 30th September
A sport which is well known for its individual competitiveness, but when Europe take on the USA all bets are off. There is always a twist and a turn during a Ryder Cup weekend. Who can forget the Miracle at Medinah in 2012?
ICC Women's World Twenty20, West Indies 3rd – 24th November
Can they do the double? With the World Cup ODI trophy in the bag from last year, England will be looking to return home from the West Indies with the World Twenty20 trophy too. In the meantime, let's reminisce about one of the best sporting moments of 2017.
Top 10 sporting events to watch in 2018
We train with former England manager Glenn Hoddle.
It's not often that you are given the chance to be coached by a former England manager, but that's exactly what happened earlier this week when I visited the Soccerdome in London to take part in a coaching session organised by The PHA Group client FTBPro.
30 writers from the FTBPro website- the largest fan-generated media platform in global football – won a competition to be part of a training session with Glenn Hoddle and his team of England youth coaches. And thanks to a very kind boss I was also invited to take part!
We began the day with a light warm up and then we were split into four groups. After playing a few games against each other, which involved dribbling and passing between cones, we progressed into some small sided games under the watchful eye of Glenn Hoddle himself.
Glenn stopped us in our tracks a couple of times to give some advice but on the whole, he let us play as we wanted. It took me a while to get into the game but after a few decent touches and a couple of off the ball runs he acknowledged me and said he could tell that I had played at a good level. It's not every day you receive praise from a former England manager!
Not that it matters too much but we lost the first game 2-1, drew the second 2-2 and in the third and final game we drew 1-1.
We finished off with some shooting from outside the 18-yard box. We were split into three groups, one group on the outside left of the area, one group on the outside right and one in the middle. I was in the middle group. We were told that we had to be on the move when striking the ball so either a teammate would have to set it up for you or you could take a touch out of your feet and hit it.
I happened to have the ball at my feet and Glenn Hoddle was standing with his back to goal on the penalty spot. So I took my chance and fizzed the ball into him and shouted left, luckily he was switched on and he set the ball back to me and I curled a shot just over the bar. It would have been better if it had gone in but nevertheless I can still say that I played a one-two with a man who won 53 England caps and managed his country!
Out of four shots, three hit the target and I scored one which, for a fullback, are pretty good statistics.
We then all had the chance to have our picture taken with Glenn and as I approached him and shook his hand he asked me who I played for. I answered that I played for Royston Town FC and, as it turns out, Glenn is actually good friends with a few of the coaches at the club…..hopefully he'll put in a good word for me!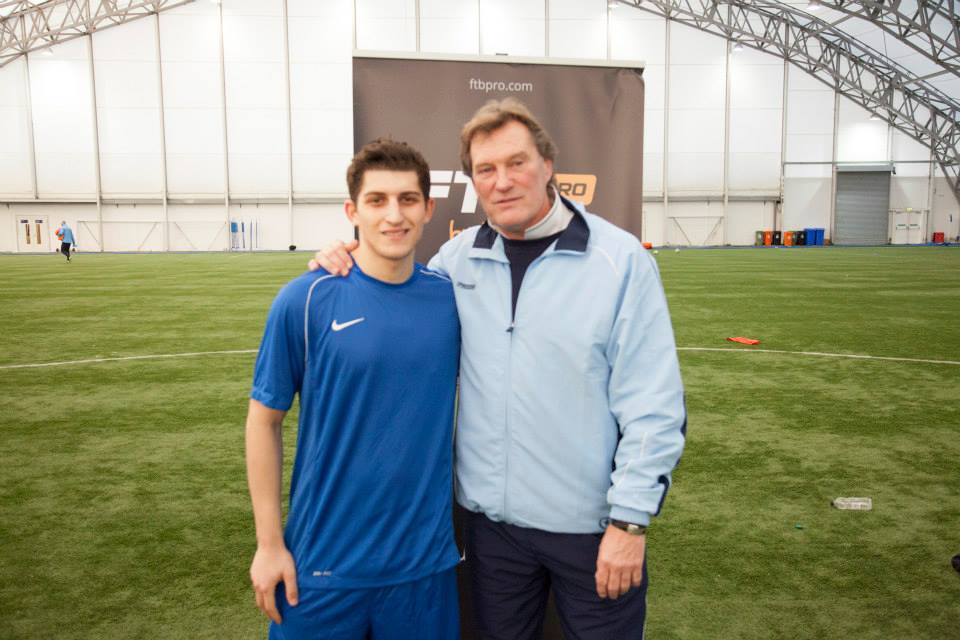 After some lunch, we finished with a Q and A session with Glenn. He was more than happy to share stories with us about his career and give us some insight into how he thinks England will perform at this summer's World Cup:
"A European team has never won the World Cup in South America so the most important thing for England this time around is to give the younger players as much experience as possible and the only way to do that is to go as far as they can in the tournament.
"The best player I ever played against was Maradona. When you look at the way he singlehandedly helped Argentina win the World Cup in 1986, for me I hold him in higher regard than Messi or Ronaldo.
"The best goal I ever scored was against Manchester United in 1979. It's the goal that gave me the best feeling".  (That was the goal that produced the iconic image, many will remember, of Glenn Hoddle floating in the air as he connected with a scissor kick volley to score).
"Paul Gascoigne, Paul Ince and a pint of Guinness" he said, discussing England's heroic draw with Italy in 1997 to qualify for the 1998 World Cup.
On modern football coaching styles, he was asked… Mourinho's style of play or Guardiola's? "I prefer my own" he said.
Overall it was a pleasure to meet Glenn Hoddle and it's obvious that he still lives and breathes football. He certainly still has a lot to offer the game and I'm sure it won't be too long before we see him standing in the dugout again.
To find out more about FTBpro visit www.ftbpro.com or on Twitter @FTBpro
Great session, great coaching and a few good stories from Glenn Hoddle
On Tuesday night, 'boo's swept round Wembley for the second time in five days. Two defeats at home is hardly reason to be optimistic as we look towards next summer's World Cup. When the shortcomings are this obvious – and with the World Cup draw just round the corner on December 6th – one thing is for sure; Roy Hodgson has plenty to consider with just one game remaining before he names his preliminary 30 man squad.
I suppose the only consolation is that, unlike in previous years, nobody actually expects us to win the World Cup this time around. And so at least we will be saved the embarrassment of a nation heaping unrealistic expectations on an England team ahead of a major international tournament.
Just over a month has passed since England secured their qualification with a win against Poland and the team's performances in the last two games are certain to leave Roy Hodgson with a pounding headache.
When you're playing teams like Chile and Germany, first and foremost you need to be competitive. And, in phases, you have to say that England were. That said, as is often the case in international football, the winning margin was decided by such a fine line.
The concern though – aside from both results – was the lack of ideas, imagination and creativity that England displayed in both games. Surprisingly their vulnerability at the back has also been exposed, which is strange, given that only Spain conceded fewer goals than England's four during qualification.
In my opinion too many players were used. Yes, Roy Hodgson wants to review players like Lallana, Henderson and Rodriquez on the international stage but with just one friendly game remaining against Denmark in March before Hodgson must name his initial squad, it's clear that he still doesn't yet know what his best starting eleven is. And that, to me, is worrying. I wonder if the same can be said for the likes of Spain, Germany or Brazil.
Will Joe Hart be England number one? Does Roy Hodgson go with Leighton Baines or Ashley Cole at left back? Who partners Phil Jagielka at centre half?
Phil Jones struggled against Chile and the same can be said of Gary Cahill. Meanwhile on Tuesday night Chris Smalling didn't perform at his best.
Who plays at right back; Glen Johnson or Kyle Walker? For me Kyle Walker is fantastic going forward but he leaves the side exposed at the back. Before a major international tournament it is crucial that a manager settles on a back four. Roy needs to make this decision and whoever he picks needs to play together to develop an understanding in advance.
To me, though, it is clear that England's defence at the moment is missing a big name like John Terry or Rio Ferdinand; someone who is going to be the leader we need and will bring experience. But would a call from Roy Hodgson change either of their minds about coming out of retirement?
Put simply, there are too many questions and not enough answers.
In the Germany game, England did not even manage a shot on target; the first time that has happened at home since the Scotland game in 1999. In the absence of shooting accuracy, a solid defence becomes even more crucial.
In midfield England were certainly left exposed against Germany. The likes of Toni Kroos, Mario Goetze played well and showed their class. And with players like Thomas Muller, Mesut Ozil and Bastian Schweinsteiger not even on the pitch, Germany has creative midfield match winners in abundance. Alexis Sanchez offered a similar threat in the Chile game.
England, on the other hand, benefit from the pace of Andros Townsend, who did play considerably well in the game last night. And when Theo Walcott is fit he can strike fear into any defender….but question marks remain in place around the quality of the final ball. Yes, we can call upon the experience of Captain Steven Gerrard and Frank Lampard, but both player lack that added creativity and explosiveness that we became accustomed to seeing earlier in their careers. That creative spark over time, could, I believe, come from someone like Jack Wilshere but a lot will depend on whether he can stay fit.
Wayne Rooney, on a good day, remains one of the world's best players. He is by far one of England's most important players. With Andy Carroll and Danny Welbeck injured, Jemain Defoe benched and Rickie Lambert relatively inexperienced, the question of who partners Rooney up front remains unanswered.
Given his form so far this season Daniel Sturridge is in the best position to wear the number 9 shirt in Brazil. But for me, he needs to offer more in an England shirt and he lacks consistency. Playing alongside Suarez week in week out should certainly help here!
I think that, as a nation, we realise that we are no longer part of the world's elite and that, more realistically, we find ourselves part of a group of second tier teams that, with a favourable draw, could make the quarter finals at best. So do we accept that we are not going to win the World Cup (in all honestly many of us already have!) and opt to give younger players vital tournament experience, building for the future?
One thing that Roy Hodgson has learned in the last two games is that the task facing in him Brazil is going to be incredibly tough. Unlike in previous tournaments though, when England were expected to win, this England side is a work in progress and the expectation of the nation remains grounded; all be it firmly in Roy Hodgson's hands.
Who knows what will happen in Brazil, but all eyes will now be on the draw on December 6th. Let's hope for a group of hope rather than the dreaded group of death.
Put yourself in the shoes of Roy Hodgson now and pick your England squad for the World Cup. Here's mine:
Joe Hart
Fraser Forster
Ben Foster
Ashley Cole
Leighton Baines
Kyle Walker
Glen Johnson
Gary Cahill
Phil Jagielka
Phil Jones
Chris Smalling
Theo Walcott
Andros Townsend
Alex Oxlade Chamberlain
James Milner
Steven Gerrard
Frank Lampard
Jack Wilshere
Michael Carrick
Wayne Rooney
Daniel Sturridge
Danny Welbeck
Jermain Defoe
A nation's hopes resting in Roy Hodgson's hands?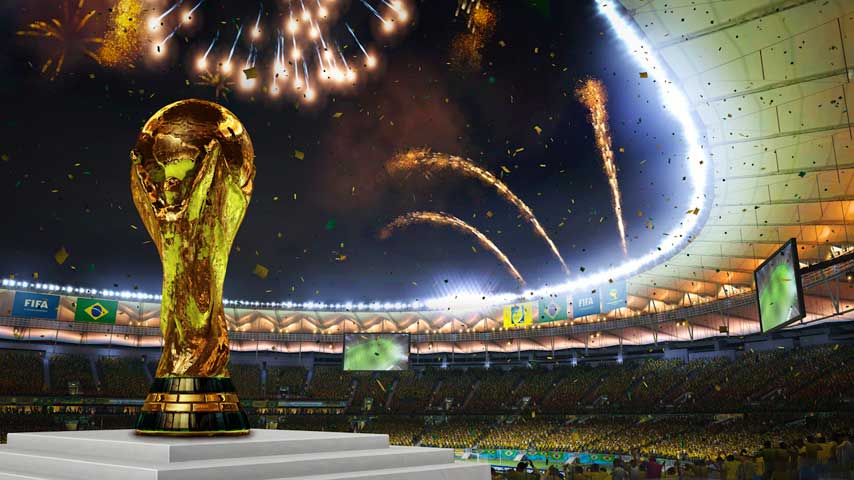 With legends like Ronaldo and Pelé at the country's disposal, it is difficult to argue against Brazil's footballing credentials when they were awarded the chance to host the biggest football tournament in the world back in 2007.
But even back then concerns were being voiced about the organisation of a tournament in a less developed country, and these issues continue to pervade the news headlines today, with just over a year before the tournament commences.
Some are now questioning, perhaps somewhat unfairly, whether the host country and its local organising committees across the nation are ready to welcome the world of football to their doorsteps in 2014.
Here, we assess some of the biggest fears being addressed in the press today:
Crime and Violence
Rio's long-standing reputation for violent crime continues to bolster and the grizzly tales of gun crime show no sign of being silenced as the tournament approaches.
With security concerns being raised so early on, Brazil made huge pledges and promises to clean up its act and make the streets a safer place to be. However, there are now suggestions that a paramilitary police campaign to regain control of the infamous 'favela slums' that lie on the outskirts of Rio, has actually just pushed the problem out of mainline sight.
Claims that the scheme has improved safety levels have been crushed by many, who suggest that the benefit is only felt by the cities wealthiest suburbs.  Despite these measures being taken, unfortunately, it is still the case that murder and armed robbery statistics remain at levels that would be considered alarming in Europe. Indeed, recently there were reports that two Brazilian football supporters were shot by two opposing football fans in the northeast of Brazil near the Arena Castelao World Cup stadium in Fortaleza.
Reports such as these continue to feature in the press around the world, making security the prime concern for visitors to Brazil next year. However, interestingly, the majority of concerns voiced by the press are being attributed to the safety of our England football stars – after claims that the Copacabana team base in Brazil is known as "Murder Central" – despite the fact that they will have armed protection with them at all times. In addition, the public have been warned that even in this beautiful tourist area with a heavy police presence, theft is not uncommon.
Infrastructure
The larger cities in Brazil have an infrastructure to support millions of inhabitants on a day to day basis as well as thousands of cultural tourists from around the world. However, FIFA has, on more than one occasion, expressed alarm about repeated delays in readying the football venues such as the 71,000 seat Brasilia stadium, which is still not complete today because of problems in preparing the pitch, despite it being a key stadium for the Confederations Cup in June. The Brazil Football Confederation and the local organising committees continue to reassure the governing bodies and the public that they will be ready in time…..only time will tell.
Interestingly enough, however, FIFA secretary general Jerome Valcke, has claimed that a certain part of Brazil's infrastructure has made planning a World Cup in the South-American country an easier feat than in another country. He has claimed that the political infrastructure in Brazil – with a lesser sense of democracy, meaning there are various levels of government – makes the organisation of the tournament a simpler task.
Gang Culture
In recent years, officials in Rio have been tackling gang-related crimes including drugs and prostitution. They claim to have made huge steps in the right direction thanks to their strategy of breaking up the hillside "favela slums", which are ruled by criminal gangs (as mentioned previously). However, just this year a horrendous case of gang rape came to light where an American student was lured inside a public transit van in the area, which has now turned attention towards the country's growing sexual assault problem. Statistics, in fact, show that counts of rapes have risen 150% since 2009 in the region. The reigniting of this safety concern has lead to increased talk about the safety of hundreds of thousands of fans travelling to the beautiful country next year and questions about whether local officials will be able to guarantee public safety.
There have also been concerns about the presence of organised crime due to the strong gang culture across Brazil. Issues such as the falsification of tickets, as well as match-fixing and bribery have been raised on numerous occasions.
As the Confederations Cup – supposedly a practice run for the FIFA World Cup – looms this year, all of the above concerns remain. The world is hoping that FIFA will work with organising committees across Brazil to smooth out the remaining issues in order to put on the greatest showcase of footballing talent in one of the most culturally diverse tourist destinations in the world.
The tournament should be a celebration of culture and sport with visitors – from officials to politicians to footballers and the fans –  all embracing the country's culture and helping to create a lasting legacy following on from the event.
Fan's fearing FIFA World Cup in Brazil?