If anyone ever tells you they are having a bad day, don't listen to them, because they haven't spent the last five hours watching Political Campaign Ads/Songs. With the Snap Election just days away, let's all come together and bask in how abysmal the human race really is.
These are in no particular order (anarchy – Take that establishment!) but let's begin with something current anyway…
Sam Harrison – 'I Feel Like Jeremy Corbyn'
At a point you have to ask whether people sit at home and think about how much their favourite politicians will love their videos. Is that what you did Sam? Did you think you were helping? 'My girlfriend tells me that I've got a big mandate.' Lord above. I don't know whether to cry, vomit, cry or cry after this.
4/10 – People actually take the time to write these songs.
Votin'
Brexit dragged up all manner of anger, frustration, fear and insecurity. But nothing – and I mean absolutely nothing – comes close to this atrocity. Where to begin? The irony of spelling learnin' wrong? The fact that as part of the prime demographic (18-24) for this steaming pile of cringe I know that the letter 'g' exists and even indulge in usin' it sometimes? I don't know but please don't make me talk about it anymore.
Typin', Watchin', Groanin', Hatin', Ratin' out of 10 (-1000), Turnin', off.
Ivan Massow – 'Invite Ivan'
Eurgh. Look, I get it Ivan. No really, I do. You want to discover what makes Londoners tick. What better way than going to meet with and talk to them? But here's the thing, that's where this should have stopped. Meeting with the public? Great. Engaging with them? Fantastic. Listening to them? Sensational! Living with them? Abandon ship/Lock the door/Run for the hills.
1/10 – A nice idea executed with all the finesse of a pig using chopsticks.
Joni Ernst – 'Castrating Hogs'
A scene from Simon Danczuk's most intimate, sobering nightmares. This monstrosity is enough to make anyone shiver. If any men watching emitted an involuntary high-pitched squeal, don't feel ashamed, even if that squeal is exactly what Joni wants. You can see Beelzebub dancing in Joni's pale, merciless eyes as she viciously wills castration on everyone watching. If Joni comes up on your tinder, swipe left before she devours your soul.
666/10 – I cannot in good faith endorse satanic ritual.
Captain SKA – 'Liar Liar'
Don't hold back will you? This is savage, and it's also blowing up right now (one million views and counting). Theresa May may think she's Strong and Stable but she gets Captain SkA-ewered here. A tad (a lot) whiny for my taste though, we like fun and humour here.
5/10 -#KinderGentlerBlogPosts
Lyndon B Johnson – 'Daisy'
Brexiteers might still moan about Project Fear, but as far as scaremongering goes this takes the biscuit. Its impact is somewhat lessened, however, by the fact that LBJ was famed for exposing his manhood to white house staff, foreign dignitaries and just about anyone who was within watching distance.
4/10 – An attack ad from a maniac who delighted in flashing everyone – thank goodness American Politics is so mundane these days.
Ted Cruz – 'The Senator who saved Christmas'
If Ted had his way the Middle East would probably be getting carpet bombed out of existence with exploding bible extracts right now. But as distasteful and divisive as his foreign and domestic policy ideas are, it is those horrible, shifty eyebrows that make Cruz truly unsettling. Disturbing facial features aside, this is excellent. Bonus points for 'The Grinch who lost her emails' and 'Rudolph the underemployed Reindeer'.
5/10 – Would be higher but Ted Cruz is the Zodiac Killer, so it's not. I'd sooner spend my Christmas in Dante's inferno than with the slimy senator.
Mike Gravel and his Rock
Stone-faced Mike Gravel, delivering a gritty message as he drops a rock into some water. We certainly think he made a splash.
7/10 – Is Mike's message sinking in yet?
Dwight Eisenhower – 'I Like Ike' 
As far back as the 1950's the Americans were pumping out content like this, and our last Prime Minister couldn't remember which football team he supported (classic nutty geezer/pub legend/one of the lads Daveyboy Cameron eh). Once you've heard this delightful little number you'll be bopping along to it for the rest of the week.
9.9/10 – 'Ike for president, Ike for president, Ike for president…'
The Green Party – #GrownUpPolitics
How do you even pick a top moment? It's impossible, but highlights are: Boris on his tricycle (I'm Prime Minister!), Jeremy's nasty shadow cabinet (Put the rockets away) and, of course, lonely, lonely Tim Farron.
9.98/10 –If the Green Party were as good at politics as they are campaign videos we would be a single-party state.
Rick Santorum – 'Game On'
It takes a special kind of ineptitude to be less electable than Mitt Romney, but hats off to Rick Santorum as he managed it in 2012. Skin-crawlingly cult-like – Rick's devoted disciples demand 'justice for the unborn,' while lavishing praise on Rick for being: 'Faithful to his wife and seven kids – he'll be loyal to our land,' (Ted Cruz/Danczuk/Berlusconi – take note).
0/10 – A torturous journey of fidget-inducing terror.
Zac Goldsmith – Who even knows what 
An aberration. Lines such as 'he is worthy of appreciation' aren't doing Mr Goldsmith any favours but the video is even more excruciating, as we are treated to Zac looking out of place and unsettled in various 'common folk' locations, including the tube (come on Zac, who are we kidding?)
3/10 – There is something there, but it's buried so deep that only someone who has spent the last 4 hours listening to political campaign songs could recognise it.
The UKIP Calypso
The words UKIP and Calypso just don't look right when you write them next to each other. Unsurprisingly, they also don't sound right when forced into this unholy union dating back to 2014. In essence, Nigel Farage performing the Dementor's kiss/an exorcism on West Indian Culture – profoundly uncomfortable listening.
2/10 – In the words of Ed Milliband: "It's just wrong."
Silvio Berlusconi – 'Thank Goodness for Silvio'
Behold, feminism's Anti-Christ. Hasn't got much going for it on a musical level and I don't buy that anyone has ever uttered the words 'thank goodness for Silvio'. Thank goodness for what? Economic disarray? Mass unemployment? Flagrant misogyny? If you're thankful for Silvio, you need to stop hanging out with Simon Danczuk on weekends.
3/10 – It's three X's Silvio, but not the type you like you dirty old cretin. You're out.
Conservative friends of India – 'David Cameron'
In an age where political discourse is often muddled and confusing, this song is reassuringly familiar in that I have no idea what's going on. Remarkably, the song makes less sense still once translated. 'The Sky is blue' – oh, okay. And yet 'David Cameron' repeated in metronomic fashion holds a hypnotic and alluring quality.
5/10 – Bonus point for the pitch that the female singer hits – a boiling kettle.
Tony Blair – '1997'
In the context of this list, 'things can only get better' is devilishly appropriate. Loving the nostalgic nineties feel of the video. Stay with it until the big reveal towards the end – Mr Blair looks like a man who has just remembered he left the oven on.
6/10 – No real surprise that Labour won the election after this.
Donald Trump – 'The Trump Jam'
Donald Trump's political career has plumbed sinister and vitriolic depths, but this is unquestionably the most unforgivable mutation that the frothing Republican candidates' posturing has created yet. An exemplary demonstration of Trump's devastating proficiency when employing the Imperius curse – watching these bewitched children stumble around stage is uncomfortable viewing for even the hardiest of folk.
4/10 – Despicable and quite Covfefe.
Kennedy – 'Kennedy, Kennedy, Kennedy'
Ladies, Gentlemen, Donald, we have a winner. Indoctrination at it's simple and masterful best. The message is clear, it's easy to join in and the lyrics are about as fun as political brainwashing could hope to be.
10/10 – Just about pips 'I like Ike', but only just…
18 Political Campaign Ads that made me question my reality
By Peter Jackson Eastwood & Emily Burditt.
It's the festive season, so what better way to celebrate than to forensically examine just how appalling Politicians Christmas Cards are? Welcome to the strange and wonderful world of political Christmas cards…
Nigel Evans MP – Christmas 2016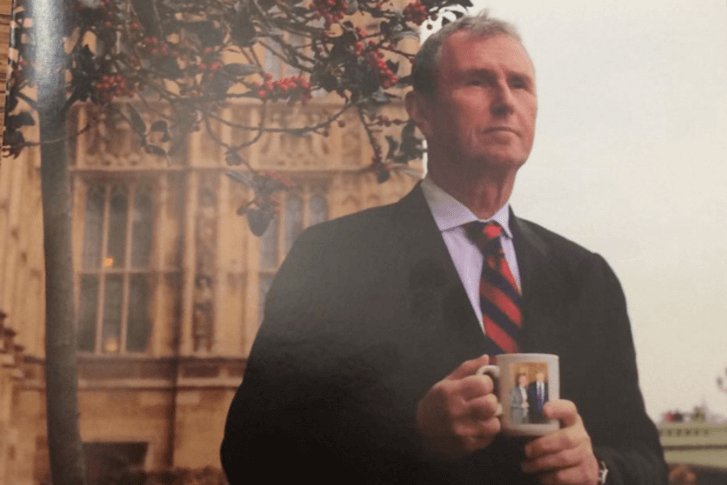 Come along now Mr Evans, you're not even Trump's favourite Nigel!
Everyone knows that Farage and Trumpy are already best mates, so maybe we can find Nigel Evans his own American friend – Mike Pence or Mitt Romney maybe? They seem like interesting chaps, and Ted Cruz could always use a chum as well…
Bonus point for the mug.
Stephen Harper (Former PM Canada) – Christmas 2010
'Season's greetings from our whole serial killing family' is probably not what the inside of this card says, but it should do.
Is there anything worse than one of these god-awful 'happy family' pictures? Everyone looks on edge. Pity the Harper children who were likely slaughtered in the playground for this one. Thankfully Canada is now blessed with the charismatic Justin Trudeau, a man so good at PR-ing himself that his wide-eyed tribute to the late, great, murderous Fidel Castro spawned an entire hashtag – #TrudeauEulogies
Fear not residents of Great Britain, the rest of the world's politicians are equally inept.
Peter Bone MP – Christmas 2015
Given Peter Bone's record in the House of Commons, I think we are all immensely grateful that his Christmas card does not feature Mrs Bone in some kind of compromised state. Small mercies.
Bone's expression epitomises how the whole country is now feeling over all this EU hullabaloo. Are we leaving? Are we staying? Are we staying in the single market? Are we retaining Freedom of movement? Are the courts in charge? Is parliament? Are you sure Michael Gove isn't a lizard-human hybrid?
Don't worry Peter, we all feel exactly as you look.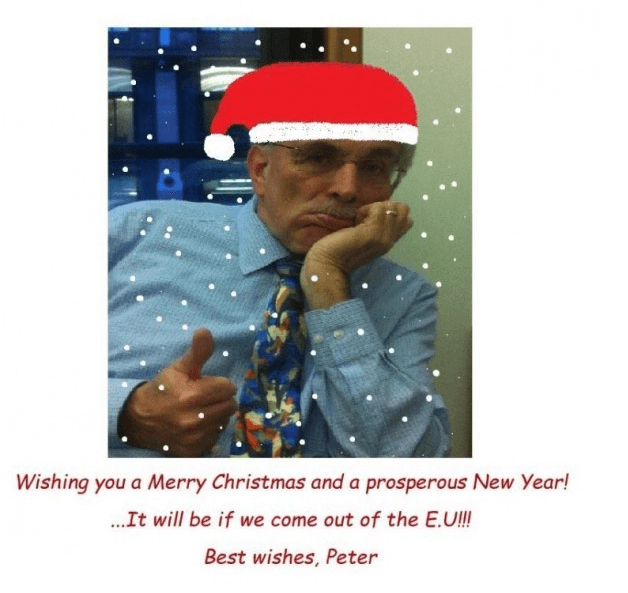 Jeremy Corbyn – Christmas 2016
This looks not dissimilar to the Dove logo, just with a red background instead of white. For that reason, let's call this 'Communist Dove'. And given the cracked, flaky nature of Corbyn's reign, he probably needs some political moisturiser to make his party a slicker machine.
So many beautiful political symmetries can be drawn from this shockingly bad Christmas card and last year's equally atrocious offering. Jeremy Corbyn has had an entire year to improve his Christmas card, but it has only gotten worse. Jeremy Corbyn has also had an entire year to improve his leadership of the Labour Party. Fill in the rest yourself.
Tony Blair, Christmas 2014
Things Tony Blair could be thinking in this photo:
'The Chilcott report is coming out soon'
'Ah, I left the oven on.'
'I'd better empty my Outbox in case Cherie sees that George and I are still talking.'
'I forgot to put X Factor on to record'
'Good God Ed Balls can move!'
Alex Salmond MSP – Christmas 2013
Alex Salmond doesn't really make sense to me as a human being, so it figures that I haven't the faintest clue what this is all about.
Perhaps it's a young Salmond in his job at the Post Office, championing independence William Wallace style in his free time.
Apparently it's actually a picture of the fourth wise man who turned up too late to see Jesus.
About as festive and cheery as Mr Salmond's popular demeanour.
Nick Brown MP – Christmas 2015
Nick Brown has cracked it – George Osborne is a Sith Lord. Not only do we at PHA Public Affairs fully endorse Star Wars references, we endorse them especially enthusiastically in relation to our esteemed politicians.
As for what that means in relation to this card – George Osborne is surely Kylo Ren – young, widely disliked, following a path that is a mystery to everyone but himself and probably capable of betraying those closest to him with a lightsabre/austerity cut to the heart. And come to think of it, Maggie would make a passable Emperor Palpatine here… (We love you Maggie!)
Godfrey Bloom (former UKIP MEP)
Most MEPs would be desperate to distance themselves from comments that were so controversial, he lost the UKIP whip.
But Godfrey Bloom isn't most MEPs; he is a UKIPper. Honestly, I've no idea whether this did Godfrey Bloom a tonne of damage with his voters, or a tonne of favours. Who knows what anything means anymore.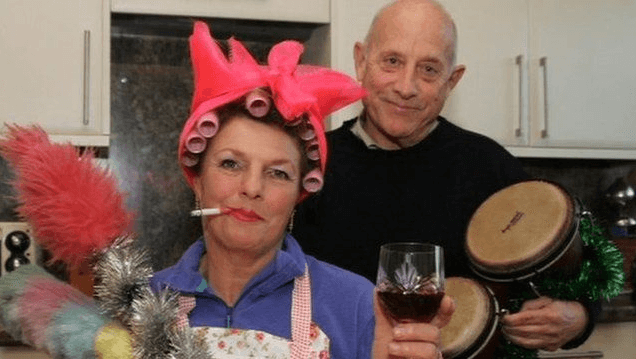 Home Affairs Select Committee 2015
Masterful. Not a single word of criticism for this, a delight.
Home Affairs Select Committee 2013
The Home Affairs Select Committee clearly win the award for best cards.
Keith Vaz as Dumbledore. Theresa May as Bellatrix Lestrange. Julian Huppert as Harry Potter.
No more needs to be said.
The Weird and Wonderful World of Political Christmas Cards
As 12,000 tired and slightly worse for wear delegates begin to recover from a busy 4 days at Conservative Party Conference, Number 10 will be breathing a quiet sigh of relief. With no gaffes, and few MPs causing trouble (Osborne, Gove et al stayed away), Theresa May sailed through her first party conference as leader with flying colours. More importantly though, we got our first real insight into what 'Mayism' might mean for the country.
Overall, the delegates felt optimistic and united, with Theresa May and her new Ministers receiving a strong reception throughout. However, the mood was also serious – there was a sense that this Government would be a safe pair of hands, that all policy would be fully considered, and that there would be a lack of gimmicks. It was clear that many felt that Theresa May's premiership (and the Labour Party's collapse) was a great opportunity to reach out and expand beyond the Party's traditional base. Perhaps this was most noticeable at the packed DUP's reception, which had a lengthy queue and Conservative Party members greeted DUP MPs like old friends (although that may have been because of the free champagne on offer…).
Unsurprisingly, Brexit dominated the entire four days. There were countless fringe events discussing everything from Britain's role in the world, to what it means for the energy market, and how to ensure that young people aren't left behind. However, there wasn't the triumphant grandstanding that might have been expected – instead, the delegates seemed to understand that however they personally voted, it is now time to pull together and get on with the ob.
The Prime Minister set the agenda by making her Brexit announcements at the start of the conference; giving party members something to rally around. For the first time, we learnt that Article 50 will be triggered by March next year and that the Queen's Speech will contain the Great Repeal Act, which will adopt all current EU law into British law. Despite this, there was still a lack of detail besides and 'Brexit means Brexit' and how things are going to work practically. There was a palpable sense of confusion from businesses, and all were keen to engage and get their points across. Tellingly, it felt like most delegates were gearing themselves up for a 'hard' Brexit.
The biggest change at this year's conference was the Conservative Party's lurch to the left, and an obvious U-turn on the austerity agenda. This was evident throughout the conference (e.g. Housing Minister Gavin Barwell proved his commitment to delivering 1 million new homes by 2020 by attending no fewer than 18 fringe events), however, it was Theresa May's closing speech that really emphasised how her Government will differ from Cameron's. Her speech proposed policies that included price controls, dropping the target for a surplus by 2020, taking action against house builders to increase the housing stock, and an even stronger stance on immigration than she had taken as Home Secretary.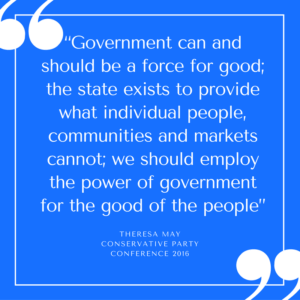 Perhaps the most controversial statement from May was that "Government can and should be a force for good; the state exists to provide what individual people, communities and markets cannot; we should employ the power of government for the good of the people". Although likely to go down well with the public, it could also be the first sign of trouble ahead. These comments were widely criticised by business groups, including the CBI and IOD, and will put many pro-market Conservative MPs who are overtly pro-business in a difficult position. It is clear that businesses can expect a tougher ride under May than they are used to, and will have to fight hard to protect their interests.
Overall the conference revealed that May and her team will be a safe pair of hands. She isn't driven by ideology or cronyism – but a desire to help those who have fallen on hard times. She is also determined to deliver the Brexit that she thinks the country voted for (even if that means making compromises over issues such as passports, to ensure that we get full control of our immigration system).
For the public, it is likely that she will offer a strong centre-ground alternative to Labour. However, it is unlikely that she will fulfil the hopes of many within the Tory membership of becoming a second Margaret Thatcher, and there will inevitably be trouble ahead.
A view from Conservative Party Conference
On Wednesday 13th July, Theresa May will become Britain's second female Prime Minister. After an intense yet short campaign, energy minister and Brexit campaigner Andrea Leadsom, Home Secretary Theresa May's last opponent in the Conservative leadership contest, has withdrawn her candidacy after controversial comments on motherhood highlighted her inexperience. Following Leadom's withdrawal, David Cameron announced that he would tender his resignation to the Queen tomorrow, and Theresa May would become PM straight after.
Theresa May, in contrast to Leadsom, was billed as the experienced candidate in the leadership contest.  An MP for almost twenty years, she became the Party's first female chairman in 2002. In 2010 she became Home Secretary, making her one of the longest serving Home Secretaries in British history and the most senior female in the Conservative Party, singling her out as a potential future leader.
As a politician, May has been careful to distance herself from the old Etonian men's club that has surrounded the likes of Cameron, Osborne and Johnson. In short, she has sought to make herself an alternative to the traditional political elite. She has been a cautious campaigner, not favouring loud statements which characterised her campaigning (or lack thereof) for the Remain campaign.
She is known to be one of the most hardworking cabinet ministers, and there have been doubts over her ability to delegate work; something which is difficult as Home Secretary but cannot be sustained as Prime Minister. She has also been accused of hiding behind her special advisors which came to the forefront during her very public head to head with Michael Gove in 2014. She has, however, enjoyed surges in popularity, particularly following the deportation of radical cleric Abu Qatada, something which previous Home Secretaries had been unable to achieve. She has been known for taking a tough line on immigration, something which can be expected to continue in the wake of Brexit.
She is known for being "bloody difficult", with a reputation for being a fierce negotiator, however, perhaps this is just what Britain needs when heading into Brexit talks. Indeed her background in finance (underplayed in the leadership contest) will perhaps help her combat the economic worries that will arise with Brexit negotiations.
As Prime Minister, Theresa May will also be able to reunite the Conservative Party. After a bitter split between the Leave and Remain camps, the Tories appears to be desperate to avoid the current instability that is engulfing the Labour Party. Despite having campaigned for the losing Remain camp, May enjoyed strong cross-party support, gaining 199 votes in last wee
k's MP ballot, compared to Angela Leadsom's 84. In her withdrawal speech, Leadsom emphasised Britain's need for a strong and stable government, something which infighting amongst the party during a prolonged leadership campaign would prevent.
Furthermore, the speed of her selection as Party Leader means that Cameron will not be a lame-duck Prime Minister until September. This is a positive move, particularly for business, as drawing out the process would only increase uncertainty surrounding Britain's EU exit and delay the recovery Britain needs to make following such a divisive vote.
Most significantly Theresa May has stressed her objective to re-establish trust in politics. The Brexit result was a real kick for the political establishment. The people of Britain voted against a political elite that they felt had failed them and did not represent them, with Tony Blair suggesting that the leave vote was a protest against the establishment. May appears to have heard this and understood the need to respond. Talking in Birmingham, May pledged to place the Conservative Party "at the service of ordinary working people". In a throwback to Ed Miliband, she promised to be tough on big business, something which voters were keen to see in the last general election. She promised workers and consumers roles on company boards and strong rules protecting pay. May assured the disillusioned that firm change would come to British politics.
Finally, Theresa May has ruled out any chance of Britain remaining in the EU, putting an end to speculation by political commentators that Brexit may not happen, as the referendum was not legally binding. May has put an end to these rumours declaring that "Brexit means Brexit" and that she would not ignore the vote of the British public. Yet uncertainty surrounds what Brexit will actually mean, particularly for those EU migrants who May has claimed might not be guaranteed a right to stay, and exactly when Article 50 will be triggered, which May has said will not be before the end of 2016.
However, this will not end the period of political uncertainty in Britain, particularly in relation to calls for a snap general election. Following Leadsom's withdrawal, Tim Farron tweeted his belief that the Conservative Party no longer has a mandate. This is particularly significant given Theresa May's past criticisms of Gordon Brown for not calling an immediate general election after he succeeded Tony Blair, when she criticised him for the lack of a democratic mandate. However, during her leadership campaign, she said she would not call a general election, providing further stability for the country.
Only one thing is certain: despite being the 'stability' candidate Mrs May will certainly be thrown straight in at the deep end and will be put to the test with Brexit renegotiation and will have to act quickly to heal the rifts in the Conservative Party.
By Olivia Gass
What will Prime Minister Theresa May mean for Britain and the Conservatives?