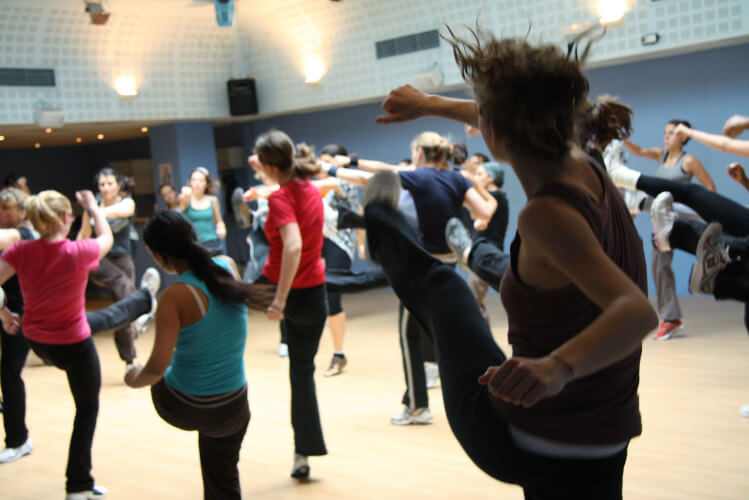 Every now and then I tap in to google 'new fitness trends London' to see what pops up, and so it was with that last week that I first heard about Swedish Fit.
My fiancé is Swedish and so I am on the record as liking Swedish things. I'm a fan of Kopparberg and Rekorderling as well as Absolut and Snaps. Ikea makes great furniture and no one can argue with the fact that Abba wrote some top-notch pop tunes.
And so it was that I decided to sign up for a class. Swedish Fit currently host ten classes in London at three locations, in Old Street, Marylebone and Soho. On the Swedish Fit website, it says the class has been designed to 'ensure you spend the maximum amount of energy, whilst having fun and getting the most out of an exercise session.' That sounded good to me, so off I went to the Soho session on a wet and windy Tuesday night, dragging a colleague along with me.
The session was to be held at a school in Archer Street. Now, the Sport and Leisure team at PHA are no strangers to Archer Street, but we aren't normally there to exercise. 100% of our previous visits to this Soho address have been to frequent the infamous bar of the same name. So, it was a strange feeling to walk past the bar and into a red door on the other side of the road.
Upon arrival we were introduced to our instructor, Sophie, who was (of course) a very pretty little thing who was half English and half Swedish. She spoke both languages, as well as French, perfectly fluently which by all accounts make her the perfect Swedish Fit instructor. As well as being hugely popular in its homeland, Swedish Fit is apparently a big deal in France.
We learnt whilst chatting to Sophie that Swedish Fit goes by the name of 'Friskis och Svettis' in Sweden, which translates as 'Healthy and Sweaty'. They say it like it is, those Swedes.
And so on to the actual class… I tweeted ahead of the session that I'd seen a video online which made it look like a cross between an aerobics class and a line dance, and actually, that wasn't so far from the truth. The instructor stands in the middle of the room and runs through a series of moves which everyone is supposed to follow. I was giggling about two minutes in when we started doing a move which resembled the grapevine. I managed to gain my composure as the class continued but there were definite moments when I felt like a fool. And looking around at my fellow exercisers, I learnt that I probably looked like one too.
One particular drawback of the Swedish Fit class was Sophie's taste in music. Apparently, each instructor picks their own tunes to work out to and freestyles the moves to fit with these tunes. Sophie had on the duke box such 90s classics as 'Mysterious Girl' by Peter Andre and 'No Limits' by 2 Unlimited. One of my favourite moments of the session came when we were walking around the room swinging our arms every time Andre got to the 'wo-oh-ah-oh-oh-ah-oh' bit of his number one hit tune…
Apart from that, the best bits of the class for me were the strength and resistance exercises. The push-ups, sit-ups and variations of those types of moves did get my abs hurting and my arms shaking… and for me, that's always a good sign. Having said that, as someone who runs regularly, I didn't find grapevining around the room particularly challenging on the cardio system. However, I imagine for people without too much aerobic fitness this could be a good, and novel, way to start.
So, in summary… on the plus side, the Swedish Fit class was incredibly good value. The first one is actually free, but thereafter they are £5 each on a pay as you go basis. You can't really go wrong at that price and the Archer Street class is incredibly convenient for any Soho based office workers.
There is also no denying that the Swedish Fit class was good fun, and it did get the heart rate up, so it is a good way to let off some steam and get some exercise in after a stressful day (the class ends with a minute of lying down in a darkened room to relax which was particularly enjoyable).
Our verdict: Will I become a regular? I doubt it… but would I go again? It's a definite maybe…
Our score: 5/10