This Saturday one of our favourite networks by and for women, GeekGirl Meetup, is hosting its 5th annual conference.
The confluence of technology and ethics is this year's hot topic, and we're excited to head along and hear the insights of some of the most inspiring women in the industry. Here's a little introduction to five of the speakers: our women in tech to watch.
Ellie Hale, Digital Fellowship Lead at CAST
A girl after our own hearts, Ellie Hale started her career in communications. Hale now heads up the Digital Fellowship at CAST, the Centre for the Acceleration of Social Technology. CAST is driving the growth of tech for good by working with investors, non-profits, social enterprises and government.
CAST's Digital Fellowship is a programme which helps non-profit leaders learn the fundamentals of tech and digital innovation, helping charities embrace digital and put it at the heart of their work.
Jillian Kowalchuk, Founder and CEO of Safe & The City
Jillian Kowalchuk runs the upcoming app, Safe & the City – a tool to help women navigate safer walking routes. With an aim to help eliminate sexual harassment in London, we're interested to see what's on the horizon for Jillian when the app launches soon.
Camilla Hayselden-Ashby, Product Lead at fieldmargin
Camilla Hayselden-Ashby is the Product Lead at fieldmargin, a platform elevating the future of farming and making farming more efficient. The app is a mapping tool providing a visual record of a farm, upon which farmers can draw maps, make notes and leave messages for their team – even without internet connection.
Devika Wood, Co-founder of Vida
Vida, a company harnessing technology and investing in high quality, in-home carers for the elderly and disabled, was born from Devika Wood's very personal experience growing up. Having lived from the age of 10 with her grandmother, who lived with dementia and epilepsy, Wood witnessed the impacts of a "lack of continuity in carers". Vida aims to solve this issue in the sector, leveraging tech to provide personalised, expert care through their carer matching and care plans.
Devika has an impressive background in both technology and healthcare, having left school at 18 to work for Google, subsequently working as a breast cancer research scientist at Imperial College London, followed by stints at Babylon and Healthcare Australia.
Scarlett Montanaro, Co-founder of CRACK + CIDER
A rough sleeper once said to Scarlett Montanaro and co-founder Charley Cramer: "People don't give me money because they think I'll spend it on crack and cider." Fed up with campaigns encouraging the public not to give rough sleepers money, but not offering another solution, the pair created CRACK + CIDER, an online shop where people can buy useful items for the homeless.
Five women in tech to watch at GeekGirl Meetup Conference
Every couple of months an article or two regarding the 'fintech bubble' floats onto the pages of online and print media.
"Are we in a bubble? Will it burst?" fret the writers of such articles. "Are valuations based on real worth or mere chatter? Could fintech be the next Dot-Com?"
Reading these, it can seem a little like the sector is just waiting for a disaster to happen. Like all the hype is a brave face belying a fragile body.
However, questions like these should come as little surprise. Despite a sizzling market, it's smart to stay a little wary and acknowledge that just because entrepreneurs and investors are excited doesn't mean everything is smooth sailing. After all, startups fail. That's a thing that happens. And with the massive explosion of new businesses, it's indubitable many – if not most – will fail.
Does this mean there's a bubble?
Let's have a look.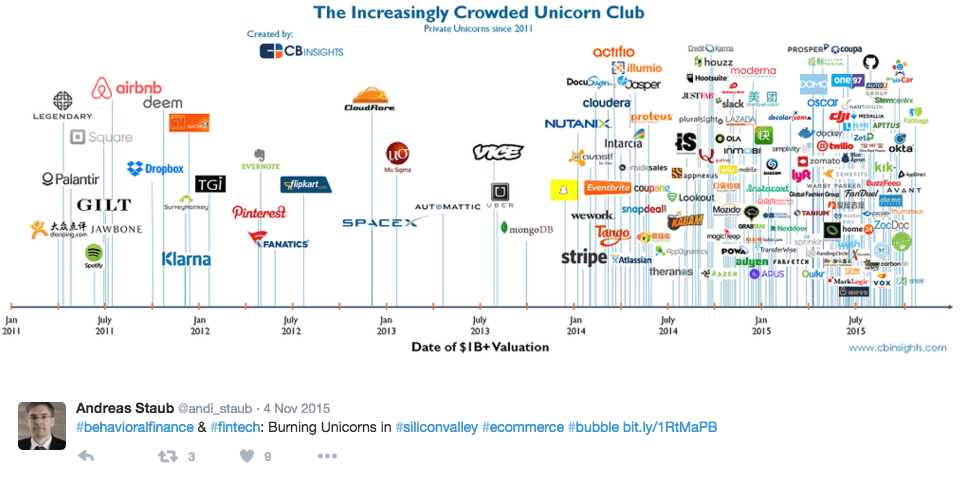 2015 was a big year for the tech sector. Huge even. According to the capital's promotional company London & Partners, a record $3.65bn (£2.5bn) was invested in private UK tech companies in 2015, equating to around a 70% rise in funding for startups compared to 2014. Around a quarter of this funding went to the financial services sector. This escorted a coming of age for fintech as it entered mainstream consciousness through new mobile payment options, the rise of companies like Transferwise, and some headline grabbing statistics as unicorn after unicorn raised their highly valued horns.
But Q4 also saw the beginning of something of a slow down in tech investment. After hitting dot-com funding levels in Q3, things began cooling off.
According to research from CB Insights, venture capital funding fell by 30% during the second half of 2015, with far fewer 'mega-rounds' of investment in Q4 in particular.
To make the situation sound even more dubious, the unicorns are beginning to look a lot like horses dowsed in glitter – at least if the latest tech IPOs are anything to go by. Square (and Match) received a decidedly chilly welcome as their shares sold for under the projected offering range, suggesting retail investors are more sceptical than expected when it comes to private tech valuations.
Cue: mild concern followed by sensational headlines about bubbles and what happens when one bursts.
However, take a step back and a deep breath and it's fairly clear beyond the fluff pieces and general buzz of big ideas there's some actual substance. There's a different kind of cycle happening in financial technology compared to just 'bubble and burst'.
For one, whilst the 'coming-of-age' may have been the growth cycle of the last two years, fintech has been around for a lot longer than that. As Bruce Wallace pointed out in Finextra:
What's different now? The new fintech technology startups are now mostly selling their solutions directly to consumers and businesses instead of selling to the traditional FI channel. The increased efficiencies are changing customer expectations and shaping the future of financial services.
This shift is important. It's a maturation of an established industry. Indicative of the changing mentality within the larger financial sector.
Furthermore, it conveys why disruptors have had such success in the last two years and why now there might be a cooling as money begins to flow into 'enablers' instead. Fintech has largely revealed the potential – or indeed the necessity – of its products. Payments companies and alternative lenders like Zopa, Funding Circle, and WorldRemit comprise the majority of the 35 unicorns in the sector. And part of the reason for this is because the landscape they are entering has remained stagnant for so long that a real need exists to innovate. By innovating they're taking part of the market share away from the incumbents. By innovating they're reforming.
As Chris Skinner said, "That's why there's no Fintech bubble bursting.  Just a re-architecting of finance through technology that, until it finishes, will see us moving through waves of innovation and change."
This is why banks are 'getting serious' about fintech as well. Why they are pouring in their own money to digitise, to gamify, to tap into all the things that disruptors have emphasised and monetised in the last few years.
Of course, acknowledging a change in mentality doesn't alter the fact that there has been a drop in deals.
But to play devil's advocate, according to research by Erin Griffith's for Fortune there's also a distinction to be made between late-stage investors and early-stage investors regarding the slowdown reported by CB Insights.
According to the late-stage investors, there is a new element of caution. 'Market dynamics are setting the bar much higher' than before. They don't want to keep funding businesses reliant on private money without turning a profit. On the other hand, early-stage investors are pretty much continuing the same as ever.
Why the disparity?
In part it's because the prices are simply too high to tempt many professional VCs. They're willing to wait to see the weaker business models shaken out by failures and takeovers. However, it also seems to relate to investors simply not wanting to feel the burn of another popped tech bubble and acute awareness of the swathe of 'down-rounds' where fintech companies have IPOed. Essentially, early stage investors have been paying too high prices and need to adjust expectation, which can be done with future investments. Everyone is thus left thinking maybe they should be wary, maybe they should keep on the side of realism instead of being succored in by mythical beasts, maybe they should stick to the usual methods of valuing a company like cash flow and profit.
At the end of the day it's not being negative to accept that many of our startups will die. And it's not foolish to consider that just maybe there is "too much money chasing too few assets" as Damien Lane, partner at Episode 1, told The Times. It's simply pragmatic. And what's falling in London's favour is that VCs have largely maintained their pragmatism in the face of a booming sector. Especially when compared to New York and Silicon Valley.
There is no doubt that 2016 will be a pivotal year for fintech. As recent and upcoming exits play out we'll really begin to see which business are worthy of the hype and which are not. But as yet the bubble is as close to unreal as many billion-dollar valuations.
Double, Double Toil & Trouble; Private Valuations & Fintech Bubble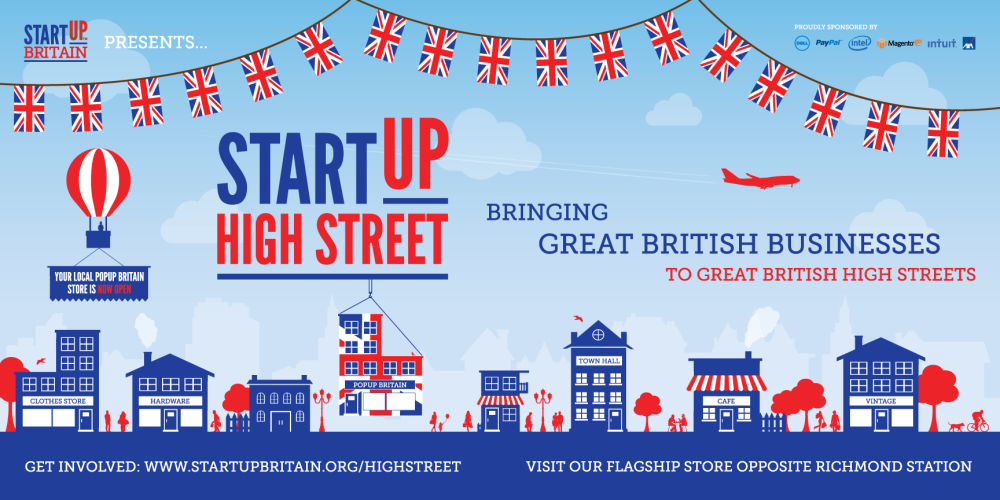 When the coalition came to power in 2010 a major initiative to encourage entrepreneurs to start their own businesses was introduced through the StartUp Britain campaign.
Aspiring entrepreneurs throughout the land were encouraged to help us get out of recession by launching businesses and thus stimulating growth and creating new jobs.
As Walt Disney famously once said, "the best ideas are born in adversity." The trouble is you still need cash to get them up and running.
With banks tightening their purse strings along with the rest of us, the key question facing entrepreneurs is how can I raise the investment needed to get my business started?
Of course, there is always the option to submit a request to the BBC to appear on the Den and gain a helping hand from Duncan, Deborah and the gang – but perhaps not the most practical or instant solution for many aspiring entrepreneurs eager to get their business going.
In the day of the internet age, there is an answer. Increasing numbers of entrepreneurs are turning to online investments sites to help get the cash injection they need to drive their businesses forward. Like all good ideas, online investing pretty simple concept.
Rather than go to a bank and ask for a huge fee up front, why not get lots of people to invest a little and help you raise the capital you need? There's nothing revolutionary in the concept but by applying this model online suddenly entrepreneurs find themselves with a global audience of thousands if not millions of potential investors.
Perhaps one of the most famous examples of this is the emergence of Ebbsfleet United. Since February 2008, the club has been owned by the web-based venture My Football Club.co.uk, whose members vote on player transfers, budgets and ticket prices instead of those decisions being made exclusively by the club's management and staff. Approximately 27,000 members each stumped up £35 for an equal share in the club.
Darlington FC recently underwent a similar process to help prevent the club from closure by seeking to raise £750,000 via finance raising website crowdcube.com
We have found that our clients have adopted similar approaches as they look to take their businesses to the next level. One example is fivesquids.co.uk, a quirky website that allows people to offer and exchange services with one another for just £5 at a time – an incredibly simple but an extremely powerful idea. Site founder Terry Koutsios is currently seeking to raise £243,000 via crowdcube with a minimum buy-in of £10.
After a fruitful PR campaign led to a surge in new members, fivesquids has seen a dramatic expansion in a very short space of time, meaning more investment is required to help expand the site as it moves into a more sophisticated business model, launching new services of £10, £20 and £50.
Other PHA Business clients like as Caped Koala, a social networking and immersive learning and entertainment company, are also turning to the web to help raise investment by listing on Kickstarter – a funding platform created specifically for creative projects. The Caped Koala team have developed an extremely innovative new virtual online game to encourage web-based learning through the national curriculum, in a 3D world where children can learn, play and have fun. The game itself is free to play, so investment becomes even more critical to keeping their business progression on track.
The birth of sites such as Crowd cube, Kickstarter, Crowd Funder and Crowd Funding.com are in themselves, great business ideas.

Like all social media, these sites are giving entrepreneurs tools to connect and communicate with new audiences. Content is vetted and proposals are transparent. Investors can see how much has already been raised by a business at any given point in time and their investment is not actioned until 100% of the finance is raised – making any investment both very safe and attractive. Some businesses such as Space Mile Holdings LTD are even offering investors the chance to win a trip into Space!
At a time when the
semantics of double dip, downturn, slump and decline are peppering business conversation – it's refreshing to know that there is help out there for entrepreneurs.
Surely it's worth £20 to say you part own a football club? A return trip to the moon for a tenner sounds like a pretty great deal to me too!
Cover image courtesy of: Dennis Skley
Inspired Online Investing Gives Hope to Smart Start Ups