Frequently termed 'The King of Social', Instagram started as a simple picture sharing app, used mainly between close friends and some carefully-selected family, to display the 'best' snapshots of your life. It was a refreshing alternative to the swathes of imagery that confronted you on Facebook, each one only slightly different to the last. It's single-picture format enforced a kind of self-control not seen elsewhere. Of course, this wouldn't last forever. Years later we have video, galleries and stories, and Instagram has expanded far beyond your own social circle. It has, however, kept its highly-polished aesthetic and fetish for 'authenticity'.
Now the app is one of the biggest Social Media sites in the world, with over 700 million users, 400 million of which are active daily! It's impressive to say the least and the potential audience reach on this platform is ever growing. It took only four months to gain the last 100 million followers, whereas the previous took six months.
So, what makes it such a great platform? It's seen as considerably cooler than Facebook, more interesting than Twitter, and more useful than Snapchat. Instagram has become incredibly sophisticated in storytelling and doing so in an artistic manner. The ability to fluently and diversely communicate a brand or individual's story has become indispensable. Authenticity is key to modern marketing, and Instagram is the platform that allows this 'intimate' insight into a brand. And what better brand to apply it to than a Start-Up? A company that is rooted in individuality, ingenuity and passion. One that is already trying to tell its own story, and express its personality, unlike many conglomerates that churn out an all-encompassing 'brand' worldwide.
Engage your audience
So, we know Instagram has the audience and the tools to effectively tell your story, but what techniques can you employ to make Instagram work for you? As a Start-Up, it's important not only to put out great content, but to actively engage with your following, and users who you feel would be interested in your brand. This engagement, or 'community managing', is what will help you grow your channel, awareness, and ultimately your brand. It may seem like a lot of work, but just taking the time to reply to comments and reach out to users and brands can make all the difference.
Hashtag it
Building this community can be done in several ways, but the most immediate is through hashtags. By putting up to 30 relevant hashtags underneath your post you can make yourself visible to the potentially millions of daily users who are engaging with account and brands like yours. Engaging with other users in these hashtags is the next step to generating conversation, and this is worth remembering. Social Media is not a one-way street, you need ask questions, respond authentically, get people interested and keep them talking with you and about you.
If you are a local business, such as a restaurant, boutique or event, then you can utilise these hashtags to target a specific audience. Likewise, you may also use geo-tagging to involve the local community in a location-targeted campaign. These techniques allow you to build a community both offline and online.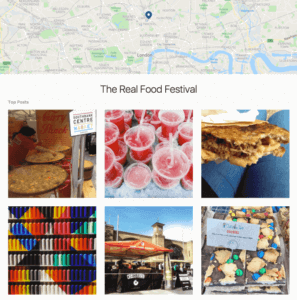 Collaborate and listen
Many brands have taken to cross-posting and collaborations to bolster their online presence. This is a mutually beneficial process that sees both brands raise awareness, and is particularly applicable in a Start-Up environment, where both have a chance to establish themselves in an industry. It's not just other brands that you might consider this tactic with; featuring your customers is an increasingly valuable tool in promoting your brand's merit. Not only will this provide potential customers with authentic, positive feedback for your brand, but it also rewards fans for being fans. In doing this, you encourage them to continue to share their interactions with your brand on Social Media. It's a win-win, they get to interact with the brands they love in an authentic way, and you get exposure and great content for your own channels. Just make sure you always credit them!
For me?! @chapabouttown is ready to chow down on some Turkey and Duck Dinner!

Do what works for you

There are a plethora of techniques to employ on this ever-expanding channel. To do it perfectly, you would be using a variation of careful curated daily posts and stories to provide the most artistic storytelling experience you can. You could run competitions, and cross-post and promote other brands. You could shout about your brand down every relevant avenue, and target it perfectly with paid posts and influencer marketing. This is a lot to take on, especially as a Start-Up. It can seem overwhelming, but it is also wholly unnecessary to try to do all of them at once, and to sustain them. Our advice would be to cherry pick what works for your brand, and remember that creativity and authenticity are at the heart of successful Social Media marketing.

Get Creative

If you want to champion your brand on Instagram effectively, the main thing to consider in this whirlwind of possibilities is creativity. Instagram is a platform that welcomes creativity more than any other. This is the point of difference needed to stop users endlessly scrolling through their feeds and focus on your post. This is the first point of engagement with a consumer, and one of the hardest things to engineer. You want to disrupt and simultaneously engage; having a creative edge here is key.

Of course, this is perhaps easier said than done. But with a proper strategy and some practice, you should quickly find yourself building your brands presence and identity online. Building and maintaining this presence is of huge value to brands and businesses, after all, 32% of all internet users are on Instagram. That's a big slice of the pie to be missing out on!

If you would like to talk about how our digital services could help grow your Instagram following, why not get in touch with us today.

Italy's Hottest Tech Start-ups

When you think of Italy you may well think of great food, fascinating history or world class central defenders. What you may not think of is a tech hub with many exciting companies looking to disrupt a multitude of fields. Below you'll find a 5 of the hottest tech start-ups coming out of Italy.

Scuter is a Rome-based start-up which aims to change the game in urban mobility with its disruptive technology. Founded in 2015, the smart e-scooter sharing service plans to make city mobility, simple, enjoyable and sustainable. Scuter has developed a vertically integrated service to overcome and satisfy the widespread need for fast and clean urban commuting and travel.

The company aims to do this using a fast, light scooter as a type of car is affected in an urban environment by traffic congestion and additional charges. Key to the Scuter is its level of comfort, both in terms of ride and usability.

It has been designed to be very user friendly for even the most novice of riders to be able to use added to this it is one of the safest and the cleanest scooters on the market. A phone app allows you to see where available Scuters are and once on board can be turned into a Sat Nav.

Scuter was able to secure a seed funding of €100K, a grant of €145K and is currently doing a crowdfunding campaign which will end in March.

'When in Rome do as the Romans do' has never been easier with the Milan-based start-up, Zestrip. Zestrip has created a marketplace in which the best local experts independently sell tours, dinners and things to do. Thanks to the booking and messaging features of ZesTrip, travellers can choose a professional and book the perfect, tailor-made experience.

Zestrip offers tourists a chance to visit not just the main tourist attractions but also the hidden gems as well as having the chance to experience some real home cooking by visiting the homes of the tour guides. Travellers can also look for more conventional professional tours.

Offering the intrepid adventurer hiking trips through the foothills of the alps to wine and Vermouth Tours Zestrip offers you the chance to experience the less well-known side of a city allowing you to really get under the skin of an area and culture.

ZesTrip was founded in 2015 and has secured more than €100K in seed funding.

Founded in 2011 by Italian entrepreneur and innovator, Gian Luca Petrelli, BeMyEye is Europe's largest mobile crowdsourcing DaaS (Data as a Service) solution for retail intelligence. With a crowd of 400,000 Eyes, BeMyEye is able to offer companies fast, reliable and actionable insights from across Europe to help inform your business making decisions.

By completing missions, the user is paid a small amount that can be paid into a bank account or a Paypal account. Missions come in the form of small questionnaires that are published on the map. Some missions may ask you to go into a store and check for certain products, or perform a mystery shop. You may be asked to take pictures of certain products and answer questions on their presentation or whether they are part of a promotion for that particular store.

Other types of missions might include going on a treasure hunt to find specific advertising or promotional material. These missions may also be home-based missions. These will come in the form of questionnaires or surveys that do not require you to go to a specific location.

Founded in 2011 by experienced entrepreneurs Paolo Galvani and Giovanni Daprà, Moneyfarm is a digital wealth manager that helps people protect and increase their wealth through time.

Thinking that the world of wealth management was failing the needs of many people and Giovanni and Paolo wanted to make a difference. With the aim that families should be able to invest their money simply and effectively, they created a service that gives people access to investment advice and high-quality products at a family-friendly cost.

Six years on, Moneyfarm operates in both Italy and the UK, offering simplified advice and discretionary investments to thousands of customers. We've won awards for our products and are regulated by the Financial Conduct Authority. A highly innovative company they strive to ensure that they offer their customers the best products possible to help increase their wealth.

Dropping nicely into the growing number of robo-advisors the company is helping families to make their money go further using professional advice at a cost that more people can afford.

For the perpetual traveller, Waynaut is an app that helps you plan European travels. Launched in 2011, it includes logistics for all forms of transportation from planes to trains to automobiles and helps travellers choose the best route in terms of costs and time. (Having been interrailing and sharing cabins on sleeper trains with total strangers, I know first-hand just how handy this app can be)

Waynaut is the first pan-European platform offering multiple types of transport with both traditional and less traditional vehicles which will take you from door to door.

With a growing number of partners including DB Bahn, Trenitalia and BlaBlaCar, Waynaut is revolutionising the way we travel across Europe and giving innovative solutions to help tourists discover those hidden gems whilst also making travelling easier, less stressful and more convenient than ever.

How Edinburgh has become London's rival tech hub

Edinburgh has become synonymous with technology in recent months, and boasts an impressive entrepreneurial pedigree, having been voted entrepreneurial city of the year in 2016. With tech accelerators, such as Seed Haus, picking Edinburgh as their next hot location, the city is set to produce the UK's next generation of tech 'unicorns'.

According to the most recent Tech Nation report, tech businesses in Edinburgh employ over 25,000 people and produced an average GVA of £513million between 2013 and 2015. Why, in this case, have businesses started choosing Edinburgh over London as their home?

Many companies are beginning to turn against London's tech ecosystem, which while more evolved, has become increasingly difficult to break into. It is still early days for Edinburgh, but the Scottish capital already boasts a great track record, being the birthplace to two tech unicorns – Skyscanner and FanDuel.

Before, companies felt that London was the only stomping ground which would ensure security and investment, but the recent success of Float, Reactec and SumDog are living proof that this myth has been well and truly debunked. CodeBase, the UK's largest start-up incubator based in Edinburgh, has done some incredible work growing the profile of these leading lights, and the CSO Steven Drost has revealed they are receiving fresh interest from London-based VCs looking to back the next big thing.

This month, Edinburgh played host to the Start-up Summit, the city's largest entrepreneurial conference, which witnessed business leaders from all over the world flock to the city to discuss their entrepreneurial journeys and offer advice to other aspiring business owners. Events such as this are popping up across the city at an impressive rate, and are a key reason for the increase in entrepreneurial appetite and start-up success stories.

With that in mind, I have picked my top five entrepreneurs who I believe are flying the flag for Edinburgh's tech scene:

Gareth Williams – co-founder and CEO, Skyscanner

The biggest success story to come out of Edinburgh has been Skyscanner, which was sold for £1.4billion in 2016. The flight comparison site was the vision of Gareth Williams and co-founders Bon Grimes and Barry Smith, who created the multi-billion-pound company from an Excel spreadsheet. When asked why he chose Edinburgh, Gareth cited the world-class informatics computer science and the supportive start-up community, which he felt was lacking in Silicon Valley or London.

Andrew Hall – founder and CEO, SumDo

Founded in 1993, this EdTech start-up wants to help 15 million children across the UK and the US in the next five years. Through its engaging evidence-based online games, it wants to encourage students to practice their maths, reading and writing skills – for free. Andrew's mission is to close the educational attainment gap by helping all children reach their full potential by capturing their imagination. His aim is for Sumdog – which saw a 50% increase in turnover in 2016 – to be a world leader in online learning across multiple subjects, and even has an immersive 3D learning environment on the horizon.

Andrew McGinley and Andrew Parfery – co-founders, Care Sourcer

Founded in 2016 by two care-at-home experts who felt the process of securing care was totally inefficient, Care Sourcer is a HealthTech platform connecting those seeking care with those providing it. The pair identified an urgent and growing challenge of matching care seekers to the right available care quickly and transparently – it's proved to be a winner and the business announced a Seed round of £500,000 earlier this year. Care seekers simply need to complete an online form explaining their needs, which is then shared with local care providers who contact the care seeker directly with their availability – through it, care can be arranged in a matter of hours, rather than days. Impressively, the two founders have now exited their previous companies and work full time on Care Sourcer.

Jamie Graves – CEO and Founder, ZoneFox

This award-winning cybersecurity start-up has attracted over £6m in investment since Jamie founded the business in 2013, and for good reason. ZoneFox provides security systems to combat insider threats to businesses across a range of sectors – from financial to pharma to gaming. Earlier this year it launched a new machine-based learning solution, ZoneFox Augmented Intelligence, and its customers include healthcare firm Craneware, Zenith Bank and Rockstar Games.  Jamie is looking to triple its headcount before the year is out, to continue to help businesses protect their reputation, sales revenue, and competitive advantage by providing next-generation data monitoring, security analytics and endpoint security.

Ryan O'Rorke – Founder, Flavourly

Ryan shot to fame overnight after he boldly rejected £75,000 from the Dragons on Dragon's Den in 2015, and has since grown his craft beer site into one of Edinburgh's biggest outlets for independent drinks and food. Ryan is a prime example of a savvy entrepreneur, using his Dragon's Den exposure to help launch a Crowdcube campaign which saw the company raise £300,000 in three weeks.

Technology's Smarter working initiative shortlisted for PR campaign of the year

The PHA Group's Technology & Innovation team is delighted to have its work recognised in this year's B2B Marketing Awards – shortlisted for 'PR Campaign of the Year'.

The Smarter Working Initiative (SWI), which the T&I team first developed in 2016 with long-standing client Powwownow, has been listed alongside eight other PR campaigns, with the winner due to be announced at a gala dinner on 23rd November.

The T&I team worked closely with Powowwnow to develop the inaugural campaign designed to have significant longevity. The brief was to challenge existing perceptions of flexible working and promote the benefits of embracing a working culture that aligns with employees' personal lives.

As a business with a core ethos of efficiency, productivity, and collaboration, Powwownow's objective in 2016 was to increase awareness of the benefits of smarter working among UK business leaders and employers. Aware that only 6% of UK businesses proactively offered flexible working to their employees, the team set out to fundamentally change how employers think about smarter working practices.

The SWI was foremost an awareness day: Monday 25th July 2016 – the first day of the school summer holidays. A supporting integrated PR strategy, combining cut-through thought leadership content, data stories, news agenda hijacking and relevant and insightful broadcast interviews for members of the senior management team, helped position Powwownow as a leading authority on smarter working across a range of business sectors.

In the build-up to and following Monday 25th July, the team achieved over 30 pieces of media coverage, reaching a significant business audience across the UK and Europe. MD Jason Downes and FD Andrew Johnson appeared on BBC News 'Business Live', Sky News, London Live, talkRadio and Share Radio discussing topics including business efficiency and the rise of technology to facilitate flexible working.

The team's efforts saw Powwownow more than double their initial target of business sign-ups by securing over 120 businesses, including leading UK employers such as Purplebricks.com, RED Driving School and Orebar Brown. Over 100,000 UK employees worked flexibly on the day thanks to the initiative.

The SWI received prominent coverage across online and traditional media. Online, we reached business leaders through thought leadership pieces for MD Jason Downes, CTO Chris Martin and FD Andrew Johnson in a variety of publications including Virgin.com and Real Business. Targeting employees, the team also secured press on consumer-led websites such as Metro and Marie Claire, using unique data stories supported by thought leadership. The initiative was also covered nationally in The Telegraph and The Sun, with a prominent photo story in the latter reporting the social media campaign which ran over the course of a week.

Not only did the SWI reach a far wider audience than originally anticipated, it established positive brand awareness and positively changed assumptions about flexible working. After the initiative, 78 percent of business owners who did not previously offer flexible working to their employees said they would do so in 2017 and beyond – a tangible change in attitudes towards smarter working.

Most importantly, Powwownow were delighted with the campaign and last month the Tech & Innovation team oversaw the SWI 2017, which saw over 200,000 employees from over 200 businesses work flexibly on Monday 24th July, resulting in MD Jason Downes appearing on BBC News.