The world of social media is fast-paced and ever-changing. You never know when the latest update, trend or social media fad is going to kick off. Case in point: you might remember last week we posted a blog: 'Make it Snappy: Brands Who Got Creative on Snapchat'. Within a couple of days of posting, Snapchat had already started to roll out its latest feature; one which could completely change the game altogether – Snapchat Memories. (Just when you started to get to grips with the app, eh?)
Snapchat are leading the industry in terms of innovation right now; not only have they managed to find something that is unique to them, they are also setting an example for other networks – who often scramble to follow suit whenever an update is made.
But I don't get it, what is Snapchat?
Get downloading, it's the fastest growing social network! For the uninitiated, let's take it back to basics…
Snapchat is a mobile messaging app, and social media network, where users engage through short disappearing videos and photos known as 'snaps'. This is different to all other social media because it is ephemeral. Users are able to create daily stories in 10-second max bursts which can be sent to friends privately, or viewed for up to 24 hours if submitted as a 'Story'.
In May, Snapchat revealed that over 10 million Brits use the app on a daily basis. The app has exploded in use, recently overtaking Twitter in terms of daily users. Originally, content was completely raw and curated 'in the now'. The founders of Snapchat say it is an app for "instant expression". There is a certain 'fear of missing out syndrome' attached to Snapchat; limited viewing time on snaps makes users log in daily to view content. Clever move? I think so.
So what about Snapchat Memories? Are they, too, ephemeral?
In the past, Snapchat has encouraged instant communication and the sharing of moments as and when they happen, but now Snapchat also wants you to share your past. Memories does exactly what it says on the tin – it provides a way to save snaps and share old ones within a new section of the app. You guessed it – Snapchat Memories don't disappear! This is a highly ambitious and significant move by the social media giant, as it takes on the likes of Facebook and Google by moving away from its ephemeral roots. In the meantime, other networks are moving to promote more real-time sharing.
Memories is probably one of the biggest updates to Snapchat in the company's history (a mere 5 years!) Snapchat has always pitched itself as the app that didn't store anything for long, but the introduction of the 'save', 'replay' and 'stories' features shows how this has gradually changed.
But what does this update mean overall? And how will this affect companies and brands who use Snapchat?
Initial feedback on Memories has been positive. The main effect could be that Memories will push users to think of Snapchat as their go-to camera app and photo storage space – and, wait for it, there is no cap on storage as of yet. It has yet to be seen, but this may become a problem for other image sharing sites like Instagram and Facebook.
Personally, I think it's a win-win for Snapchat. While 18-24 year olds are Snapchat's core base, a recent report in The Wall Street Journal said that 14% of US smartphone users over the age of 35 are now on the app, while 38% of smartphone users aged 25-34 have also signed up to the platform. The rate of growth amongst older audiences is high, and with that, there must be innovation and change to satisfy the audience base. Before dedicated Snapchat fans wince at the thoughts of change they must remember that Memories is essentially a compromise, and Snapchat have simply made another option available.
In terms of marketing, the introduction of Memories is a turning point for marketers looking to use the platform to increase brand awareness and reach new audiences. There is now flexibility to upload branded photos and previously curated content as you would on other platforms. As Tim Peterson of Marketing Land said: "brands will be able to take photos and videos that they had created for use elsewhere – be it print magazines, billboards, YouTube or TV – and syndicate them to Snapchat".
Memories is not the only place where brands can realise the potential of Snapchat. Apart from having owned Snapchat accounts, brands can also tap into influencer marketing and geofilters. Geofilters are "a fun way to share where you are, or what you're up to, by adding a fun overlay to your snap". More and more brands and agencies are experimenting with on-demand Geofilters, where people and businesses design filters for specific physical spaces during set periods of time. This is a great way to increase brand awareness for a launch or major event, or even when a consumer visits a retailer or restaurant, for example. It takes just one day for filters to be approved. Win!
At The PHA Group, we recently created a bespoke Snapchat filter for our summer party and it went down a treat, with lots of engagement across the agency. We had a total of 3.1k views on the filter during the evening.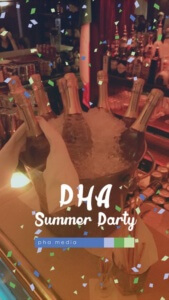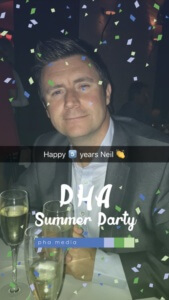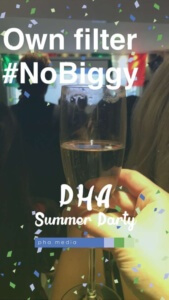 So, what's next?
Snapchat is a really exciting space at the moment, for personal and business users alike. I don't know about you, but I absolutely love Snapchat right now. For me, Snapchat has always seemed like the most authentic social network. It's a quick and easy way to be social, to learn and to be engaged by other people's experiences and personalities. So far, the app hasn't focused too deeply on numbers, with no follower counts. You and you only can see how many people viewed your content – so it's real, and less of a popularity contest. As it grows, it is likely that there will be a more robust system for analytics introduced, but for now, the onus is on the content, rather than the numbers.
The app is a real platform for innovation right now, as if you don't change you don't grow. I believe more and more brands will jump on the Snapchat bandwagon this year as it has become more accessible, but let it be said – to be successful on Snapchat you must also be like the app itself – open to change and ready to meet the demands set by your audience.