In 2013, The PHA Group started working with actress Rachel Shenton.
When Rachel joined the agency, she had recently stepped down from playing the character of wannabe glamour model Mitzee Minniver in Hollyoaks for three years, in which she quickly established herself as the scene-stealing fan favourite.
At the time, British talent was proving to be hugely successful on the American small screen, with actors like Andy Lincoln, Hugh Laurie, Damian Lewis and Charlie Hunnam winning rave reviews and industry plaudits, and pulling in massive audiences for their work on an American network and cable television. Game of Thrones was establishing itself as a runaway success, but there still wasn't a huge proliferation of British actresses landing such prominent and regularly recurring roles.
Furthermore, the transition from UK soap star to Hollywood Heavyweight? Not exactly the typical career trajectory one sees very often. Teetering on the melodramatic, soap operas aren't always renowned for their high quality of acting and I would definitely say that casting directors are – or perhaps, were – a little apprehensive and cynical about hiring talent from that world. If your background is in theatre or arthouse / independent cinema, there's greater credibility there. But avoiding typecast and establishing yourself as a serious player after inhabiting a soap character for years doesn't come without its challenges.
Hopefully, however, these attitudes will now become a thing of the past because Rachel Shenton has come along and completely re-written the playbook.
When we first met Rachel in 2013, she was immediately likeable: charming, humble, graceful and classy. But the character trait that struck us the most was just how seriously she took her craft. Her work ethic was second to none. She wanted to challenge and push herself, to grow as an actress and to work with some of the best writers, directors and producers in the business. She had big dreams and she wasn't afraid to work hard and put in the time and the graft.
More relevantly, Rachel was involved in a great deal of charity work as the patron for the National Deaf Children's Society (NDCS). After going through her backstory, we learned that her dad became deaf when she was just 12 years old, following the chemotherapy treatment he underwent for cancer. The need to communicate with her father encouraged her to learn sign language and it was clear at that moment that acting was never about the fame or the celebrity for Rachel – she had big dreams of shining a light on the lives of other people who don't have the voice that we do. To empower them by giving them that voice. To bring to life the struggles of others that are massively under-represented in mainstream film and TV.
Essentially, Rachel wanted to keep her media profile alive whilst she concentrated on landing her next television role and our job was to raise and maintain that profile and keep her on the radar of casting agents, directors, producers and writers during her temporary absence from TV.
Her fluency in sign language clearly separated her from the competition and gave her a unique edge, a remarkable skill set and a compelling origin story. Many of the interviews we set up for Rachel touched upon this element of her story and there was a great deal of media interest in her personal campaigns and charity work.
The PHA Group prides itself on going the extra mile. First-class publicists, we are, but commercial agents by trade, we are not. But from day one, we saw and recognised the promise and the potential in Rachel and absolutely believed in her. So, further to raising and maintaining her profile in the media, we wanted to go one step further and bring Rachel directly to the attention of the people in the television industry who had real power to change her career. So, we got proactive.
The Media Management department at The PHA Group has promoted and protected a wealth of TV talent over the years. We're therefore constantly attuned to the international entertainment landscape – the talent and the programming that are capturing the zeitgeist of the moment, what's hot and what's not.
We had been avidly following the success of a relatively new TV show at the time called Switched At Birth – an American scripted drama that broke new ground as the first mainstream television series to feature numerous deaf and hard-of-hearing characters appearing in a series regular capacity, filming some scenes shot entirely in sign language.
We introduced Rachel to the show and insisted she check out the previous two series that had aired to familiarise herself with the storylines and the tone of the programme. We then encouraged her to commission a show-reel of her work. Once this was ready, we strategically identified and targeted the creators of Switched At Birth and established an ongoing dialogue with them. The differences between American and British sign language aren't vast and we made a strong, persuasive case – we handled the PR for an extremely talented British actress who emotionally connects with the material of the show on a profound level because of her own life experience. Moreover, she quite literally speaks the very language of the programme and could master the sign language scenes with ease. We knew Rachel would be an asset to the show and we deliberately timed our approach to coincide with the pilot season in America.
We didn't expect to get such positive feedback so quickly. The show's creators invited Rachel to audition during pilot season and as we suspected, they immediately saw what we saw. They loved her so much that they ended up creating the role of Lily Summers especially for her, a role that she immortalised until the show's Season 5 finale.
The very last episode was broadcast in April 2017. During her time filming Switched At Birth, Rachel, with her filmmaker fiancé Chris Overton directing, somehow managed to find the time to write and star in a short film entitled The Silent Child. The 20-minute long film was largely based on Rachel's personal experience as the child of a parent who became deaf.
Come awards season, The Silent Child well and truly swept the board, winning Best Short Film at the Rhode Island International Film Festival. This allowed the film to qualify for entry to the 90th Academy Awards. On 23rd January 2018, it was announced that The Silent Child had received an Academy Award nomination in the Best Live Action Short Film category, and on Sunday 4th March 2018, Rachel's film won the Oscar for Best Live Action Short Film. On collecting the award, Rachel upheld the promise that she had made to The Silent Child's deaf lead actress, six-year-old Maisie Sly, and accepted her trophy in sign language. It was a momentous, inspiring, electrifying moment to watch and we could not be prouder.
So, whether you're an aspiring actor, a breakthrough performer or a well-established name: work with creative teams that believe in you, that recognise your potential, that encourage you to test the limits of what you believe to be achievable. We believe that it doesn't ultimately matter whether you're a RADA bred performer or if you started off in a teen soap. Talent is talent, so dream big and work with the best! Because anything is possible!
Speak to a member of our award-winning team today or visit our Personal PR page to find out how we can help you.
Rachel Shenton – from Hollyoaks to Hollywood Oscar Winner
'Just cos he writes about gayness and gay issues, doesn't mean he drives up the marmite motorway.'
'I just think that this story is much more poignantly romantic than fudge packing Jake.'
'A rhythm section that's tighter than your mother was when I took her virginity all those years ago.'
You could be forgiven for reading the above statements as the deranged blabbering of a sulky, and confused teenager. If only it were so. Instead, they represent the historic online comments of elected Labour MP Jared O'Mara.
O'Mara made headlines in the snap election when he displaced Nick Clegg from his seat of Sheffield Hallam. He was seen as a candidate who was very much carried along on the crest of the Momentum wave.
That was June, this is October, and O'Mara has been suspended from the party following a string of vile revelations broken by Guido Fawkes, a right-wing gossip blog infamous for exposing the worst digressions of Members of Parliament.
O'Mara's ire was not limited to homosexual people, or other people's mothers. 'Fat' people, women, Spaniards, Danes and teenage girls have all felt the sting of O'Mara's vitriol over the years. Angela Rayner, a member of the Shadow Cabinet, defended O'Mara by claiming that these comments were made a long time ago, and that his opinions had evolved. This is a pretty weak defence, and weaker still given that we can simply check the dates of his comments in an online forum and ascertain that he was 21-years-old.
Now, I'm 23, and as vulgar and detestable as my colleagues might find me, I would argue that I know that referring to teenage girls as 'sexy little slags' is not the social norm, and I would also have known two years ago that it was unacceptable.
While it would be easy to sit here and pull apart O'Mara's views, and the sub-standard Labour vetting process that allowed him to contest a seat, the best lesson learned for figures of public prominence is the damage that the digital world can wreak on a reputation. O'Mara is 35-years-old now, and is perhaps one generation too late to have truly grown up with the internet.
But given the way he is now being torn to shreds in the media, this raises an interesting question over whether this is something we can expect to see more of, as more public figures who have grown up with online forums, Facebook and Twitter come into the spotlight.
This can at times be a source of amusement. The SNP's Mhairi Black was just 20 when elected (you may have seen her, in a blinding lack of self-awareness, lamenting 'career politicians' recently), and some of her old tweets from her teenage years were dug up after her selection. They were quite funny to the casual observer, and rather embarrassing for Black herself.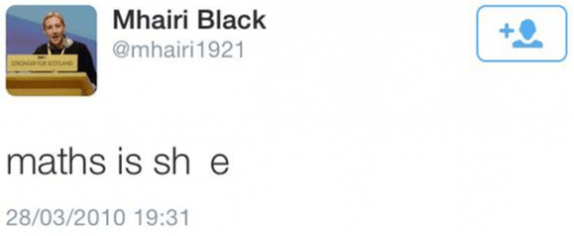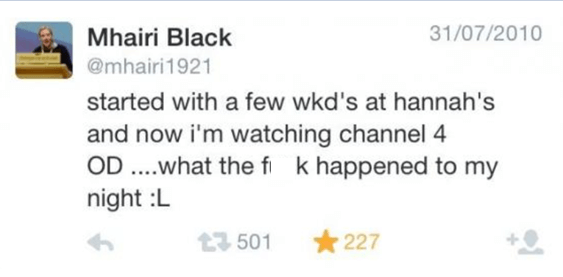 Andre Gray, the Premier League footballer, had a more sobering experience when explosive homophobic tweets from his past were pulled up. He faced FA disciplinary action as a result.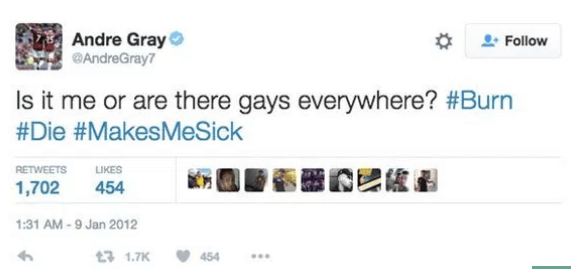 Trial by social media is not a new phenomenon, but as those who have grown up hand-in-glove with the internet move into positions as MPs and figures of public influence, there could be much more scandal yet to come.
Being cautious or vigilant in the here and now is clearly not enough. Do people remember all that they have done and said in the past? Should they continue to be made to atone for it? Is the best course of action to completely erase your digital footprint?
Online is forever, and as Jared O'Mara is finding out, there is no hiding place once all is revealed.
Just how many more skeletons are there in how many more closets? Halloween is on the way, so another fright may be just around the corner.
Jared O'Mara and the unforgiving eternity of the Internet