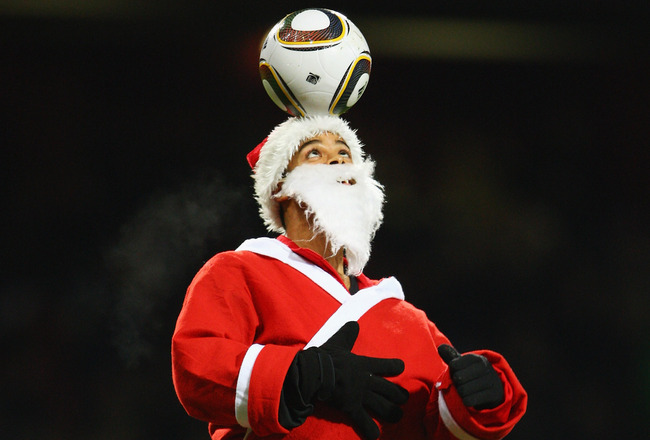 Christmas is traditionally a time spent at home, with loved ones and family; a couple of days off work to sit back, relax and savour the festive spirit. But for footballers up and down the country the Christmas and New Year period is a whole lot more than this. It is a crucial time.
With nearly half of the season already gone in the top flight, the two Manchester clubs seemingly battling each other for the title, Chelsea with another new manager and "arry's" QPR still looking for their first premier league win, every team is readying itself for the busy and potentially decisive festive period, which can often make or break a season. It doesn't matter whether your team is chasing success in all competitions or you're locked in a basement battle scrapping for every point to secure top-flight survival; every club wants the welcome gift of three valuable points this Christmas.
Most Premier League clubs will take part in four matches in a little over a week this Christmas.  However, cup commitments and European fixtures can lead to an even greater pile-up of matches…..not to mention the 3rd round of the FA Cup on the opening weekend of January.
Fixtures come thick and fast during the festive period and wintry conditions are hugely demanding for footballers, testing their fitness levels to the limit. With so many matches in such a short space of time, it is not uncommon for injuries to mount up and players' form to suffer as they attempt to struggle through games without sufficient periods of rest.
Of course, tiredness and bad luck strikes every team at some point during a season but at Christmas time it can have far more damaging consequences. That said, the hectic festive fixture list is, of course, something of a top-flight tradition in England and given the quick turnaround of matches the reality of being swept aside by one of the top teams quickly disappears. The old cliché in football "there's always the next game" springs to mind, offering comfort to the frontrunners in the New Year sack race.
Talk continues over the introduction of a two-week winter break in English football – once a distant whisper now a muted roar – but Premier League chief executive Richard Scudamore has hinted that FA Cup replays may have to be sacrificed to make it work. English football's governing bodies used to palm off the idea of a mid-season break but it now seems a very possible reality.
The fundamental question is this – would you sacrifice your Christmas fix of football in favour of a mid-season break?
For the football scrooges out there the answer is fairly obvious but for anyone that plays football or loves watching the game, nothing beats the drama and excitement of the festive fixture list. Attendances are high. There's a game on Monday; there's another one on Thursday. It has been cherished by so many of us over the years and has an important place in our national football heritage. For now at least it's here to stay.