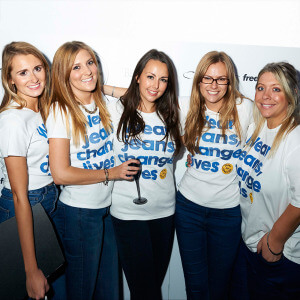 Press events are an excellent way for companies to raise awareness of their brand or service amongst consumers and relevant journalists alike. If done well, an event provides an incentive for journalists to leave their desks to come and engage and directly interact with the brand, providing money can't buy exposure!
It is really important that consumer PR events are done right as all eyes are on the brand. Hosting a press event is a common part of PR agency life, and over the years we have organised hundreds of events for brands ranging from Jeans for Genes to Brand Alley. Take a look at two examples of successful events we have hosted here: Booby Birds Breakthrough Breast Cancer and Disney's Share the Magic Campaign
We believe a successful event is down to four main components; planning, timing, theme and follow up – execute these well, and you will not only deliver a successful event, but you will get great exposure for your brand.
 Here are our top fours ways to make your consumer PR event deliver ROI:
 Tip 1: Planning the Event
It is important to remember that although the event is naturally important to the company, the journalists who are being targeted are inundated with invitations to events on a daily, if not hourly basis. For this reason, it is crucial to identify what it is that you are offering which will give journalists a valid reason to attend. Whether it is a live demonstration of a revolutionary treatment, an unveiling of a new clothing collection or a performance by the hottest new talent act in town, all successful events must contain a component which makes journalists think 'I'm going to ignore all of my unanswered emails and make time to go to this'.
Tip 2 Timing
One of the first things you need to think about when hosting a consumer PR event is the date and time of when you want it to take place. There are certain times in the year which should be ruled out as journalists in the Lifestyle sector are likely to have commitments and therefore attendance will be less than it otherwise would be. The more 'obvious' key dates to steer clear from include: London Fashion Week (February and September), the key summer holiday period of July-August, plus all public bank holidays when journalists are likely to go away.
 Tip 3 Theme
It is important to have a 'vision' for your event so that you can ensure that all marketing material – invitations, follow-up press material and collateral on the day – is in sync. This helps to create a streamlined and professional impression from the moment the journalists receive the invite, therefore securing their initial interest. When sending the invites, it is good practice to send both an e-invite and a hard copy in the post, to ensure that one way or another, journalists hear about the event in question and take the time to attend!
An example of a well-themed event is our SS14 press day for Kaleidoscope. We chose the theme of Around the World because we identified a lot of world influence in both the fashion and home collection. We carried this theme throughout the décor, food, drink, and journalist gifts. Have a look at the pictures here
Tip 4 Follow-up
To ensure that a client's brand or product remains forefront of a journalist's mind, it is crucial to follow-up with them after the event – either by email, over the phone, or in person if possible – to ensure that the messaging is not forgotten. To assist with this, it is also a thoughtful touch to provide a goody bag which the journalist can take home after the event. This could include informative press releases or details about the company, a product from the brand, and some nice treats such as a mini bottle of champagne or chocolates always go down very well!